Instant Pot Pasta E Fagioli Soup is a hearty and comforting bowl of beef, beans and vegetables full of herbs, garlic, Parmesan and just a touch of red pepper flakes. It's a wholesome dinner recipe in your pressure cooker the whole family will love!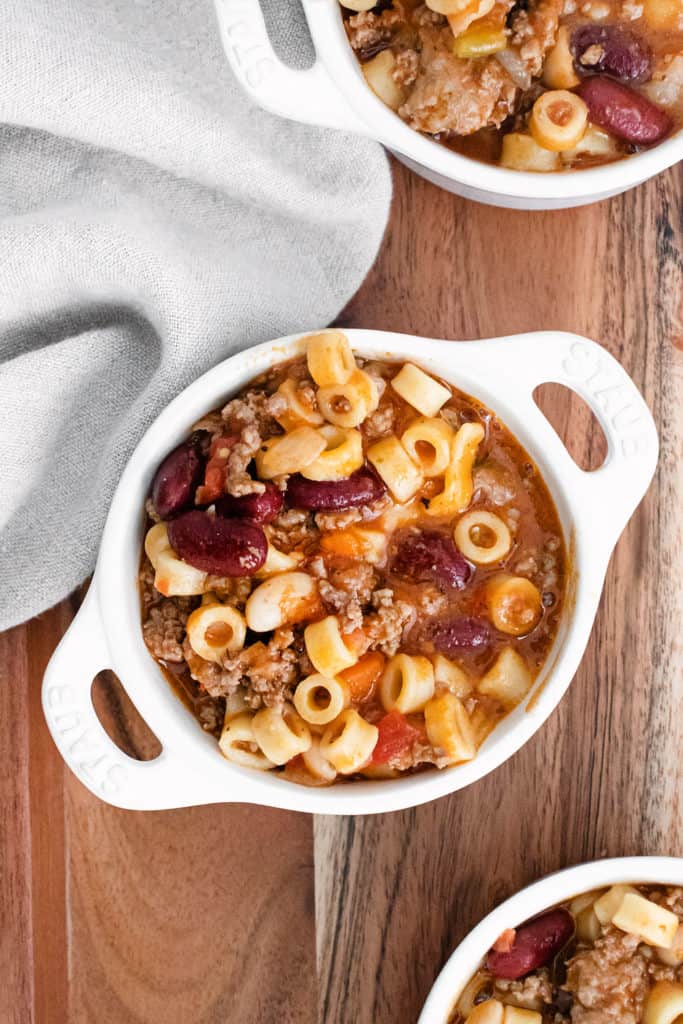 What Is E Fagioli?
Instant pot pasta e fagioli soup is a hearty beef and bean soup. Without the pasta in it, I wouldn't fault you for thinking it was chili. But, with the pasta, and the herbs, you realize this tomato broth based soup is a classic Italian dish you will love.
"E fagioli" translates as "and beans" so in this case, with the tomato sauce, the hamburger, carrots, onions, and all the other ingredients, beans get special mention. As bean soups go, e fagioli rates right up there with the heartiest. Beef, pasta, beans, very filling, so it easily makes a meal.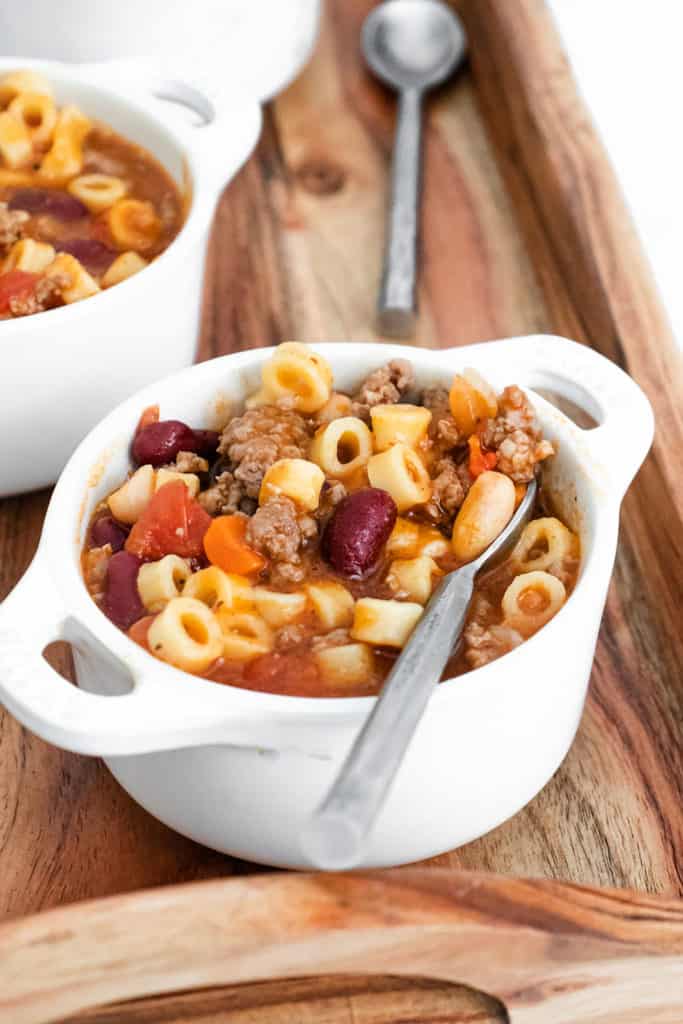 What Kind Of Beans To Use In E Fagioli?
I use pinto beans and great northern beans for e fagioli. Great northern beans are pretty much the same as cannellini beans of traditional e fagioli. You just will have a much easier time finding great northern beans in your local markets.
That being said, if you have to use other types of beans, then that is ok.
If you aren't a big fan of beans, this soup probably isn't for you. I'd suggest this great Pressure Cooker Hamburger & Pasta Soup for a recipe with more vegetables and a milder flavor.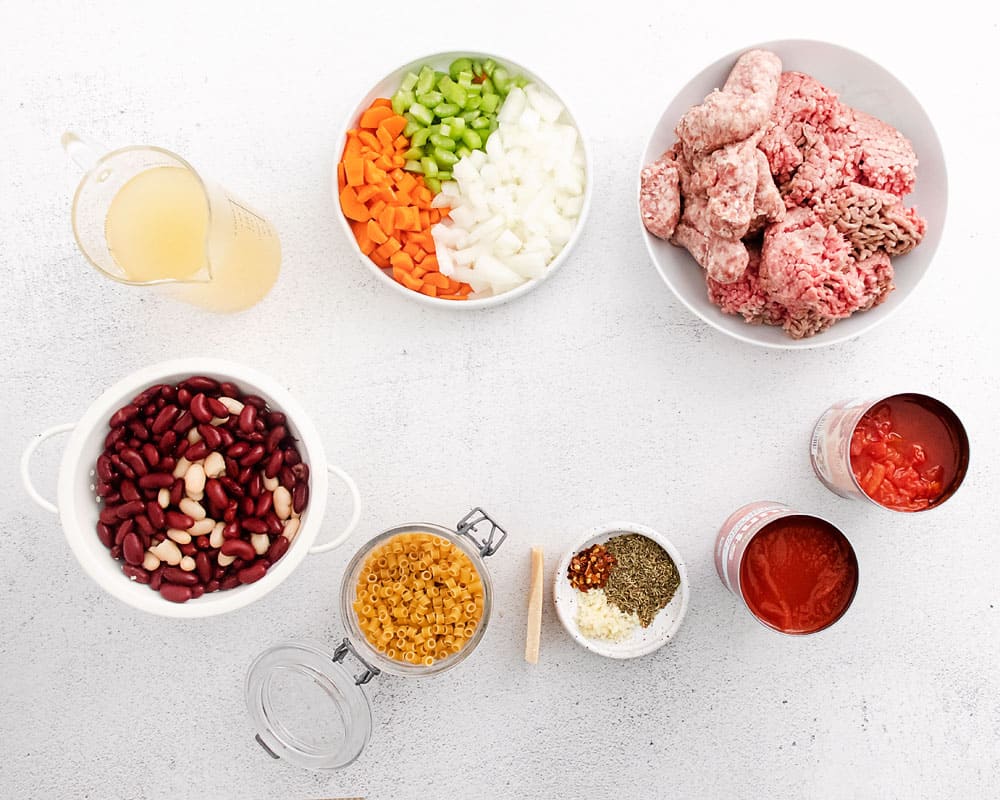 What type of pasta is used in e fagioli?
Ditalini pasta is a small tube of pasta. Imagine half the length of a macaroni, but with no curve in it. For soups, ditalini is great. Neither too big or two small, it cooks quickly and adds a nice texture to the soup.
If you don't have ditalini handy, then mini macaroni works well. You could even get away with using orzo. Any little pasta is best.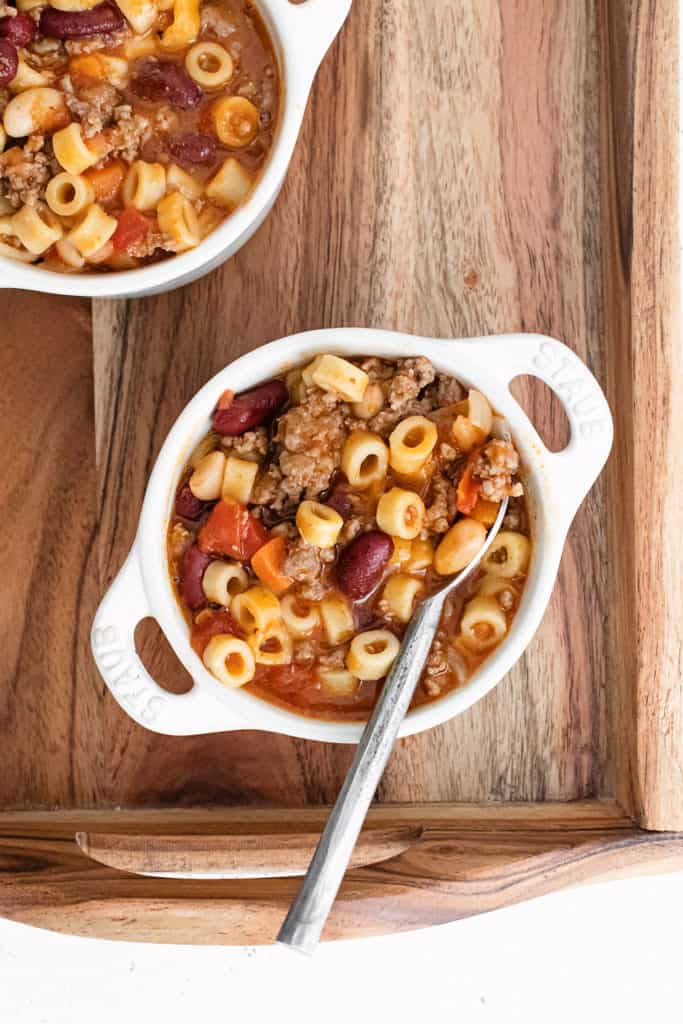 Are pasta fazool and e fagioli the same thing?
Yes, pasta fazool and e fagioli are essentially the same thing. Pasta fazool is the americanized name derived from the Sicilian version of the dish. By either name, the main ingredients are pasta and beans, with a bit of meat to beef things up a bit.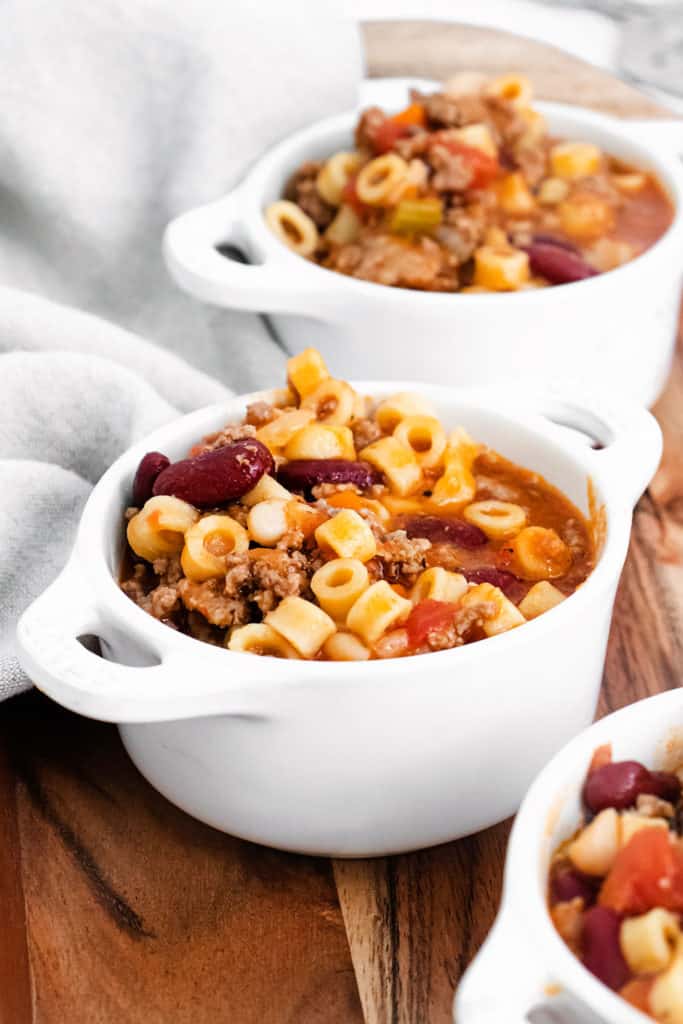 Is this a copycat recipe of Olive Garden's e fagioli?
Similar to the Olive Garden recipe, but in my opinion, this is definitely way better. Go ahead and compare the two and let me know what you think. What I can say, using the instant pot makes this recipe taste like it has been cooking for days.
Using parmesan cheese rinds in soup
If you are unfamiliar with this technique, then I highly recommend giving it a try. The cheese rind adds briny umami to the soup stock base, as well as just a bit of creaminess as well. The soup really stands out when you do it this way.
If you have a wedge of parmesan, then just cut the rind off and toss it in the broth. Some deli's even sell the rinds just for this purpose.
If you don't have access to a rind, then you can still use a bit of grated parmesan cheese. Finally, even a few shakes from a dried and powdered parmesan, like what you sprinkle on pizza, works as well. Don't add too much otherwise it will be too salty. About a tablespoon will do the trick.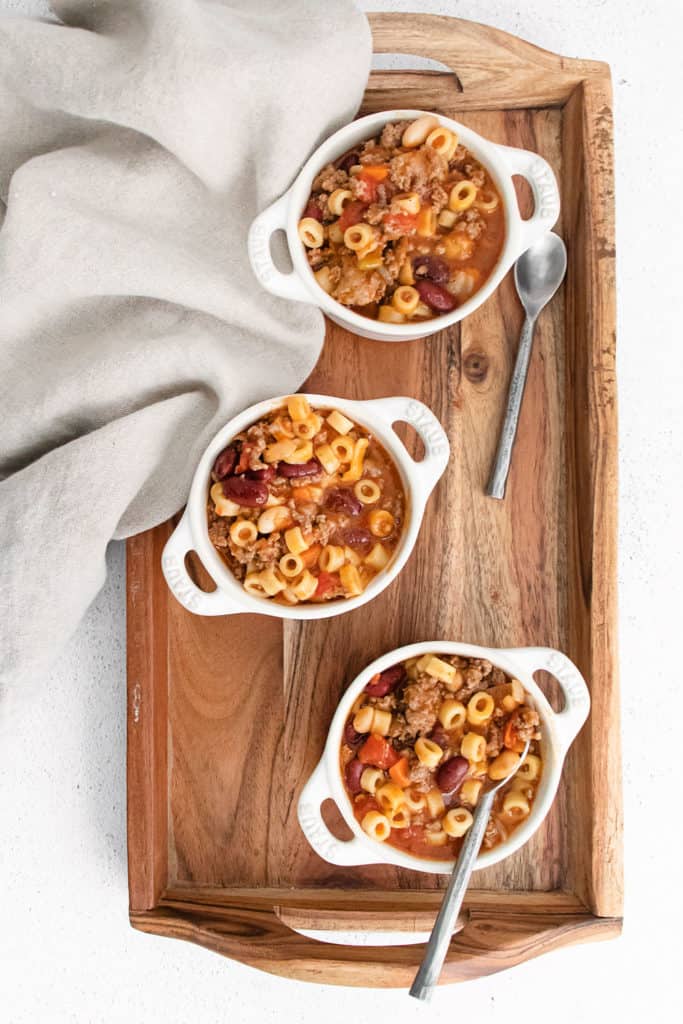 How spicy is e fagioli?
With e fagioli, you can go as spicy or mild as you like, whichever you prefer. There are a few options when it comes to creating a bit of spice. You can use the spicier Italian sausage if you prefer. The stuff you find in the supermarket has a bit of heat, but never too much, unless it says "extra hot" on the package.
Otherwise it is pretty mild. However, if you do want to take the heat up a bit, then just shake in some more red pepper flakes. This soup is hearty and savory, but you don't necessarily want it to be too spicy hot. Otherwise say goodbye to the herbs and other spices. They will just disappear into the background.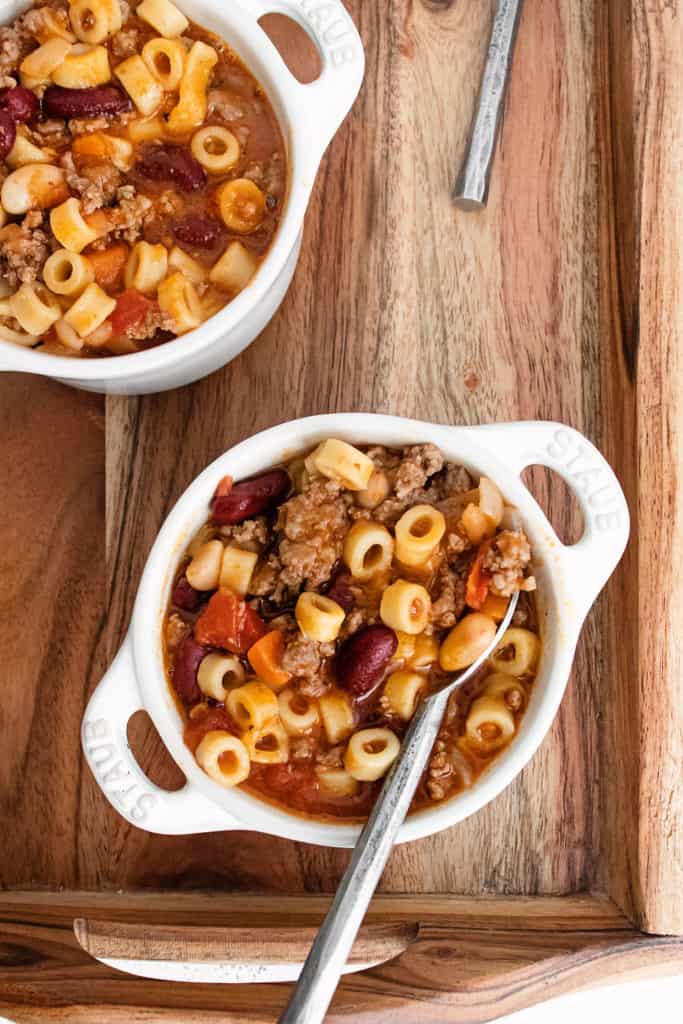 More pressure cooker soups to check out
If you love the ease of making your family dinner in the Instant Pot, then be sure to check out these other great Instant Pot soups!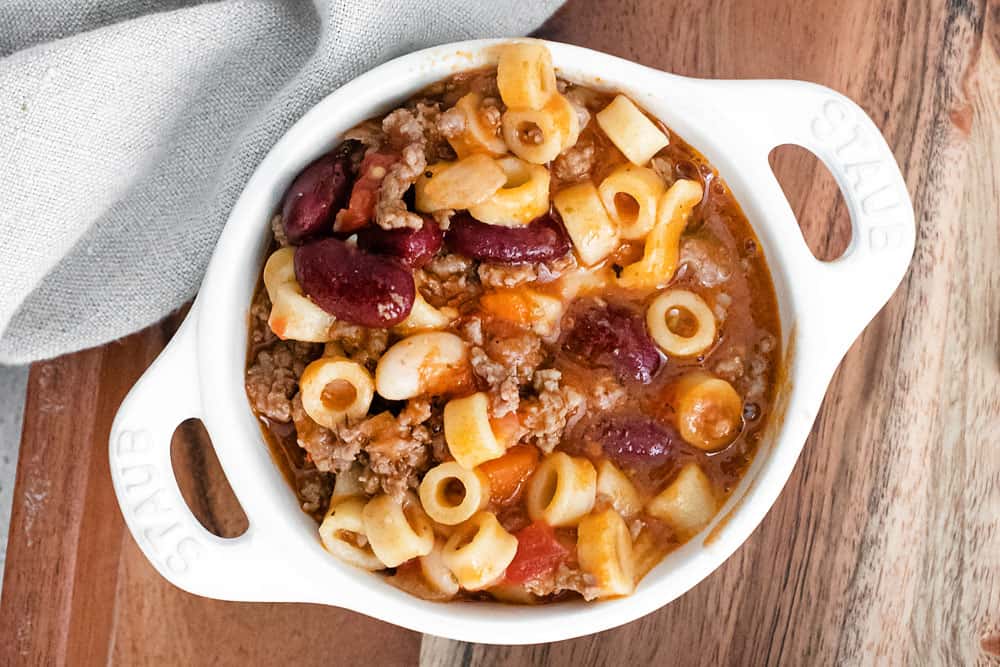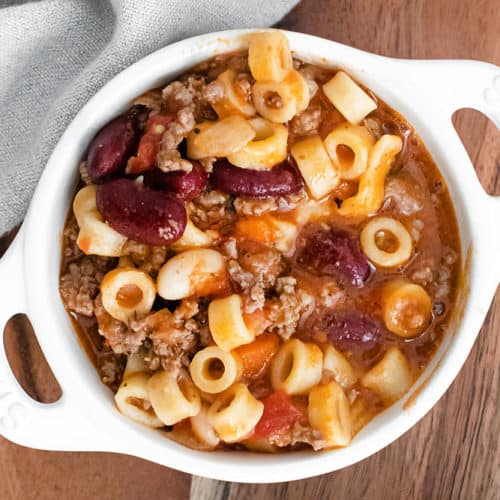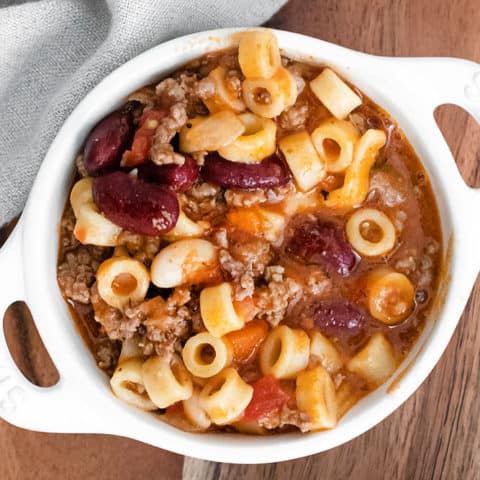 E Fagioli
Build Pressure:
10 minutes
Instant Pot Pasta E Fagioli Soup is a hearty and comforting bowl of sausage, beans and vegetables full of herbs, garlic and just a touch of red pepper flakes. It's a wholesome dinner recipe in your pressure cooker the whole family will love!
Ingredients
½ pound ground beef
½ pound Italian Sausage (mild or spicy, your choice)
1 small vidalia onion, chopped
2 large carrots, peeled and chopped
2 stalks celery, chopped
2 cloves garlic, minced
1 tablespoon dried Italian seasoning
4 cups chicken stock
1 can (16 ounces) tomato sauce
1 can (ounces) diced tomatoes
1 can (ounces) red kidney beans, drained
1 can (ounces) Great Northern Beans, drained
1 cup (8 ounces) Ditalini pasta, uncooked
Salt and pepper, to taste
1 parmesan rind, optional
½ teaspoon red pepper flakes, optional and to taste
freshly grated Parmesan for serving, optional
Instructions
Heat the Instant Pot using the Saute-High function. Add the ground beef and Italian sausage and cook. Use your meat chopper to break up the meat as it browns.
Once the meat is broken up well, add the onion, carrots, celery, garlic and Italian seasoning and stir to combine. Cook for 5 minutes.
Next, add the chicken stock, tomato sauce, diced tomatoes, red kidney beans, great northern beans, Ditalini pasta, Parmesan rind, and red pepper flakes. Attach the lid and ensure the valve is in the "sealing" position. Set the timer for 4 minutes.
When the Instant Pot has finished cooking, carefully release the pressure manually by switching the valve to the "venting" position. Be careful-- it will steam and may splatter!
Season the soup with salt and pepper, to taste.
OPTIONAL - Serve with freshly grated Parmesan.
This soup can be kept warm using the "Keep Warm" Function on the Instant Pot for up to one hour. Store any leftover soup in the refrigerator for up to three days.
Notes
This recipe is also delicious when made with ground pork or ground turkey.
Recommended Products
As an Amazon Associate and member of other affiliate programs, I earn from qualifying purchases.
Nutrition Information:
Yield:

5
Serving Size:

1
Amount Per Serving:
Calories:

552
Total Fat:

24g
Saturated Fat:

9g
Trans Fat:

0g
Unsaturated Fat:

15g
Cholesterol:

73mg
Sodium:

1001mg
Carbohydrates:

46g
Fiber:

8g
Sugar:

12g
Protein:

36g
Provided nutrition data is only an estimate. If you are tracking these nutrients for medical purposes, please consult an outside, trusted source.