Grilled Lemon Chicken Skillet is a delicious 15 minute recipe that only requires 3 simple ingredients for an easy and healthy weeknight dinner bursting with fresh flavors!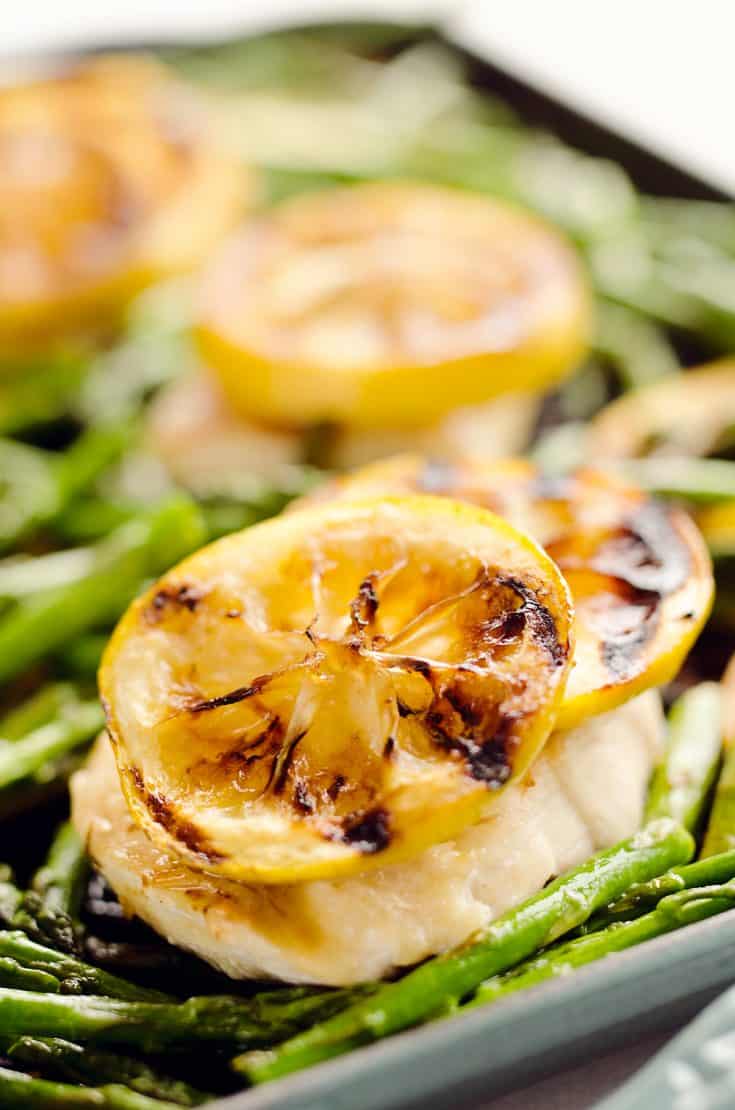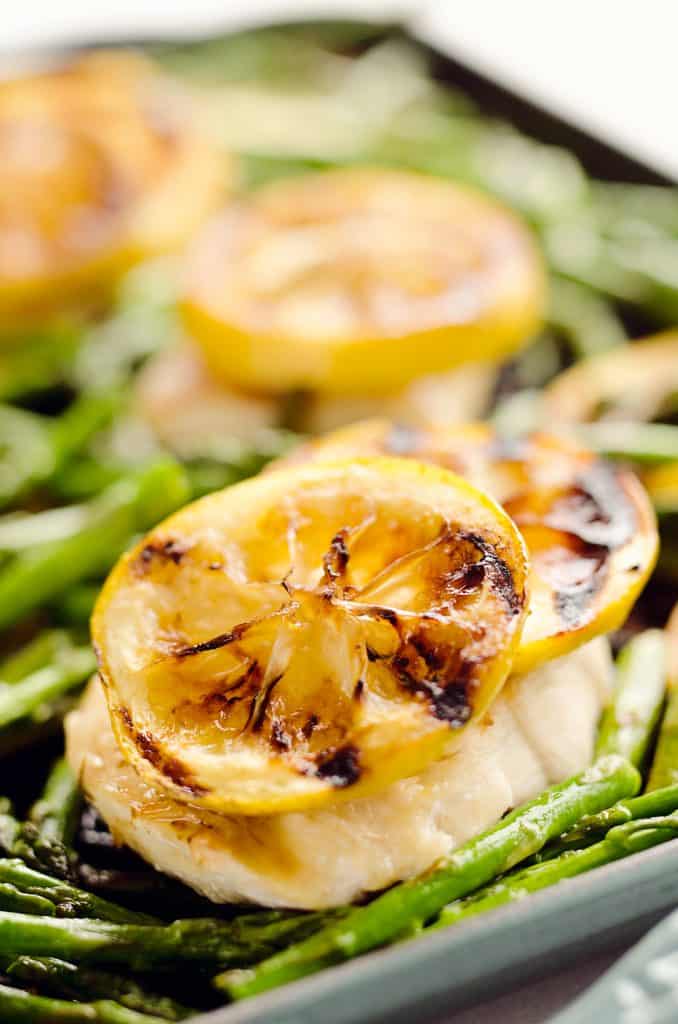 Grilled Lemon Chicken
This Grilled Lemon Chicken Skillet is a fresh and delicious meal that brings all the flavors of summer to your dinner table any time of the year. Thanks to a cast iron grill pan, you can make this healthy recipe on the stovetop and still get all the great char on your chicken and vegetables that you would with a grill.
If you are a brave soul and live in the cold winters like I do, you could trek outside in the snow and wind if you are a very committed grill master. If you are cooking on a charcoal or wood pellet grill, you are going to get added flavor from the grill that will enhance the simple flavors even more.
As for myself, there is no level of flavor that is going to get me to go out into the current snow storm! The fact of the matter is that the stovetop can get you great flavor and char on this Grilled Lemon Chicken and it really isn't all that necessary.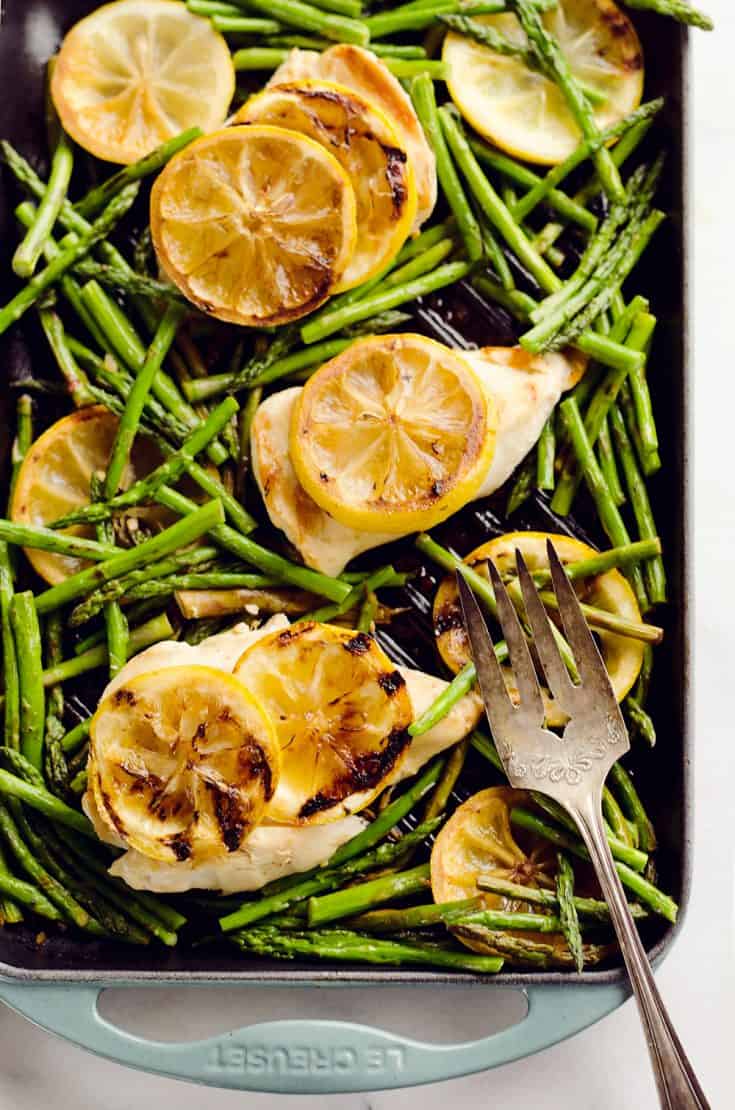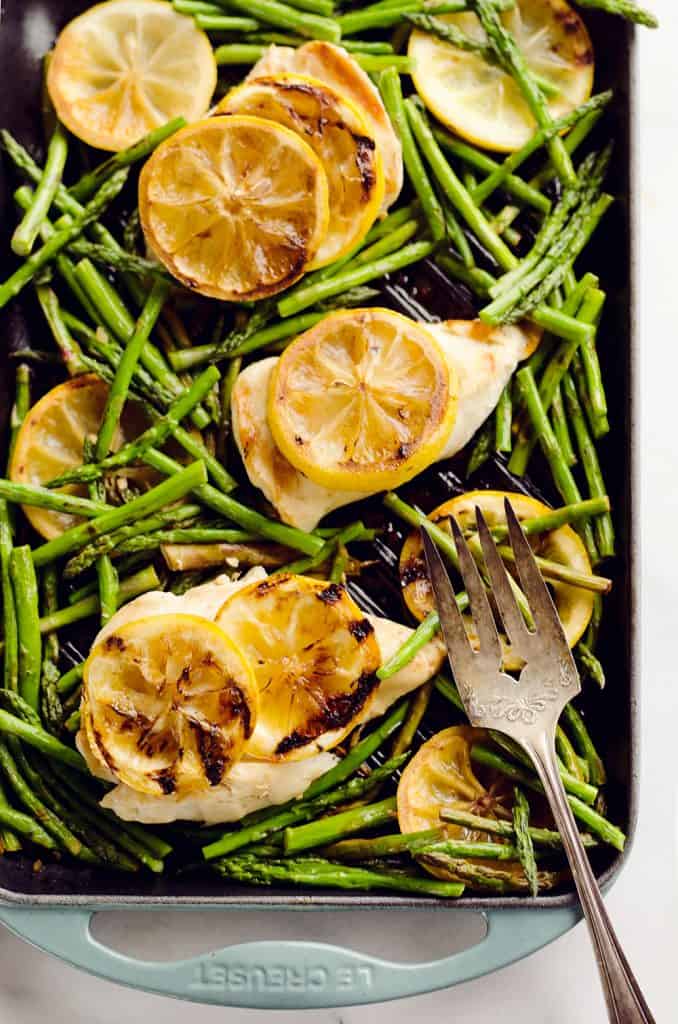 Le Creuset Grill Pan Recipe
Notice that gorgeous Le Creuset Cast-Iron Grill Pan that is holding this yummy supper? Yup, that was an amazing Christmas gift from my favorite sister. Ok, she is my only sister, but she would totally be my favorite after buying me this for Christmas if I had other sisters! 😉
As soon as I ripped open the gift, I began dreaming up all the wonderful things I could use it for. These Ultimate Turkey Burger Sliders and Grilled Pineapple Turkey Burgers were the first things to come to mind. This Grilled Lemon Chicken Skillet ended up being the first dish to christen my new pan and it was perfection!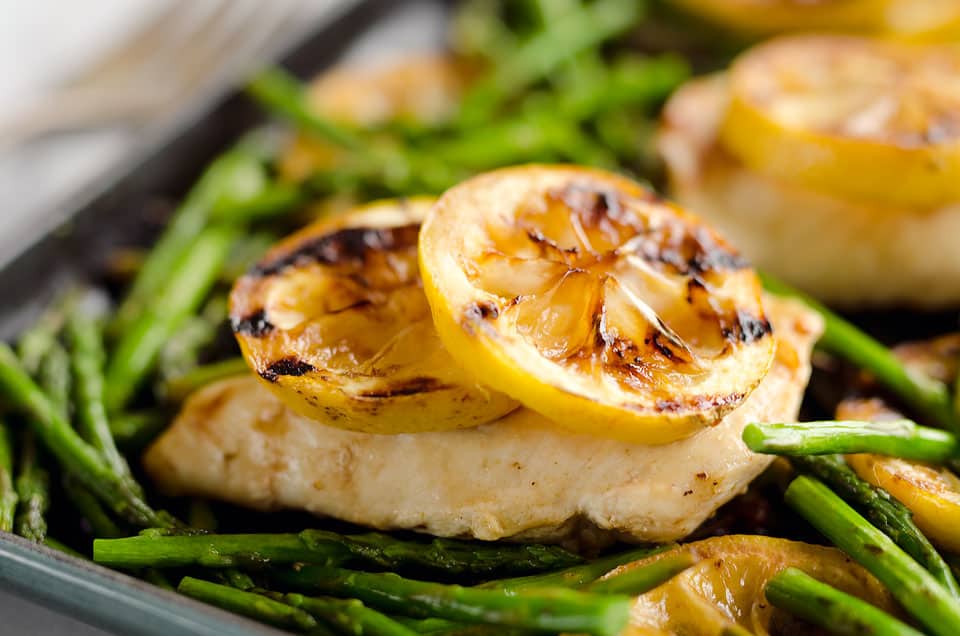 Grilled Chicken on Stove
My sister knows my love for Le Creuset and teasingly calls me a brand whore because of it. I beg to differ though! I like things that are quality, not just because they have a certain name slapped across them. My sister is the true brand whore and collects Coach purses and aspires to buy a whole bunch of Loui Vuitton.
Not me, I will take whatever is cute and functional. Sometimes it might be expensive, sometimes it might not. In the case of Le Creuset, I know it is expensive, but the quality is unmatched.
Something else she knows about me is that I won't be venturing out to grill outside in the middle of the winter. This grill pan is perfect for grilled chicken on the stove or any other grill recipes you want to make indoors.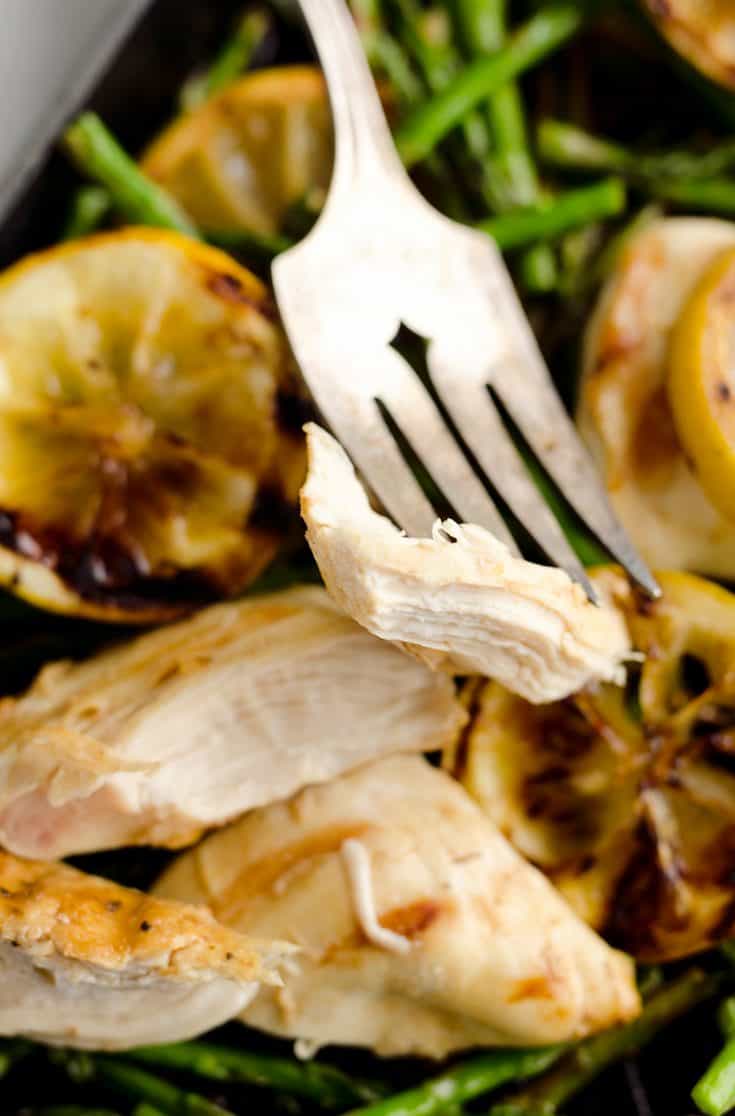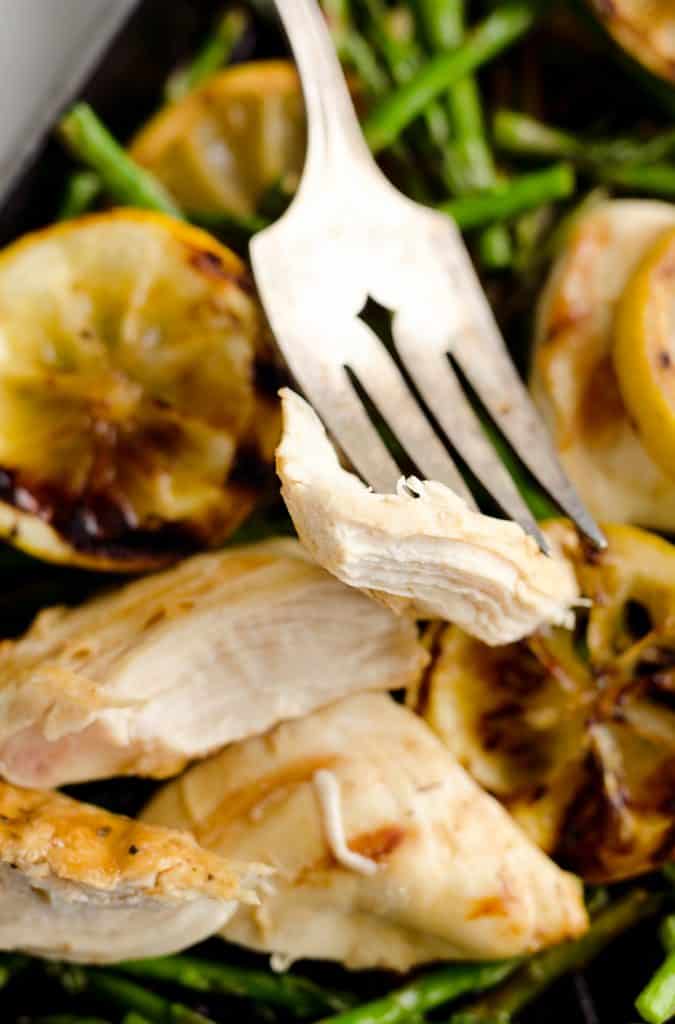 Grilled Lemon
Grilling any food adds an extra layer of flavor, but it really brings out the sweet brightness of fruit! From Grilled Peach Salad to Grilled Pineapple on Turkey Burgers, grilling fruit adds amazing flavor to any recipe. Lemon is no exception! Grilled lemon has a unique flavor and added sweetness.
When you are cooking your Chicken Lemon Skillet, be sure to watch your lemon quickly. The thin slices of lemon will grill up quickly. Once they have a nice char on them, take them off the hot grill surface and place them on top of the chicken breasts.
Not only will this help the grilled lemon from overcooking, but it will infuse the chicken with fresh lemon flavor as it cooks.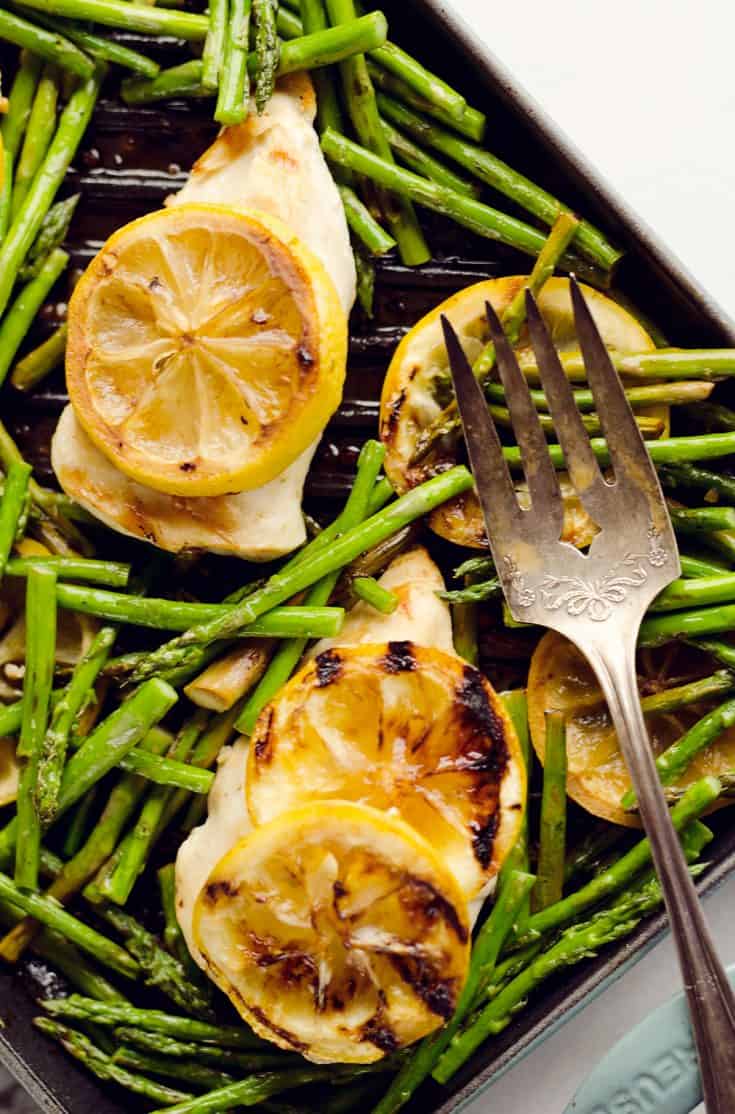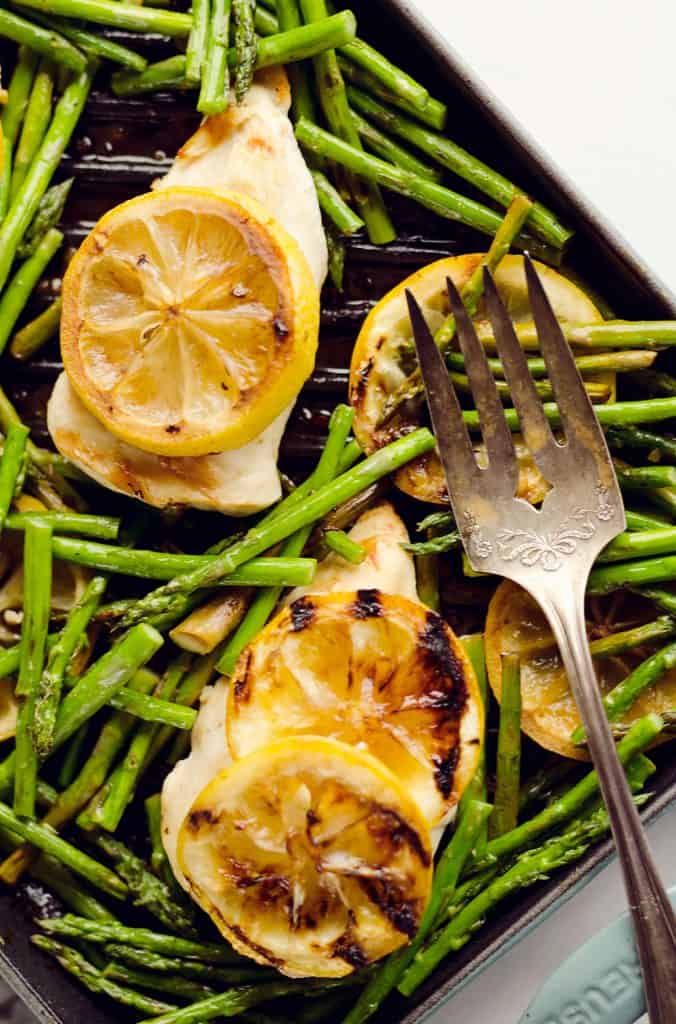 More delicious indoor grill recipes!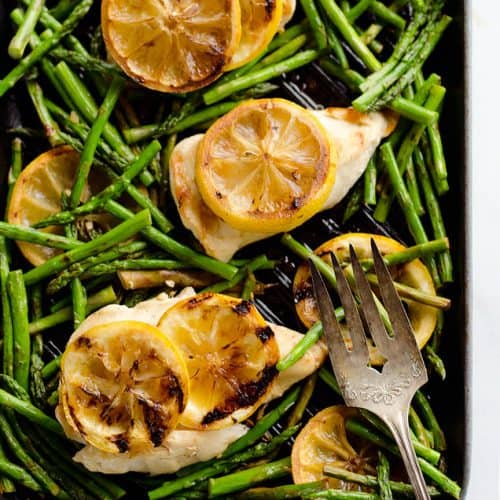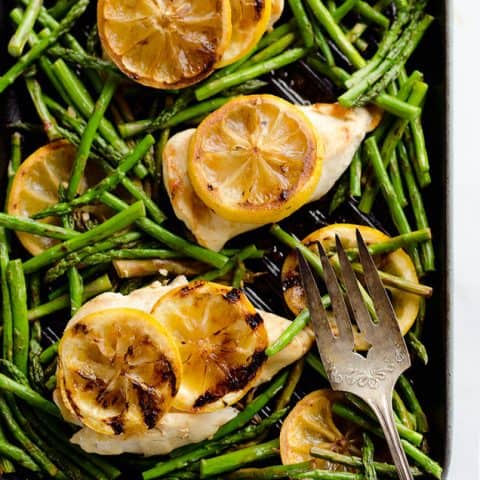 Grilled Lemon Chicken Skillet
Grilled Lemon Chicken Skillet is a delicious 15 minute recipe that only requires 3 simple ingredients for an easy and healthy weeknight dinner bursting with fresh flavors!
Ingredients
1 lb. boneless skinless chicken breasts
1 bunch asparagus
1 Tbsp. olive oil
1 Tbsp. roasted garlic seasoning, or your favorite seasoning blend
1 tsp. salt
2 lemons, sliced 1/4" thick
Instructions
Tenderize the chicken breasts by placing them between two sheets of Saran wrap. Pound the chicken out until it is 1/2" thick.
Season the chicken with 1/2 Tbsp. olive oil and 1 Tbsp. of roasted garlic seasoning (or your favorite seasoning blend).
Grill chicken over medium-high heat for 5 minutes on a grill or on the stove top using a cast-iron grill pan.
Meanwhile cut off and discard the fibrous ends of the asparagus (approximately 1/4 of the asparagus). Chop the asparagus into 3" long pieces and toss with the remaining olive oil and salt.
Flip the chicken over and add the lemons and asparagus to the grill. Cook for an additional 3-4 minutes until the chicken is cooked through and reaches an internal temperature of 165°.
When the lemon slices get a good char on them, set them on top of the chicken breasts so they are no longer on the direct heat.
Serve immediately.
Recommended Products
As an Amazon Associate and member of other affiliate programs, I earn from qualifying purchases.
Nutrition Information:
Yield:

3
Serving Size:

3
Amount Per Serving:
Calories:

309
Total Fat:

10g
Saturated Fat:

2g
Trans Fat:

0g
Unsaturated Fat:

7g
Cholesterol:

129mg
Sodium:

1142mg
Carbohydrates:

6g
Fiber:

2g
Sugar:

1g
Protein:

48g
Provided nutrition data is only an estimate. If you are tracking these nutrients for medical purposes, please consult an outside, trusted source.