Caprese Whipped Goat Cheese Dip is an impressive appetizer made with 5 simple ingredients. Whipped basil goat cheese is topped with blistered tomatoes and balsamic glaze for amazing flavor!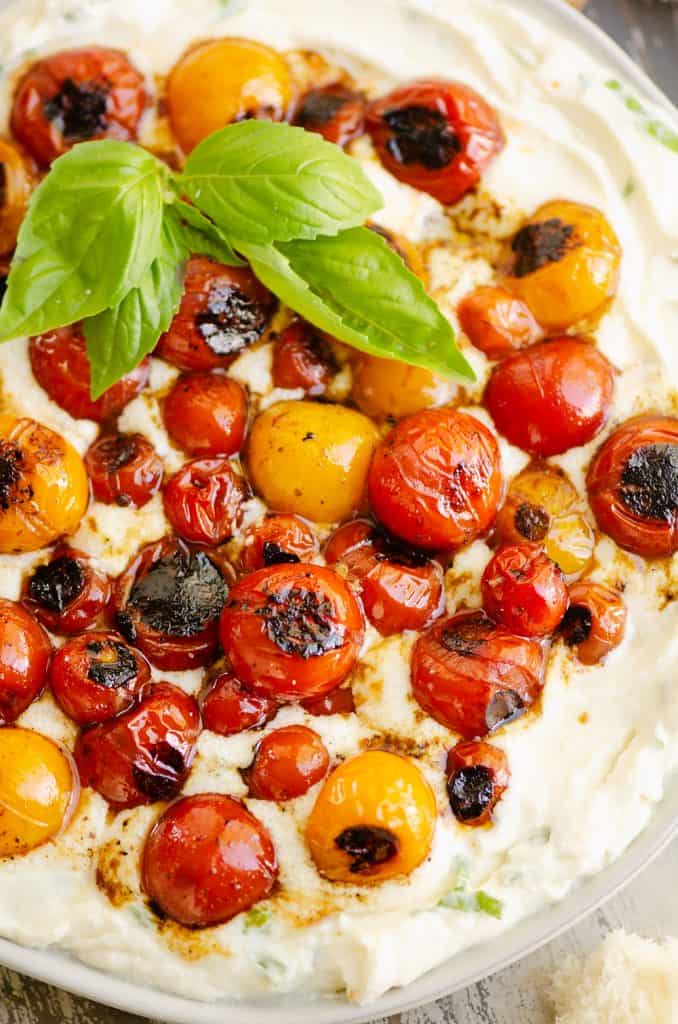 Easy and impressive appetizer
When it comes to entertaining the most important question is always what food is going to be served. Often times the impressive recipes like this Caramelized Onion & Cheddar Crostini are time consuming.
While they are delicious, sometimes you just need a quick and simple recipe that will impress your guests. This Caprese Whipped Goat Cheese Dip fits the bill for just that.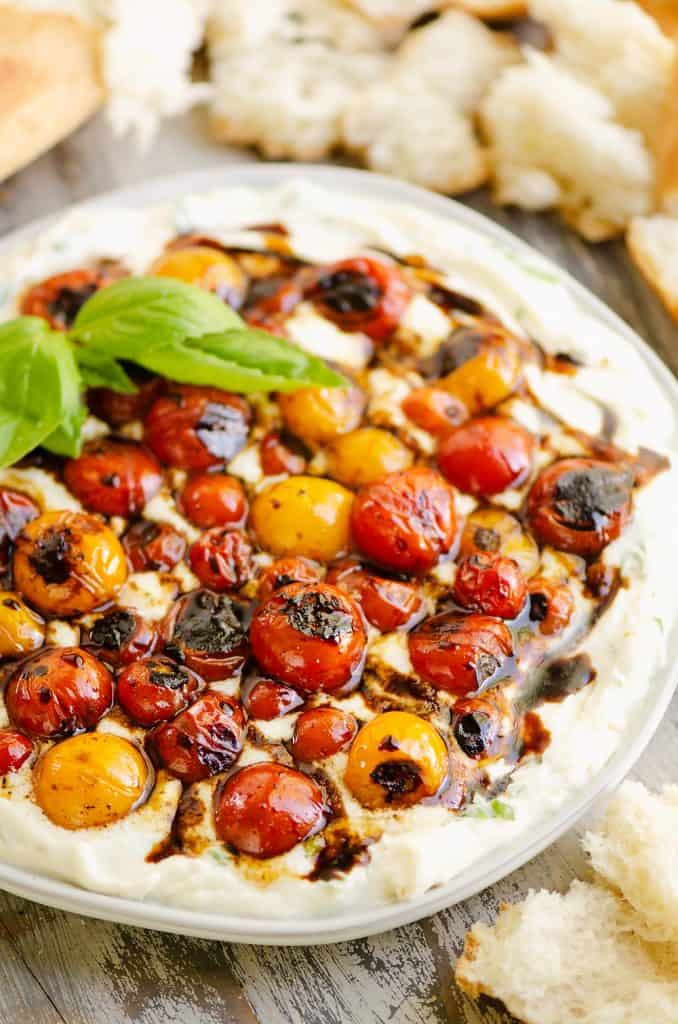 Whipped Goat Cheese Dip
This easy dip starts with a light and fluffy layer of fresh basil and goat cheese whipped up with cream and a pinch of salt. The texture is somewhere between whipped cream cheese and whipped cream. It is absolutely divine!
The whipped goat cheese is topped with tomatoes that are blistered in a saute pan with a drizzle of olive oil and salt. This softens the tomatoes and brings out the brightness of the sweet tomato flavor.
If you've been following here for any amount of time, you know I have a strong penchant for goat cheese. From making goat cheese pizza and goat cheese quiche to blueberry balsamic goat cheese dip to straight up fried goat cheese balls.
I absolutely love the flavor it adds to any recipe. It is especially good when paired with something sweet to balance the tangy cheese in my opinion.
I'm just waiting for my homesteading friend Michelle to get a goat so I can make some cheese from scratch! Well, OK, let's be real. She can make it from scratch and I will buy it from her. 😉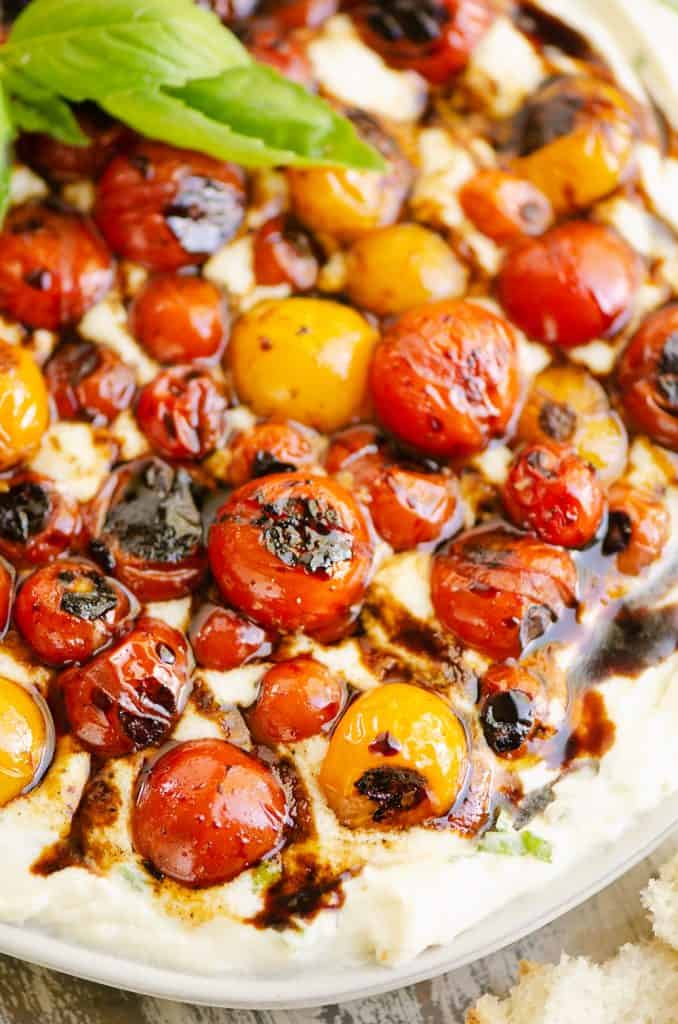 Fresh garden tomatoes
I have 4 cherry tomato plants in my garden right now that are growing like crazy. They completely overtook my regular and heirloom tomatoes that I planted too close to them. They literally just grew over them and now I have to wade through seemingly hundreds of vines to even get to the full-size tomatoes!
I have a variety of sizes and colors of cherry tomatoes including the sweet yellow Sunburst tomatoes. I love the variation of colors and sizes that it adds to the dish visually.
Nothing beats garden tomatoes in the middle of the summer, but I understand not everyone has access to home grown produce. If you can't get to the farmers market, then I recommend buying some of the colorful cherry tomatoes at the store.
The smaller the tomato the better for this Caprese Goat Cheese Dip. If you get too big of tomatoes, they will be an overwhelming bite.
When you are sauteing up the tomatoes with olive oil and salt, just be sure to watch those little buggers. I had one explode and the steaming hot insides of the tomato burnt my hand.
I did run my hand under cold water, but it still left a tiny little blister. So consider yourself warned, stand back when blistering cherry tomatoes!
Garden fresh Caprese recipes
With all of the garden fresh tomatoes and basil coming out of my garden I am whipping up ALLLLL the caprese recipes right now.
The classic Caprese recipe is a simple salad that highlights the light flavors of tomatoes, fresh mozzarella and basil. It was the perfect inspiration for this lighter Caprese Whipped Goat Cheese Dip.
I've been making twists on the classic dish including this simple Caprese Chicken Cheese Wraps and a more robust Sweet Corn Caprese Pizza. The flavors that fresh produce add to recipes is absolutely amazing!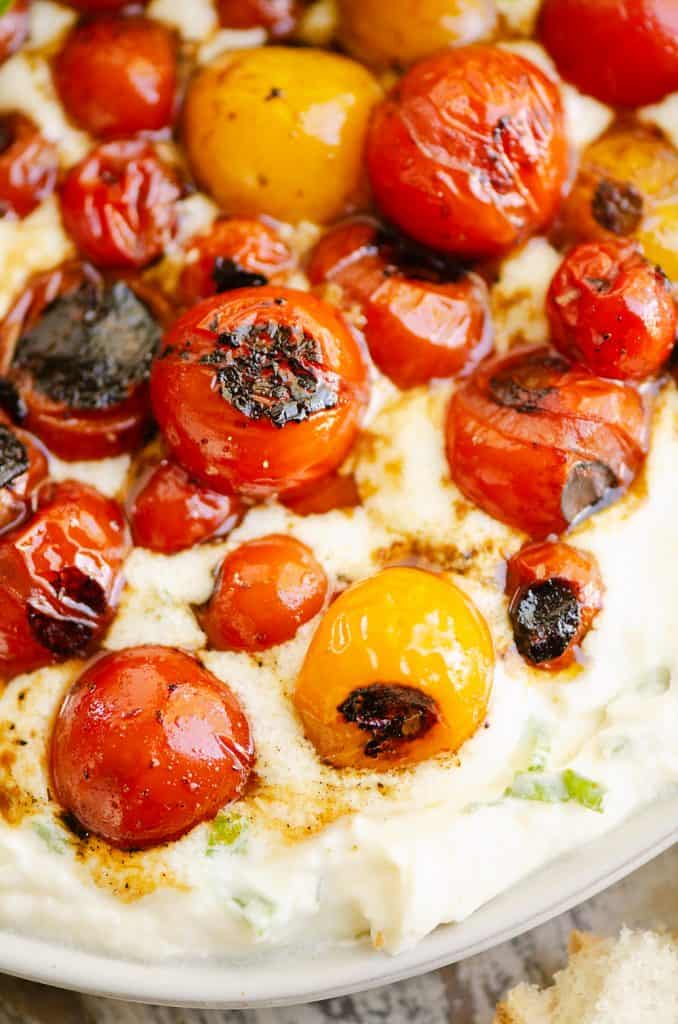 How to serve Whipped Goat Cheese Dip?
You can never go wrong serving just about any dip with a good fresh loaf of bread. From Cucumber Feta Greek Yogurt Dip to White Cheddar & Caramelized Onion Dip. A good loaf of French or Sourdough bread is always a good bet.
If you like a little more crunch with your creamy dip, then crackers or crostini are a great route to go. They will scoop up the creamy goat cheese easily and add a nice texture as well. I used some garlic cheese Naan chips that were wonderful with this Caprese Whipped Goat Cheese Dip.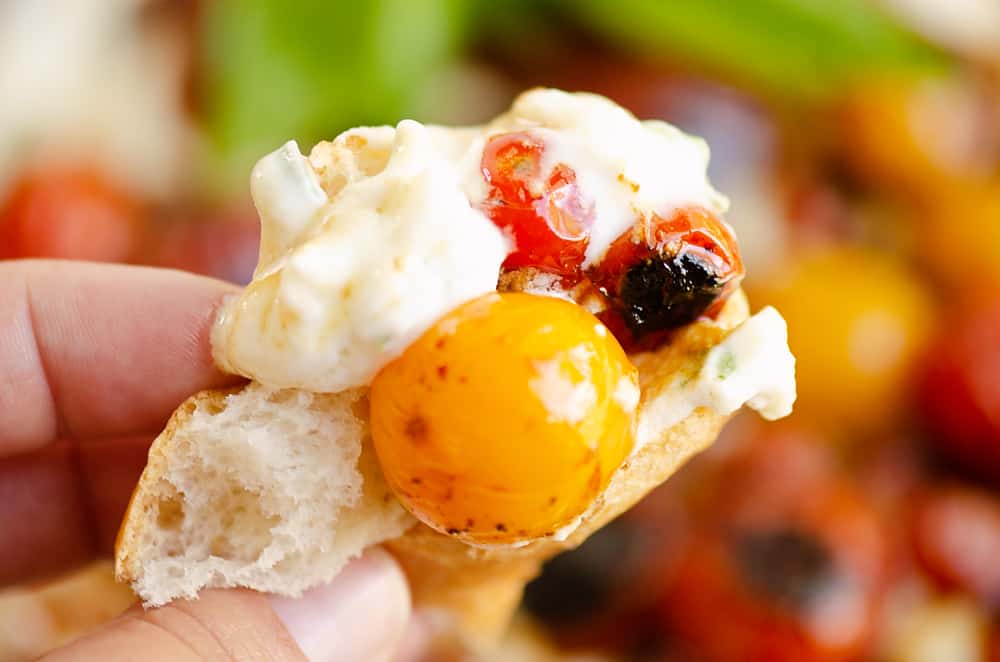 Low Carb Keto Appetizer Option
This dip is naturally low carb and Keto friendly seeing the main components are cheese and cream. If you are wanting to serve this to a crowd of people who may be following a low carbohydrate diet, I would suggest serving it with grilled chicken strips.
Simply grill up a few chicken breasts that are seasoned lightly with salt and pepper. After they cool a bit, slice them up into 1/2 inch strips and you have the perfect high protein, low carb dipping stick!
This works great for just about any savory dip. I've done this before with hummus, tzatziki and other dips that I didn't want to add a bunch of carb heavy bread to.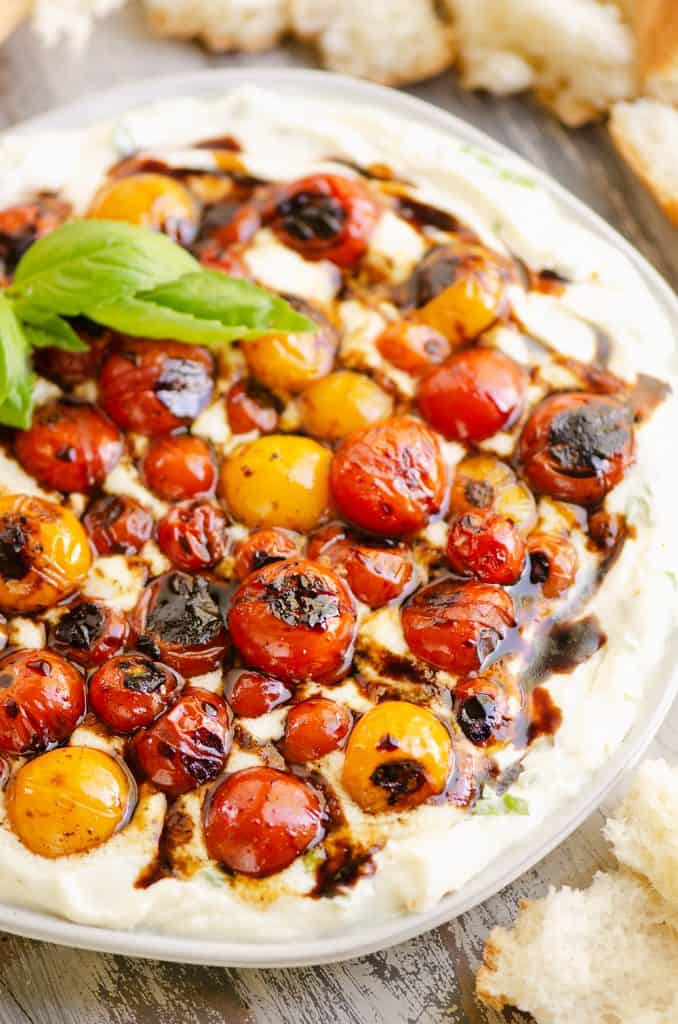 More amazing twists on Caprese!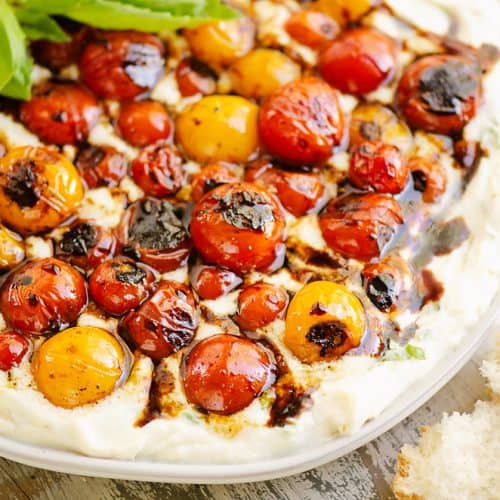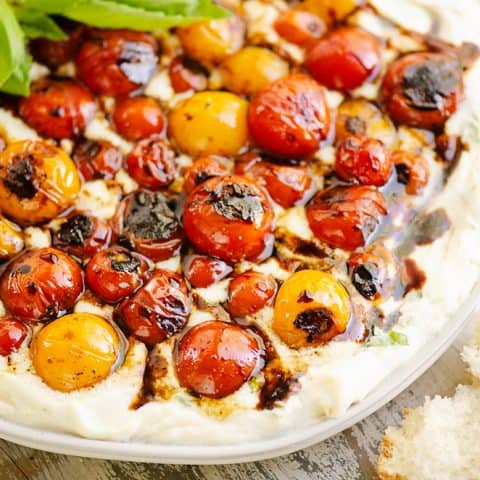 Caprese Whipped Goat Cheese Dip
Caprese Whipped Goat Cheese Dip is an impressive appetizer made with 5 simple ingredients. Whipped basil goat cheese is topped with blistered tomatoes and balsamic glaze for amazing flavor!
Ingredients
Whipped Goat Cheese
4 oz. goat cheese
5 leaves basil, chopped
1/8 tsp. salt
2/3 c. heavy whipping cream
Blistered Tomatoes
2 c. cherry tomatoes
pinch of salt
drizzle of olive oil
Serving
3 Tbsp. balsamic glaze
bread a crackers for serving
Instructions
In a medium bowl add the goat cheese, salt and half of the cream. Beat with a mixer on high until smooth.
Add the remaining cream and beat for 3 minutes. Add the chopped basil and beat for 1 more minute.
Meanwhile, saute tomatoes in large skillet with drizzle of olive oil and pinch of salt for 5 minutes. Be careful for exploding tomatoes!
Spread the goat cheese mixture over a medium plate and top with tomatoes and balsamic glaze.
Serve immediately with fresh bread or crackers.
Store leftover dip refrigerated for up to 3 days.
Recommended Products
As an Amazon Associate and member of other affiliate programs, I earn from qualifying purchases.
Nutrition Information:
Yield:

8
Serving Size:

1
Amount Per Serving:
Calories:

154
Total Fat:

12g
Saturated Fat:

7g
Trans Fat:

0g
Unsaturated Fat:

5g
Cholesterol:

29mg
Sodium:

147mg
Carbohydrates:

8g
Fiber:

1g
Sugar:

5g
Protein:

4g
Provided nutrition data is only an estimate. If you are tracking these nutrients for medical purposes, please consult an outside, trusted source.