Air Fryer Meatballs are an easy 30 minute recipe to enjoy a hearty dinner without the grease or starting your oven! Serve them over pasta, on a sub or enjoy them with some roasted vegetables.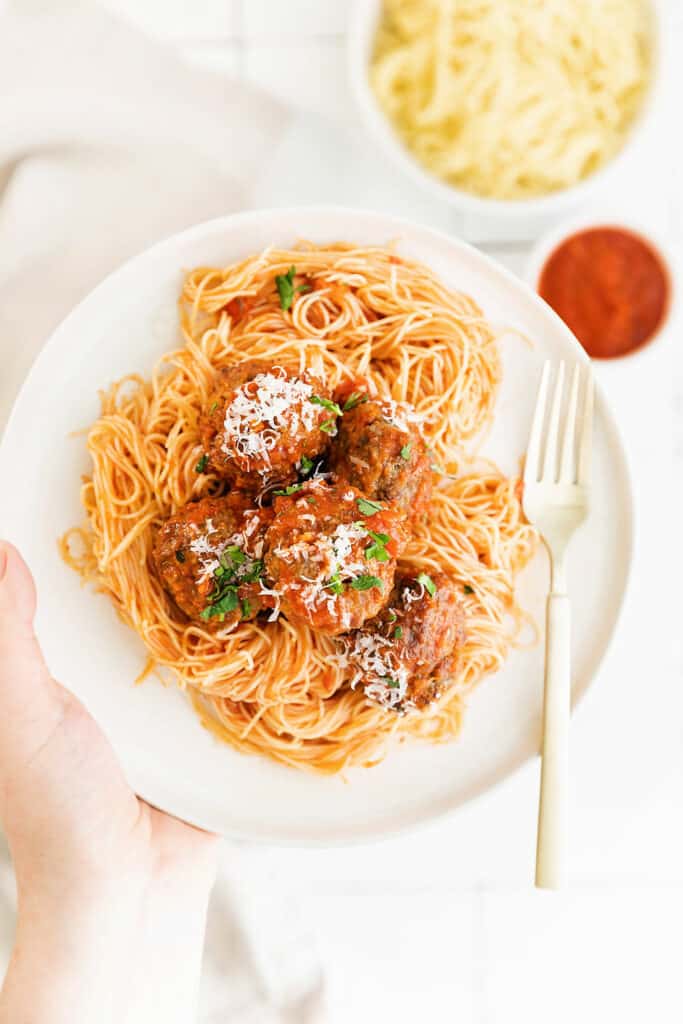 Meatball Recipe in the Air Fryer
Air fryer meatballs present a great way to enjoy excellent quality meatballs but without so much grease. They cook quickly and the outsides brown to perfection, all while nice and moist on the inside! Serve them over this one pot alfredo rigatoni or on top of Texas Toast for easy meatball sliders.
Air fryers use hot air convection to roast the meatballs just right without heating up your entire kitchen. You can make them more or less spicy, per your own preferences, and use them for different recipes, or just eat them as a snack too.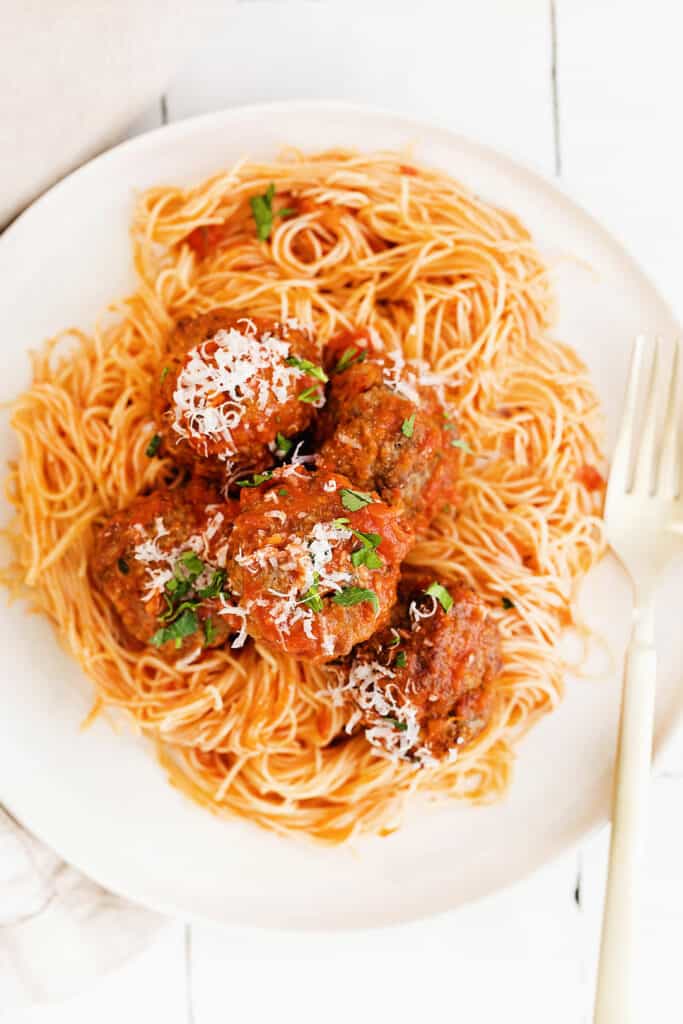 Why use the Air Fryer?
For some folks, cooking with an air fryer is a hard idea to wrap their head around. How can it fry when no oil is used? Air fryers are very versatile, easy to use and offer numerous benefits. They are easy to clean, and you just have to remember a few simple tricks in order to be an air frying master.
With making air fryer meatballs, you are going to take advantage of the high heat to brown the entire meatball. And guess what? You might not even have to turn them once. Unlike doing meatballs in a pan, where you constantly are spooning the meatballs back and forth to get an all over sear, the air does all the work for you.
Not only do you not heat up your kitchen, but it's much quicker. No need to wait while your oven preheats to a high temperature. Just toss your prepared meatballs in the Air Fryer basket and you are ready to go.
How to make meatballs less greasy
The great thing about using an air fryer is it helps reduce the amount of grease. You still end up with a flavorful and juicy meatball, but much of the fat drains off below. On the bright side too, that excess grease is easy to wipe clean out afterwards so that is perk of air fryers too.
If you want to avoid any smoke coming from your Air Fryer, add a slice of bread to the bottom of the Air Fryer, under the basket. This will trap a lot of that excess grease and avoid it cooking hot and smoking.
If you are looking for a healthy family friendly dinner, serve these meatballs with some of these popular Air Fryer Carrot Fries and you won't have to use any other kitchen appliances!
How To Make Air Fryer Meatballs
There are a few things to keep in mind when using an air fryer to cook perfect meatballs.
The size of your meatballs matters. Keep the meatballs about 1″ in diameter. Bite size is the right size. This allows the meatballs to cook quickly with the high heat of the air fryer.
Keep a bit of space around each meatball in the air fryer. You want that air to get around each meatball as it cooks to keep them cooking quickly and evenly. Don't feel rushed and pressured to get too many meatballs in at once. Doing them in smaller batches will actually keep them cooking quickly. Whereas trying to cook them all at once will take forever and you will wonder if your air fryer is actually working.
Lightly coat the meatballs with a bit of olive oil before placing them in the air fryer. Not only will this help the meat brown perfectly on the exterior, but it will also prevent the meatball from sticking to your hands or to the bottom of the air fryer.
Trust the timer. You want to keep the heat and constantly opening the air fryer to check them will just make everything take a lot longer.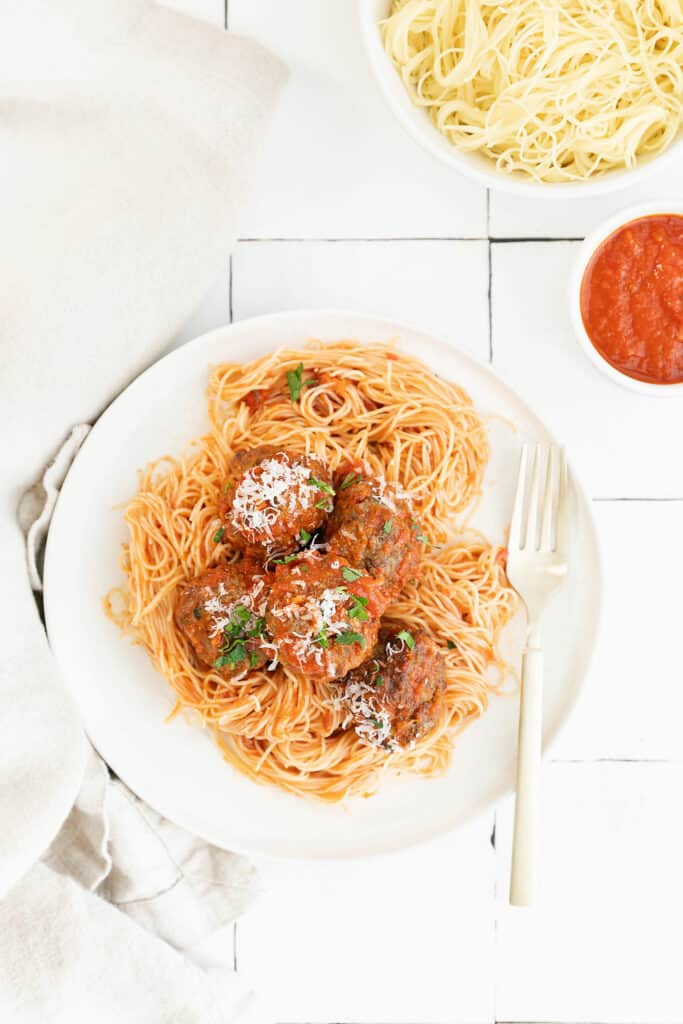 Classic Italian Style Meatballs
For this recipe, I recommend a combination of beef and pork along with some Italian herbs seasonings and a bit of extra chopped parsley. The breadcrumbs and egg help hold everything together and give the meatballs a better texture.
You can use these air fryer meatballs for any recipe like pasta with Bolognese or Marinara sauce, but you could even use them for a Swedish Meatballs dish. Or, serve them with toothpicks as an appetizer. They are incredibly versatile.
Classic Italian meatballs are typically made with beef and pork. The beef flavor with the fattier pork results in a supremely flavorful meatball, not too dry, not too greasy. All delicious.
If you want to spice them up a bit then you can also always add a bit of red pepper flakes. I leave it out in this recipe because some people, ahem, my darn Midwest kids, can't handle much heat.
More great Meatball Recipe Ideas
If you love the convenience and versatility of meatballs like I do, then you may want a few more recipes to provide some inspiration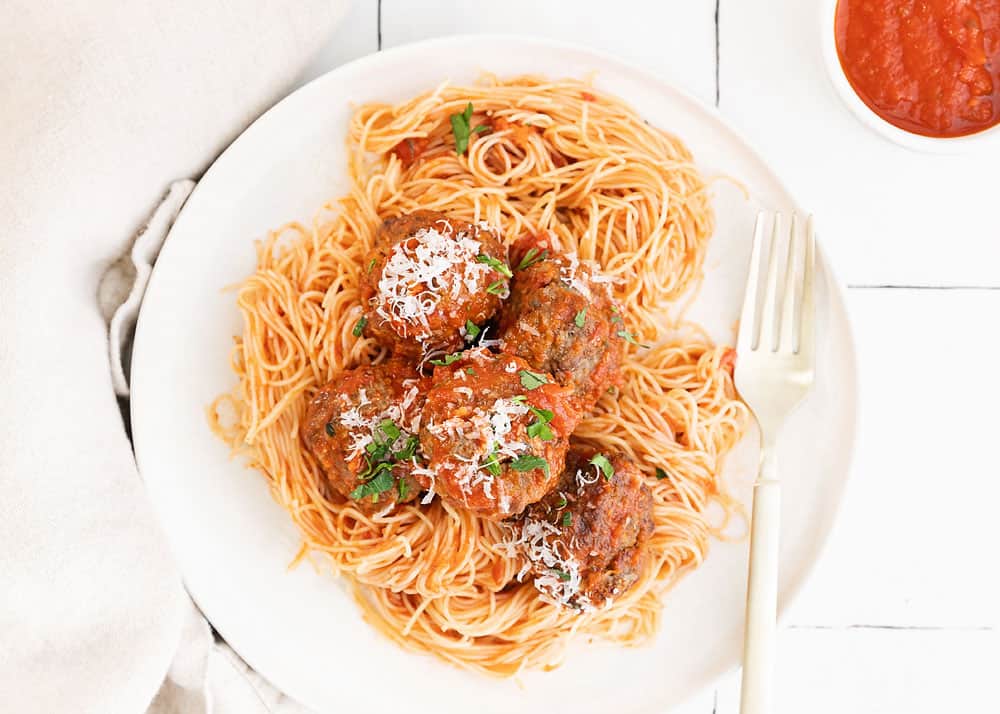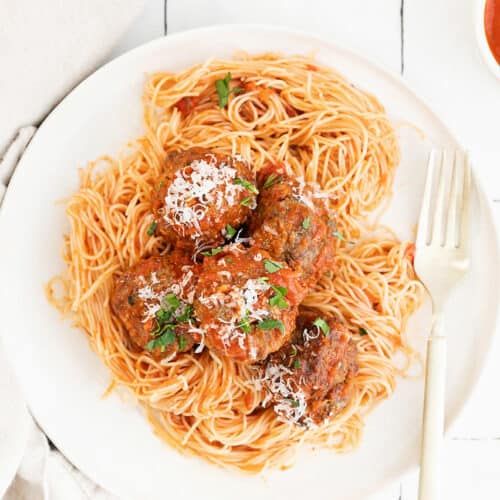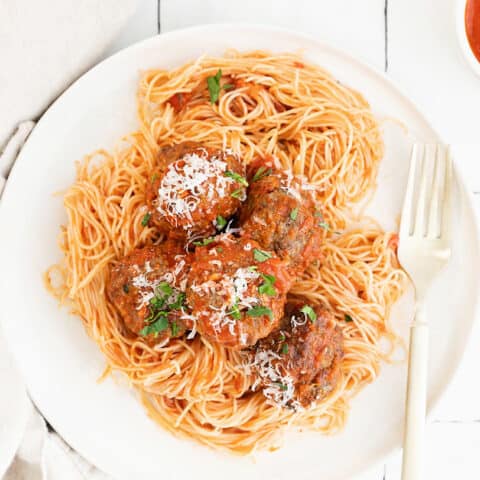 Air Fryer Meatballs
Air Fryer Meatballs are an easy way to enjoy a hearty dinner without starting your oven! Serve this meatball recipe over pasta, on a sub or enjoy them with some roasted vegetables.
Ingredients
1 pound ground beef
1 pound ground pork
1 cup breadcrumbs
4 cloves garlic, minced
1 tablespoon fresh parsley, chopped
1 teaspoon dried Italian seasoning
2 large eggs
1 teaspoon Worcestershire sauce
Instructions
Spray the air fryer basket with non-stick cooking spray.
In a large mixing bowl, combine all the ingredients.
Using clean, dry hands, work the mixture together until well combined. Try not to compact it too much- you want it mixed, but not overworked.
Form into 1" balls and place in your Air Fryer basket. Use a double rack for your Air Fryer basket to cook all the meatballs at the same time. If you don't have one, cook the meatballs in two batches.
Cook at 400°F for 14 minutes or until they reach an internal temperature of 145°F. Carefully remove from the hot basket with tongs and serve immediately.
Notes
If you want to avoid any smoke coming from your Air Fryer, add a slice of bread to the bottom of the Air Fryer, under the basket. This will trap a lot of that excess grease and avoid it cooking hot and smoking.
If the meat is sticking to your hands, drizzle your hands with olive oil. This will help crisp the outside of the meatball and prevent them from sticking to your hands.
Enjoy with pasta or as an appetizer.
I use a 2 tablespoon cookie scoop to ensure that my meatballs are all the same size.
Use a meat thermometer to ensure that the meatballs reach an internal temperature of 145°F.
You can substitute the pork for lamb or Italian sausage, if desired.
Recommended Products
As an Amazon Associate and member of other affiliate programs, I earn from qualifying purchases.
Nutrition Information:
Yield:

6
Serving Size:

4 meatballs
Amount Per Serving:
Calories:

530
Total Fat:

31g
Saturated Fat:

12g
Trans Fat:

1g
Unsaturated Fat:

16g
Cholesterol:

200mg
Sodium:

289mg
Carbohydrates:

14g
Fiber:

1g
Sugar:

1g
Protein:

44g
Provided nutrition data is only an estimate. If you are tracking these nutrients for medical purposes, please consult an outside, trusted source.