Glazed Hoisin Meatball Bowls are an easy and healthy dinner recipe loaded with hearty Asian inspired meatballs, roasted carrots and garlic ginger rice.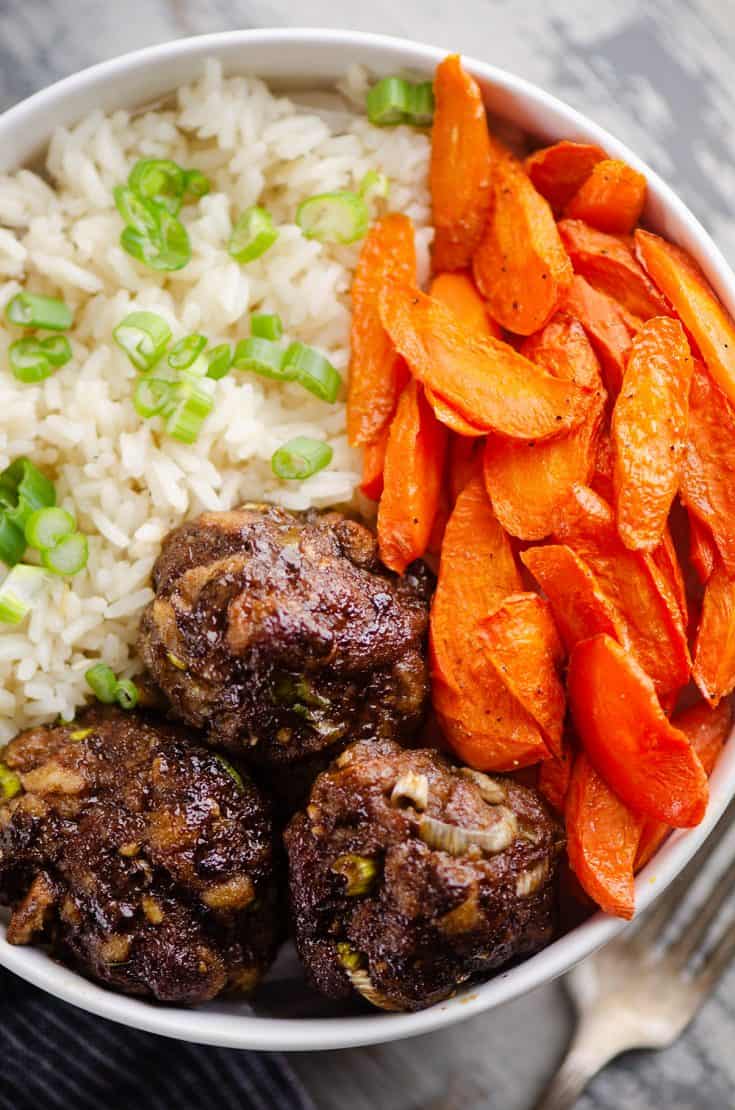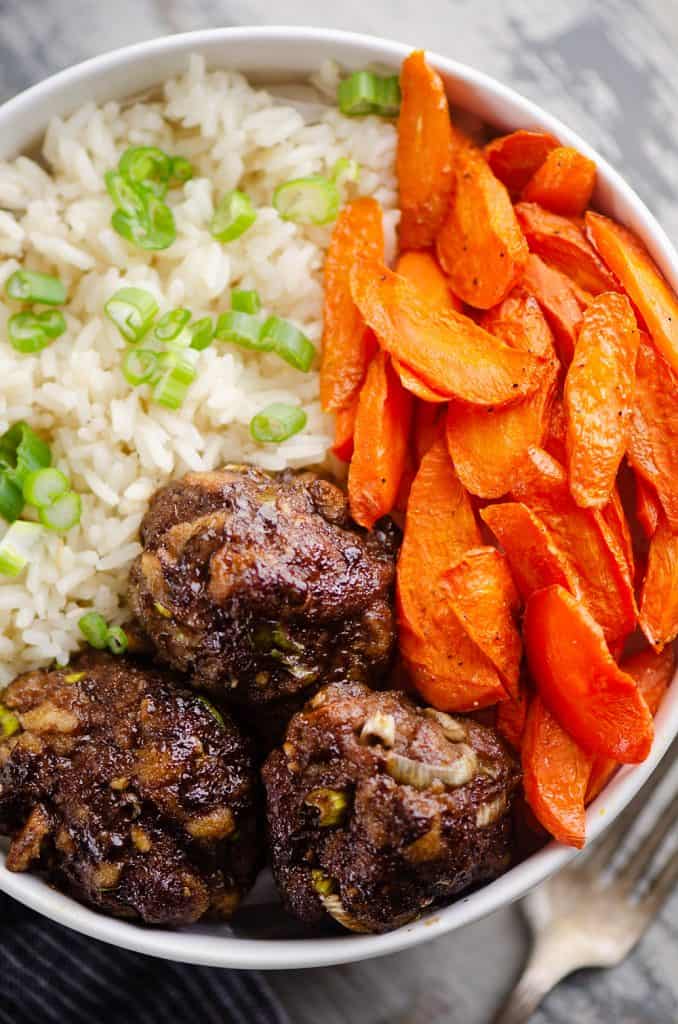 Hoisin Meatballs & Carrots
These Hoisin Glazed Meatball Bowls are another recipe inspired by one of my delicious meals from my EveryPlate meal deliveries, like these Honey Sriracha Meatball Bowls. It is such a simple and delicous dinner packed with so much goodness.
Lean hamburger is formed into meatballs and glazed with a simple mixture of Hoisin sauce and soy sauce. They are roasted until tender and the glaze is nice and caramelized alongside carrots.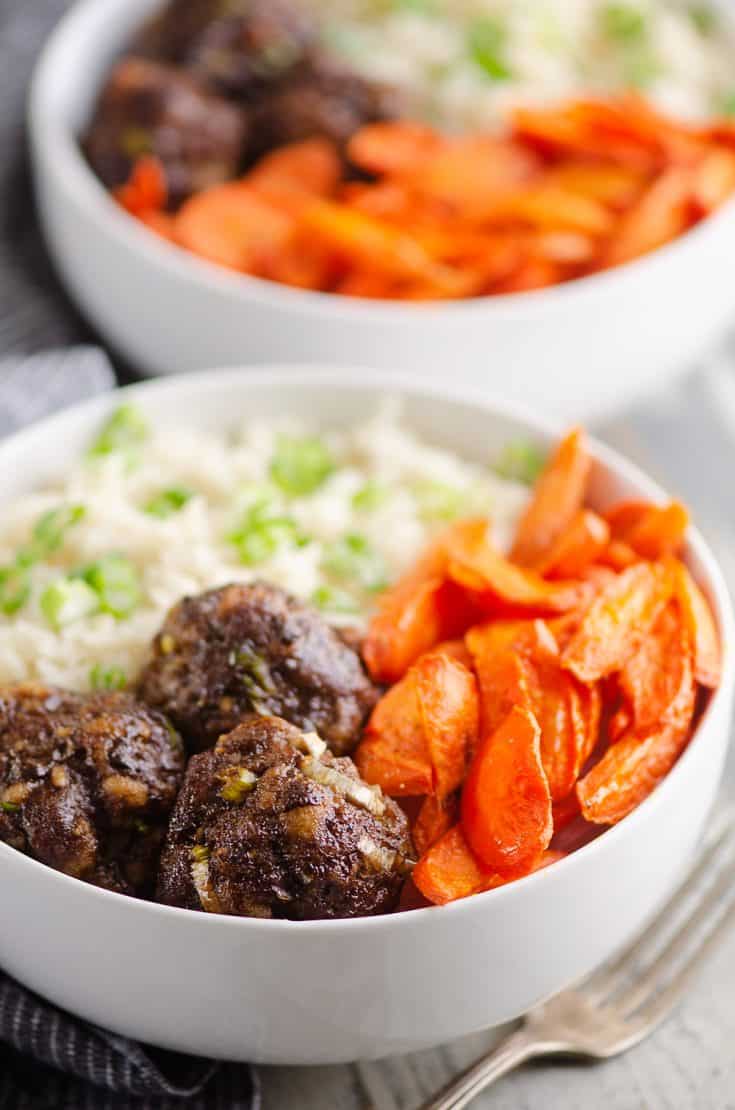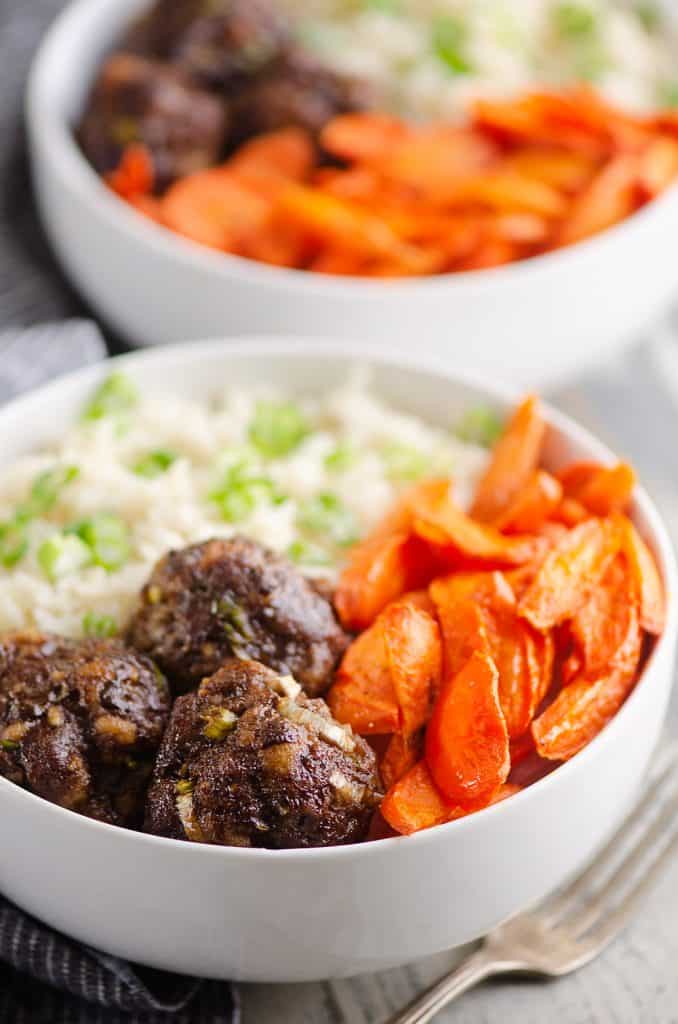 Oven Roasted Carrots
I have never enjoyed cooked carrots on their own for as long as I can remember. The canned carrots my Mom would heat up or the mushy carrots cooked with a beef roast just never appealed to me. I would have never thought to try roasted carrots until I started getting meal delivery kits.
When the carrots are thinly sliced and roasted at high temps with just a little olive oil, salt and pepper, they have a completely different texture than your typically canned carrots. Instead of being soft and mushy, they have a nice caramelized outside with the sweet flavor that roasting brings out in them. I could seriously eat them like chips they are so good!
This is a big reason I love meal kits. They push me out of my comfort zone sometimes and allow me to try foods in unexpected ways. While many of you may be rolling your eyes at me thinking roasted carrots are nothing new, they were for me. It just wasn't how I was raised eating carrots, so for some reason I never thought to try them that way because I had written them off.
That isn't the case anymore, because now I roasted carrots are one of my favorite side dishes when I have the oven going. They are the absolute perfect vegetable side to these Glazed Hoisin Meatball Bowls.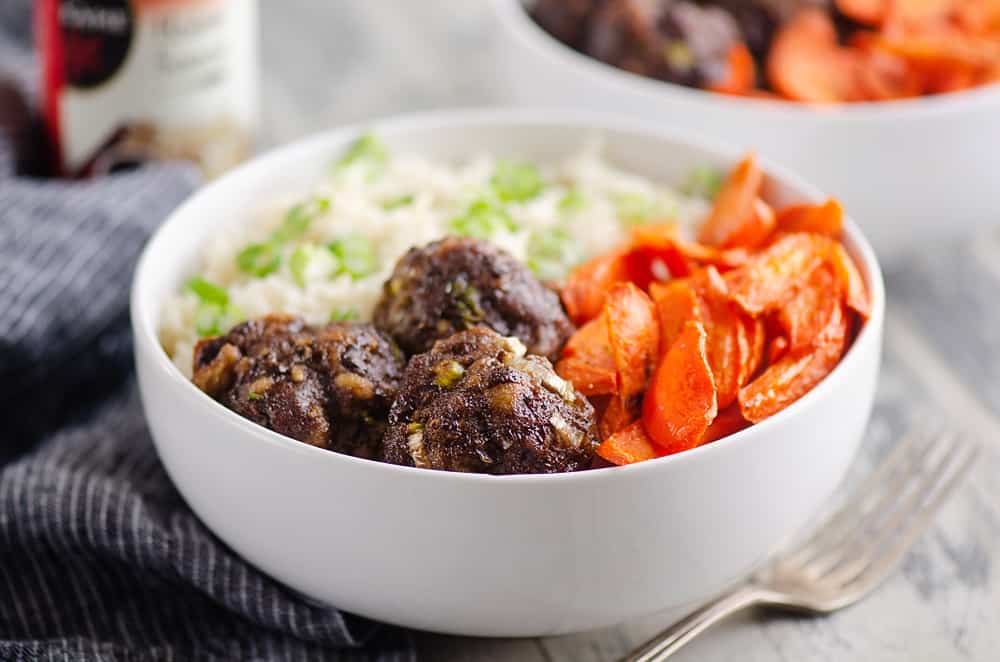 Meal Prep Bowls
These Glazed Hoisin Meatball Bowls are great meal prepped. They taste just as good reheated in the microwave. The carrots on the other hand will end up with that dreaded mushy texture that I dislike. The workaround for that is to either reheat them in the oven, or the much simpler option is to pop them in your Air Fryer.
Any foods that you want to reheat, but not end up with a soft mushy mess, I always recommend heating in your Air Fryer. Not only is it great for amazing Air Fryer Recipes, but it is fantastic for heating up frozen foods and reheating pre-cooked foods.
Alternative Grain Options
If you are wanting to make this dish even healthier, just pair it wiht some brown rice or quinoa. You will still get a nice satisfying bite with the meat and veggies. I used Jasmine rice, because it is my favorite with Asian inspired cuisine, but just about any grain would work well with these flavors.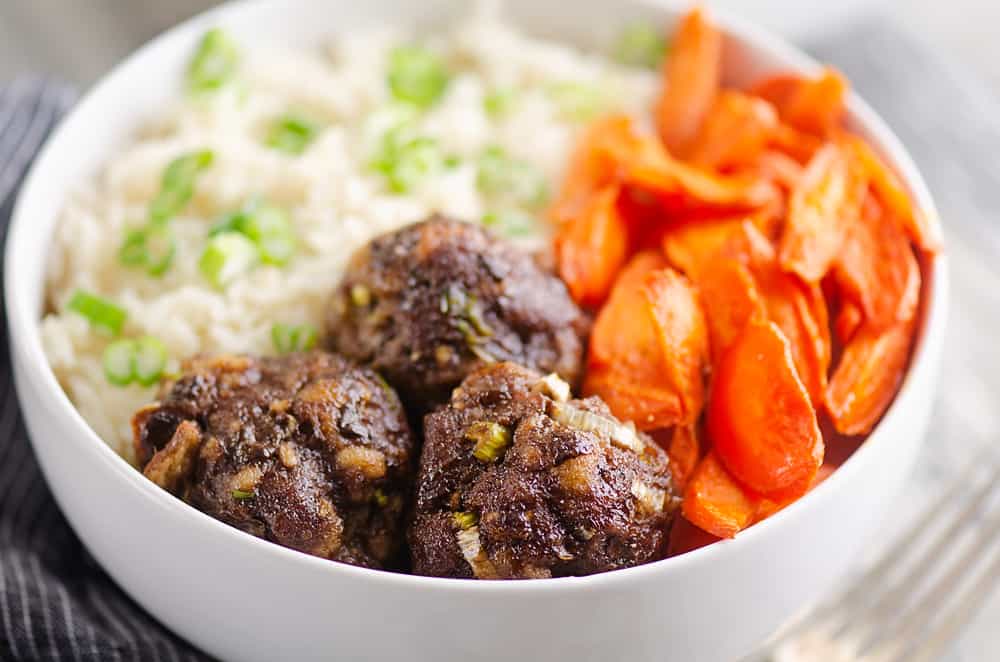 Low Carb Alternatives
Honestly, if you are looking for a good low carb meal, you could completely skip the grain altogether in these Glazed Hoisin Meatball Bowls. The glazed meatballs and roasted carrots would make for a delicious meal all on their own.
If you are wanting to really load up on vegetables, some fresh cucumbers would be a nice side or a simple salad with Orange Ginger Vinaigrette and toasted almonds.
More Healthy Bowl Recipes!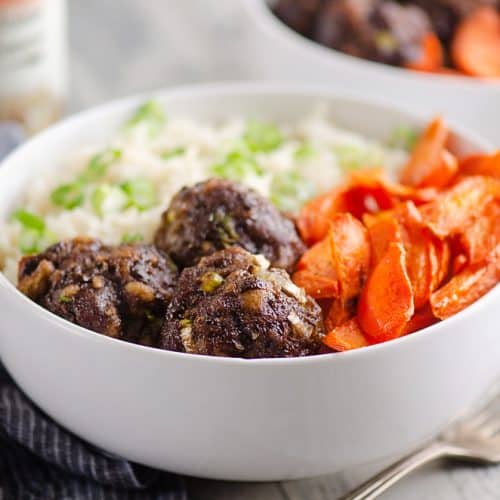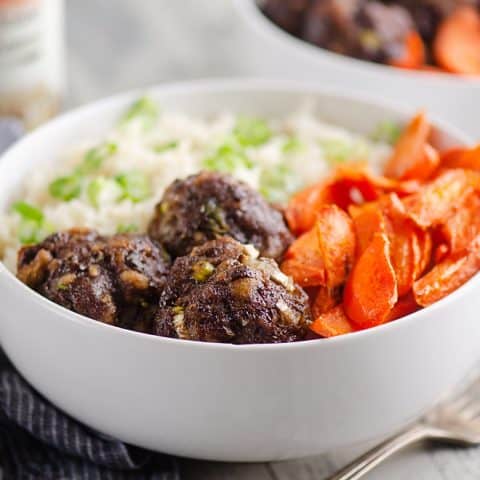 Glazed Hoisin Meatball Bowls
Glazed Hoisin Meatball Bowls are an easy and healthy dinner recipe loaded with hearty Asian inspired meatballs, roasted carrots and garlic ginger rice.
Ingredients
Carrots
4 medium carrots
1 Tbsp. olive oil
salt and pepper
Meatballs
1 piece of bread
1 tsp. grated ginger
2 tsp. minced garlic
salt and pepper
2 scallions, whites
1 lb. 93% lean ground beef
Glaze
3 Tbsp. hoison sauce
2 tsp. soy sauce
Rice
1 Tbsp. butter
1 tsp. grated ginger
1 tsp. minced garlic
3/4 c. long grain white rice
1 c. water
2 scallions, greens
Instructions
Preheat oven to 450°. Soak the piece of bread in 3 Tbsp. of water and set aside.
Peel and slice the carrots on a diagonal 1/4 inch thick. Add the carrots to one side of the sheet pan and toss with 1 Tbsp. olive oil and a pinch of salt and pepper. Arrange on half of the sheet pan so they are spaced out and can roast.
Meanwhile, in a medium bowl, add the ground beef, 1 tsp. grated ginger, 2 tsp. minced garlic, the scallion whites, a pinch of salt and pepper and the soaked bread broken into small pieces. Mix with your hands until it is well combined.
Shaped the mixture into 9 meatballs and place on the empty half of the sheet pan. Place the pan in the oven and bake at 450° for 12 minutes.
To a small saucepan, add 1 Tbsp. butter, 1 tsp. grated ginger and 1 tsp. minced garlic. Cook for 1 minute and add the rice to coat and 1 cup water. Bring to a boil and reduce to a simmer. Cook for 15 minutes until the rice is tender.
In a small bowl whisk together the Hoisin sauce with soy sauce. After the meatballs have cooked for 12 minutes, remove them from the oven and coat them in the Hoisin sauce by tossing them in the bowl or brushing them with the sauce.
Return the meatballs to the pan and bake for 8-10 minutes or until the meatballs reach an internal temperature of 165°.
If the carrots aren't cooked all the way, return them to the oven and bake until they are tender. Serve the meatballs, roasted carrots and rice in bowls and top with scallion greens.
Recommended Products
As an Amazon Associate and member of other affiliate programs, I earn from qualifying purchases.
Nutrition Information:
Yield:

3
Serving Size:

1
Amount Per Serving:
Calories:

530
Total Fat:

24g
Saturated Fat:

9g
Trans Fat:

1g
Unsaturated Fat:

12g
Cholesterol:

145mg
Sodium:

720mg
Carbohydrates:

28g
Fiber:

6g
Sugar:

4g
Protein:

49g
Provided nutrition data is only an estimate. If you are tracking these nutrients for medical purposes, please consult an outside, trusted source.