This simple 5 ingredient recipe for Easy Greek Freak Meatballs is a healthy low carb dinner you can meal prep for salads, bowls, Keto dinners or wraps!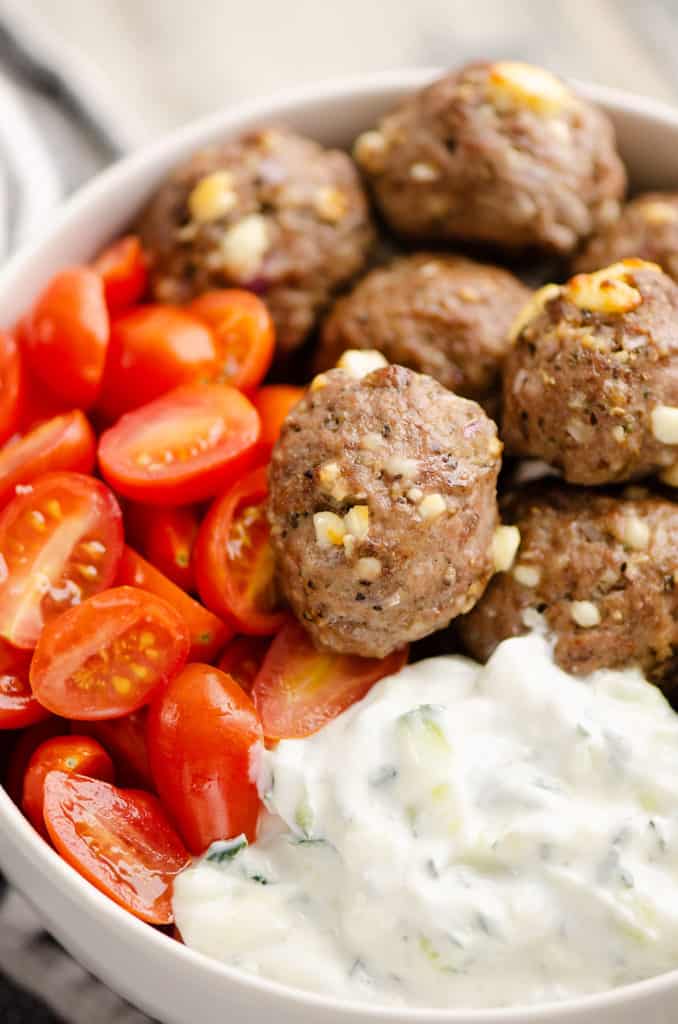 Greek Meatballs Recipe
Whether you like simple and healthy meals or are a big fan of quick meal prep recipes, these Easy Greek Freak Meatballs are a must try. They are tender meatballs made with lean ground beef, garlic, feta and a Greek spice mix.
Add these Greek Meatballs to a bowl with some fresh tomatoes and Cucumber Yogurt Dip or in a Naan bread with veggies and hummus for a quick lunch. They also make a hearty dinner served with rice and roasted vegetables.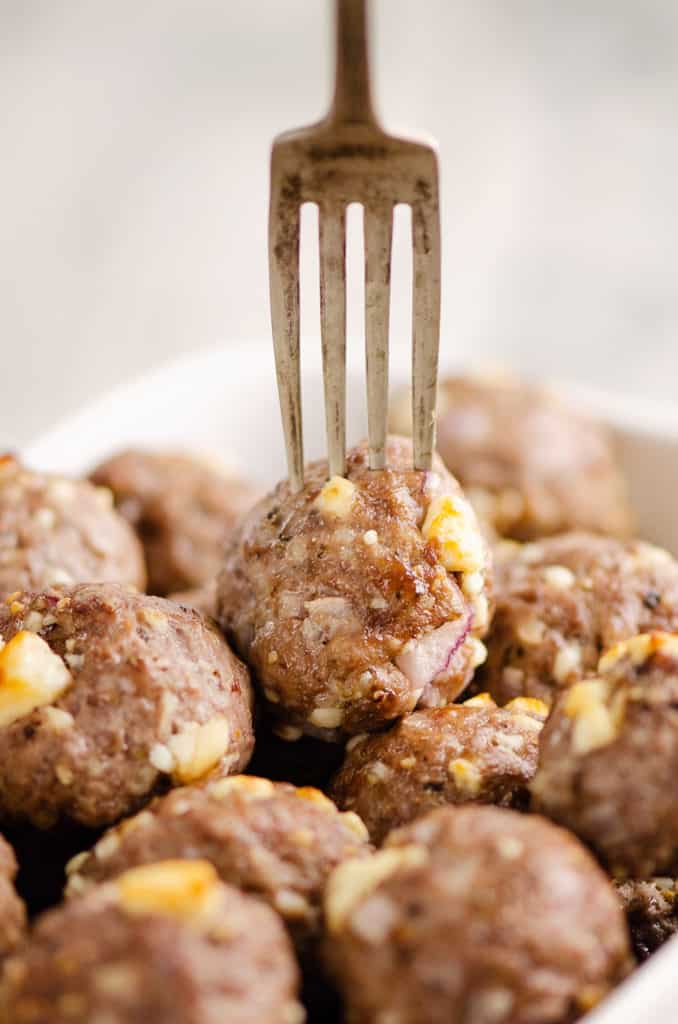 Spiceology Greek Freak
I was recently introduced to Spiceology spice blends from my friend Nicole. She is an amazing cook and raves about them so I knew I needed to give them a try. I asked her what I needed to order first and she highly recommended their Greek Freak blend.
I'm not typically a fan of sharing recipes with a specific spice blend, because it isn't something everyone will have in their spice cupboard. This Greek Freak blend is so good, I just have to share though!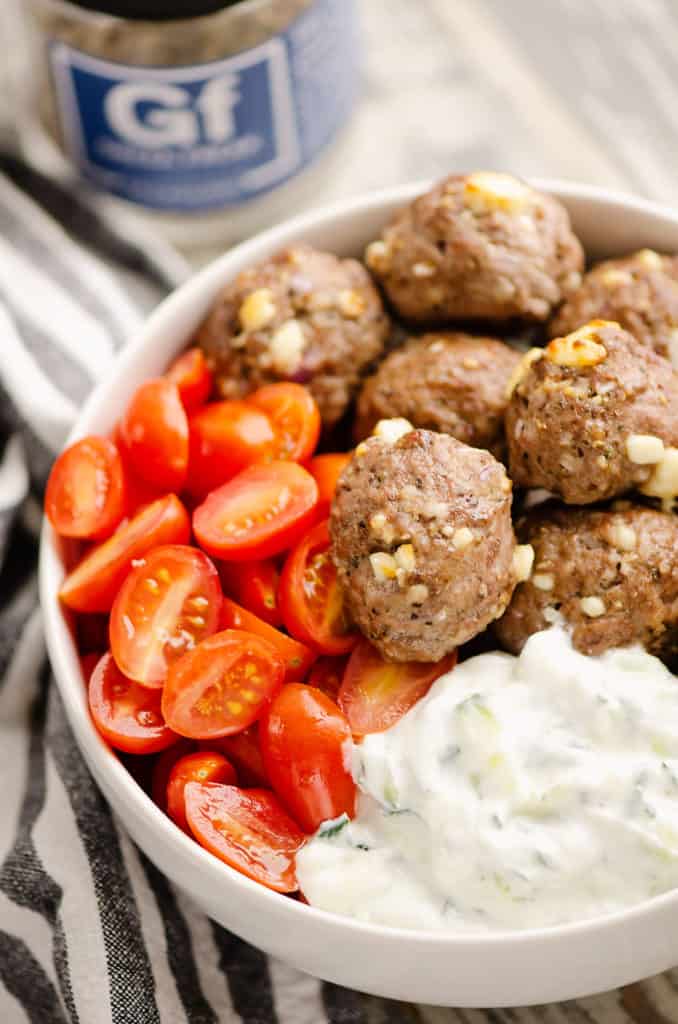 What is Greek Freak?
Greek Freak is made with a mix of herbs, dried onion, sun-dried tomato, a little bit of chili pepper and orange peel powder. It's the perfect balance of traditional Mediterranean herbs with a little heat from the pepper and brightness from the citrus.
It really is worth grabbing a jar. I've made chicken noodle soup, Air Fryer roasted potatoes and so much more with it. It's incredibly versatile and a new staple in my kitchen. This isn't a sponsored post in any way, I really just love the product!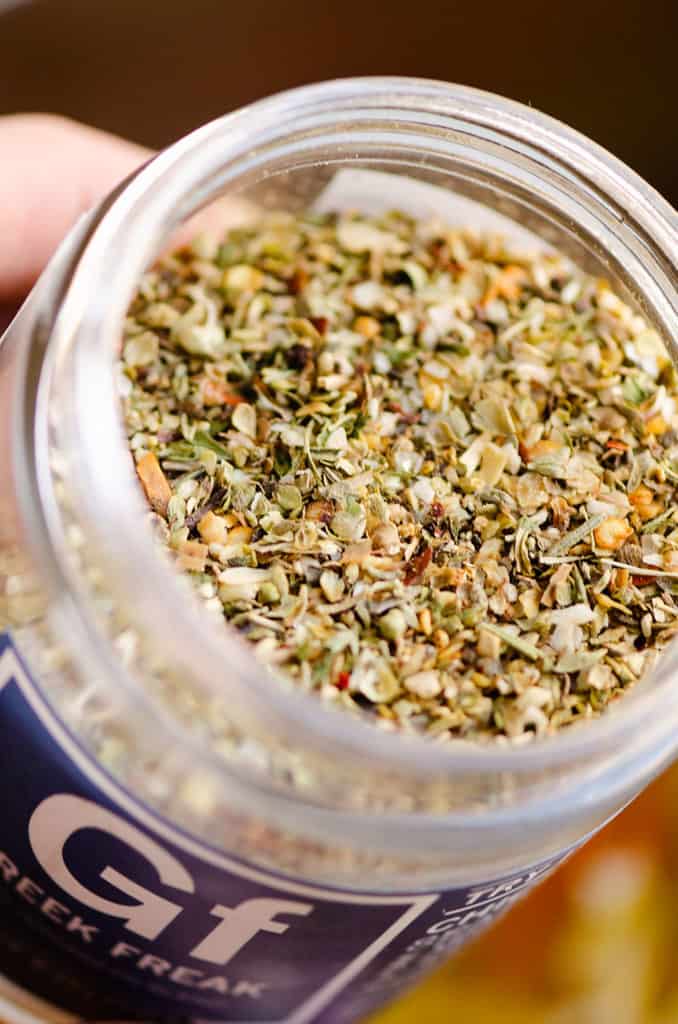 What meat should I use for meatballs
If you are wanting to meal prep this meatball recipe for healthy meals, you will want to stick to a 90-93% lean ground beef. The tradeoff with meats when it comes to making meatballs is moisture vs. fat.
The more fat your ground beef has, the more moisture will be added to the meatballs. 80/20 ground beef is popular for meatball recipes for this reason and you can absolutely use that in this recipe.
For me personally, I am willing to make a bit of a tradeoff and cut down on the fat content. When you are serving these with a yogurt sauce or hummus along with fresh squeeze of lemon juice, you won't be disappointed!
Ground turkey would absolutely work with these Greek Meatballs, but beware of using the ultra lean meat.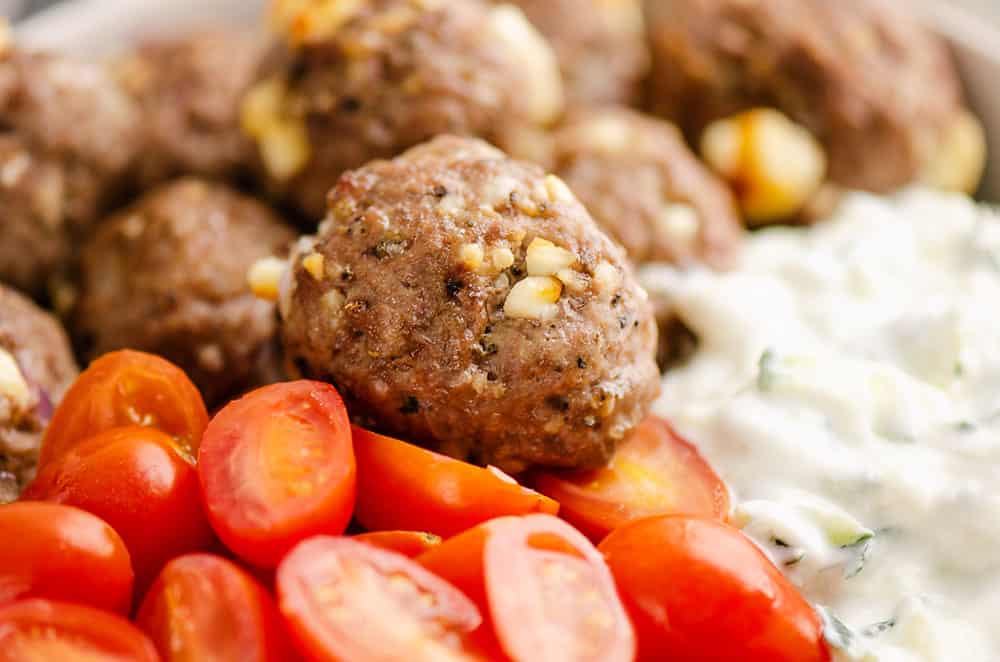 Can I use ground turkey?
When you start using 99% lean ground turkey, you are going to be left with hockey pucks for meatballs, because there is absolutely not moisture left.
Regardless of what type of ground meat you decide to use, don't go any leaner than 93%.
How to make Greek meatballs
After you have selected the ground meat you want for your meatballs, add it to a bowl with crumbled feta cheese, diced garlic, finely diced red onion and Spiceology Greek Freak.
Using your hands, mix everything just until the seasonings are well distributed throughout the ground beef.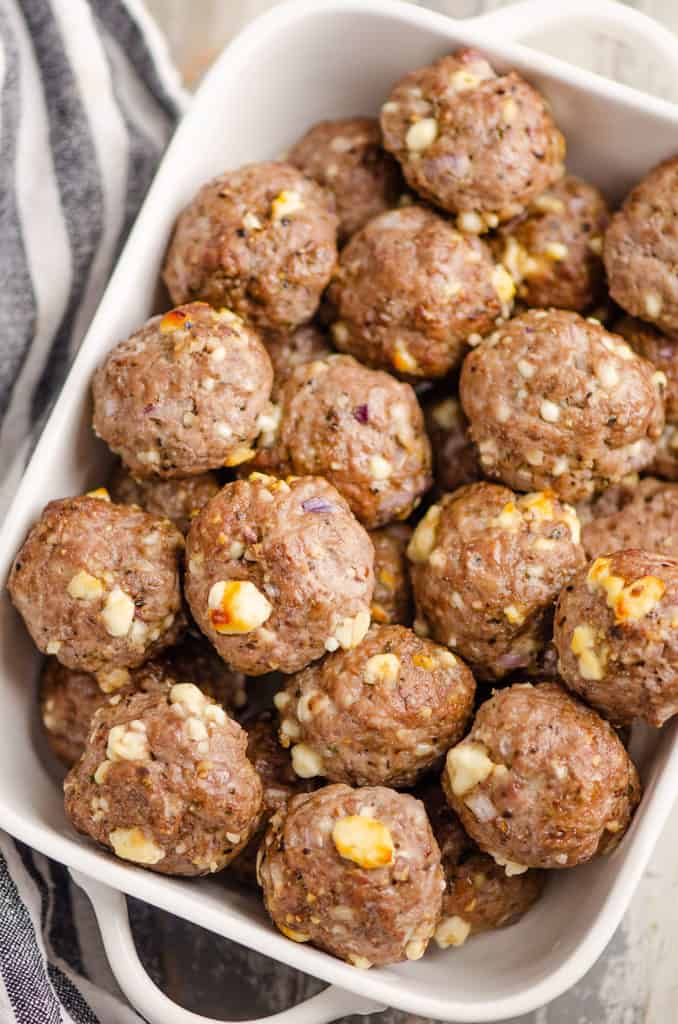 Best way to make even meatballs
The easiest and simplest way to make even meatballs is by using a cookie scoop. It is important to have even meatballs so they cook evenly.
Scoop out roughly 2 dozen meatballs and then roll them with your hands just until they are formed into a rough sphere. Don't overwork the meat unnecessarily.
Arrange the meatballs on a greased sheet pan with at least 2 inches between each meatball. This allows all sides to brown up nicely instead of steaming the meatballs, which will happen if you crowd them.
Bake the meatballs at 425° F for 20-25 minutes, until they reach an internal temperature of 160°.
What size scoop to use for meatballs
The size of your meatballs will determine the cooking time. A digital read meat thermometer is idea for checking the doneness of any meats.
Try not to make your meatballs too big or they will dry out some before they are fully cooked through. I prefer to use a #40 scoop for a nice medium size meatball.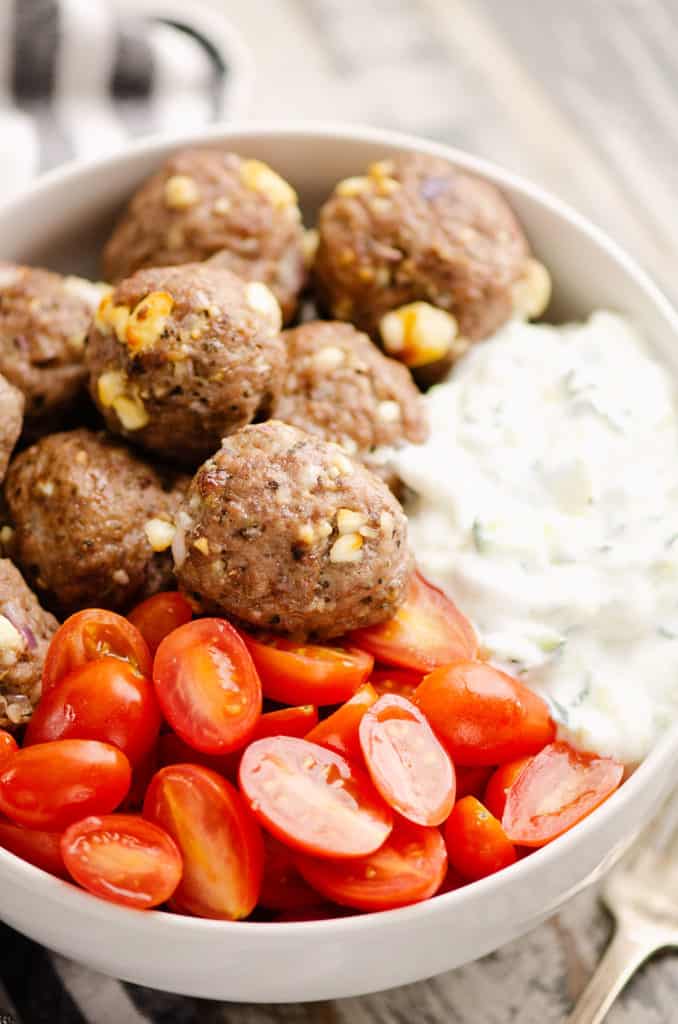 Healthy Meal Prep Meatballs
When the meatballs are done baking, serve them immediately and allow the extras to cool for 10 minutes before packaging them to refrigerate.
These meatballs are incredibly low carb and perfect for a healthy Keto lunch or dinner.
I like to store my my meal prepped proteins in glass storage containers so I can easily see what I have in my refrigerator at a glance.
What to serve with Greek Meatballs
Meatballs might not be one of your typical meal prep recipes and you are wondering what to serve them with. I've got lots of healthy meal ideas for these Greek Meatballs!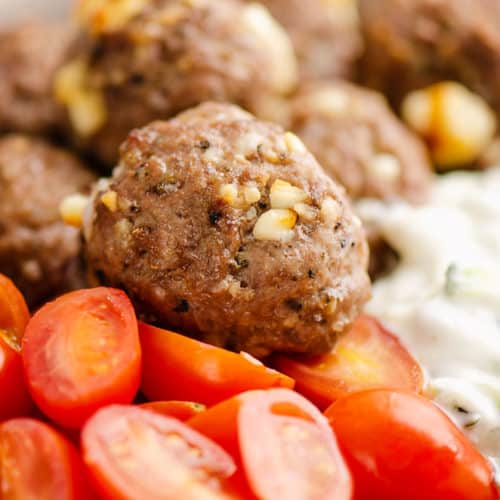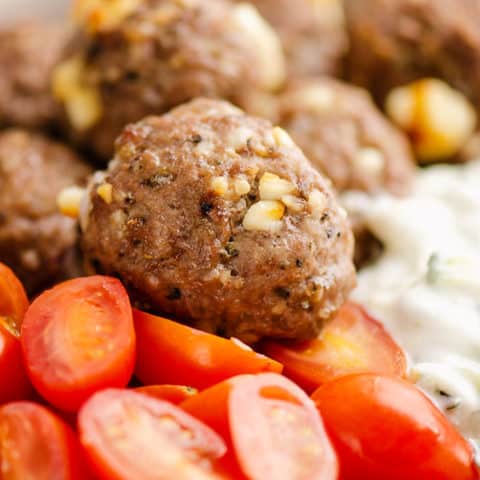 Easy Greek Freak Meatballs
Yield:
24 medium meatballs
This quick 5 ingredient recipe for Easy Greek Freak Meatballs with feta, is a simple and healthy dinner you can meal prep for salads, bowls, dinners, wraps and more!
Ingredients
2 pounds lean ground beef
1/3 cup finely diced red onion
1 Tablespoon finely diced garlic
8 oz. feta cheese, crumbled
Instructions
Preheat oven to 425°.
Add all of the ingredients to a large bowl and mix with your clean hands just until well combined.
Using a cookie scoop, scoop and roll out 24 balls. Arrange them on a greased sheet pan at least 2 inches apart.
Bake at 425° for 20-25 minutes, or until the meatballs reach an internal temperature of 160°.
Serve immediately or store cooled meatballs in a sealed container in the refrigerator for up to 1 week.
Recommended Products
As an Amazon Associate and member of other affiliate programs, I earn from qualifying purchases.
Nutrition Information:
Yield:

6
Serving Size:

4 meatballs
Amount Per Serving:
Calories:

455
Total Fat:

26g
Saturated Fat:

13g
Trans Fat:

1g
Unsaturated Fat:

10g
Cholesterol:

168mg
Sodium:

479mg
Carbohydrates:

3g
Fiber:

0g
Sugar:

2g
Protein:

49g
Provided nutrition data is only an estimate. If you are tracking these nutrients for medical purposes, please consult an outside, trusted source.