Turkey Bacon Parmesan Ranch Wrap is a quick and easy sandwich recipe perfect for packing a lunch on the go or a simple weeknight meal.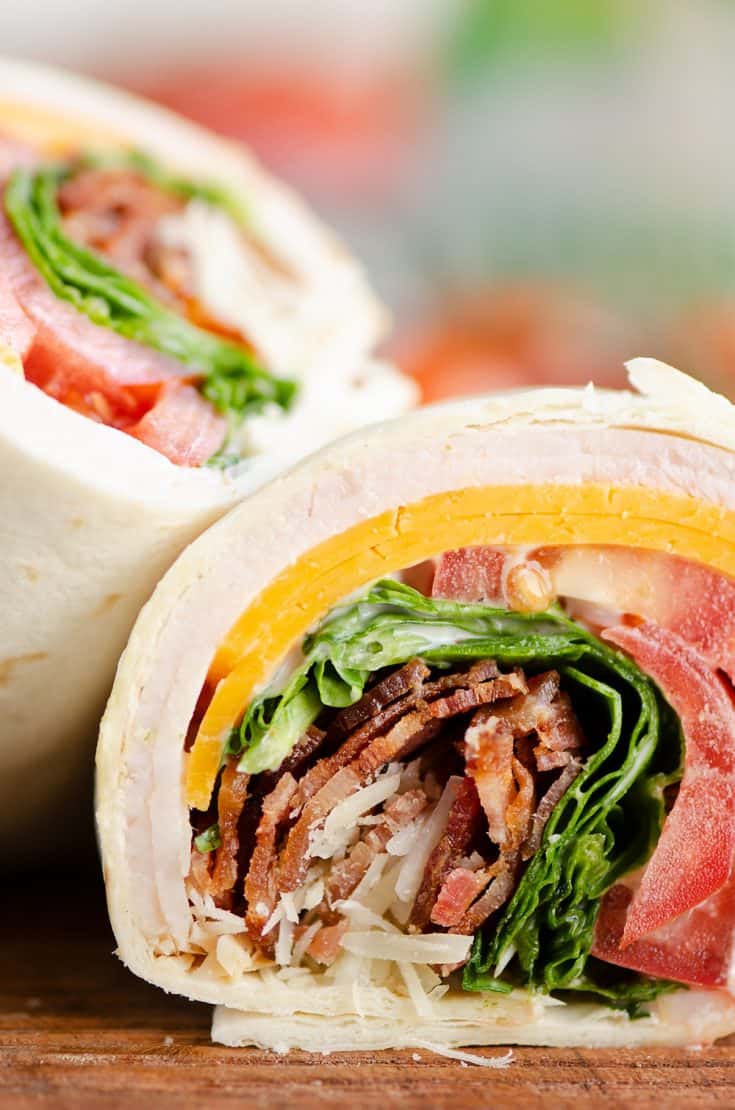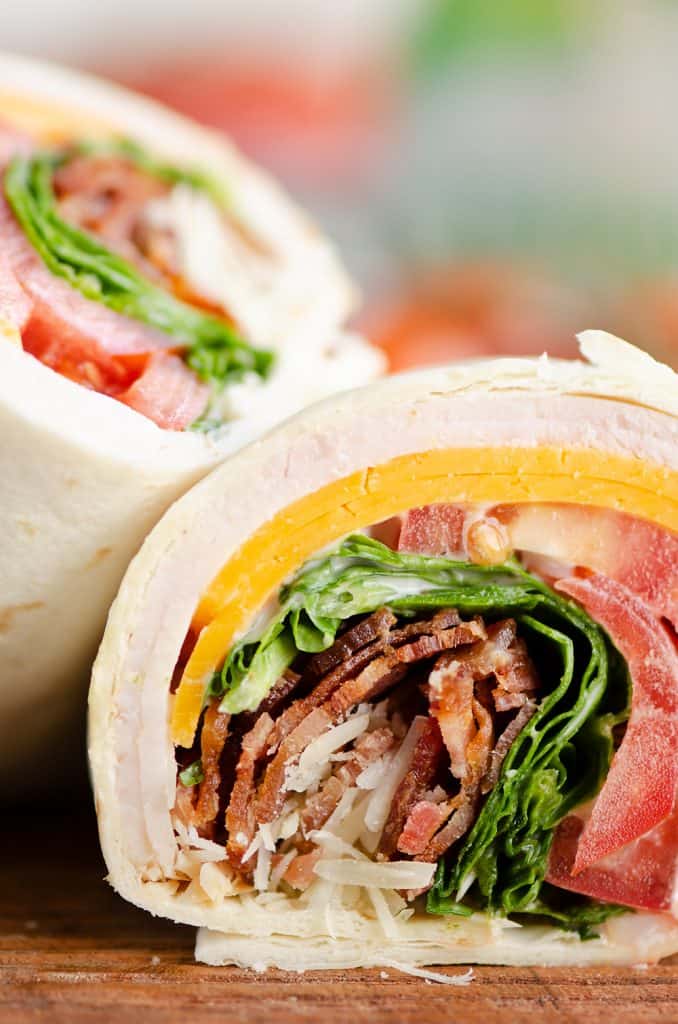 That's a Wrap, the turkey bacon Parmasan wrap!
A turkey bacon Parmasan wrap has everything that makes a club sandwich special but with a twist, or in this case, a wrap. The turkey bacon Parmasan wrap works well on its own as a full meal, but you could also slice it into appetizer sized rounds and compliment it with some slices of light and crunchy orange chicken wrap for a great party platter.
You know wraps are more than just a health food fad or trend when Subway adds them to their menu!
I make these wraps for my softball team every summer at our big year-end tournament. While concession stands are available at the ball fields, they are typically serving up greasy food and sweets. If you want to get through an entire day of softball in scorching hot July, it's best to keep things light and healthy. Just don't mind all the booze they are typically drinking… 😉
I make a different variety of wraps each year, including this Healthy Buffalo Chicken Wrap, but this Turkey Bacon Parmesan Wrap is a staple that is always a crowd favorite.
Wraps have several advantages over regular sandwiches. They contain the ingredients better. They don't dry out if you make them in the morning and intend to eat them for lunch. And, the ingredients don't tend to fall out when you start chomping into it.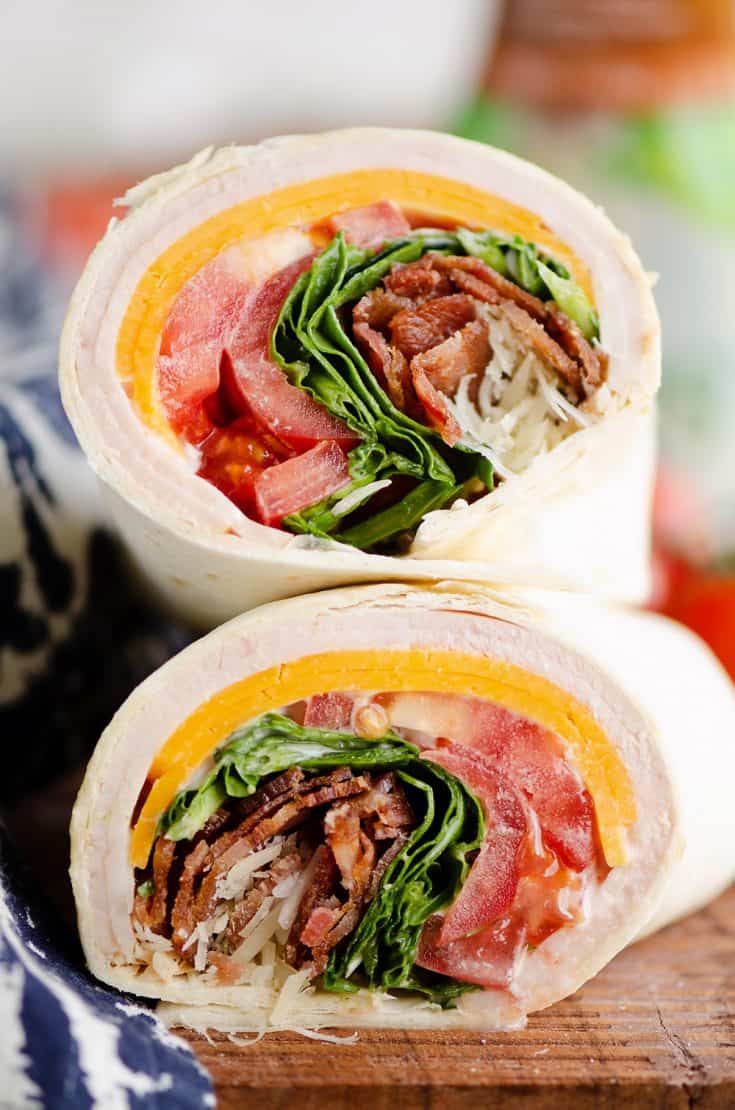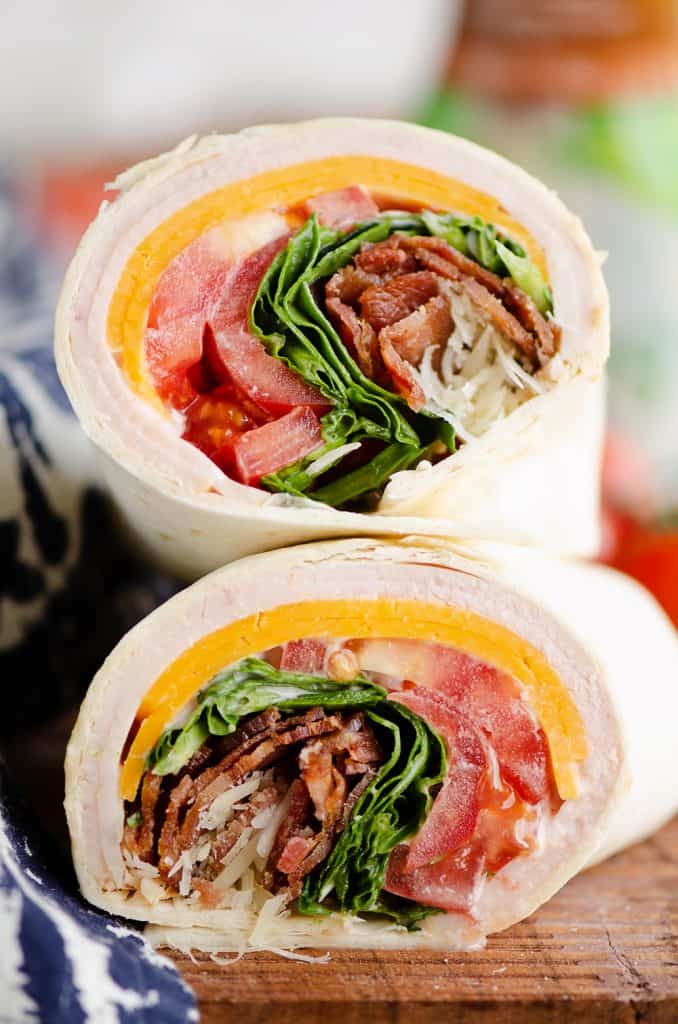 What kind of tortilla is best for a wrap?
If you like whole grain breads for sandwiches, then you can also find whole grain tortillas for your turkey bacon wrap. You can even find wraps that have grains, seeds, and nuts like some breads do too.
The key is getting the right size tortilla for your ideal turkey bacon wrap or whatever ingredients you choose to layer in. While you can use the smaller sizes that are about 8 inches across, I recommend getting the tortillas that are at least 10 to 12 inches across.
It is helpful to have the extra room so it you don't have to mash the turkey, bacon, and lettuce to make it fit.
In terms of types of tortillas, the whole grain ones provide higher nutritional value, but the plain white flower style ones are easiest to find and work well. You can find low fat and no lard versions of those too that also work if you need vegetarian options.
Avoid the corn / masa tortillas. These are great for other meals, but they are not really suited to making wraps since they tend to break apart too easily and usually come in much smaller sizes.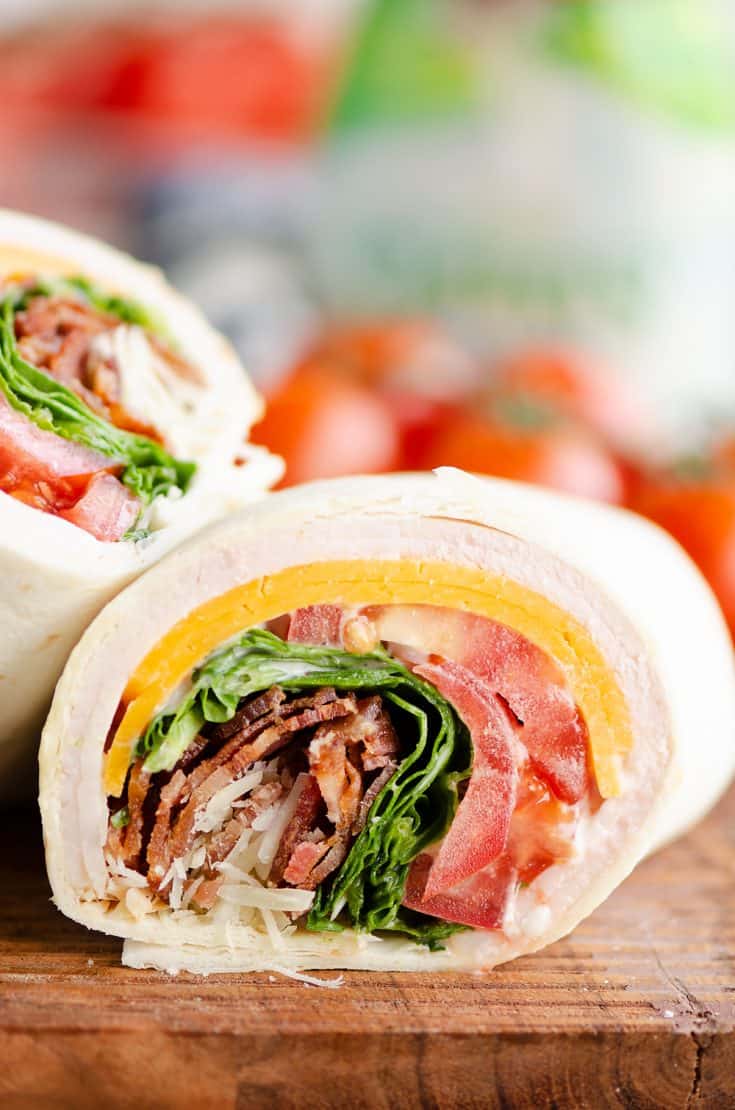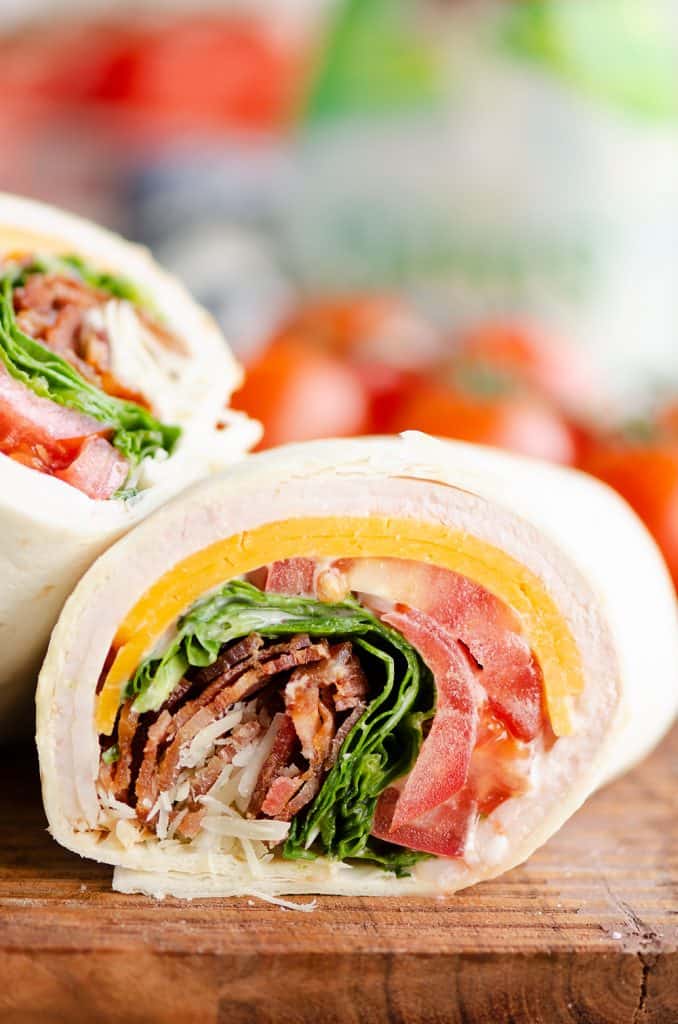 How do I roll a wrap so it doesn't get soggy?
If you are making your turkey bacon Parmasan wrap in the morning but don't plan to enjoy it until lunch time, then you want to make sure to wrap so sogginess doesn't become an issue.
The best way to avoid your wrap become soggy is to layer in the ingredients to form a moisture barrier. In essence, you put the ingredients that will protect the tortilla best on first. In this recipe, there are two ingredients to help create the moisture protection. The cheeses and the sliced turkey both will protect the tortilla and mixed greens from becoming soggy.
I wrap them with the meat and sliced cheese on the outside to keep the tortilla fresh and always am sure to keep the dressing away from the lettuce so it doesn't wilt.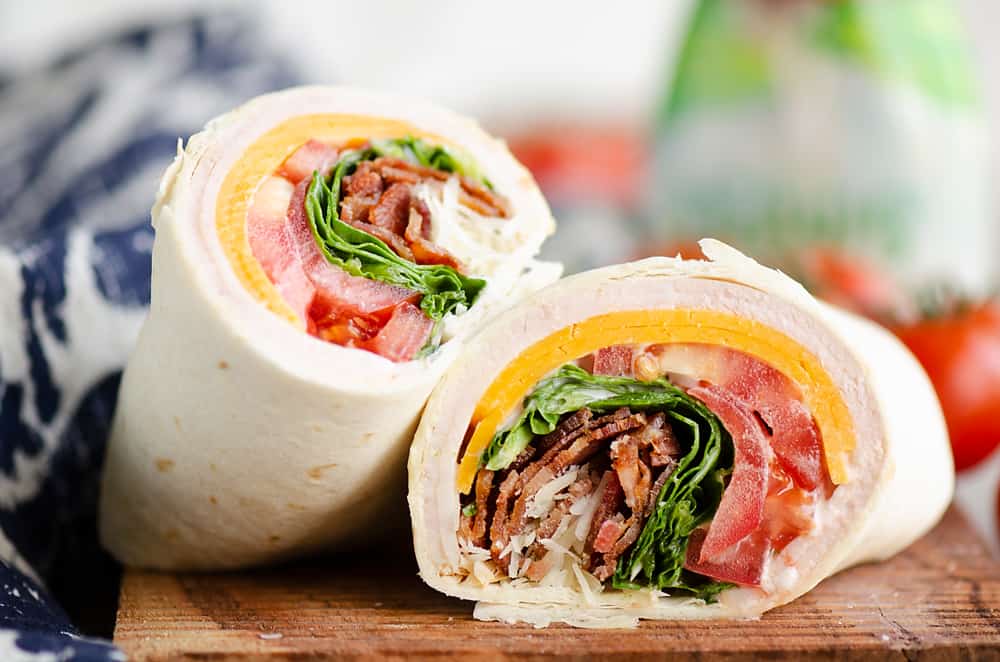 How do I roll a wrap so ingredients don't fall out?
This is where having a nice big tortilla to start comes in particularly handy. Layer your ingredients but leave about an inch uncovered on each side. As you roll up your wrap and get ⅔ of the way to the top, then fold in those uncovered edges to the middle. As you finish rolling it up, you will be closing off each end.
If you are not eating it right away, then cover with plastic wrap and or add a toothpick to help keep it from unraveling.
Variations and suggestions for your turkey club wrap
The great thing about any wrap sandwich recipe is how easy you can substitute ingredients based on what you have handy in the fridge.
If you want a bit of spicy crunch in the sandwich to add a hint of heat, then use mustard greens or arugula for your greens.
To add a bit more crunch, use some sliced pickle wedges and give your turkey bacon Parmasan wrap a Cuban sandwich touch.
Grated Parmesan cheese tastes delicious and goes well with the ranch dressing but you could go with any swiss style cheese and be equally happy about the results.
Ranch dressing is great, but I have to recommend trying my feta dill dressing too. The salty Feta works along a similar flavor profile as the Parmesan so you don't necessarily have to have Parmesan cheese to make that variation work either.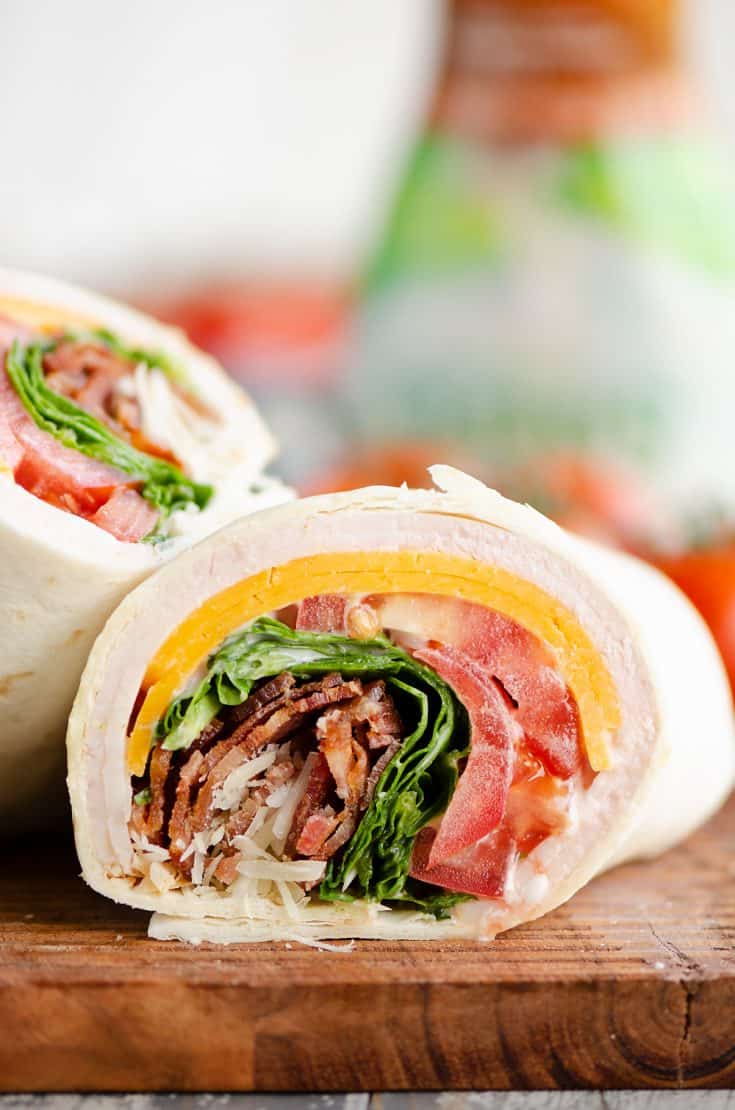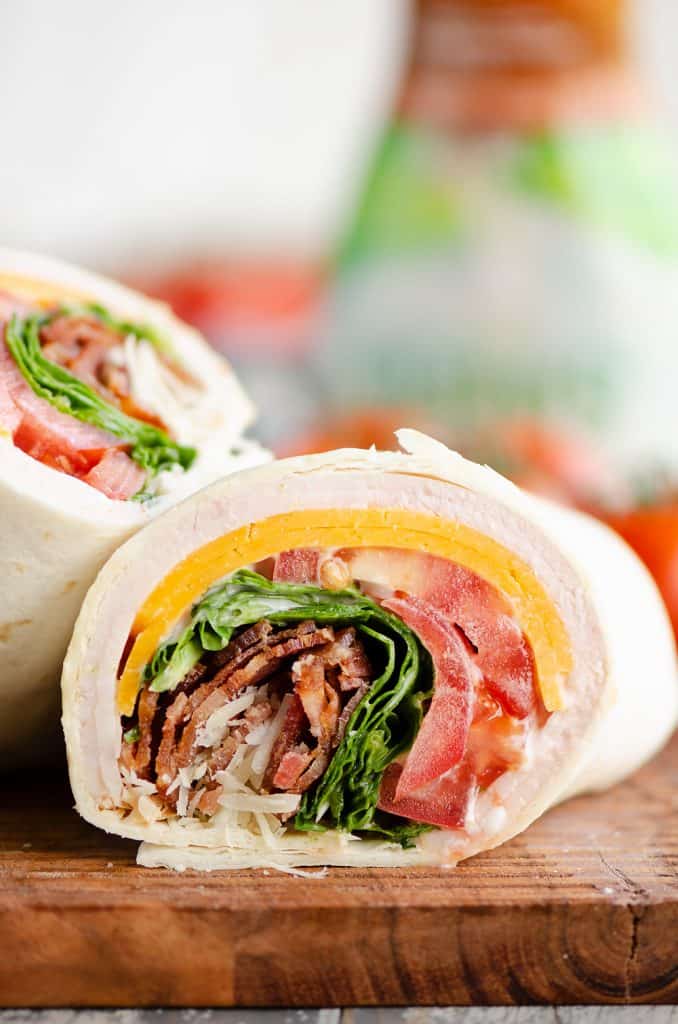 How do I store a wrap to eat later or save the leftovers?
A turkey bacon Parmesan wrap can be deceptively filling. So you may want to save some for eating later. Or you are serving them to a crowd like me and want people to be able to enjoy a variety or a small half when it suits them. Either way, you strategy for storage to eat later is the same.
Use some plastic wrap to tightly roll around the wrap. Don't slice the individual slices until you are ready to create the platter. The rolled up wrap is actually easier to cut with the plastic wrap on there and it is simple to remove the plastic from each disk after you cut them.
If you have to slice them ahead of time, like I do when bringing them out to the ball fields, then be sure to double wrap them. I first wrap the whole wrap in parchment paper or tinfoil. Then I slice it in half and wrap each half in saran wrap. This helps keep all the ingredients from falling out and making a soggy mess.
If you wrap your wrap properly then you should be good for storing them for 3 to 5 days in the fridge. I don't recommend freezing them. When they thaw even your moisture barrier protection won't help much to prevent them from becoming soggy as they thaw.
What else do you recommend serving with my turkey bacon wraps?
Soups and or salads work particularly well with wrap sandwiches. I have some recipes I think work really well with this wrap variation on a classic club sandwich.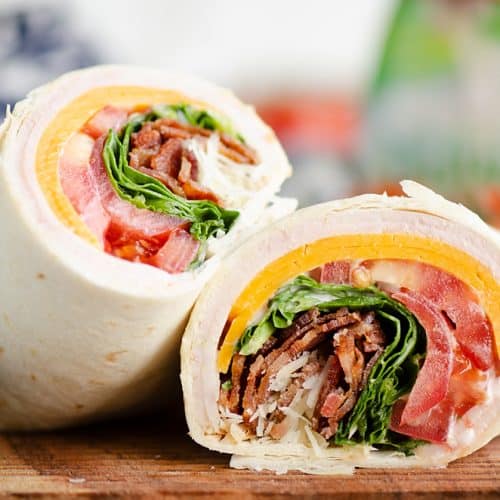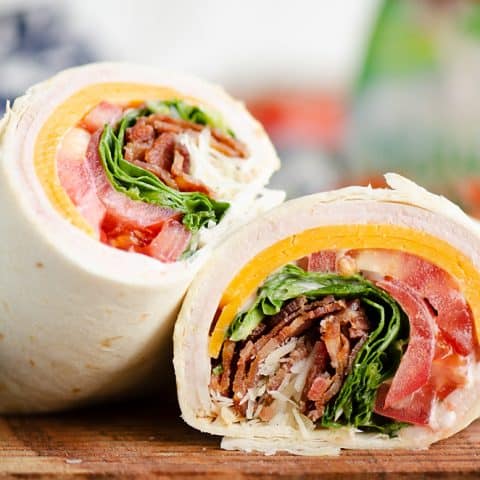 Turkey Bacon Parmesan Ranch Wrap
Turkey Bacon Parmesan Ranch Wrap is a quick and easy sandwich recipe perfect for packing a lunch on the go or a simple weeknight meal.
Ingredients
8 slices smoked turkey
8 slices cheddar
2 c. mixed greens
2 medium tomatoes
1/4 c. shredded Parmesan
4 (10 inch) tortilla wraps
Instructions
Layer 2 slices of turkey on each tortilla and top with 2 Tbsp. ranch dressing.
Top with the sliced cheddar, tomatoes, spinach, bacon and Parmesan Cheese.
Fold the sides of the tortilla towards the center and carefully wrap, while tucking the sides in for a good seal.
Serve immediately, or store wrapped up to 3 days.
Nutrition Information:
Yield:

4
Serving Size:

1
Amount Per Serving:
Calories:

661
Total Fat:

48g
Saturated Fat:

17g
Trans Fat:

1g
Unsaturated Fat:

26g
Cholesterol:

126mg
Sodium:

2028mg
Carbohydrates:

23g
Fiber:

2g
Sugar:

6g
Protein:

34g
Provided nutrition data is only an estimate. If you are tracking these nutrients for medical purposes, please consult an outside, trusted source.