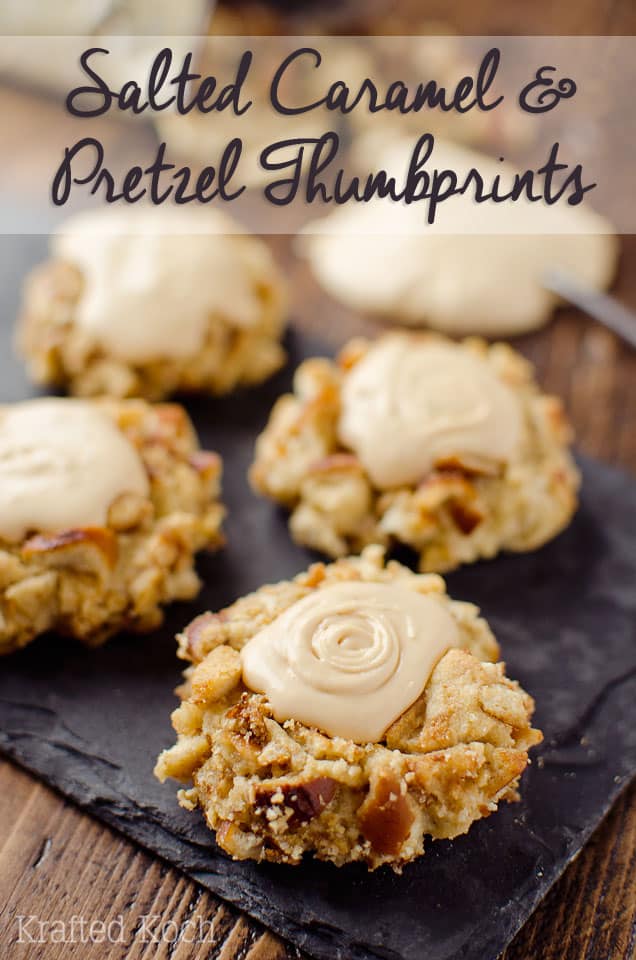 Salted Caramel Pretzel Thumbprint Cookies are a fantastic cookie recipe that will impress your guests with a dense, but moist cookie rolled in crunchy pretzels and topped with rich salted caramel frosting! These are a new spin on traditional thumbprint cookies that I recently tried and I absolutely fell in love with. I am pretty sure these will be my new go-to thumbprints all the time!
Well today is the day where the holidays begin for so many people, Christmas Eve has finally arrived. MERRY CHRISTMAS! Growing up, both my husband's and my family had their big celebration with all of the gifts on Christmas Eve. We alternate every other Christmas Eve and then my family celebrates Christmas on the weekend before Christmas, every other year when it is us kid's turn to go to our in-laws Christmas. That means we had Christmas at my family last weekend and will be celebrating with his family tonight.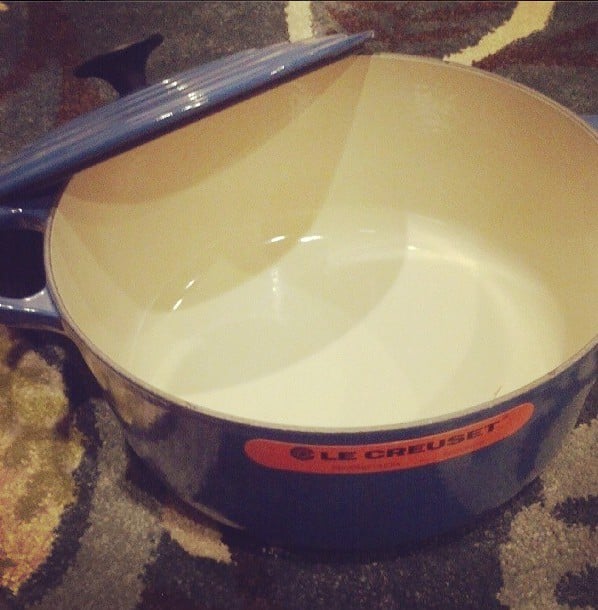 I got some pretty awesome gifts last weekend, with the highlight being a Le Creuset Cast-Iron 5-Quart French Oven
from my sister. Holy bananas, I was not expecting such a nice gift!!! I also got a nice Guess purse and wallet from my parents along with something else that arrived in the mail after our celebration, that I am eagerly waiting to open.
I was also pretty excited about the gifts I was giving my parents this year. I got my mom a Stereo Turntable to play 45 records
. As she was moving, she came across all her old records and was talking about how she wished she had something to play them on.
My sister and I made a Minnesota Gopher themed wall decor out of a wine barrel head and wine corks for my Dad, combining two of his loves.He loved it, but we had a little problem with transporting it. The outside of the barrel literally fell apart as we brought it in from the car and my sister about had a melt-down. It didn't help that I kept teasing her that it was all her fault. 😉 We then spent the next hour in the dark basement hammering it back together and hoping for the best. My dad unexpectedly came out from the furnace room at one point and my sister and I screamed in unison (in our highest pitched voices) for him to go away. His poor hearing aids… haha, but what is Christmas without a little drama?! I am thinking it might have been easier to just bite the bullet and buy the one that inspired us initially!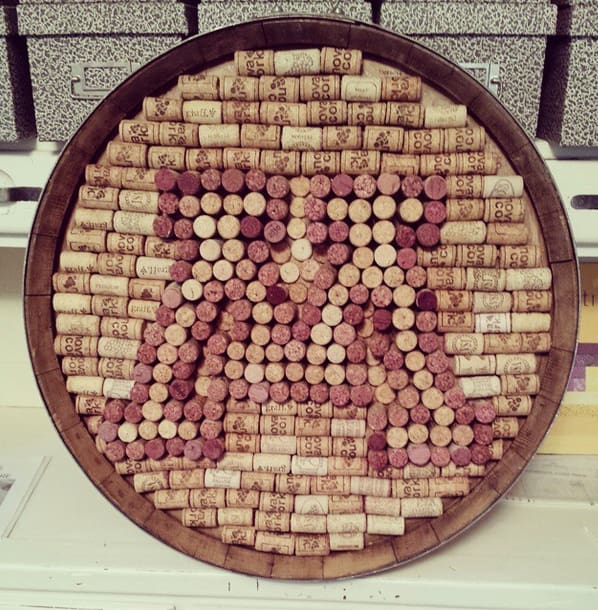 Another highlight of Christmas is a dice game we play. Each family brings a few gifts and we go around in a circle shaking dice and if you get a double you get to pick a gift until they are all gone. In the timed second round, if you get a double you can steal a gift from someone else. It gets pretty intense in the last couple of minutes and competitive with our family.
I usually don't have the best luck rolling doubles, but this year I was on fire. I got every single thing I wanted plus some! I ended up with a Coach perfume set, a small wet/dry vac and some cute cosmetic bags. My sister and sister-in-laws were not impressed with my luck to say the least seeing they were competing for the same items. But hey, a girl has to find some luck every now and again!
I hope you and all of your families have a wonderful holiday and you get everything on your wish list!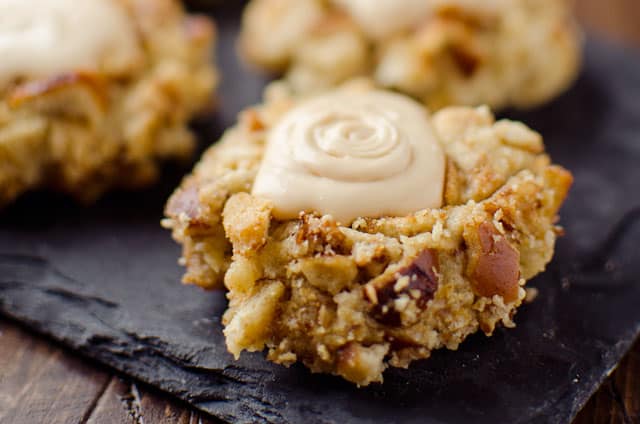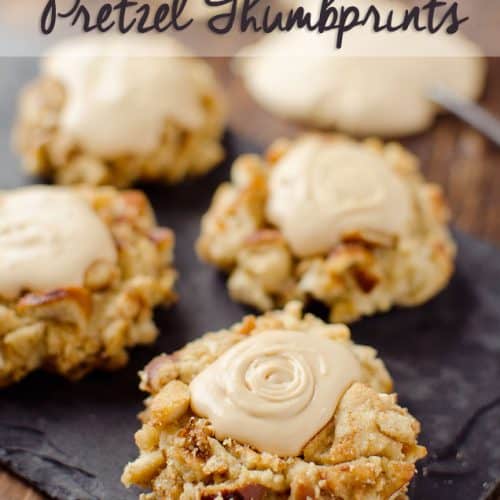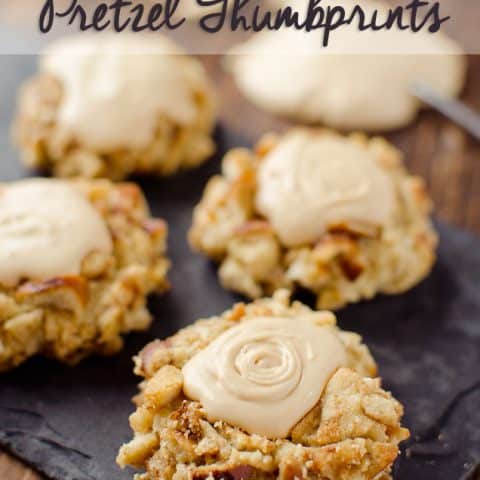 Salted Caramel & Pretzel Thumbprints
Salted Caramel Pretzel Thumbprint Cookies are a fantastic cookie recipe that will impress your guests with a dense, but moist cookie rolled in crunchy pretzels and topped with rich salted caramel frosting!
Ingredients
Cookies
¼ c. shortening
¼ c. butter or margarine
½ tsp. vanilla extract
¼ c. brown sugar
1 c. Bob's Red Mill Organic Unbleached All Purpose White Flour
¼ tsp. salt
1 egg separated
¾ c. Snyder salted caramel pretzels, chopped finely (substitute regular pretzels)
Frosting
2/3 c. caramels melted
1/3 c. whipping cream
2 c. powdered sugar
1/2 tsp. vanilla
1/4 tsp. sea salt
Instructions
Preheat your oven to 350°. In a medium bowl, mix shortening, butter, sugar, egg yolk, and vanilla until smooth. Blend flour and salt into the mixture. Roll into one inch balls, dip balls into slightly beaten egg white, then roll into chopped pretzels. Arrange on a lined cookie sheet and indent the middle of each cookie gently with your thumb. Bake at 350° for 10 to 12 minutes. Immediately upon removing the cookies from the oven, use your thumb to reinforce the indent in each cookie. Allow to cool completely.
Meanwhile, melt the caramels in the microwave or over a double boiler. Mix the caramels with the whipping cream, powdered sugar, vanilla and sea salt. Mix until smooth.
Top each thumbprint with icing and store in an airtight container.
Freeze any extras the same day for the freshest cookies.
Recommended Products
As an Amazon Associate and member of other affiliate programs, I earn from qualifying purchases.
Nutrition Information:
Yield:

1
Serving Size:

1 dozen
Amount Per Serving:
Calories:

3531
Total Fat:

145g
Saturated Fat:

74g
Trans Fat:

3g
Unsaturated Fat:

62g
Cholesterol:

436mg
Sodium:

2504mg
Carbohydrates:

538g
Fiber:

4g
Sugar:

399g
Protein:

32g
Provided nutrition data is only an estimate. If you are tracking these nutrients for medical purposes, please consult an outside, trusted source.
More cookies you will love!