Strawberry rhubarb crisp bars are an easy spring dessert with the sweet combination of fresh strawberries and tart rhubarb. The delicious fruit is layered between buttery oatmeal crumble for an amazing treat!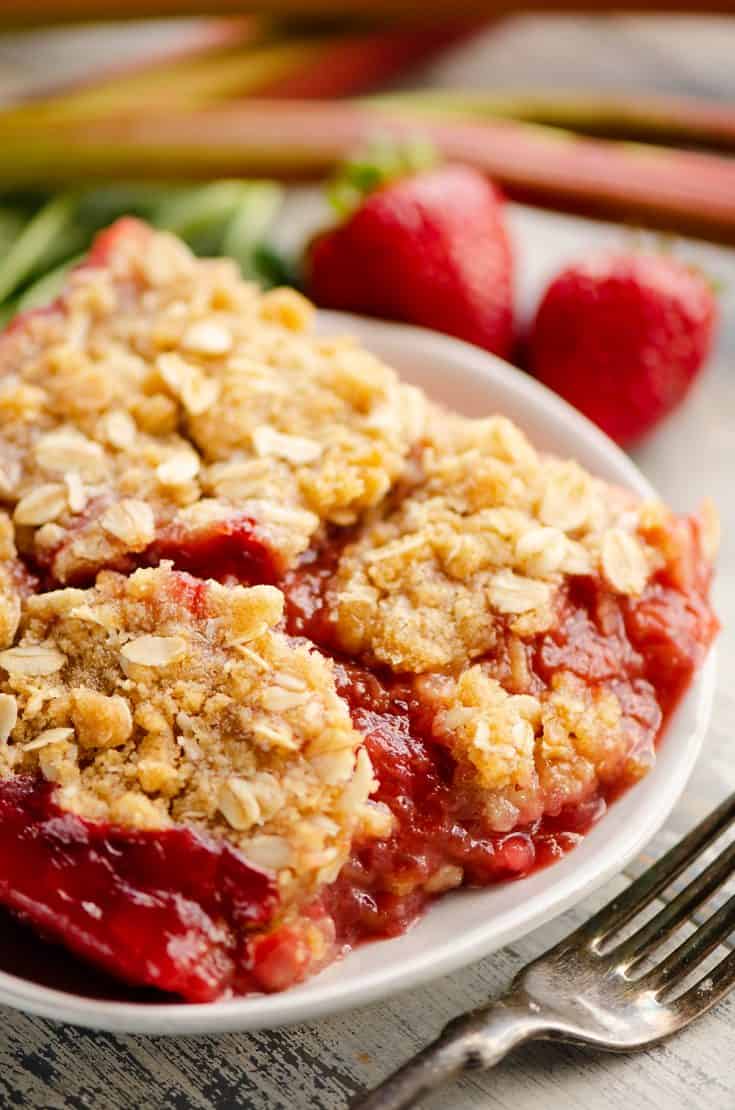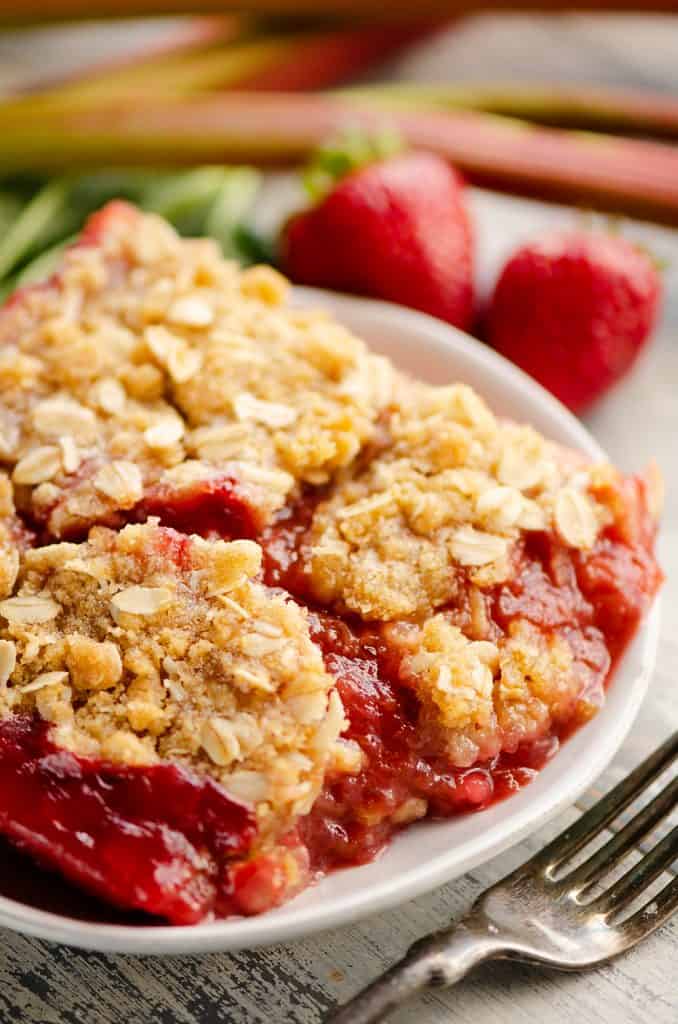 Rhubarb Crisp
Strawberry Rhubarb Crisp Bars are a divine dessert that will disappear from the table before they have a chance to cool! The classic combination of strawberries and rhubarb is sandwiched between a mix of buttery oatmeal sweetened with brown sugar.
Much like Strawberry Rhubarb Custard Bars or Strawberry Rhubarb Jam, the amazing flavors that the pairing of strawberries and rhubarb bring to any recipe are unbelievable!
Yes, they satisfy the sweet tooth. But they also contain all benefits of the oats full of fiber, minerals, and vitamins. Also, strawberries and rhubarb are full of vitamin c as well. So, in terms of snacking, these really are delicious and nutritious.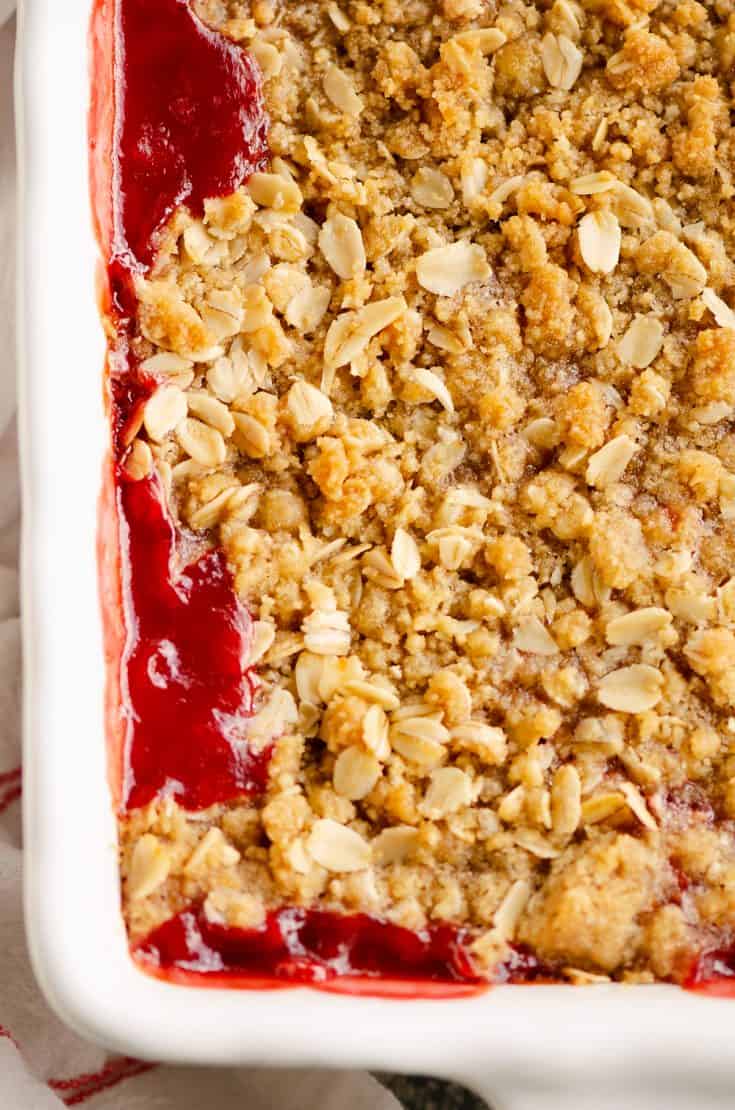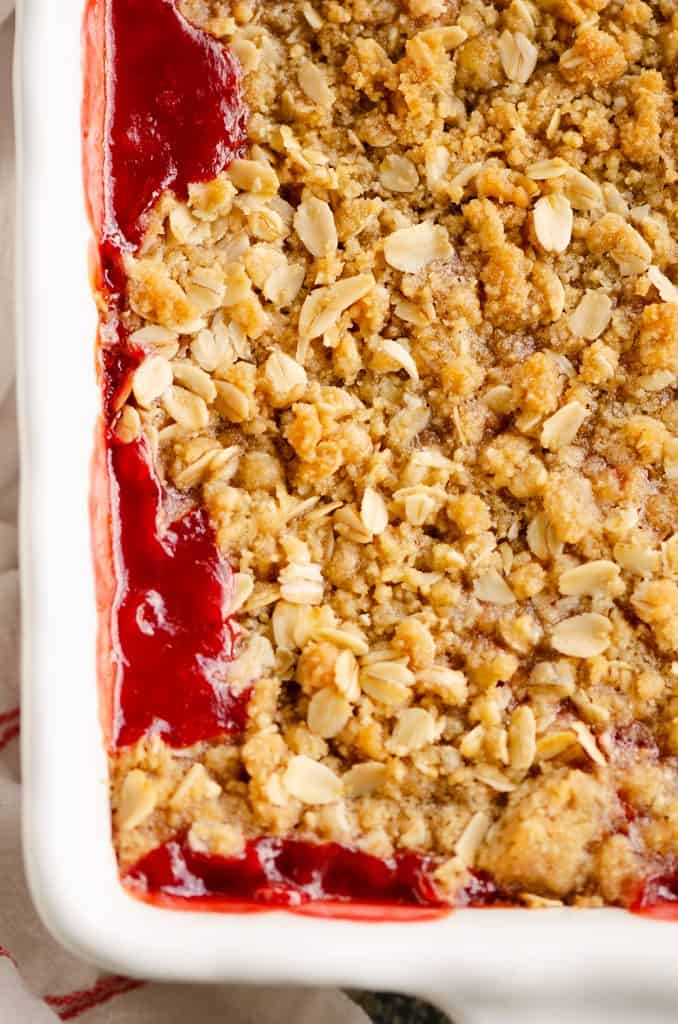 Quick And Easy Strawberry Rhubarb Crisp Bars
I am pretty sure rhubarb was invented just to make strawberries taste better.
Think about it. Can you even think about rhubarb without having strawberries come into the same thought? It's hard to do.
Luckily, this recipe is very simple to make. The prep takes only minutes. Once it bakes then cools you are free to enjoy with no further effort. Easy as pie!
What Exactly Are Old Fashioned Oats?
There are three basic types of oats according to how the oat groat is processed. The oat groat is a full grain of unprocessed oat. If it is cut into little rice-like kernels, then those are called "steel cut" oats. Sometimes they are also called "Irish Style" oats.
If the oat is slow toasted and rolled flat, then those are described as "old fashioned" style oats. "Instant" oats are just oat groats pressed even more flat than old fashioned. Because they are so thin, they cook much faster.
Using old fashioned oats for recipes like these bars or Lemon Berry Crisp, works particularly well for a few reasons.
The size, texture, and taste work really well to create the crisp crusty exterior.
Instant oats are less flavorful and tend to be more mushy because they are easy to overcook in a recipe like this.
Steel cut oats could work in principle, but I have never tried it. I just think the old fashioned style works so well. Why mess with what works, right?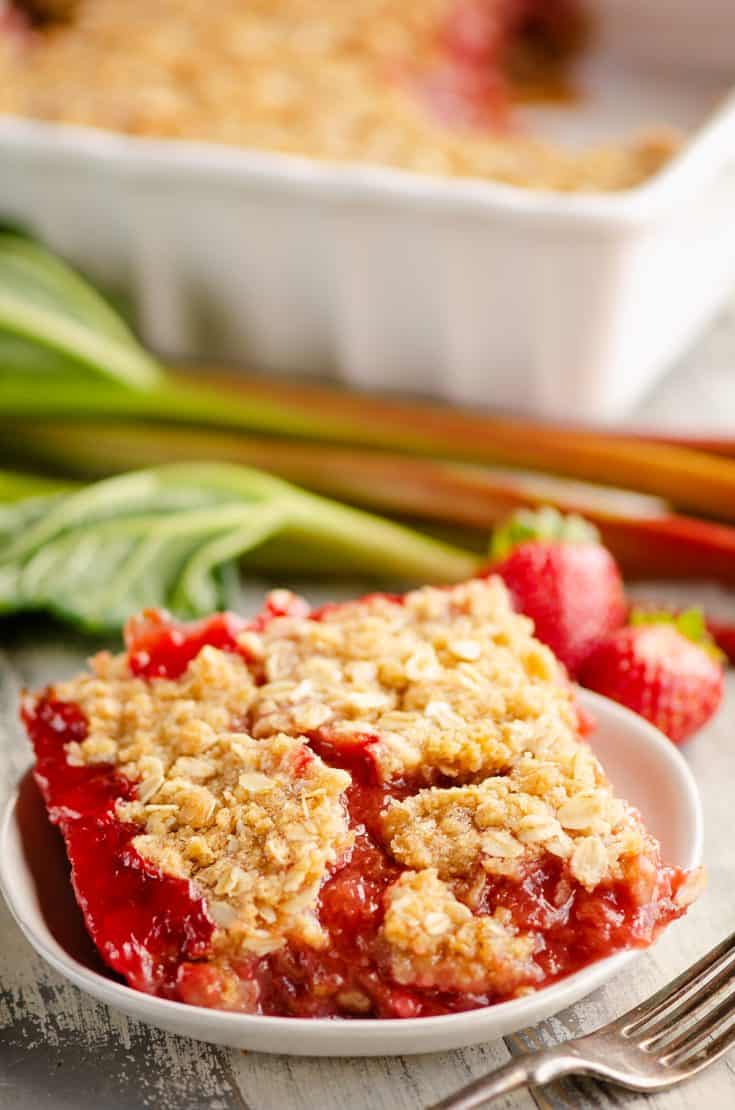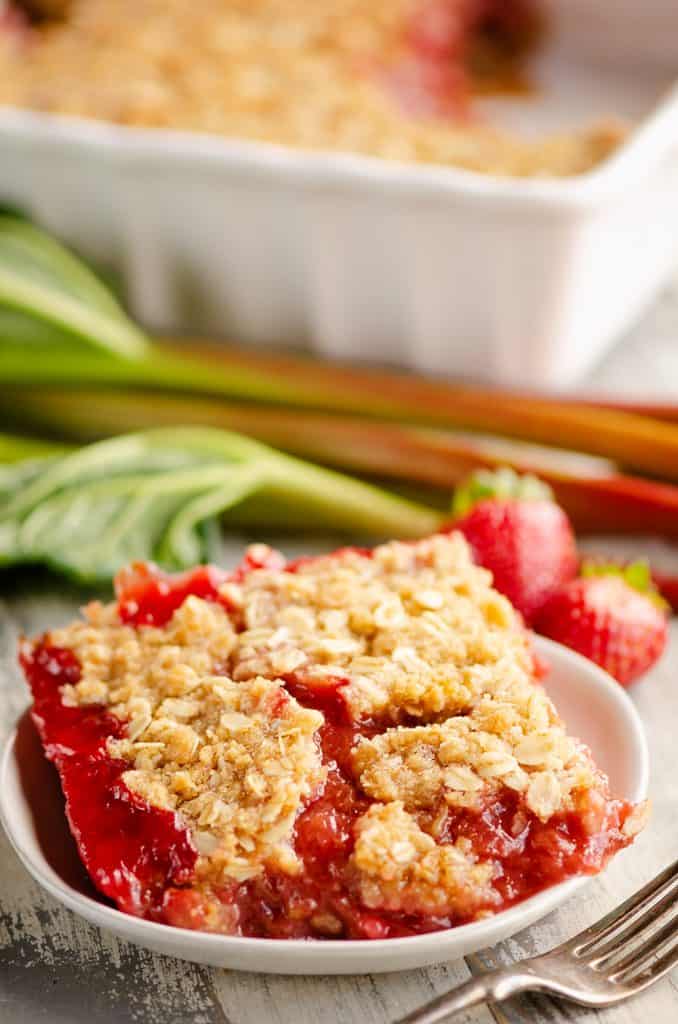 A Few Tips About Using Rhubarb
Some people actually think rhubarb is a fruit because it is so popular to pair with fruit. It is a leafy vegetable with a sour red stalk. Unlike some leafy stalk veggies like celery for example, only the stalks of rhubarb are actually edible.
The leaves of rhubarb contain high levels of oxalic acid and should be avoided. That is the acid which causes kidney stones!
Rhubarb is exceedingly sour. So a little goes a long way. For those who love to pucker up, then don't spare the rhubarb in these bars!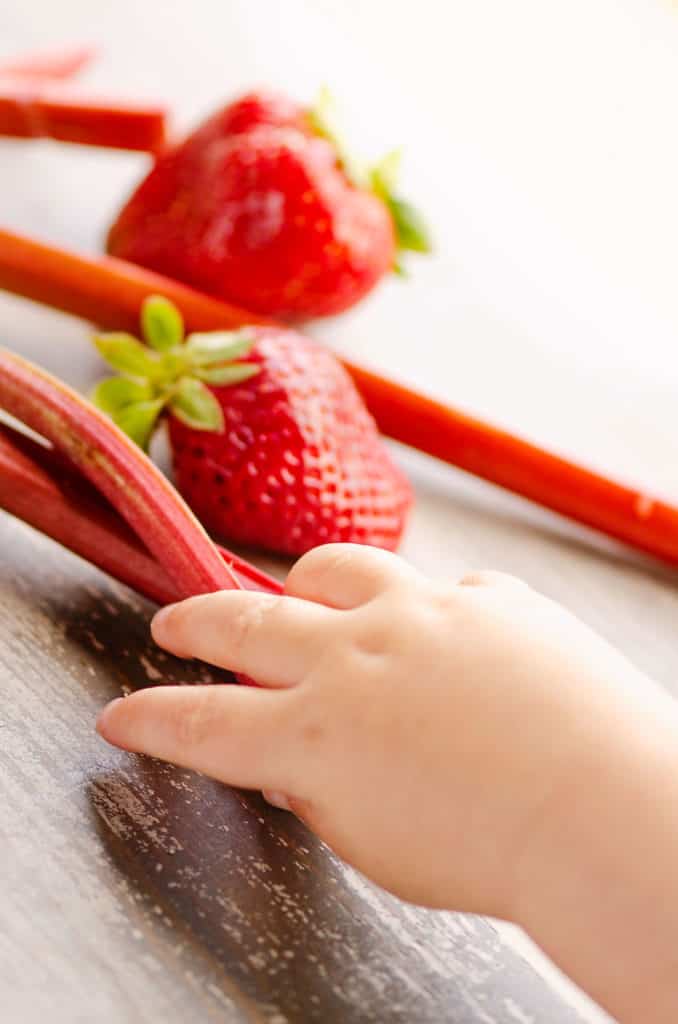 Alternatives To Using Corn Starch
Corn starch works extremely well to thicken the strawberry and rhubarb into almost a jelly like sauce. The starch is necessary to thicken, but it doesn't have to be cornstarch and some people are allergic to any form of corn.
In this case, while you could potentially thicken with flour, it isn't ideal. Cornstarch helps create the glossy translucent quality that is so appealing. Regular flour will look like you left the strawberry rhubarb crisp out a bit to long without properly covering them.
In this case, try arrowroot as the thickening agent. Arrowroot gets used in similar proportions as cornstarch in terms of powder to liquid. It also still creates the more glossy and appetizing style thick sauce.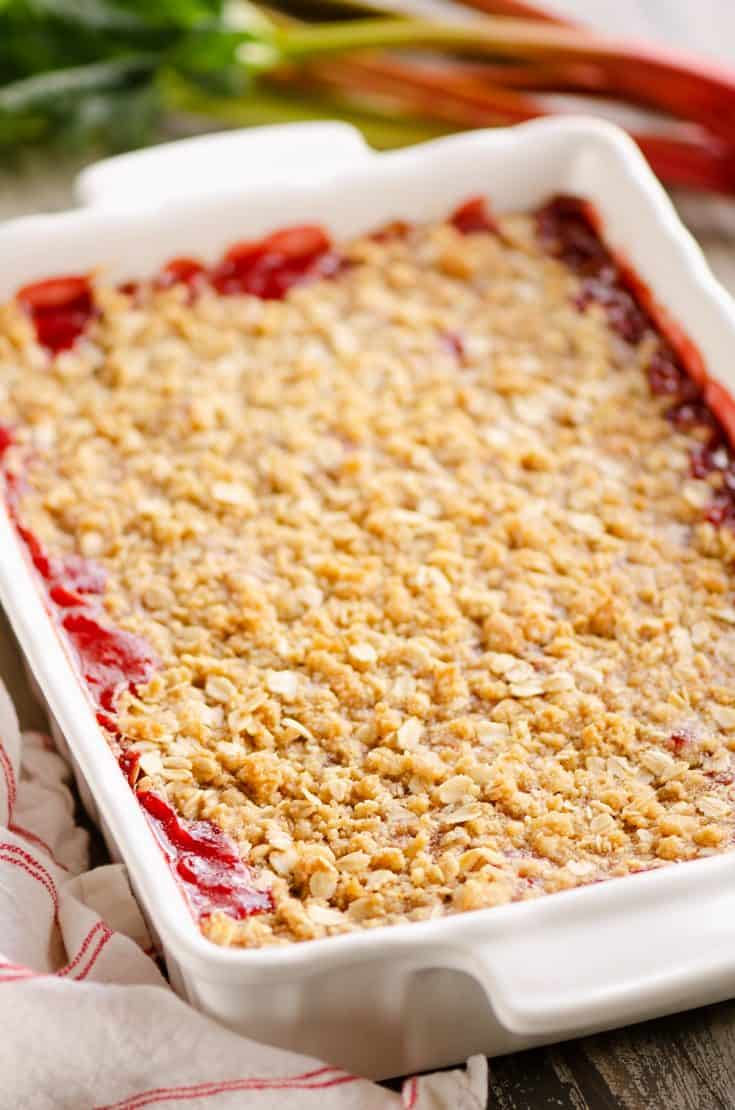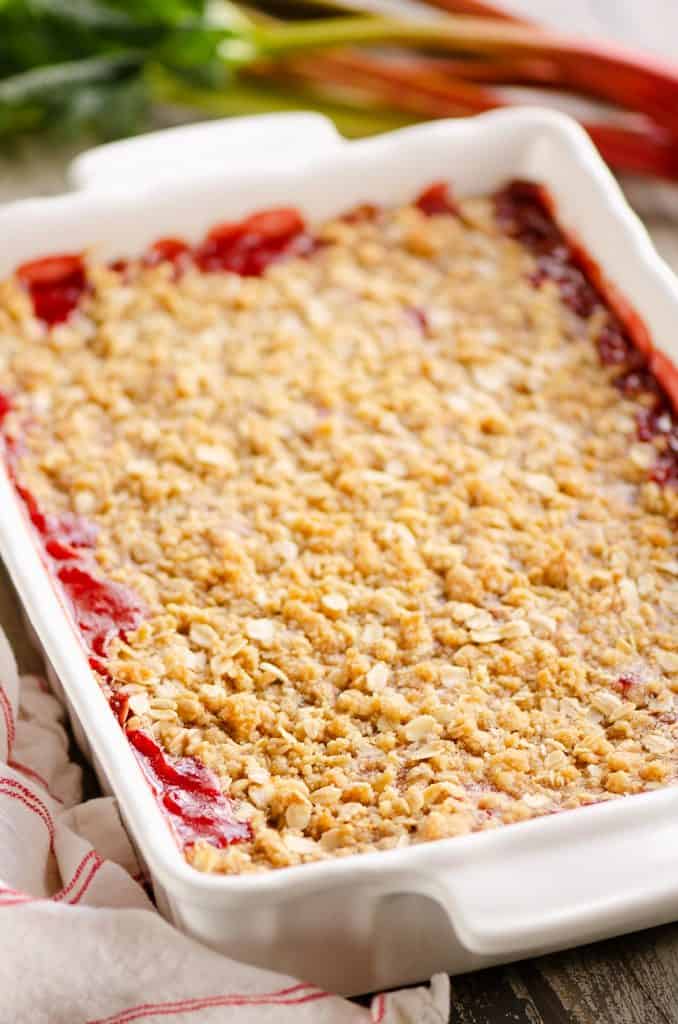 Do Other Fruits Work Well With Rhubarb?
If you don't have strawberries handy, or you just want to mix it up a bit, then other fruits work well too. Strawberries do go perfectly with rhubarb, no denying it. But that doesn't mean it is the only way to go.
Some other fruits I would suggest to substitute for the strawberries in these bars:
Blueberries – Plump ripe little blueberries do well with the tartness of rhubarb.
Blackberries – Most any summer fruit picks up more flavor with sour rhubarb and blackberries work well too.
Raspberries – If blackberries work then of course raspberries are a safe bet too.
Apples, either sweet honey crisp style apple or tart granny smiths will work great as well.
Grapes – You might not instantly consider grapes, but either white or red grapes compliment the tartness nicely.
Peaches – The color and flavors of each are nothing less than inspiring.
Pears – Pears are so sweet so they do really well with the sourness of rhubarb
Kiwis – Another fruit you might not think of right away but the flesh is very similar to strawberries and a kiwi goes great with rhubarb too.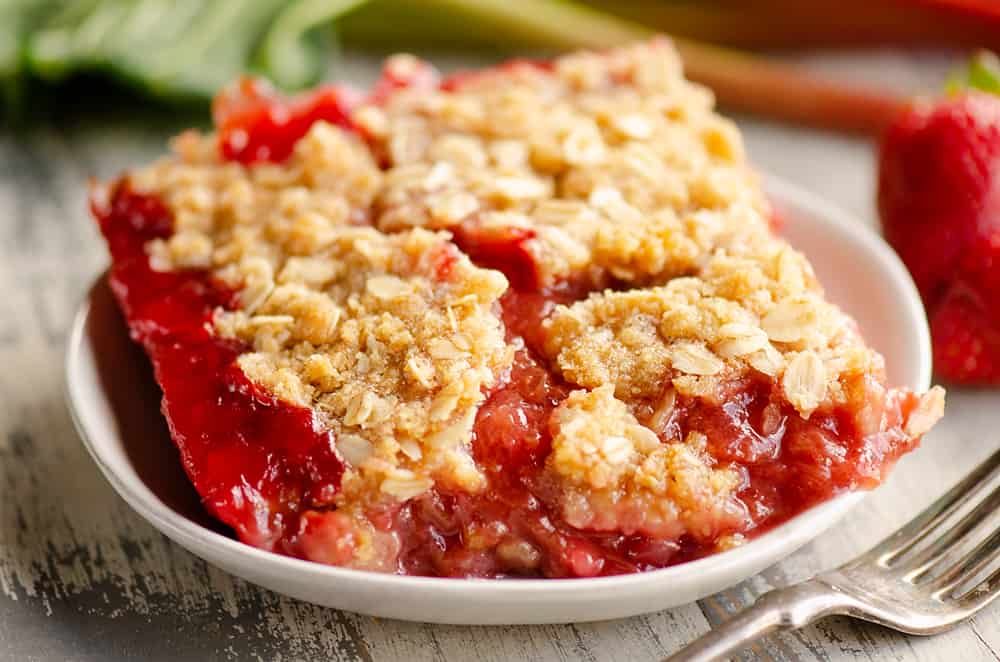 More Delicious Rhubarb Recipes!
Please enjoy the strawberry rhubarb crisp! Let me know what you think. I'll suggest a few more rhubarb sweets you might want to try too.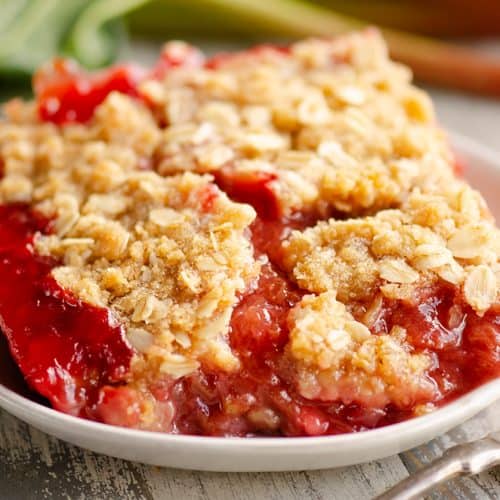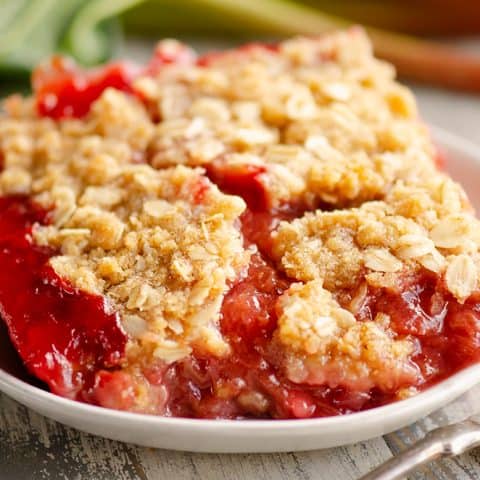 Strawberry Rhubarb Crisp Bars
Strawberry rhubarb crisp bars are an easy spring dessert with the sweet combination of fresh strawberries and tart rhubarb. The delicious fruit is layered between buttery oatmeal crumble for an amazing treat!
Ingredients
Strawberry Rhubarb Compote
4 c. rhubarb, chopped
1 qt. strawberries, hulled and roughly chopped
1 c. water
1 c. granulated sugar
4 tsp. cornstarch
pinch of salt
1 tsp. vanilla extract
Oatmeal Crumble
2 c. flour
1 c. butter, melted
1 tsp. salt
2 c. brown sugar
1 1/2 c. old fashion oats
Instructions
Preheat oven to 350°.
Add the strawberries to a large sauce pot and using a potato masher, mash them until they are in small chunks.
Add the chopped rhubarb, water, granulated sugar, salt and cornstarch to the pan. Cook over high heat until the mixture is thickened. (roughly 10 minutes)
Remove from the heat and stir in the vanilla.
Meanwhile, in a large bowl mix the flour, brown sugar, salt and melted butter until crumbly.
Lightly press a little over half of the mixture into the bottom of a sprayed 9x13 pan. Top with the rhubarb mixture and sprinkle the remaining oatmeal mixture on top. Bake at 350° for 45 minutes.
Allow to cool for 20 minutes before serving.
Recommended Products
As an Amazon Associate and member of other affiliate programs, I earn from qualifying purchases.
Nutrition Information:
Yield:

12
Serving Size:

1
Amount Per Serving:
Calories:

440
Total Fat:

16g
Saturated Fat:

10g
Trans Fat:

1g
Unsaturated Fat:

5g
Cholesterol:

41mg
Sodium:

339mg
Carbohydrates:

71g
Fiber:

2g
Sugar:

46g
Protein:

4g
Provided nutrition data is only an estimate. If you are tracking these nutrients for medical purposes, please consult an outside, trusted source.