Rhubarb Streusel Coffee Cake is a moist buttermilk cake full of fresh rhubarb and topped with a crunchy coconut and pecan streusel. This recipe is sure to be your new favorite brunch dish every spring!
Rhubarb Streusel Coffee Cake
Rhubarb season is one of my favorites! I L.O.V.E. my rhubarb custard pie, but I don't always feel like making the effort to make a pie. Cake is definitely a much easier options, so I was thrilled when my mother-in-law gave me this Rhubarb Streusel Coffee Cake recipe! She got the recipe from an acquaintance many years ago and I was excited for her to share it with me..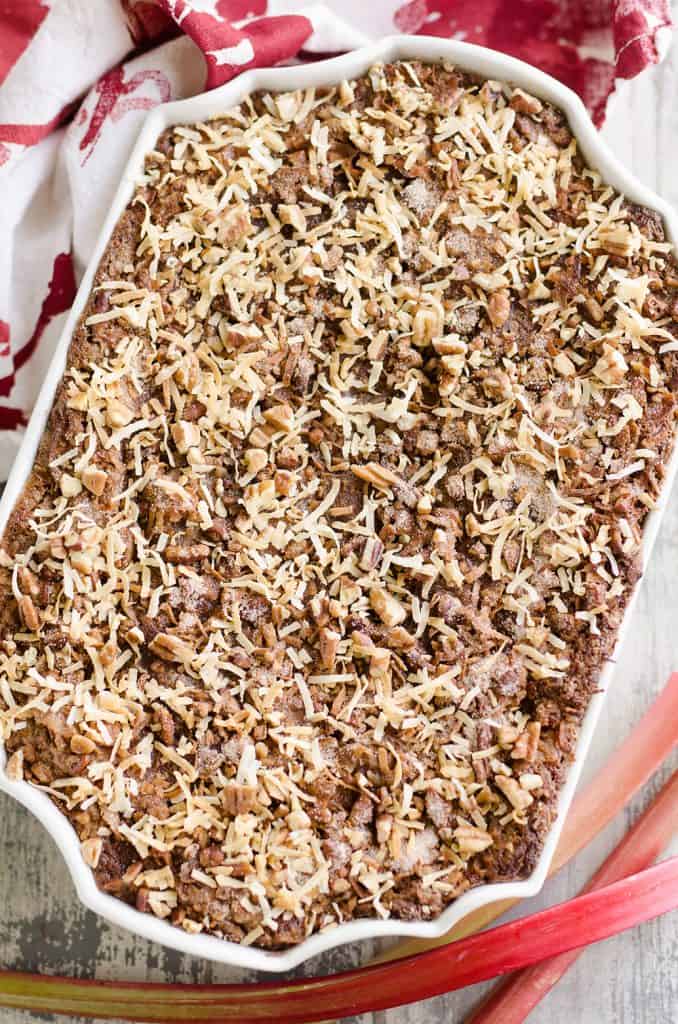 The recipe had the optional add-on of coconut and nuts in the streusel and my eyes lit up. I love coconut and pecans and thought that sounded like a wonderful pairing with rhubarb cake. It adds an extra something special to the crunchy streusel topping the moist cake full of tart rhubarb. I even went so far as to add a little extra toasted coconut and chopped pecans to the top of the cake after it is baked for a nicer look. My mother-in-law makes it without the coconut and nuts, but it's a must in my book. My father who normally doesn't like coconut, said he was even a fan!
My mother-in-law happened to stop by our house the evening I made this cake so I served her a slice. We got to talking about the recipe and she told me that it originally called for 1.5 cups of rhubarb but she increased it to 2 cups. I had to laugh and tell her that I actually increased it to 2.5 cups because I like a lot of rhubarb flavor. Heck, you could probably even push it to 3!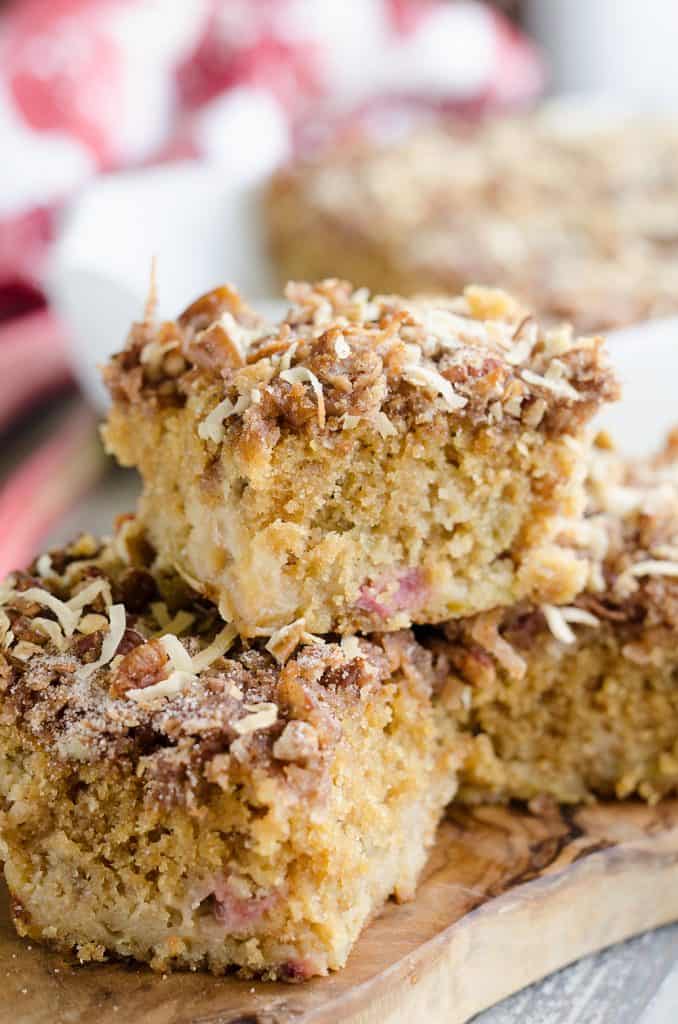 Can we talk about the idea of coffee cake for a minute? They are always an easy crowd-pleaser to serve at any brunch, but how is it really any different than eating cake for breakfast?! My mother would have killed us if we took a big slice of cake for breakfast, but somehow it was acceptable to eat coffee cake? Whatever! I will take the name coffee cake all day long if it means its socially acceptable to eat cake for breakfast!
My mother-in-law uses this more as a cake recipe and serves it with some fresh whipped cream or ice cream. Doesn't that sound divine?! Whether you enjoy this Rhubarb Streusel Coffee Cake as a special brunch or an easy dessert, it is sure to be a asked for again and again!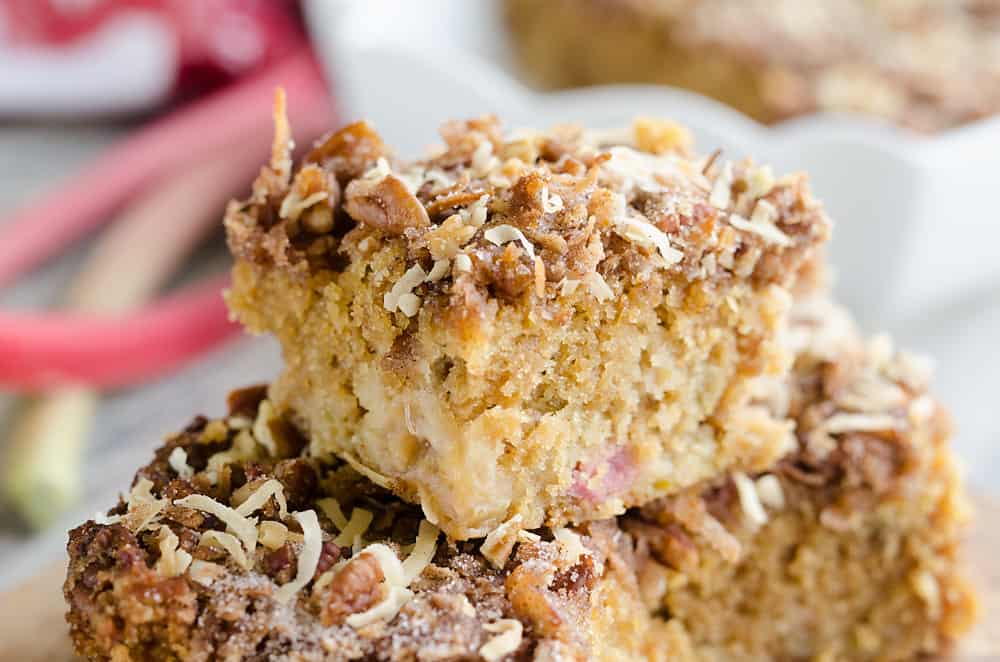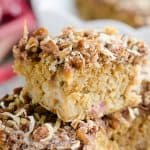 Print Recipe
Rhubarb Streusel Coffee Cake
Ingredients
1/2

c.

butter flavor shortening

1 1/2

c.

brown sugar

1

c.

buttermilk

1

egg

2

tsp.

vanilla extract

1

tsp.

soda

1/2

tsp.

salt

2

c.

flour

2 1/2

c.

chopped rhubarb

STREUSEL

1/2

c.

granulated sugar

1

tsp.

cinnamon

1/2

c.

chopped pecans

optional

1/2

c.

shredded coconut

optional
Instructions
Preheat oven to 350°.

In a large bowl, blend the shortening and brown sugar together. Add the buttermilk, egg and vanilla and blend together. Add the dry ingredients to the bowl and mix just until well combined. Fold in the rhubarb and spread in a greased 9x13 pan.

In a small bowl, mix the sugar and cinnamon together. Add in the pecans and coconut if you are using them. Spread the mixture over the top of the batter.

Bake at 350° for 40-50 minutes, or until a toothpick comes out clean in the center. Allow to cool at least 20 minutes before serving.

OPTIONAL: Top with additional toasted coconut and pecans. Serve with whipped cream or ice cream.
More delicious rhubarb recipes!