Lemon Berry Crisp is a sweet summer dessert recipe made with fresh berries and oatmeal crumble, topped with a homemade lemon whipped cream.
Lemon Berry Crisp
Fresh summer berries are in abundance and oh so affordable right now. What better time than to make this amazing Lemon Berry Crisp!
It's full of strawberries, blueberries and blackberries with some lemon zest and sugar and topped with an oatmeal crumble. After its baked to golden brown perfection, enjoy it with a big dollop of homemade whipped cream. Does it get any better than that?!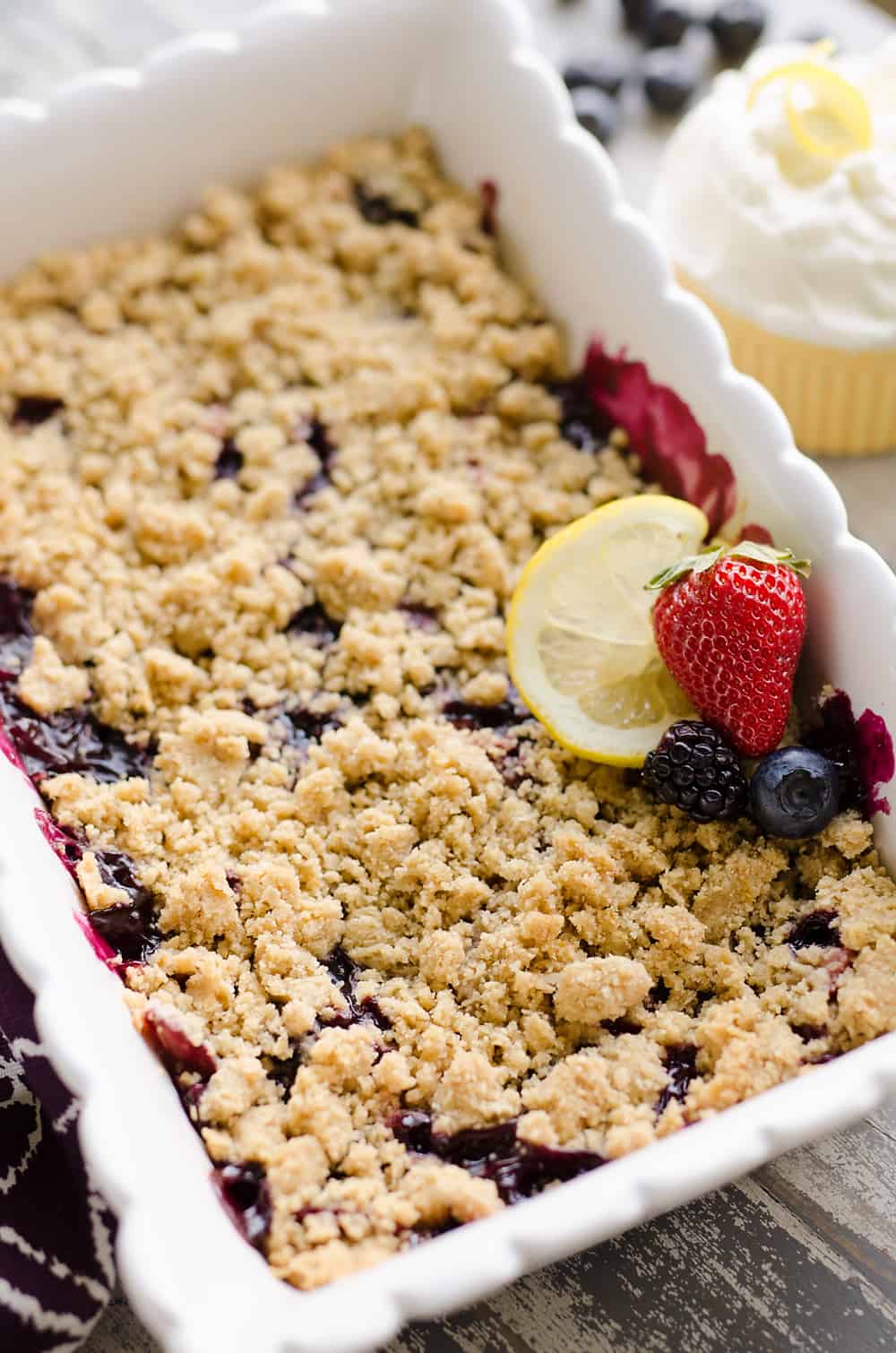 Mixed Berry Dessert
I just love that you can grab a quart of strawberries for $2 at the store this time of year. I have been getting them every trip I make to the store because they are great for healthy snacking.
A few weeks ago they got pushed to the back of the refrigerator and I forgot about them for a little too long. They were on their last leg and not as great for snacking, but still good for baking. I decided to whip up this berry crisp with a lemon twist. I added in some blueberries and blackberries, but raspberries would also be a great addition.
I made the crumble really quickly using the food processor. Just toss the brown sugar, cold butter, old fashion oats and flour in the processor and let it do it's thing for a couple minutes, until you have a perfectly moist and crumbly topping.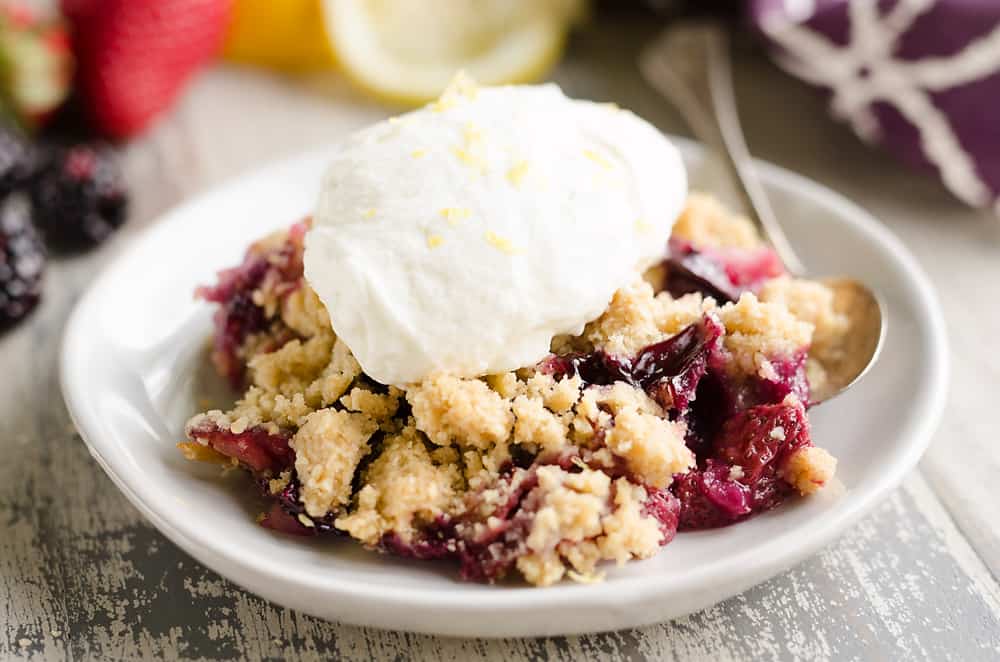 Homemade Whipped Cream
What really sets this Lemon Berry Crisp over the top is the homemade whipped cream. I'm not gonna lie, I have always been a CoolWhip person because it's just easy and tastes good. That is until I decided to make homemade whipped cream. OH.MY.GOSH, there is no going back to CoolWhip after that!
Not only is it so smooth and decadent, it's incredibly easy to make with just two ingredients. Whipping cream and sugar get beat together in a bowl and it's as simple as that! I added in some lemon zest to mine to round out the lemon and berry flavors, but all on it's own, it's still amazing.
If you are looking for a delicious summer dessert recipe, be sure and give this Lemon Berry Crisp a try!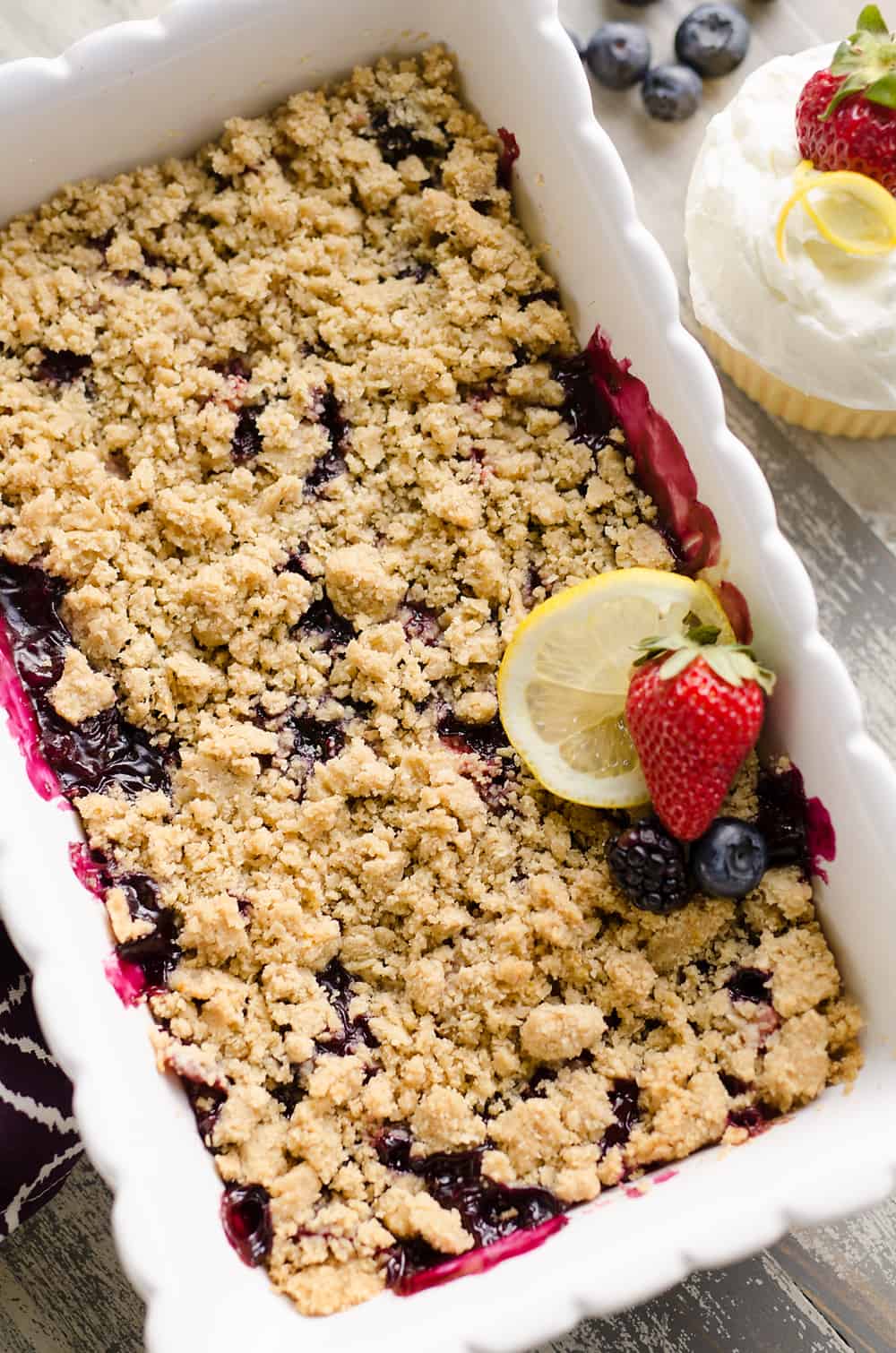 More amazing summer berry desserts!
Chocolate Covered Strawberry Tart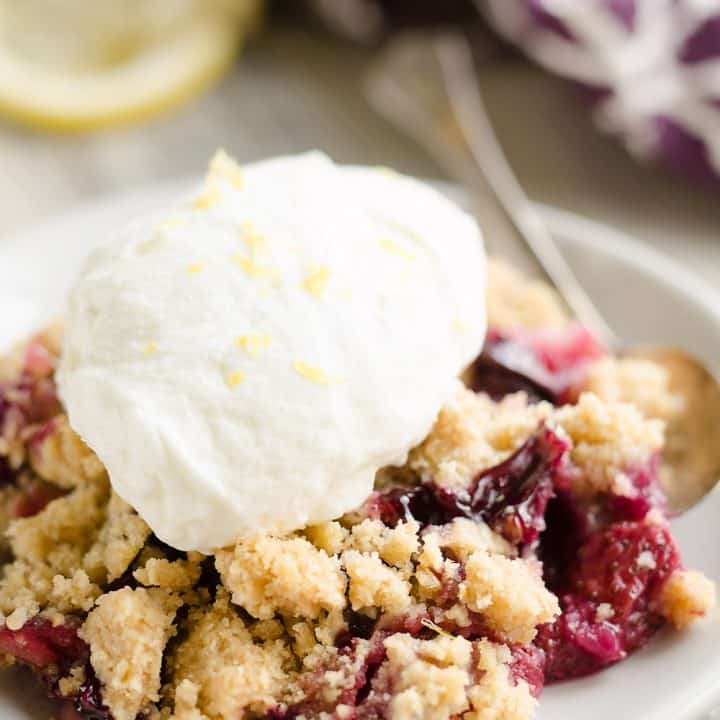 Lemon Berry Crisp
Total Time:
1 hour
10 minutes
Lemon Berry Crisp is a sweet summer dessert made with fresh berries and oatmeal crumble, topped with a homemade lemon whipped cream.
Ingredients
Berry Compote
5-6 cups fresh berries, whole blueberries, blackberries, raspberries or quartered strawberries
2 Tbsp. lemon zest
2 Tbsp. fresh lemon juice
1/2 c. granulated sugar
1/4 tsp. salt
1/2 c. all purpose flour
1 tsp. cornstarch
Oatmeal Crumble
1/4 c. cold butter, cut in 1/2 inch chunks
1/2 c. old fashioned oats
1/2 c. brown sugar
1/2 c. all purpose flour
1/2 tsp. salt
Whipped Cream
1 c. whipping cream
2 Tbsp. granulated sugar
1/2 tsp. lemon zest
Instructions
Add the washed and well dried berries to a large bowl along with the lemon zest, juice, sugar, salt flour and cornstarch. Fold everything together gently so all of the berries are well coated. Add the berry mixture to a greased 9x9 or 8x10 pan.
In a food processor, add all of the crumble ingredients. Process for 1-2 minutes or until the mixture is moist and crumbly. Sprinkle the crumble over the berries and bake at 375° for 45-55 minutes, or until berries are bubbling and oatmeal crumble is golden brown.
Allow to rest 1 hour before serving.
Before serving, in a small bowl combine all of the whipped cream ingredients. Using an electric beater, mix on high until stiff peaks form. (Be sure not to overwhip or it will because too dense!)
Serve the Lemon Berry Crisp with a dollop of whipped cream.
Recommended Products
As an Amazon Associate and member of other affiliate programs, I earn from qualifying purchases.