Sour Cream Raisin Meringue Bars are an easy twist on the old fashioned pie recipe with a buttery oatmeal crust. If you love the classic pie, but hate rolling out a crust, this dessert is for you!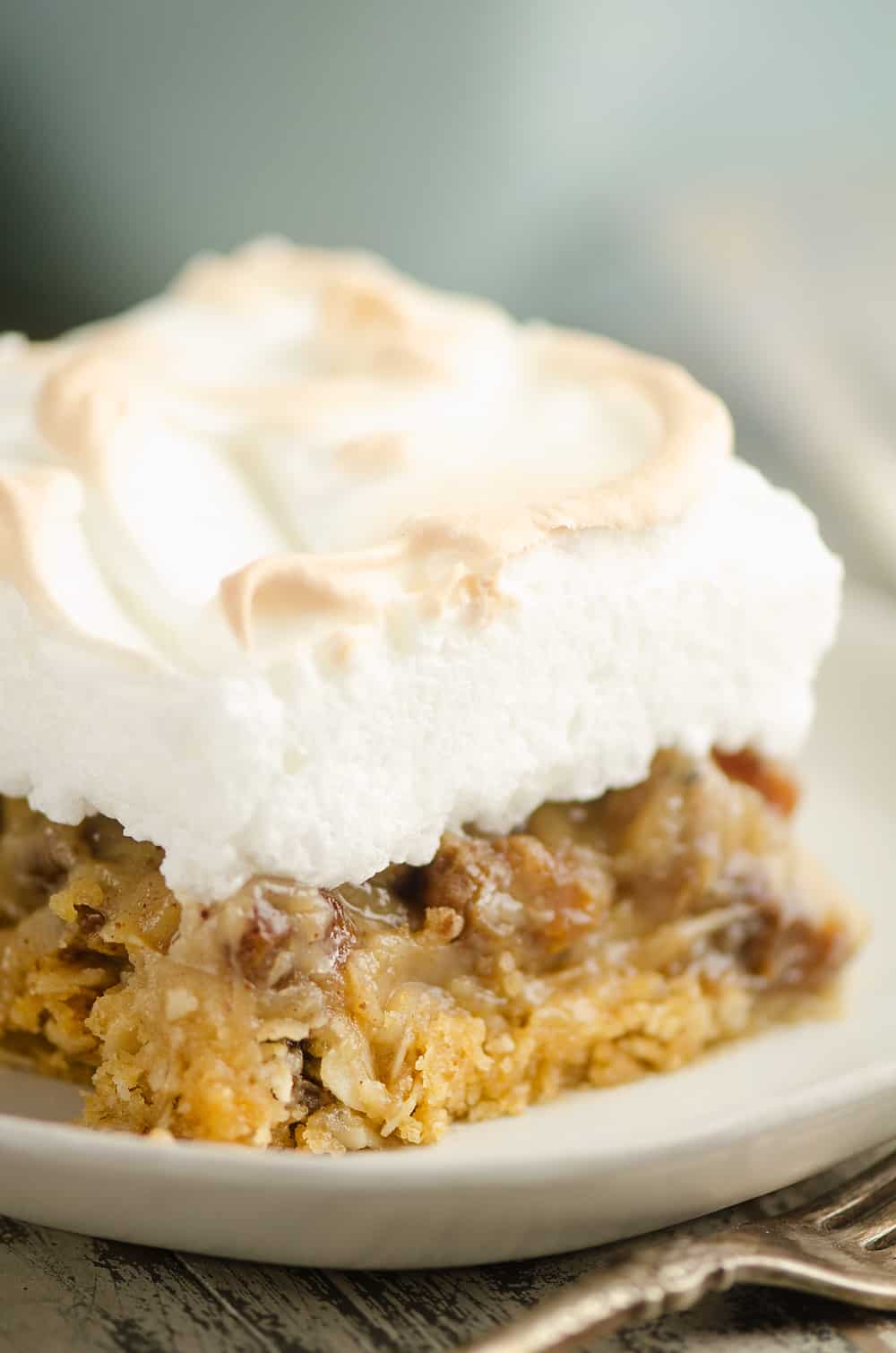 Sour Cream Raisin Bars
These Sour Cream Raisin Bars were born from the need to make my Dad one of his favorite desserts and my disdain for making pie crust. I combined two old fashioned dessert into one delicious bar recipe. The buttery crumble from sour cream raisin bars create the crust, but we keep the amazing meringue from the classic pie.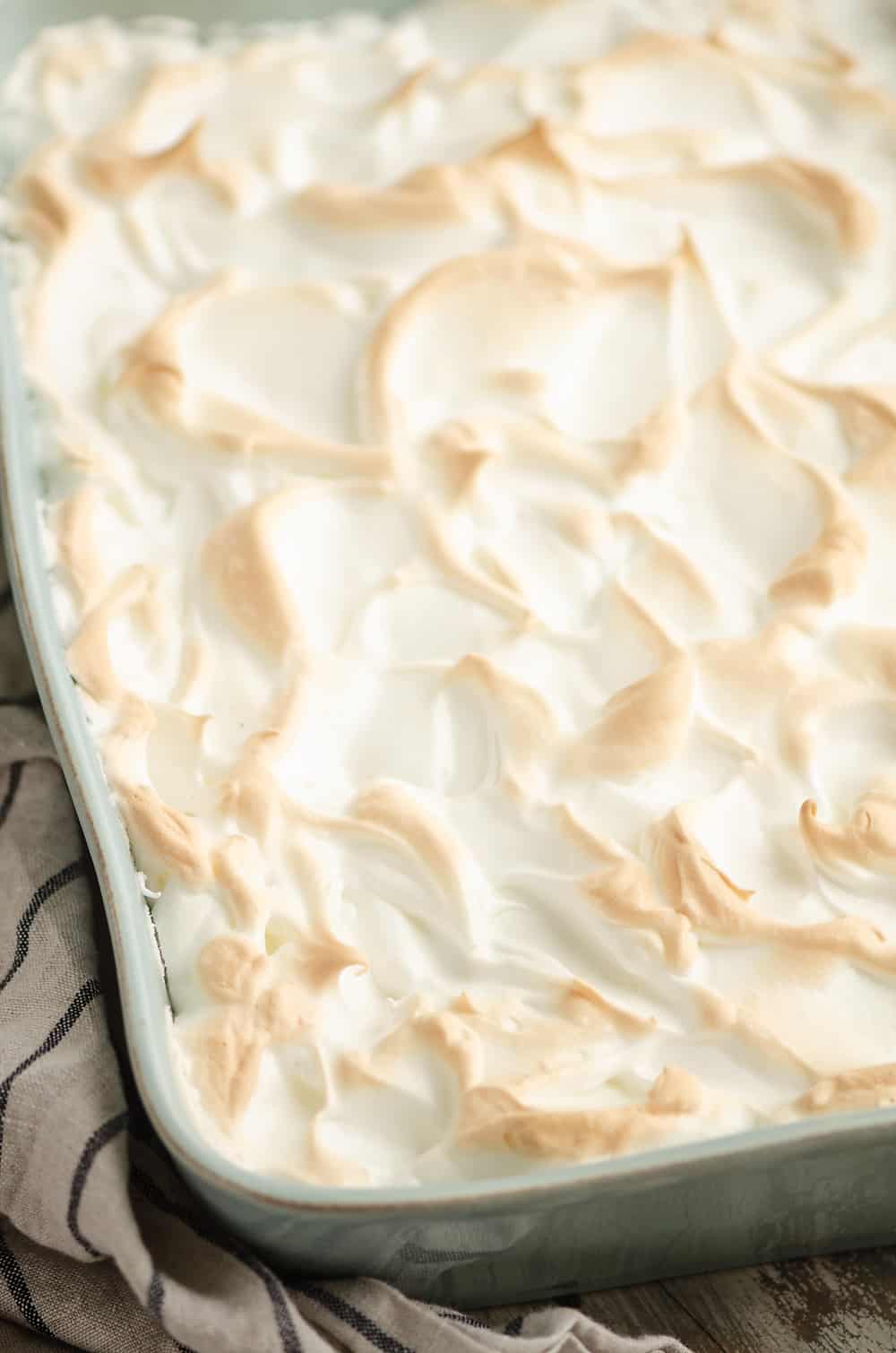 Old Fashioned Desserts
Sour Cream Raisin Pie is something my grandma made and yours probably did too. It isn't as popular in today's times, but there is a reason that the older generation still loves it. It's an unexpected mix of sweet and sour cream, raisins, and warm spices like cinnamon and cloves.
I can't lie to you. I had never tried Sour Cream Raisin Pie before making this version. When I used to manage a small town cafe, we often had it in the pie window, but I would snub my nose at it, because frankly it doesn't sound that good in my opinion.
It turns out that my Dad loves sour this old fashioned dessert though. I didn't know this because my Mom refused to make it and we never had it growing up. It was my Dad's birthday and I decided to make something he would like seeing I didn't get him a present. Parents can be the hardest to buy for by the way!
The only problem with this plan, is that I absolutely hate making pie crusts. I know, I know, I shared the best pie crust recipe with tips and tricks on how to make them great, but that doesn't mean I enjoy it! If you notice the hands in the photos, that was all my Mom's doing. 😉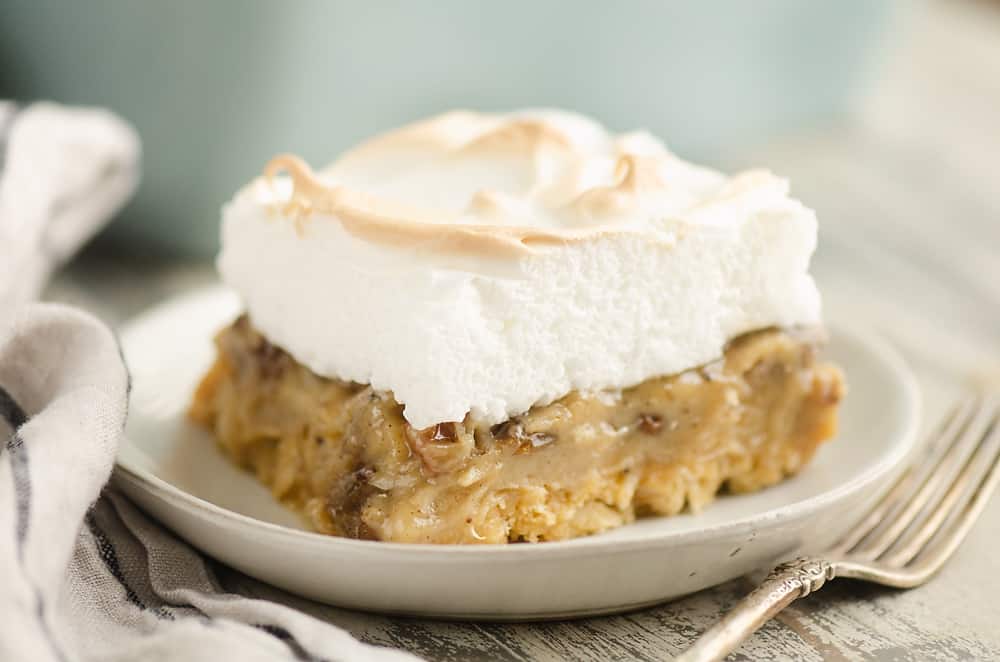 Oatmeal Raisin Bars
When I was paging through my Mom's old church cookbooks, in search of a Sour Cream Raisin Pie recipe, I came across a few oatmeal raisin bar recipes as well. I noticed they used an oatmeal crumble crust and thought that sounded even better than a pie crust, especially seeing it meant I wouldn't have to make one! Oatmeal and raisins is a classic flavor combination that we all know is great.
Some of the pie filling recipes looked questionable to me. They included cornstarch which I'm never a fan of. I called my friend Carol, who is my late Grandmother's age, and asked her for a sour cream raisin pie recipe.
She went to her recipe cards and gave me a pie recipe that sounded great. I liked that it was simple, but had the warmth from spices like cinnamon and cloves.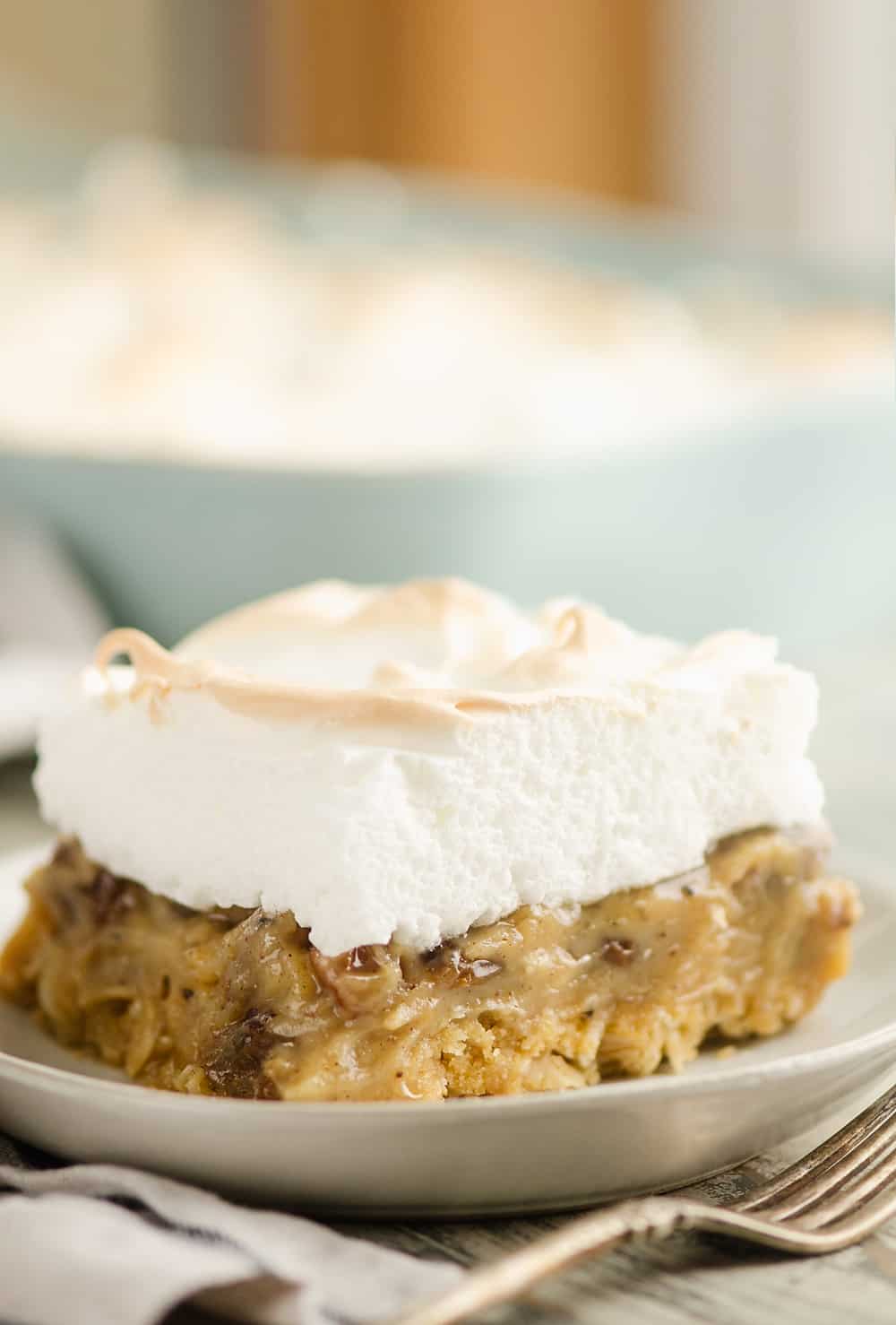 Meringue Dessert Recipe
While I could have simply made oatmeal raisin bars, I didn't want to leave out one of my favorite components to any pie, the meringue!
When I used to work at that small cafe, I took over the pie making when our pie maker retired. My favorite pie to make was lemon meringue. Many people are intimidated by making a meringue, but it really is simple when you follow a few important steps.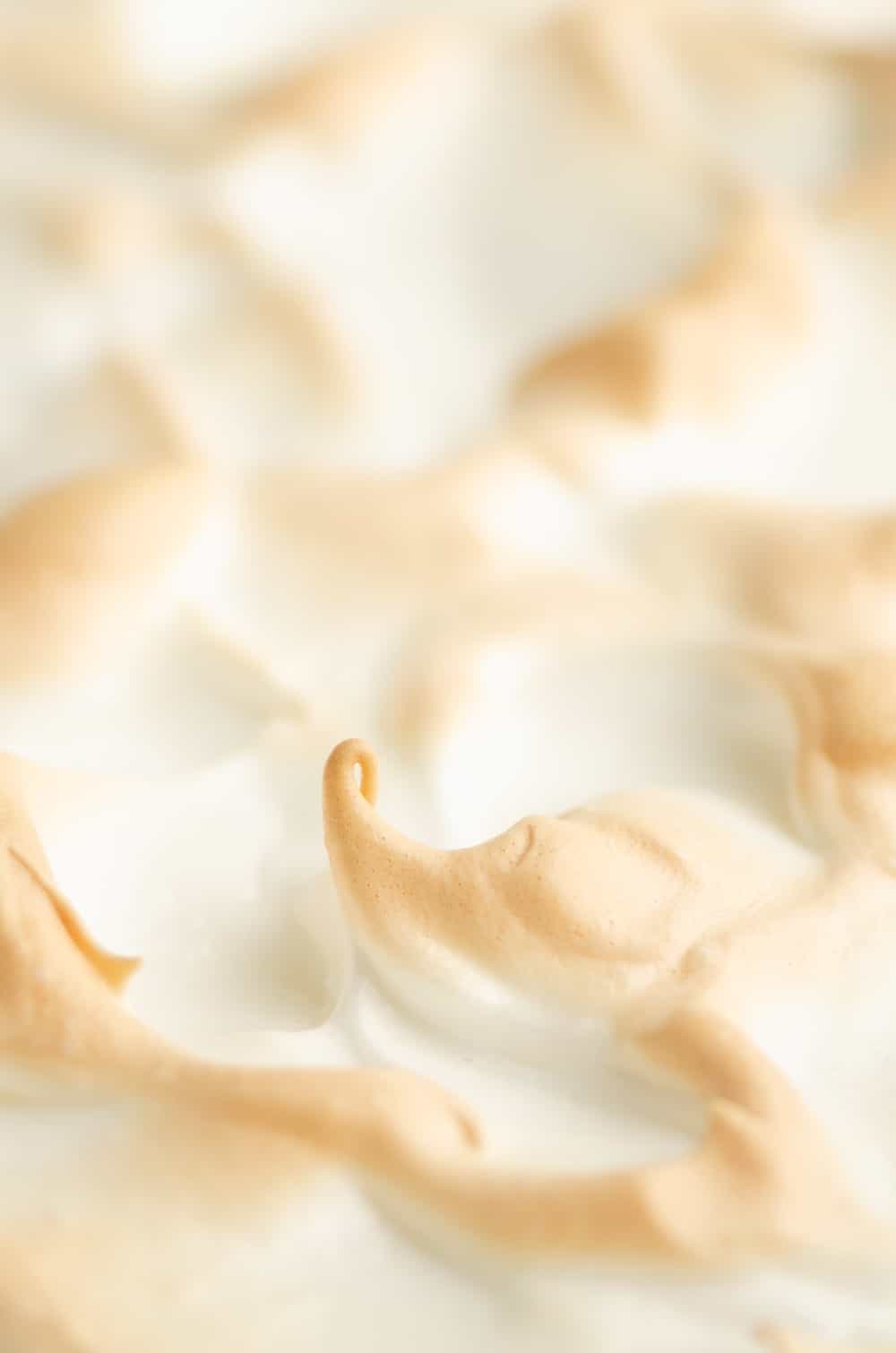 How to make a good meringue
Meringue is made from three simple ingredients, egg whites, cream of tartar and granulated sugar. If you don't have cream of tartar in your spice cabinet, grab yourself a little jar because you can't skip it. It allows the eggs to fluff up and hold more air.
Meringue comes out the best with room temperature egg whites. This step is already taken care of you, because you separate the eggs at the very beginning of these sour cream raisin bars, so they will be warmed some by time you make the meringue.

Clean Bowl & Beaters
The first and most important element to making a good meringue, is ensuring there is absolutely no fat or oil introduced to the egg whites. This means that you firstly need to make sure you are using a very clean and dry bowl and beaters to whip the egg whites.
If there is some residual oil on your beater, it won't allow the egg whites to become whipped, no matter how long you beat them. separate eggs one by one into a small bowl, and then add the egg whites individually into the bigger mixing bowl.
Add Sugar Slowly
Next, you need to make sure to add the sugar gradually after the egg whites are frothy. Don't try save yourself a few seconds by dumping it all in at once or it will take all the air out of the egg whites and your meringue will be ruined. Keep your eggs beating and slowly sprinkle in the sugar gradually.

Beating the Egg Whites Just Right
Beating the egg whites to the right consistency is the most difficult element to gauge if you don't have experience making a meringue recipe. I promise you can do it though!
Keep in mind that if you don't beat them long enough, the egg whites will be soggy and limp. You need to beat them on high so they reach stiff peaks. When the egg whites are glossy and form a stiff peak when you remove the beater, you know they are ready.
Don't over beat the eggs or they will become dry and grainy and there is no coming back from that.
Be gentle with your meringue and dollop it over the Sour Cream Raisin Bars. Use the back of a spoon to gently spread it over the bars to the very edge of the pan to create a seal. Pop the bars in the oven for 10-12 minutes until the peaks are lightly golden. Carefully remove the pan from the oven and set gently on a trivet to cool to room temperature before serving.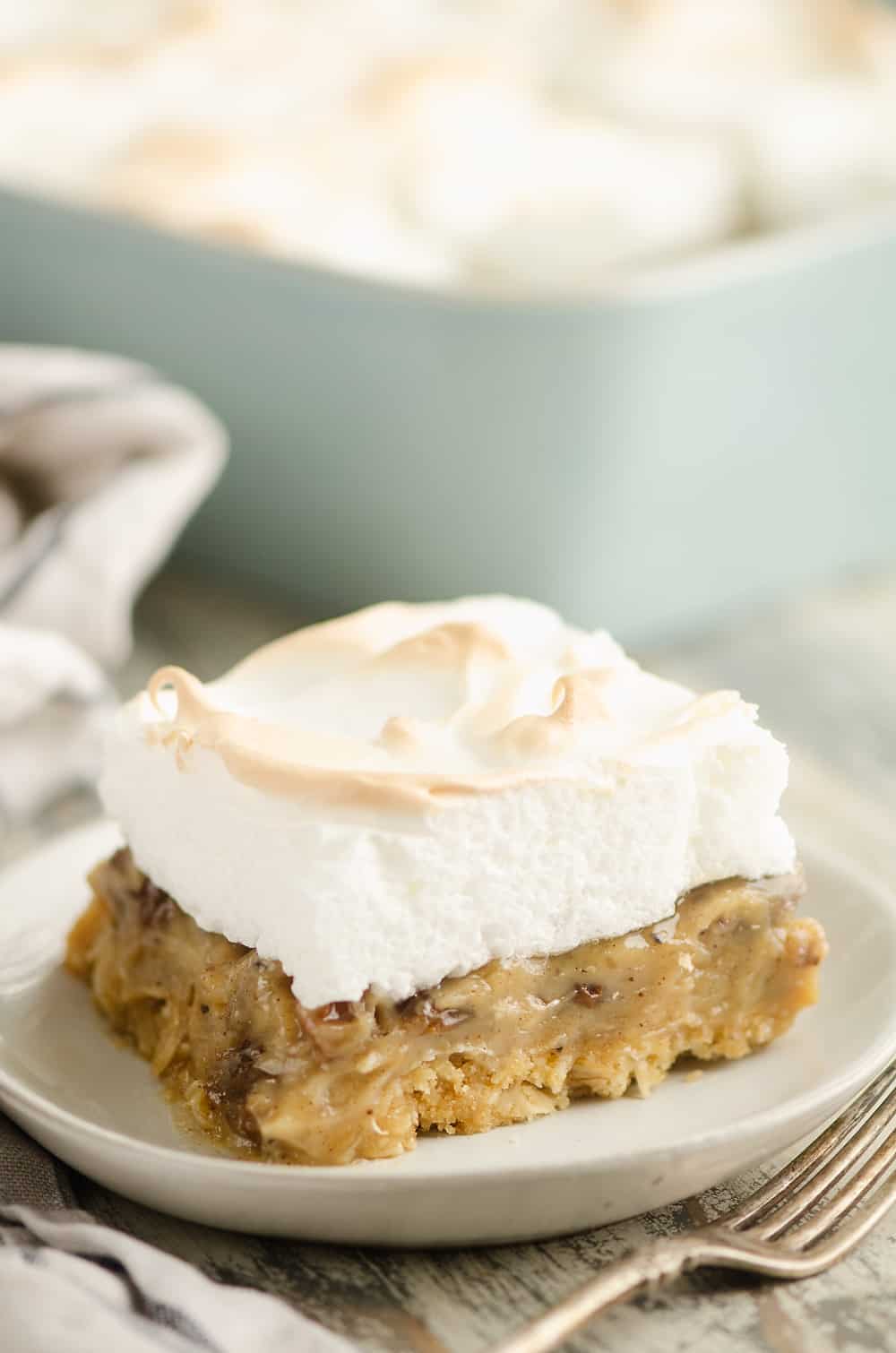 More Old Fashioned Dessert Recipes!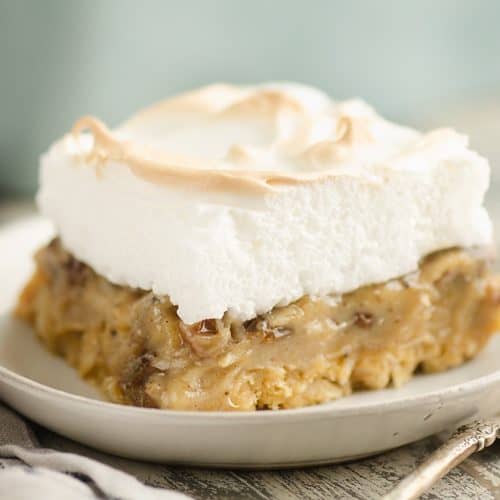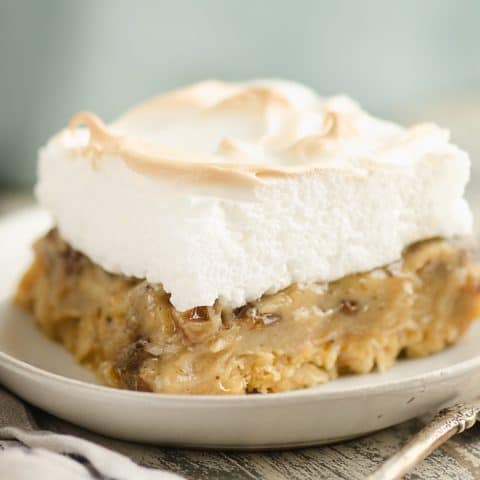 Sour Cream Raisin Meringue Bars
Sour Cream Raisin Meringue Bars are an easy twist on the old fashioned pie recipe with a buttery oatmeal crust. If you love the classic pie, but hate rolling out a crust, this dessert is for you!
Ingredients
Pie Filling
1 1/3 c. raisins
2 c. sour cream
1 c. granulated sugar
4 egg yolks
1/4 tsp. salt
1 tsp. ground cinnamon
1/2 tsp. ground cloves
2 Tbsp. flour
Crust
1 c. old fashion oats
1 c. flour
1/2 c. brown sugar
1/2 tsp. baking soda
1/2 c. melted butter
Meringue
4 egg whites
1/2 tsp. cream of tartar
1/4 c. granulated sugar
Instructions
Preheat oven to 350°.
Add the raisins to a large saucepan. Add just enough water to cover them and bring to a boil. Cook on high for 5 minutes.
Meanwhile, in a medium bowl, combine the crust ingredients. Press into a 9x13 pan and bake at 350° for 20 minutes.
Remove the raisins from the heat and drain the water off the raisins. Stir in the sour cream and sugar. Whisk in the egg yolks, cinnamon, cloves and flour until smooth.
Reserve the egg whites in a mixing bowl, being very careful not to allow any yolks into them.
Cook the sour cream mixture over medium heat, stirring continuously, until it is thick. Spread the mixture evenly over the oatmeal crust.
Add the cream of tartar to the egg whites and beat on high until frothy.
Very slowly add the sugar while beating the egg whites. Continue beating on high until the egg whites are glossy and form stiff peaks.
Using a spoon, carefully dollop the meringue over the sour cream mixture. Using the back of the spoon, gently spread the mixture over the bars so they are completely covered.
Return to the oven and bake at 400° for 10-12 minutes, or until the peaks of the meringue just begin to turn golden brown.
Allow to cool to room temperature before serving. Store leftovers refrigerated.
Recommended Products
As an Amazon Associate and member of other affiliate programs, I earn from qualifying purchases.
Nutrition Information:
Yield:

15
Serving Size:

1
Amount Per Serving:
Calories:

261
Total Fat:

13g
Saturated Fat:

7g
Trans Fat:

0g
Unsaturated Fat:

4g
Cholesterol:

82mg
Sodium:

159mg
Carbohydrates:

33g
Fiber:

1g
Sugar:

18g
Protein:

5g
Provided nutrition data is only an estimate. If you are tracking these nutrients for medical purposes, please consult an outside, trusted source.