Rhubarb Honey Goat Cheese Appetizer is an amazing recipe with a whipped cream cheese and goat cheese mixture topped with a tart rhubarb sauce with a hint of vanilla. Serve this dip with crusty French bread or your favorite crackers for an easy and impressive dish at your next party!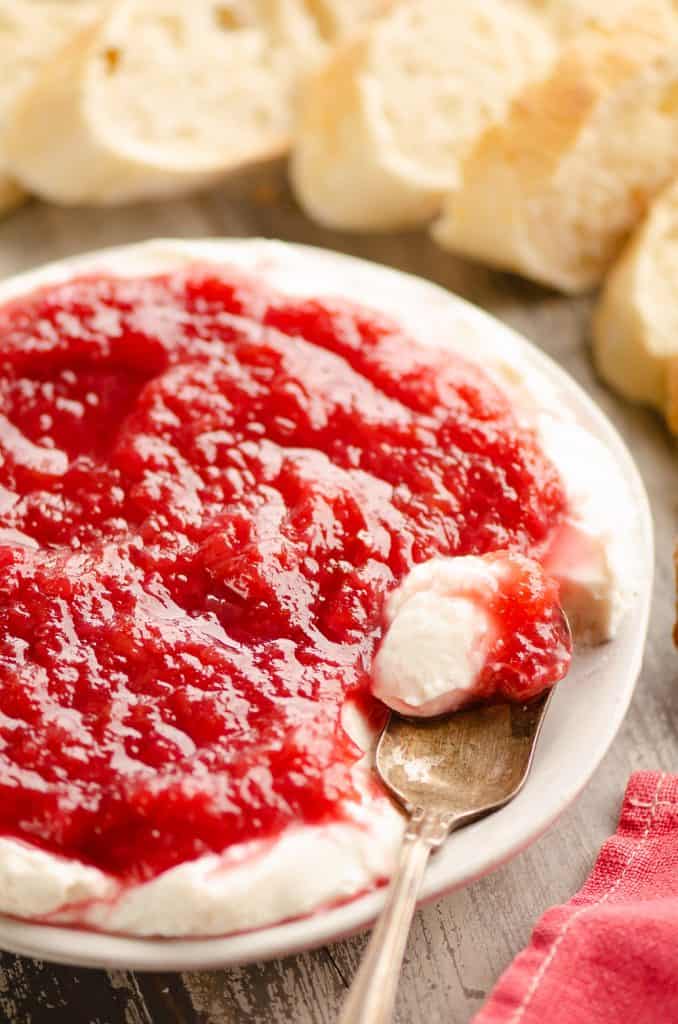 Rhubarb Goat Cheese
My Blueberry Goat Cheese Appetizer is one of my all-time favorite appetizers, so it was only natural that I would recreate that simple recipe with rhubarb that is in season right now.
Rhubarb is a tart ingredient that, when balanced out with sugar or honey in this case, adds incredible flavor. Some of the best sweet and savory dishes are Rhubarb Recipes in my opinion. There really is no dessert that beats Rhubarb Custard Pie!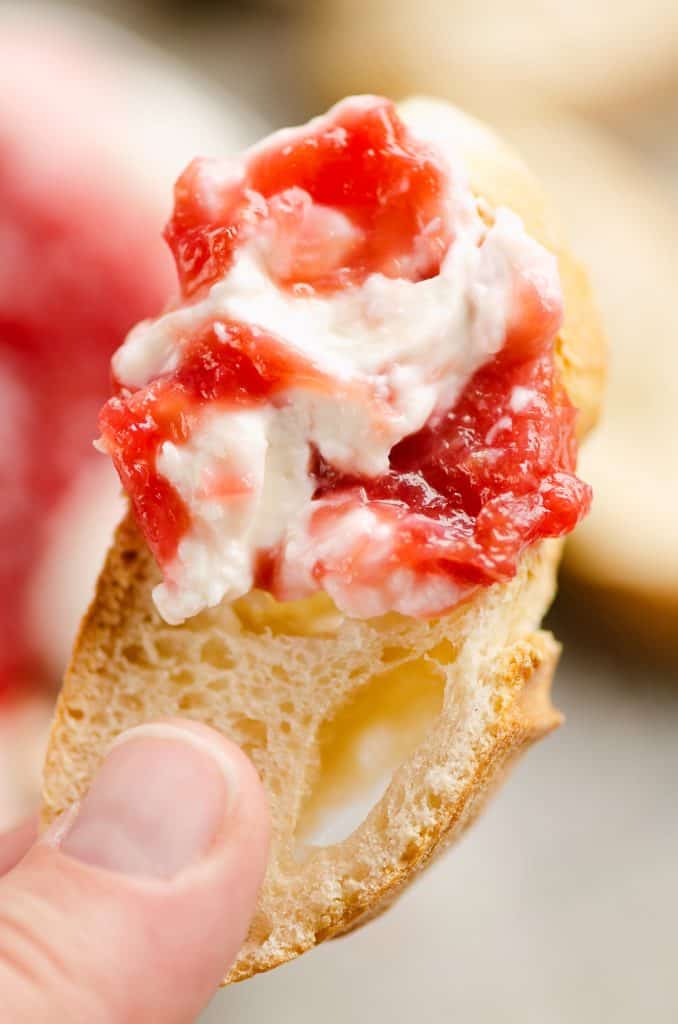 A Delicious Rhubarb Honey Goat Cheese Appetizer
Honey on just about anything makes it better. Goat cheese is a wonderfully creamy and delicately flavored cheese. Just put those two things together and they combine into a tasty cheese you will want on everything like this Grilled Honey Goat Cheese Pizza. Add the rhubarb to the equation and it creates something magical.
Even people that don't like goat milk often love goat cheese, so don't be afraid to try it!
Rhubarb is one of those things that really exists to make other things taste better. I don't hear about too many people grabbing a stalk of rhubarb to eat by itself.
So consider rhubarb's sourness flavor that marries the goat cheese to the honey. It makes it so the goat cheese is not too savory, nor the honey too sweet. It brings them together in perfect harmony.
A Caution About Rhubarb
If you are new to using rhubarb, and you intend to use fresh rhubarb rather than some from the freezer, then only use the stalk. Avoid eating the leaves. Those are very high in oxalic acid and that is a primary factor in causing kidney stones.
If you don't have access to a rhubarb plant or it is out of season and too woody, frozen rhubarb would be a great substitution.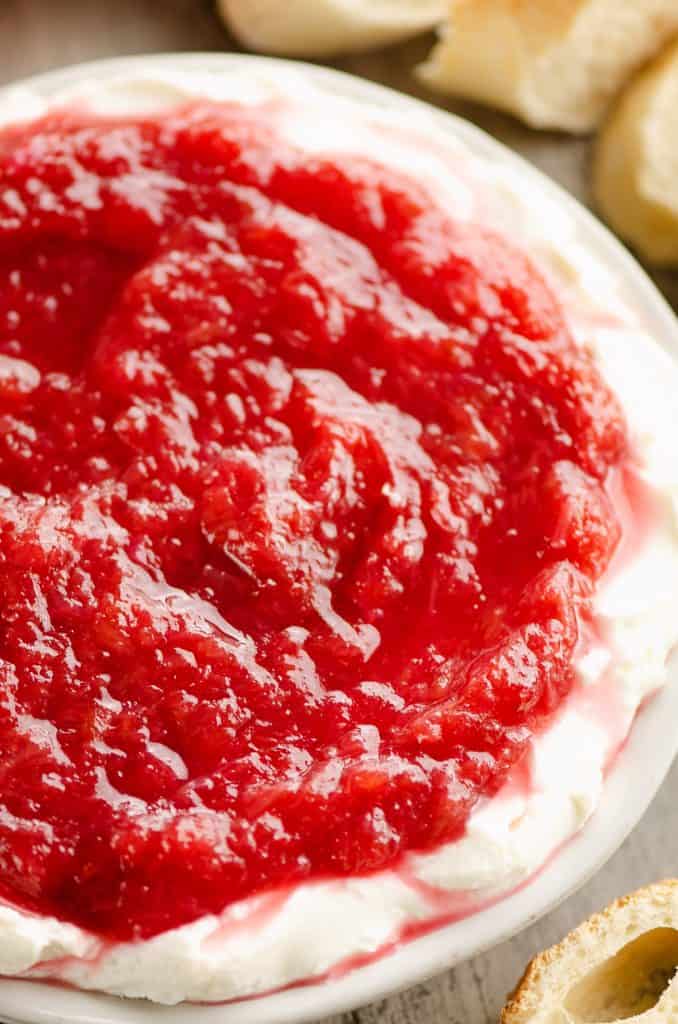 Cream Cheese Mixed With Rhubarb Honey Goat Cheese
You may be wondering why I included cream cheese in the mixture with the goat cheese and other ingredients. Goat cheese is great, but it often has a more crumbly texture. By using the cream cheese, you create a nice smooth consistency for making the cheese mixture spread more easily and evenly.
It also makes it a be more favorable to those who are hesitant to tryin goat cheese. If you are a true goat cheese lover, by all means just use goat cheese!
Cream cheese is not the only option however. You could also go with Neufchatel cheese which also has a very creamy texture and a bit more savory flavor. It is like cream cheese that has a bit more sharpness so it pairs nicely with goat cheese.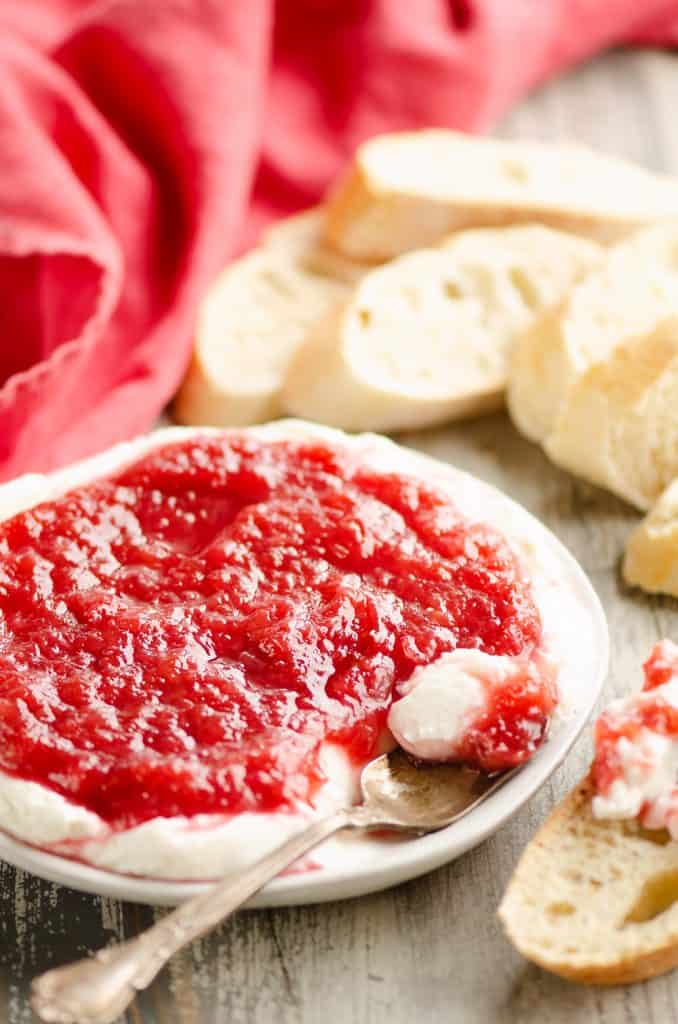 Types Of Honey To Use
Nowadays, good honey seems harder and harder to find. I also see "honey flavored" honey substitutes. Nothing beats the flavor of real raw honey but you will find honey in two basic types, raw and pasteurized.
Raw honey will often be infused with the flavors of the plants the bees take pollen from. So choosing a honey like honeysuckle or blackberry and others adds a floral element that also brings flavors into the rhubarb honey goat cheese mixture.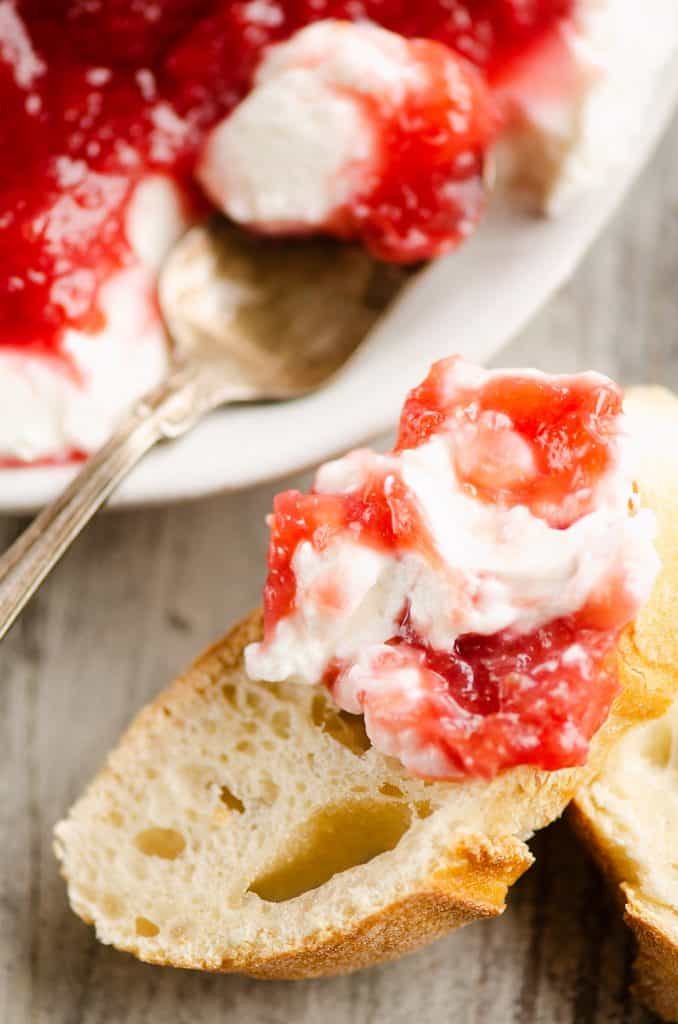 The Right Goat Cheese For Rhubarb Honey Chevre
Goat milk is used to make a variety of cheeses, but the one most people think of is the "chevre" style of goat cheese. This style of goat cheese has both a creamy texture but can still be crumbled.
Fresh chevre truly is fresh. Because this style of goat cheese uses very fresh curds, it is not an aged and dried cheese. Instead, fresh chevre only takes a matter of hours to process.
Goats have coexisted with humans even longer than dogs. (Dogs were invited into the picture as long as they protected the goats) So goat milk is the original dairy product. Goat milk has a form of fat that is more easily digested than cow's milk fats, so it is edible even by those who suffer lactose intolerance!
You will typically find goat cheese in the dairy case, but some grocery stores also have their own cheese deli counters as well. Seek out the plain chevre style goat cheese. Sometimes you will see chevre rolled in herbs but this appetizer works best with just the honey and rhubarb.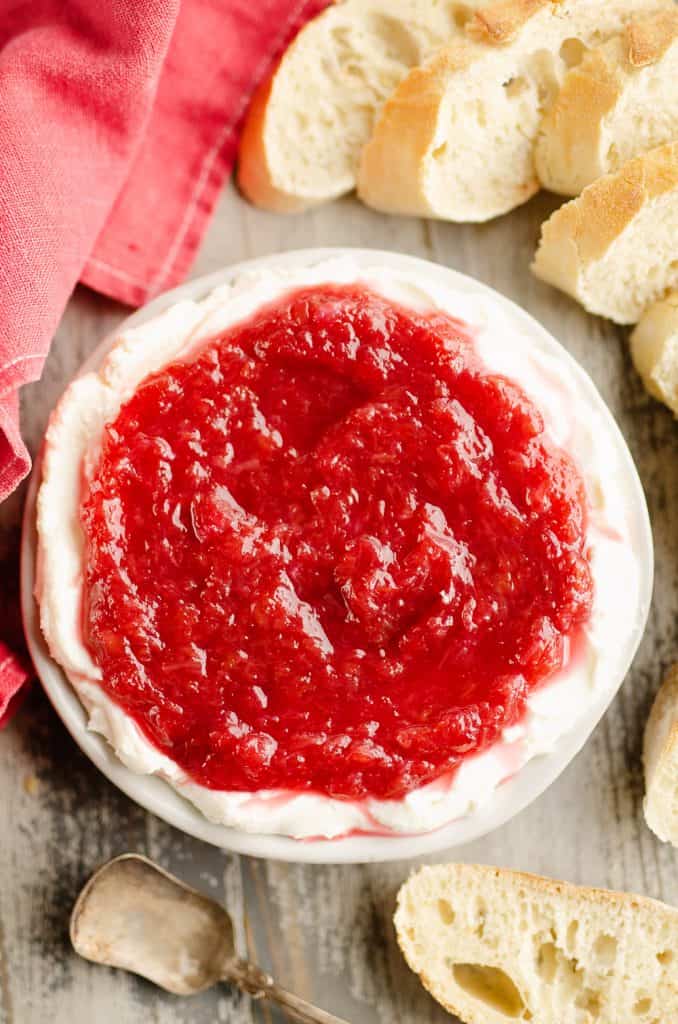 More Goat Cheese Inspired Dishes To Try
Goat cheese is a wonderful ingredient and I enjoy working it into a variety of dishes but very familiar and intriguingly unique. If you would like to try some more goat cheese dishes then I have a few suggestions to recommend.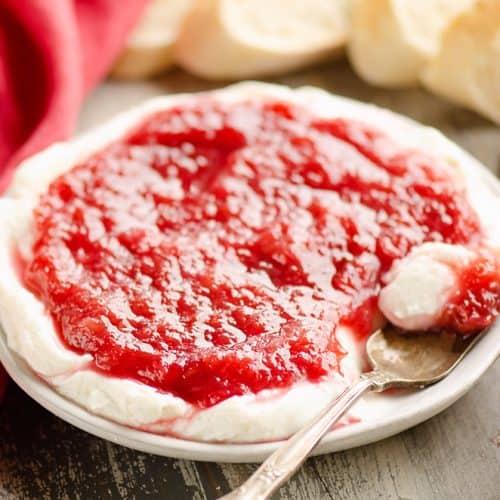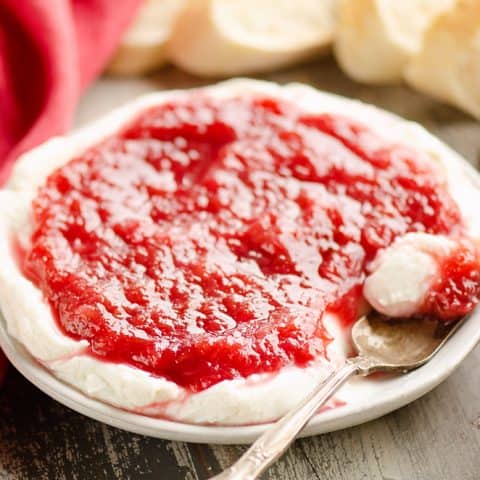 Rhubarb Honey Goat Cheese Appetizer
Rhubarb Honey Goat Cheese Appetizer is an amazing recipe with a whipped cream cheese and goat cheese mixture topped with a tart rhubarb sauce with a hint of vanilla. Serve this dip with crusty French bread or your favorite crackers for an easy and impressive dish at your next party!
Ingredients
Rhubarb Honey Sauce
1 c. chopped rhubarb stalks
1 Tbsp. water
2 Tbsp. granulated sugar
1/8 tsp. salt
1/4 tsp. vanilla extract
1 Tbsp. honey
Whipped Goat Cheese
4 oz. honey goat cheese
2 oz. cream cheese
Serving
1 loaf crusty French bread
Instructions
In a small saucepan over medium high heat, add the rhubarb, water, salt and sugar. Cook, stirring occasionally, until the rhubarb is completely broken down. (about 10 minutes)
Remove from the heat and stir in the vanilla extract and honey. Taste and add a tiny bit more honey if you prefer it sweeter. Allow to cool to room temperature.
Meanwhile, in a food processor, add the goat cheese and cream cheese. Mix until it is well combined and smooth.
Spread the whipped goat cheese on a small appetizer plate and top with the cooled rhubarb sauce. Serve with crusty bread and enjoy!
Notes
You can use fresh or frozen rhubarb.
Recommended Products
As an Amazon Associate and member of other affiliate programs, I earn from qualifying purchases.
Nutrition Information:
Yield:

6
Serving Size:

1
Amount Per Serving:
Calories:

348
Total Fat:

6g
Saturated Fat:

3g
Trans Fat:

0g
Unsaturated Fat:

2g
Cholesterol:

12mg
Sodium:

571mg
Carbohydrates:

65g
Fiber:

2g
Sugar:

27g
Protein:

10g
Provided nutrition data is only an estimate. If you are tracking these nutrients for medical purposes, please consult an outside, trusted source.