Winter Fruit & Goat Cheese Salad is a light and healthy salad recipe made with citrus, pomegranate, avocado and chevre all served with a drizzle of sweet balsamic reduction glaze for amazing flavor!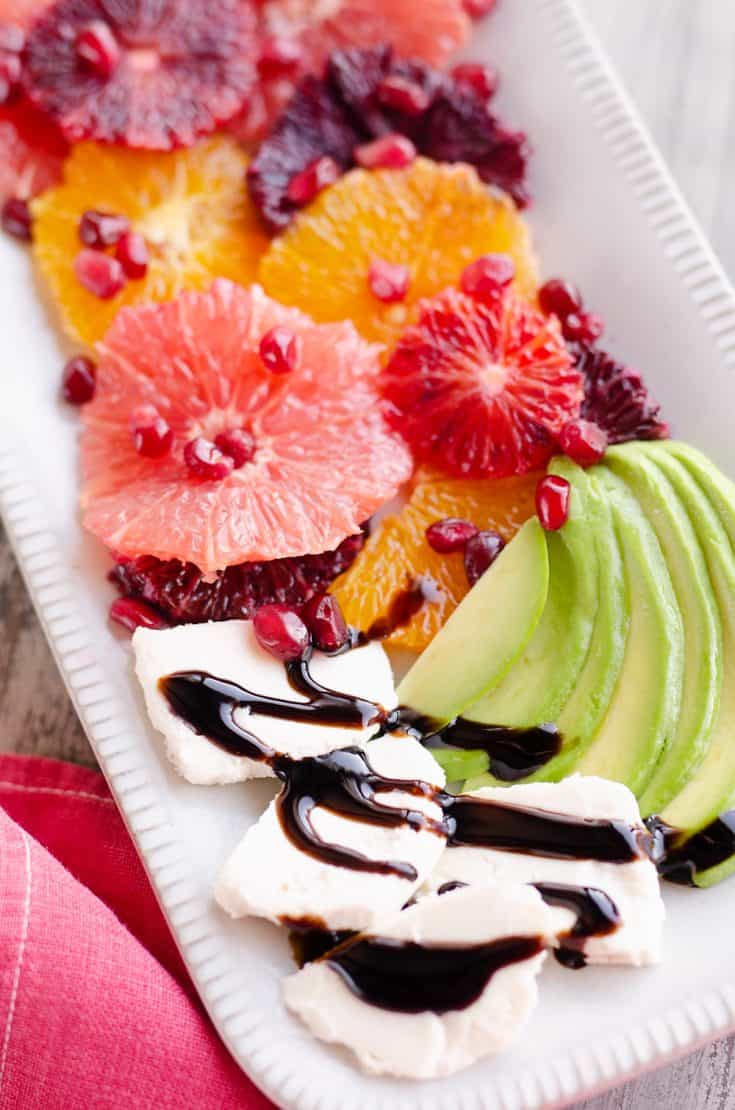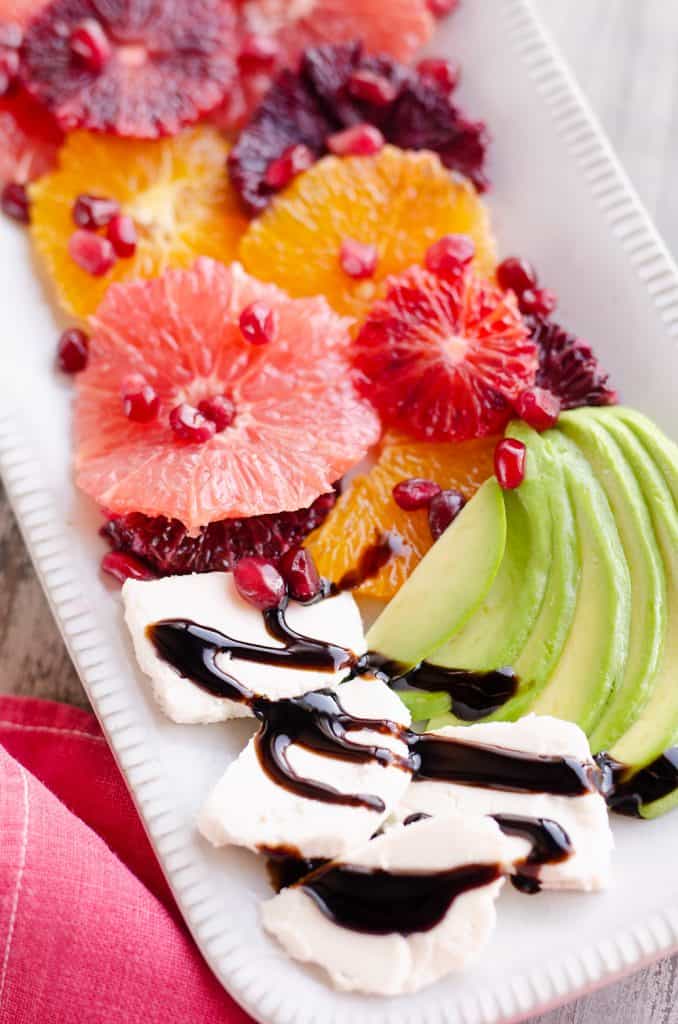 Winter Fruit Salad
A winter fruit and goat cheese salad feels like those rays of sunshine on a clear and chilly winter's day. Refreshing and invigorating, this goat cheese salad brings together bright citrus from oranges and grapefruits with the creamy tang of snow white goat cheese.
Pomegranate seeds add color, a bit of sweetness, crunch and a touch of bitter that offsets well with those citrus notes. If you are a fan of pomegranate and all its health benefits, then make sure also check out this pomegranate and squash quinoa salad too.
Fruit and Goat cheese are a wonderful pairing that aren't utilized near enough. I haven't met a fruit that doesn't pair well with chevre. These Fruit & Goat Cheese Chicken Bowl with apples and grapes are one of my favorite meal prep recipes for a light and easy lunch.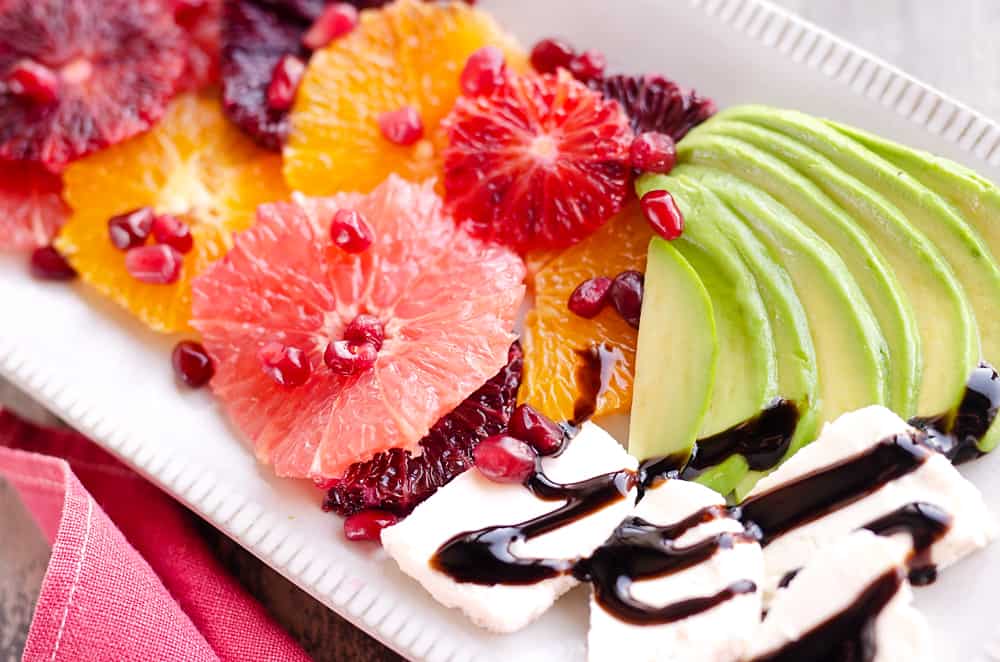 The Sunshine In Winter Fruit And Goat Cheese Salad
Many people may associate fruits like citrus with summer, but actually the best blood oranges, grapefruits, and other citrus fruits ripen in the middle of winter. Of course, they grow in climates with mild winters, but now you know why they are called "winter fruits".
In Japan, there is a term for eating foods in season "shun". The word describes eating foods at the peak of ripeness or readiness and according to season. The underlying philosophy comes from the idea that nature provides the right nutrition at the right time for the body's needs according to each season.
Winter fruit brings with it a wealth of vitamin C and other beneficial nutrients. During winter, when immune systems are working hard against the cold and flu season, winter fruits like oranges, grapefruits, and pomegranates help your body resist illnesses.
In a sense, eating seasonally can help you "shun" illnesses!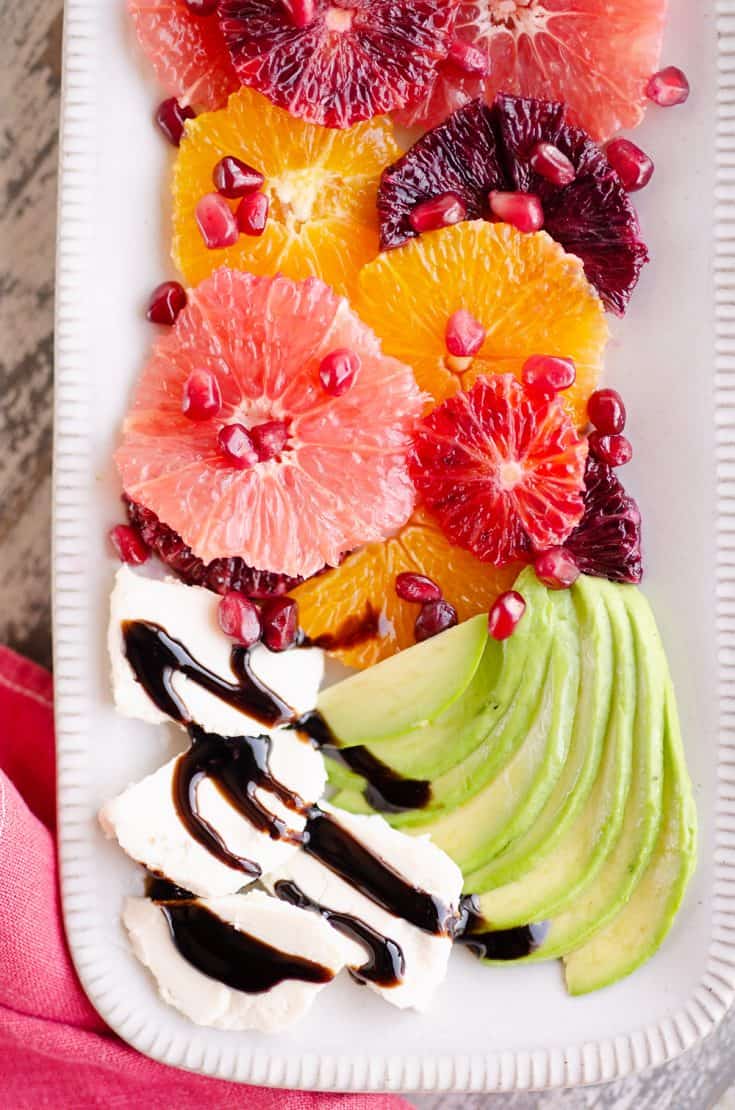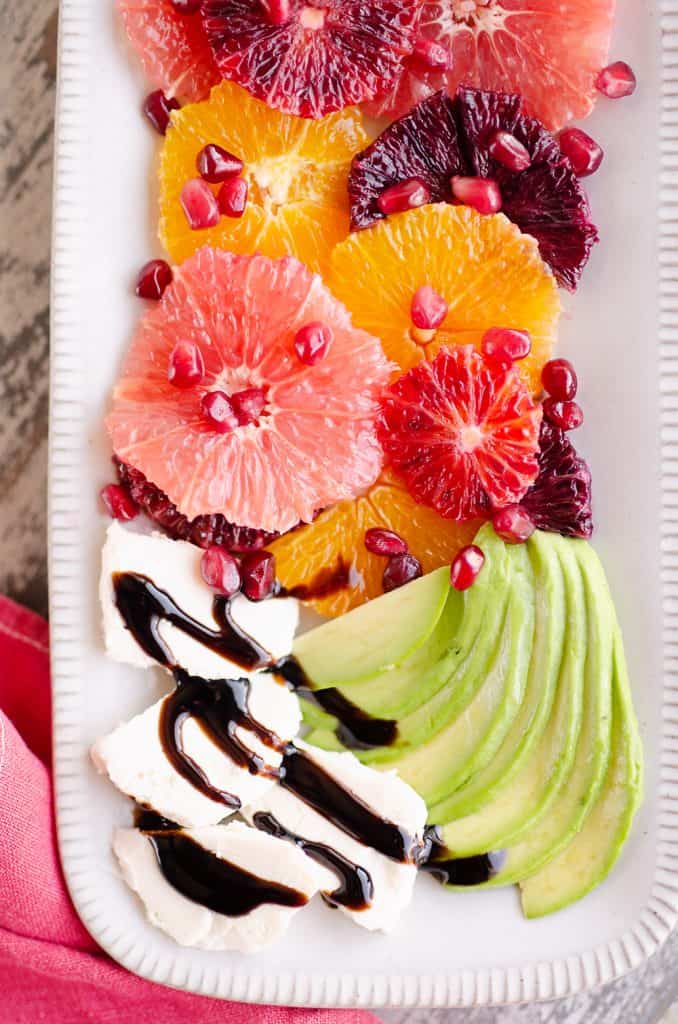 What Fruits Are In Season During Winter?
There are a wide variety of fruits that show up in winter. All the best citrus fruits, like grapefruits and oranges, but also kumquats and lemons can be considered winter fruits. Persimmons and pomegranates also fall in the winter fruit category.
What Can I Use Goat Cheese For?
Goat cheese salads use soft goat cheese crumbles to add a creamy element and amazing flavor to salads. Besides winter fruit goat cheese salad, you can use goat cheese in all sorts of salads, like this Pistachio Crusted Goat Cheese Berry Salad.
Smooth goat cheese goes really well with balsamic vinegar. With those two ingredients, you can make all sorts of salads, try using it also on spinach and or arugula leafy green salads too.
If you have never had goat cheese on a flatbread pizza then you are in for a treat! I suggest you check it out on this honey goat cheese pizza…
Goat Cheese Substitutions?
I love goat cheese but not everyone feels the same. If you want another cheese that works with winter fruit salad, then I can recommend a few.
Use some fresh mozzarella, or a neufchatel style cheese. You can also try it with a Feta or Mexican cotija style cheese.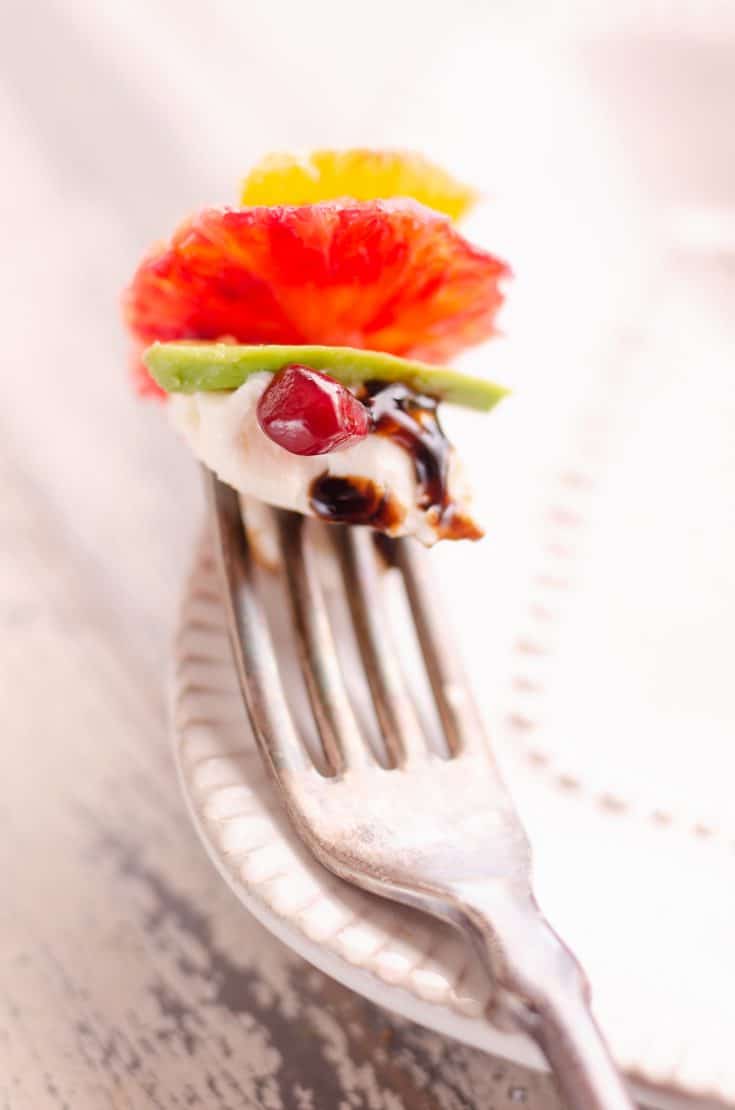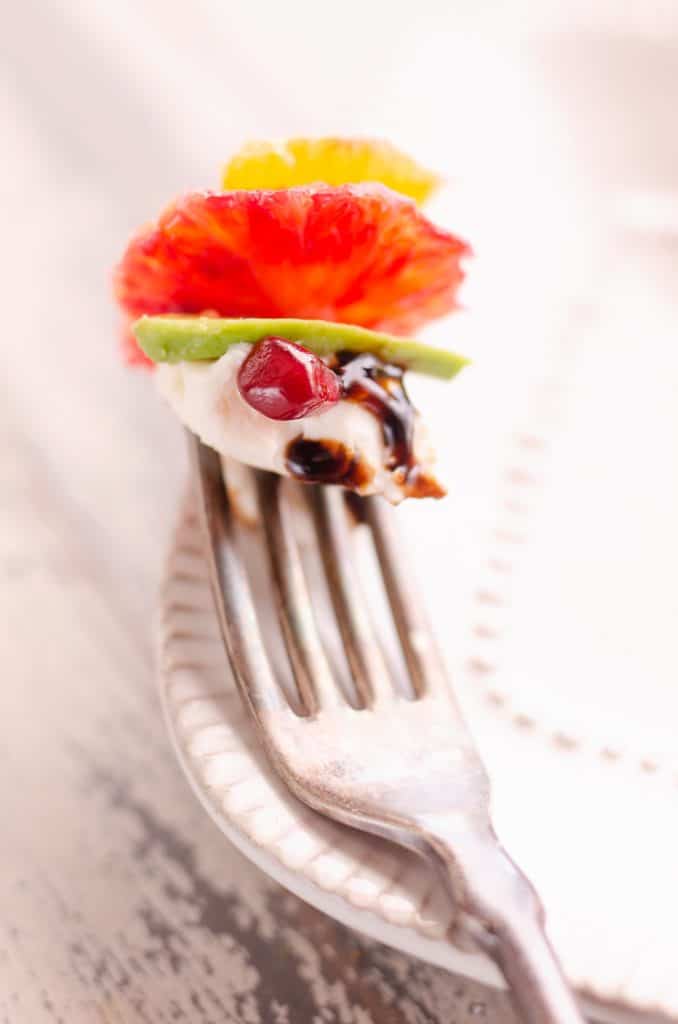 Is Goat Cheese Healthy?
Goat cheese and goat milk differs from cow's milk and cheese. Notably, many folks with lactose intolerance, can actually enjoy goat cheese. However, goat cheese has many other health benefits as well.
In fact, goats were used for milk long before cows were domesticated for that purpose. So there is a rich human history of using goat derived dairy products. Which is awesome, goat milk is high in protein, and it is full of selenium, magnesium and niacin.
The fat content is also easier to digest due to the fat being more soluble and higher in healthy fatty acids than cow's milk. So, adding goat cheese to salad is a great way to get more protein and healthy fats into your salad.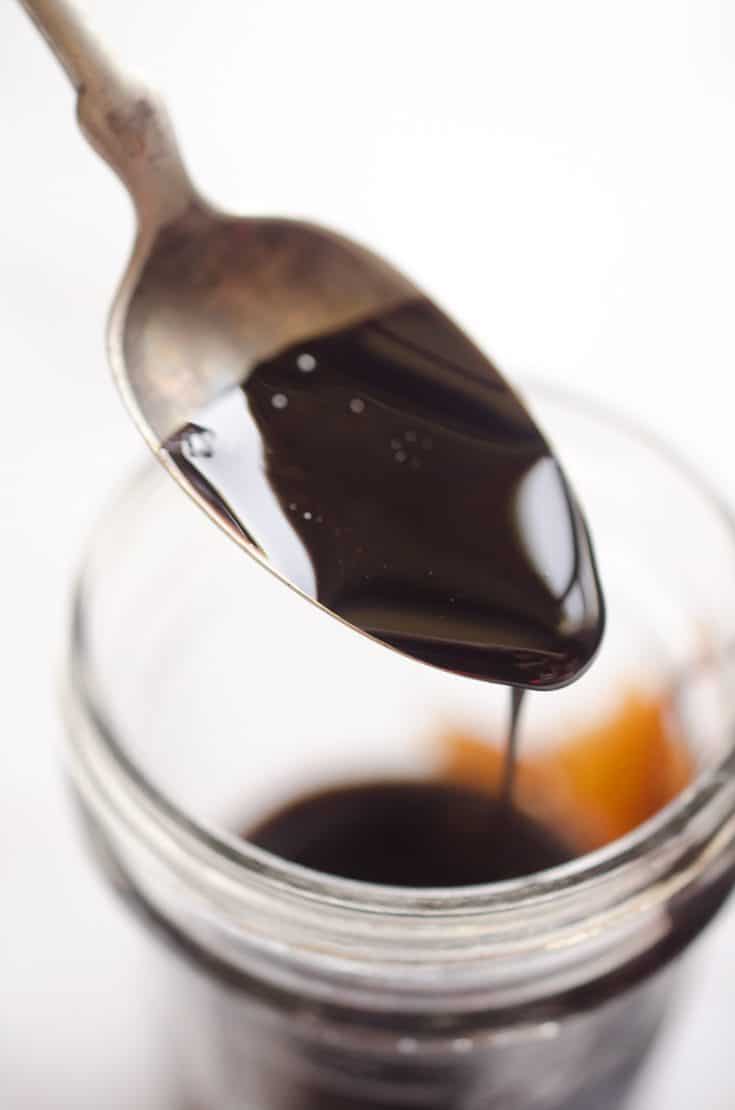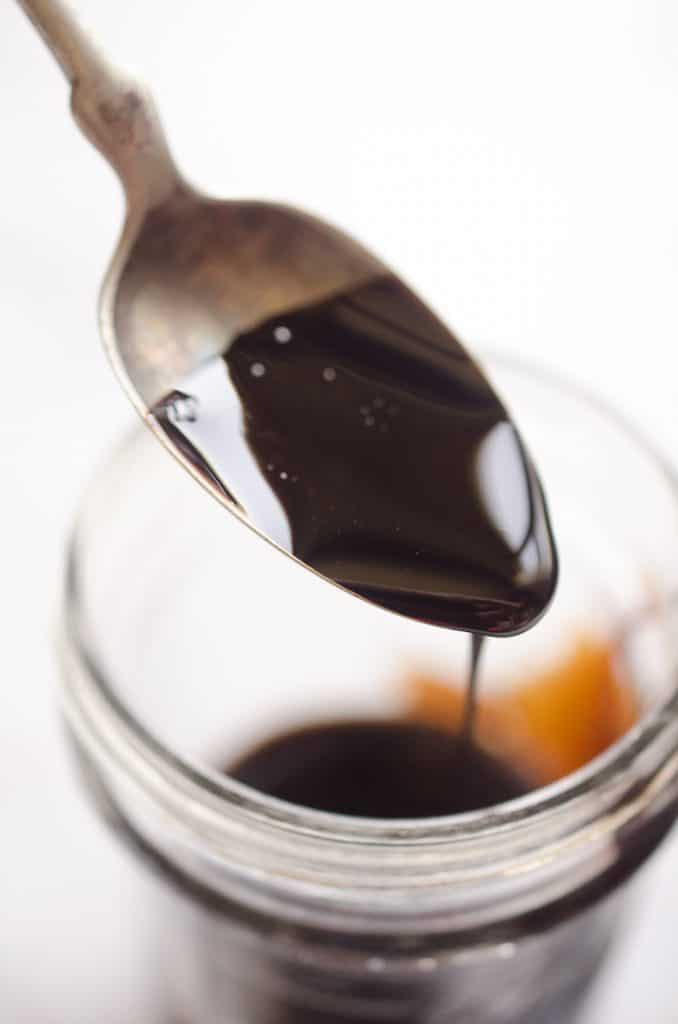 Balsamic Vinegar Dressing For Winter Fruit Goat Cheese Salad
Balsamic vinegar comes from grape "must". Grape must is the juice made from crushing grapes with the seeds, stems, and skin intact. Although balsamic vinegar originated in Italy, nowadays there are plenty of balsamic style vinegars that are much cheaper than the Italian balsamics.
With a balsamic reduction, you essentially boil your balsamic down to about half its original volume. You can add the honey to sweeten it, but some folks might prefer the unsweetened version as well. Try both and see what you think.
I love the earthy umami side of balsamic vinegar and it goes so well with both goat cheese and citrus fruits like this winter fruit salad.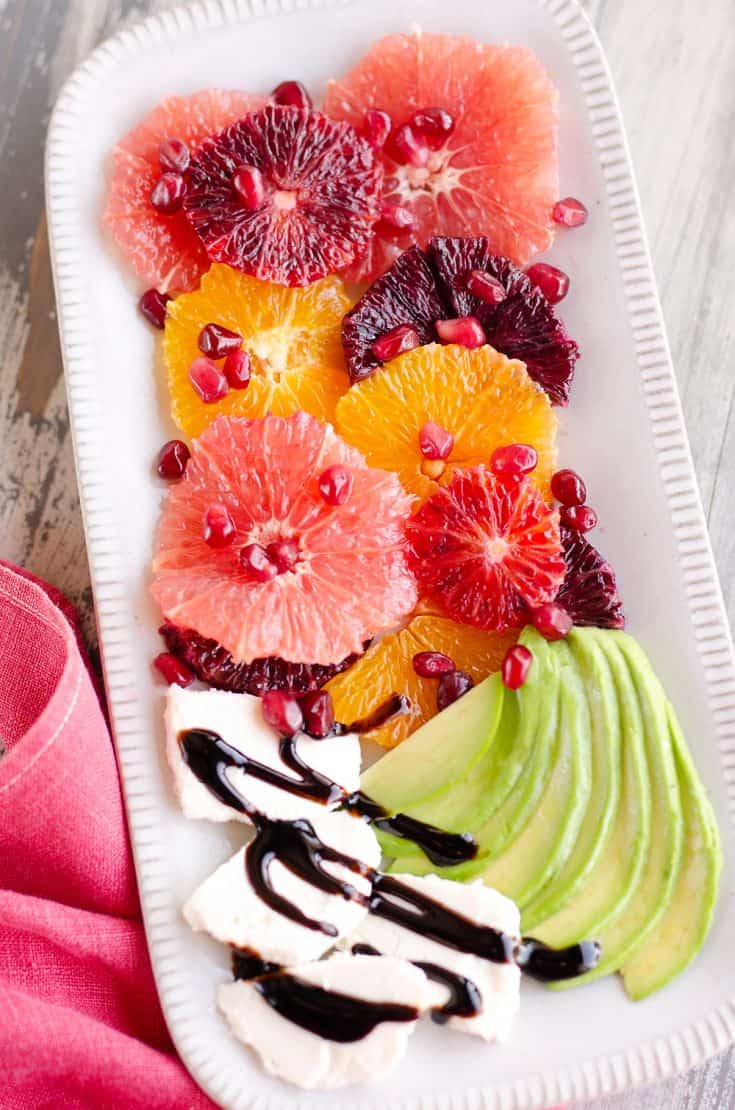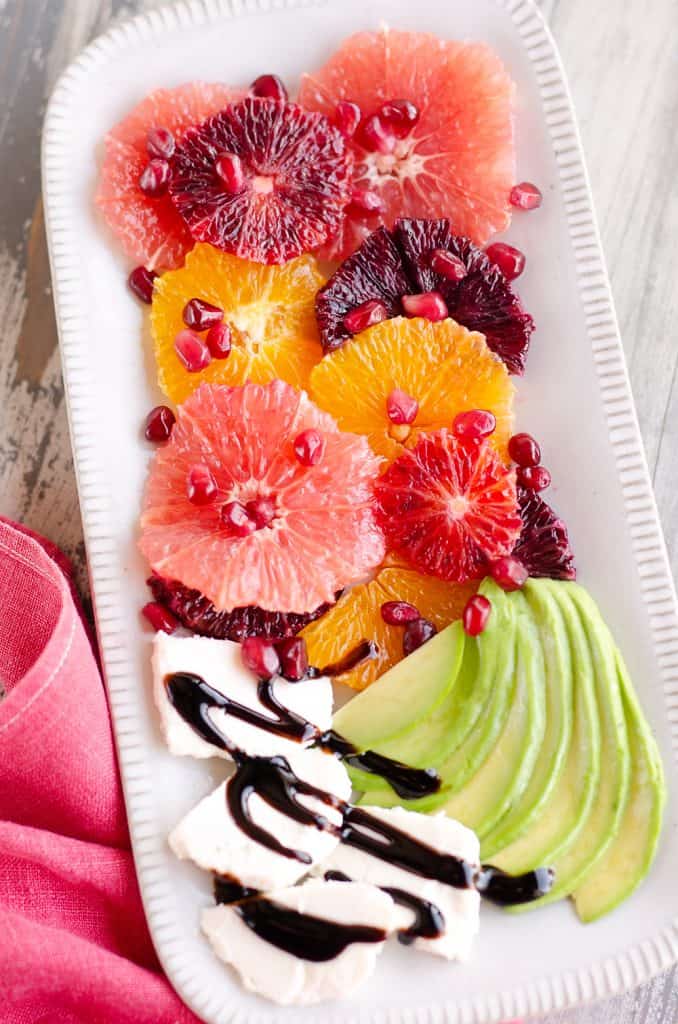 Can You Eat Pomegranate Seeds?
Some folks get confused about pomegranates. They don't know if you can eat the seeds or not. Well, it just comes down to a matter of preference. If you want to spit them out, then go right ahead. Just don't hit anyone in the eye when you do.
However, on the other hand, eating the seeds is no problem at all. The seeds are actually full of fiber. It isn't like eating the pit of a plum or peach. They provide a bit of crunch but without becoming sharp little fragments.
I prefer eating them any day to having to spit them out!
Can You Recommend Some Dishes To Go With Winter Fruit Goat Cheese Salad?
I think this dish goes great with a nice hearty soup. I recommend some nice whole grain bread, and a bowl of soup on a cold winter day.
Here are some soup and bread suggestions that also take advantage of winter vegetables:
Enjoy! Stay warm and healthy and enjoy the season, and seasonal cuisine!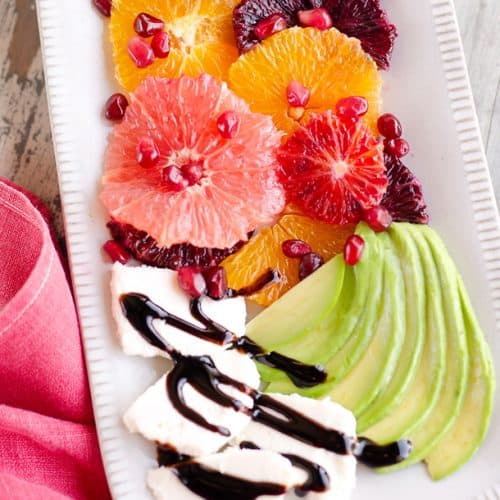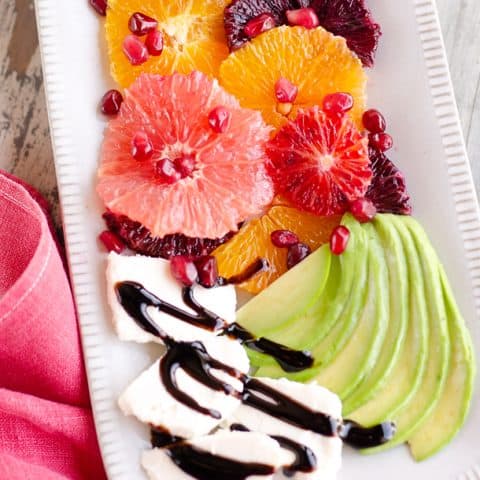 Winter Fruit & Goat Cheese Salad
Winter Fruit & Goat Cheese Salad is a light and healthy salad recipe made with citrus, pomegranate, avocado and chevre all served with a drizzle of sweet balsamic reduction glaze for amazing flavor!
Ingredients
8 oz. honey goat cheese
1 grapefruit
1 blood orange
1 orange
1 avocado
1/4 c. pomegranate seeds
Instructions
Peel the citrus fruit and thinly slice it. Divide the fruit among four plates. Top with pomegranate seeds.
Peel and slice the avocado and divide among the plates along with the goat cheese.
Drizzle each salad with balsamic glaze and serve immediately.
Recommended Products
As an Amazon Associate and member of other affiliate programs, I earn from qualifying purchases.
Nutrition Information:
Yield:

4
Serving Size:

1
Amount Per Serving:
Calories:

295
Total Fat:

9g
Saturated Fat:

2g
Trans Fat:

0g
Unsaturated Fat:

6g
Cholesterol:

3mg
Sodium:

44mg
Carbohydrates:

55g
Fiber:

6g
Sugar:

44g
Protein:

4g
Provided nutrition data is only an estimate. If you are tracking these nutrients for medical purposes, please consult an outside, trusted source.