Parmesan Potato Chowder is a decadent and satisfying soup sure to warm you up in the cold winter months!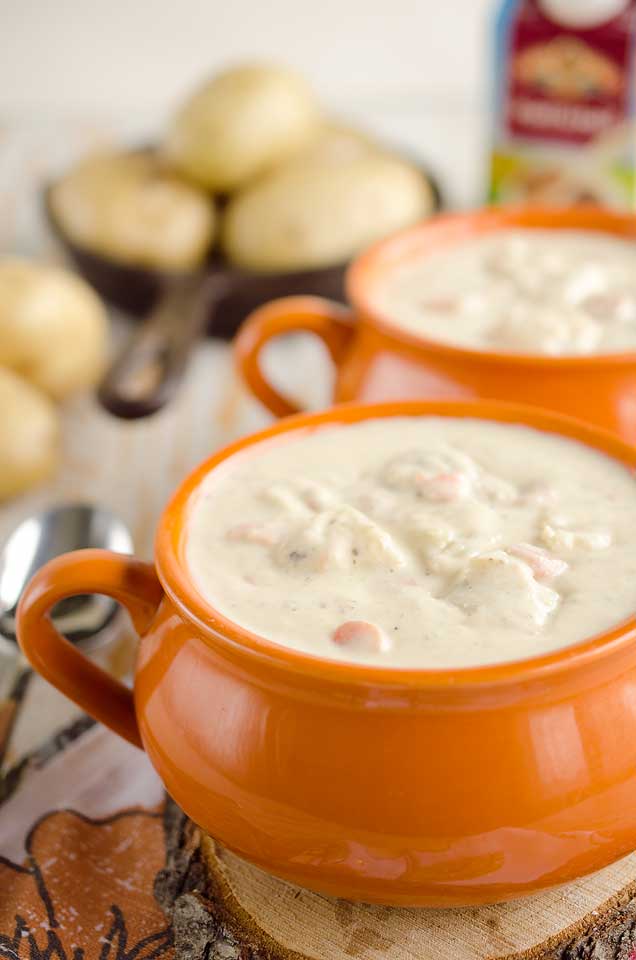 Parmesan Potato Chowder
With winter in full force (and all the snow to go along with it!) soup is sounding more and more appealing! From favorites like Crock Pot Chicken Tortilla Soup and Light Tomato Basil Meatball Soup to Roasted Butternut Squash & Bacon Soup, I love a good soup that I can enjoy for supper and easily take to work for lunches throughout the week.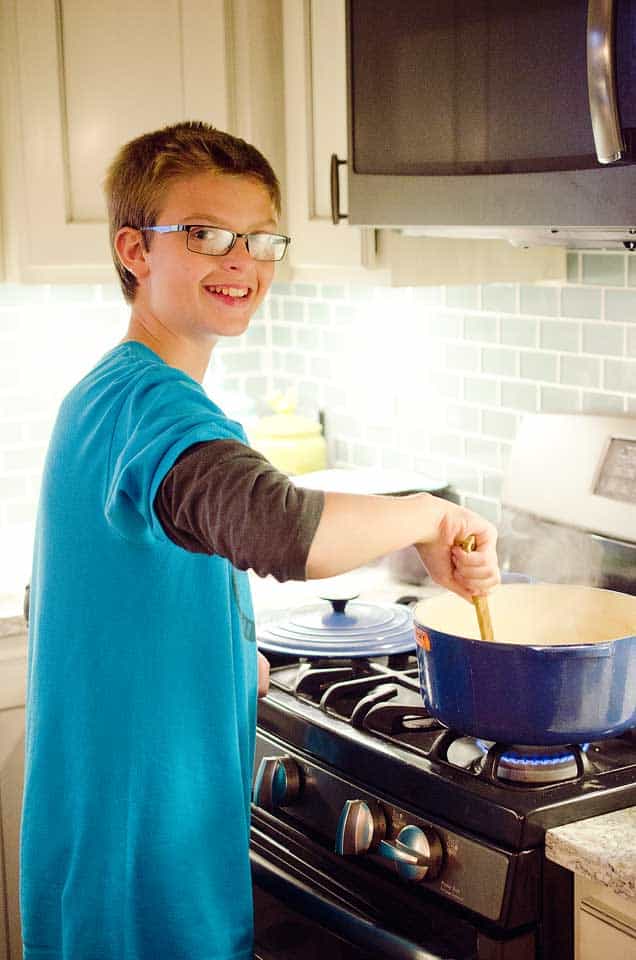 My nephew was staying with me over the weekend and I asked him what he wanted for dinner. He isn't a very adventurous eater so I was surprised when he said he had a potato chowder at school he liked and would like to make that. I thought that sounded fantastic! We quickly got to work peeling and chopping vegetables and making the soup to our taste.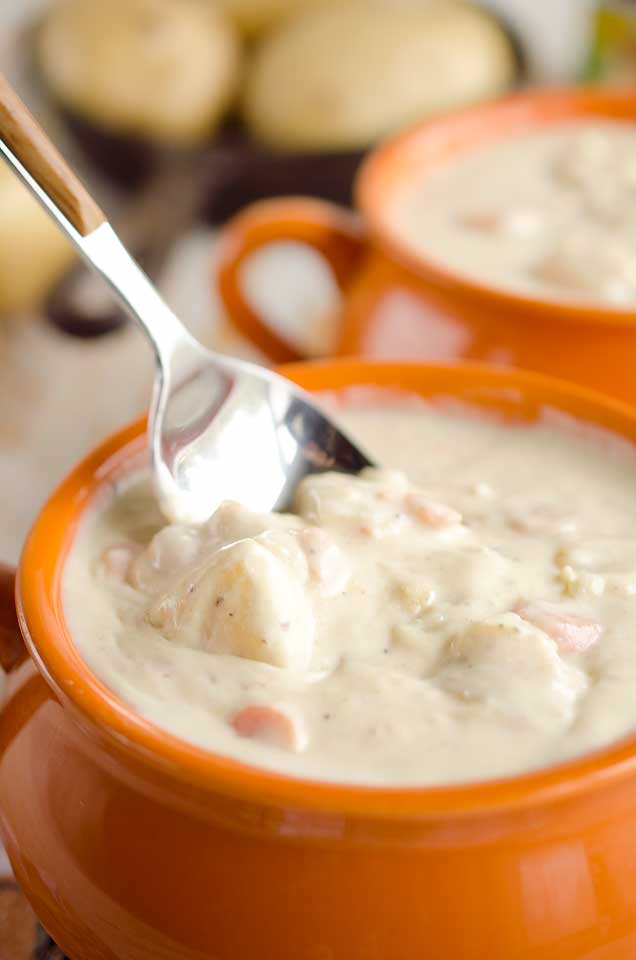 There is absolutely nothing light about this chowder. Butter, cream and Parmesan take center stage in all their fatty glory with a side of carbohydrate loaded potatoes and vegetables. Let's be real, did you really think a recipe with Parmesan and Chowder in the title was going to be good for you?! 😉
This soup is a wonderful indulgence for that cold winter day, where the only thing that will warm you up is some good old comfort food. My nephew was thrilled with the end result and happily put down a big bowl!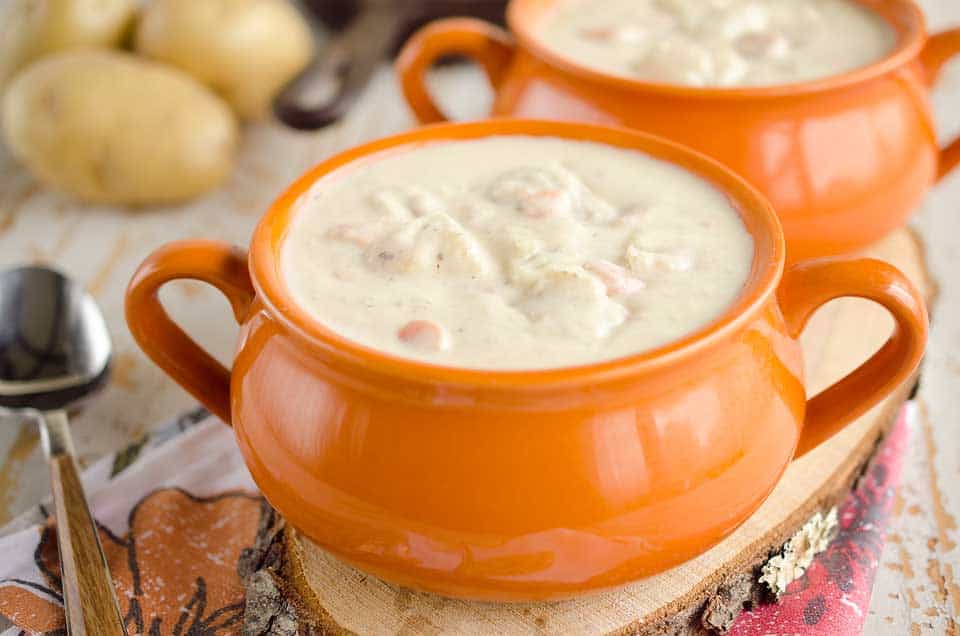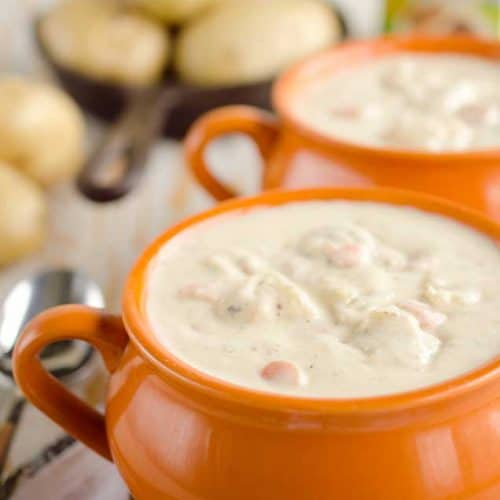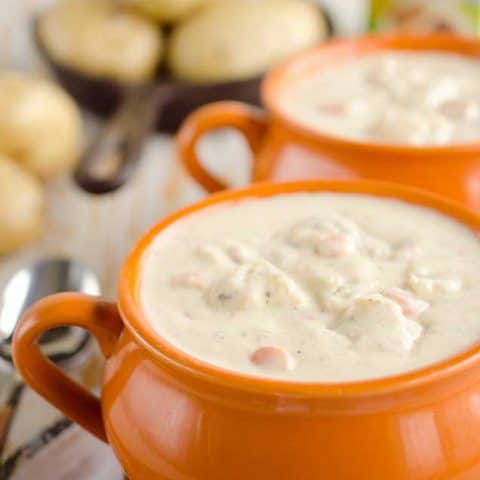 Parmesan Potato Chowder
Parmesan Potato Chowder is a decadent and satisfying soup sure to warm you up in the cold winter months!
Ingredients
4 c. potatoes, cubed into 1 inch pieces
1/2 c. butter
1 small yellow onion, diced
1 c. carrots, finely chopped
2/3 c. chopped celery
1 tsp. salt
1/2 tsp. pepper
1 tsp. garlic powder
1 pint heavy whipping cream
4 c. chicken broth
1/2 c. Parmesan
Instructions
Boil your chopped potatoes until they are almost fork tender. Drain and set aside.
In a Dutch kettle, melt your butter and add the onion, carrot, celery, salt, pepper and garlic powder. Cook for 5 minutes over medium heat until the onion is translucent.
Add the remaining ingredients to the pot and cook over medium heat for 10 minutes.
With an immersion blender (or a potato masher if you don't have a blender) give the soup a few pulses, blending some of the potatoes and vegetables into the soup, being sure not to overdue it and loose all of the texture. This will create a thicker consistency. If you prefer a thin soup, skip this step.
Serve immediately.
Recommended Products
As an Amazon Associate and member of other affiliate programs, I earn from qualifying purchases.
Nutrition Information:
Serving Size:

1 grams
Amount Per Serving:
Unsaturated Fat:

0g
More delicious soups!