This easy 15 minute recipe for Microwave Caramel Popcorn is a sweet and salty treat perfect for snacking, dessert or gifting during the holidays!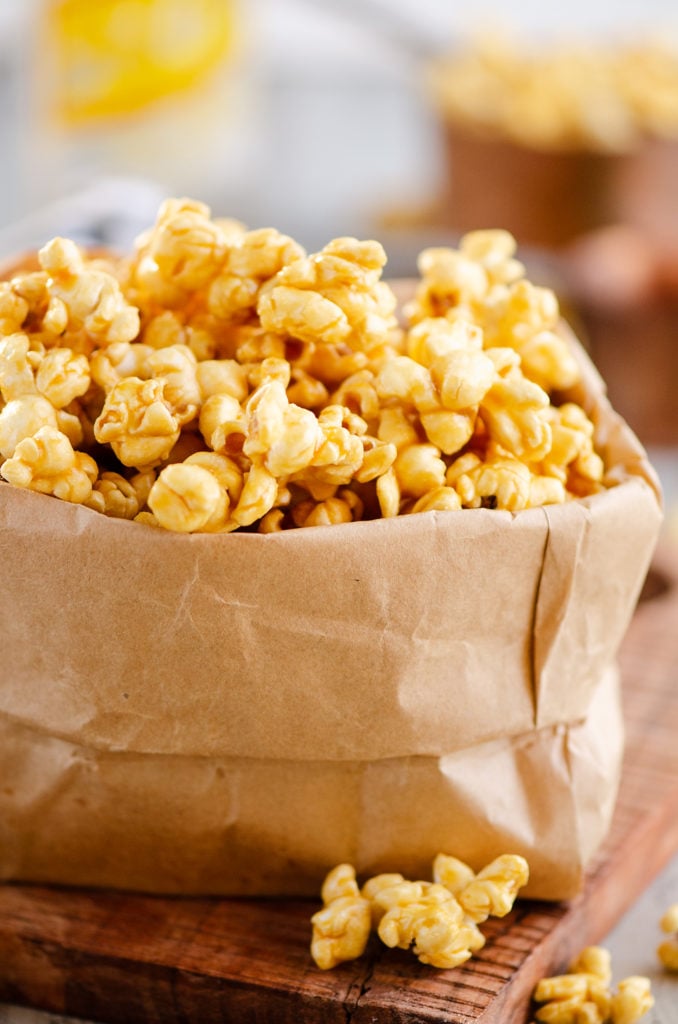 Easy Caramel Corn in the Microwave
Caramel popcorn which is very similar to kettle corn or carnival corn because it is coated in a sweet layer of caramelized sugar makes a fantastic snack. If you have ever bought fancy caramel corn in a can for the holidays or had kettle corn at the county fair, then you know they charge a lot for it.
It is so cheap to make it yourself! You can even do it in minutes in the microwave. Now granted, going to the fair and cheese curds does have its perks, but when you can make it yourself so quickly and easily it's a no brainer!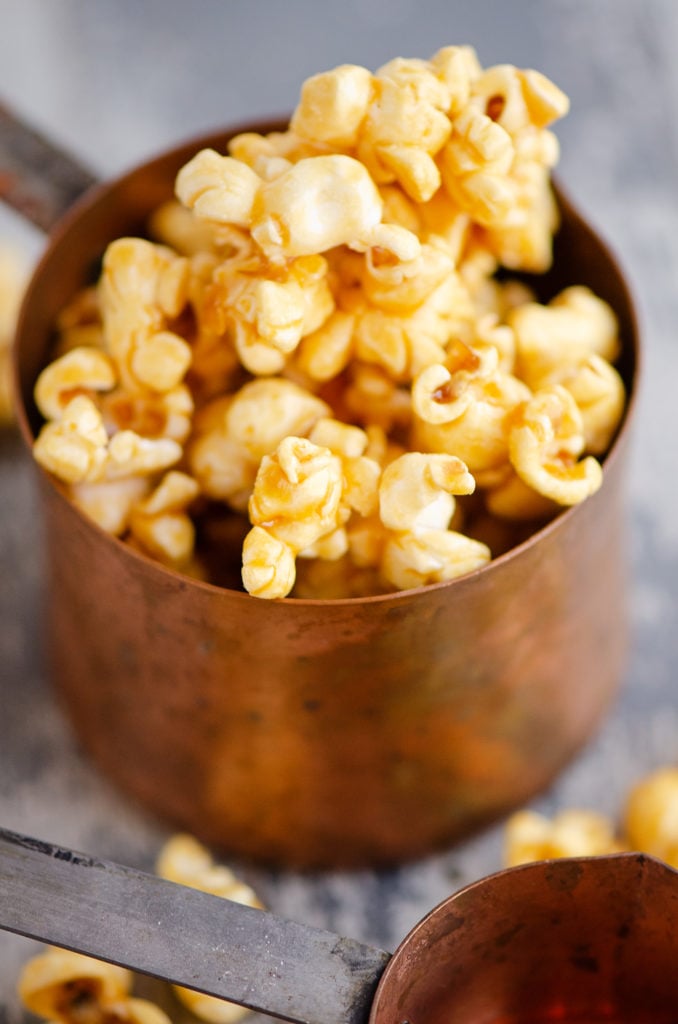 Food gift idea
During the holidays you can even get your own decorative container at the local dollar store or order some treat bags online. This Easy Microwave Caramel Popcorn is a homemade food gift than anyone would appreciate!
This recipe offers a quick way to make your own caramel sauce in a microwave. If you are you are looking for other recipes with homemade caramel that make great food gifts, then check out my caramel apples and salted caramel pretzels.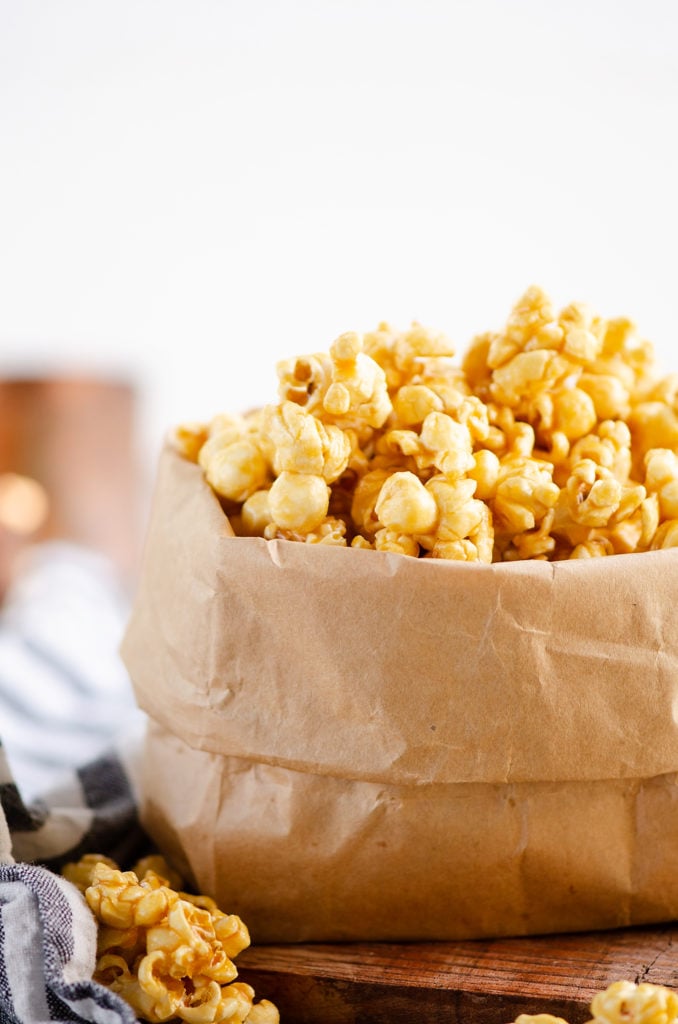 What is the difference between caramel corn and kettle corn?
Kettle corn like you find at the county fair is cooked in a giant cast iron cauldron. It is typically stirred over an open flame. While the corn gets stirred round and round and begins to pop, copious amounts of sugar are thrown in which melts and caramelizes the corn as it continues to be stirred while popping away.
Caramel corn, on the other hand, has actual caramel sauce cooked onto the popped kernels of corn. Therefore, caramel corn is a little sweeter, and a bit stickier.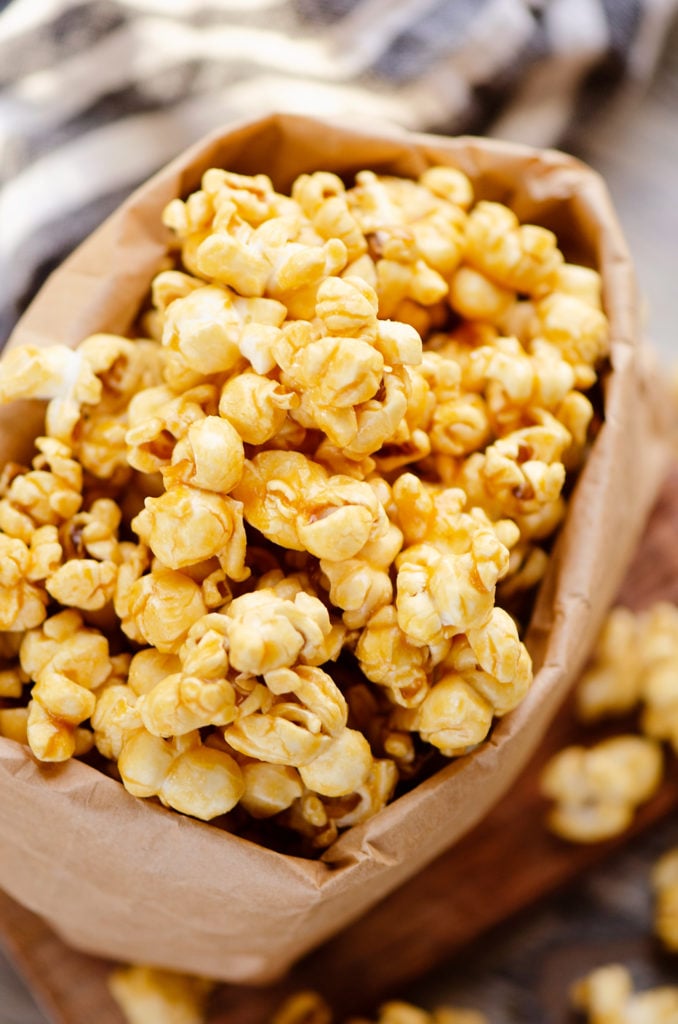 What is caramel sauce made of?
Caramel sauce is a simple concoction of a few ingredients, mainly butter, sugar, and a bit of salt and a bit of vanilla. This recipe also uses corn syrup which helps keep the sauce smooth and fluid enough to pour.
Cook caramel too long and you either risk burning it, which is a bummer but not the end of the world since it is so quick to restart from square one. Or, you risk turning it into a caramel that would be better to cut into squares rather than try and pour out. If that happens then you just have another sweet treat to enjoy.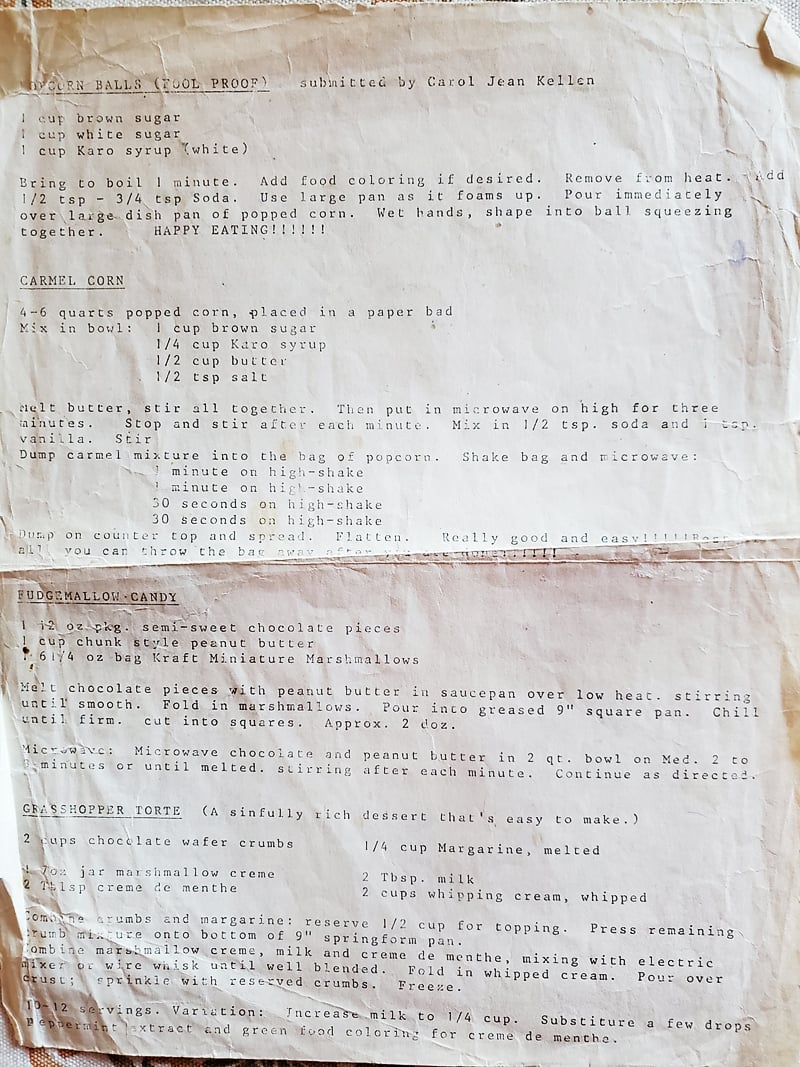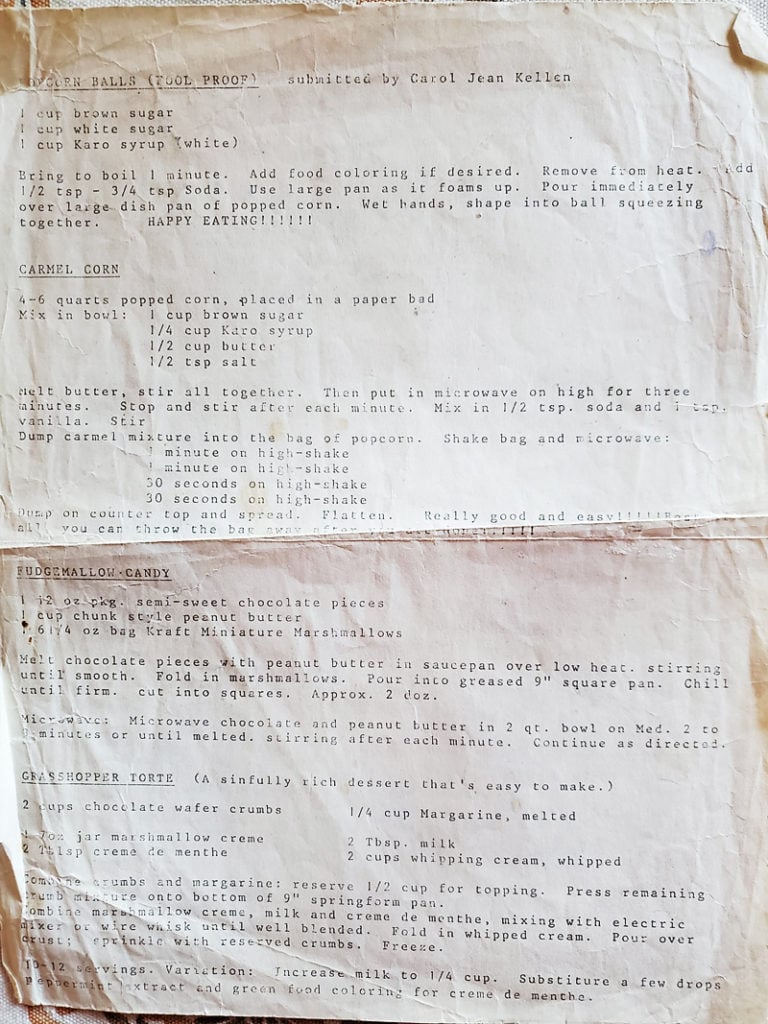 What kind of popcorn do you recommend using for caramel corn?
The important thing for popcorn to pop into big fluffy clouds of corn is how much water content is locked into the dried kernel. So if your popcorn kernels have been sitting on your shelf for ages, then chances are it won't pop to perfection.
My mom always stores her bag of sealed popcorn in the refrigerator. This helps maintain the moisture level of the popcorn kernels. Whether you store your popcorn in the pantry or the refrigerator, be sure to store your popcorn in an airtight container.
When it comes to popping popcorn for this easy microwave caramel corn, there are a few different techniques on how to make popcorn.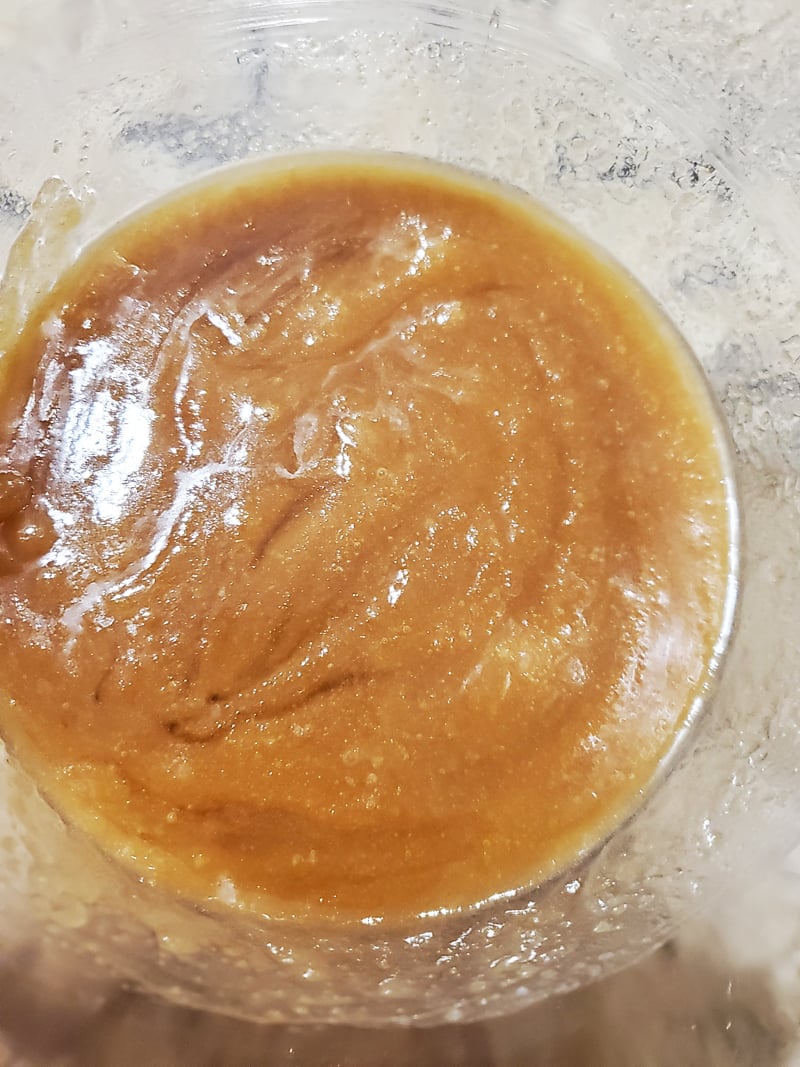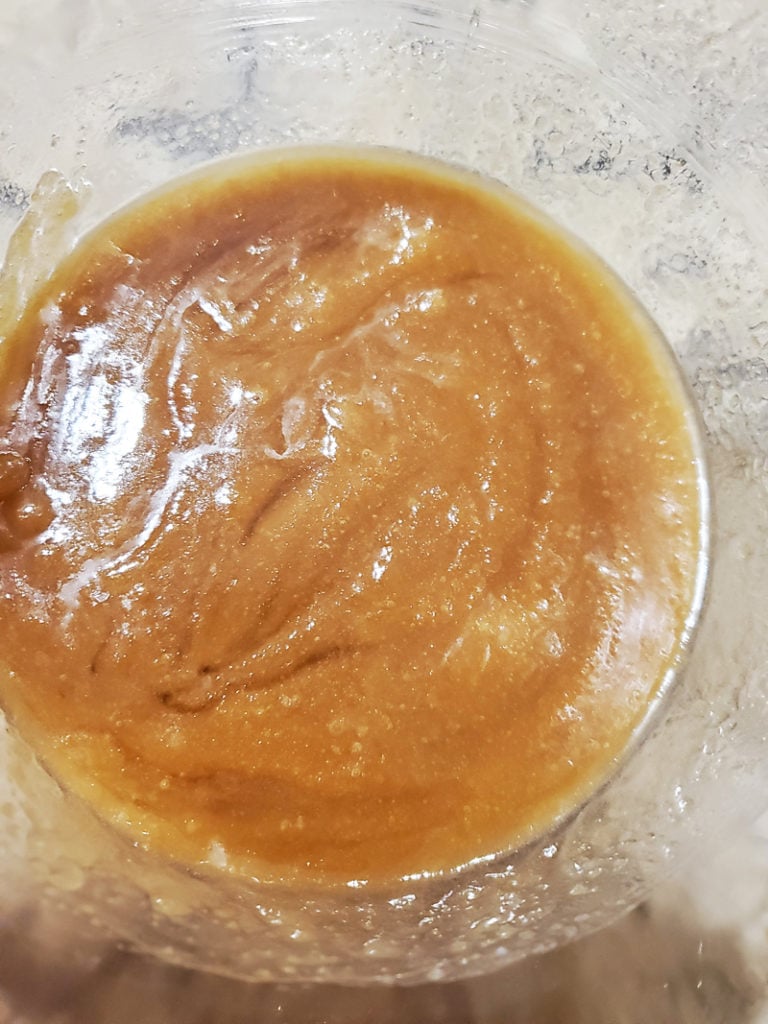 How to make Microwave Caramel Popcorn
After you have popped your plain popcorn, being sure not to butter or salt it, measure out 16 cups. We always use a clean gallon ice cream container to do this, just filling it to the top.
Add the popped popcorn to a large brown paper bag. A paper grocery bag works perfectly. A lunch bag won't be big enough.
In a microwave safe bowl, melt the butter and stir in the brown sugar, corn syrup, and salt. Microwave on high for 3 minutes, stopping and stirring after each 1 minute interval.
It is important to work quickly with the next few steps so the caramel doesn't harden in the bowl.
Stir baking soda and vanilla extract into the caramel mixture. Pour the caramel mixture into the bag with the popcorn. Roll the top of the bag closed and shake well.
Squeeze the brown bag into the microwave. You don't have to worry about squishing the popcorn because it will just distribute throughout the bag. Microwave for 1 minute on high and shake. Repeat this step two more times for a total of 3 minutes cooking time. I like to rotate the bag a quarter turn in the microwave each interval.
Pour the caramel popcorn onto wax paper and spread out to cool. Store cooled popcorn in a sealed container.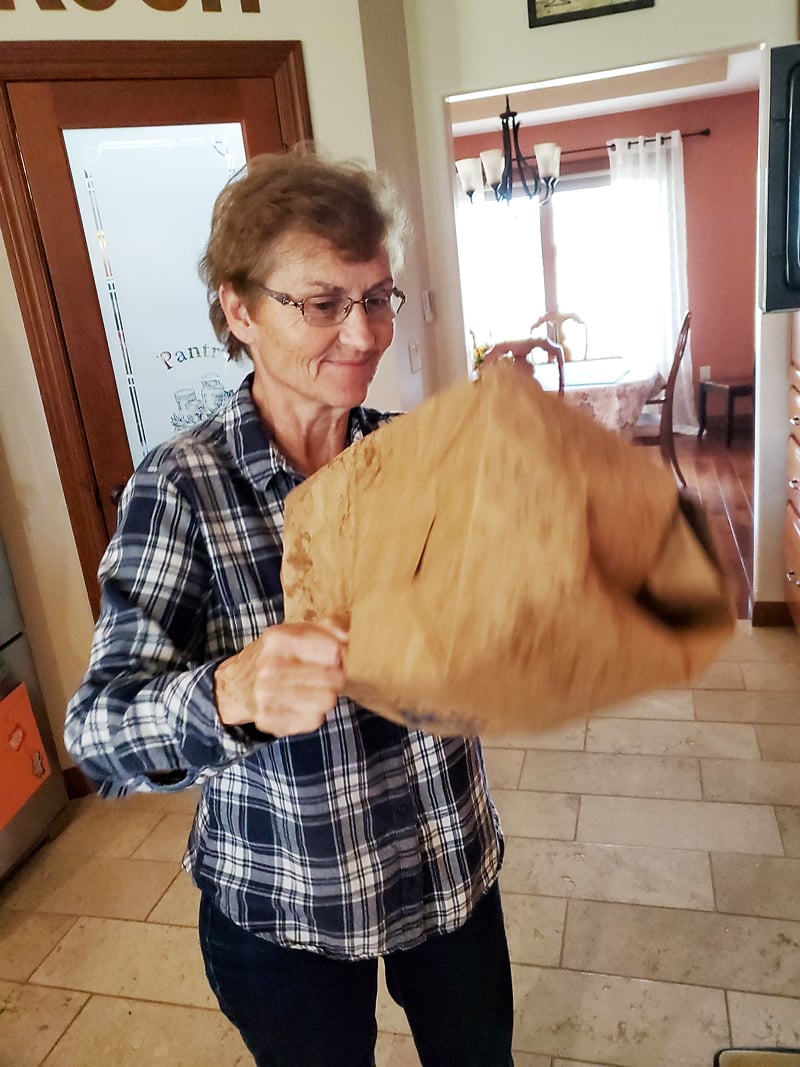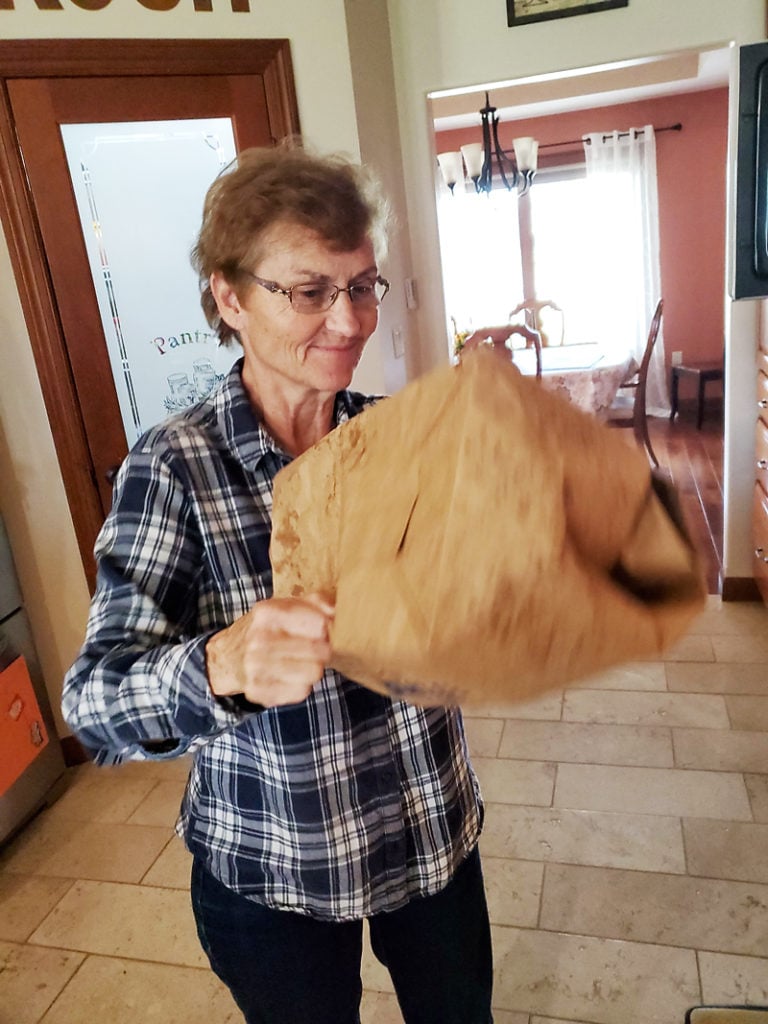 How do I make sure not to scorch the caramel sauce?
Microwave ovens can vary in the rate at which they cook. The best way to avoid burning anything in the microwave is to stir often!
Caramel sauce needs to be stirred to avoid scorching. The one minute intervals I suggest for stirring the sauce are suggestions based on my microwave cooking on high. In your oven, I recommend watching the time and the sauce as it cooks.
You of course will see the sauce bubbling and that is supposed to happen. You just don't want to see it start smoking or you are back to the starting block. Steam is ok, you can tell the difference by the color of the vapor and the smell. If you just smell buttery sweetness you are doing great!
So, depending on how powerful your microwave cooks, you might have to stir anywhere from every 30 seconds to every minute. Put it this way. Opening and closing the microwave door is not like opening your oven during baking and losing your heat. Your sauce will be fine for the extra stirring if you feel like fussing over it a bit more.
One more thing to watch out for…
Caramel sauce smells and looks so good and it is so tempting to want to stick your finger in for a quick taste test. Wait until it cools! The sauce gets extremely hot and even as delicious as it is you don't want to hurt yourself in the process of making it.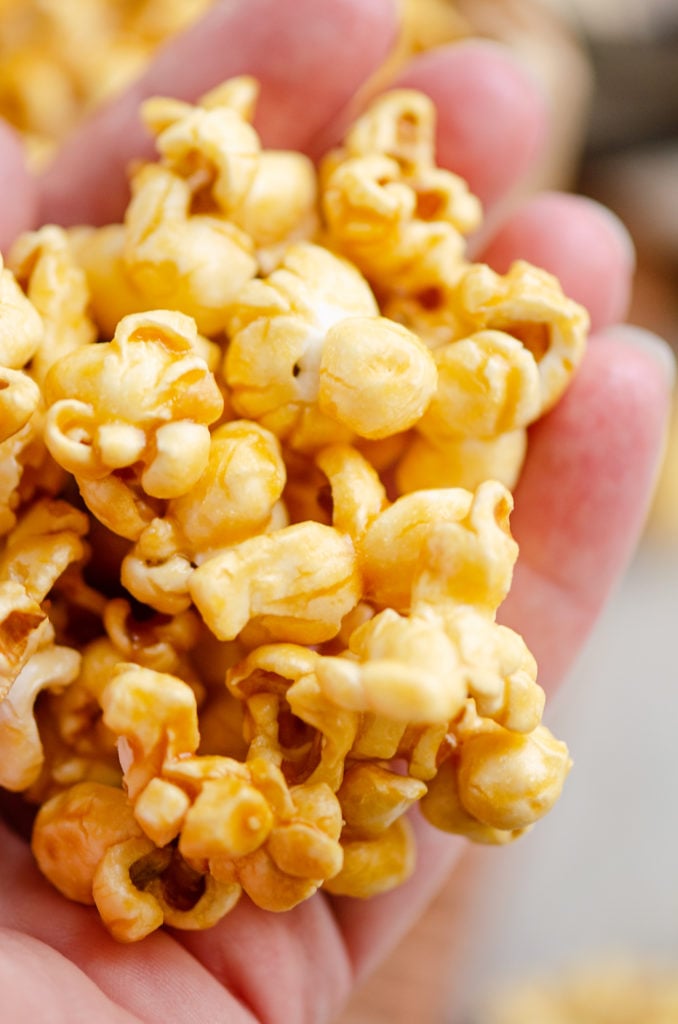 Do I need a special bag to cook the popcorn in?
I used to think there was something special about microwavable popcorn bags. You read all the warnings, you have to make sure to put it in the right way, open it the right way after cooking, and all that jazz.
Well, it turns out you actually can make microwave popcorn in a plain brown grocery bag. The bigger the bag the better, so you are able to roll the top closed while cooking. Just remember not to staple the bag or use anything metal in the microwave!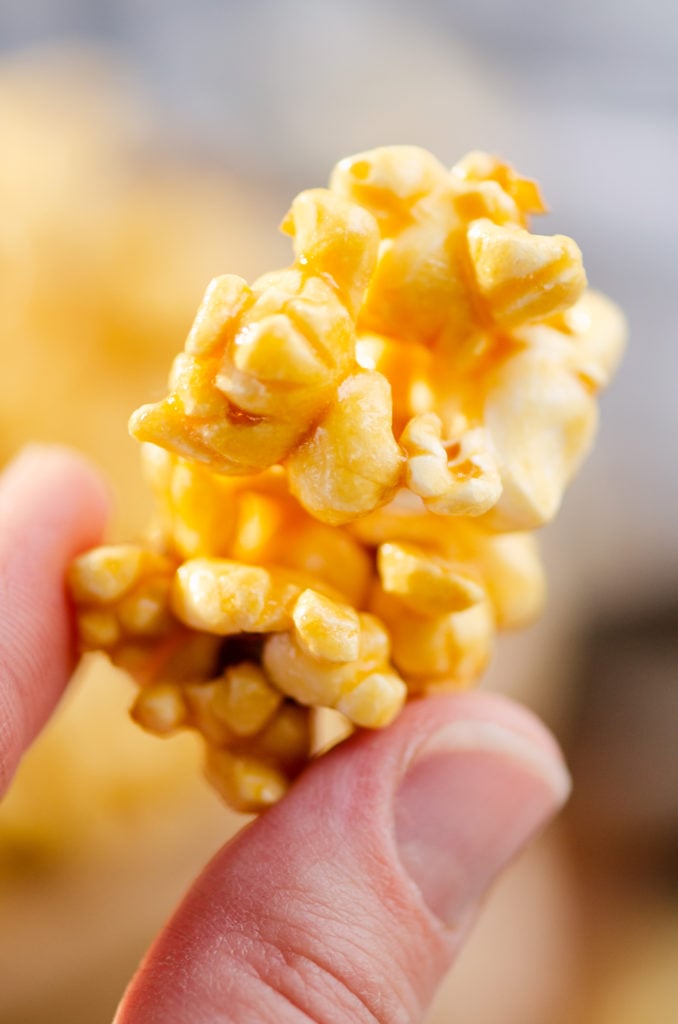 Can I add other flavors to the caramel corn?
With your basic caramel sauce, it is easy to add other ingredients to create all kinds of flavored popcorn, just like the flavored popcorn you see in stores during the holidays.
Add some sriracha sauce to the caramel if you want spicy popcorn
Use a bit of jelly like blackberry jelly if you want a fruity popcorn. Since it has so much sugar you can reduce the amount of granulated sugar by equal measure, so use a half cup of brown sugar and half cup of the jelly. I personally recommend apple cinnamon, blackberry, and cherry. Using jelly without the fruit in it is easier than using any jams that contain bits of fruit
Add an extra quarter teaspoon of salt if you want "salted" caramel sauce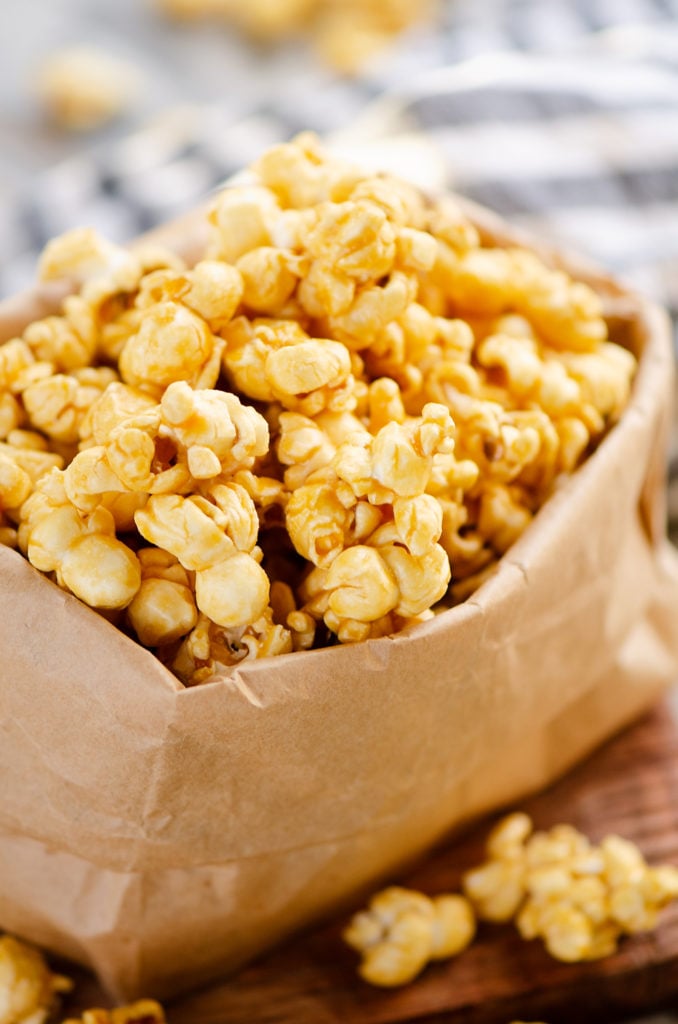 More food gift ideas for the holidays
If you have a tight budget this holiday season or you just want to show your co-workers and neighbors a bit of love with something homemade, check out some more of these awesome food gift ideas!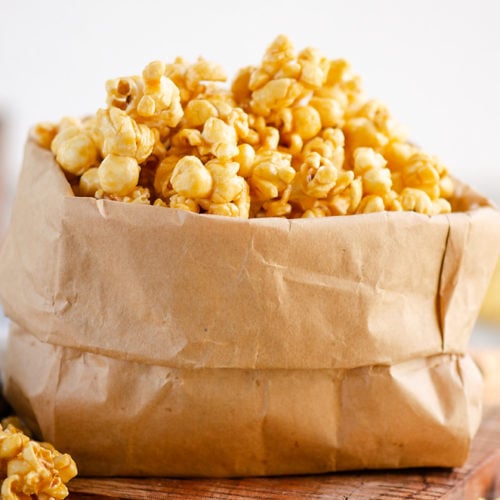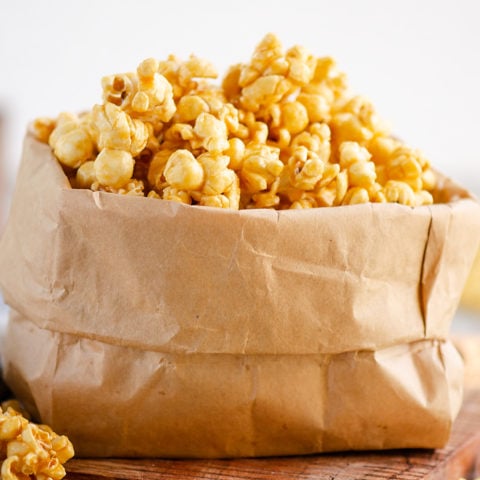 Microwave Caramel Popcorn
This easy 15 minute recipe for Microwave Caramel Popcorn is a sweet and salty treat perfect for snacking, dessert or gifting during the holidays!
Ingredients
16 cups (1 gallon) plain popped popcorn
1/2 c. butter
1 c. brown sugar
1/4 c. light corn syrup
1/2 tsp. salt
1/2 tsp. baking soda
1 tsp. vanilla extract
Instructions
Place popped popcorn in a large brown paper bag.
Add the butter to a medium microwave safe bowl and microwave for 2 minutes. Stir in the brown sugar, corn syrup, and salt.
Microwave on high for 3 minutes, stopping to stir every minute.
Working quickly stir in baking soda and vanilla. Pour the caramel mixture into the bag with the popcorn. Close the bag and shake well.
Add the brown bag to the microwave and microwave for 1 minute and shake. Repeat this step two more times.
Pour the popcorn onto wax paper and spread out to cool.
Store cooled popcorn in a sealed container.
Notes
A clean gallon (16 cups) ice cream bucket is an easy way to measure the popcorn!
Recommended Products
As an Amazon Associate and member of other affiliate programs, I earn from qualifying purchases.
Nutrition Information:
Yield:

16
Serving Size:

1
Amount Per Serving:
Calories:

153
Total Fat:

8g
Saturated Fat:

4g
Trans Fat:

1g
Unsaturated Fat:

4g
Cholesterol:

15mg
Sodium:

224mg
Carbohydrates:

19g
Fiber:

1g
Sugar:

15g
Protein:

1g
Provided nutrition data is only an estimate. If you are tracking these nutrients for medical purposes, please consult an outside, trusted source.