These simple oven baked apple chips are a healthy and delicious snack with no added sugar and seasoned with apple pie spice. This homemade recipe is great for gifting during the holidays or a fantastic way to preserve your apple harvest for months to come!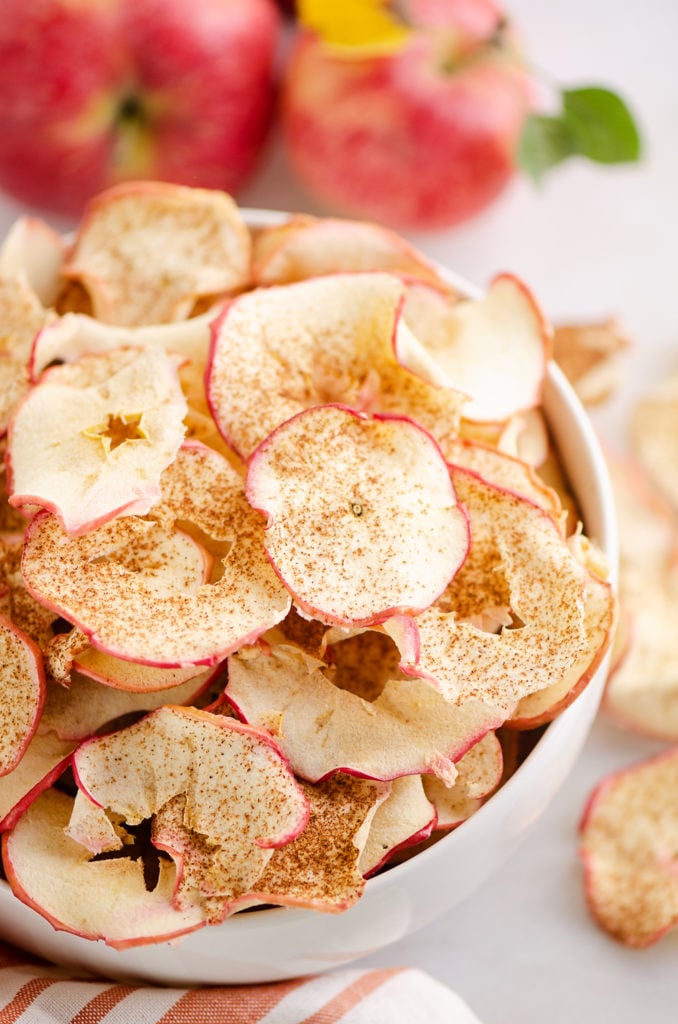 Apple Chip Recipe
Growing up we had two apple trees that produced the absolute best apples. We still don't know what variety they are to this day, but they were a tart red baking apple that were amazing. They are perfect for this Apple Chip Recipe.
We made all sorts of delicious baked goods with the apples in the fall. From Old Fashioned Apple Pie to our favorite homemade Caramel Apples, we couldn't get enough of apple recipes.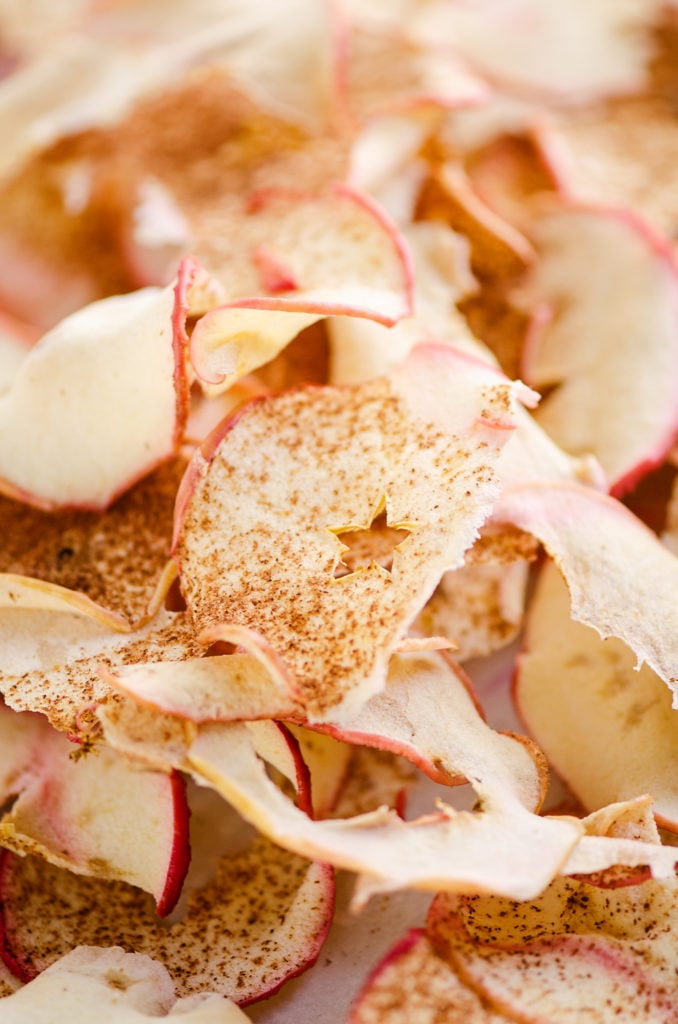 Preserving Apples
A family of six can only eat so many apples in the short time that our apple harvest occurred though. We would box up some of the extra apples and store them in our cold cellar.
They would last for a couple months, but that still left us with lots of apples that we couldn't use up.
Apple sauce was another way in which we preserved our apples. Our cellar shelves would be lined with apple sauce that we could enjoy throughout the year. There was nothing quite like a small bowl of warm apple sauce right from the stove.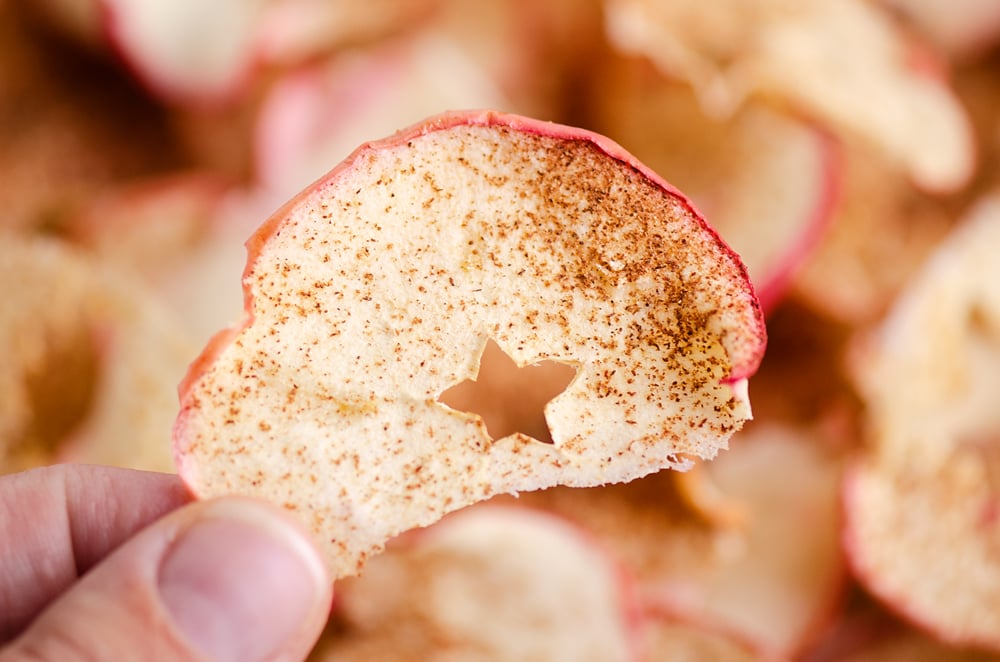 Dehydrated Apples
At one point my Mom bought a dehydrator. We used to to make beef jerky and my favorite, dehydrated apples! I actually loved the chunks of apples that were just slightly dehydrated on the outside but still a bit juicy on the inside.
Unfortunately, those could only be enjoyed while we were make the dehydrated apples, because they can't be stored for more than a day or two.
In order to preserve your apple harvest for a long time, all of the moisture needs to be completely removed from the fruit. If you do this, you can store the apple chips in a sealed container for months without them spoiling.
Dehydrated Apples in the Oven
I have enough small kitchen appliances right now. From my Instant Pot to Air Fryer, I just can't justify another appliance on my counter top. Therefore buying a dehydrator was out of the question.
All a dehydrator really is, is a small appliance that heats and circulates air to speed up the process of taking the moisture out of food. You oven will do the same job at the end of the day, especially if it has a convection function!
You don't need a convection oven though, that will just speed the cooking time up a little bit. You can just use a completely basic oven.
How to make Oven Baked Apple Chips
To get started, you will need to preheat your oven to 200°. Then you can begin slicing your apples very thinly. I chose to use a mandolin to make the job easier, but you can achieve a similar result by just cutting them very thin with a knife.
The goal is to cut them as thin as possible, regardless of what tool you use. You will want to work quickly so your apples don't brown. It doesn't affect the end product other than the baked apple chips not looking as appealing.
Speaking of not looking perfect, you will see that most of my apples aren't full circles. If you are cutting the apple chips as thin as possible, it makes it difficult to get a nice clean circle. I personally think the half moon shaped chips tasted just as good though!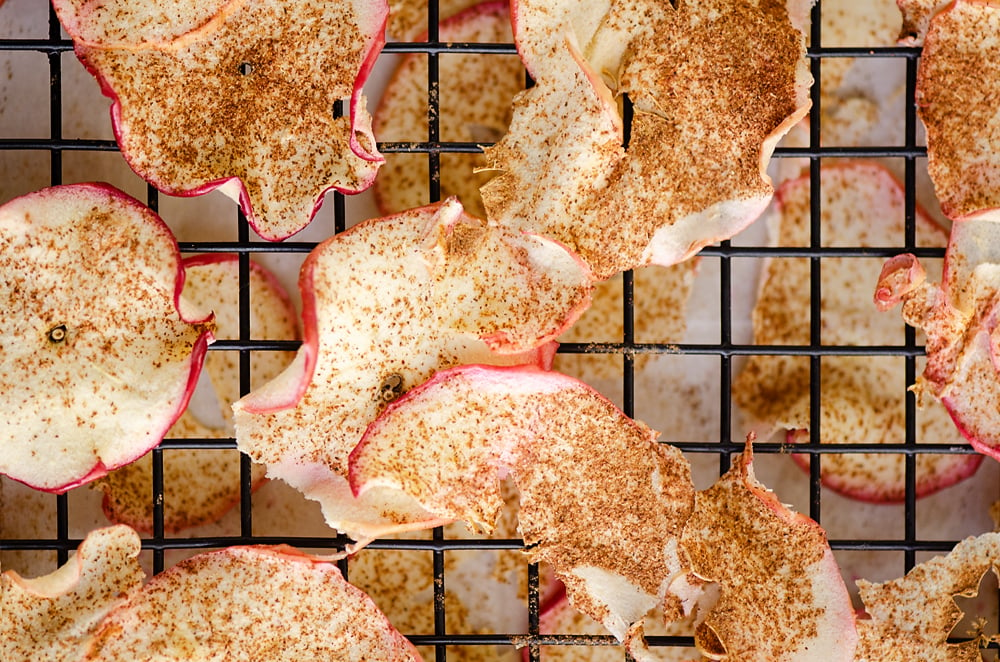 Spread the thinly sliced apples over a baking sheet lined with parchment paper, trying not to overlap the apples. Sprinkle the apples with a dusting of apple pie spice. If you don't have apple pie spice or don't want to make it, simple cinnamon is a perfectly good substitution.
Place a cooling rack over the layer of spiced apple slices. Layer more apples on the cooling rack and dust with apple pie spice. I like using this powdered sugar duster to make it easy to evenly coat the apples with the spices.
Depending on how many apples you decide to dehydrate in the oven, you can continue to repeat this process.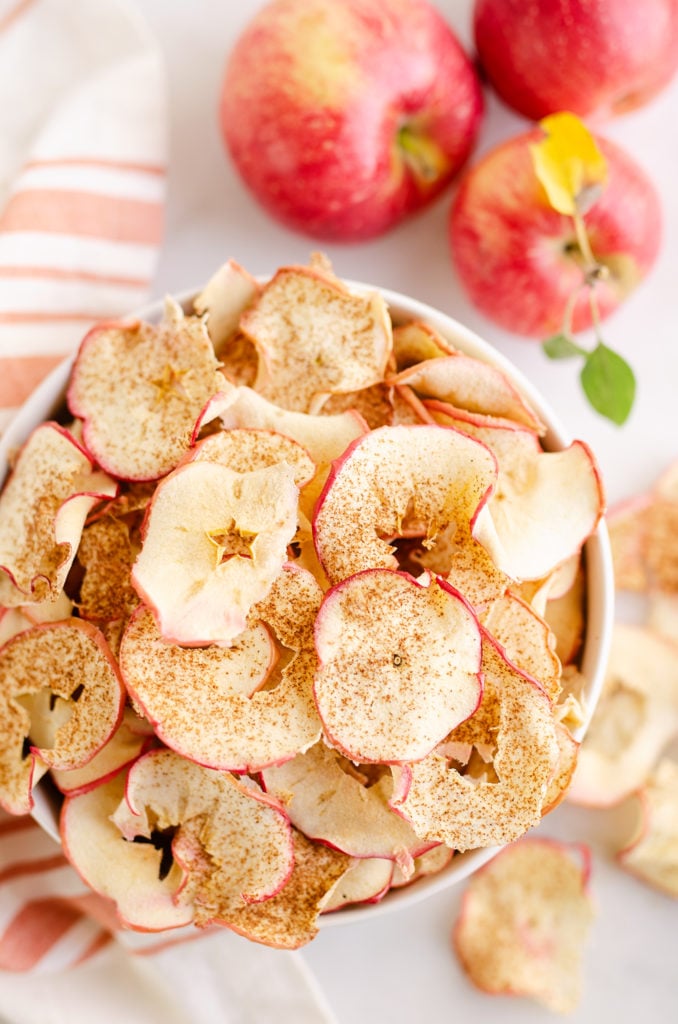 How long do I bake apple chips?
Bake the apple chips at 200° for 2-3 hours. The baking time for the apple chips will vary based on how thick you cut your apples. I achieved a very thin slice, but to completely dehydrate my apple chips, they required almost 3 hours.
Start with baking them for 2 hours and if they look done, then take one out and let it rest for 5 minutes. If the chip is crispy after 5 minutes then they are done. If they aren't crispy, return them to the oven and bake in 20 minute increments, doing the crisp check when you think they are done.
The apple chips need to rest for 5 minutes before checking for doneness because they won't be crispy when fresh out of the oven.
I find that the apples will store best and stay crispy longest if you bake them until they are just slightly browned.
Storing Apple Chips
When the apple chips are done baking, allow them to rest at room temperature until they are completely cooled.
Store them in an airtight container. Resealable bags, tupperware, glass jars, they will all work as long as they are completely sealed.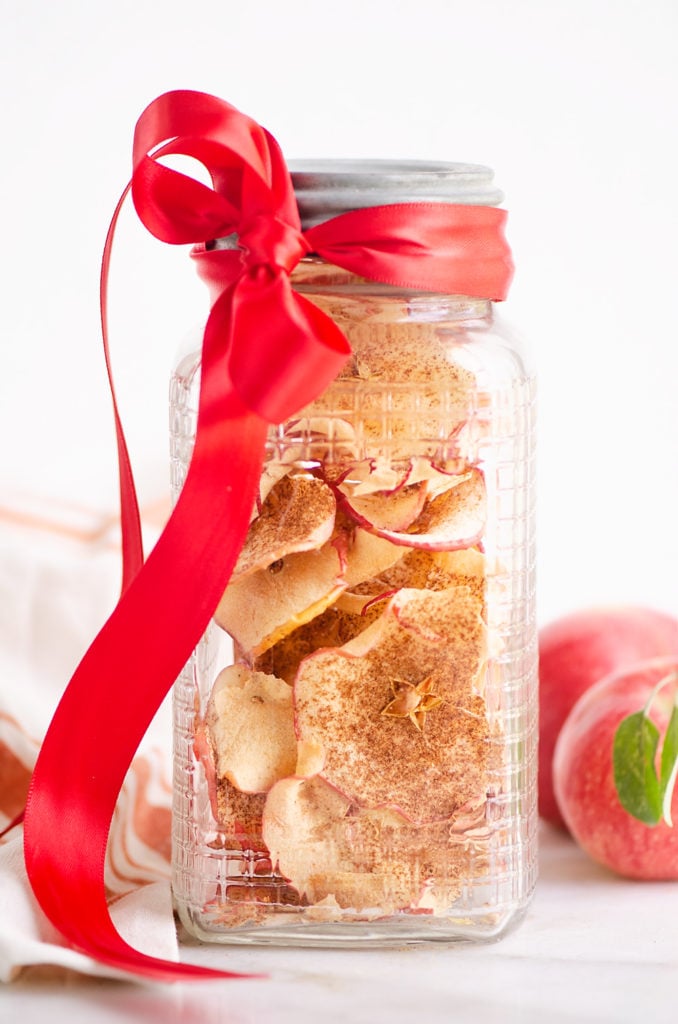 Christmas Food Gift
If you are looking for a thoughtful, low cost gift for the holidays, these baked apple chips are a fantastic option!
Package up the apple chips in a pretty container. I used a vintage quart jar that I found at the thrift store. Find a nice piece of scrap ribbon and tie it up.
It's as simple as that. Apples, apple pie spice, a jar and some ribbon, and you have a special food gift that is perfect for your co-workers, family or neighbors that you want to know you are thinking about.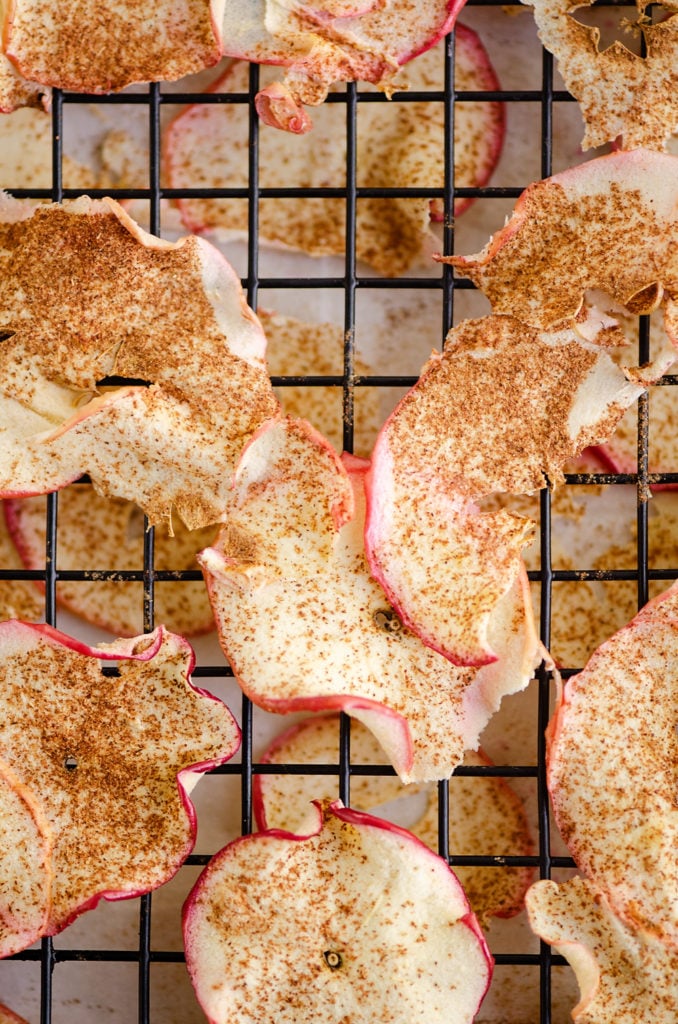 More amazing apple recipes!
If you have an abundance of apples from your own tree or the recent trip to the apple orchard, here are some more great recipes you will enjoy!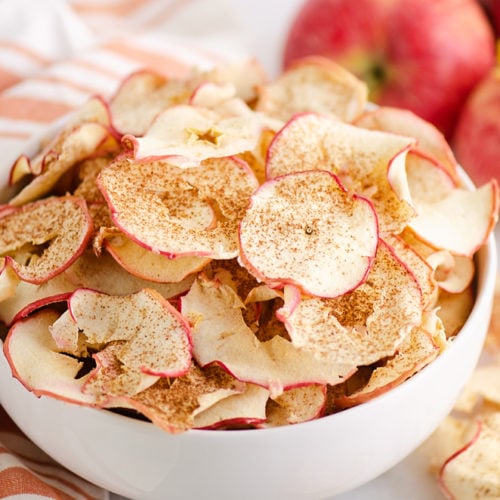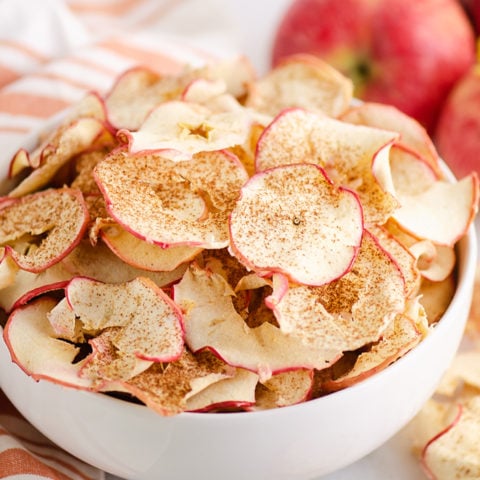 Oven Baked Apple Chips
Total Time:
3 hours
10 minutes
These simple oven baked apple chips are a healthy and delicious snack with no added sugar and seasoned with apple pie spice. This homemade recipe is great for gifting during the holidays or a fantastic way to preserve your apple harvest for months to come!
Ingredients
3-4 baking apples
2 Tbsp. apple pie spice
Instructions
Preheat oven to 200°.
Slice apples as thin as possible using a mandolin or knife.
Arrange the slices on a parchment lined sheet pan, trying to avoid too much overlap. Work quickly or the apples will brown.
Sprinkle the apple slices with apple pie spice. Use a mesh strainer or powder sugar duster for an even coating.
Top the seasoned apple slices with a cooling rack. Line the cooling rack with more apple slices and season them with apple pie spice.
Bake at 200° for 2-3 hours. After 2 hours, check an apple chip by removing it from the oven and letting it cool for 5 minutes. If it is crispy after cooled, then they are done. If not, continue baking in 20 minute increments until they are done. The baking time will vary based on how thin you sliced the apples.
Allow the apple chips to cool completely before storing in airtight containers.
Notes
A tart baking apple such as Granny Smith, Braeburn, Pink Lady or Honeycrisp works best for this recipe.
Recommended Products
As an Amazon Associate and member of other affiliate programs, I earn from qualifying purchases.
Nutrition Information:
Yield:

6
Serving Size:

1
Amount Per Serving:
Calories:

74
Total Fat:

1g
Saturated Fat:

0g
Trans Fat:

0g
Unsaturated Fat:

0g
Cholesterol:

0mg
Sodium:

11mg
Carbohydrates:

18g
Fiber:

3g
Sugar:

13g
Protein:

0g
Provided nutrition data is only an estimate. If you are tracking these nutrients for medical purposes, please consult an outside, trusted source.