Instant Pot Cajun Chicken Alfredo is a an easy 30 minute weeknight dinner recipe. The creamy pasta has a touch of spicy and is topped with chicken breasts for a delicious meal in your pressure cooker.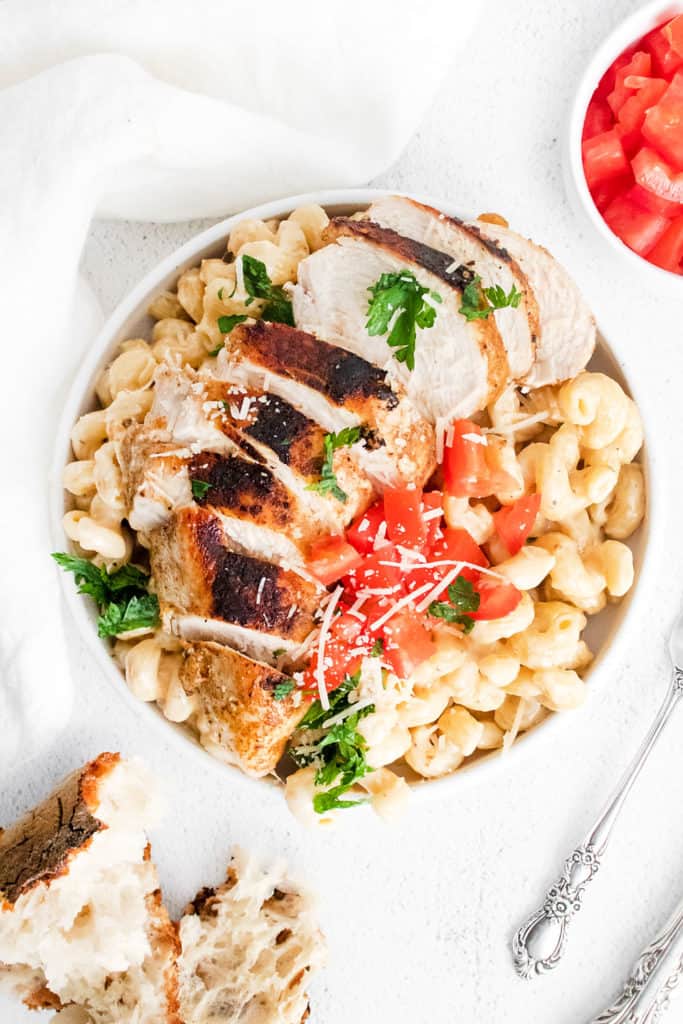 Pressure Cooker Chicken Alfredo
Instant Pot Cajun chicken alfredo puts that touch of spicy blackened seasoning on your chicken alfredo. This is Mardi Gras on your taste buds. A dance of flavors, it is big and brassy flavorful. Definitely not your traditional alfredo pasta. It's a great way to make a comforting meal with a spicy twist for something different.
Making Cajun Chicken Alfredo In An Instant Pot
Using an Instant Pot, you take advantage of pressurized cooking to intensify flavor. The other advantage? Much quicker cooking time. So this dish is not only tasty, but also very convenient when dealing with some serious appetites.
Real alfredo sauce makes everything even better. And it definitely doesn't overly complicate things like you might think to make the sauce from scratch. Like all great instant pot recipes, you make everything in one pot, so its just a matter of dumping everything in one pot!
No cleaning between the steps. Keep all those flavors building on top of each other as you cook.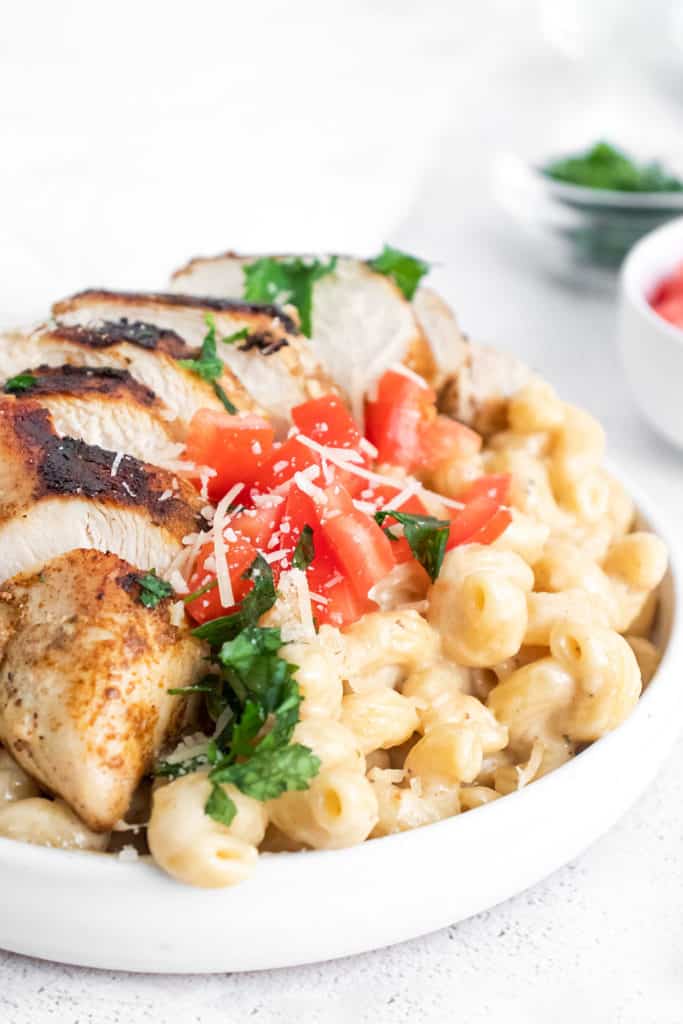 What is Cajun "Blackened" Seasoning?
If you ask someone that lives in "N'awlins" then they will tell the truth about "blackened seasoning". Legend has it that the famous New Orleans chef Paul Prudhomme called it blackened seasoning to hide the fact that he burned the dish being served.
Somehow, the name and the flavor stuck.
However, nowadays, blackened seasoning now falls into a category somewhere between Cajun seasoning and Creole seasoning. Cajun is the spiciest, blackened somewhere in the middle, and Creole packs less heat.
Although there are plenty of variations, blackened seasoning is a mix of red pepper, black pepper, paprika, garlic powder, oregano, and thyme. You can make your own seasoning, but I recommend just keeping things simple and buying a pre-mixed Cajun spice mix.
If it is on the too spicy side, then just use a bit less per the recommended measurements in the recipe.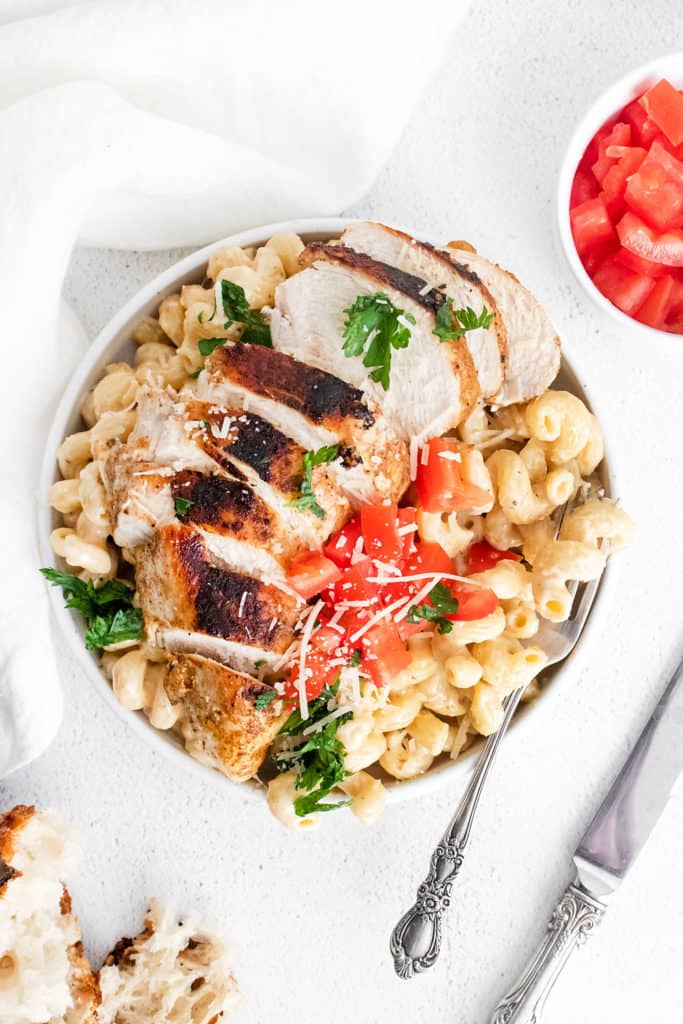 What exactly is Cajun Chicken Alfredo?
To understand what Cajun chicken alfredo is, you first need to understand what makes chicken alfredo special. Chicken alfredo quite simply is butterflied slices of typically chicken breast in a reduced cream sauce. The sauce and chicken are stirred in with noodles.
Small wonder why it is such a popular dish!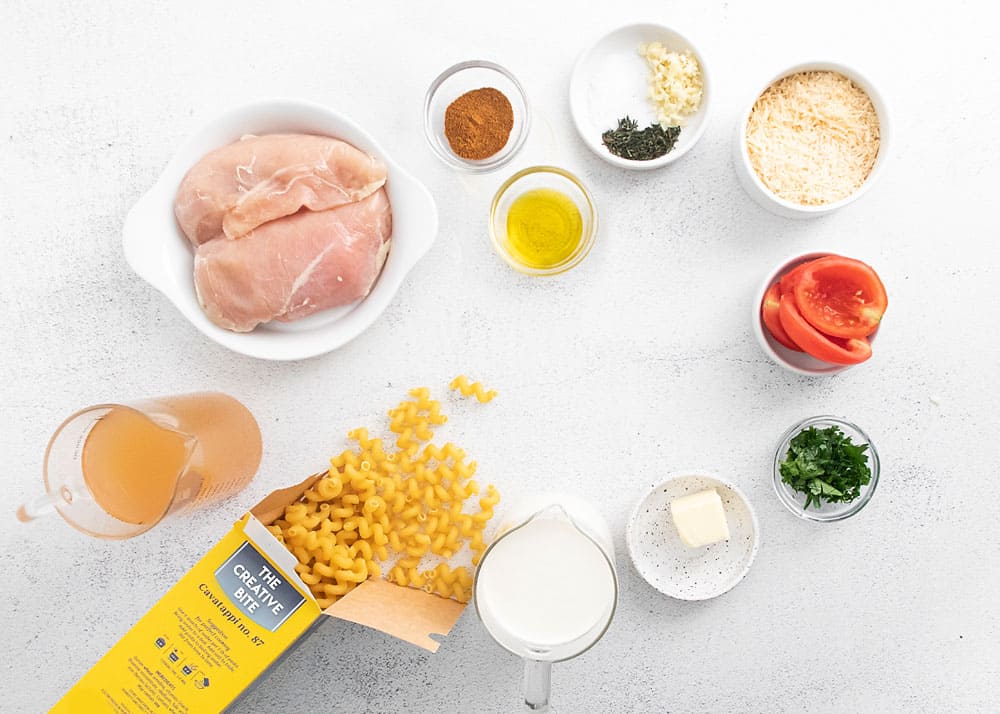 What Kind Of Noodles Are Best For Instant Pot Cajun Chicken Alfredo?
I personally use and suggest cavatappi pasta in this recipe, but you can use anything you like– fettuccine, penne, shells, whatever you have in the cupboard. As long as you thicken the sauce enough to stick to the noodle, then you are good to go.
You can even use any veggie style pastas like spinach or artichoke pasta as well. Gluten free, or even rice noodles. In short, as long as you are making a cream sauce and pouring it over the noodles, then you are legitimately in alfredo country.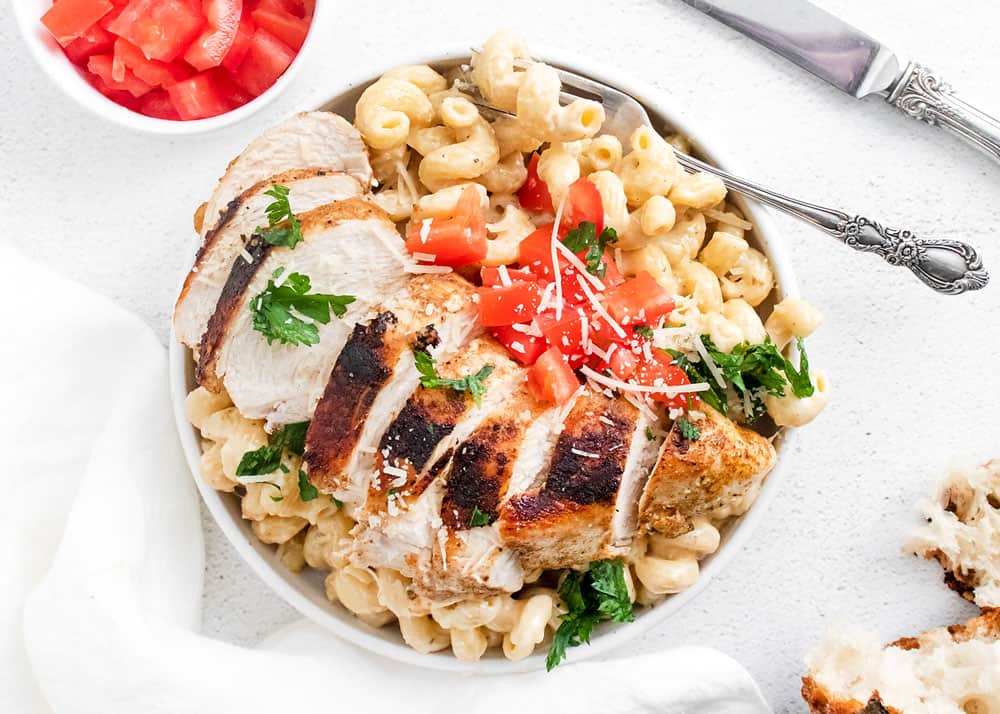 Do I Slice Or Shred The Chicken?
Once the chicken is cooked, you can either "butterfly" slices of chicken, which means making slim little slices across the grain of the chicken. So, you are just slicing along the short side of the breast rather than cutting lengthwise.
Or, if you prefer not having to wait for the chicken to cool enough to slice it conveniently, then just use a fork to shred it. The sliced chicken might make the dish seem a bit more elegant, but the shredded version will taste just as good.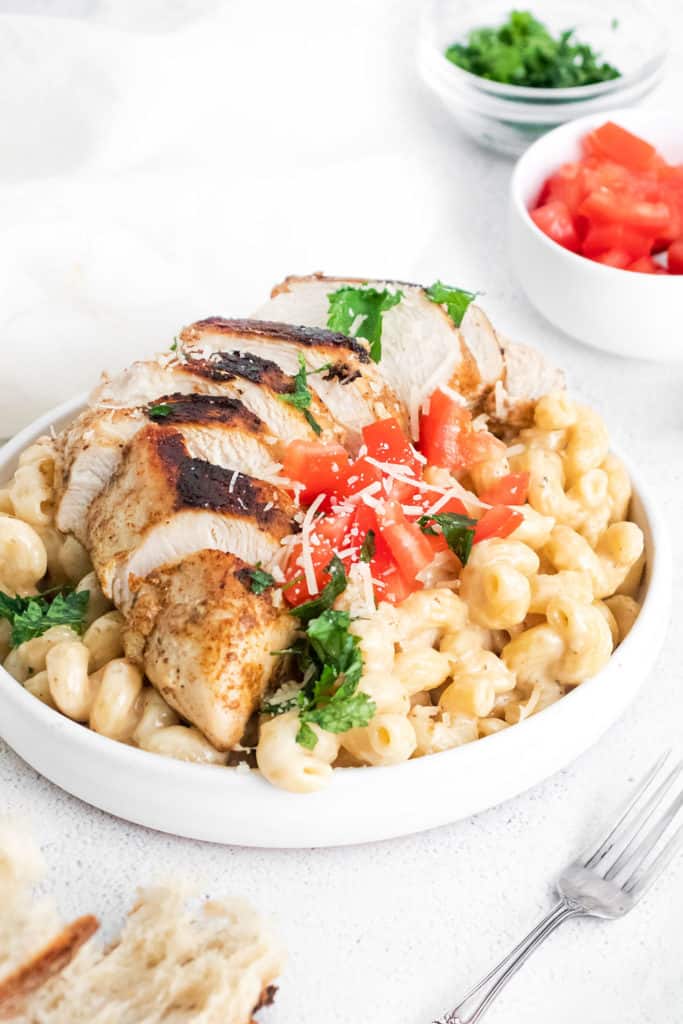 Can I Use Other Types Of Proteins For Alfredo?
If chicken isn't your favorite, check out this great recipe for seafood alfredo. But truth be told, alfredo dishes are ripe for tweaking. You can do veggie only versions like an asparagus alfredo or use steak if you want something richer.
Just keep in mind that when cooking different proteins in the pressure cooker, the cook times will vary, so if you use a different meat, I'd just cook it to temp on saute function and then cook the pasta according to the directions without the meat in the pot.
The most important thing is that rich cream sauce. That is the heart and soul of any alfredo dish no matter what you use in it.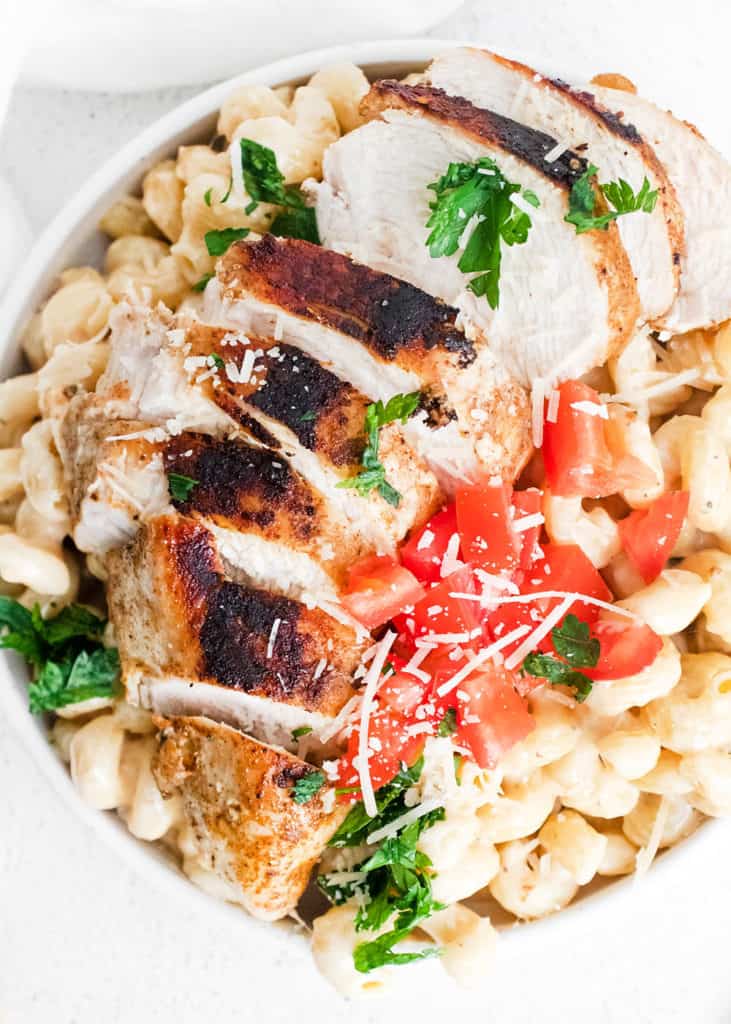 More Pressure Cooker Pasta Recipes
Who doesn't love a great pasta dish, right? Here are some more suggestions you might want to give a try in your Instant Pot. The possibilities are endless!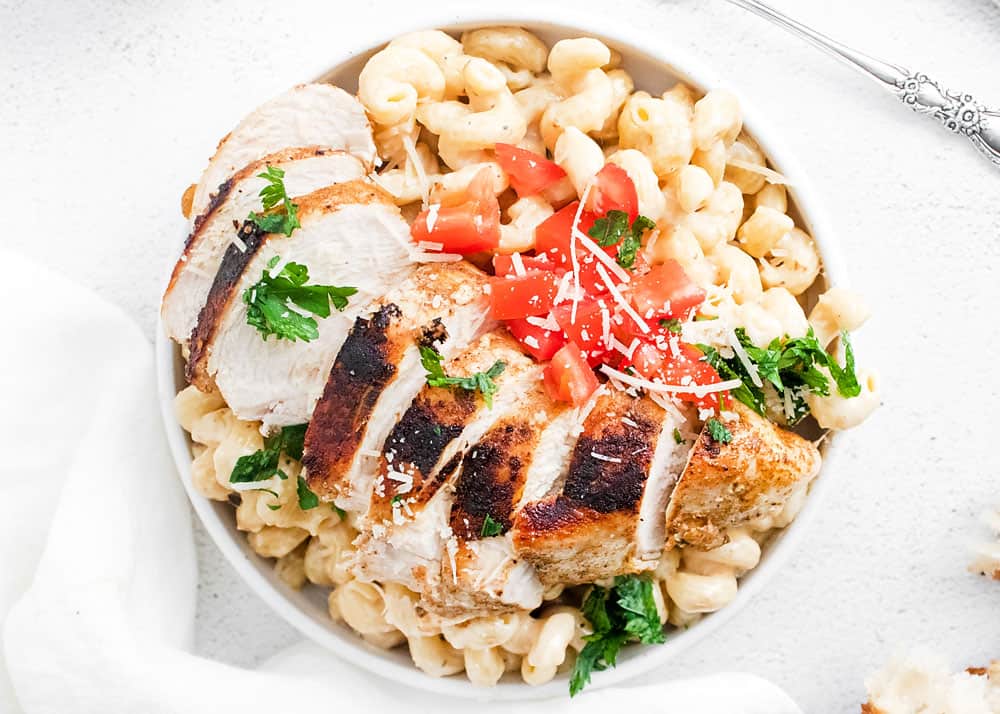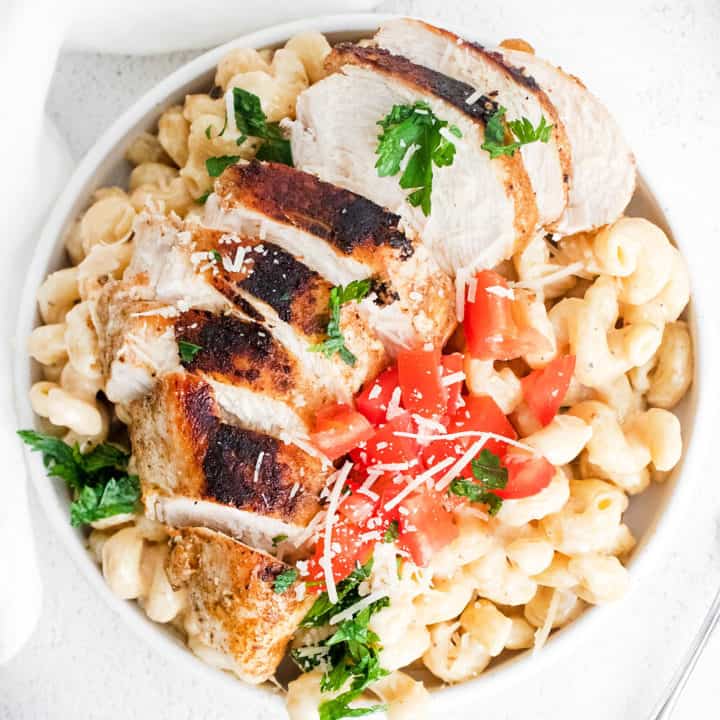 Instant pot chicken alfredo
Build Pressure:
10 minutes
Instant Pot Cajun Chicken Alfredo is a an easy 30 minute weeknight dinner recipe. The creamy pasta has a touch of spicy and is topped with chicken breasts for a delicious meal in your pressure cooker.
Ingredients
Chicken
1 Tablespoon olive oil
1 pound split boneless, skinless chicken breasts (see notes)
2 teaspoons Cajun or blackening seasoning (see notes)
Pasta
2 cloves garlic, minced
2 cups chicken stock
2 cups heavy cream
16 ounces uncooked pasta (see notes)
1 teaspoon salt
1 1/2 cups shredded Parmesan cheese
2 tablespoons butter
½ teaspoon fresh thyme, chopped (optional)
Garnish
2 large tomatoes, seeds removed and chopped (optional)
2 tablespoons fresh parsley for garnish (optional)
1/2 cup Parmesan for garnish
Instructions
Heat the Instant Pot using the Saute-High function.
Pat the chicken breasts dry with a paper towel and sprinkle the Cajun seasoning evenly over both sides.
Add the olive oil to the Instant Pot and allow it to heat for one minute.
Next, add the chicken and sear for 3-4 minutes on each side, or until the chicken has developed a golden brown color on both sides and easily releases from the pan. Keep in mind that the chicken won't be fully cooked yet- that's okay!
Remove the chicken breasts from the pot and set aside. Add the garlic to the hot oil and cook for one minute.
Next, add the chicken stock and gently scrape any browned bits off the bottom of the Instant Pot. I like to use a wooden spoon so I doesn't scratch the pot.
Next, add the cream, pasta, and salt. Try to push the pasta as far into the liquid as you can but do NOT stir the cream. Finally, add the chicken back on top.
Attach the lid and ensure the valve is in the "sealing" position. Turn the Instant Pot to Pressure Cook-Manual and set the timer for 4 minutes.
Once the Instant Pot has finished cooking, release the pressure manually by carefully switching the valve to the "venting" position. Be careful-- it will steam!
Remove the chicken and allow to rest for 5 minutes before slicing it.
Add the parmesan cheese, butter and thyme to the pasta and stir until the cheese is completely melted.
Serve the pasta topped with chicken, tomatoes, Parmesan and parsley (if using). Serve Immediately.
Store any leftover pasta in an airtight container in the fridge for up to five days.
Notes
Make sure that your chicken breasts are no thicker than 3/4-inch so they cook all the way through. If you have chicken breasts that are very thick, make sure to cut them in half or tenderize them to make them thinner.
I recommend trying to find a good quality Cajun seasoning mix rather than making one yourself. There are some great grocery store brands that just have something about them that I haven't been able to replicate at home.
I used cavatappi pasta in this recipe, but you can use any larger pasta like fettuccine, penne, shells, etc.
Recommended Products
As an Amazon Associate and member of other affiliate programs, I earn from qualifying purchases.
Nutrition Information:
Yield:

4
Serving Size:

1
Amount Per Serving:
Calories:

1195
Total Fat:

66g
Saturated Fat:

38g
Trans Fat:

2g
Unsaturated Fat:

23g
Cholesterol:

226mg
Sodium:

1724mg
Carbohydrates:

98g
Fiber:

5g
Sugar:

11g
Protein:

52g
Provided nutrition data is only an estimate. If you are tracking these nutrients for medical purposes, please consult an outside, trusted source.