This Pressure Cooker Bacon Mac and Cheese is an easy family friendly recipe in your Instant Pot that you can have on the dinner table in under 30 minutes!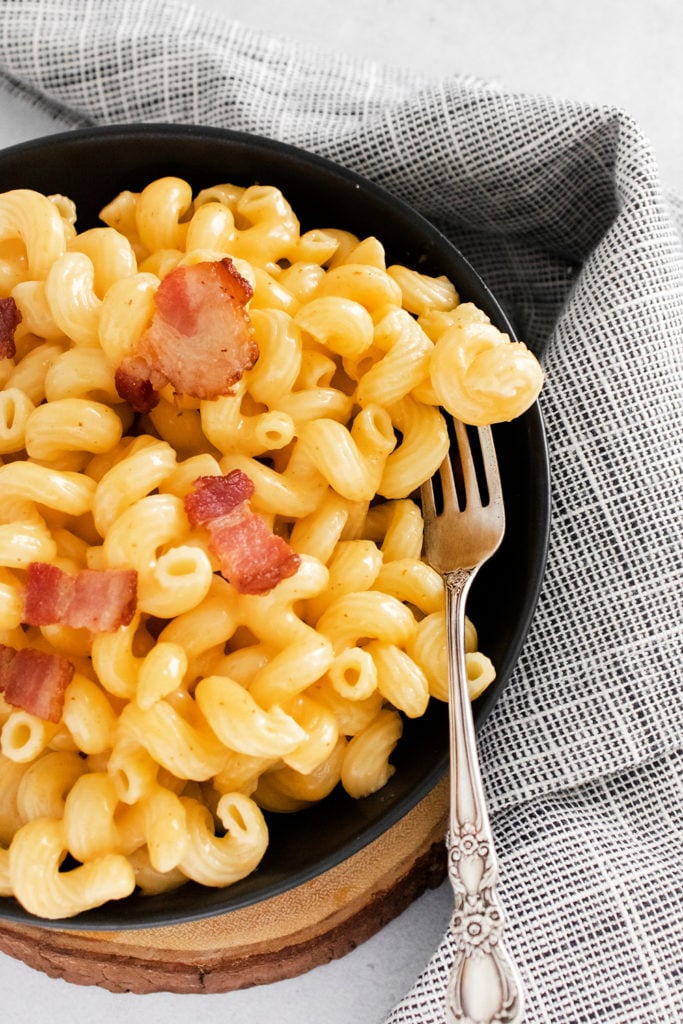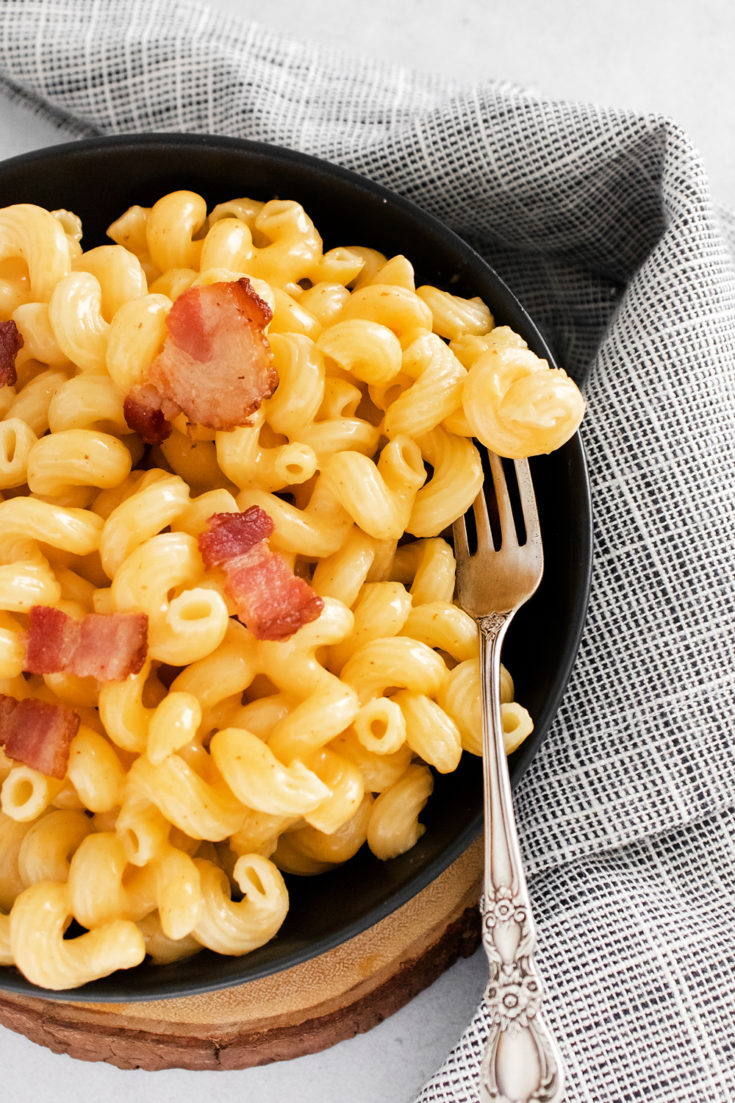 Instant Pot Mac & Cheese
Pressure cooker bacon mac and cheese doesn't just mean making mac and cheese faster. It also means creating the best tasting version of this timeless classic. The sauce tastes so much cheesier, the bacon flavor permeates deeply and the noodles come out perfectly cooked.
This is the sort of mac and cheese where people are going to be tempted to lick the plate. So, make sure you are prepared for it. Probably making a little bit extra, maybe even a double portion, is a good idea.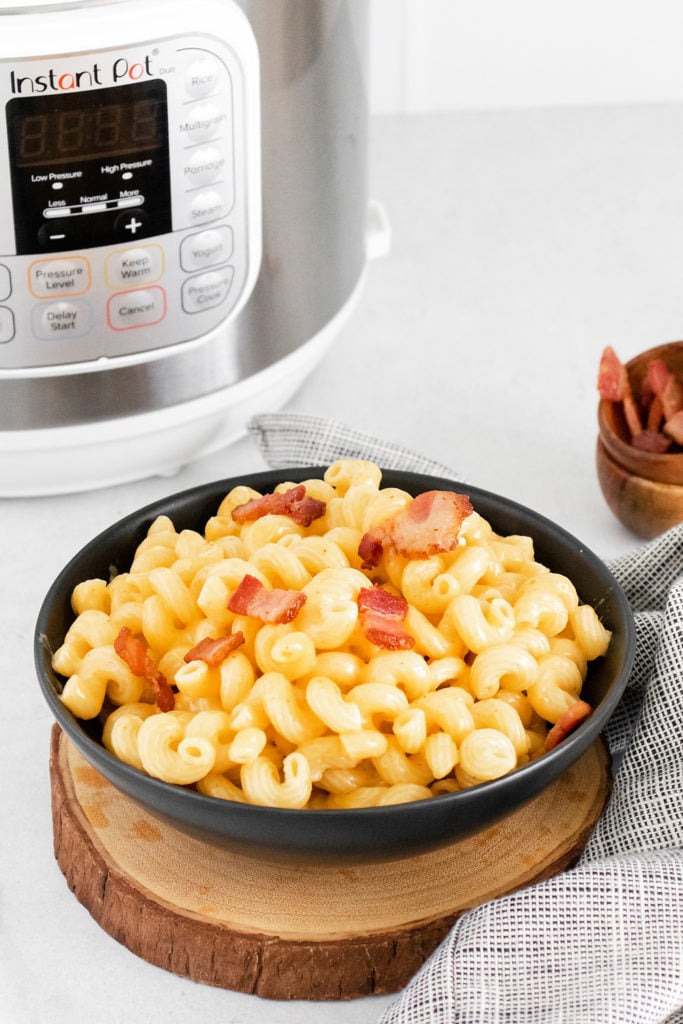 Family Friendly One Pot Recipe
This Pressure Cooker Mac and Cheese is a one dish wonder! It is a delicious meal the whole family will love and you don't have to make a bunch of dishes.
Skip the frying pan for the bacon and the strainer for the pasta. Make everything right in your inner liner of your Instant Pot for easy cleanup!
An easy pressure cooker bacon mac and cheese recipe
If you have ever made pressure cooker or Instant Pot mac and cheese, then you already know how easy and convenient it is to make. Of course, adding bacon to most any dish takes it to the next level. Mac and cheese is plain and simply one of those dishes that everyone loves.
You can serve it as a side dish or a main dish, but either way, I bet it is the first thing everyone wants seconds on.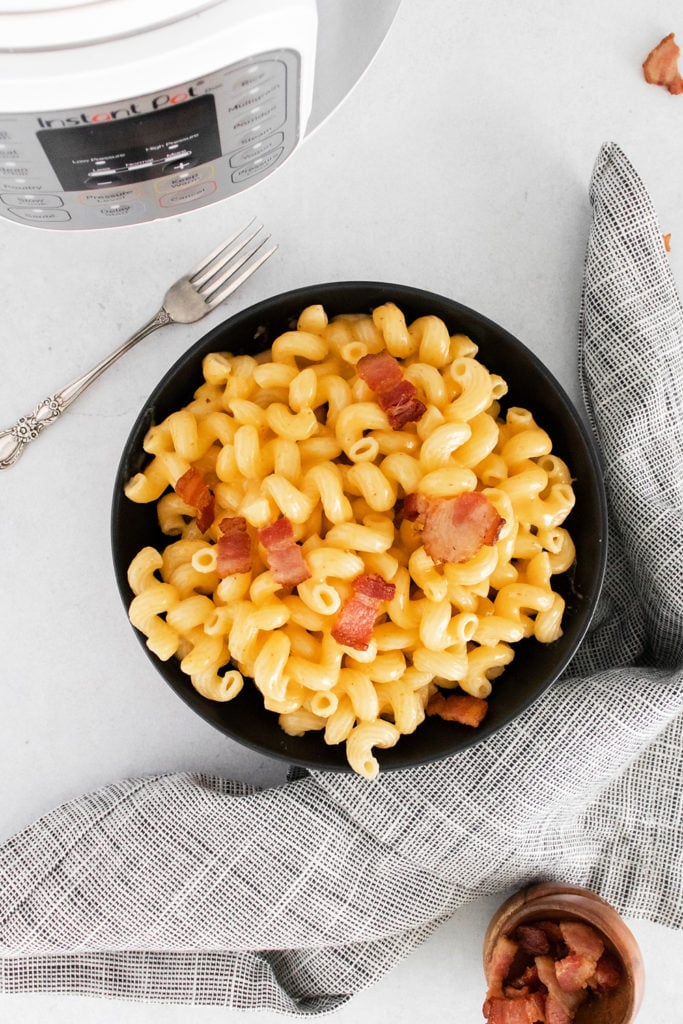 Instant Pot macaroni macaroni and cheese
An Instant Pot is a brand of electric pressure cooker that makes pressure cooking easy. I know some people are concerned about cooking food under pressure, but it is pretty simple. Just make sure you follow all the instructions and make sure the lid is secured.
The great thing about using a pressure cooker for macaroni and cheese is it allows you to cook the noodles quickly and not having to wait around to get the perfect doneness and drain them.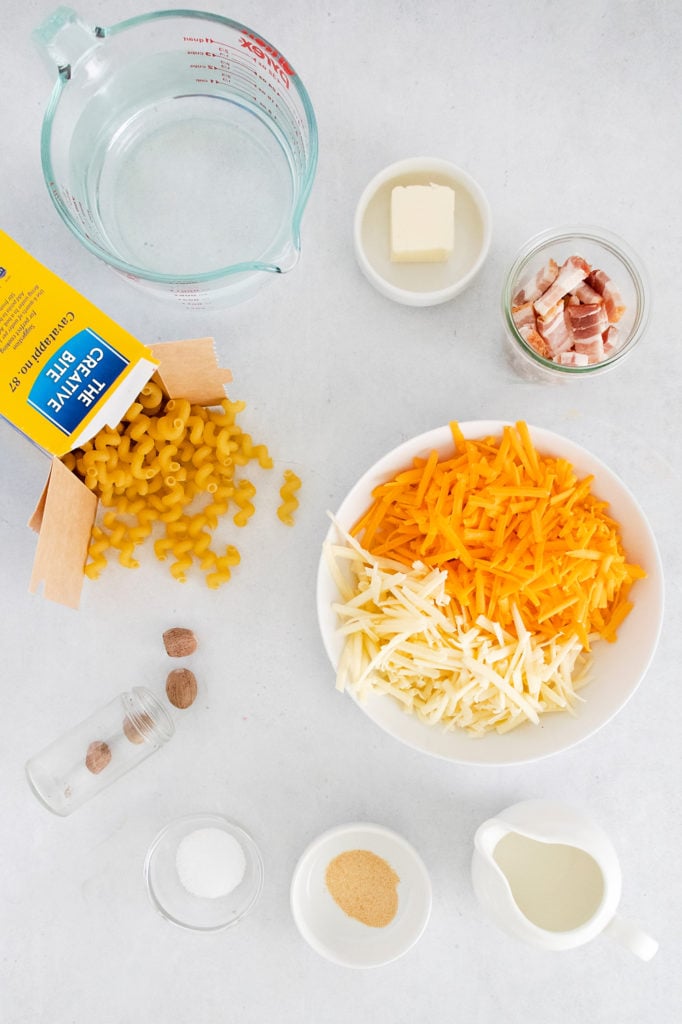 The best types of cheese for bacon mac and cheese
When it comes to making homemade mac and cheese, you aren't relying on that package of dried cheese flavored powder. This isn't packaged mac and cheese. Real mac and cheese means using real cheese. And real cheese means any sort of cheese you like.
For my recipe, I use a mix of sharp white cheddar and sharp yellow cheddar. These two styles of sharp cheddar create a nice and tangy sharp cheese sauce that tastes great. To me, this combination creates the perfect "comfort food" version of the dish.
But, if you want to use a fontina and gruyere, then go for it! You can even do a blue cheese like blue Stilton with a smoked gouda. Really, making your own homemade bacon macaroni and cheese means having the creative freedom to do what you like.
Whatever cheese you select, I always recommend taking the extra time to shred a block of cheese and avoid pre-shredded cheese if you can. Pre-shredded cheese serves a very real purpose, but its not idea for mac and cheese.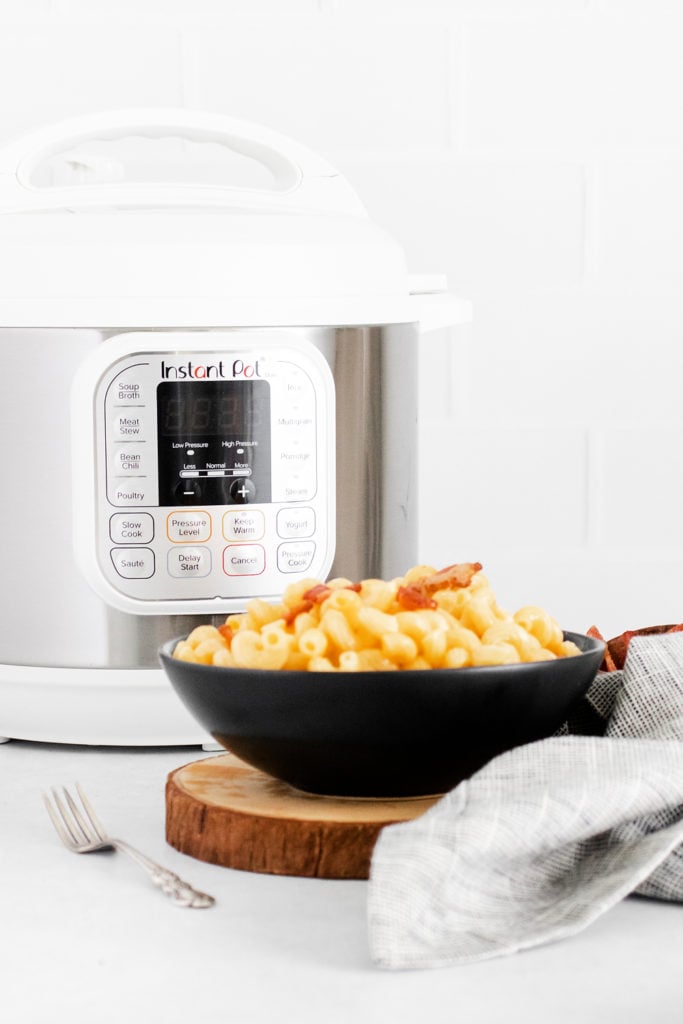 What is the best noodle for mac and cheese?
Just like you can use any types of cheese with mac and cheese, you can literally use any type of noodle as well. Yes, even spaghetti noodles could be used if you really wanted to. However, there is good reason to use noodles like elbow macaroni.
Macaroni noodles, aka macaroni elbows, help capture extra cheese sauce inside the noodles. You definitely want to gather as much cheese sauce on every noodle possible, right?
But there are other noodles to use that serve a similar function as well. I personally like to use Cavatappi like I recommend in this recipe. Fusilli, big or small elbow macaroni, and farfalle ribbons work nicely too. Shells do the trick too.
Cavatappi also are called cellentani, amori, spirali, or tortiglione. Sometimes I think learning Italian might be necessary just to keep track of all those different styles of pasta! In any event, Cavatappi is like elbow macaroni but with slightly less of a curve in the elbow.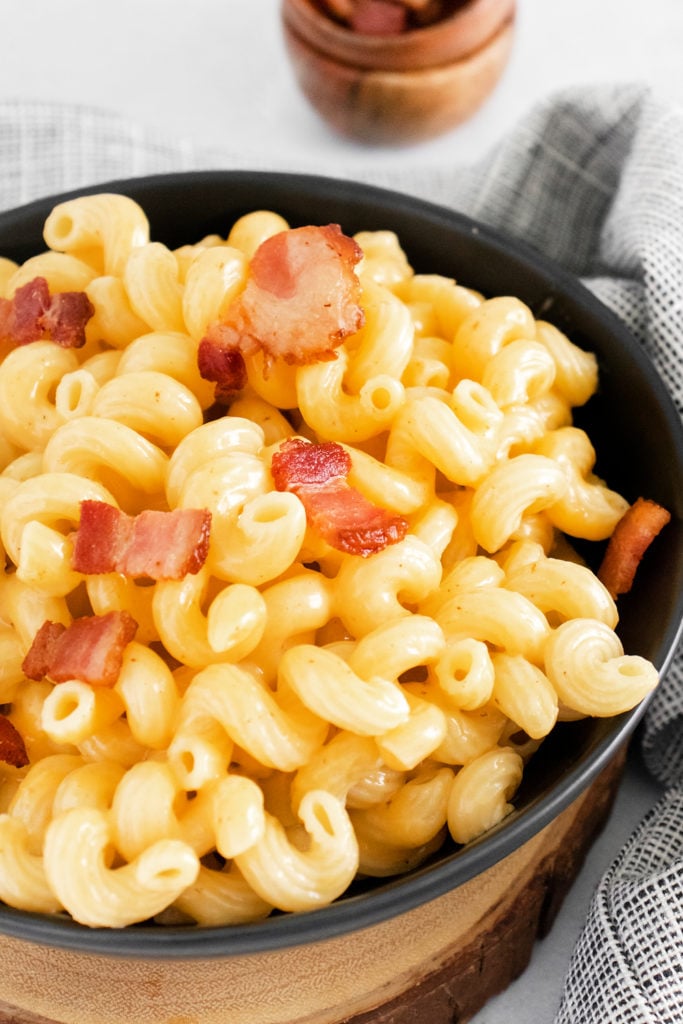 How to store leftover mac and cheese
This mac and cheese is best eaten nice and warm as soon as it is done. But, in the rare event that you do have some leftovers, then you can keep it in the fridge up to five days.
When you re-heat it then you may need to add a bit of milk, cream, or even water to get the sauce on the noodles back. Just a splash usually does the trick. Otherwise when you go to reheat mac and cheese, it does have a tendency to dry out.
Yes, you can freeze it too, but I don't recommend it. The noodles never have a great texture after freezing them. However, it does still taste delicious. So, if you do end up freezing the leftovers, just make sure to keep them in an airtight container. They will last up to a month.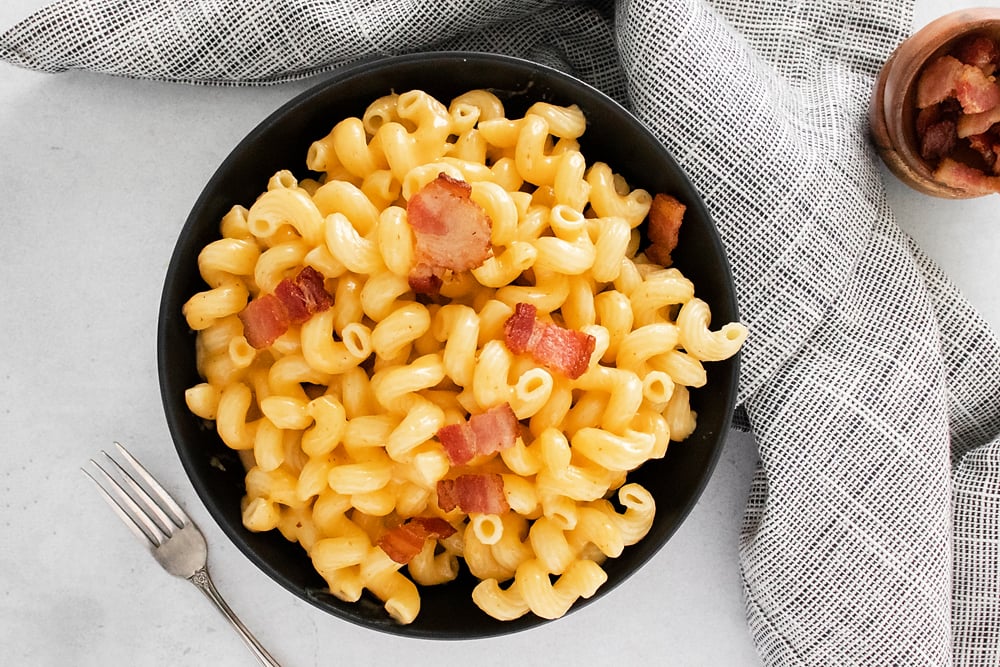 Put nutmeg in mac and cheese
Save the bacon to garnish the bacon mac and cheese, along with a bit of chopped green onions, to add on top right before serving. Also, try a bit of powdered nutmeg on top too. The nutmeg helps bring out all the cheese flavor and adds a wonderful complexity to the dish without overpowering it.
More mac and cheese dishes
Mac and cheese can be done in so many variations. Every way I have tried making it has been a hit with family and friends. So it is always good to have a few options.
Taco mac and cheese creates a more spicy style of macaroni and cheese. Hidden veggie mac and cheese gives you discrete way to use veggies that might not get eaten otherwise. Or how about this Grilled Nashville Hot Chicken Mac and Cheese. It sounds absolutely mouthwatering!
And let's not forget one of my favorites, this decadent Three Cheese Bacon Jalapeno Pasta Bake. You could also add some finely chopped pickled jalapenos to this Pressure Cooker Mac and Cheese for an easy way to add a spicy kick to the dish.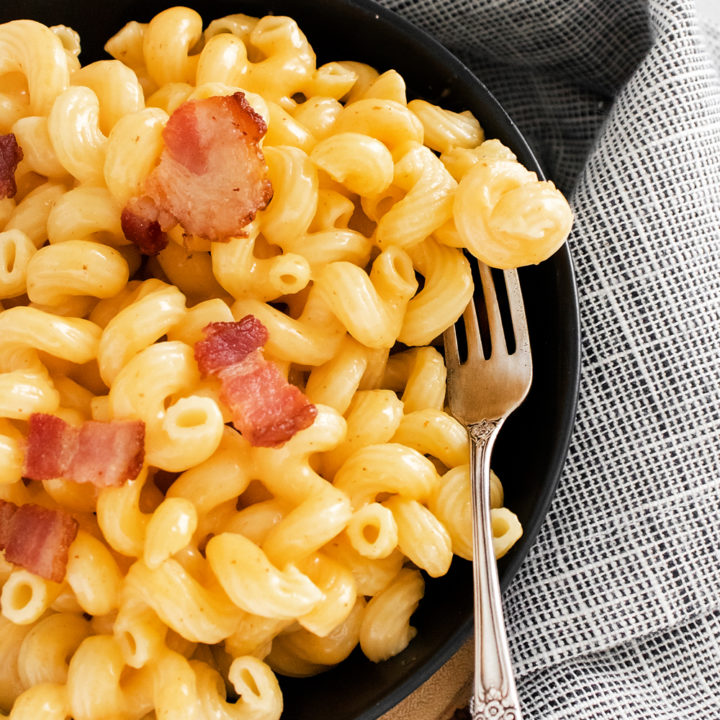 Pressure Cooker Bacon Mac and Cheese
Pressure Building Time:
10 minutes
This Pressure Cooker Bacon Mac and Cheese is an easy family friendly recipe in your Instant Pot that you can have on the dinner table in under 30 minutes!
Ingredients
Bacon
1 cup chopped raw bacon (3-4 thick cut strips)
Pasta
16 ounces uncooked Cavatappi pasta
4 cups water
1 teaspoon salt
Cheese Sauce
8 ounces sharp cheddar cheese, shredded
8 ounces white cheddar cheese, shredded
3 Tablespoons salted butter
Up to 1/2 cup whole milk
1/2 teaspoon garlic powder
1/4 teaspoon ground nutmeg
Garnish
Chopped green onion, optional
Instructions
Turn on the sauté function on your electric pressure cooker. When hot, add the bacon and sauté for about 5 minutes, or until it is crispy. Using a slotted spoon or tongs, remove the bacon from the pot and place on a paper towel. Be sure to leave any residual bacon fat in the pot for flavor.
Turn off the sauté function and add the noodles to the pot. After you add the noodles, add the water and salt to the pot. If you add the water first, it may splatter when it comes in contact with the bacon grease. Using a wooden spatula scrape the bottom of the pot liner to release any caramelized bits.
Place the lid on the pot and turn the knob to seal. Cook under high pressure for 4 minutes. The Instant Pot will display "on" while it is pressurizing. When
at pressure, it will begin counting down from 4.
When the cooking time is complete, carefully turn the knob to vent using oven mitts and/or a long wooden spoon to avoid any burns from the steam.
When all of the pressure has released and the pin drops on the lid, remove the lid. Turn the pot to "keep warm" function.
Stir the butter into the noodles until it is all melted. Mix in the garlic powder and ground nutmeg.
To the pasta, add the shredded cheese and milk (add a few tablespoons of milk at a time until it reaches a nice creamy consistency).
Serve the mac and cheese topped with the crispy bacon and optional chopped green onions. Enjoy!

Notes
Whole wheat noodles take longer to cook, so they aren't a good substitution in this recipe.
Recommended Products
As an Amazon Associate and member of other affiliate programs, I earn from qualifying purchases.
Nutrition Information:
Yield:

6
Serving Size:

1
Amount Per Serving:
Calories:

817
Total Fat:

61g
Saturated Fat:

32g
Trans Fat:

2g
Unsaturated Fat:

23g
Cholesterol:

158mg
Sodium:

1771mg
Carbohydrates:

28g
Fiber:

1g
Sugar:

2g
Protein:

38g
Provided nutrition data is only an estimate. If you are tracking these nutrients for medical purposes, please consult an outside, trusted source.