Pressure Cooker Chicken Shawarma Couscous Bowls are an easy and healthy Instant Pot recipe for a delicious dinner served with fresh vegetables, hummus and lemon Greek yogurt.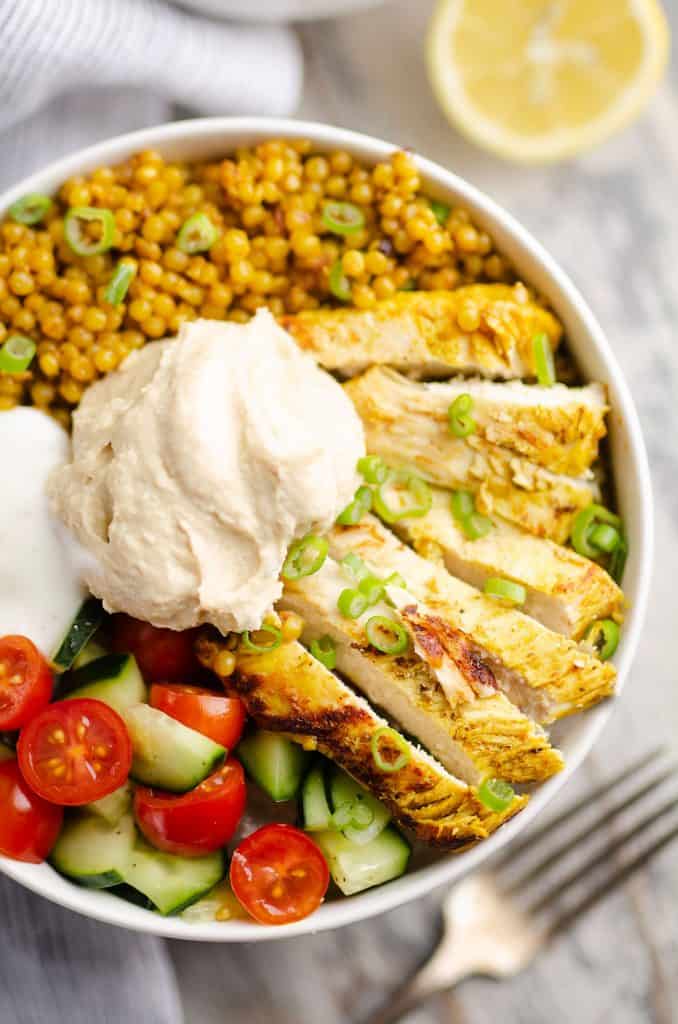 Chicken Schwarma Couscous Bowls
Making a pressure cooker chicken shawarma couscous bowl couldn't be easier. All the ingredients come together in your Instant Pot or quick pot style cooker. The cooking time is minimal. So, you can enjoy it before your appetite has you considering eating your napkin while you wait. This chicken shawarma makes a great lunch or dinner.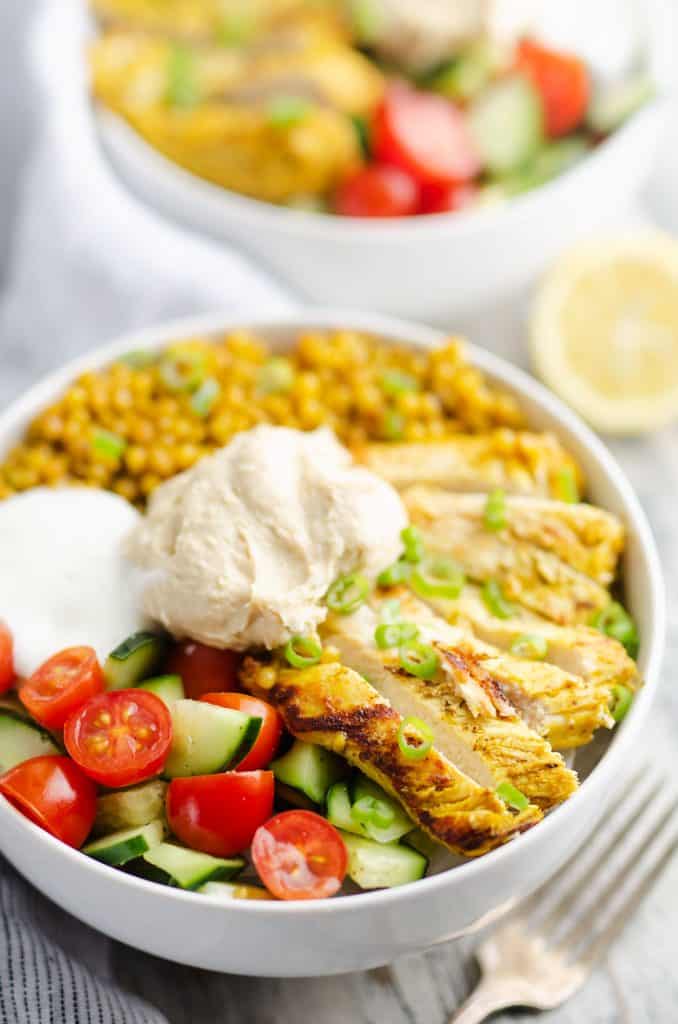 What Exactly Is Couscous?
Not everyone knows what exactly couscous is. This is strange because plenty of people eat and enjoy couscous without actually knowing whether or not it is a grain or a type of pasta or what the heck it is.
Depending on what part of the world it comes from, couscous can be several different varieties.
Most typically, couscous is tiny little balls of semolina wheat that has been crushed, mixed with a bit of water, then rolled into little balls. However, depending on whether you get couscous from the Middle East or from Africa, couscous can come from a few other sources as well.
In Israel, couscous is considered a form of pasta. But in parts of Northern Africa, couscous can be little balls of sorghum or pearl millet similarly prepared.
In all cases, couscous cooks much more quickly than rice grains, but still offers a similar look and texture to rice. It also takes on the flavors of whatever you cook with it very nicely.
Usually, you will find couscous where you find boxed rice and or pastas. Sometimes you will find it on the Mediterranean food section of the market.
I use the Israeli style of couscous because it is the easiest to find, cooks quickly, and has a great texture and flavor.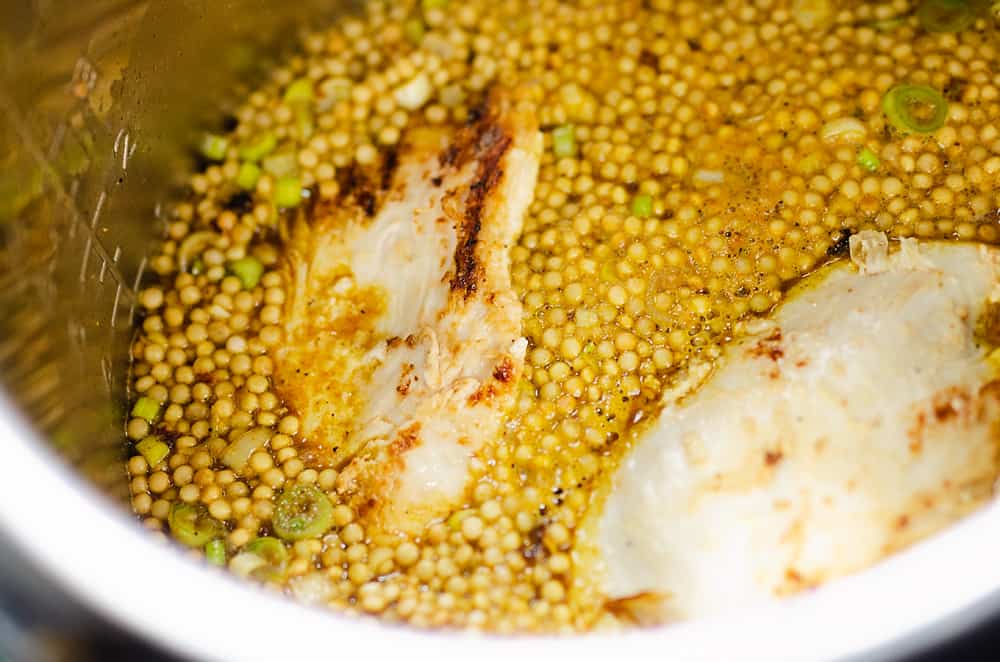 What Is Chicken Shawarma?
True shawarma is thinly sliced seasoned meat that is stacked on a vertical spit and slow roasted. Shawarma can also be made from other meats like beef or pork or lamb. This pressure cooker chicken schwarma gives you thin slices of chicken that pack in all the flavor of chicken slow cooked on a spit.
Very conveniently, the pressure cooker speeds up the cooking process but does not do it at the expense of the flavor!
Since schwarma is a dish that also originated in the Middle East and Northern Africa, no surprise why it works so well with couscous…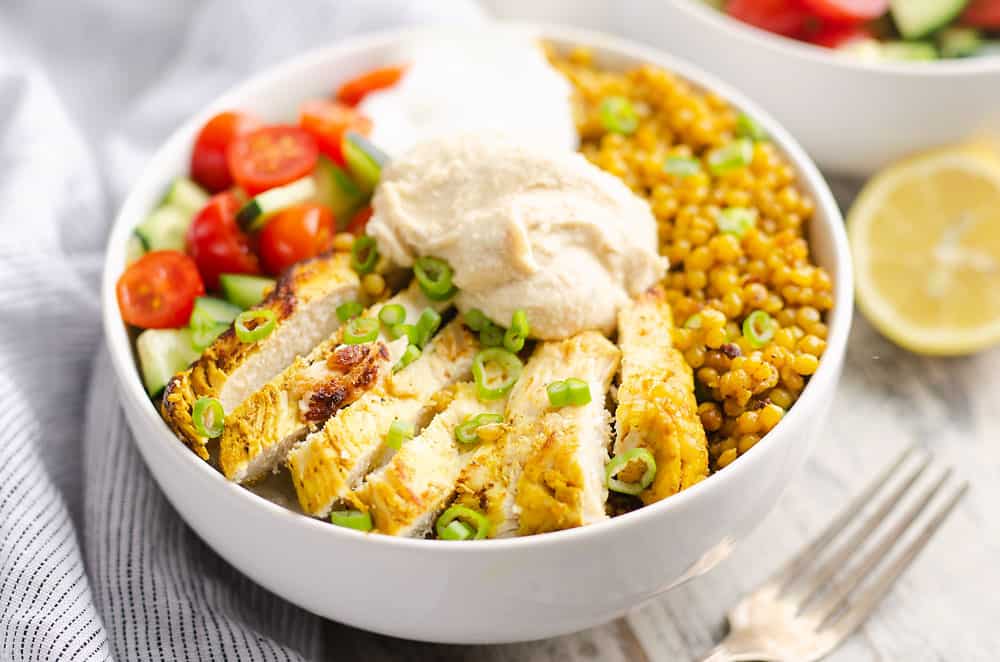 What Are Schwarma Spices?
The typical seasoning for shawarma include many ingredients easily and typically associated with middle eastern and north african cuisine. Turmeric, cumin, cloves, nutmeg and cinammon are all common as well as black pepper.
You can also find pre-mixed cumin spices on the spice aisle at the supermarket as well.
These spices are the sort of exotic flavors that travelled along the Silk Road and became popular even in medieval times. All together, they create a sensation of exotic and magical seasoning taste sensations.
What Is The Difference In Greek Yogurt?
Not all yogurts are the same. In this case, I recommend Greek yogurt because it comes the closest to the middle eastern style of yogurt.
Greek yogurt strains out more of the liquid whey from the yogurt. So, this style of yogurt is thicker and creamier. Less liquid also intensifies the flavor as well.
Finding Greek style yogurt is pretty easy in the dairy section, but in the event you cannot find greek yogurt, then go with Finnish instead. It is even thicker than greek yogurt however it also doesn't have too much sugar or is too liquid like french style yogurts for example.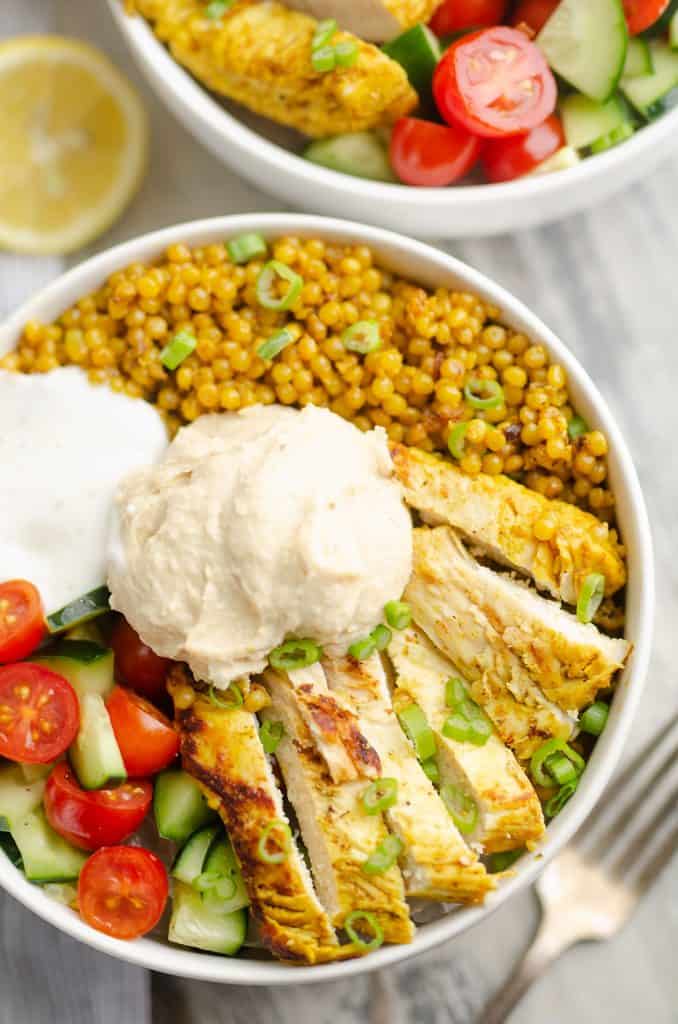 A Completely Balanced Schwarma Couscous Bowl
The great thing about the chicken shawarma couscous bowl is it pretty much delivers a very well rounded meal. You have your proteins, grains, and veggies, even some fruit. (Don't forget, tomatoes are actually a fruit…)
Storing Your Leftovers
If you have leftovers, then storing the chicken and couscous together in a sealed container works no problem. You can keep it in the fridge for about a week. You can even freeze it for up to a month, but make sure to add a tablespoon of liquid if you reheat it in the microwave or stove top.
I wouldn't store it with the veggies or hummus dressing if at all possible. Those things are better added upon serving.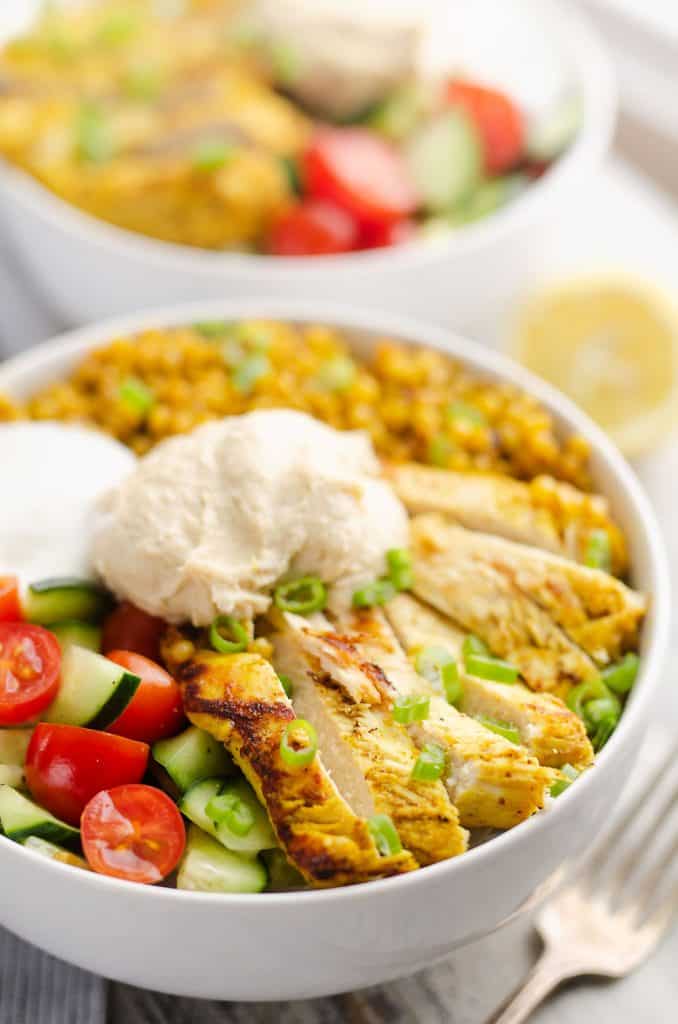 Other Couscous And Mediterranean Dishes To Check Out
Get away from rice and potatoes all the time and bring couscous into the picture more often! I have some other couscous recipes to check out if you are interested: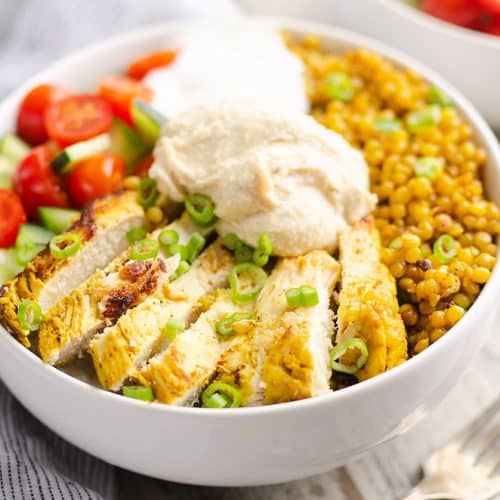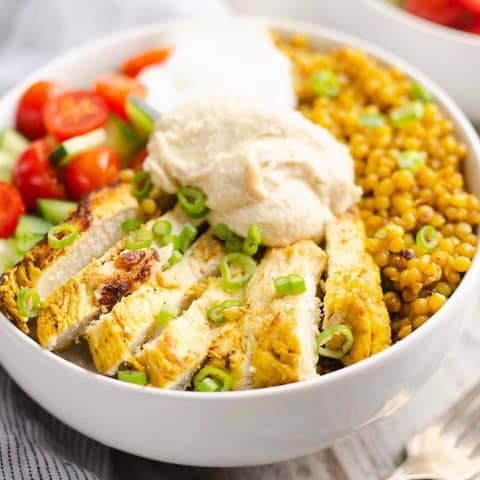 Pressure Cooker Chicken Shawarma Couscous Bowls
Build Pressure:
8 minutes
Pressure Cooker Chicken Shawarma Couscous Bowls are an easy and flavorful Instant Pot recipe for a delicious dinner served with fresh vegetables, hummus and lemon Greek yogurt.
Ingredients
Marinade
1/2 c. yogurt
2 tsp. diced garlic
1 Tbsp. Shawarma spice
2 Tbsp. olive oil
Chicken & Couscous
24 oz. boneless skinless chicken breasts
1 1/3 c. Israeli couscous
1 3/4 c. chicken broth
1/2 tsp. turmeric
1 Tbsp. butter
1 Tbsp. Shawarma
1/2 bunch scallions
1 tsp. salt
1/2 tsp. pepper
1 lemon
Sides
1 cucumber
2 c. cherry tomatoes
3/4 c. hummus
Yogurt Sauce
1/2 c. yogurt
juice from 1/2 lemon
salt
pepper
Instructions
In a medium bowl, add 1/2 c. yogurt, 1/2 tbsp. garlic, 1 Tbsp. Shawarma spice, olive oil, salt and pepper. Mix until well combined. Pat chicken dry and add to the bowl with the yogurt mixture. Turn to coat and refrigerate covered to marinate 20 minutes or up to 24 hours.
Remove the chicken from the marinade and using your hands, remove any excess marinade.
Turn the electric pressure cooker to saute and add a drizzle of olive oil to the pot. Add the couscous and toast for 4-5 minutes until it is browned. Carefully remove the toasted couscous from the pot.
Add another drizzle of olive oil along with the chicken to the pot. Cook for 2-3 minutes on each side until browned. Remove from the pot and add the chicken broth.
Bring to a boil and using a wooden spoon, scrape the browned on bits on the bottom of the pan to loosen them. Add the scallion whites, turmeric, butter, spice and a pinch of salt.
Return the chicken and couscous to the pot and place the lid on. Turn the knob to seal and cook on high pressure for 4 minutes.
In a small bowl, mix 1/2 c. yogurt, juice from 1/2 lemon, and salt and pepper to taste.
When the pressure cooker is done cooking, turn the knob to vent and carefully release the pressure. Add the juice from 1/2 lemon to the pot and fluff the cooked couscous with a fork. Season with additional salt and pepper if needed.
Slice the chicken and divide among 4 bowls with the couscous, cherry tomatoes, cucumbers, dollop of hummus, a drizzle of the yogurt sauce and scallion greens.
Recommended Products
As an Amazon Associate and member of other affiliate programs, I earn from qualifying purchases.
Nutrition Information:
Yield:

4
Serving Size:

1
Amount Per Serving:
Calories:

637
Total Fat:

22g
Saturated Fat:

6g
Trans Fat:

0g
Unsaturated Fat:

14g
Cholesterol:

161mg
Sodium:

1545mg
Carbohydrates:

43g
Fiber:

6g
Sugar:

16g
Protein:

66g
Provided nutrition data is only an estimate. If you are tracking these nutrients for medical purposes, please consult an outside, trusted source.