Gobble offers Meal Kits that focuses and fresh and delicious recipes that are quick and easy to make. Check out my unbiased review of their delivery service!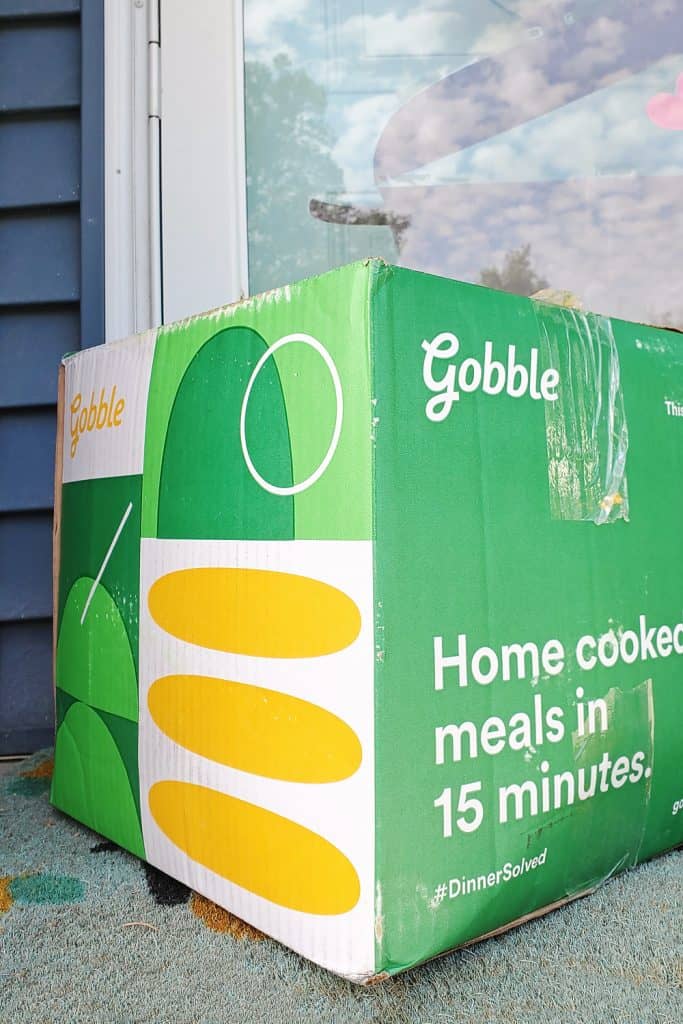 Full disclosure! I was sent one box and paid full price for subsequent boxes. I have not been paid or compensated in any other way for this review. This post does contain affiliate links that support us by paying us a small commission if you decided to order through the company, but cost you nothing.
Gobble Meal Delivery
There are so many meal kit delivery services out there right now, it's really hard to know which one is worth giving a try. I've taken all the guess work out of it for you and reviewed them for you!
Today I am excited to share my review of Gobble meals. They are newly available to me in the Midwest. They now ship to most of the continental US. You can try your first box with 6 servings for $36 by clicking HERE.
Easy 15 Minute Meal Kit
Unlike most other meal kits like Hello Fresh or Blue Apron, Gobble offers lots of short cuts to healthy gourmet dinners on the table in just 15 minutes.
They aren't just sending you a box of ingredients, but they do lots of the prep work for you. I immediately fell in love with how much quicker these meals came together than traditional meal kits.
Best Meal Kit
Despite how quick and easy they are, Gobble still manages to offer some of the most gourmet meals on the market! From Red Thai Curry Shrimp and Japanese Okonomiyaki Omelette to classic Chicken au Poivre, you won't be disappointed.
Some of the other meal kits like SunBasket and Plated offer similar quality and priced meals, but they often take much longer to cook. Gobble offers some of the ingredients like sauces or pre-seasoned and cooked rice in their meal kits which drastically cuts down on cook time.
They are the best meal kit I have tried to date and I have tried many! I truly can't say enough good things about the meals and how easy they are to make.
I already have my next order booked and can't wait to get the Coconut Hawaiian-Style Fish Tacos with Mango Salsa and Honey-Hoisin Glazed Pork Tenderloin with Carrot-Ginger Puree. I'm drooling just thinking about them!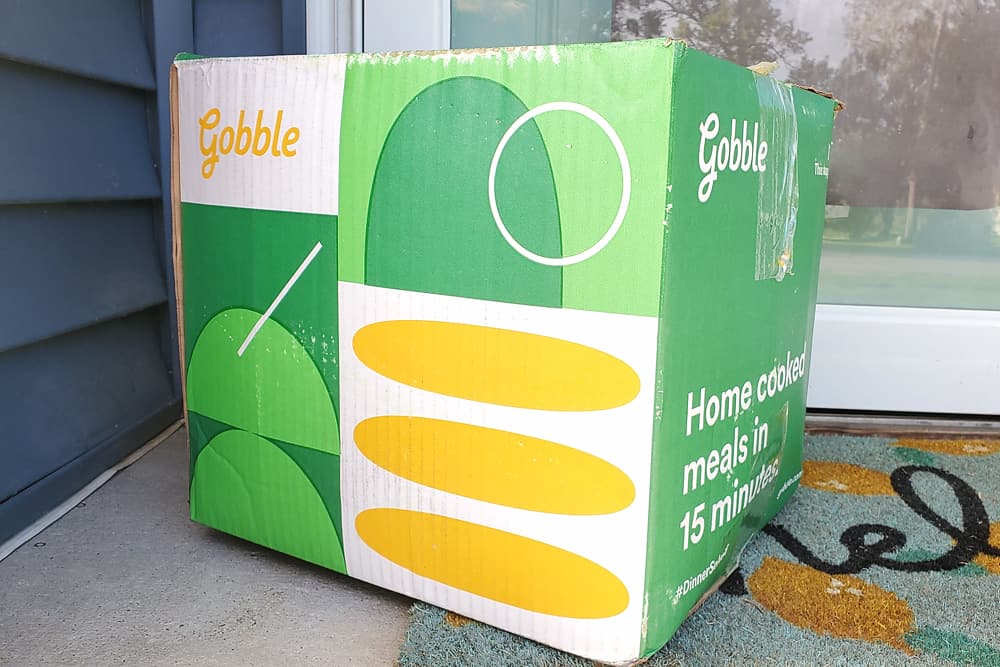 How much does Gobble cost?
For three Gobble meals that are advertised to serve two people, the cost with shipping is $78.93. That breaks down to $13.16 per serving.
That price is on the higher side of most meal kits and the only real con I found with this service. When you compare it to popular meal kits like Hello Fresh, you are paying about $18 more for a box with 6 servings.
It all comes down to how much the convenience of saving time and money is worth to you. For me personally, the cost is worth it with two little ones and my usual scrambling to get healthy and delicious meals on the table.
How big are Gobble servings sizes?
Another factor to consider when calculating the cost of Gobble meal kits is the portion size. I found the portions to be very big.
For example, when I made the Red Thai Curry Shrimp for my Mom and I, it made so much that we had a third plate we saved for leftovers.
The other meals I made for my two kids and myself and they were more than enough. You could definitely stretch all of the meals for a family of 3 unless you have some really big eaters.
Gobble Meal Kit Menu
Ok, lets get down to what is most important. The food! Gobble offers so many different cuisines, premium options and fantastic pre-made soups and other offerings.
I have ordered two boxes from Gobble and these are some of the meals I have enjoyed.
Thai Curry Coconut Soup
I saw this soup option in the pre-made options and I couldn't resist adding it to my order. It sounded delicious and let me tell you, it exceeded my expectations!
The Thai Curry Coconut Soup came in a bag with two servings, along with a lime to finish off the heated soup with some fresh lime juice.
If I could order this by the gallon I would!
Chicken au Poivre
This classic chicken and mashed potatoes meal was a traditional meal taken to the next level.
Pan roasted carrots and sugar snap peas were served with chicken, mashed potatoes and a demi glaze. The potatoes were the real time saver with this meal kit.
The pre-made red skin mashed potatoes came with a generous portion of roasted garlic. All I had to do was chop up the sweet roasted garlic and fold them into the microwaved mashed potatoes.
If you have made roasted garlic, you know how time consuming it is. It usually needs to bake for almost an hour in the oven. Having this already done was a HUGE time saver!
I was hesitant about how the potatoes would taste seeing they were pre-made, but I honestly couldn't differentiate between them and my Mom's mashed potatoes she spends far more time making!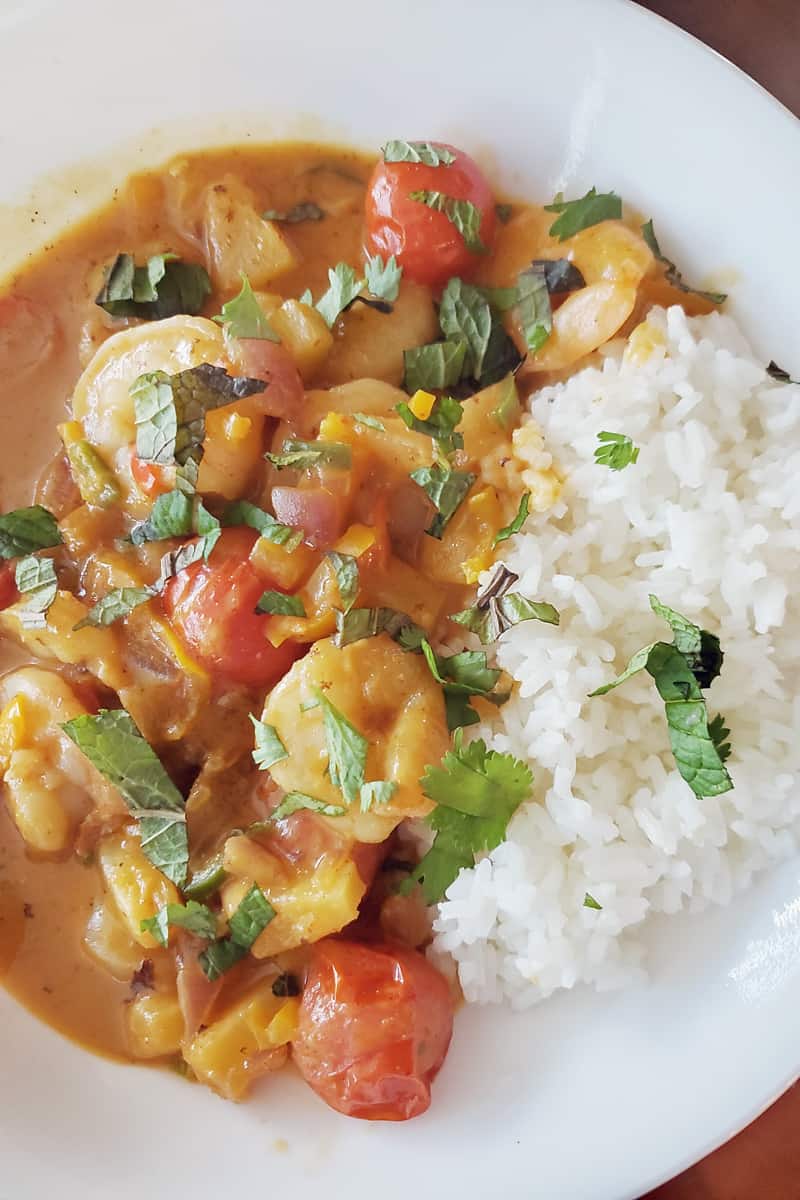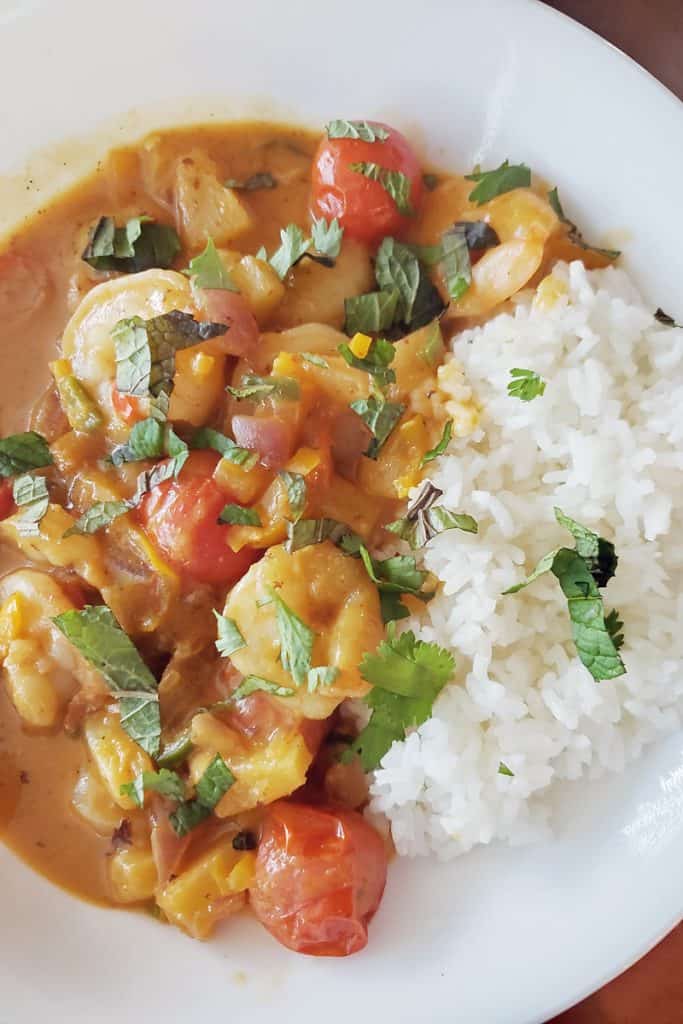 Red Thai Curry Shrimp
Ok, if I am being completely honest, this wasn't one of the meals I was most looking forward to. I like shrimp, but they aren't necessarily a love for me.
My Mom on the other hand does love shrimp, so I decided to make this meal for us when my kids and Dad were away.
I ended up LOVING the Red Thai Curry Shrimp!
There were a few shortcuts for this meal. The onions came already diced which is a great time saver. The Red Thai Curry sauce was pre-made as well as the Jasmine rice was pre-cooked.
This gourmet meal came together in about 10 minutes and tasted like I spent an hour on it!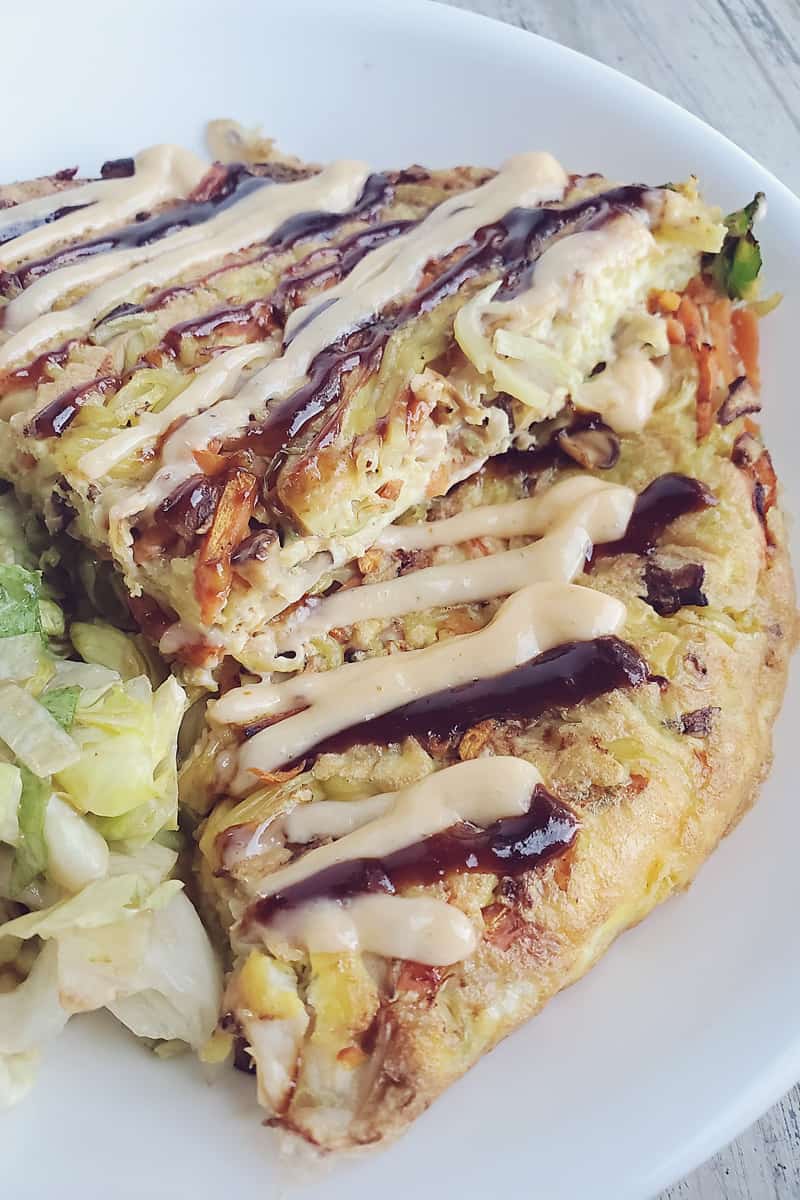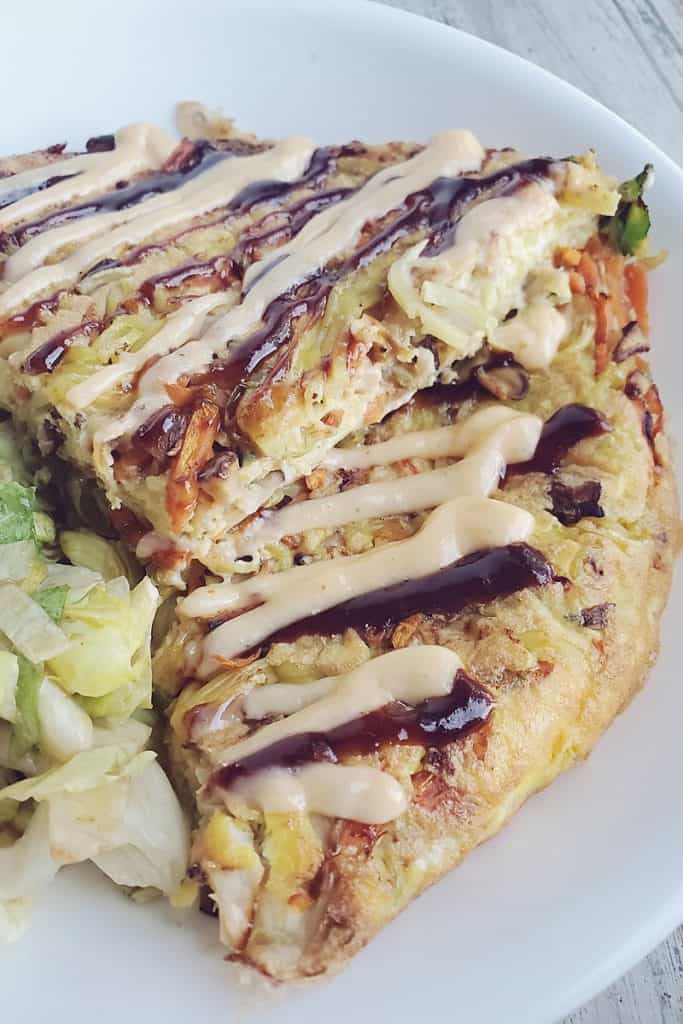 Japanese Okonomiyaki Omelette
This vegetarian Japanese Omelette with Yakisoba Noodles piqued my interest. It's certainly not something I have ever tried before but the flavors sounded really good.
It was incredibly easy to make. Saute a blend of pre shredded vegetables, mushrooms and fresh noodles. Add in some eggs and pop it in the oven.
It is finished off with some pre-made sriracha mayo and Hoisin sauce. It is served with a simple side of chopped lettuce dressed in Sesame dressing.
This meal kit was another dinner that could easily serve three people. It was incredibly hearty for a vegetarian meal!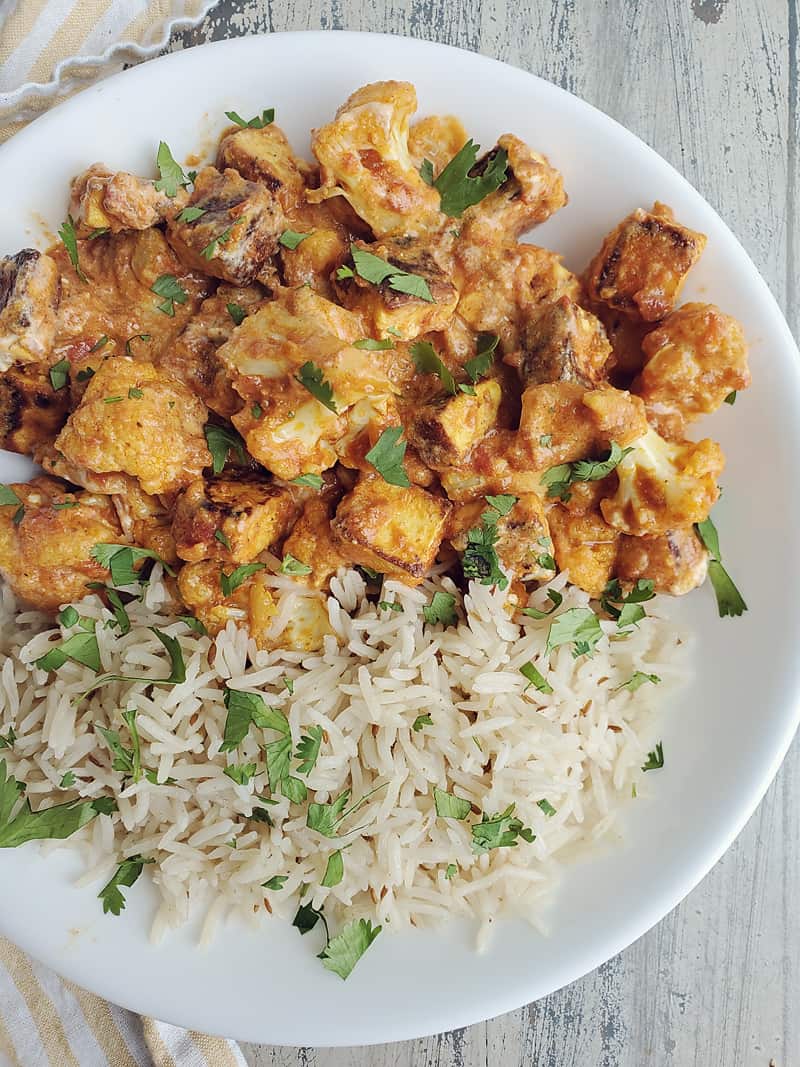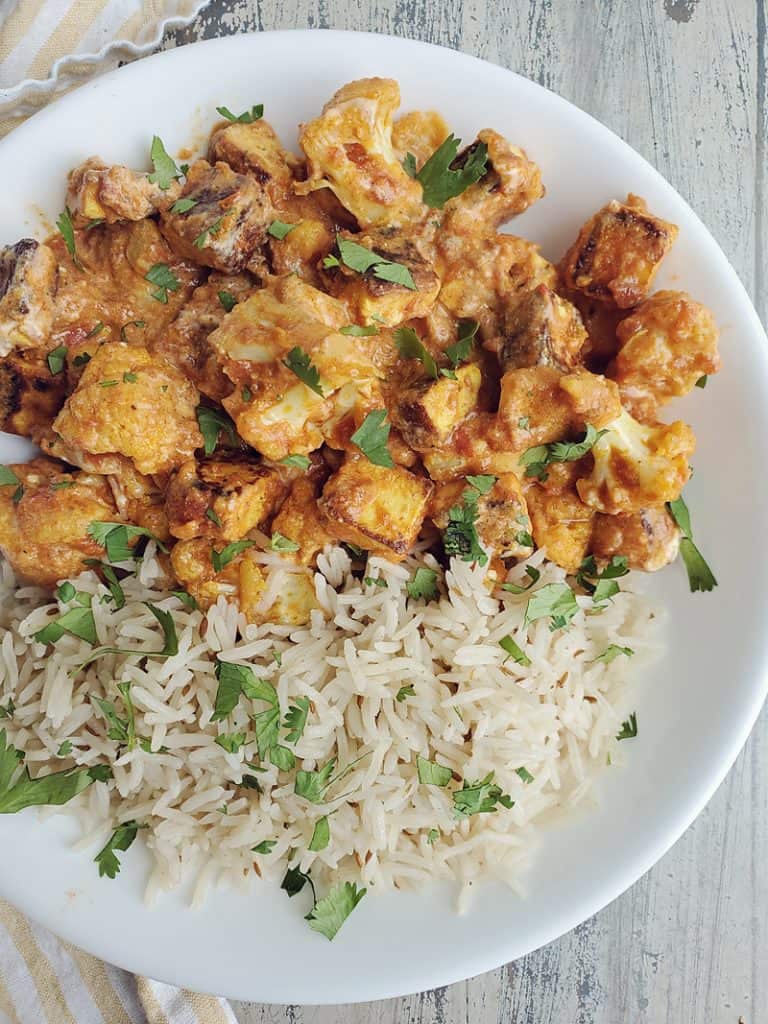 Paneer & Cauliflower Tikka Masala
I love Tikka Masala, but if I'm being 100% honest I didn't even know what Paneer was. Much less had I tried it!
After a quick Google search, I discovered that it is a firm cheese. OK, I'm down with cheese so this sounds good.
It all came together very quickly with pre-diced Paneer, chopped cauliflower, spice blend and pre-made Soffrito sauce. Not only did the rice come pre-cooked, but it was already pre-seasoned with Garam Masala. The warm spiced rice was amazing!
I am by no means a vegetarian, but I often enjoy meals without meat. I will say that I was kind of missing meat in this dish. The sauce and rice were amazing, but there was just a little something missing for me without any meat.
Gobble Chocolate Chip Cookies
My first order came with two free chocolate chip cookie pucks. I probably wouldn't have ever ordered them on my own, but it was a fun addition to dinner one night.
The pucks and subsequent cookies are HUGE! They had good flavor and texture, but they aren't my personal favorite. My Mom raved about hers, but I will stick to my Chewy Chocolate Chip Cookies.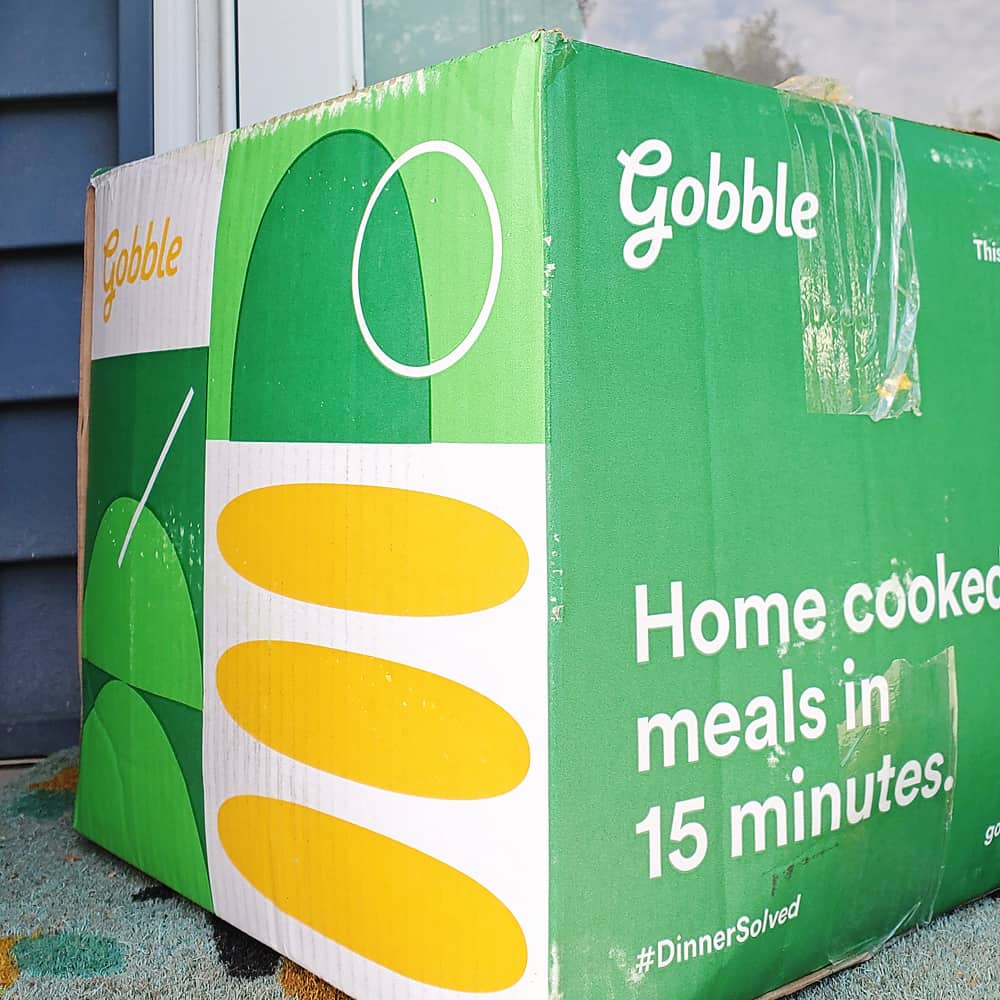 Gobble Review
As you can see, I really can't say enough good things about this company. I think what best sums up my Gobble Review is that despite all of my credits to many other meal kit companies, I'm over here scheduling more Gobble deliveries at full price because they are just that good.
My sister would always complain to me that other meal kits didn't really save her much time or effort. This delivery service really addressed all of the people who don't enjoy slaving over a stove, but still want to cook a fresh meal.
You feel like you cooked a wholesome meal, but so much of the busy work is taken out of it. That is everyone's kind of cooking!
Don't forget, you can try your first box with 6 servings for $36 by clicking HERE.