Frozen Chocolate Chip Cookie Dough Pucks are an easy way to prep a ready to make dessert for a delicious treat at your finger tips in minutes!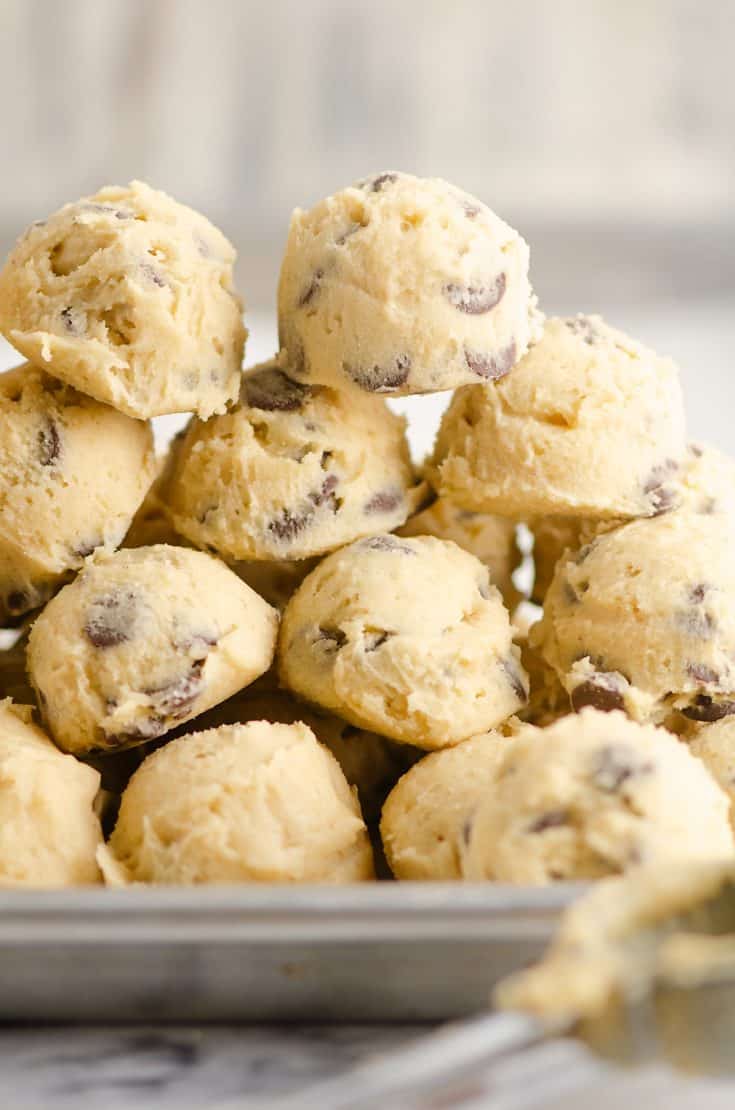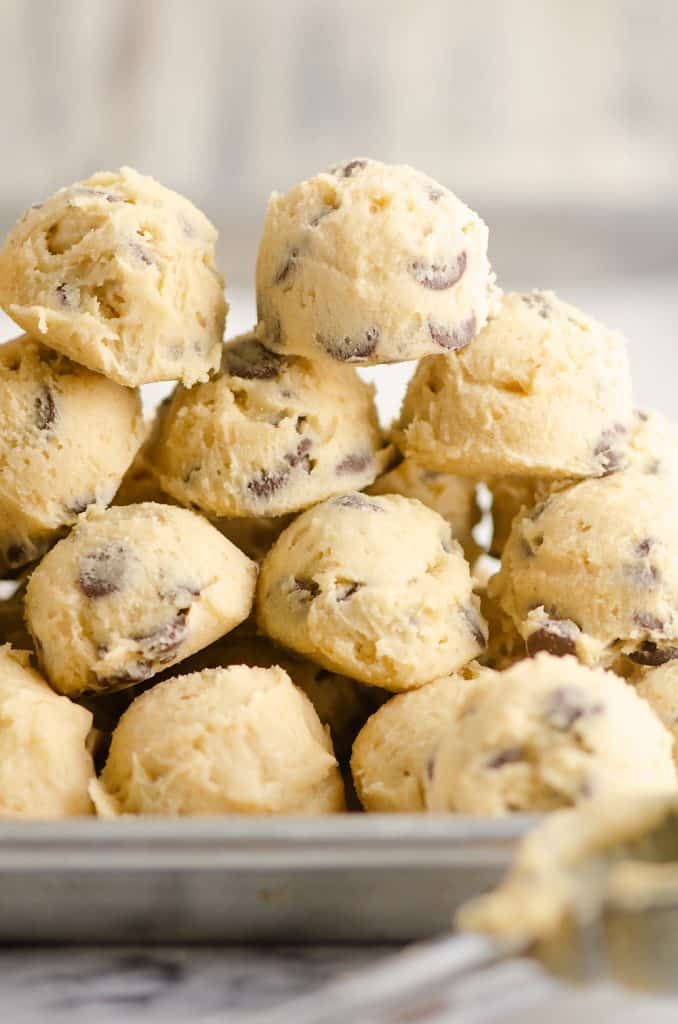 Frozen Cookie Dough Pucks
Chocolate chip cookies might be my all-time favorite sweet. The balance of sweet dark chocolate with salty and buttery dough is just too good to resist!
This chocolate chip cookie recipe is the best I have found. I actually got it from my sister-in-law! It makes a perfectly sweet and salty chewey chocolate chip cookie.
The only problem is that it makes a BIG batch. Far more cookies than I need when making for my small family. The solution is to freeze some of the cookie dough into dough pucks.
Can you freeze chocolate chip cookies?
You can absolutely freeze baked chocolate chip cookies, but they are never going to be QUITE the same thawed. When you freeze pucks of dough to make chocolate chip cookies later, you are left with a far fresher result.
I honestly like chocolate chip cookies better when they are baked from frozen dough pucks. When baking cookies, it is best to chill the dough before baking anyways. This way, the dough is chilled to the max!
I find that cookies baked from frozen dough end up a little thicker and chewier, which is my preference. They don't end up spreading as much as warmer dough when they are baked.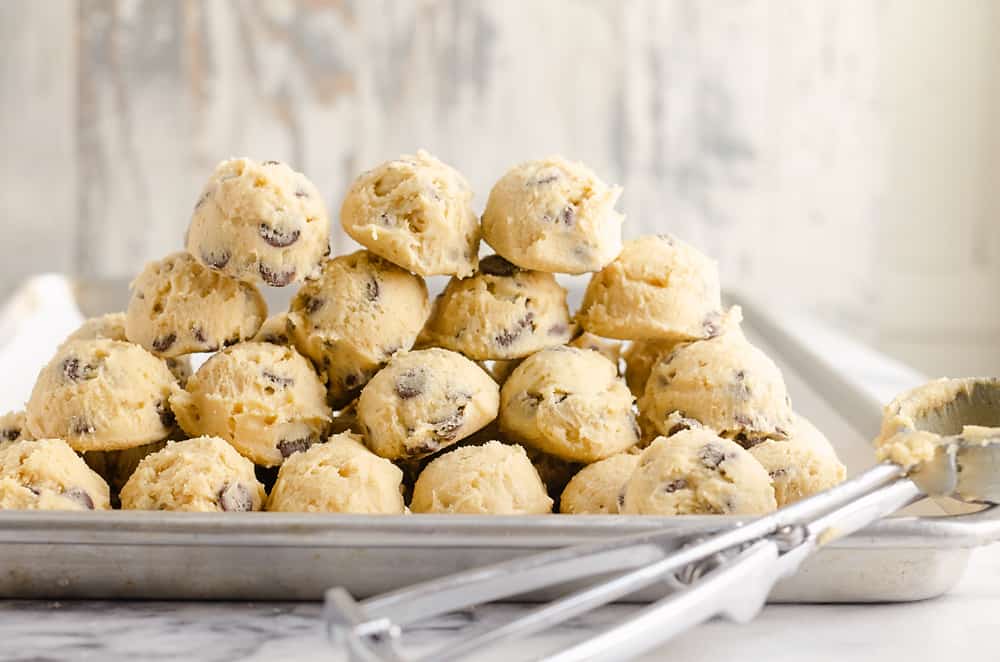 How to bake frozen cookie dough
When it comes to baking frozen cookie dough, you can make as many or as few cookies as possible. Simply bake them according to the original recipe's instructions, but just add a couple more minutes to the baking time.
For these chocolate chip cookies, I usually bake them for about 12-13 minutes at 375°.
Whether I am baking fresh or frozen cookie dough, I always like to bake my cookies on a stainless steel baking sheet with parchment paper. It not only makes for easy cleanup, but it bakes more evenly.
If you use a coated non-stick cookie sheet, they tend to cook the bottoms of the cookies faster, often leading to overcooked bottoms that are a little browner than prefer.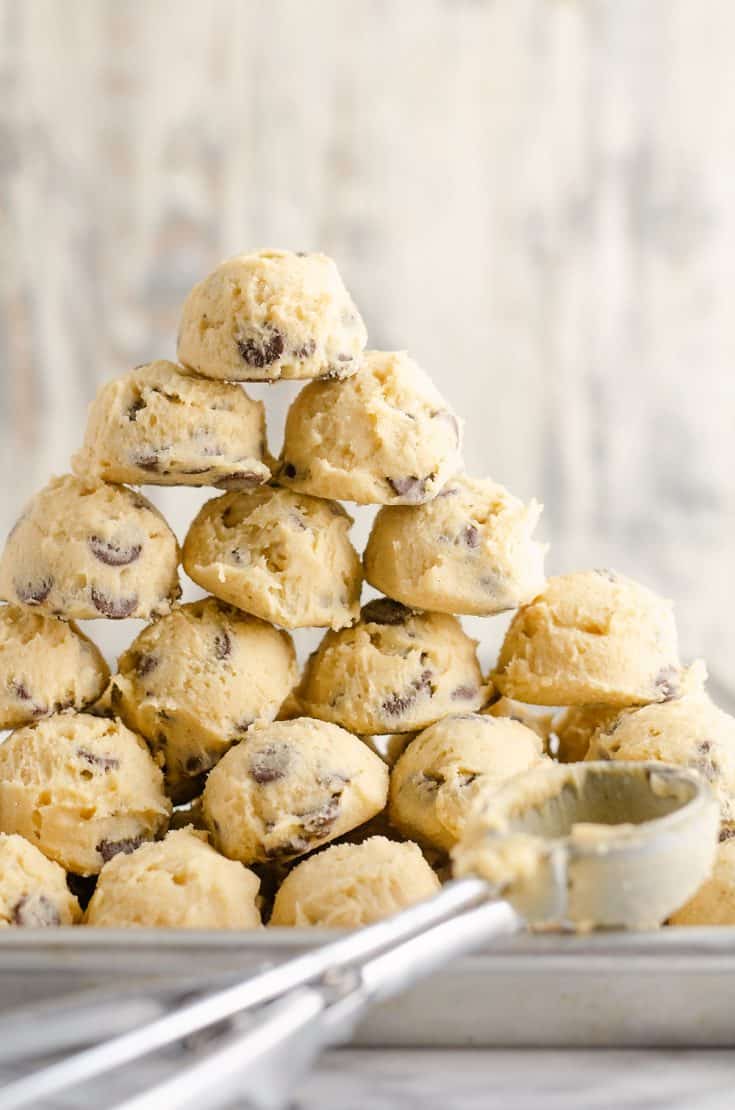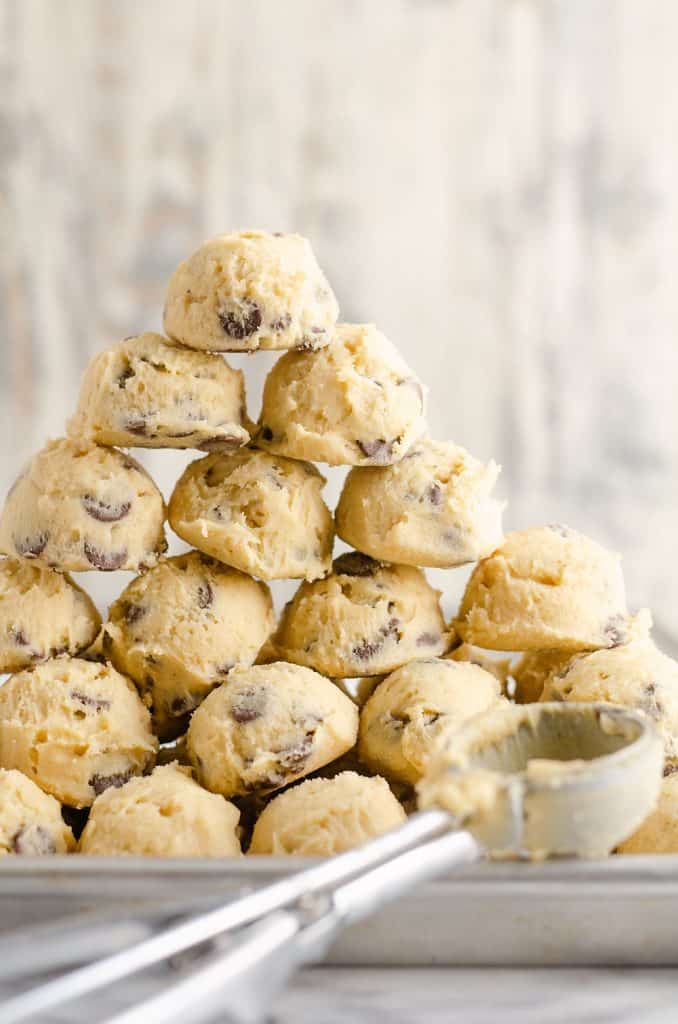 Cookie Dough Pucks
To make cookie dough pucks, prepare your batch of chocolate chip cookies, or any other flavor cookie as you normally would. Even better, make a double batch!
Scoop the cookie dough onto a lined cookie sheet using a cookie dough scooper. After you fill your cookie sheet with all of the dough pucks, pop it in the freezer for about 30 minutes.
When the dough pucks are all hard, place them in a resealable freezer bags. Remove as much air from the bag as possible before sealing and place them in the freezer.
When you are ready to make a couple cookies for a treat or a large batch for unexpected guests, just take as many cookie dough pucks from the freezer as you need and bake them up!
More cookie recipes that freeze well!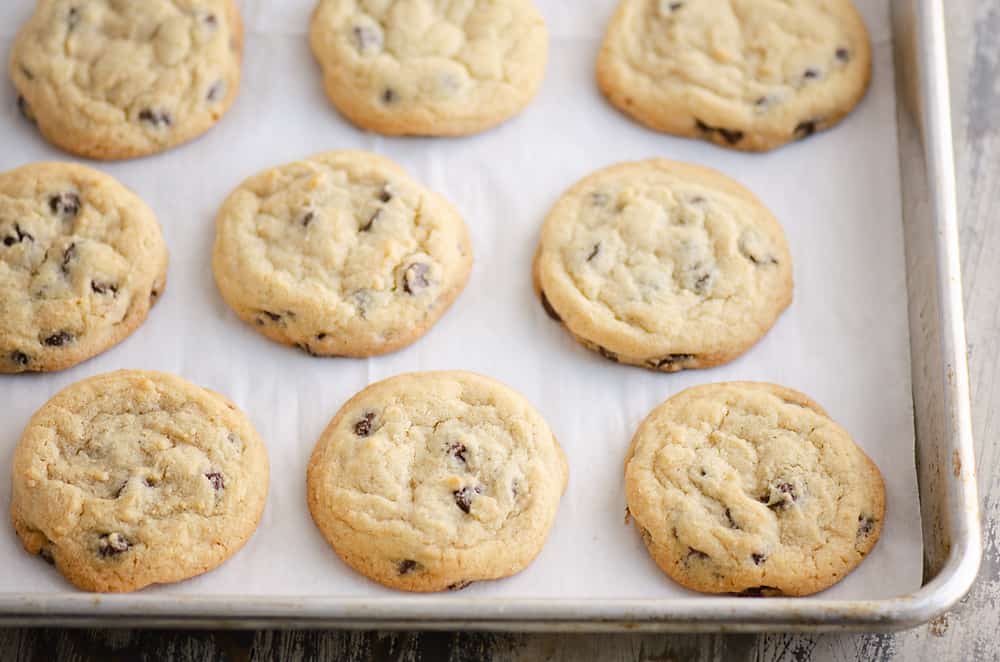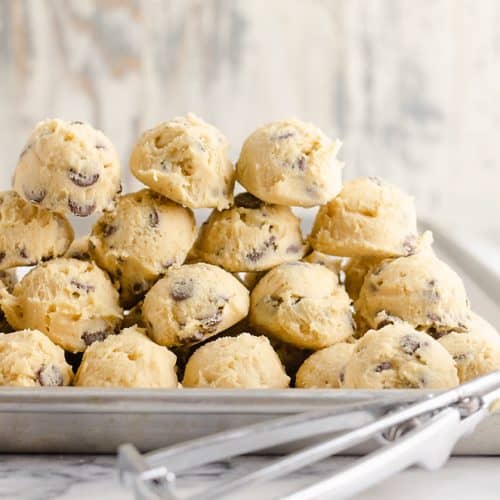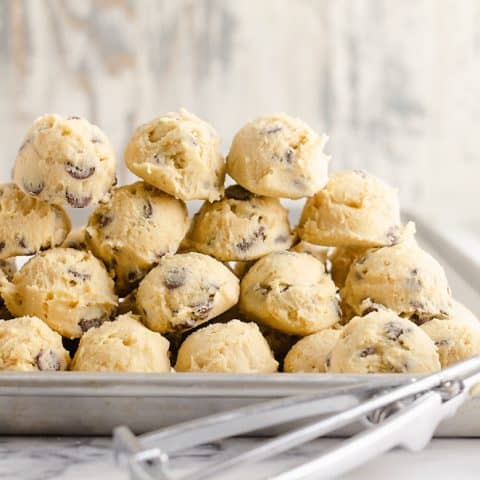 Frozen Chocolate Chip Cookie Dough Pucks
Yield:
36 cookie dough pucks
Ingredients
1 c. unsalted butter, at room temperature
3/4 c. granulated sugar
3/4 c. packed brown sugar
2 eggs
1 tsp. vanilla extract
2 1/4 c. all purpose flour
1 tsp. baking soda
1/2 tsp. salt
12 oz. pkg. chocolate chips
Instructions
In a large bowl, beat the butter and sugars until smooth. Add in the eggs and vanilla and mix until well combined.
Add the flour, baking soda and salt. Mix until everything is well incorporated.
Add the chocolate chips and mix just until evenly distributed.
Using a cookie scoop, scoop the cookies out onto a lined cookie sheet and freeze for 30 minutes.
Store frozen cookie dough pucks in an airtight container.
When you are ready to bake the frozen dough pucks, preheat your oven to 375°.
Bake the cookies for 12 minutes or until the edges are golden brown.
Recommended Products
As an Amazon Associate and member of other affiliate programs, I earn from qualifying purchases.
Nutrition Information:
Yield:

36
Serving Size:

36 large cookies
Amount Per Serving:
Calories:

154
Total Fat:

8g
Saturated Fat:

5g
Trans Fat:

0g
Unsaturated Fat:

3g
Cholesterol:

24mg
Sodium:

123mg
Carbohydrates:

20g
Fiber:

1g
Sugar:

13g
Protein:

2g
Provided nutrition data is only an estimate. If you are tracking these nutrients for medical purposes, please consult an outside, trusted source.