If you have been searching for the Best Chewy Chocolate Chip Cookie Recipe, this is it! With a chewy center enveloped in a crispy and salty exterior, it is the perfect combination of flavors and textures.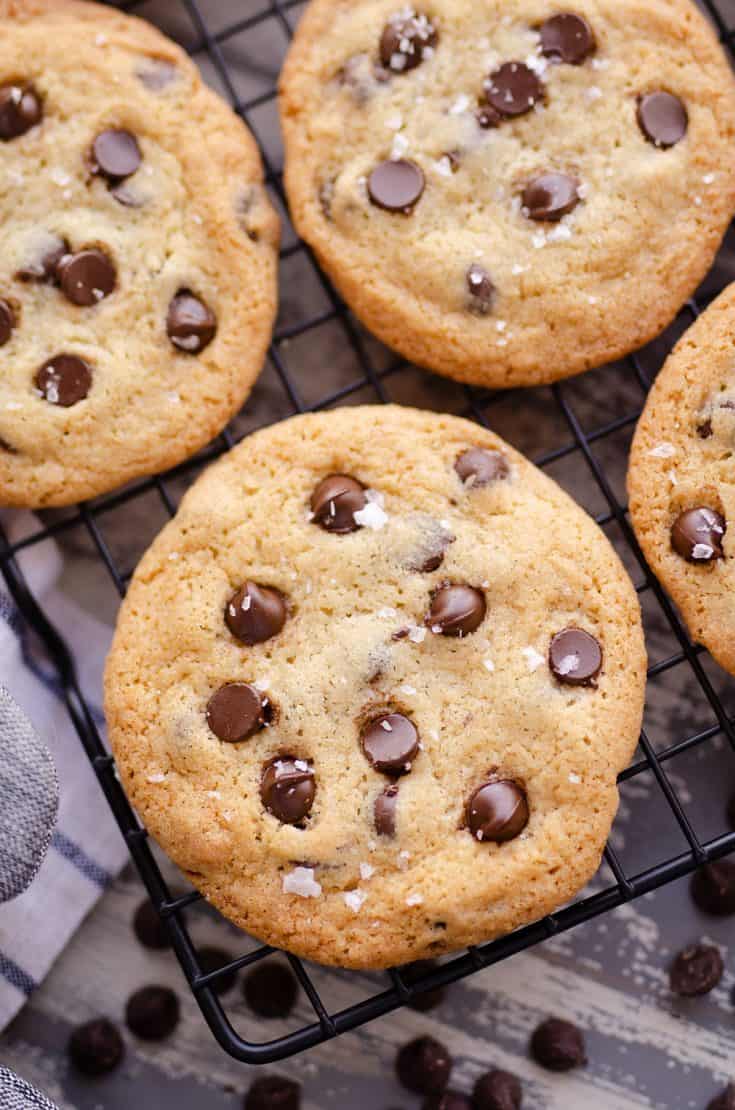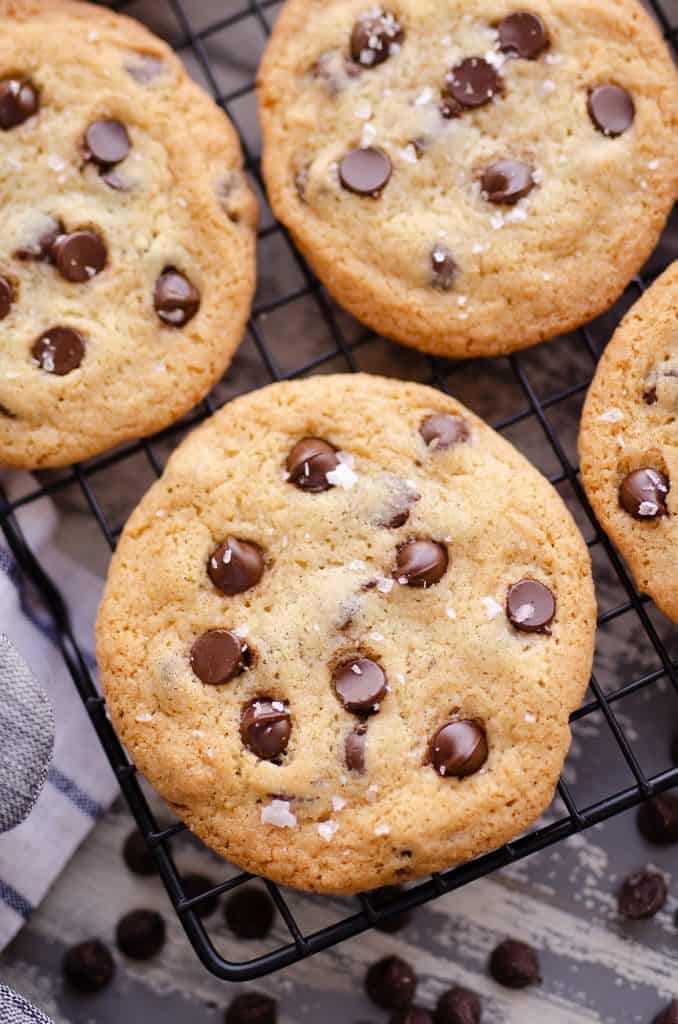 Best Chewy Chocolate Chip Cookies
I have been searching for the Best Chewy Chocolate Chip Cookie Recipe longer than I can remember. My Mom is an amazing baker and cook, but one thing she never managed to excel at was chocolate chip cookies.
She didn't have a great recipe so we always just used the recipe on the back of the chocolate chips, whether it was Toll House or Hershey's. Don't get me wrong, any freshly baked chocolate chip cookie is good, but those just aren't exceptional.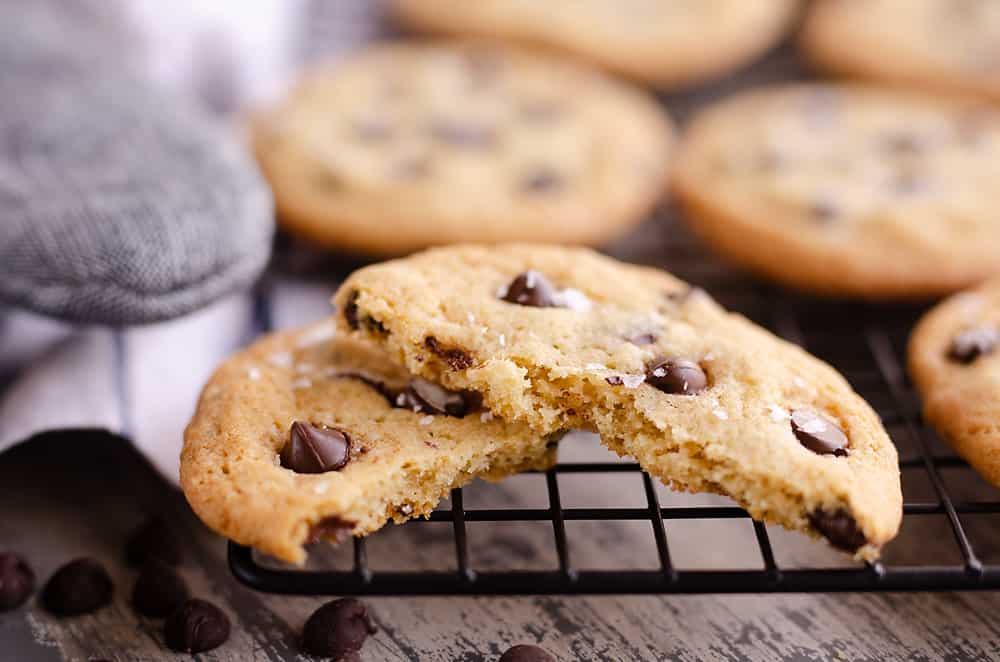 I had heard rumblings in the family about how good my sister-in-laws chocolate chip cookies were. I will be 100% honest and admit that I thought to myself, well how good can a chocolate chip cookie really be?!
Let me tell you, that thought immediately flew out of my head the second I tried her cookies at a family event. I was hooked! They have a nice amount of salt to balance the sweetness and the texture was absolute perfection.
I believe the balance of brown sugar and white sugar is just right, along with the dough being a bit on the drier side instead of too moist. This leads to the thicker and chewy chocolate chip cookie texture I desire.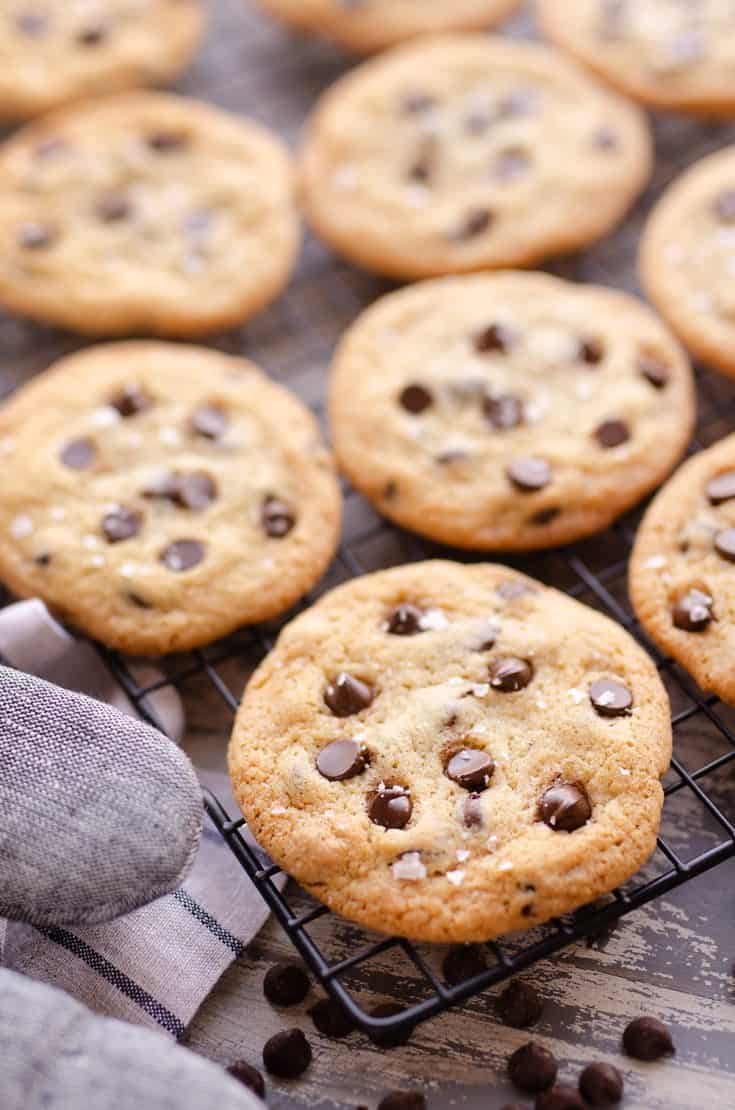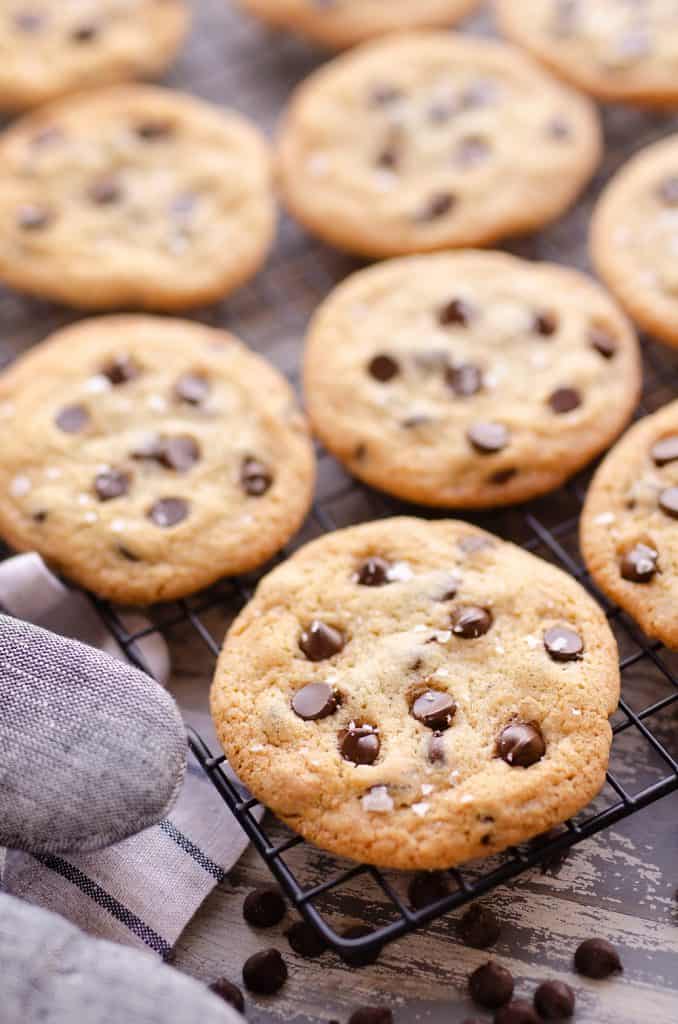 Chewy Cookies Recipe
Everyone likes they chocolate chip cookies differently. Some prefer a soft cake-like consistency, some crazy people even like them crunchy, and lots of people including myself love a good chewy chocolate chip cookie.
If you are my kind of people and like them chewy, then this recipe is a must-try! I didn't do a single thing to the recipe other than swap out dark chocolate chips because they were so amazing just the way they were. You can use whatever chocolate chips you personally prefer.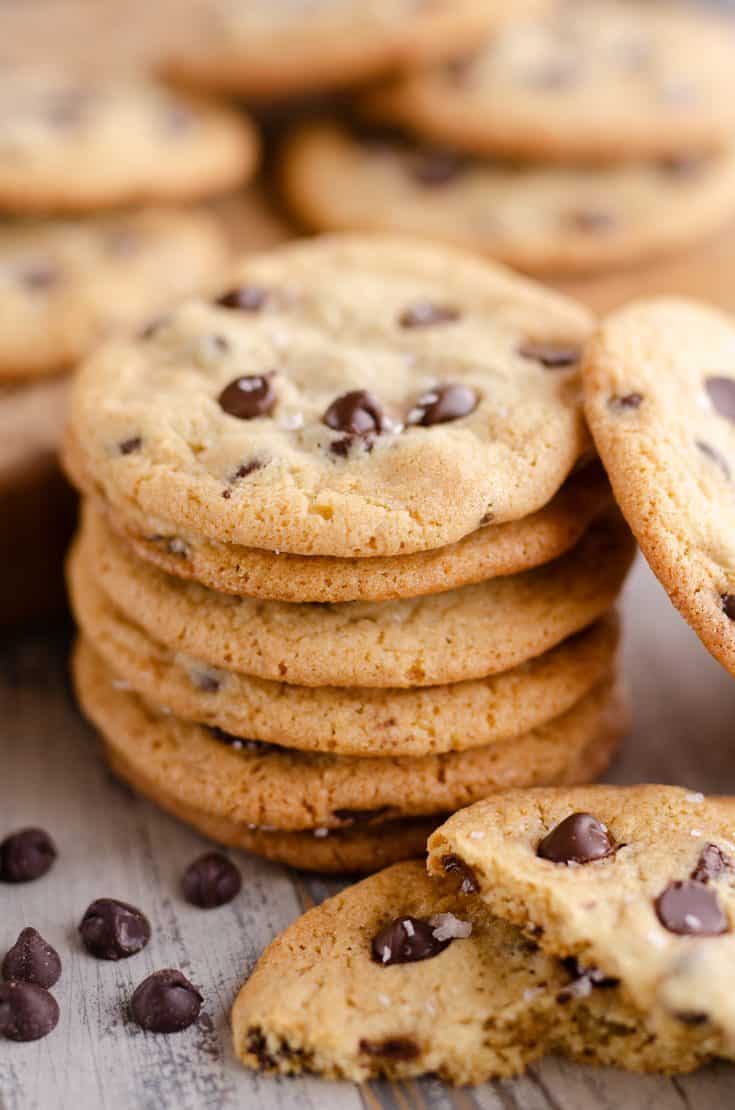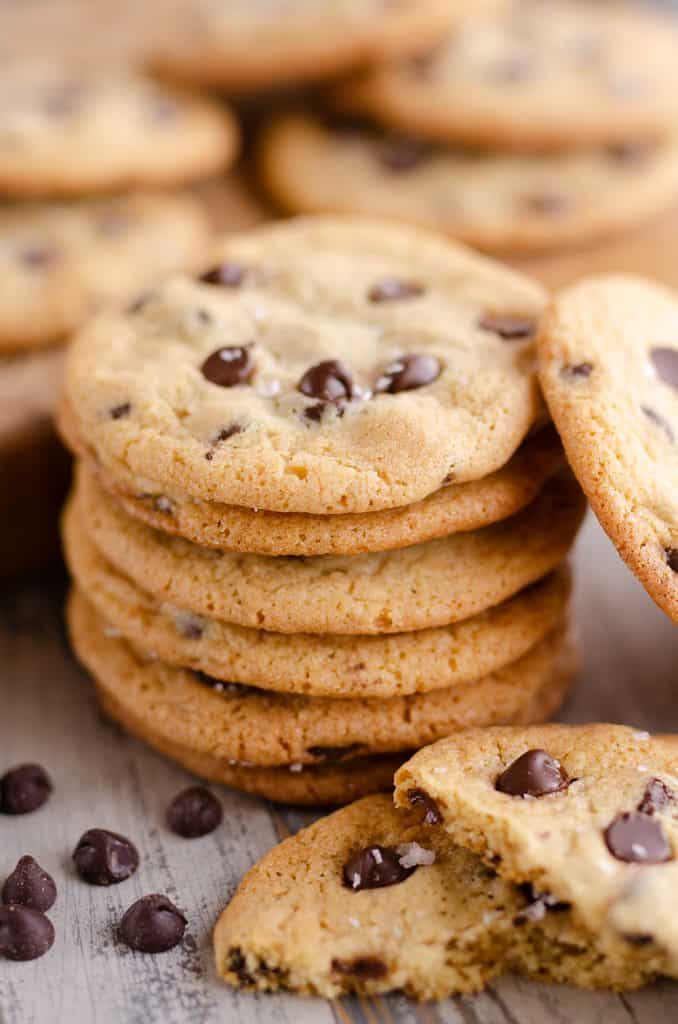 My sister-in-law inherited the recipe from her Mom. Funny enough, her Mom's cookies never turned out as good as my sister-in-laws and we are all pretty sure it is an oven thing.
Have you ever tried a baking recipe in two different ovens and have the texture turn out differently? I know I have. My Mom used to make the most amazing melt in your mouth sugar cookies, but when she moved to a new house the texture completely changed with her new oven. Same goes for these chewy chocolate chips cookies.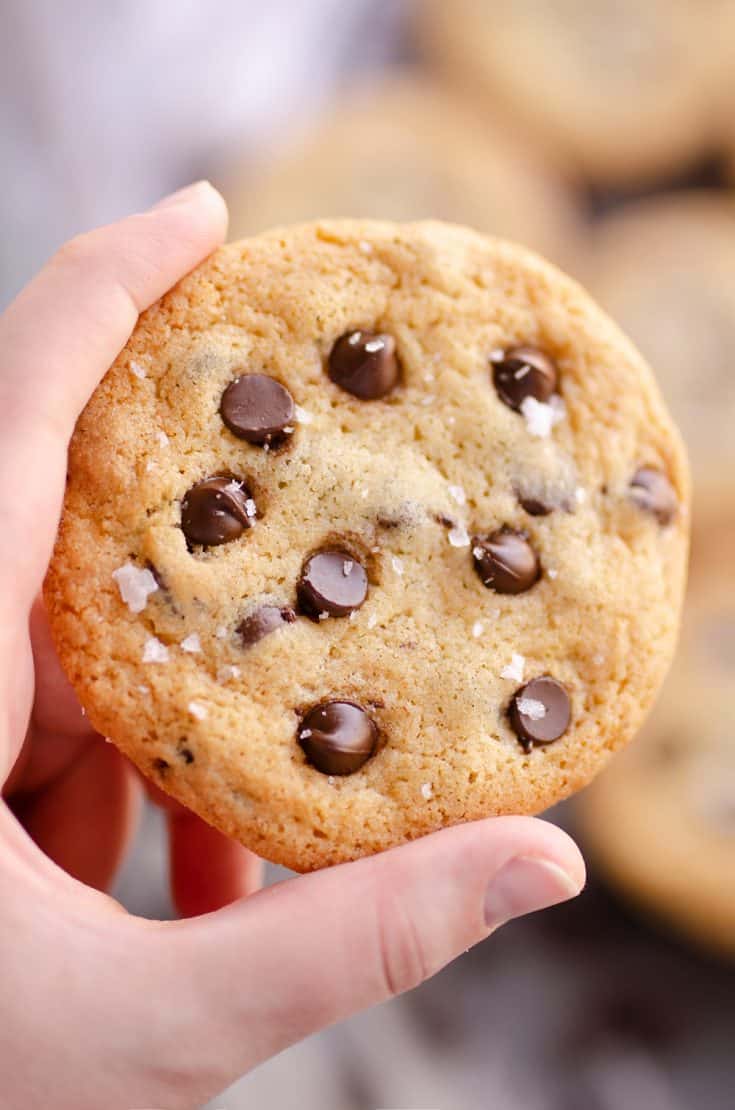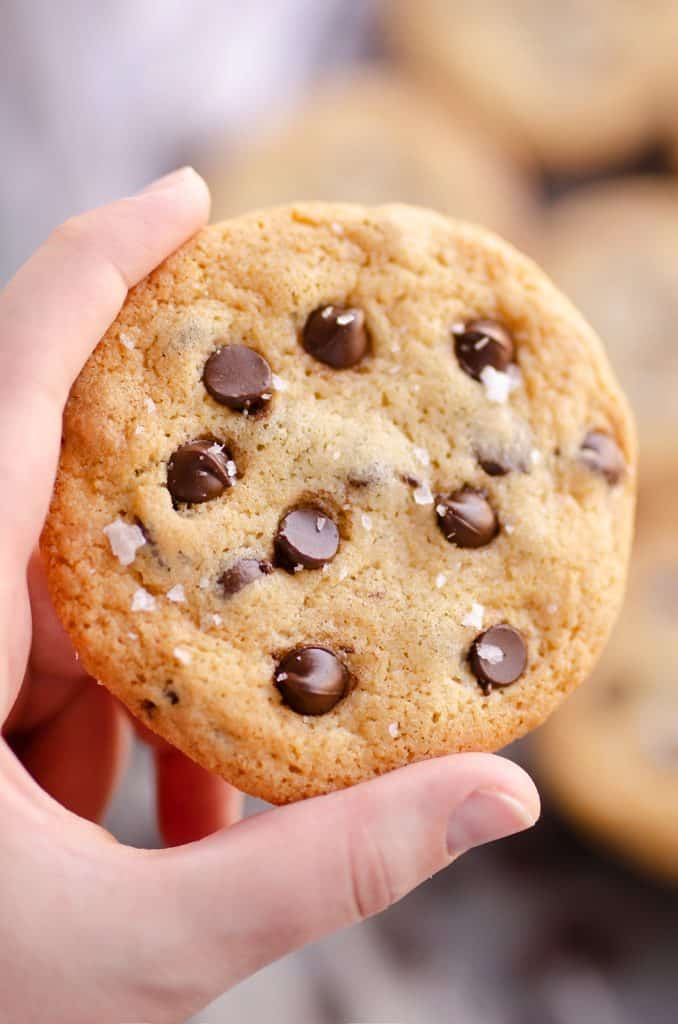 Best Chewy Chocolate Chip Cookies Recipe Ever
I will be honest again here and admit I don't think they turned out quite as amazing when I made them either in my oven. Don't get me wrong, they were still spectacular, but there was just the tiniest bit of difference in the texture.
My sister-in-law even admitted that when she tried make them in her Mom's oven they didn't turn out the same. It really is an oven thing. They are still by far the best chewy chocolate chip cookies recipe ever made in my kitchen so they are my new go-to.
Another factor that changes the texture of cookie dough is the temperature of the dough when it goes in the oven. If the dough has been sitting out on the counter a bit longer it will get soft and the cookies will spread more. This is a small contributing factor as to why mine weren't as thick and chewy as the others.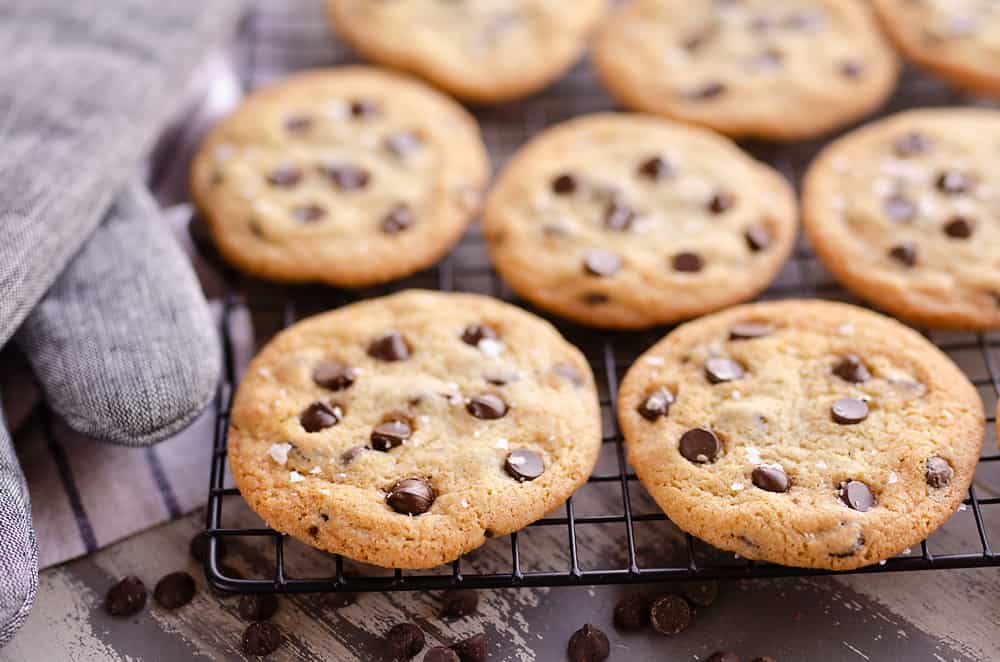 Freezing Chocolate Chip Cookie Dough Balls
This chocolate chip cookie recipe makes a very large batch with three dozen big cookies. If you don't need that many cookies at once you can scoop the extra cookie dough onto a sheet pan and freeze them.
When the dough is frozen, store them in an airtight container or bag until you are ready to bake them. Add a couple minutes to the baking time and they will turn out amazing!
You can also be lazy and just add the scoops of dough to a resealable bag and then break them apart when you need to use them. They won't look as pretty going into the oven, but they will look and taste just as good coming out. Needless to say this is how I do it to save time.
Thanks so much to Amanda and Rita for sharing your awesome family recipe and I hope all of you get a chance to try this sweet and salty goodness!
More amazing chocolate chip recipe!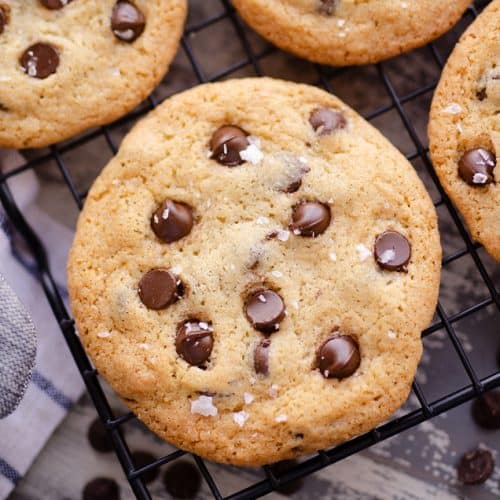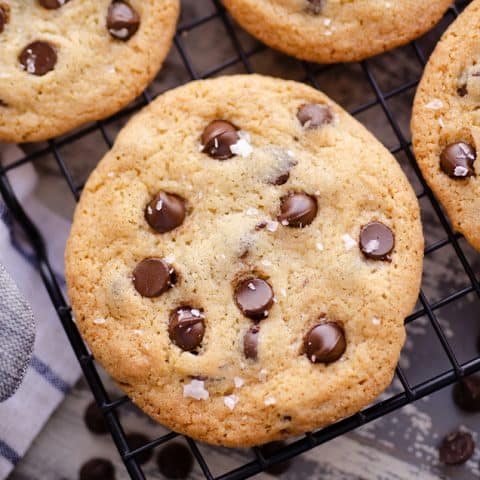 Best Chewy Chocolate Chip Cookie Recipe
If you have been searching for the Best Chewy Chocolate Chip Cookie Recipe, this is it! With a chewy center enveloped in a crunchy and salty exterior, it is the perfect combination of flavors and textures.
Ingredients
1 c. unsalted butter, at room temperature
3/4 c. granulated sugar
3/4 c. packed brown sugar
2 eggs
1 tsp. vanilla extract
2 1/4 c. all purpose flour
1 tsp. baking soda
1 tsp. salt
12 oz. pkg. chocolate chips
flaked salt for garnish, optional
Instructions
Preheat oven to 375°. In a large bowl, beat the butter and sugars until smooth. Add in the eggs and vanilla and mix until well combined.
Add the flour, baking soda and salt. Mix until everything is well incorporated. Stir in the chocolate chips and refrigerate the dough until you are ready to use it. (Up to 24 hours.)
Using a cookie scoop, scoop the cookies out onto a greased or lined cookie sheet and bake at 375° for 8-10 minutes, or until the edges are golden brown.
OPTIONAL - When you remove the cookies from the oven, sprinkle them with a little flaked salt.
Store cooled cookies in an airtight container. If you are storing them for many days and they start to get a little dry, add a slice of bread to the container.
Recommended Products
As an Amazon Associate and member of other affiliate programs, I earn from qualifying purchases.
Nutrition Information:
Yield:

36
Serving Size:

36 large cookies
Amount Per Serving:
Calories:

154
Total Fat:

8g
Saturated Fat:

5g
Trans Fat:

0g
Unsaturated Fat:

3g
Cholesterol:

24mg
Sodium:

123mg
Carbohydrates:

20g
Fiber:

1g
Sugar:

13g
Protein:

2g
Provided nutrition data is only an estimate. If you are tracking these nutrients for medical purposes, please consult an outside, trusted source.