In this Blue Apron Review, we take a look at one of the popular Meal Kit Delivery services as a home cook. From their prices to their food and recipe quality, we give our honest review of this meal kit.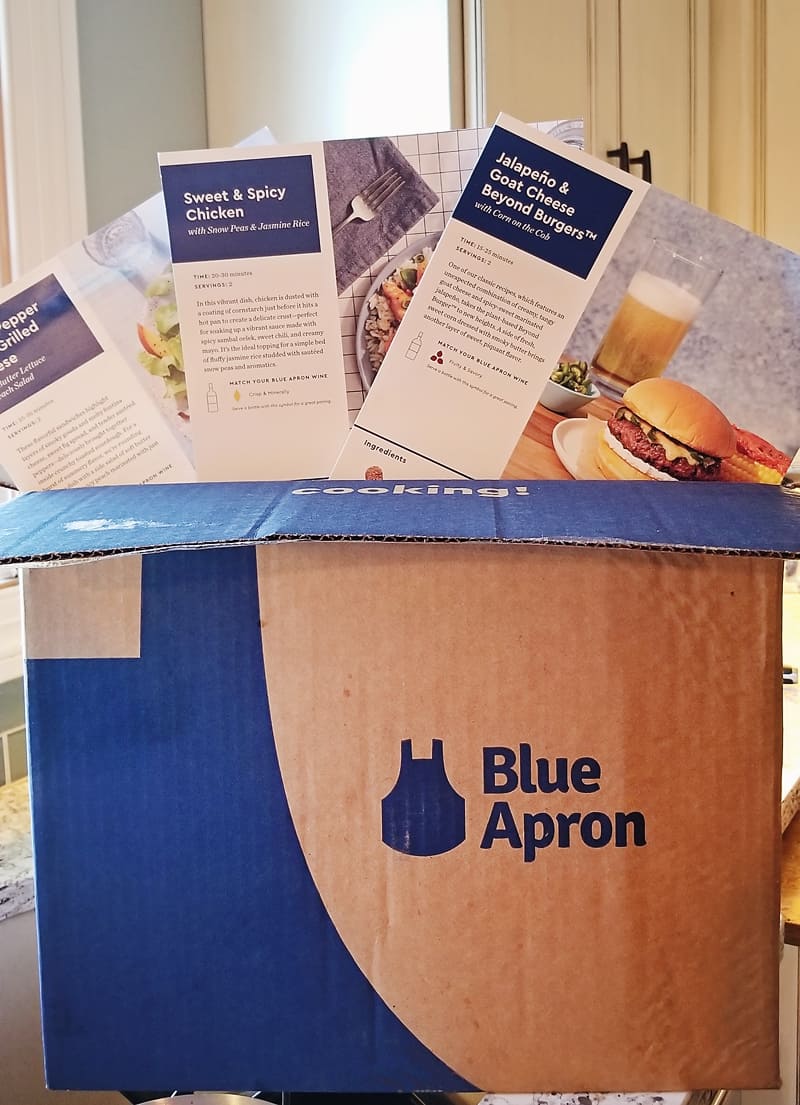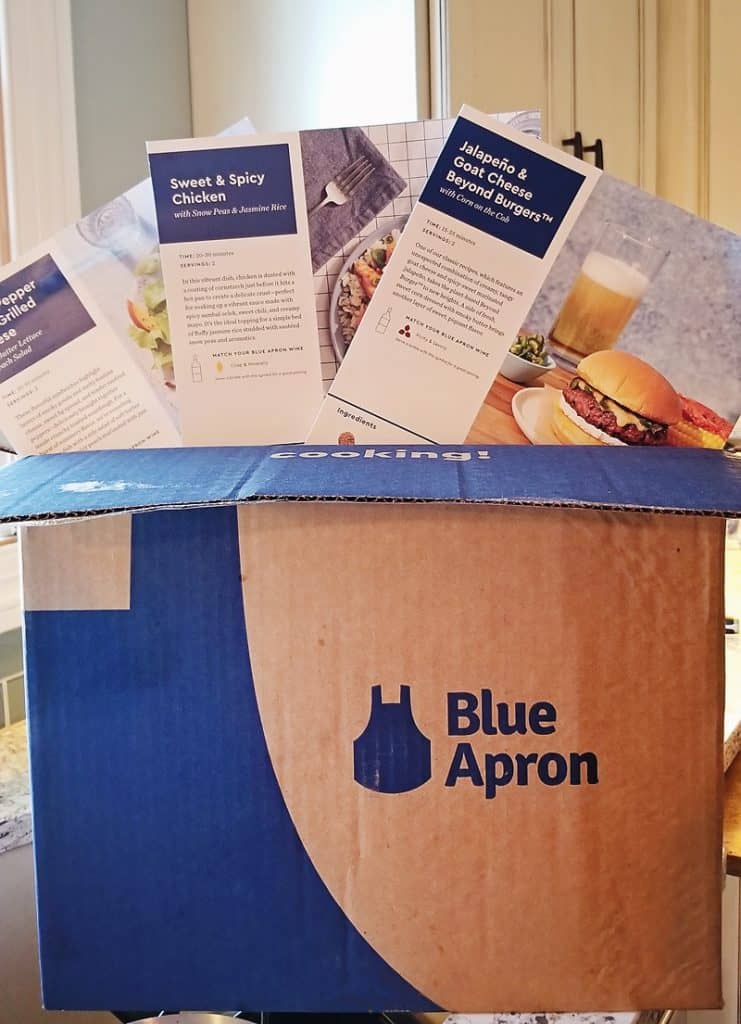 Blue Apron sent me a box to try, but I was not paid or influenced in my review. All opinions are my own. This post contains affiliate links and The Creative Bite earns a small commission if you purchase the items I share with you. Thank you for supporting my blog!
Blue Apron Review
This isn't my first time doing a Blue Apron Review. In my roundup of the Best Meal Kit Delivery Services, I tried my first box with them, fully paid out of my own pocket. Since then I had ordered one or two more boxes for myself when the meals look enticing. Recently, Blue Apron started offering the now popular Beyond Burgers in their meal kits and I was inclined to do another, more thorough review on them.
If you want to give Blue Apron a try for the first time, click HERE to get $60 off your first two boxes. (new customers only)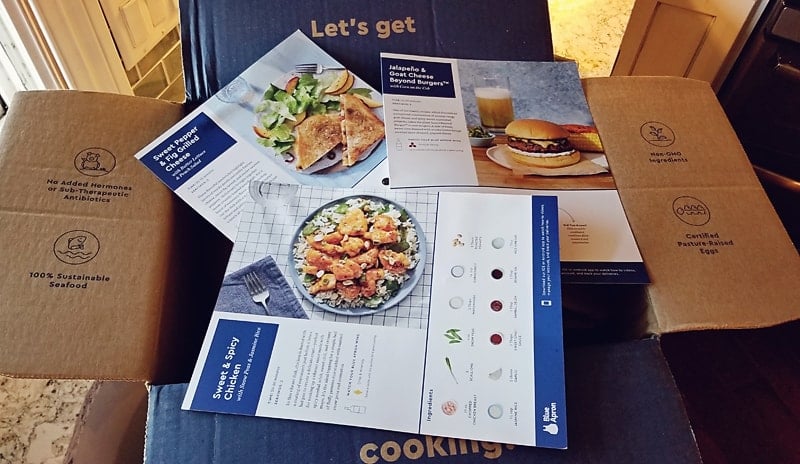 Meal Kit Delivery
Blue Apron tends to offer healthier meal options, compared to other companies like EveryPlate, who are focusing more affordable family friendly meals. When it comes to their direct competition in the healthy meal delivery kits, they come in a few dollars lower per meal than companies like SunBasket.
At the end of the day, the most important factor for me is fresh quality ingredients and amazing flavors. Secondary to that, is ease of recipes that can be made under 30 minutes. I have two one year olds after all, and rarely can I be slaving over the stove for an hour without a toddler meltdown…
The quality of ingredients in Blue Apron were comparable to all of the others. Sometimes when you let a recipe sit in your refrigerator for 5 days after receiving it, a few of the vegetables might get a little wilty. I have found this to be true with all kits though. I highly suggest that you plan on making meal kits in the first few days they arrive.
From the few boxes I have tried from Blue Apron, I have always been impressed with the end flavors in the recipes. They manage to really add good flavor with minimal ingredients. They also tend to offer most meals that can be made under 30 minutes. Let's take a look at the three recipes I received in my latest box!
Meal Prep Boxes
More recently I discovered that Blue Apron also offers meal prep boxes that I have been insanely impressed with. You receive a box with four meals for two people. They come in Signature, Multi-Cooker, Pescatarian or Carb Concious options to appeal to a variety of diets.
You do all the cooking ahead of time, which takes about an hour, and you have four great meals prepped for the week. You just have to add the included sauce and toppings like nuts when you serve them. They have all been meals myself and my young children have enjoyed, with the exception of a spicy sauce that I might leave off their portion.
The meal prep boxes usually include two different proteins as well as two different starches. They mix and match these options wiht different sauces to offer a good variety without tons of work meal prepping. This is the main way I order from Blue Apron now that they offer this option!

Blue Apron Beyond Burger
This Jalapeno & Goat Cheese Beyond Burger was the recipe I was most excited about. You add goat cheese to any recipe and you have sparked my interest! The combo of spicy jalapenos and goat cheese on a burger sounded delicious.
I hadn't ever tried the Beyond Burger before, but I had certainly heard lots about them. People have been raving how good they are for a vegan burger substitute. After frying up both of the burgers, I wasn't disappointed. They truly have such a good flavor, that after adding toppings, most people would never know they weren't eating meat!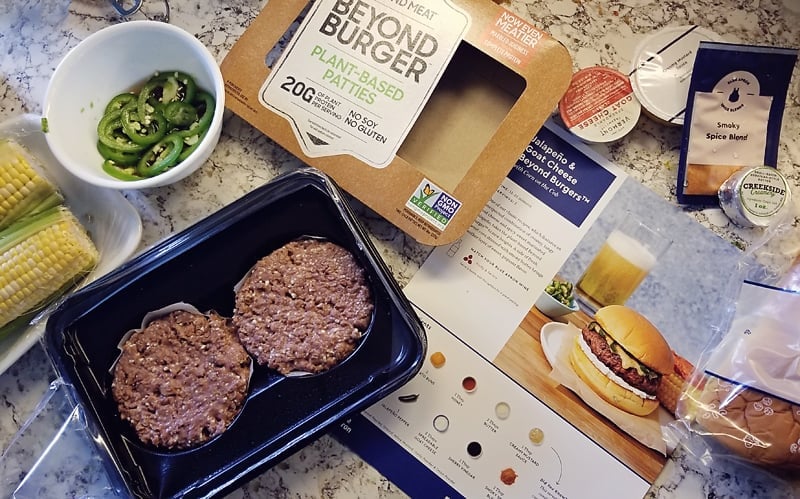 Blue Apron Recipe Review
While the burger patty was really good, the flavors of this recipe were just a bit off. The combo of the honey mustard and goat cheese on the burger just didn't work for me. The jalapenos were quick pickled, but they were still too raw for my liking. All in all, I enjoyed the burger, but there are definitely improvements that could have been made to the burger.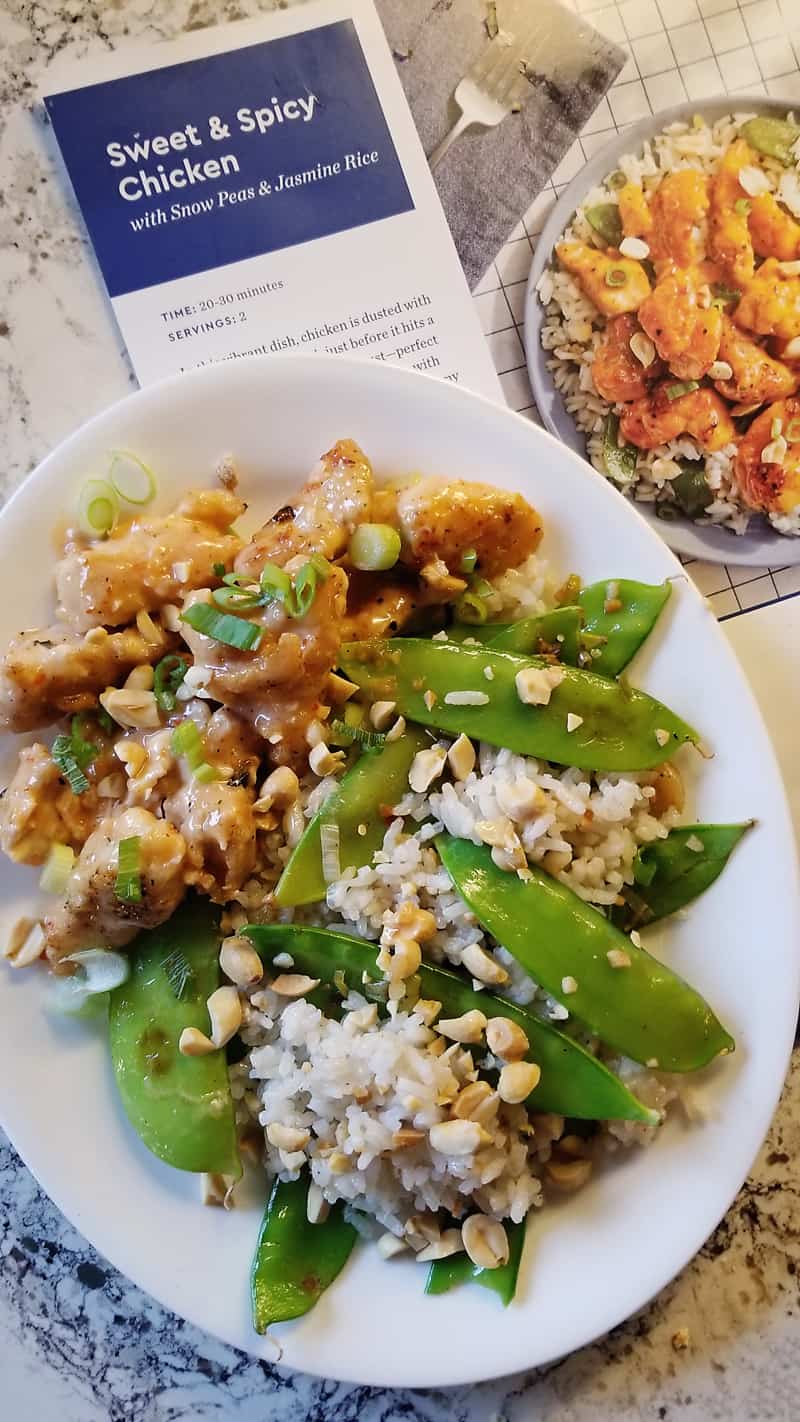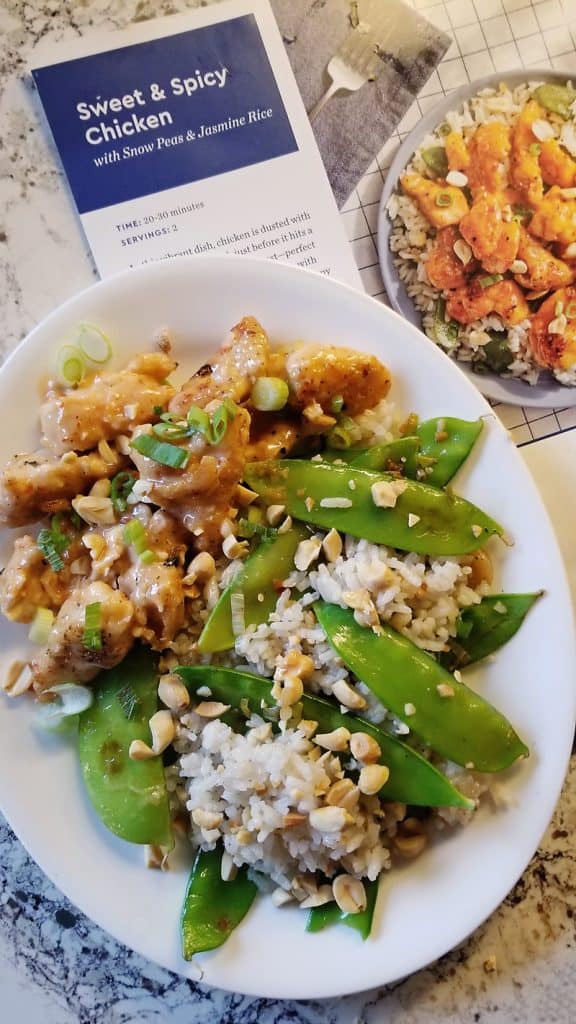 Blue Apron Sweet & Spicy Chicken
This Sweet & Spicy Chicken with rice and snow peas was a pretty straight forward recipe. It had great flavors with tender chicken. I really enjoyed the chopped peanuts on top for a nice crunch. Myself and my toddlers both really enjoyed this meal. There isn't anything I would have done differently.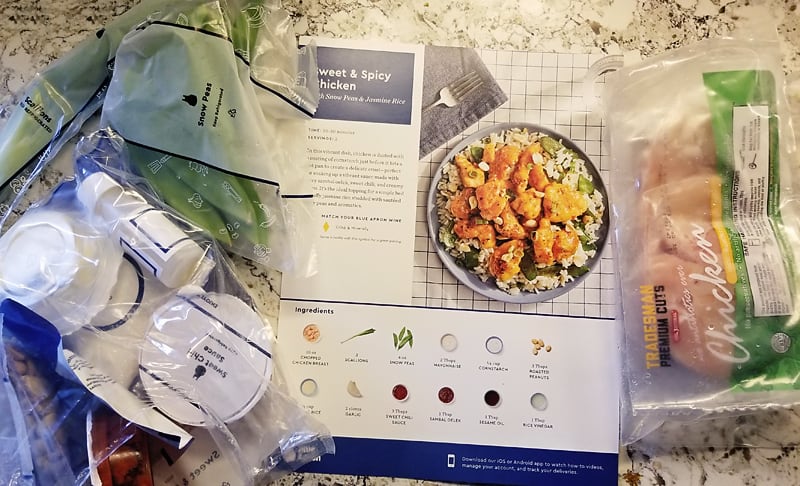 I saved this recipe card to make again later! That is one of my favorite parts of meal kit deliveries. They are great for inspiring your family to try new recipes and when you really enjoy them, you can make it again and again without paying the higher price of the meal kits!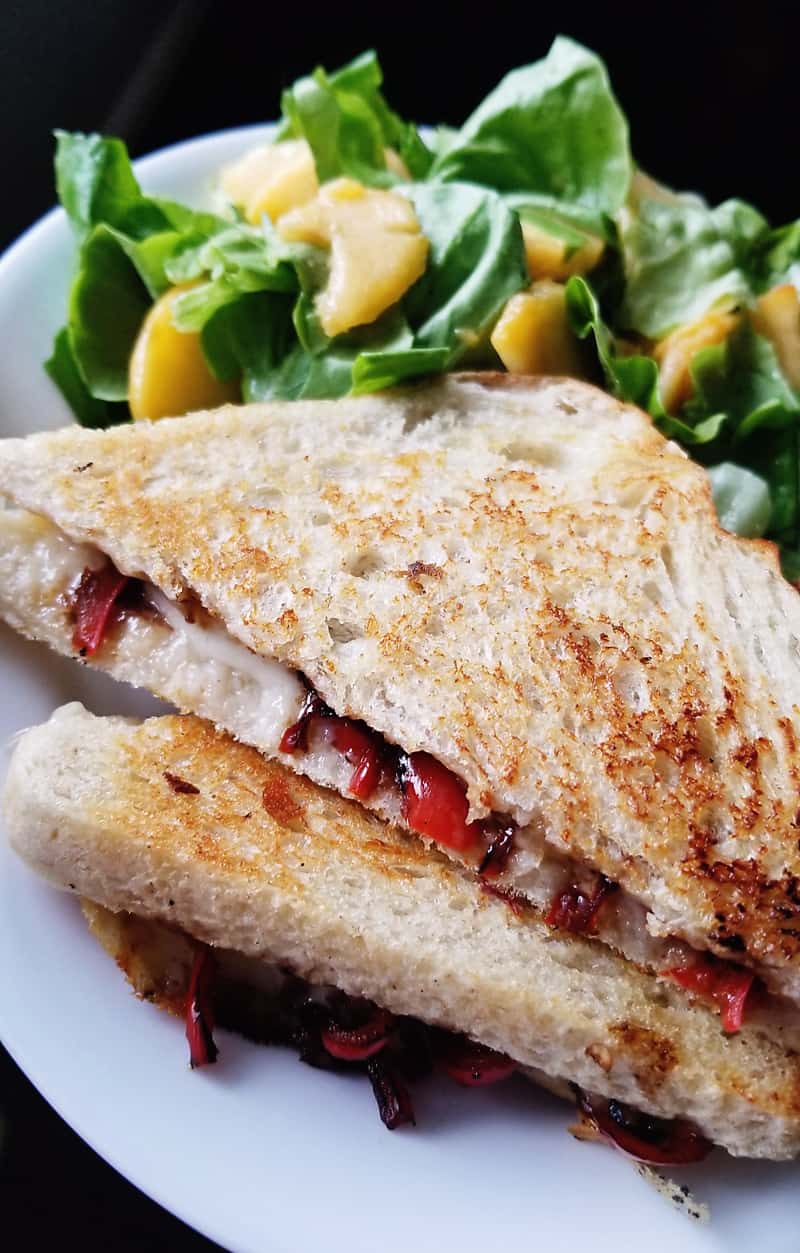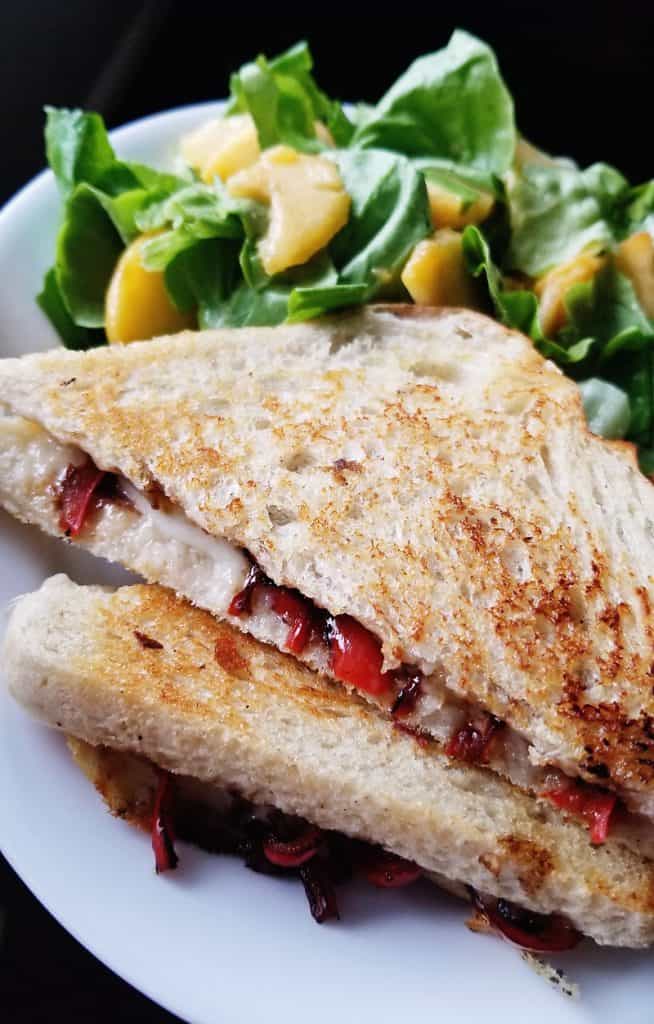 Blue Apron Sweet Pepper & Fig Grilled Cheese
I have been burned on vegetarian sandwiches from other meal delivery kits in the past, so while this one looked delicious, I was a bit hesitant. I set to work making the fresh salad with peaches and quickly realized the peach they included was woody and inedible. I tried pawn it off on my kids, but they weren't having it. Luckily it was peach season and I had good peaches in the fridge. I swapped one of my juicy ones out for the bad one I got.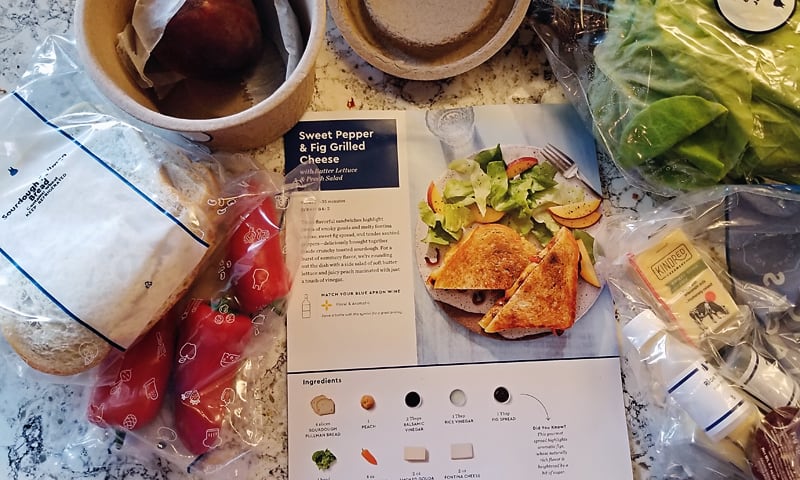 When I was assembling the sandwich, I quickly realized that they included a LOT of cheese for only two paninis. Don't get me wrong, I will never complain about too much cheese, I was just surprised. After I started grilling the sandwiches, the cheese was oozing out the sides a little bit and I was in food drool mode!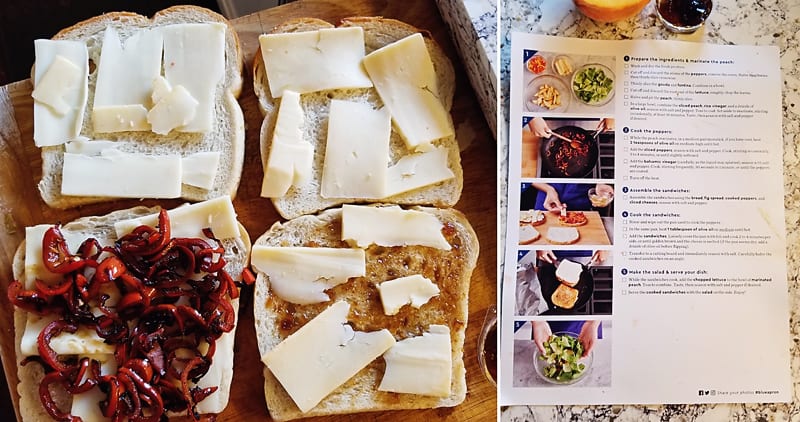 I made one of the sandwiches without the peppers, because I wasn't sure if my kids would eat them. I also left the fig jam off theirs, because they don't need the extra sugar. I however, clearly do! 😉 I offered the peppers on the side for the kids along with slices of the grilled cheese and some peaches. They gobbled up everything but the peppers.
I however, ate up every last bite of the entire meal. It was SO GOOD! The sweet peach salad paired perfectly with the gooey grilled cheese with balsamic peppers and fig jam. I will definitely be recreating this recipe as well in the future!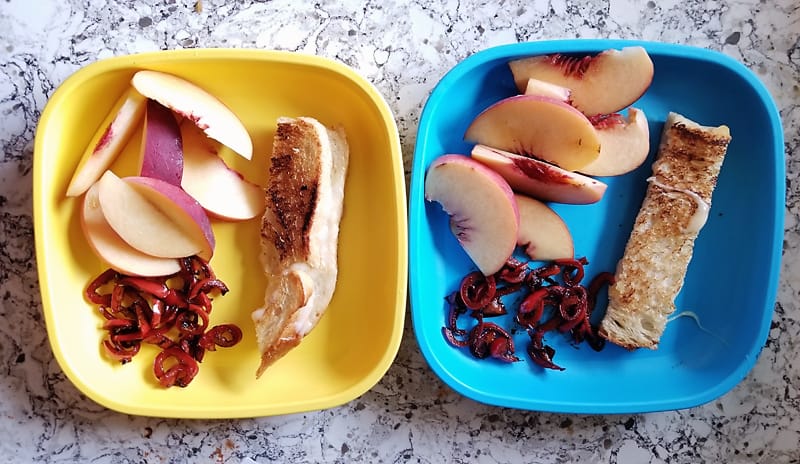 Blue Apron Review
Compared to the other meal kits, Blue Apron stands somewhere in the middle for me. It has been mostly great food in the boxes I have ordered and is priced better than some of the others.
I will continue to enjoy Blue Apron meal kit deliveries in the future when their recipe selection looks enticing. I will say there are some weeks when there just aren't three recipes I am excited about. When that happens, I simply choose one of the other awesome meal kit deliveries.
If you want to give Blue Apron a try for the first time, click HERE to get $60 off your first two boxes. (new customers only)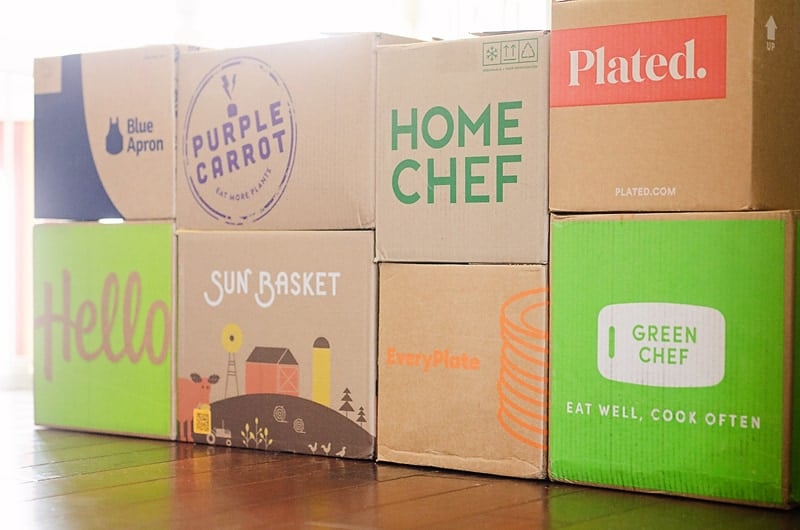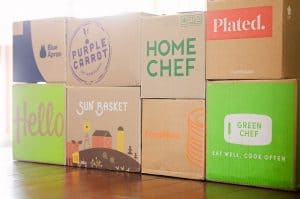 For a comprehensive list of all the options currently on the market and my personal reviews, check out Best Meal Delivery Service!