A review of Hello Fresh healthy meal delivery kit service. We evaluate the cost, food quality and variety of recipes and compare them to the competition!
This post contains affiliate links that support us by paying us a small commission if you decided to order through the company, but cost you nothing.
Meal Kit Delivery
I regularly order meal kits from a variety of companies and recently did this meal delivery kit review. It breaks down all of the most popular services currently available and Hello Fresh ended up being my overall favorite!
As someone who enjoys cooking, I don't always love planning my meals out. It wasn't as big of a deal when I was cooking for myself, but now that I have children, a real meal is a must most nights.
Now more than ever, it is so convenient having a box full of groceries and pre-portioned ingredients delivered to your front door for easy dinner recipes to make for the whole family!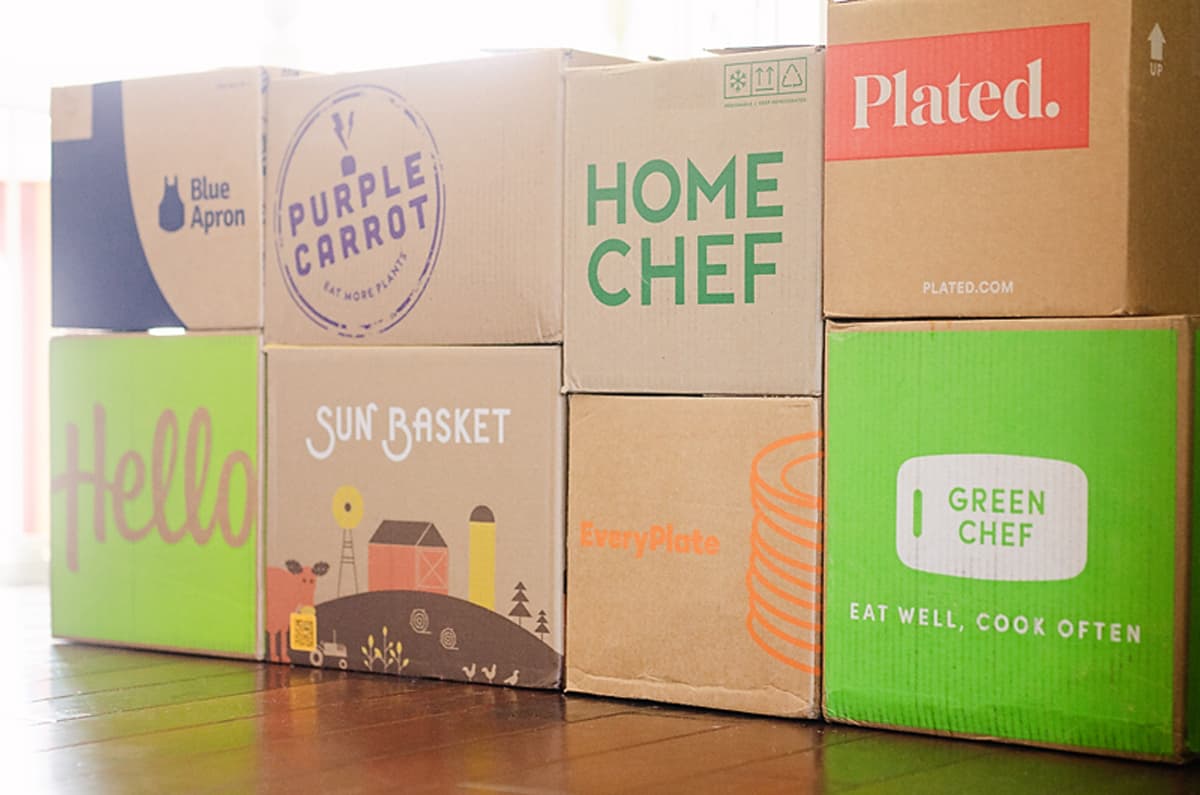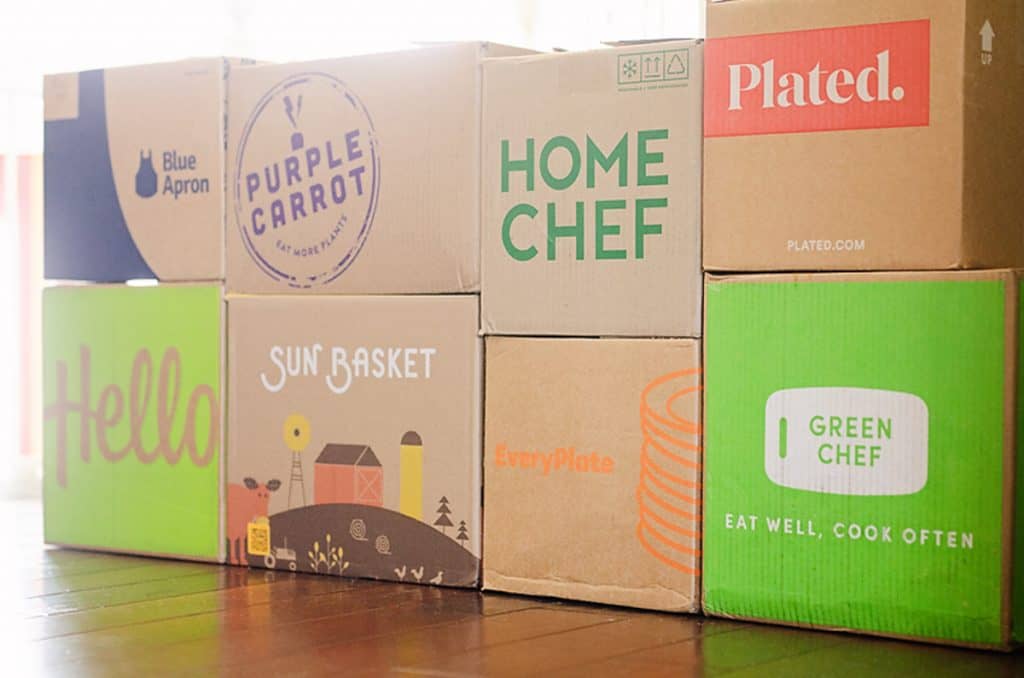 How does Hello Fresh work?
When you sign up for Hello Fresh you will pick the size of the box you want to receive each week. Meals will be delivered each week unless you go into their mobile app or website and choose to skip a week.
Meals will be automatically chosen for you based on your input preferences and ordering history, but you can change the meals at any time.
I like to skip weeks out as far as possible so I don't forget. Then if I am wanting to order a box for the week, I go into the app and unskip and choose my meals.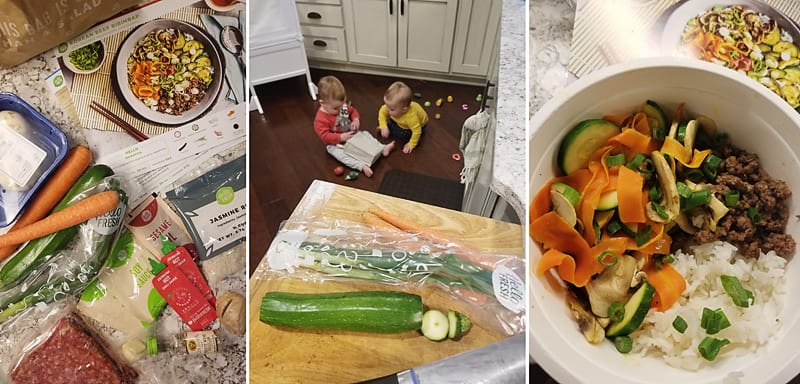 The box arrives on a set day of the week, depending on your area. The meats are packed in the bottom of the box and topped with a couple really big ice packs. They are topped with all the fresh produce and dry ingredients.
As well as the food, you will receive printed recipe cards for each meal that week. Their app also has step by step cooking instructions which is great.
You can save your favorite recipes in the app and come back to them later for a quick shopping list and recipe to make on your own.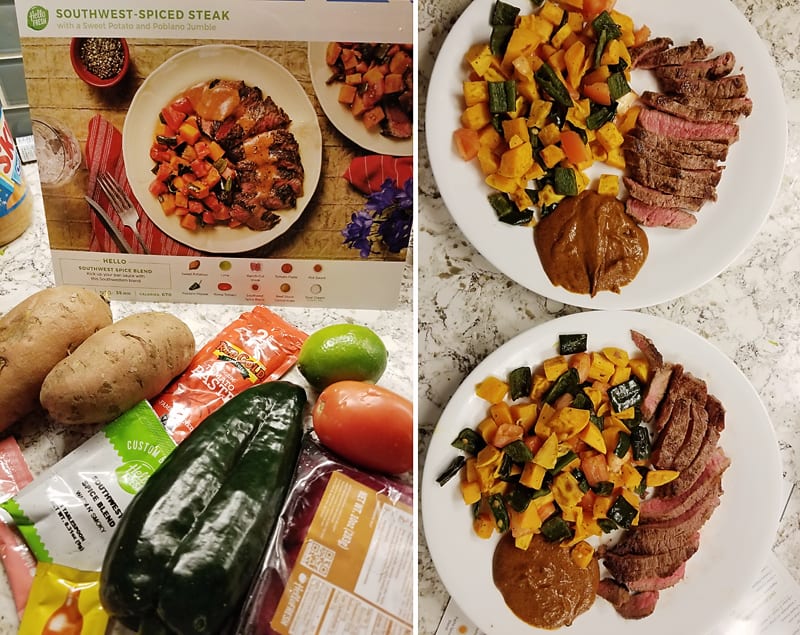 Unique Family Friendly Meals
It is also a great way to find new inspiration when cooking. We all get in a rut at times and it is nice to try some new flavors without having to seek out a recipe and gather all the unique ingredients. Some recipes have been so good like these Cuban Chicken Rice Bowls, I continue to use the recipe many times on my own!
While some of the meals may be a stretch for some kids to eat, I have found that all of the meals are family friendly. Sometimes there is a spicy sauce that is added at the end and I just keep that off for my toddlers and keep more for myself. 😉
Not only are they accessible meals, they are well rounded and healthy dinners. They are balanced with a protein, carb and usually lots of vegetables.
I regularly share my meal kit dinners over on my Instagram stories, so be sure to follow along!
Meals & Portion Size
Hello Fresh meals have a variety of sizes available when ordering. You can choose between recipes that serve 2 or 4 adults and whether you want 2, 3 or 4 meals in your box.
I always get the box for two adults, which is just the right amount for myself and my two toddlers.
One thing that continually surprises me is how filling the servings are with generous portions. I will say that they do tend to be heavy on carbs, with rice being one of the prominent components of most dishes.
This is less true than with other more affordable brands like EveryPlate. Hello Fresh also includes lots of healthier options which I love. So there are some great salads, lean proteins and just overall great meals.
Recipes & Variety
I can't count how many boxes I have ordered from Hello Fresh. At least 20 I would say. Of all the meals I have tried, I have loved almost all of them. A few were just okay and only one was kind of bad.
My absolute favorite, that I order every time it is available is the Chimichurri Roasted Vegetable Bowl with Grilled Cheese. Who would have thought my favorite meal would end up being a vegetarian recipe?!
They actually cycle through a pretty large variety of recipes, so I only see the same recipes become available every 4-6 weeks. This is a good thing for the most part, so you aren't getting bored of the same meals. I do wish they had the grilling cheese on every.single.week though! HAHA!
I can't get grilling cheese at my tiny small town grocery store, which is one of the reason I love these meal kits. They allow me to make things I sometimes wouldn't have access to otherwise.
My least favorite meal was the Chicken Enchiladas Verde for the record! They sound so good so for some reason I accidentally ordered them in a box after having disliked them the first time and subsequently disliked them the second time. I don't recommend them as they are bland and just a big disappointment for enchiladas.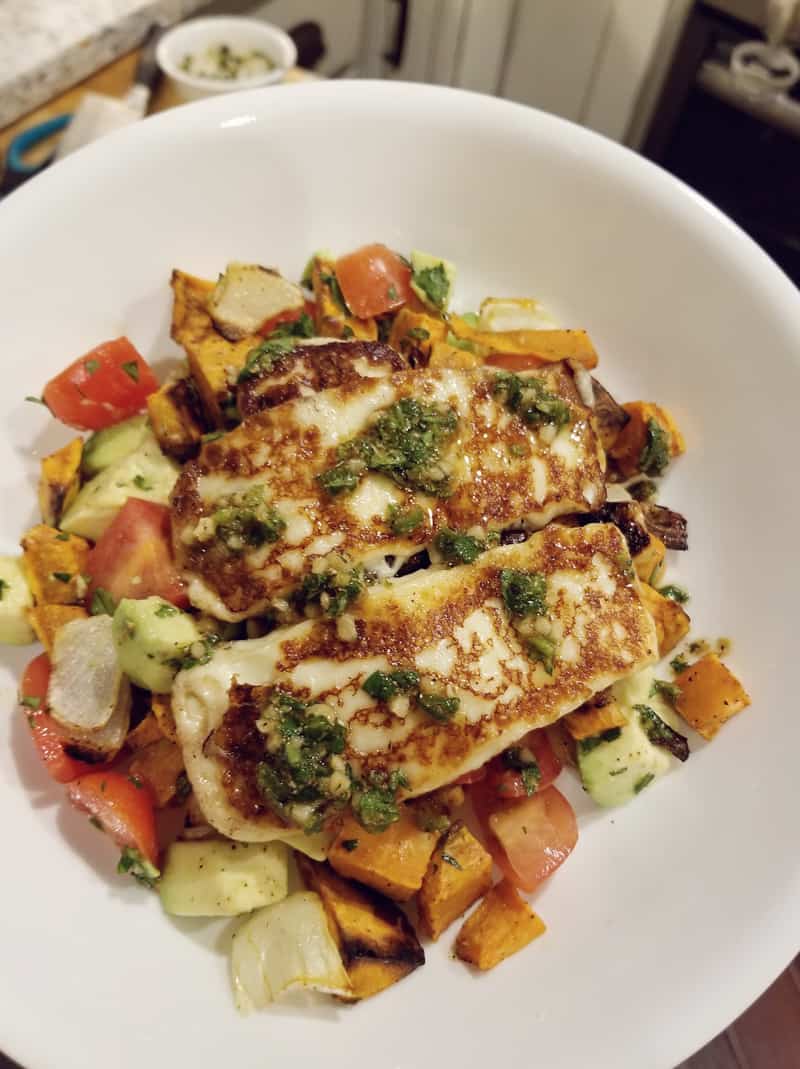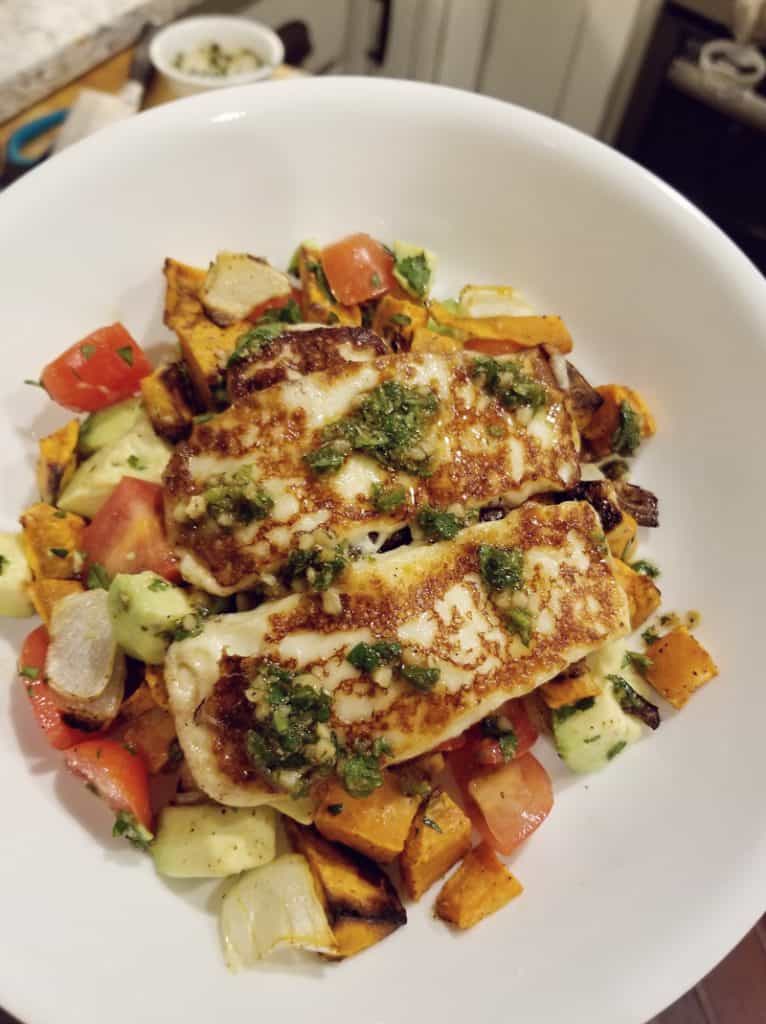 Hello Fresh Pricing
Each box comes with 3 meals that serve 2 people. You are also able to order 2 meals that serve 4 people.
The cost of the meals is $8.99 per serving (unless you order the smallest plan with 2 meals for 2 people, which is $10.99 per serving. You pay a flat $6.99 shipping cost with each box you order, regardless of size.
The box that I order with 3 meals for 2 people costs $60.93 per week.
They currently have a promotion going on for 30% off right now. If you click through HERE the discount should automatically be applied!
I'm not going to pretend that you couldn't feed your family for a fraction of the cost. You most likely wouldn't be making meals with such fresh vegetables and ingredients though.
Sure you can make mom's Hamburger Hotdish for dinner any night of the week for half the cost, but that isn't really a fair comparison to these meals.
Affordable alternative
If you are looking for the most affordable meal kit delivery, then definitely check out EveryPlate. Compared to Hello Fresh, which runs you about $60, Every Plate only cost $38.93 for a shipped box with 3 meals serving 2 people each.
They use fewer fresh ingredients and more affordable components like rice and pasta. They aren't as healthy, but they are still a really good option I like to order on occasion as well.
Freshness and quality control
I would say about 95% of my ingredients are fresh and in good shape upon arrival. Every once in awhile you will receive a wilted cucumber (likely from being packed too close to the ice packs) or be missing an odd ingredient.
Those are rare instances though and Hello Fresh will review your inquiry and is always quick to make it right with a partial refund.
Overall review
Overall, I highly recommend Hello Fresh if you have the disposable income to spend on pre-planned meals delivered to your front door. They make some of the best recipes in the industry.
If it is just outside your budget, but you still want to enjoy the convience of pre-planned dinners, then give EveryPlate a try.