Get my unbiased take on the freshness, quality and flavor of the prepared meal delivery service in this Factor 75 Meals Review. They offer healthy entrees, meal prepped and shipped to your door, catering to diets like Keto, Paleo and low carb.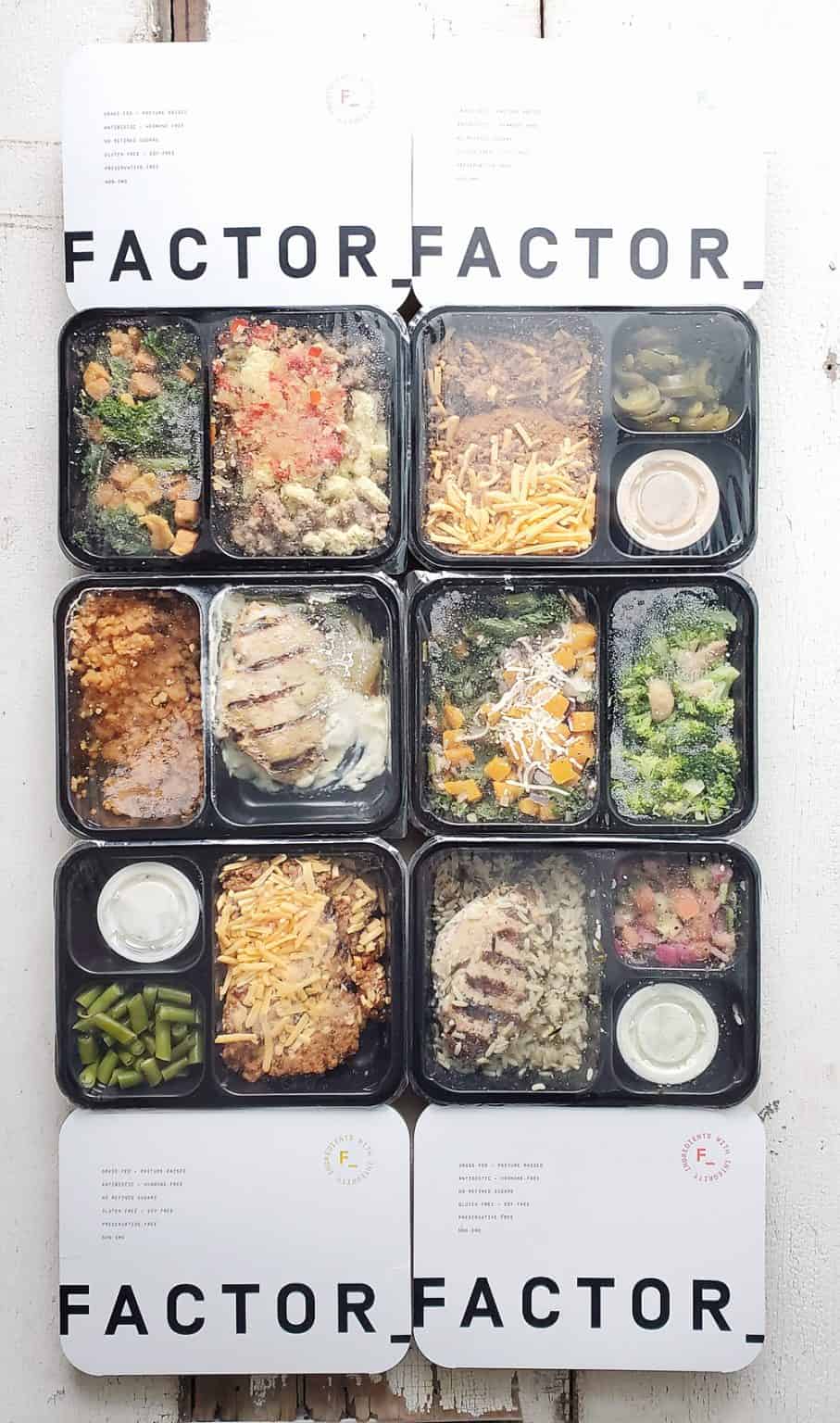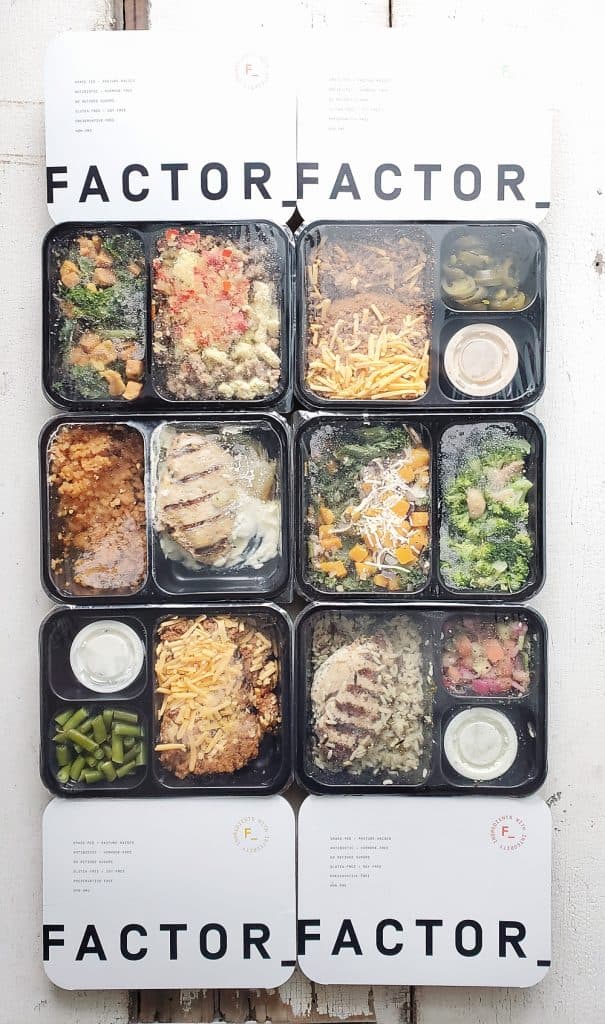 Factor Meals sent me a box to try, but I was not paid or influenced in my review. All opinions are my own. This post contains affiliate links and The Creative Bite earns a small commission if you purchase the items I share with you. Thank you for supporting my blog!
Prepared Meal Delivery Service
I have been enjoying lots of my meals from a variety of meal kit delivery services this year, but it is getting harder and harder to find time to cook those with my needy toddlers.
As much as I love meal prep recipes, sometimes life just doesn't permit. I decided to try out some prepared meal options instead for quick meals I can enjoy in just minutes. Be sure to check out a full breakdown of all my favorite prepared meal services!
Factor Meals , who now goes by just Factor, has been one of the best prepared meal delivery services so far. I promise you they aren't paying me to say this. They did reach out to me and offered to send me this box of 6 meals to try, but I am honestly just gushing about them because they are truly that great. I already placed another order, entirely on my own dime.
Honestly, I have just never been so impressed by the flavors and freshness from healthy prepared meals like this before. I couldn't wait to share this Factor 75 review with you all!
Personally, I don't follow any of the diets like Keto or Paleo, but I do like to eat low-carb when I can. This service does a great job to catering to all of these diets with their low carb, higher fat meals.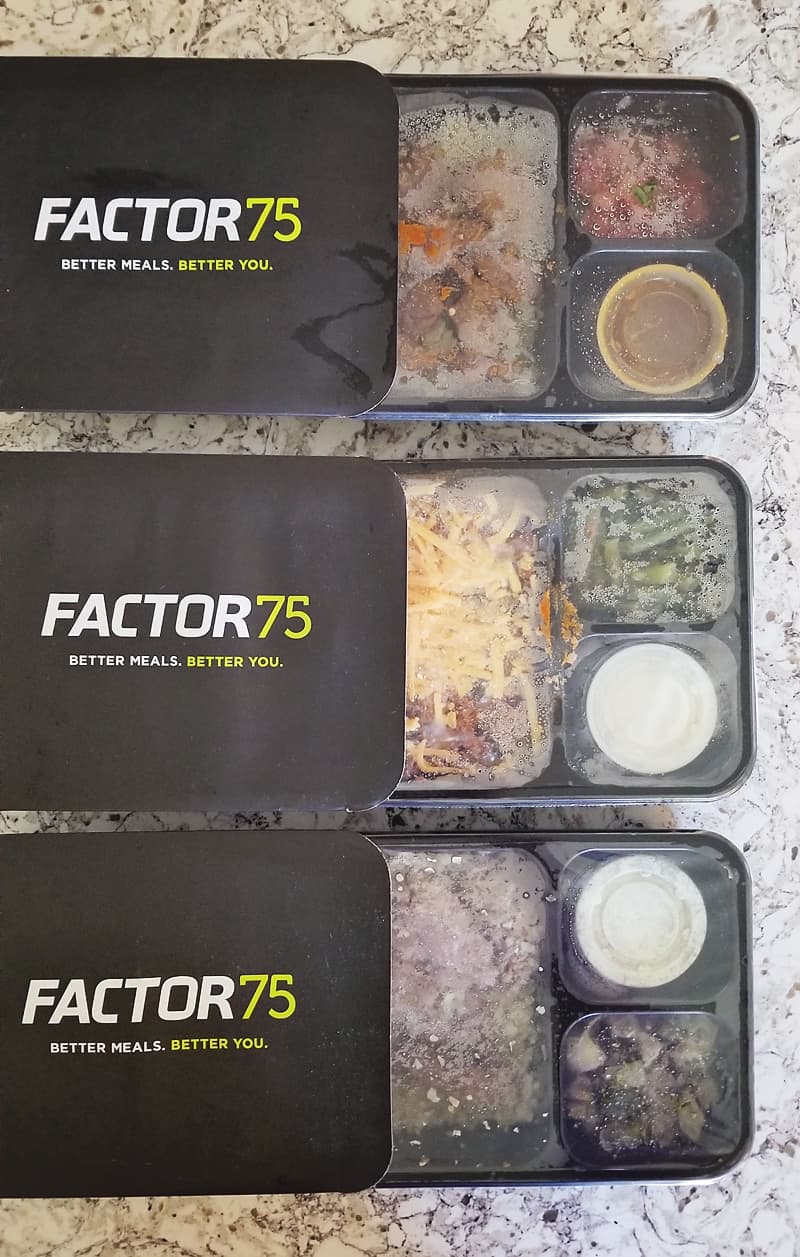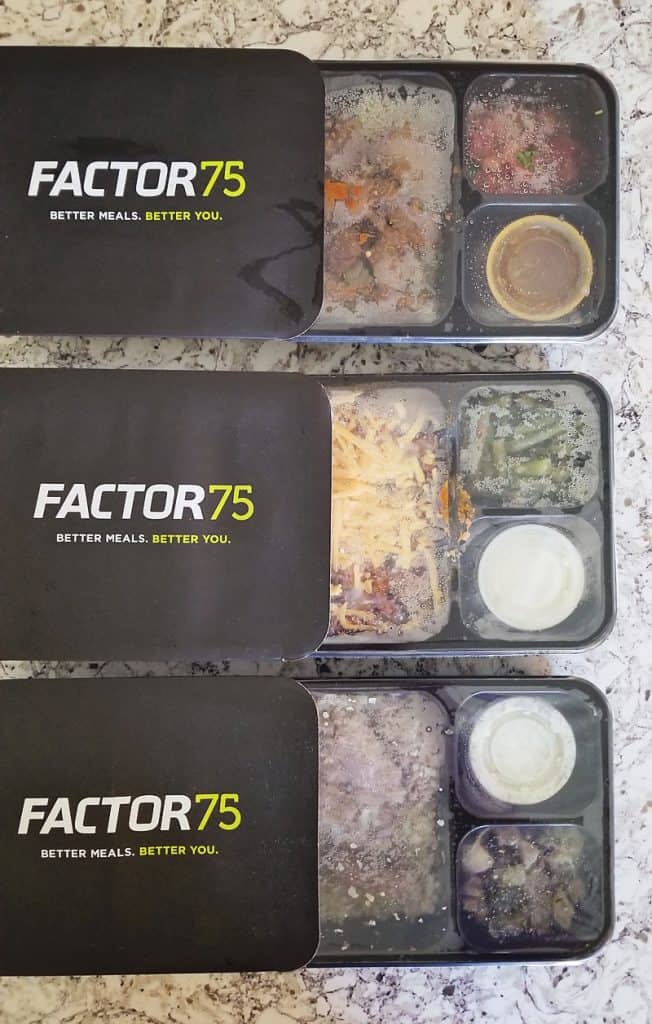 Cost of Factor 75
It is certainly more expensive than cooking for yourself, but time is money, as they say! Eliminating the daily chore of cooking dinner is well worth it while I am busy wrangling two crazy toddlers and trying to run a business.
Factor 75 meals range in price from $11-$15 depending on how many meals you order. An order of 6 meals like the one I received, would have cost $12.83 per meal shipped.
If you are wanting to try it out, use the discount code FACTOR120OFF with Factor 75 for $120 off your first five boxes, which brings the meal prices down to about $8.83 per entrée. It really is worth giving it a try.
I talk about some more ways to save below, which can get your meals down to as low as $8.25/meal if you are wanting to commit to multiple deliveries from the service.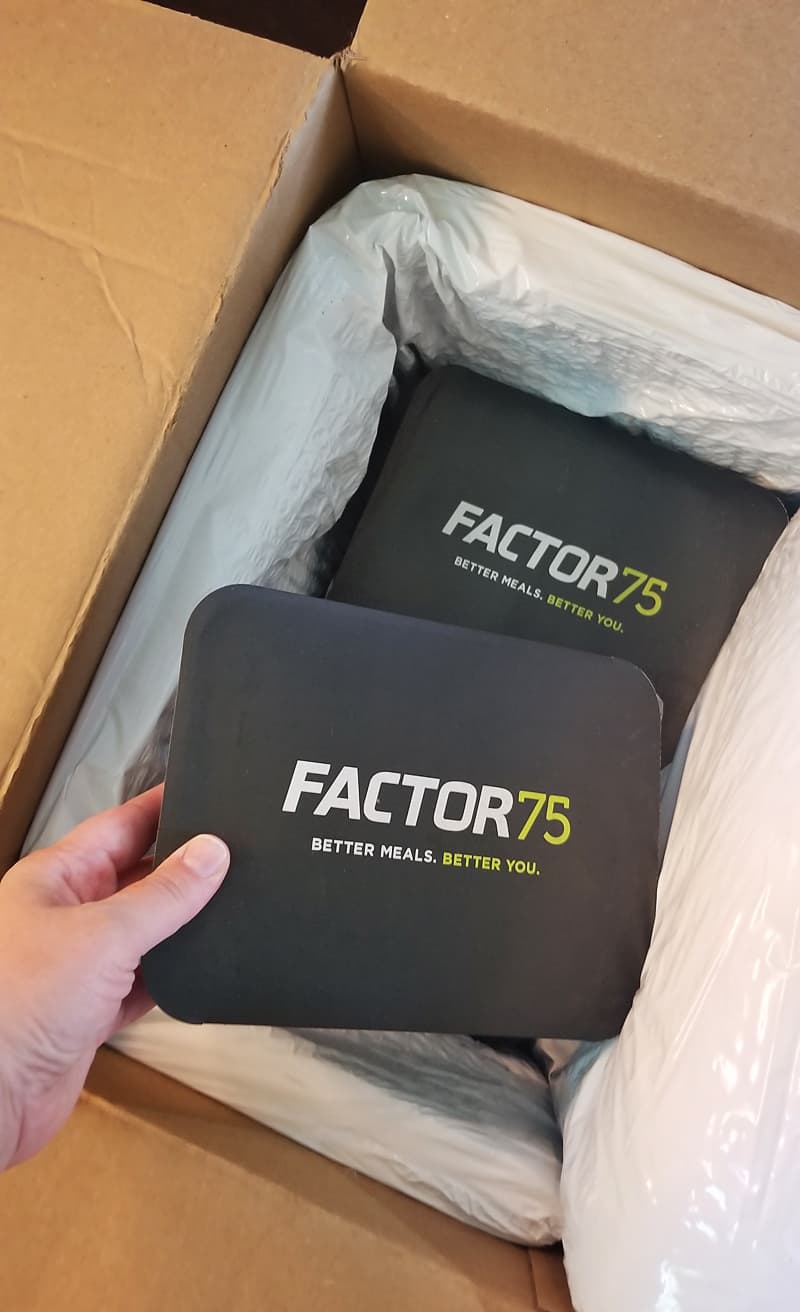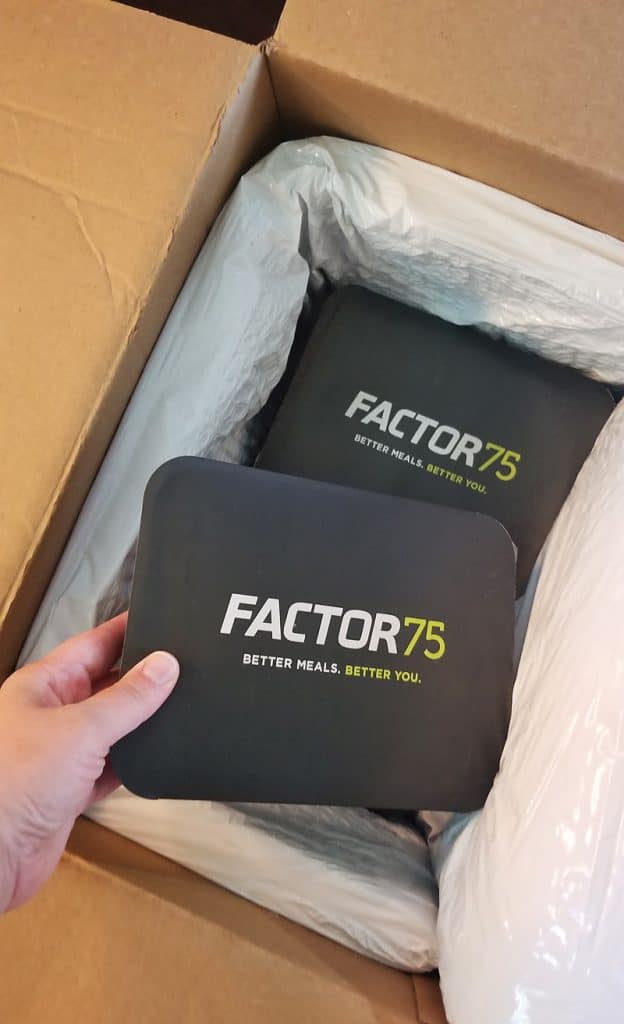 Meals Shipped to Home
These meals shipped to home come in an insulated box with ice packs. All of my meals arrived cold. They don't ever freeze their meals, so they are fresher than some of the other prepared meal delivery options.
One concern I often hear people bringing up when it comes to meal kits or meal deliveries, is the waste. I checked out their website to find more information and it looks like most of their packaging is recyclable. Check out this article on how to recycle all the components. Science Daily also wrote a great piece on how meal deliveries aren't as bad as one might think because they are substantially cutting down on food waste.
Factor 75 Review
The Factor 75 meals have been some of my favorite so far. I had been ordering lots of meals from Freshly, but I ended up feeding my kids many of those meals. There are still some I love from them, but the flavors in Factor 75 were way better in most of the meals I tried.
They are full of great flavor and I am excited to reach for them. They keep a lot of their meals in that 600-700 calorie range which is perfect for a dinner for myself.
I realized as I was writing this review, that I didn't choose any chicken meals, which is so unlike me! I live for chicken recipes , but I was drawn to the beef, pork and lamb entrees from this meal delivery service. They do have a few chicken options as well as an occasional seafood, but they just didn't look as good as the ones I did choose.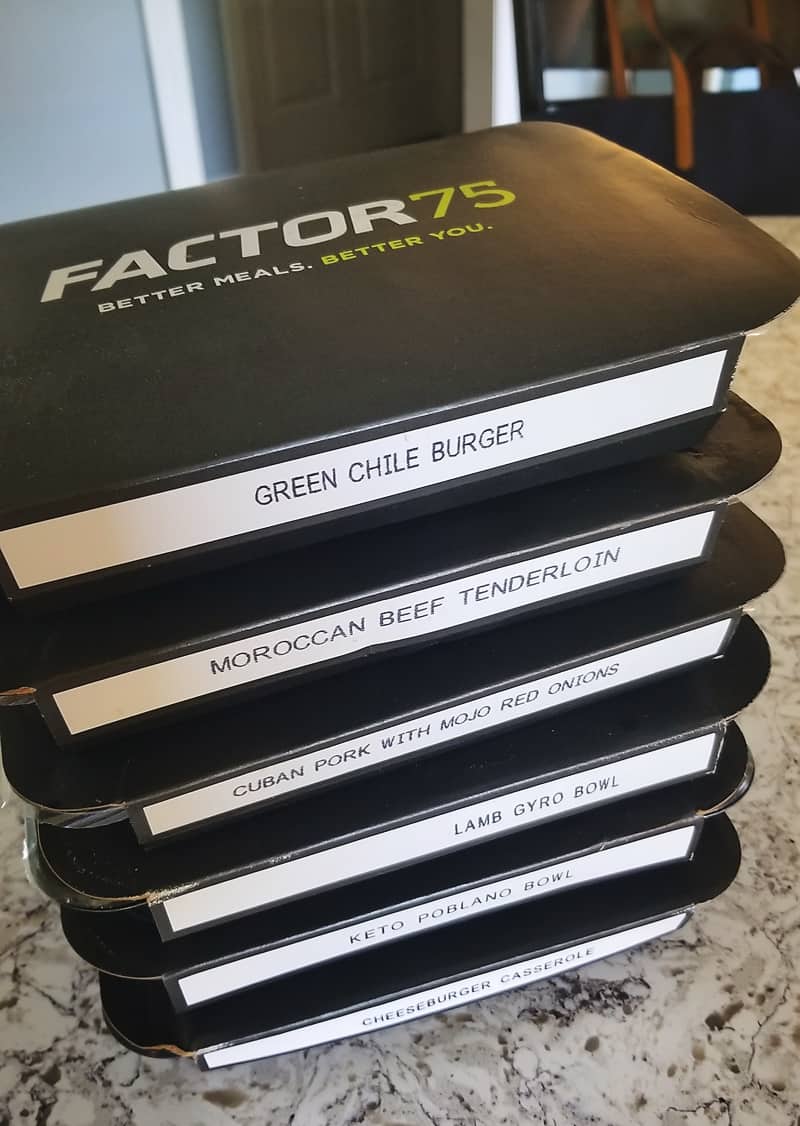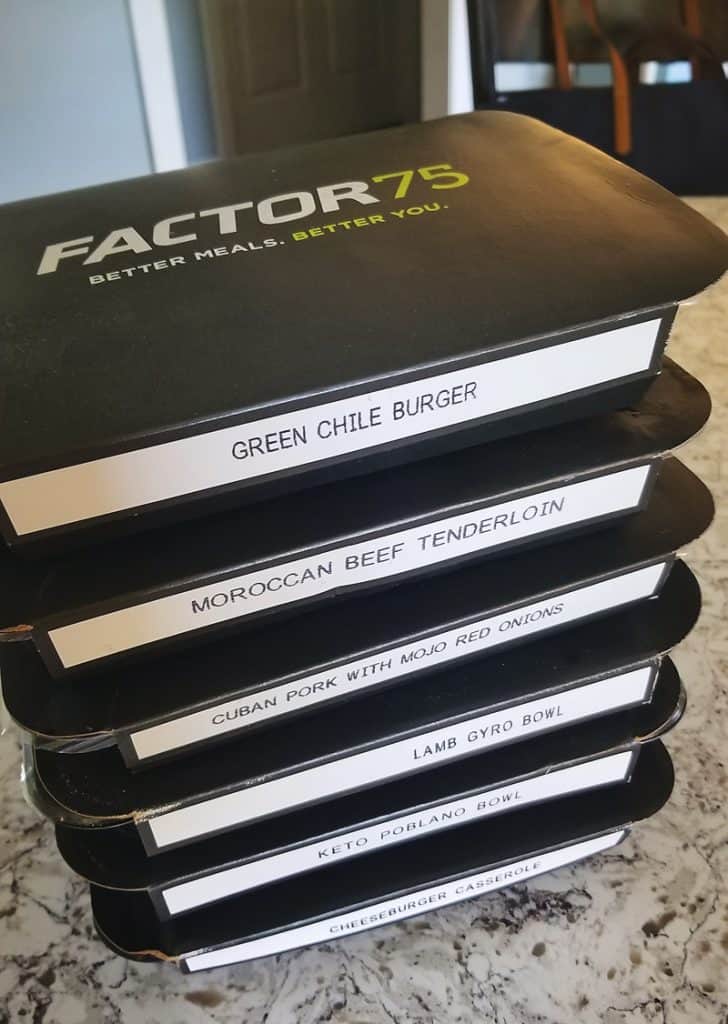 Healthy Meal Delivery Service
Factor 75 meals offer a good variety of Keto and a few Paleo options for people following those diets. It's also great for individuals like myself who want a quick and healthy meal that isn't too high in calories.
The one drawback to this service was that they do tend to have higher sodium content than some of the other meal deliveries available. Sure, this adds great flavor, but it would be ideal if the sodium was a bit lower. From my quick comparisons, it seems that their sodium content is comparable to popular frozen meal brands.
I added the sodium content to the meals that were still available on their website when I was writing this post, but sadly they don't include the sodium content on their nutritional labels. For this reason, I wasn't able to find the sodium for every meal.
Now, let's get to my Factor 75 review! Check out a few of the highlights from this shipments of prepared meals and my summary below.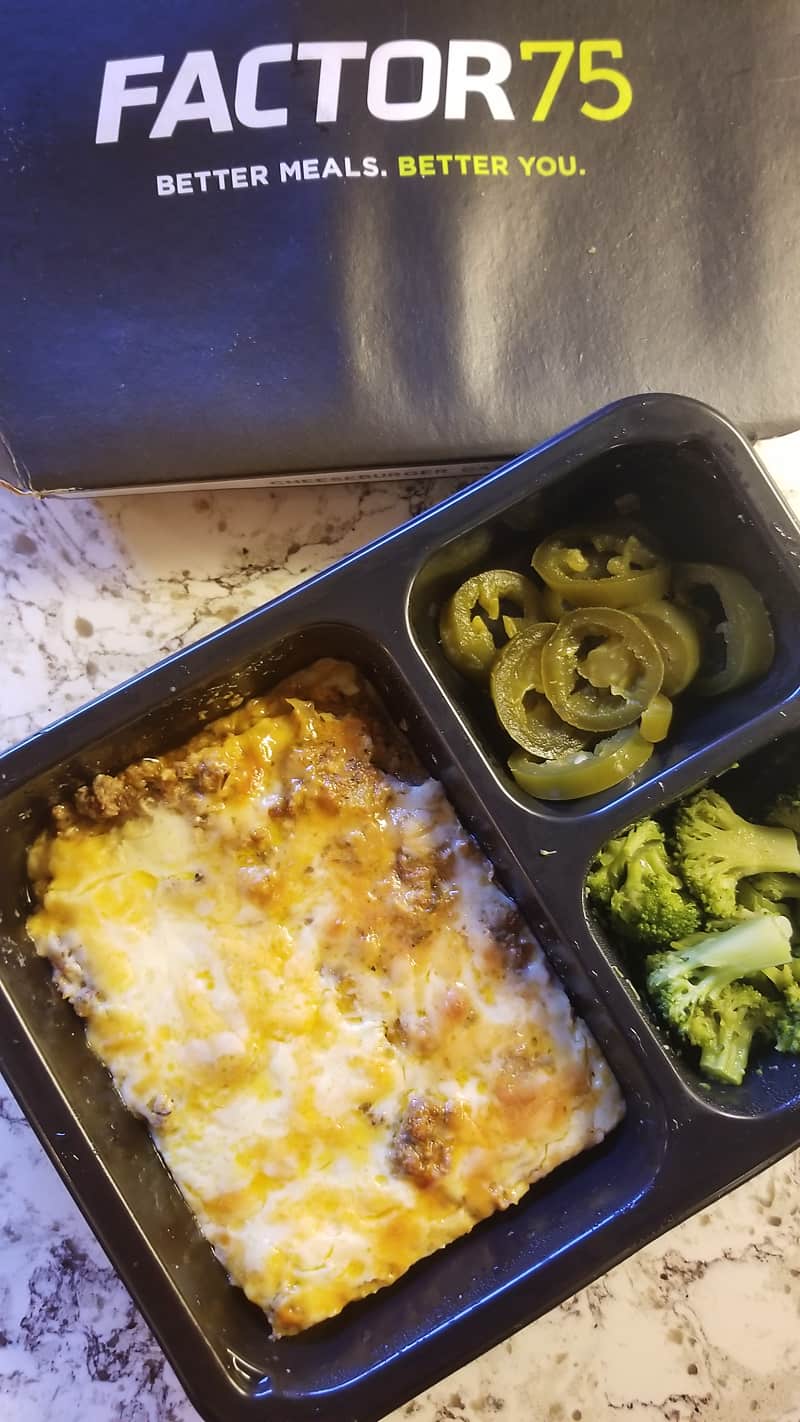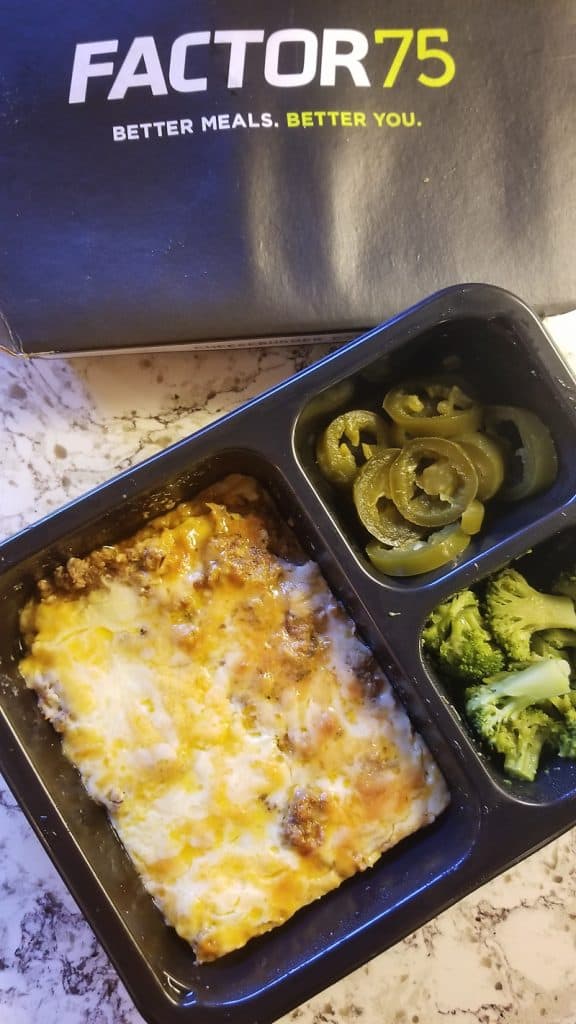 Cheeseburger Casserole
660 calories / 46g fat / 15g carb / 45g protein / 610mg sodium
Man oh man, was this delicious! Not like, oh I"m eating healthy and this is the best it can taste, kind of delicious. This was straight up tasty, no matter if you are eating healthy or not.
I skipped the broccoli because that isn't something I will eat unless it is incorporated into a meal. The jalapenos added a great touch of spice and flavor to the already great meal.
This meal was Keto, which means it was low in carbs and subsequently higher in fat.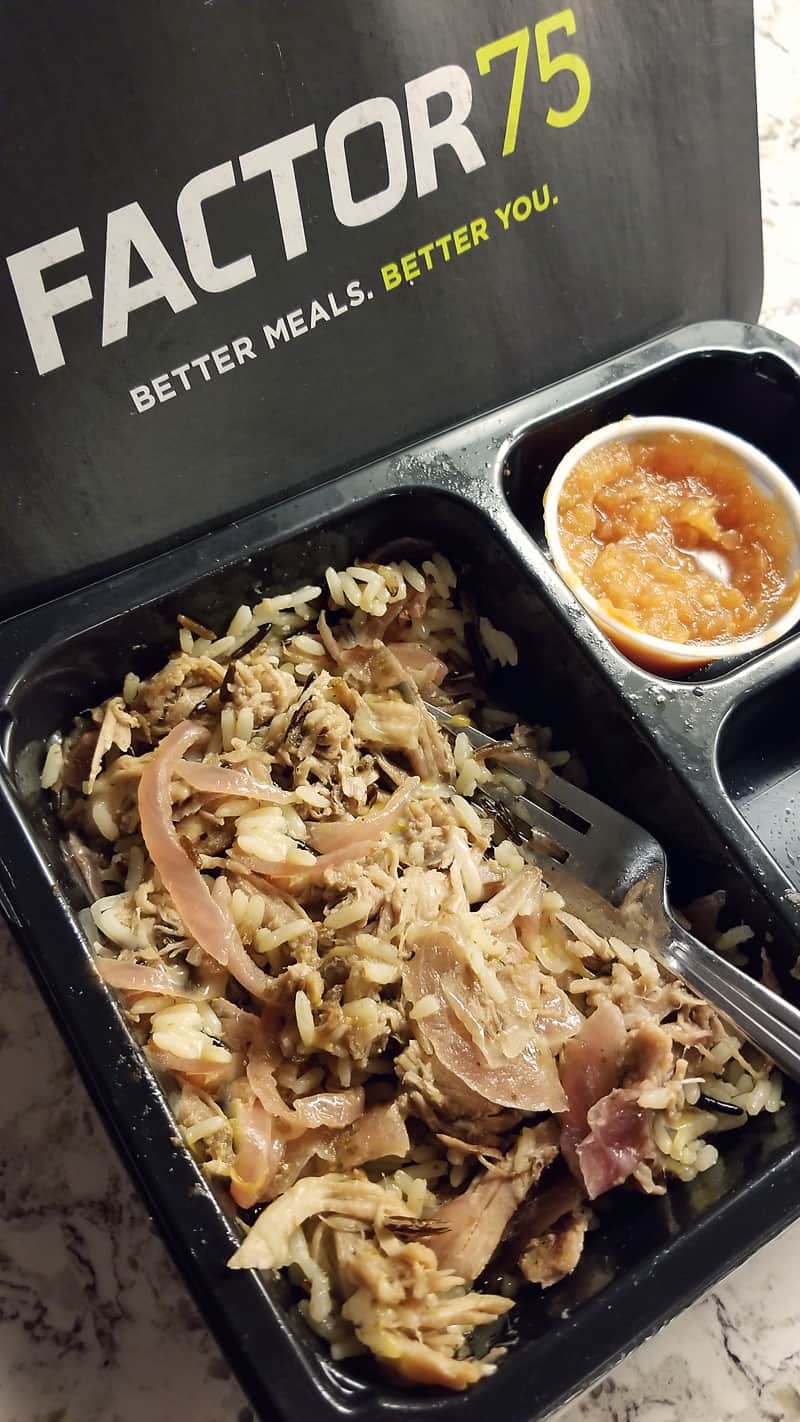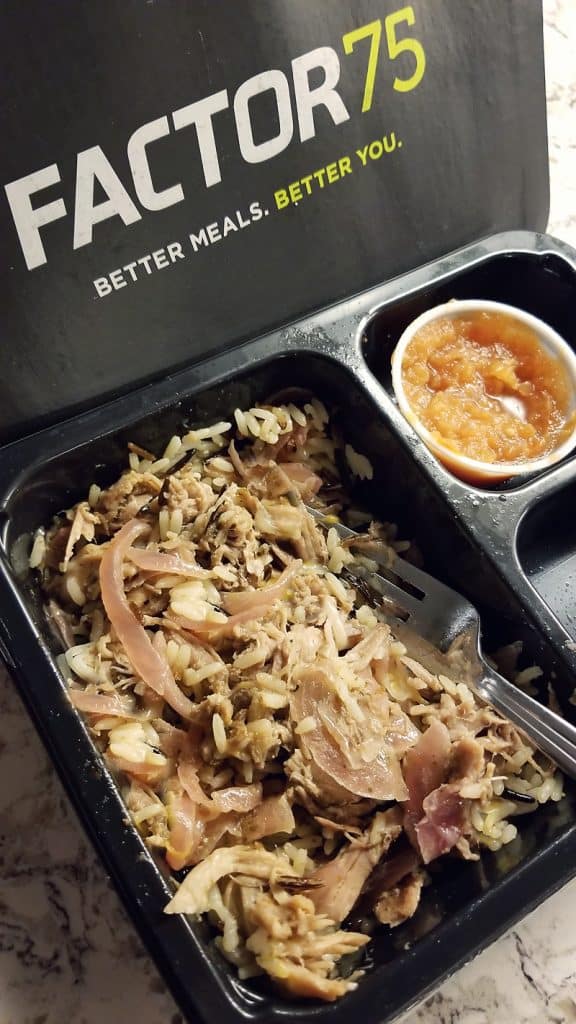 Cuban Pork with Mojo Red Onions
590 calories / 27g fat / 60g carb / 35g protein / 370mg sodium
This meal tasted good and was filling. The onions were served on the side, which is nice for people who aren't big onion fans. I personally love onions, so I mixed them all in. The sauce included with it added some bright flavors to the otherwise simple meat, rice and onions.
It wasn't anything to write home about, but it was a wholesome meal that I enjoyed. I probably wouldn't order this meal again seeing there are much better options they offered in my opinion.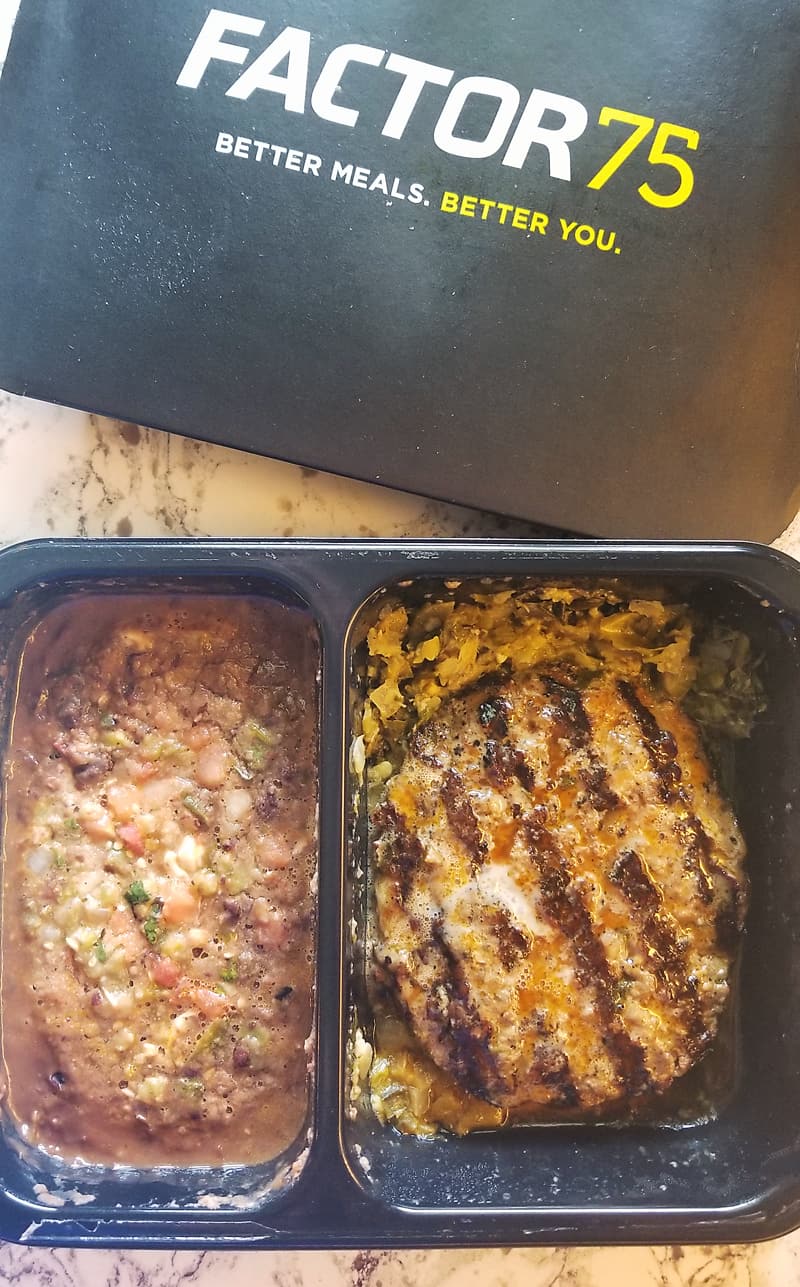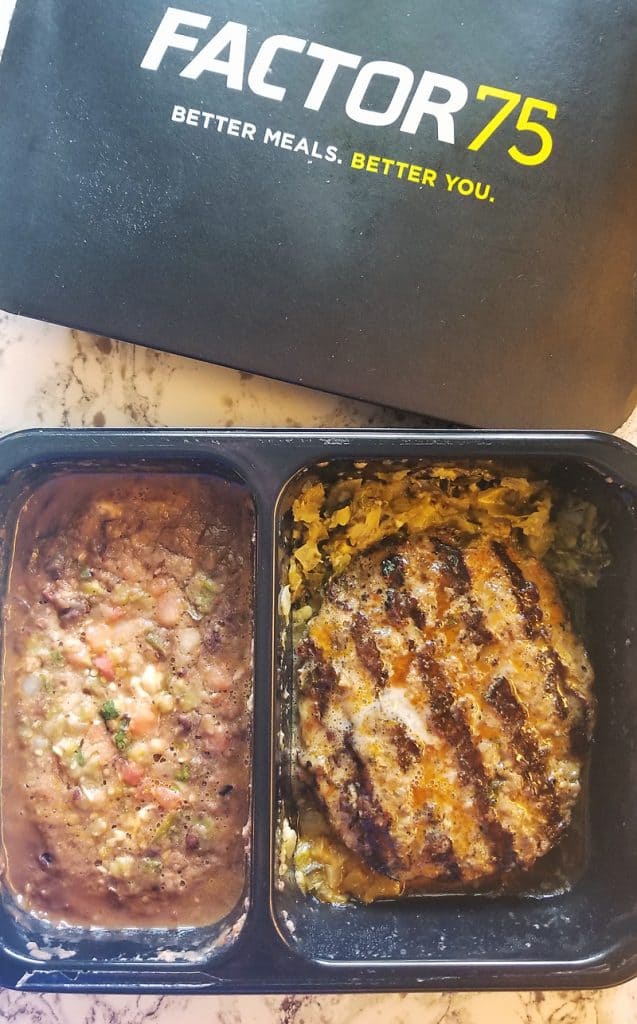 Green Chile Burger
720 calories / 30g fat / 63g carb / 55g protein /
Holy deliciousness!!! This burger sounded good, but I was blown away by the flavors in this particular entree. The burger is nestled on top of a green chile mixture. The burger was pretty tender and seasoned really well.
The star of the show for this dinner was the black beans on the side! These creamy beans are seasoned to perfection. I grabbed some blue corn tortilla chips from the pantry and gobbled up those beans like nobody's business. The flavors in this dish seriously felt like I got takeout from an awesome Mexican joint!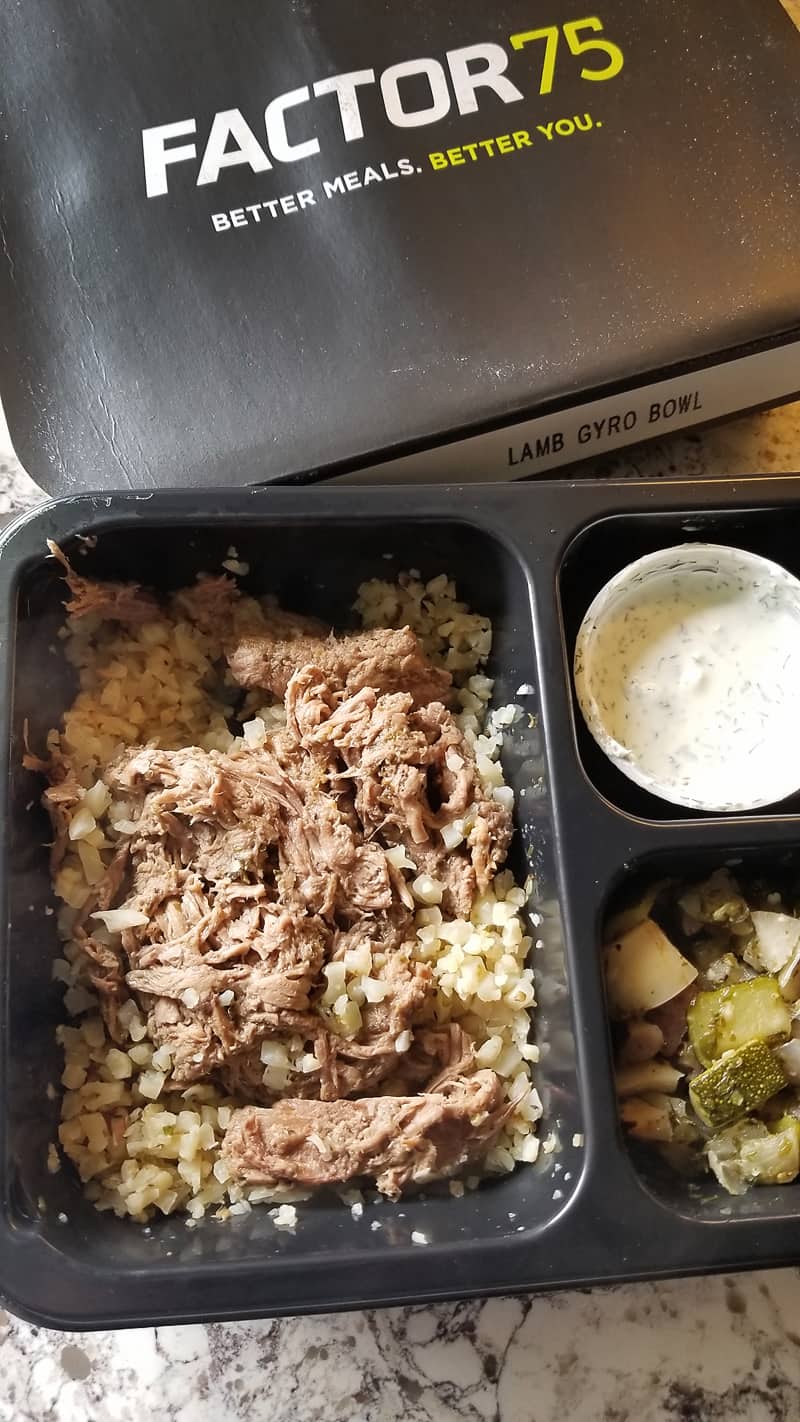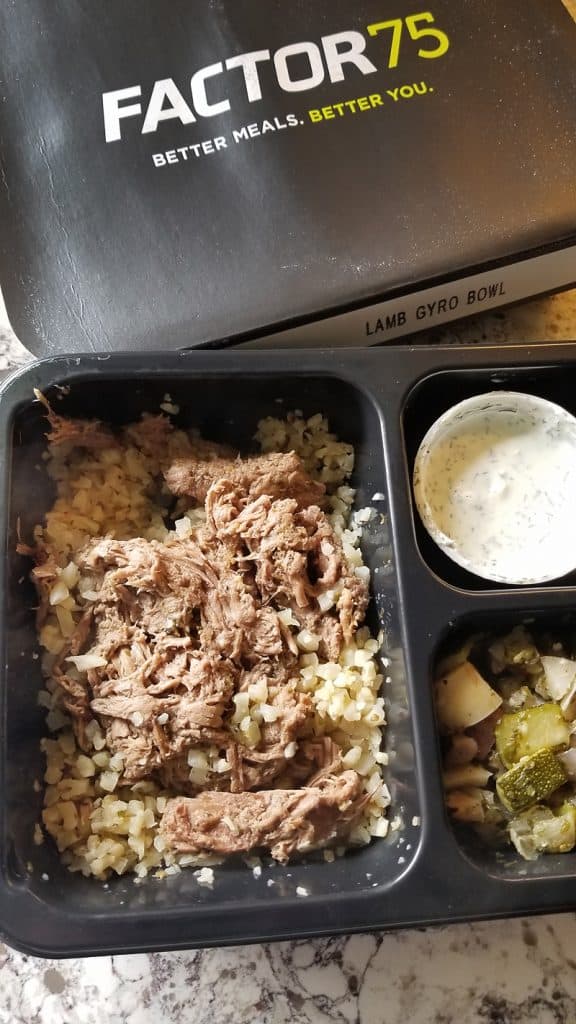 Lamb Gyro Bowl
640 calories / 32g fat / 45g protein / 53g carb /
I am a sucker for tzatziki sauce, so I had to get this one when I was picking through their menu. It didn't disappoint! Seasoned and shredded lamb was served on a bed of cauliflower rice and a side of vegetables including eggplant, zucchini, onions and purple potatoes. Unlike the broccoli or beans I didn't eat in other meals, this was a yummy mix of vegetables I actually enjoyed.
The tzatziki wasn't the traditional kind I am used to with cucumbers, but it was a super flavorful yogurt dill sauce that added great flavor and creaminess to the meal. I will definitely be ordering this Gyro Bowl again when it is on the menu.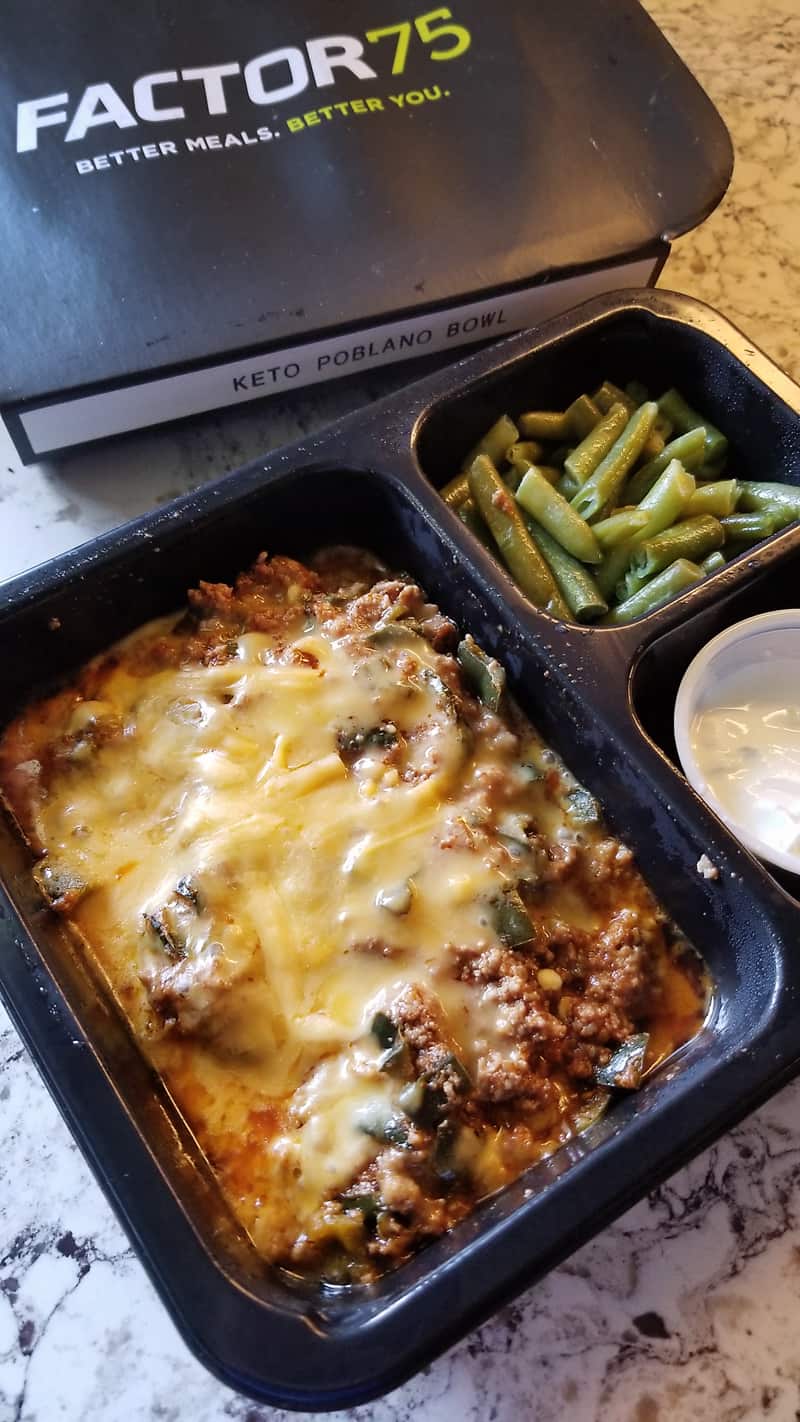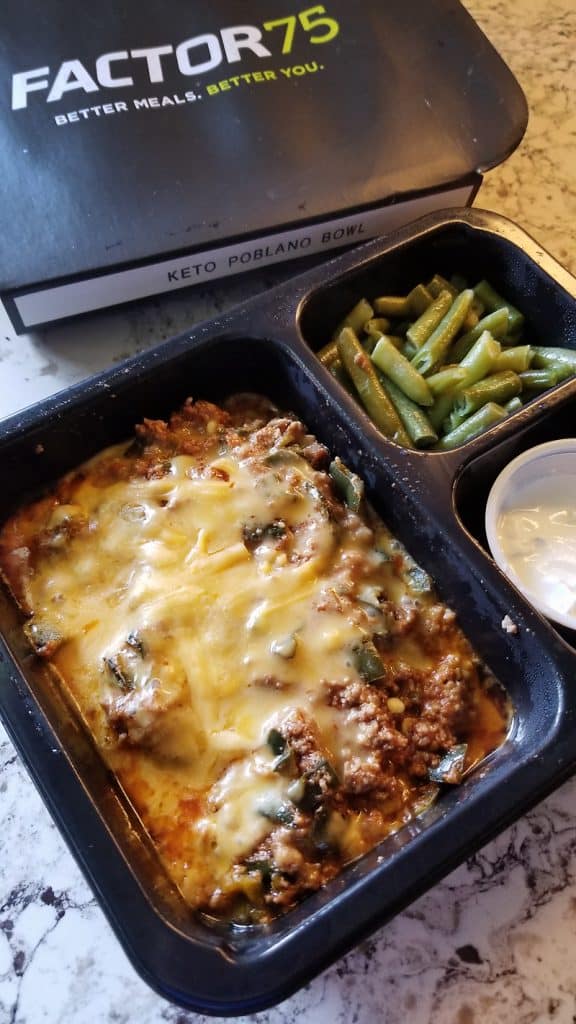 Keto Poblano Bowl
670 calories / 53g fat / 38g protein / 13g carb /
This meal was Keto specific, so they aimed to make it very low carb. I do think a little cauliflower rice would have rounded it out perfectly. I get why they don't add that when trying to cater to the Keto diet with some meals though. As far as flavors go, this one was absolutely delicious. The roasted poblano flavor really shined and the cheese and seasoned sour cream put it over the top.
Green beans aren't my jam, so I gave this vegetable side to the kids again. The beans did seem to be buttered, so for people who are better about eating their vegetables, I'm sure they would enjoy them.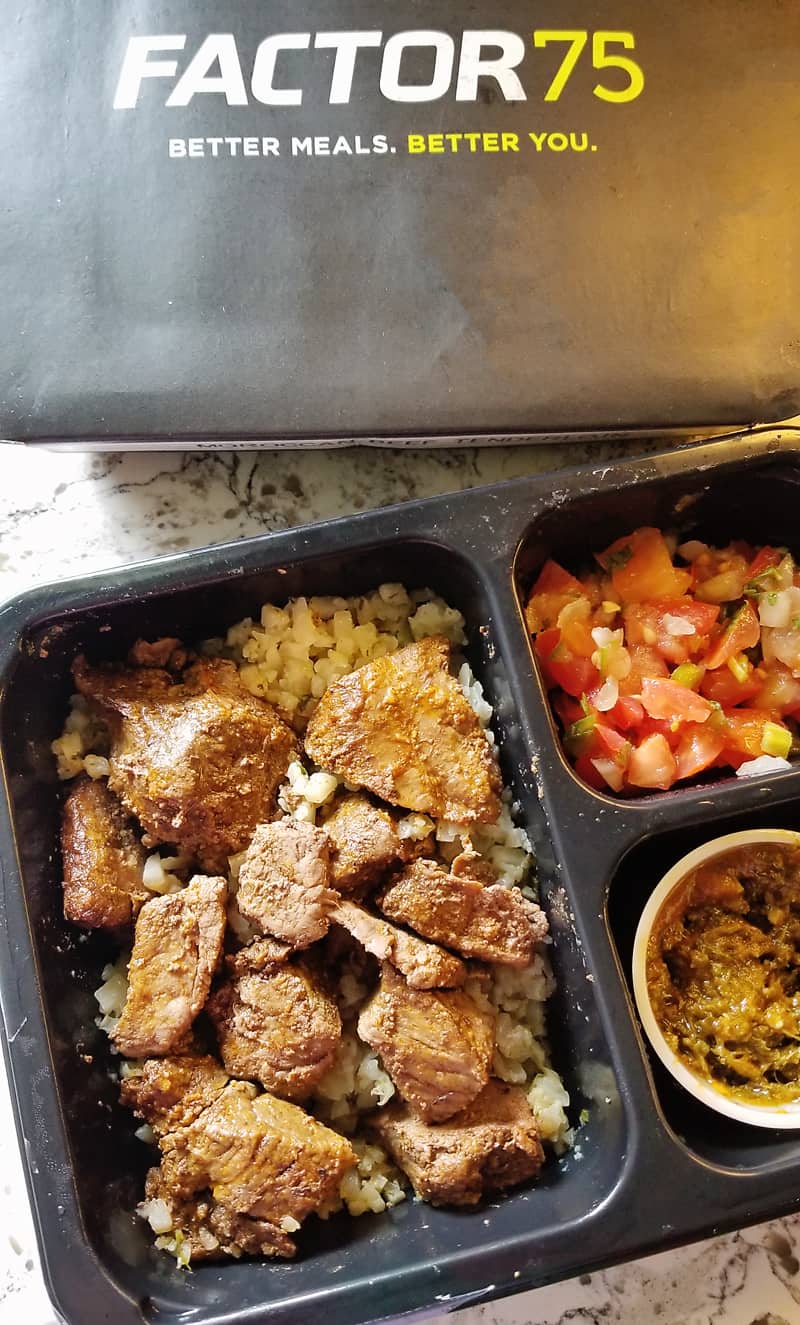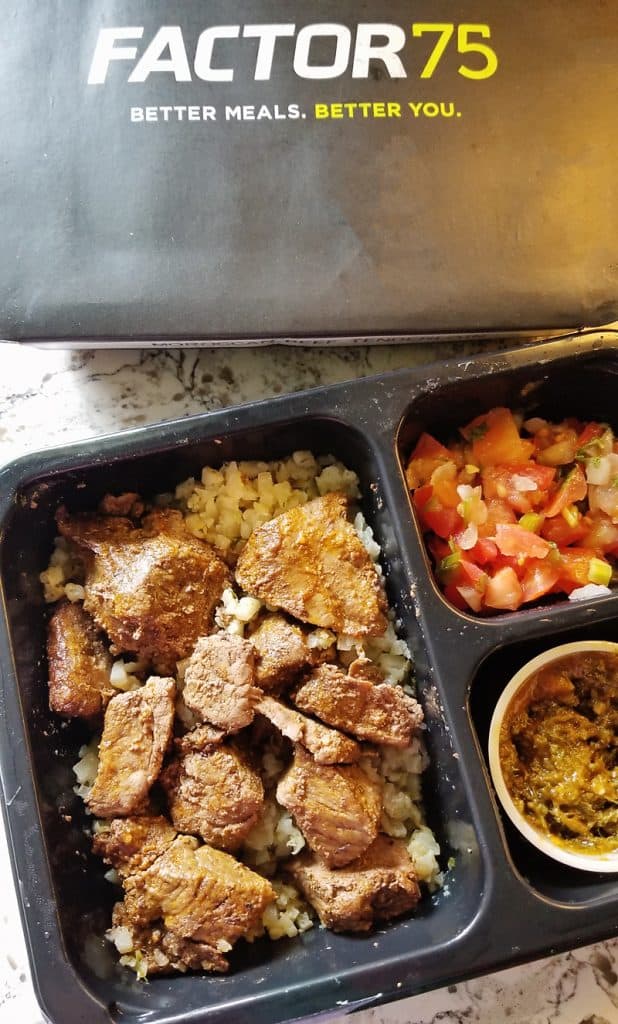 Moroccan Beef Tenderloin
610 calories / 46g fat / 42g protein / 13g carb /
This meal was the one I was least excited about and saved for last. I'm just not a huge steak person so I wasn't dying to give it a try. When I did try it out, I was impressed with the flavors, which wasn't a surprise after the other Factor 75 meals I have tried.
Seasoned tenderloin tips were served over a bed of cauliflower rice with a chermoula sauce and tomato salsa. I could have used a tad more tomato salsa with the meal, but otherwise I have no complaints.
This one called for only 90 seconds of microwave time, which was just enough to heat it up and still leave the beef quite tender. There were a couple small pieces that looked like end cuts that were a tad tough, but I was actually surprised how tender the meat was overall for being a microwave meal that had sat in my refrigerator for a week.
I did really enjoy the meal, but to be perfectly honest, it isn't anything that I am dying to order again. That's just because it isn't my ideal kind of meal though. There is nothing to fault on the recipe and freshness of the meal itself.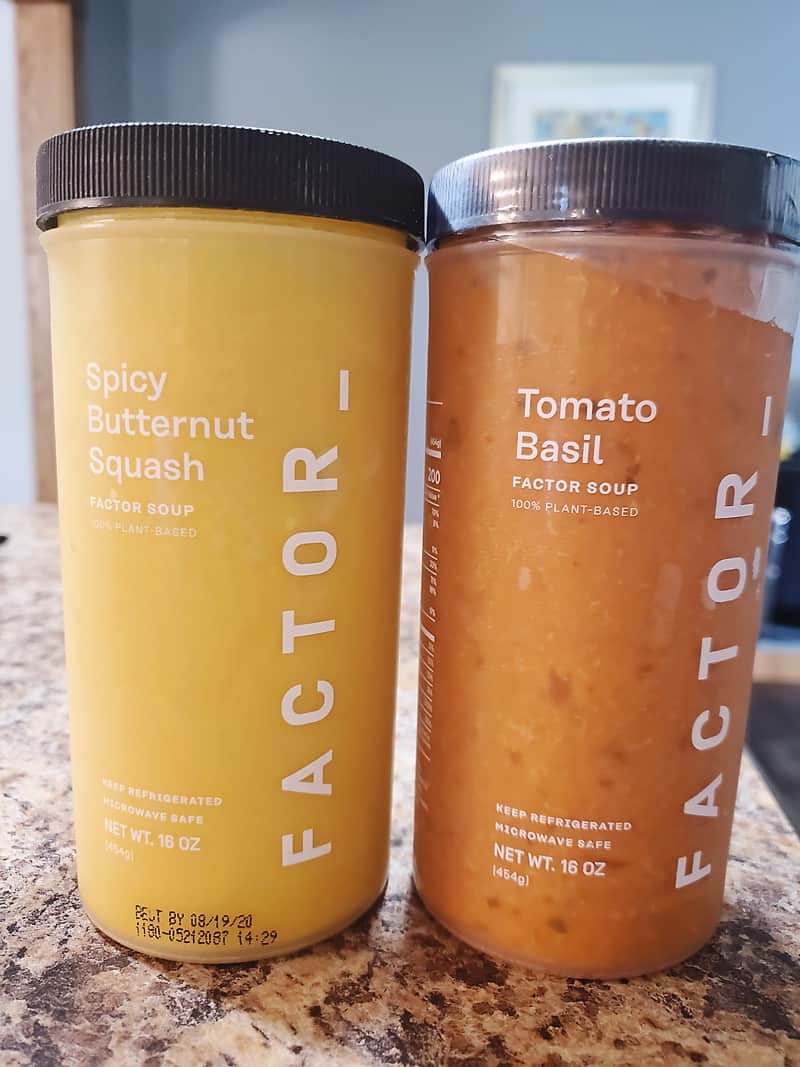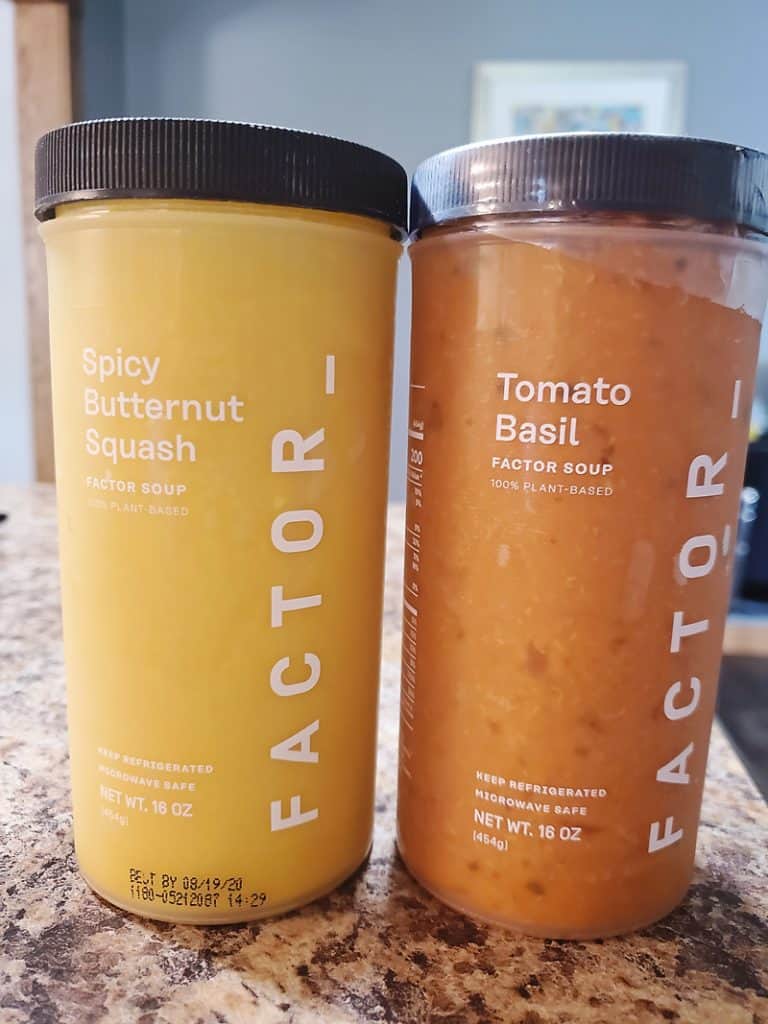 Factor+ Add Ons
More recently, Factor+ add-ons are now available each week to add to your meals. They offer soups, granola and energy bites, wellness shots, juices and precooked meats like steak, salmon, chicken and shrimp.
I was very excited to try the new soups add-ons as tomato soup and squash soup are two of my favorites. I do have to say that both of them were disappointing though. The flavors were lacking and I definitely won't be ordering those again, especially at the cost. They are sold in two packs for $16. The refrigerated soups at Target or the grocery store taste much better and at a fraction of the cost.
I also tried the cheesecakes that were recently added to their add-on options and I wasn't a fan. The texture was grainy and it ended up going to waste after one bite.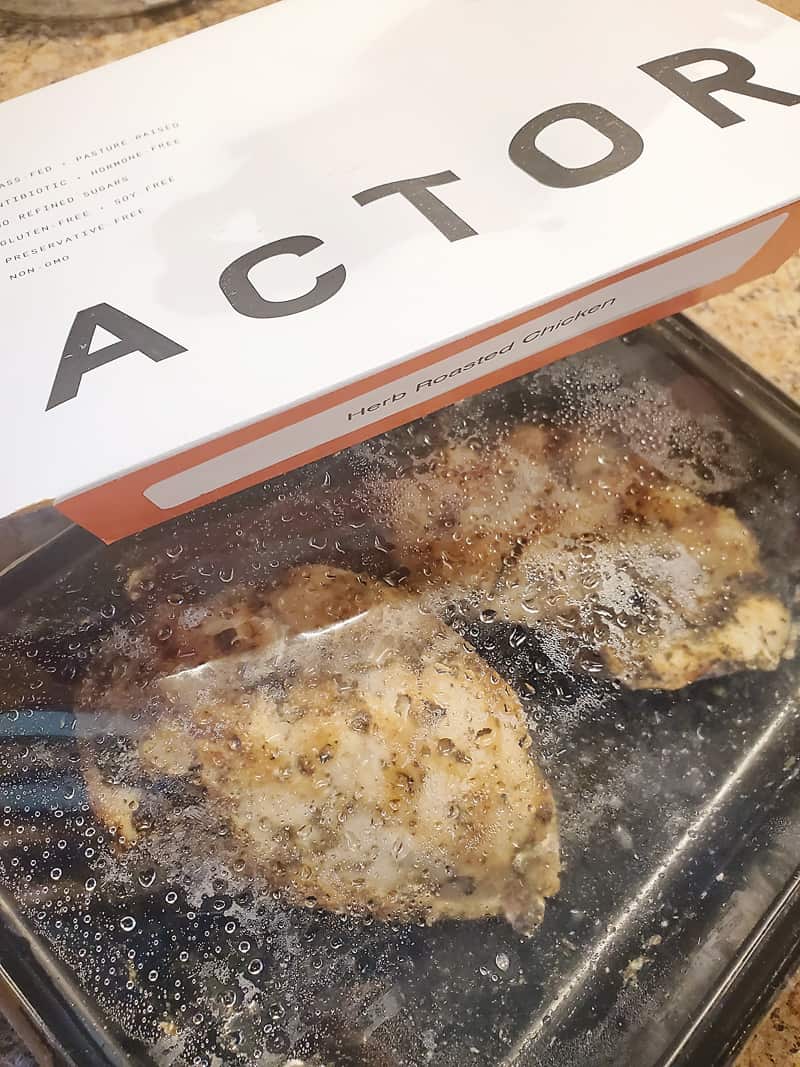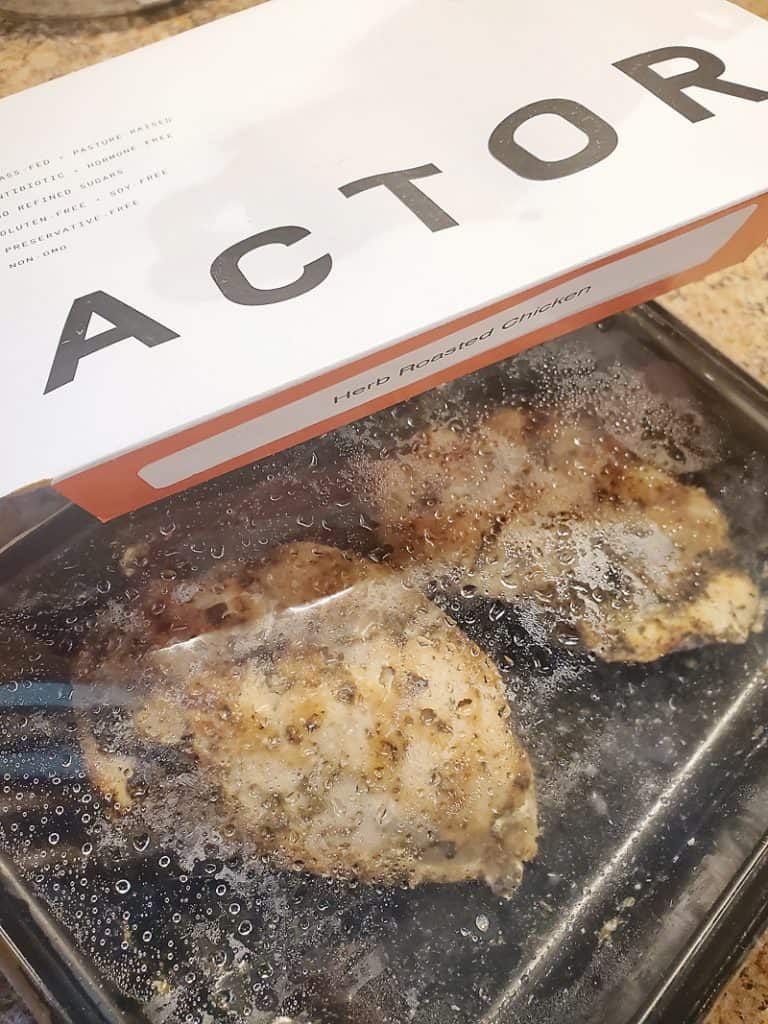 Favorite Factor Add-Ons
The Factor+ add on that has really impressed me though has been the proteins. While the meat is priced quite a bit higher than what you would pay at the store for uncooked meat, I have found myself willing to bite the bullet for the convenience and amazing quality.
The steaks are the real star of the show. They cost $19.99 for two 5 ounce petite fillets. I have absolutely no clue how they manage it, but these are literally the most tender steaks I have ever eaten…and they come out of a microwave?! My Dad is also hooked and I order him a pack each week as well.
The herb roasted chicken is another real winner and I order it every week religiously. It costs $12.99 for two 6 ounce chicken breasts that are seasoned and roasted to perfection. I love having these on hand to add to a quick salad or sandwich.
If you have the disposable income to swing it, I highly recommend the steaks and chicken. They make meal prepping so much easier and are fantastic quality.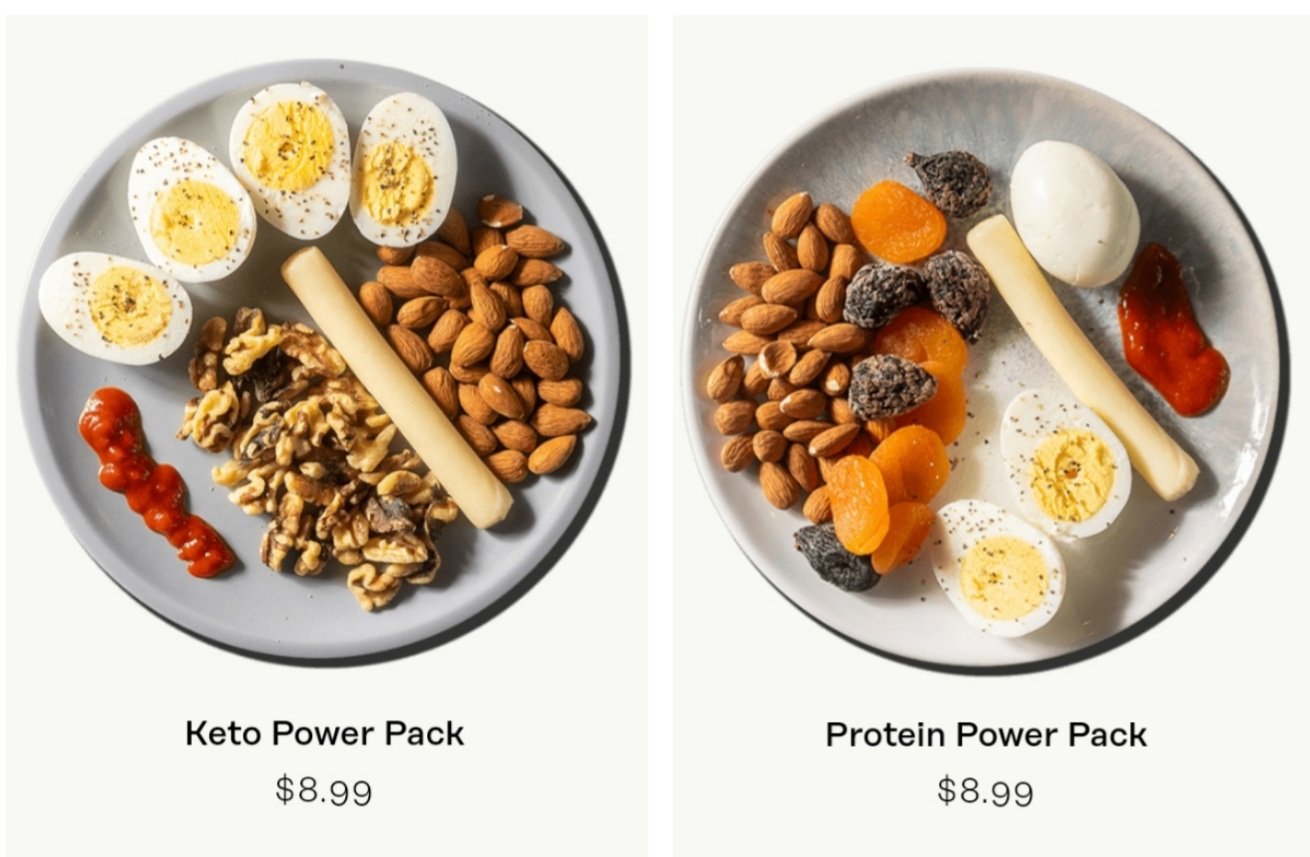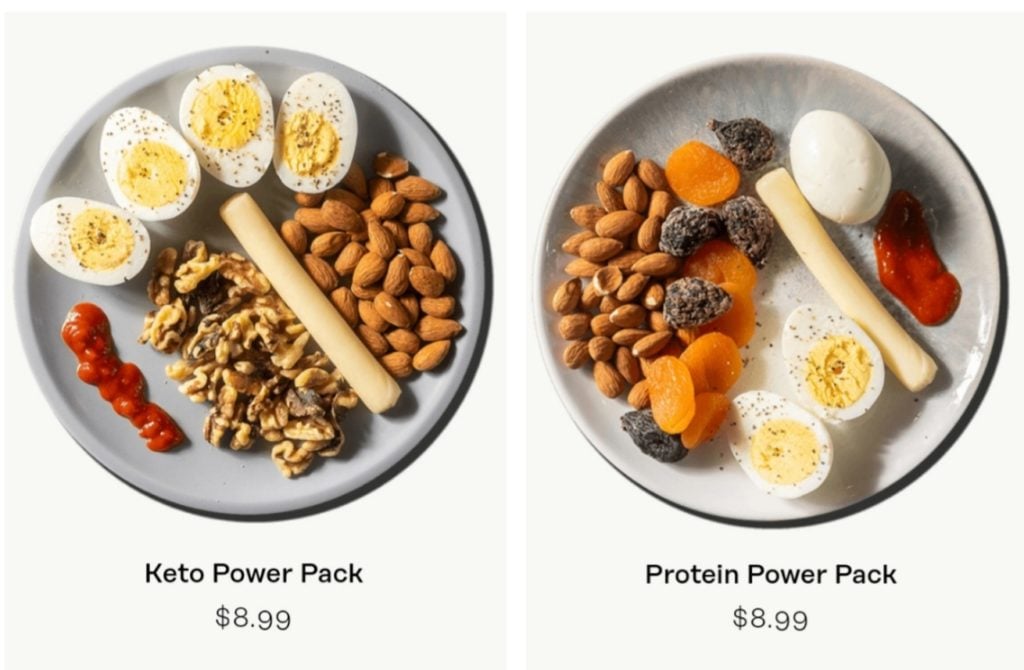 Factor Snack Packs
More recently Factor recently added snack packs to their add-on menu. I ordered some of these for my Dad for a trip he took and he really liked them. He asked me if I would order him a couple each week with my meals, he liked them so much.
The snack packs are a simple but really convenient snack or lunch loaded with protein that doesn't require heating.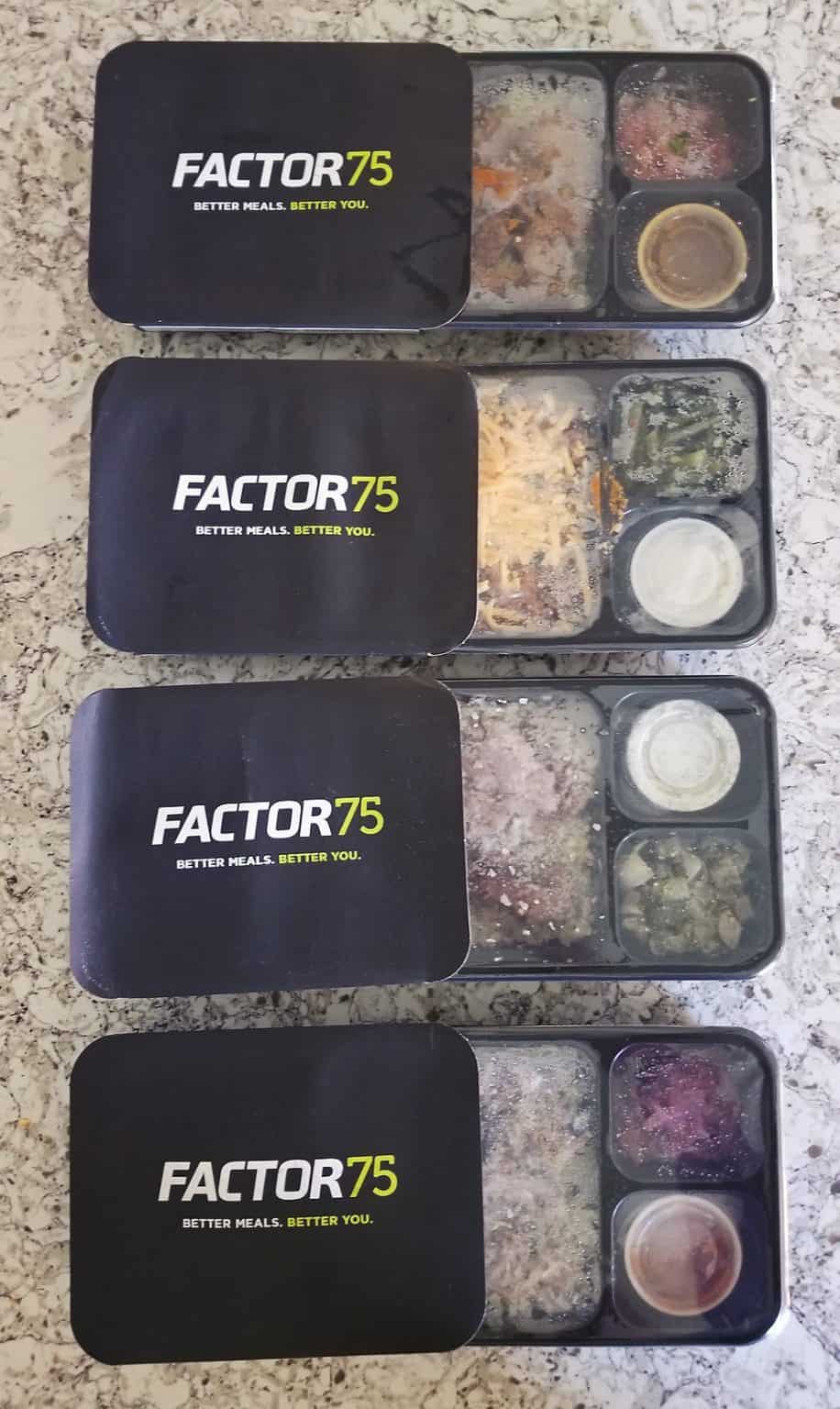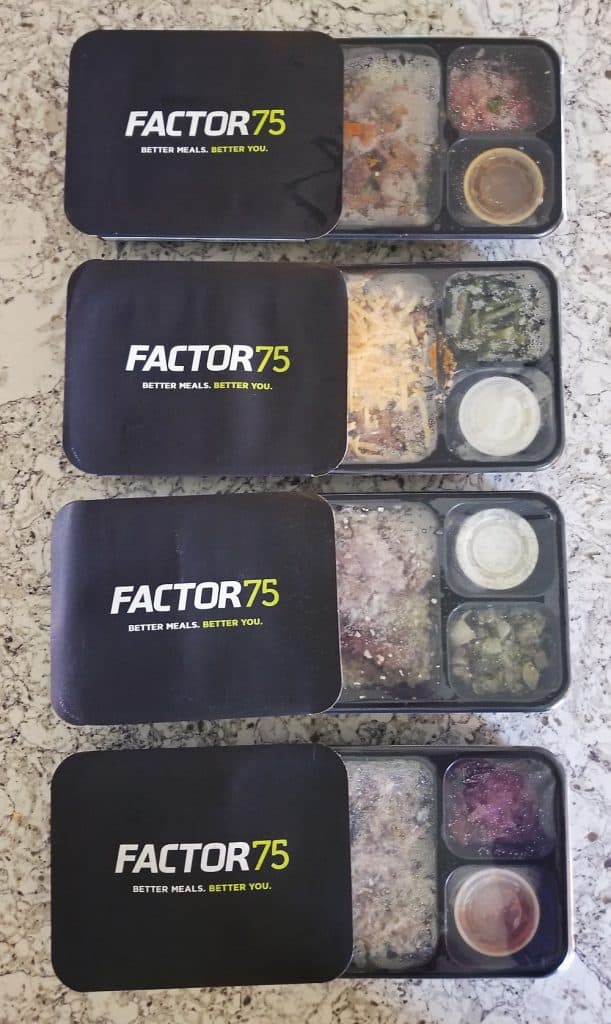 Factor 75 Meals
As far as the Factor 75 menu goes, they change it up every Wednesday afternoon after their order cutoff for the week. While there were so many meals I was excited to order the week my box shipped, I will admit the following week was a bit less exciting for me.
I loved the meals so much I wanted to order some more right away. When I checked out the menu, all of my favorite meals were gone that week. That is a blessing and a curse with these types of meal delivery services. While it is great that they are changing up the menu to offer a variety, it also means that some of your favorites won't be available every week.
The good news is that you choose what weeks you want to order, so you can easily just skip the weeks that aren't as appealing. When this happens, I check out other options like Freshly to see if I am liking their menu better that week.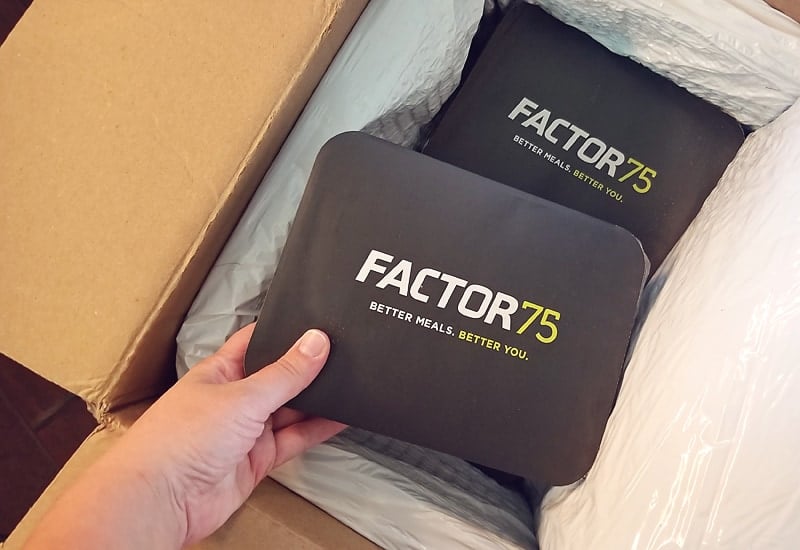 Factor 75 Meals Review
To summarize this Factor Meals Review, their meals are absolutely delicious and include some of the freshest and best quality meals I have ordered from any company. I wanted to pick a favorite, but I really couldn't decide between the Keto Poblano Bowl, Cheeseburger Casserole, Lamb Gyro Bowl and Green Chili Burger. The only downside to the actual food itself is the higher sodium.
Some of my more recent favorites this summer include the Honey Mustard Chicken, Steak with Garlic Cauliflower Mash, Lemon Garlic Shrimp and Buffalo Chicken.
If you follow a low fat diet, this meal service isn't for you. Almost all of their meals contain a healthy amount of fat.
The price of these meals are high and it likely won't be in everyone's budget. For those that can afford the luxury of convenience, it is one of the best services out there. Right up there with a cleaning lady! LOL For me, meals like these are great to keep me on track with healthy eating.
I think they are worth the price tag, but with that said, I am all about finding a good discount. I have figured out a couple ways for us to save!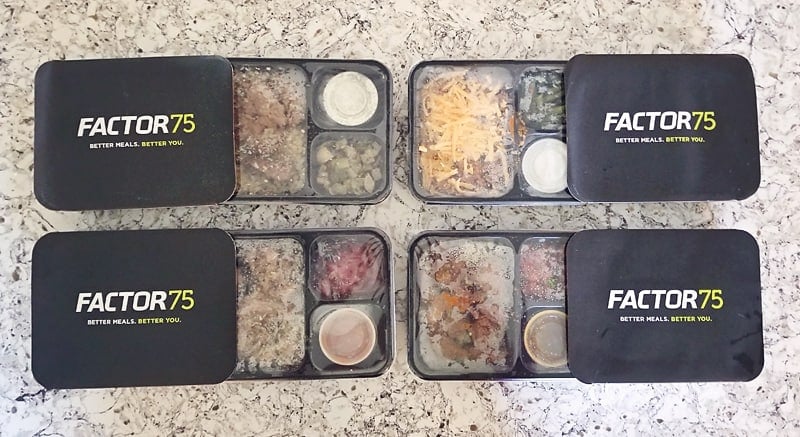 Factor Meals promo codes and discounts
If you are just wanting to try them out once or twice, use one of these promo codes,
FACTOR120OFF – Discount code saves you $120 on your first 5 weeks (Save 50% off on your 1st box, 20% off on your 2nd, 3rd, and 4th box, and 12% off on your 5th box)

More ways to save
Don't forget to invite your friends using their referral program and earn $40 in FactorBucks for every friend who tries them out!
Factor started offering a Hero Discount in 2020. Medical Staff, Service Members, Teachers & First Responders Get 15% off Your Factor Subscription. You will get a better deal if you order your first few weeks with the codes above and then apply the Hero Discount after those are no longer applicable.