Get my unbiased take on the flavor and cost of the prepared meal delivery service in this Diet To Go Review. They offer healthy entrees catering to Keto, Low Carb or Diabetic diets, shipped to your door for convenient meal prep.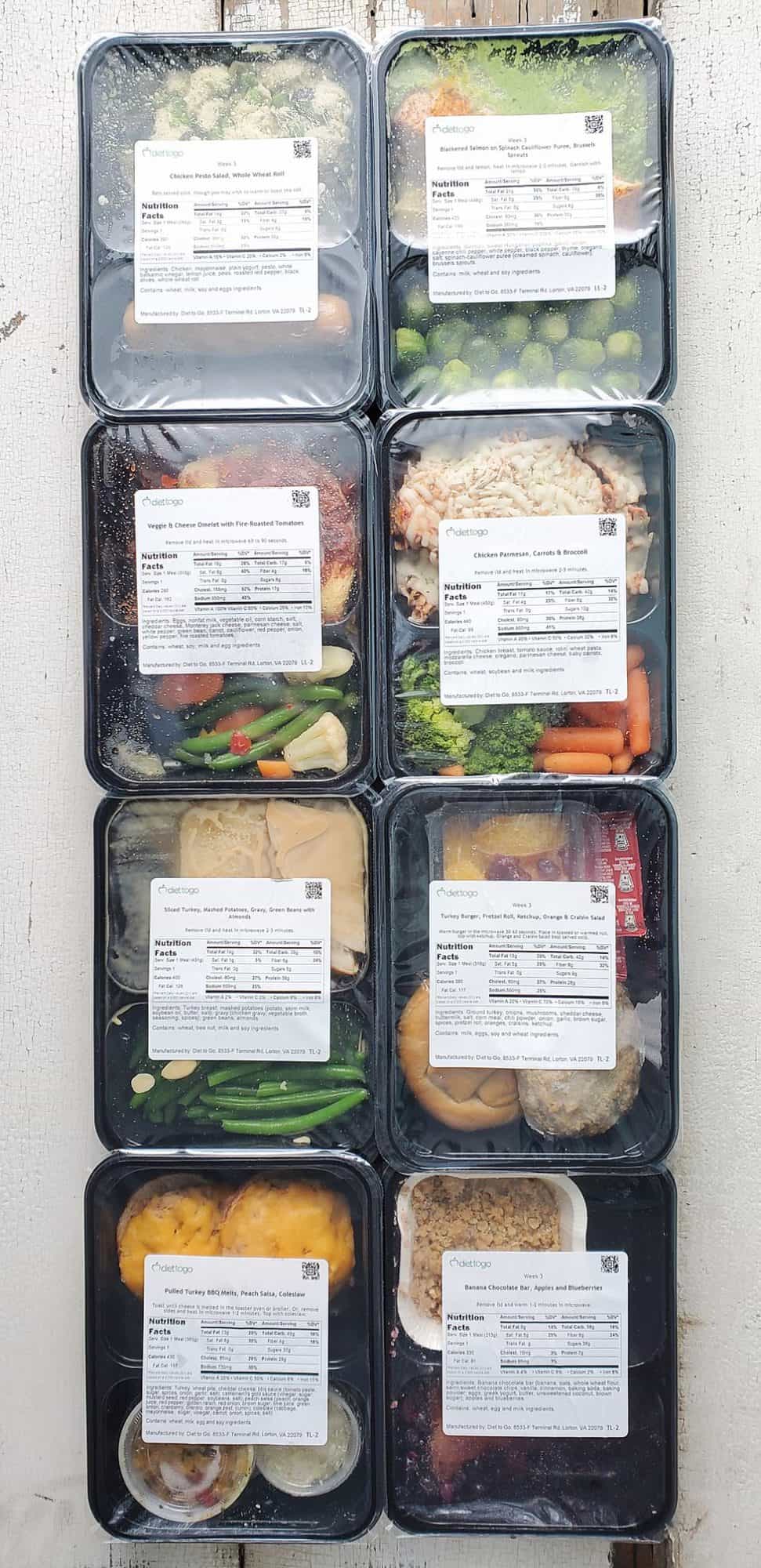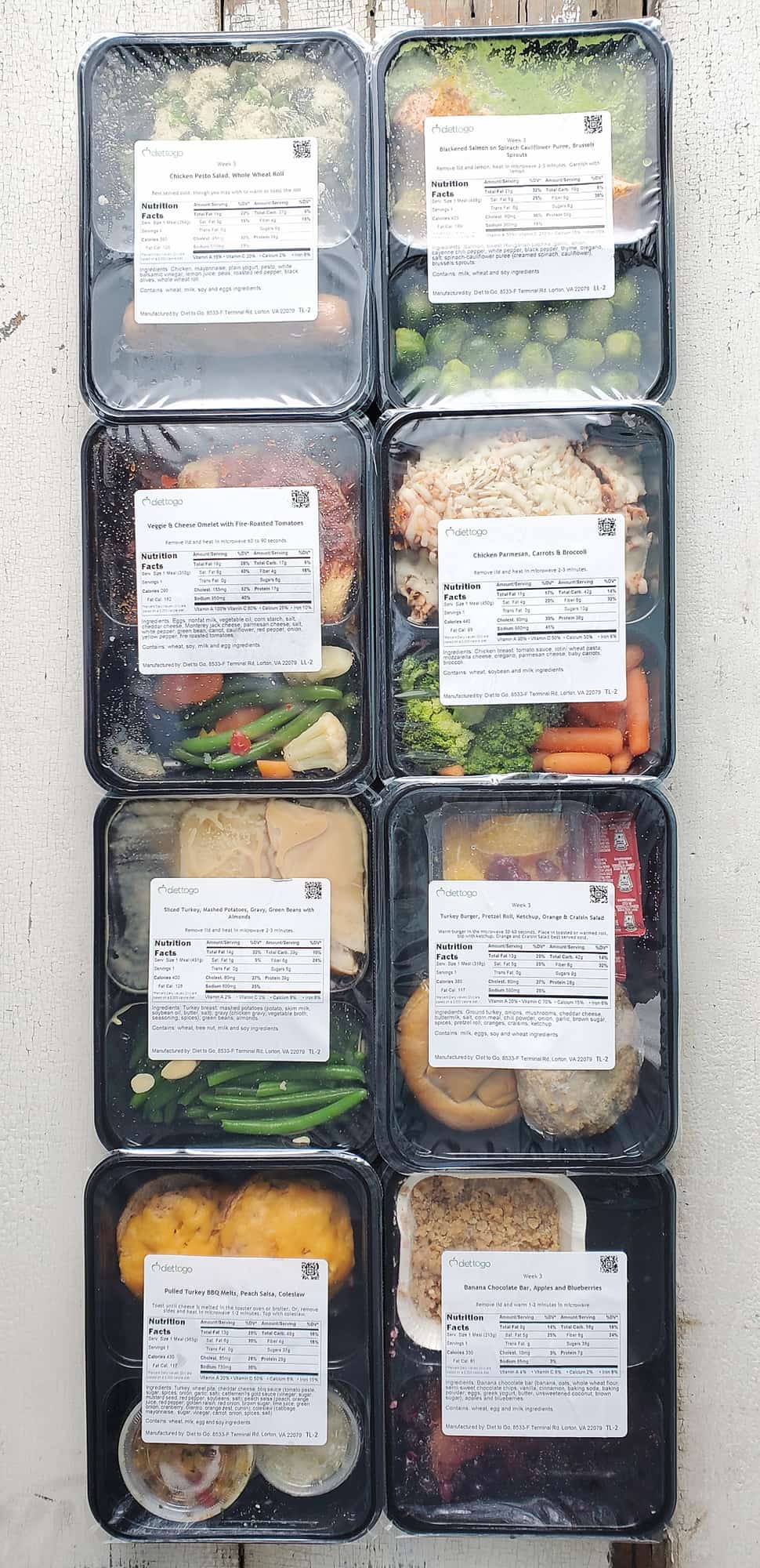 Diet To Go Review
In this Diet To Go Review, we are going to take a look at the flavors, cost and structure of this healthy prepared meal delivery service. They offer a huge variety of pre-made meals delivered to your door that cater to Keto, Low Carb, Diabetic or Balanced diets.
Diet To Go reached out to me to see if I would be interested in trying their meals for a review. I was not paid for this review, but do earn a small commission if you do decide to order from them.
I know many of you have enjoyed hearing my honest feedback on prepared meal delivery kits like my love for Factor 75 and my disappointing experience with Trifecta. So I figured I would try them out and let you guys know what I thought so it can help you make a decision if you are ordering prepared meals.
To be completely honest, with a name like Diet To Go, I wasn't expecting a whole lot. I figured it was going to be a repeat of Trifecta, where I ordered a bunch of meals with tiny portions and bland flavors. To my surprise, that was not the case at all.
These prepared meals were hearty, while somehow only having 300-500 calories per meal!
Get $80 off the first 4 weeks ($20 off each week) by clicking HERE! (discount will automatically be applied to cart)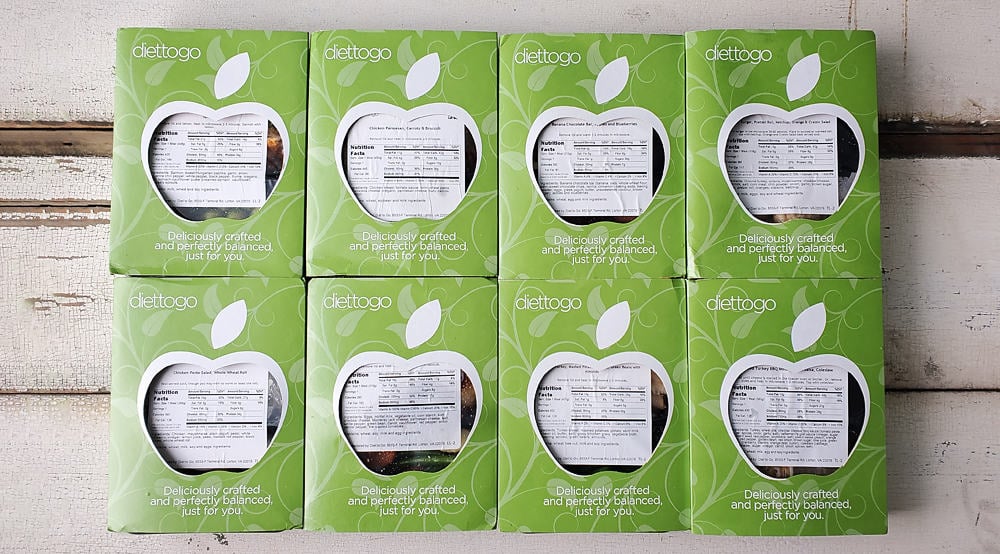 Healthy Prepared Meal Delivery Service
Before we get into the flavors and quality of each individual meal in this Diet To Go Review, lets talk about how this prepared meal delivery company works. Much like my favorite, Factor 75, they have an online dashboard where you get to select your meals for delivery each week or skip the week entirely.
This is an absolute must for any meal deliveries I get. I hate being sent an expensive box of food where I don't even get to choose my meals. Diet To Go had an extensive list of meals to choose from, more than any other company I have experienced so far.
They have menus that cater to the popular diets like Keto, Carb30, Diabetic and Vegetarian, as well as a Balance Menu which I opted to try. You can choose from 5 or 7 days in each week's box and 2 or 3 meals per day. You are also able to customize it to a 1,200 calorie (women's) or 1,600 calorie (men's) menu.
One thing I don't love about this company, is that you have to call or email to cancel your subscription. I really dislike when companies force you to do this instead of simply clicking a button in your dashboard to cancel. They do at least allow you to skip weeks though, which is always a must.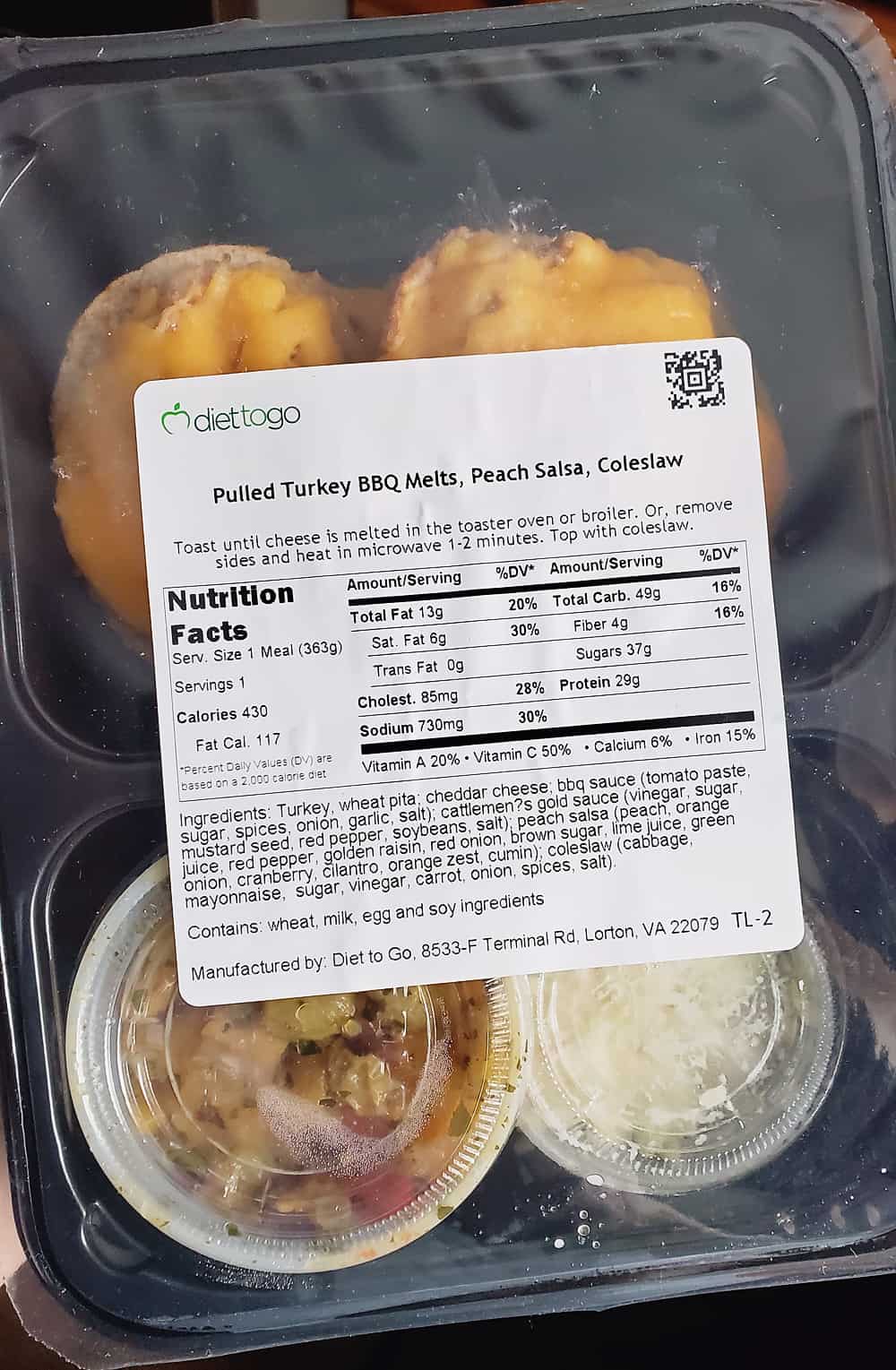 Cost of Diet To Go
The costs of the DietToGo meals vary slightly based on the options you choose. Plans include anywhere from 10-21 meals per week with a flat rate shipping cost of $19.98. The price of the meals range from $9.52 to $15.80 depending on the menu and quantity you choose. The Keto menu costs a bit more than the other menus. Check out the Diet To Go pricing for yourself.
For the meals I received on the Women's Balance menu, 10 meals would cost $141.97 shipped, which comes to $14.20 per meal. For 14 meals a week, it would cost $13.07 per meal.
If you chose the biggest women's plan, which is 7 days a week with 3 meals per day, it would cost $199.97, which equates to $9.52 per meal. This plan would be a good option for someone who is looking to loose or maintain weight with a 1,200 calorie diet and doesn't want to do ANY cooking.
It would also work great for a couple who wants to both enjoy the meals. (Unlike my cousin who orders Factor 75 and doesn't share with her husband because she only gets 6 meals. 😉 lol)
A large order isn't for me, but I do like having some meals in the fridge each week for easy lunches or dinners. I do wish they had a smaller plan option with 6 or 7 meals each week for my needs.
Cost of Diet To Go compared to other meal delivery services
Diet To Go meals cost $14.20 per meal for 10 meals, which is their minimum order.
Factor 75 – $12.83 per meal for 6 meals
Fresh N' Lean – $15.50 per meal for 7 meals
Freshly – $10.68 per meal for 6 meals
Trifecta – $15.49 per meal for 7 meals
My Metabolic Meals – $15.20 per meal for 6 meals
When comparing the cost of Diet To Go to other meal delivery services, they are on the higher side if you are ordering their minimums. This is partly due to the almost $20 flat rate shipping. Unlike many of the other companies, you do have the option to order a much higher volume, which then brings the cost down to one of the lowest per meal.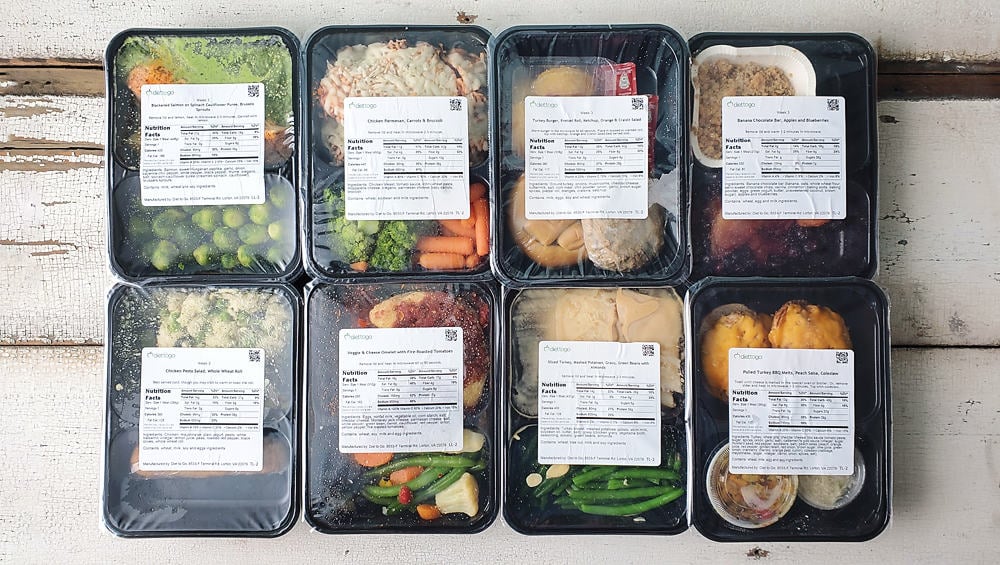 Taste of Diet To Go
Let's talk about the most important aspect of this Diet To Go Review, the taste! I was actually very impressed with some of the meals from them. They were all very filling and full of flavor. The Chicken Parmesan and Turkey BBQ melts were two of my favorites. I would definitely consider ordering from this brand again just for those meals alone. They have so many other options in their various menus that I would like to try as well.
A few of the meals missed the mark for me because they just aren't my taste preference. It honestly wasn't that they were bad meals though, just that I don't like those foods. The Turkey and Mashed Potatoes were a good example of this. That type of comfort food appeals to lots of people, but I'm just not a big fan.
The dessert/breakfast option was the only real disappointment in my box. It sounded good and looked good, but the flavors were bland and the texture of the bar wasn't great. Honestly, when choosing my own meals normally, I would never opt for this type of meal. I would stick to the hearty dinners, which were all pretty good.
As for quality, the freshness of the fruits and vegetables was excellent. The only complain on any of the food quality I had were the breads. They were a bit stale and unappealing. Everything else was very good.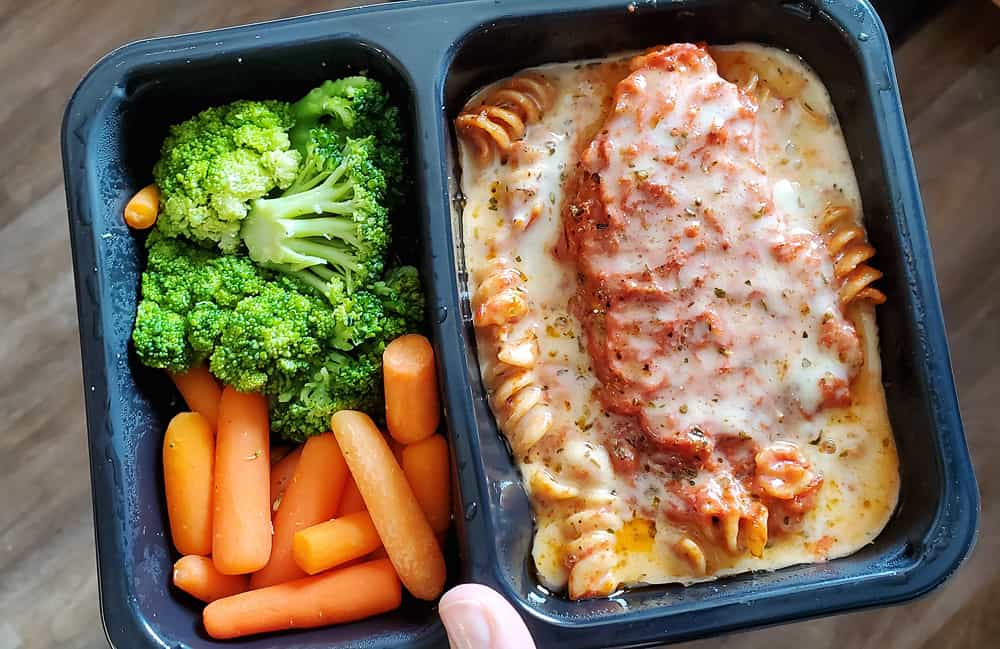 Chicken Parmesan, Carrots & Broccoli
440 calories / 11 g fat / 38 g protein / 42 g carb / 990 mg sodium
This meal was AMAZING! I was hungry and reached for this for lunch one day and after eating it I went to check out the nutrition info. I was blown away that such a rich and filling meal was so low in calories! I truly expected it to be much higher.
The chicken was very tender and the flavors were perfect. This meal was a real winner and one of the reasons I would consider ordering from this company again.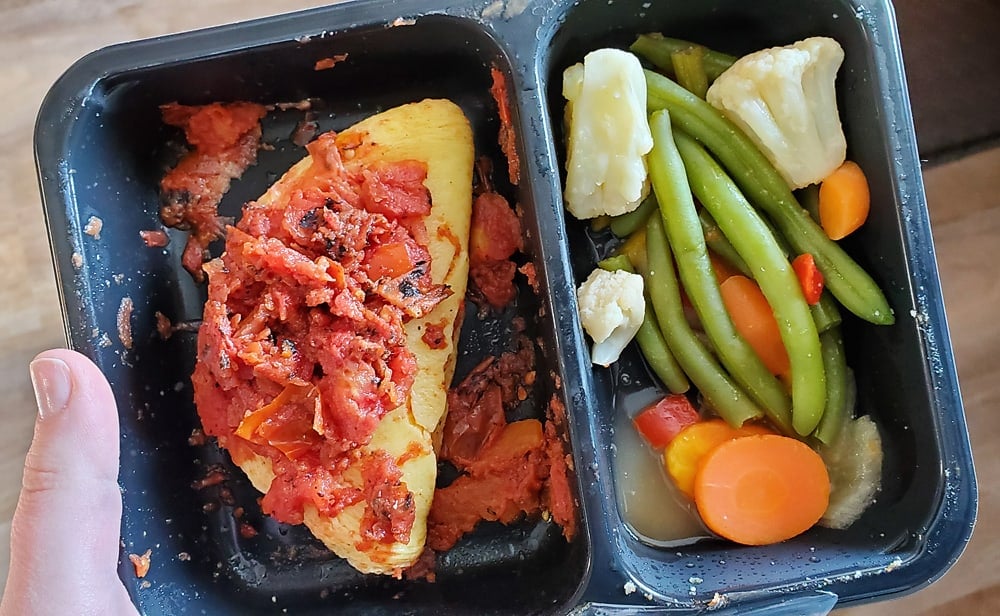 Veggie & Cheese Omelet with Fire Roasted Tomatoes
290 calories / 18 g fat / 17 g protein / 17 g carb / 950 mg sodium
This vegetable omelette isn't the pretties meal I will admit, but it was surprisingly good! The eggs were full of cheesy goodness and the roasted tomatoes added a good balance of flavors.
The downside to this meal is the high sodium. That is bound to happen with a premade egg meal though.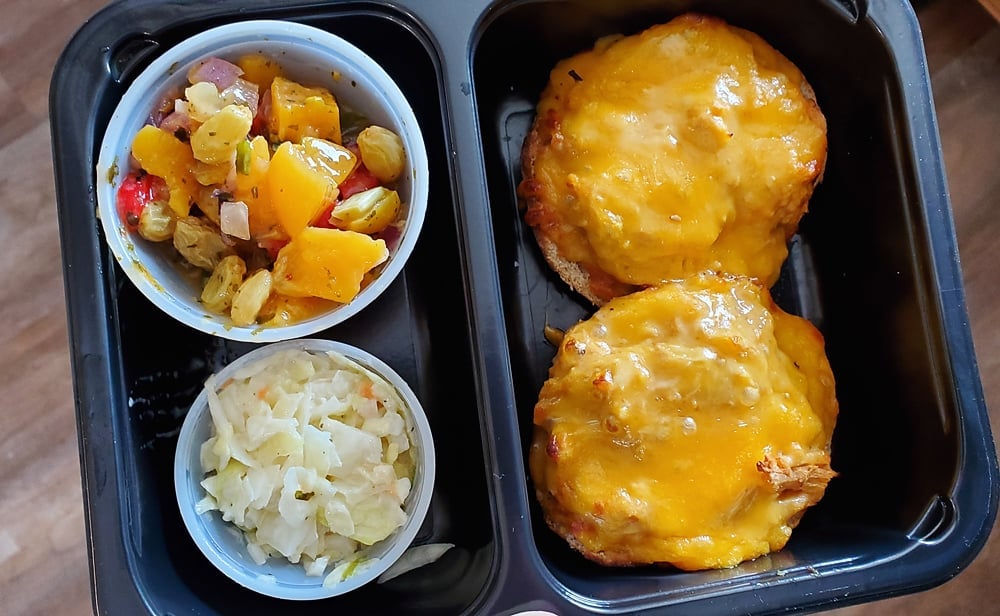 Pulled Turkey BBQ Melts, Peach Salsa, Coleslaw
430 calories / 13 g fat / 29 g protein / 49 g carb / 730 mg sodium
These Turkey melts were also a favorite from this meal delivery. I popped them in the Air Fryer to heat them up and the English muffins got nice and toasty and the cheddar was melted perfectly.
The Peach salad and coleslaw on the side were amazing compliments to the BBQ turkey flavors. They were fresh and had great flavor.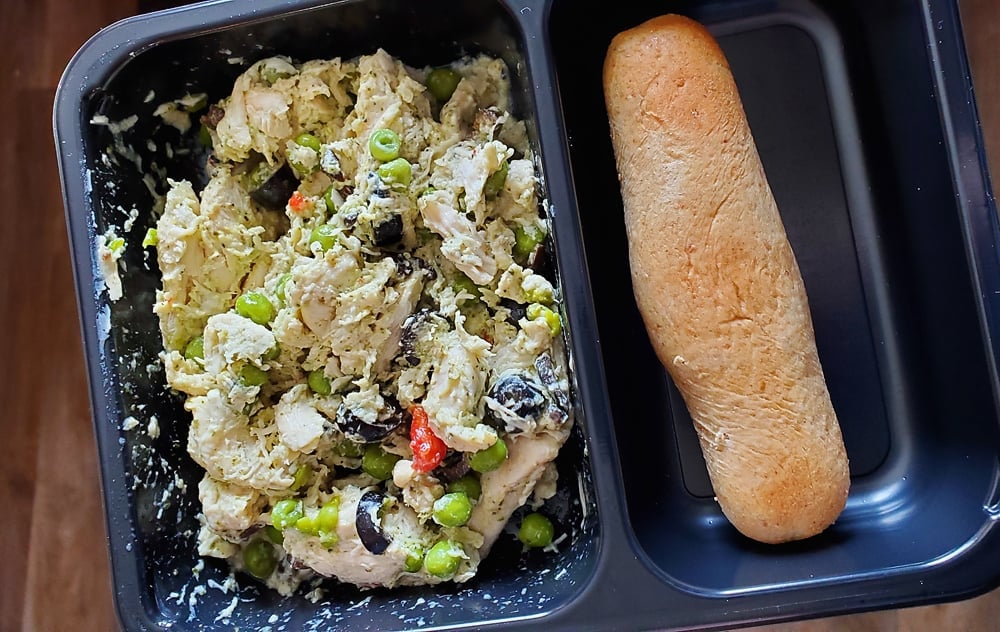 Chicken Pesto Salad, Whole Wheat Roll
390 calories / 14 g fat / 27 g protein / 27 g carb / 550 mg sodium
I wanted to love this chicken salad, but sadly I didn't because of the strong black olive flavor. Black olives are one of the foods I really dislike, so this chicken salad didn't do it for me.
The chicken was tender and the salad had just the right amount of creamy dressing. If you like olives, I'm guessing this would be a great meal. The whole wheat roll was a bit dry and didn't do much for me personally. I'd rather some crackers for my carb with this meal.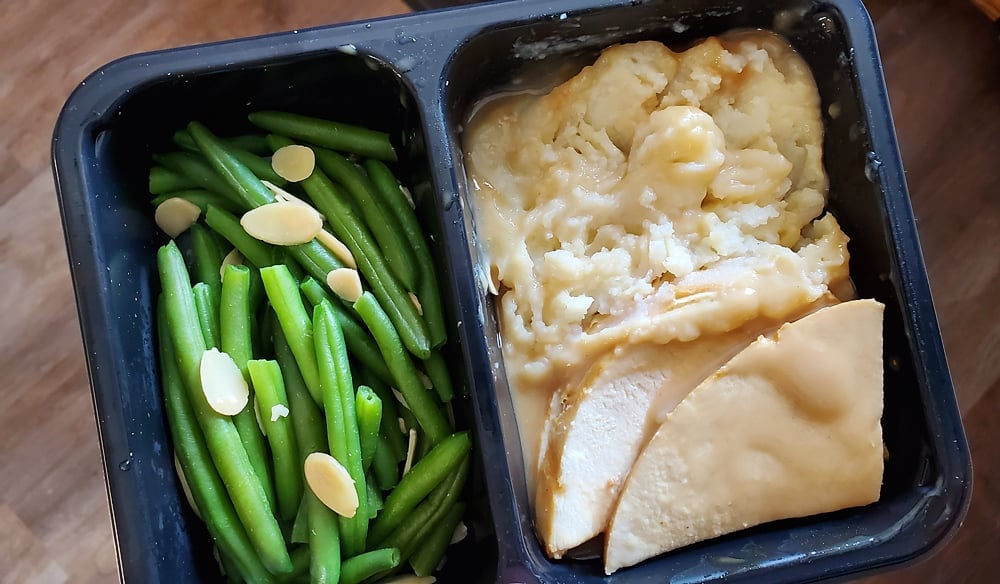 Sliced Turkey, Mashed Potatoes, Gravy, Green Beans with Almonds
400 calories / 14 g fat / 39 g protein / 29 g carb / 600 mg sodium
I'm just not a big gravy and mashed potatoes person so this meal wasn't up my ally. I tried the turkey and was impressed with how moist it was though and can definitely see people like my parents enjoying this kind of meal.
One thing I love with all these meals is how fresh the vegetables are and the variety they provide. With some meal delivery services, it feels like they put the same vegetables with every meal, but Diet to Go does a good job of changing it up.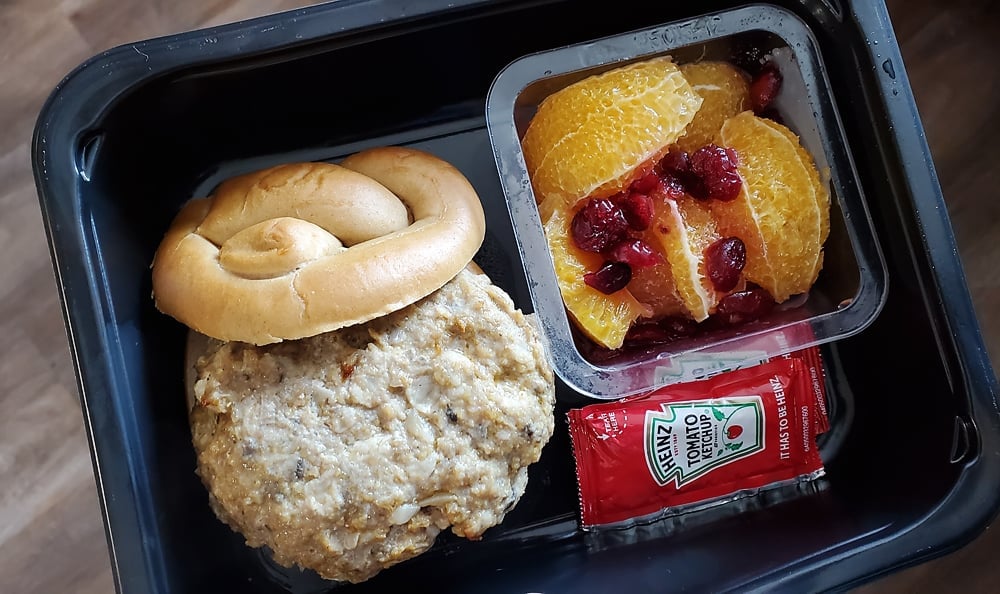 Turkey Burger, Prezel Roll, Ketchup, Orange & Craisin Salad
380 calories / 13 g fat / 28 g protein / 42 g carb / 590 mg sodium
This turkey burger was okay. The burger itself was actually seasoned really well and moist, but the pretzel roll took away from it for me. It was a bit stale and just didn't pair great with it.
This was a good meal without the bun with a side of fruit for a very light lunch option.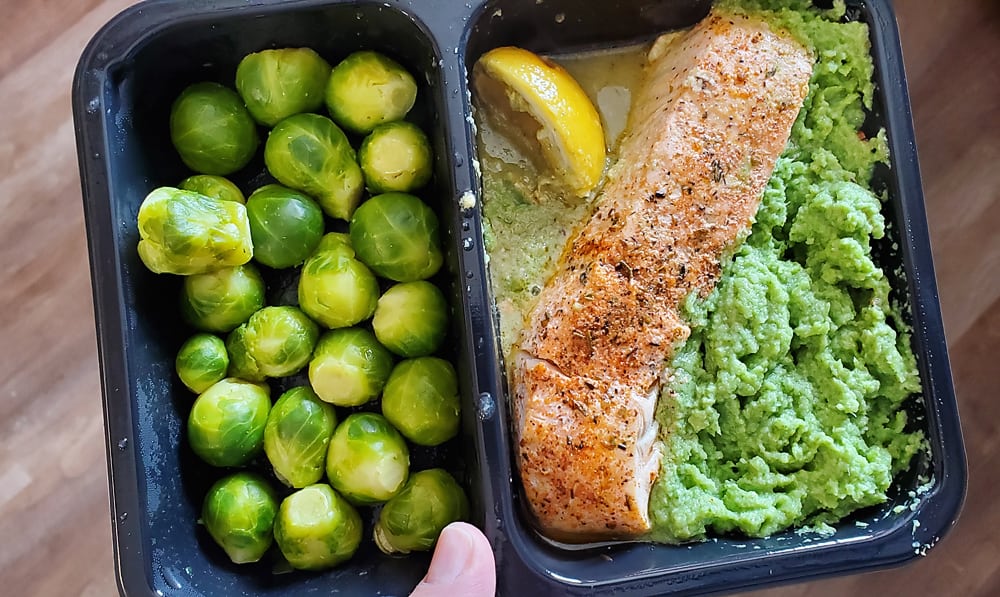 Blackened Salmon on Spinach Cauliflower Puree, Brussels Sprouts
420 calories / 21 g fat / 39 g protein / 19 g carb / 360 mg sodium
When I am ordering meals I never pick fish options because I am not a big fan of reheated fish. Seeing these meals were sent to me, they chose the meals and included this salmon. I took a few bites and the salmon was decent, but the rest just wasn't for me.
Plain brussels sprouts microwaved aren't something I'm going to enjoy and the cauliflower mash took it a little too far on the healthy front with the addition of spinach in my opinion.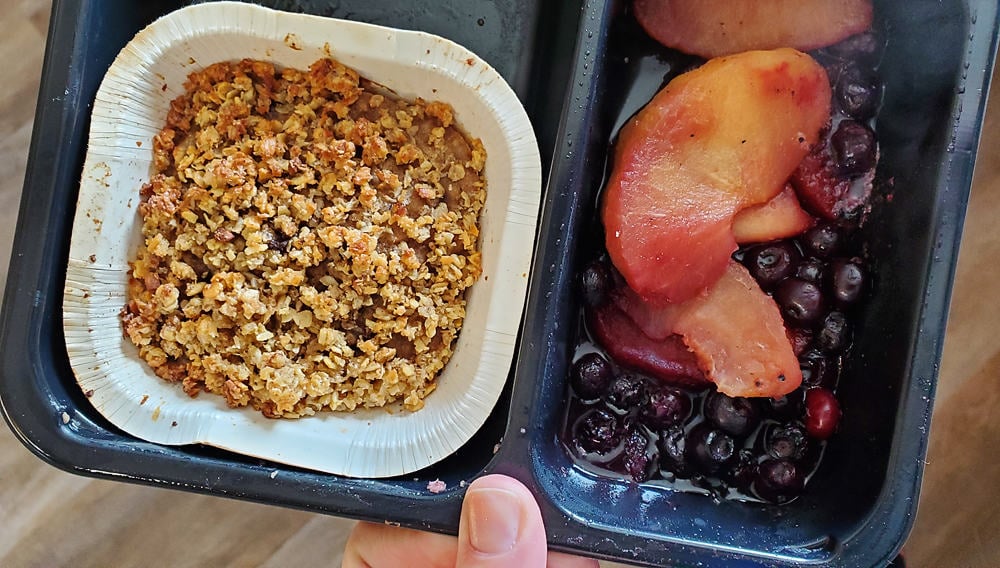 Banana Chocolate Bar, Apples and Blueberries
330 calories / 9 g fat / 7 g protein / 58 g carb / 65 mg sodium
I was excited to try this desert, because it sounded like a good treat, but I was disappointed. The banana chocolate bar didn't have much chocolate flavor at all and it was dry and bland.
The fruit on the side was alright, but overall this dessert wasn't worth the calories for me. I'd much rather just have a good piece of chocolate than a premade "healthy" dessert.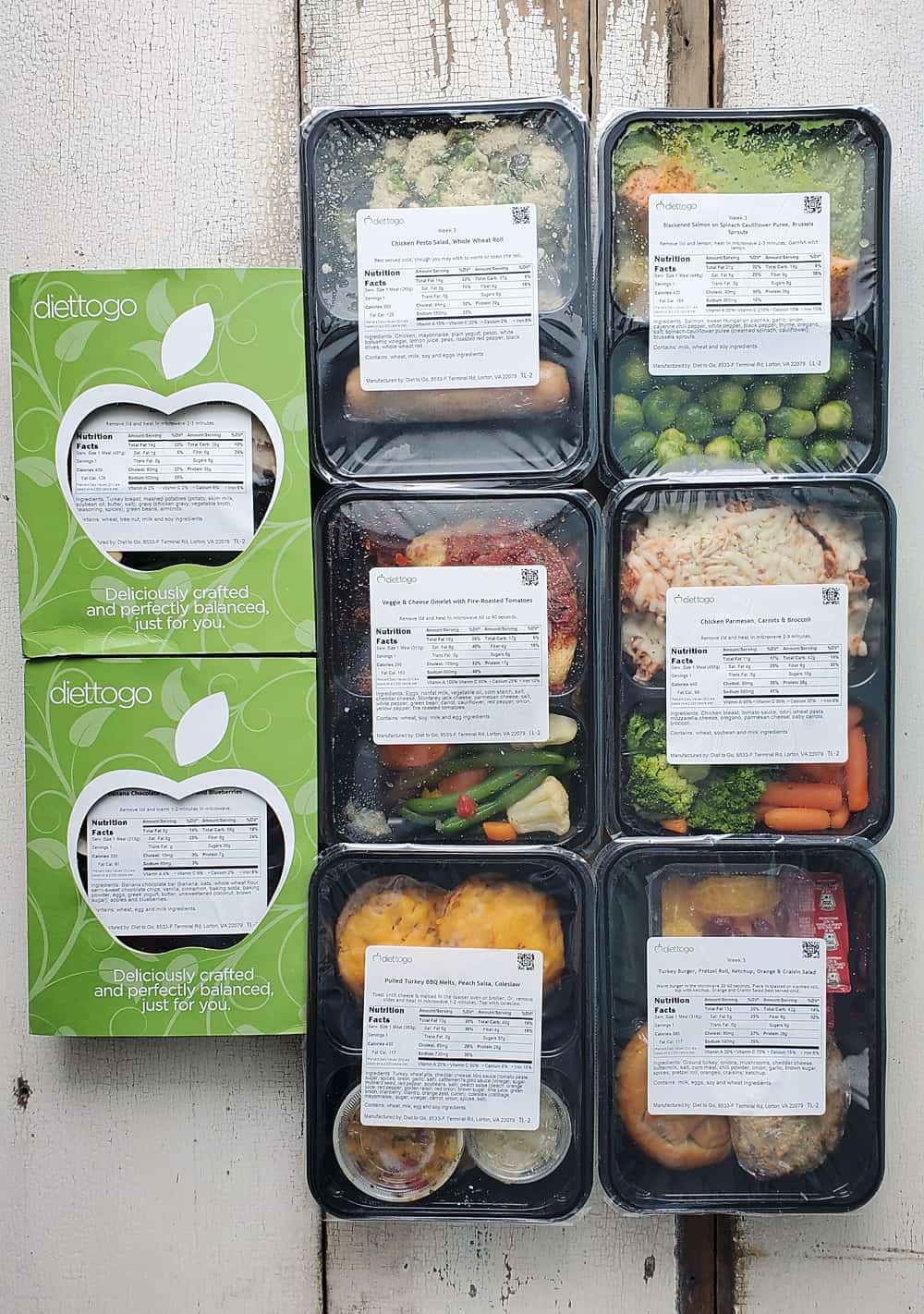 Summary of Diet To Go Review
To sum things up with this Diet To Go Review, I will say that I was impressed and would order it again with my own selections. After looking over their website at their wide variety of meals to choose from and absolutely loving some of the ones I tried in this box, I will for sure give it another try.
If I am comparing taste and flavors, I will say that I think Factor is better on that front, but I do think that Diet To Go is the best prepared meal delivery service for weight loss that I have tried.
The nutrition with Diet-To-Go is tighter with fewer calories. When comparing it to companies like Fresh N' Lean in the same diet space, the taste of Diet To Go is much better. If you are looking to order a prepared meal delivery to help with loosing weight, then I would definitely give this a try.
Get $80 off the first 4 weeks ($20 off each week) by clicking HERE! (discount will automatically be applied to cart)