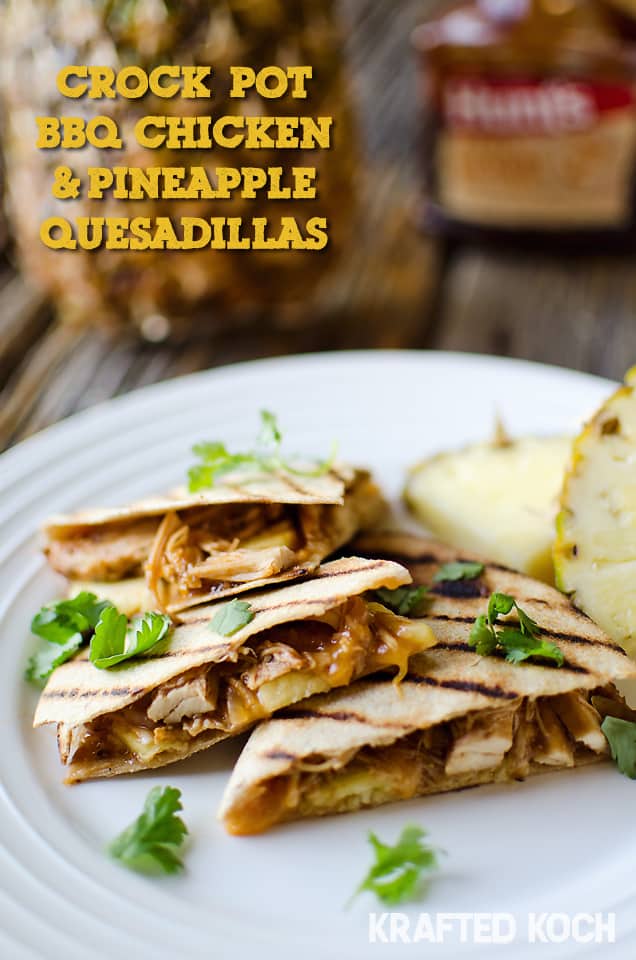 These Crock Pot BBQ Chicken & Pineapple Quesadillas with melted cheese are an easy Crock Pot
meal you can set and forget that your whole family will love!
About a month ago, all of my family was home for a weekend, and my mom asked me to make something for dinner as usual. I struggle a bit with what to make for my siblings, because while I love trying new and different things, most of them are pretty well stuck in their box of hot dishes and roasts that we grew up with. So while I like to push their boundaries a little, I try not to take it too far.
I had a photoshoot in my home-studio that afternoon, so I wanted something quick and easy, that wouldn't take a lot of time. I got to thinking, everyone loves BBQ chicken with melted cheese, right?! But that would just be too simple, so I added some pineapple to the mix. I just love the sweet, juicy pineapple paired with something savory.
I decided to hold off on adding the pineapple into the Crock Pot
, because, well, we have a couple of picky eaters who don't like pineapple on savory things. (I.E. my sister-in-law and my own darn husband!) This way, I was able to leave the pineapple off of their quesadillas before grilling them up, while the rest of us got to enjoy the fresh fruit mixed in. If you want to streamline this meal, simply add a drained large can of pineapple tidbits to the Crock Pot to cut out a step.
Surprisingly enough, everyone was a fan, picky eaters and all! My sister-in-law actually just requested this recipe, so I thought I would get it up on the blog for everyone to enjoy.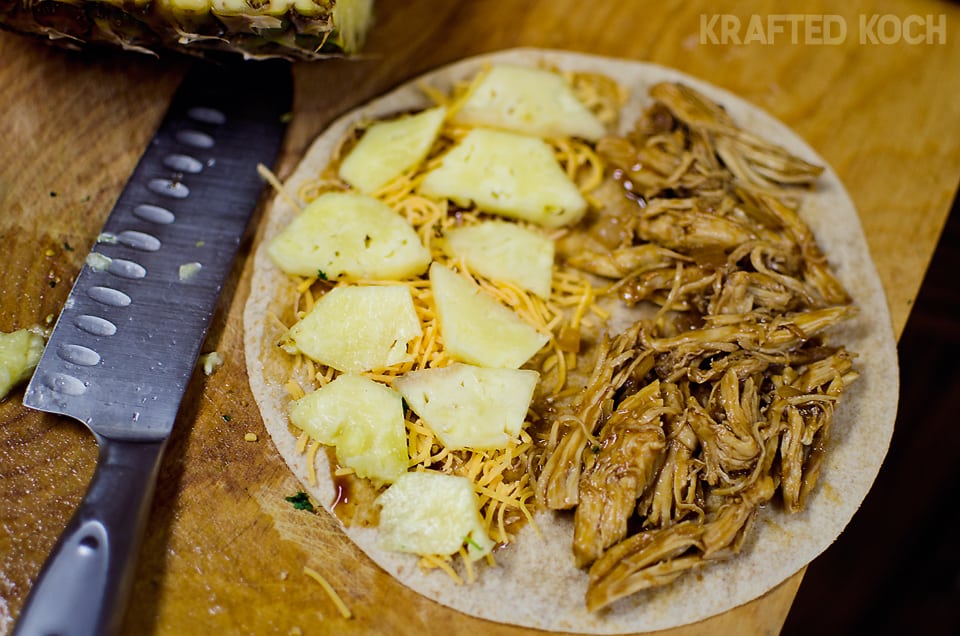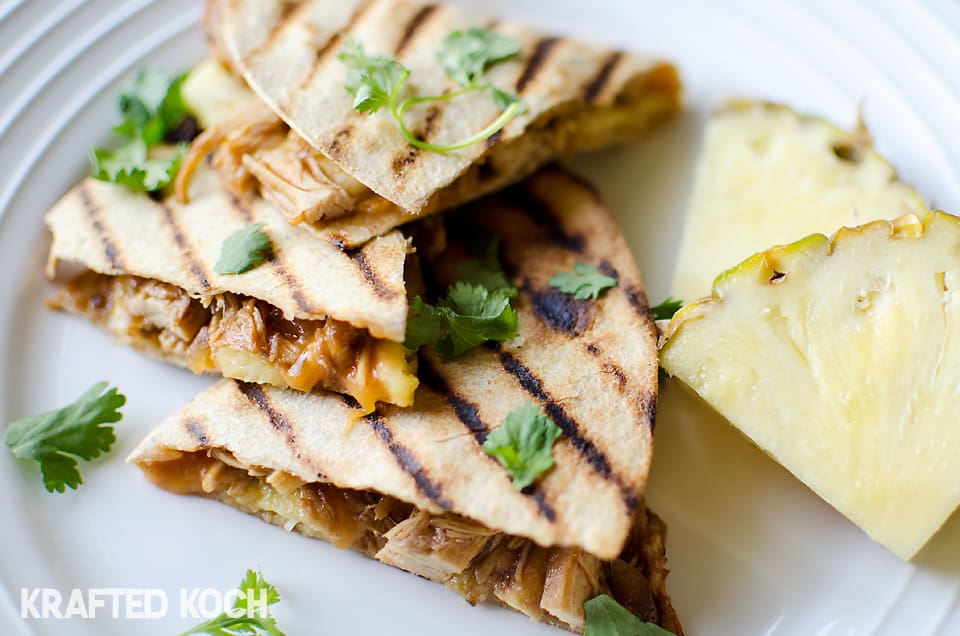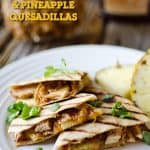 Print Recipe
Crock Pot BBQ Chicken & Pineapple Quesadillas
Slow cooked BBQ chicken, paired with fresh pineapple and shredded cheddar, all melted in a crispy tortilla quesadilla!
Ingredients
8

wheat 10" flour tortillas

1

lb.

chicken breasts

1

c.

BBQ sauce

1

c.

onion diced

4

c.

fresh pineapple sliced thinly

or substitute a large can of pineapple tidbits

2

c.

shredded cheddar

1/2

c.

BBQ sauce for spreading on tortillas

pan spray

cilantro - optional garnish
Instructions
Spray your Crock Pot with pan spray, and add the onions, chicken breasts and 1 c. BBQ sauce. Cook on high for 2 hours or low for 4 hours.

Let the chicken cool for 10 minutes, then with two forks begin shredding the meat. Stir the mixture well to combine the meat and sauce.

On each tortilla half, spread 1/2 c. meat mixture. On the other half, layer 1 Tbsp. BBQ sauce, 1/4 c. cheese and 1/2 c. pineapple slices. Fold the quesadillas together and spray each side with pan spray.

Place quesadillas on a hot griddle or frying pan and cook on each side for 1-2 minutes until crispy.

Remove from heat, and slice in three sections. Serve immediately.
Nutrition Facts
Serving Size 1 quesadilla
Servings Per Container 8
---
Amount Per Serving
Calories 461 Calories from Fat 144
% Daily Value*
Total Fat 16g 25%
Saturated Fat 8g 40%
Trans Fat 0g
Cholesterol 68mg 23%
Sodium 715mg 30%
Total Carbohydrate 53g 18%
Dietary Fiber 5g 20%
Sugars 30g
Protein 26g 52%
---
*Percent Daily Values are based on a 2,000 calorie diet. Your daily values may be higher or lower depending on your calorie needs.