Cranberry Orange Custard Pie is a unique dessert recipe to add to your holiday menu. A flaky pie crust is filled with sweet custard laced with orange zest and tart cranberries for a special Cranberry Pie you will love!

Cranberry Pie
Cranberry Orange Custard Pie is a the perfect addition to your holiday spread. It is a unique pie that is sure to be a hit with the combination of creamy egg custard paired with tart cranberries and the best pie crust recipe.
There really isn't any fruit that doesn't taste amazing with custard. I've pretty much tried them all. From Apple Custard Bars to Blueberry Lemon Custard Bars, you really can't go wrong with custard!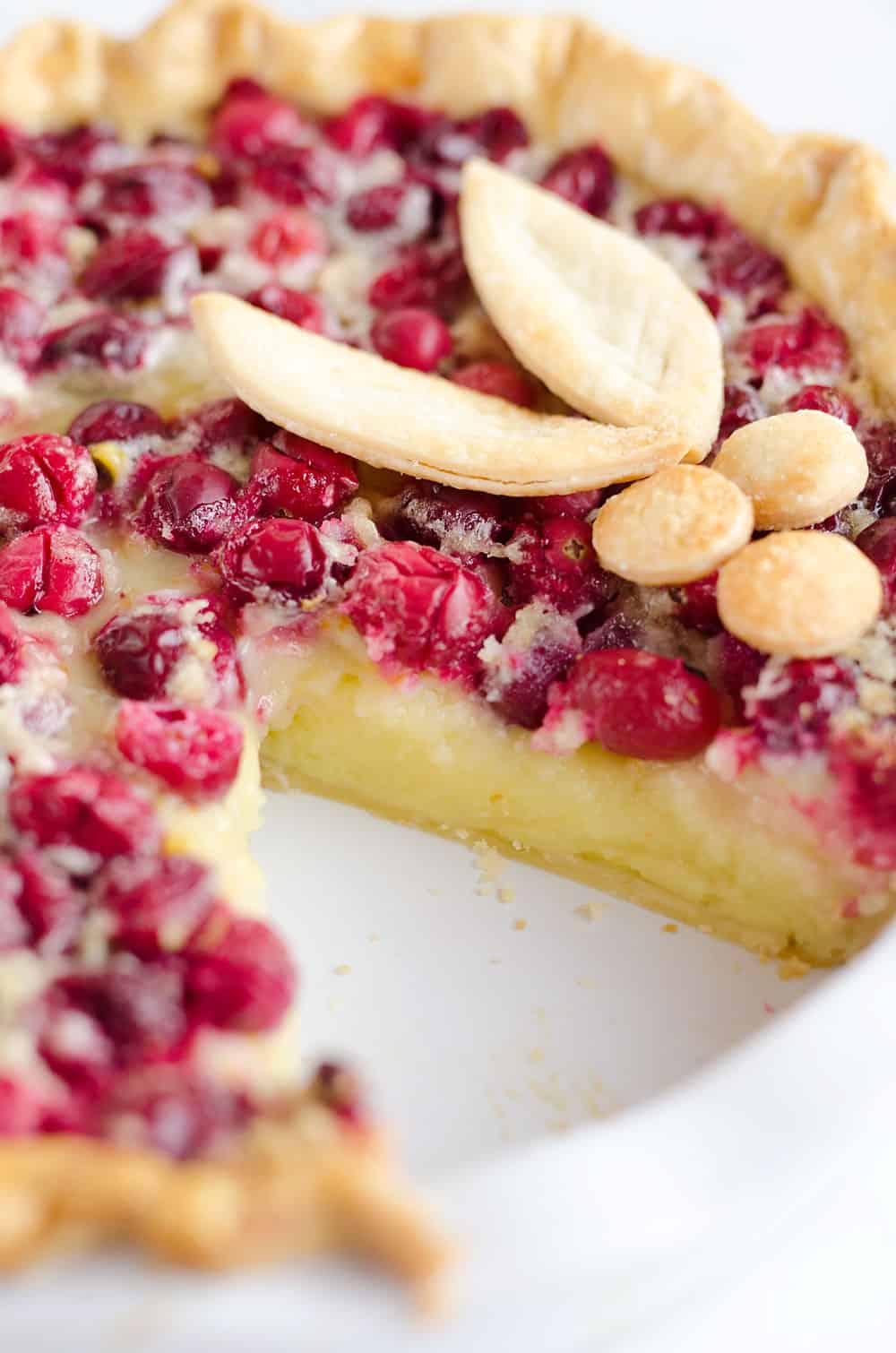 Favorite Holiday Desserts
Let's talk about holiday desserts for a moment. Is your family all about the traditional pumpkin pie for Thanksgiving and assortment of cookies for Christmas? Our family sure is!
While pumpkin pie isn't at the top of my favorite holiday desserts, cookies are my jam! My personal favorites have always been these Old Fashion Sour Cream Cutout Cookies with Walnut Thumbprints coming in a close second.
From as early as I can remember, my mother has always made the same cookies for Christmas. She consistently makes my two favorites along with Peanut Butter Blossoms and Coconut Straw Hat Cookies.
Each child has their favorite and therefore we can never abandon one of them. That doesn't mean we can't add new favorite desserts like this Cranberry Orange Custard Pie though!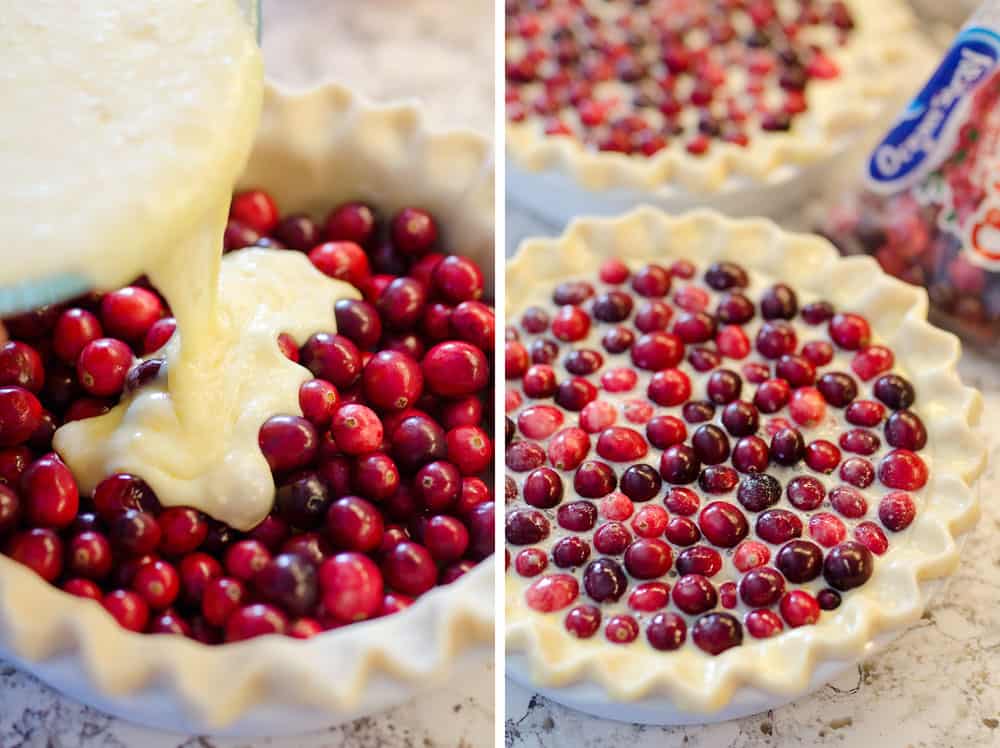 Custard Pie
I was longing after one of my favorite desserts recently, Rhubarb Custard Pie. The sweet silky custard balances out the rhubarb in a perfectly flaky pie crust for the most amazing dessert.
It got me thinking how it is ashamed that rhubarb has such a short season. Sadly we are only able to enjoy that wonderful dessert for about a month out of each year while the rhubarb patch is in season.
I realized cranberries would be the perfect substitute for rhubarb! Cranberry Pie sounded delicious. They are both very tart with a similar hard and dry texture.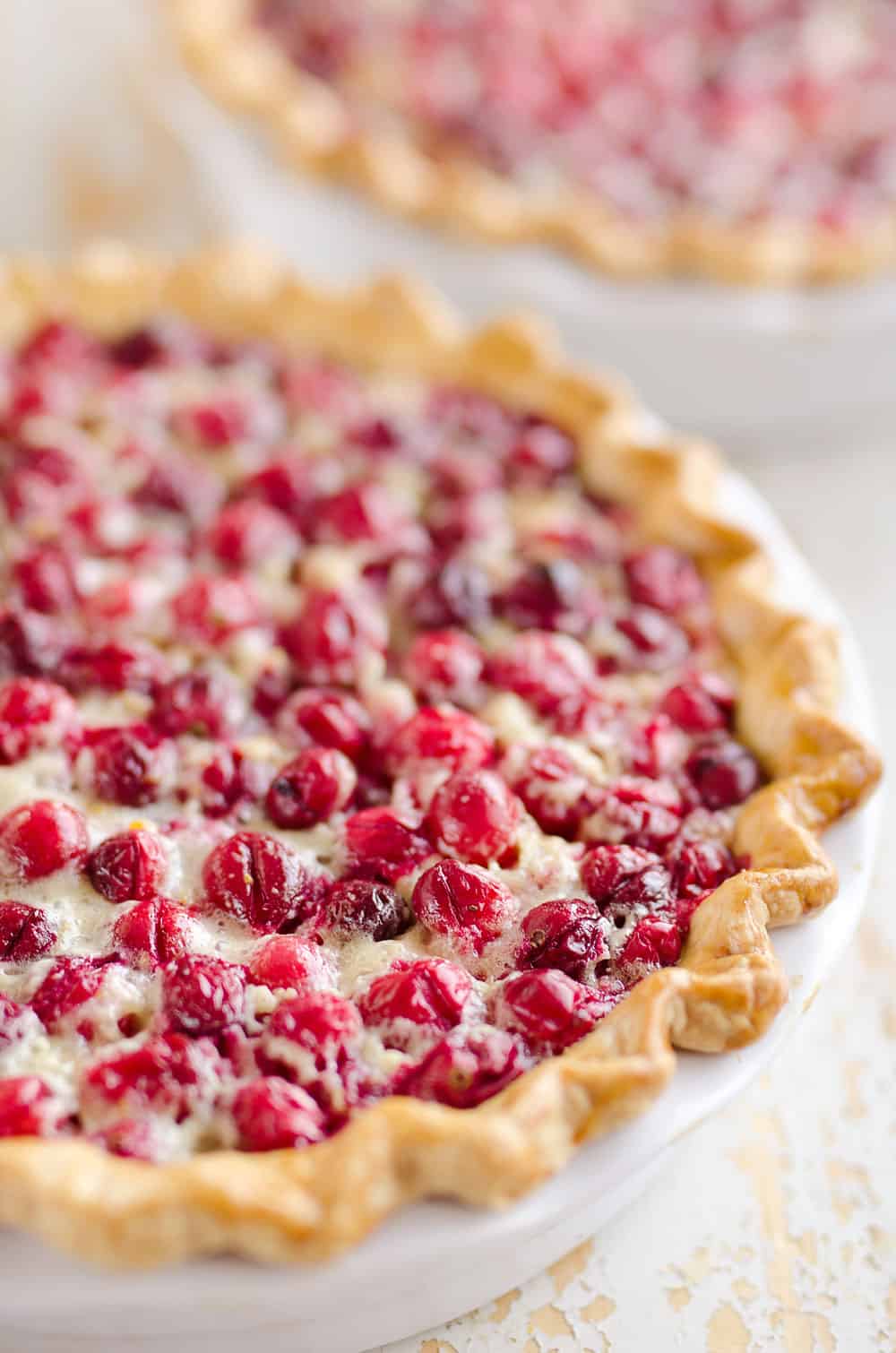 How to Make Cranberry Pie
This Cranberry Pie recipe was born from my favorite Rhubarb Custard Pie. It really is one of the easiest pies to make and oh so delicious.
Pies are generally an easy dessert to make apart from the pie crust. That can be bypassed with a frozen or refrigerated crust if you aren't a fan of rolling out dough. I do suggest making the effort though, because a homemade flakey pie crust is a beautiful thing. In my case, I recruit my mother who has mastered a good crust.
Once you have your pie crust prepared in a pie tin, layer some fresh cranberries in the shell. Top it with the custard made from whisked eggs, cream, sugar, flour, orange zest and vanilla.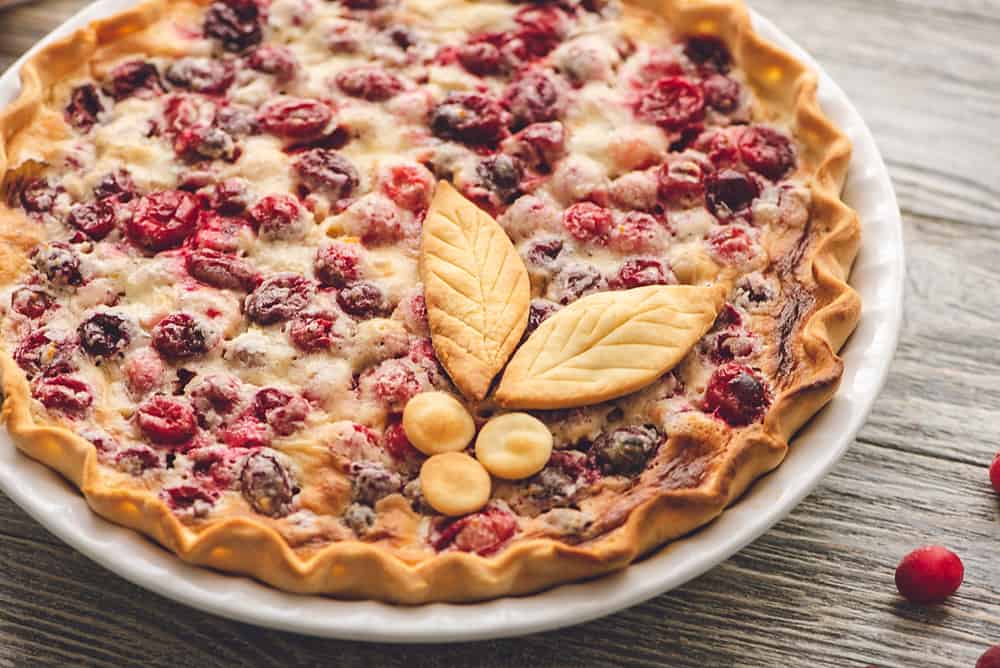 Can I use frozen cranberries?
Fresh or frozen cranberries work great in this custard pie. If you decide to use frozen, just let them thaw first and pat them dry. This helps avoid too much moisture being added to the custard.
As far as freezing this pie before or after baking it, that isn't the best idea. With the eggs and cream custard, the texture isn't going to hold up to freezing well.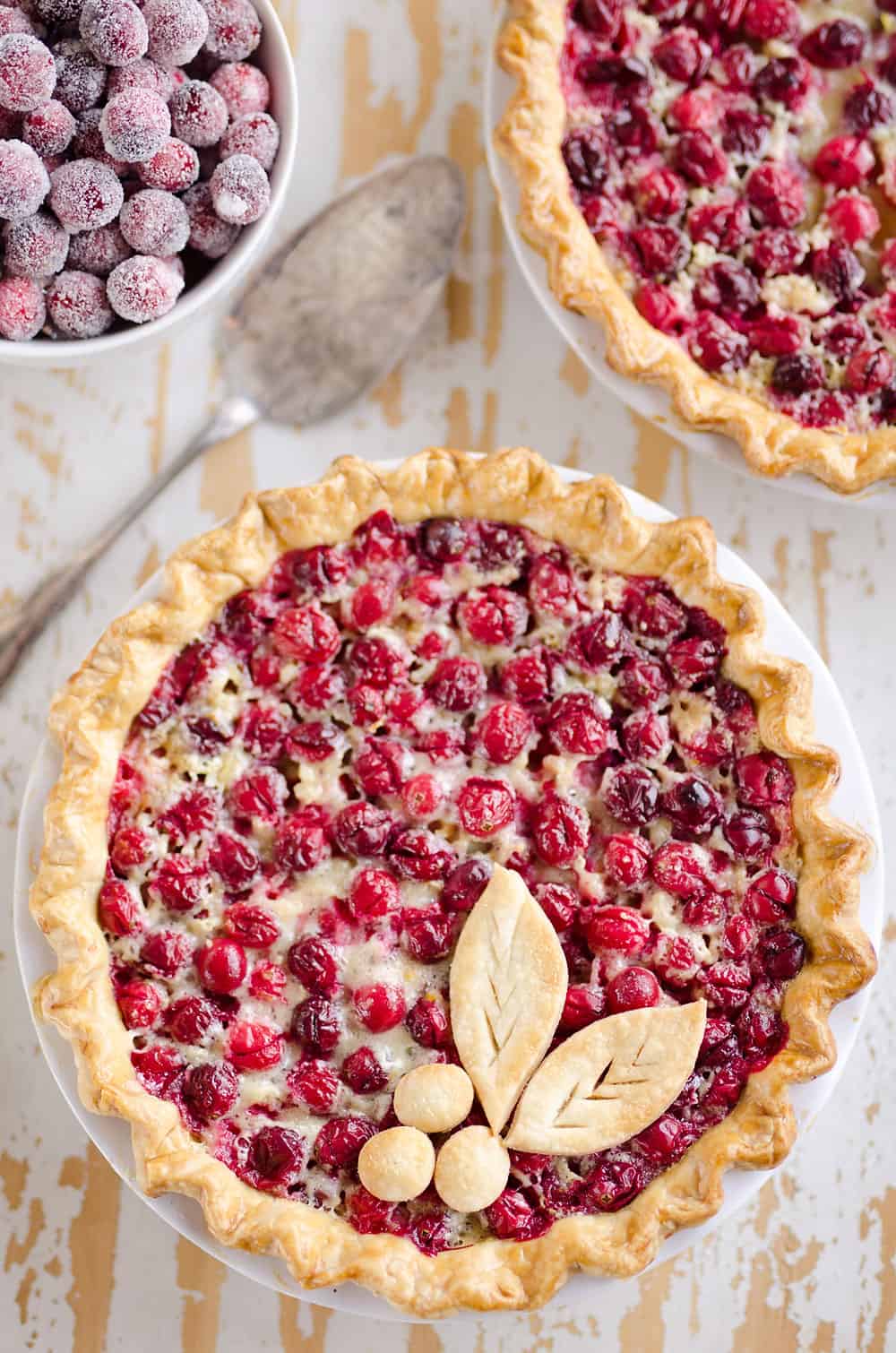 How do I know when the custard is set?
No one wants to end up with a custard that is runny in the center. It's important to bake the custard through, but at the same time you don't want to overbake the pie.
After the pie has baked for 50 minutes I start to check the custard by shaking the pie slightly. If there is a small 2-3 inch portion in the center that is still slightly giggly, it is done. That portion will set up as the pie cools. If any more of the pie is jiggly, it isn't done yet.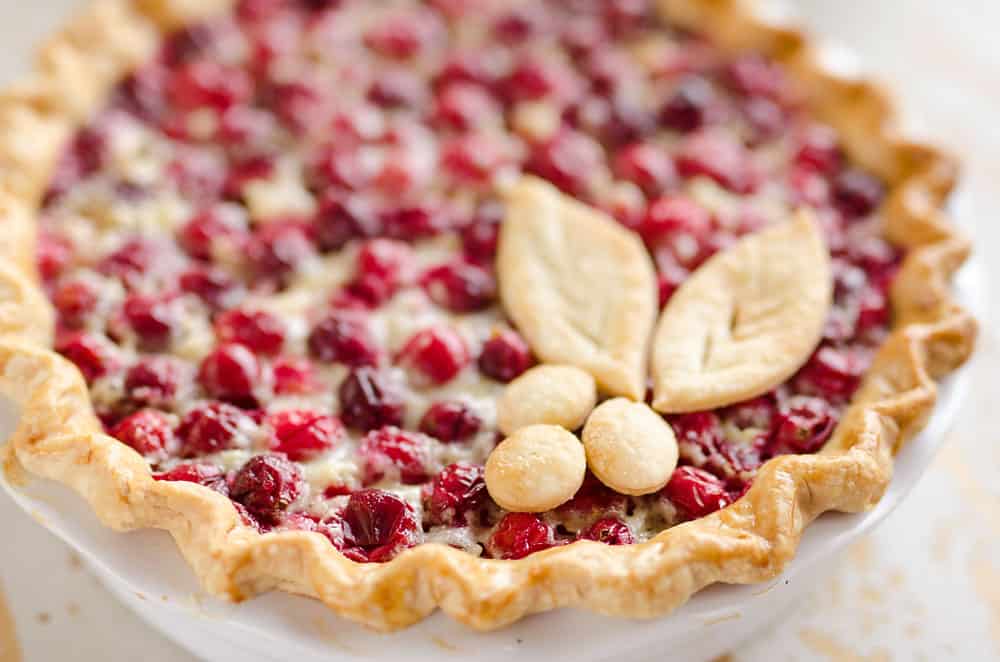 Unique Pie Recipe
It all came together absolutely beautifully, both visually and in flavor. It was fall dessert perfection! I used the scraps of pie crust to make some leaves and berries to add to the pie after baking it for a little something extra special.
My family happily dug right in and quickly came back for seconds. This Cranberry Orange Custard Pie is a definite winner and something unique you should really give a try to change things up for your holiday dessert spread this year!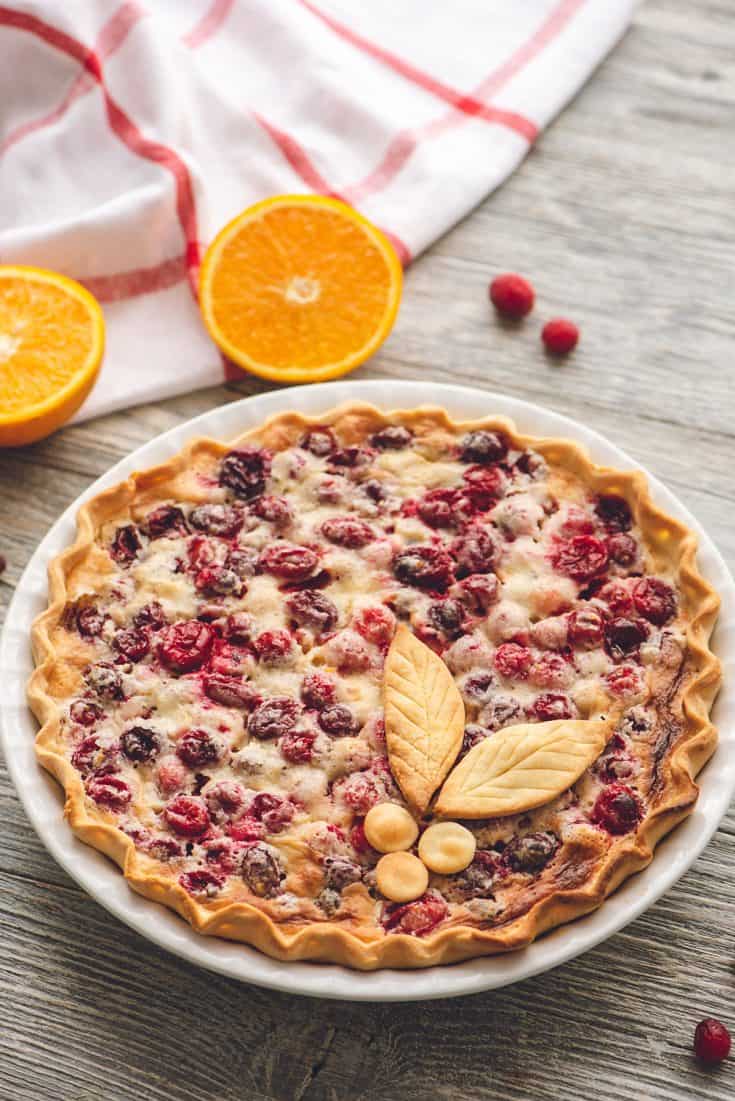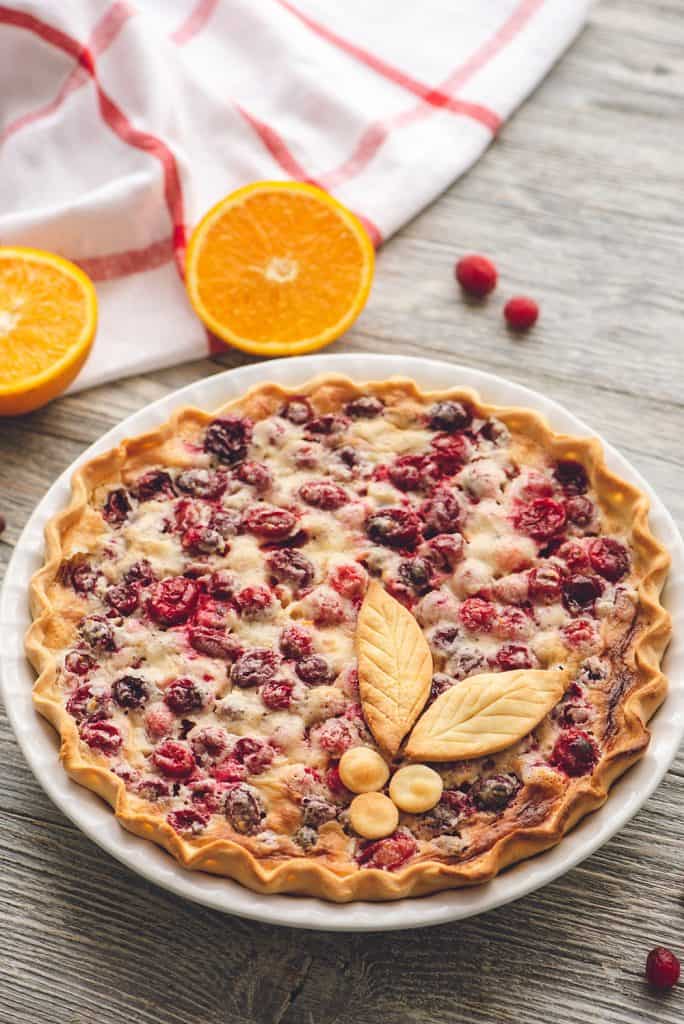 More holiday dessert recipes!
Holidays are all about food, with dessert being the grand finale. From cheesecakes and tarts to pies and bars, there are so many amazing dessert recipes you need to try!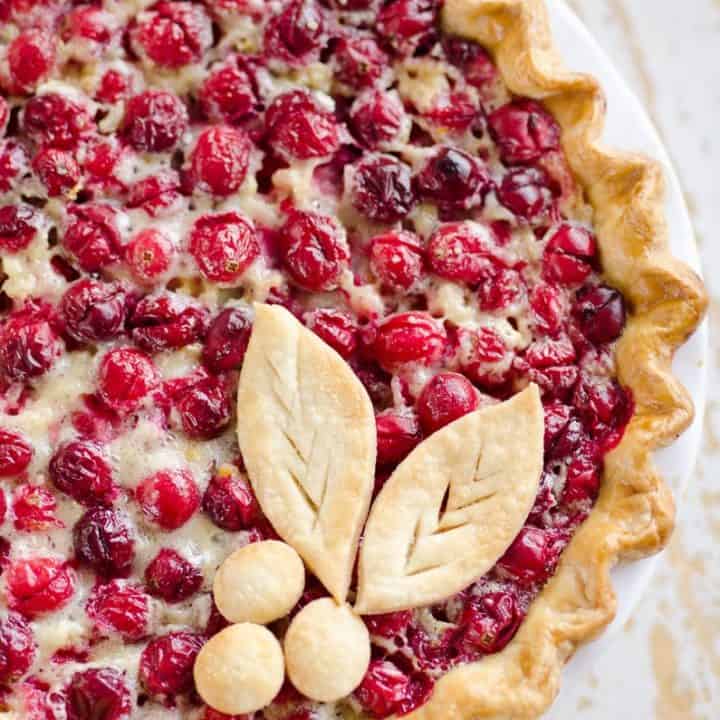 Cranberry Orange Custard Pie
Cranberry Orange Custard Pie is a festive and unique pie to enjoy during the holiday season. A flaky pie crust is filled with silky sweet custard laced with orange zest and tart cranberries for a special dessert.
Ingredients
10 " unbaked pie shell
12 oz. bag fresh cranberries, if frozen, thaw and pat dry
1 1/2 c. sugar
3 eggs beaten
1 c. heavy whipping cream
1/4 c. flour
½ tsp. salt
1 Tbsp. orange zest
1 tsp. vanilla extract
Instructions
Preheat oven to 400°,
Place cranberries in the unbaked pie shell.
In a separate bowl, whisk the remaining ingredients together and pour over the cranberries.
Bake for 10 minutes at 400°.
Reduce the heat to 350° and cover crust with pie crust shield or tin foil. Bake for an additional 40-45 minutes until the custard is set.
Let cool completely before serving. Store refrigerated.
Recommended Products
As an Amazon Associate and member of other affiliate programs, I earn from qualifying purchases.
Nutrition Information:
Yield:

8
Serving Size:

8 Servings
Amount Per Serving:
Calories:

701
Total Fat:

30g
Saturated Fat:

13g
Trans Fat:

0g
Unsaturated Fat:

15g
Cholesterol:

103mg
Sodium:

496mg
Carbohydrates:

104g
Fiber:

4g
Sugar:

65g
Protein:

8g
Provided nutrition data is only an estimate. If you are tracking these nutrients for medical purposes, please consult an outside, trusted source.