This Trifecta Meal Delivery Service Review is an honest look at the quality and taste of the food delivered and customer service.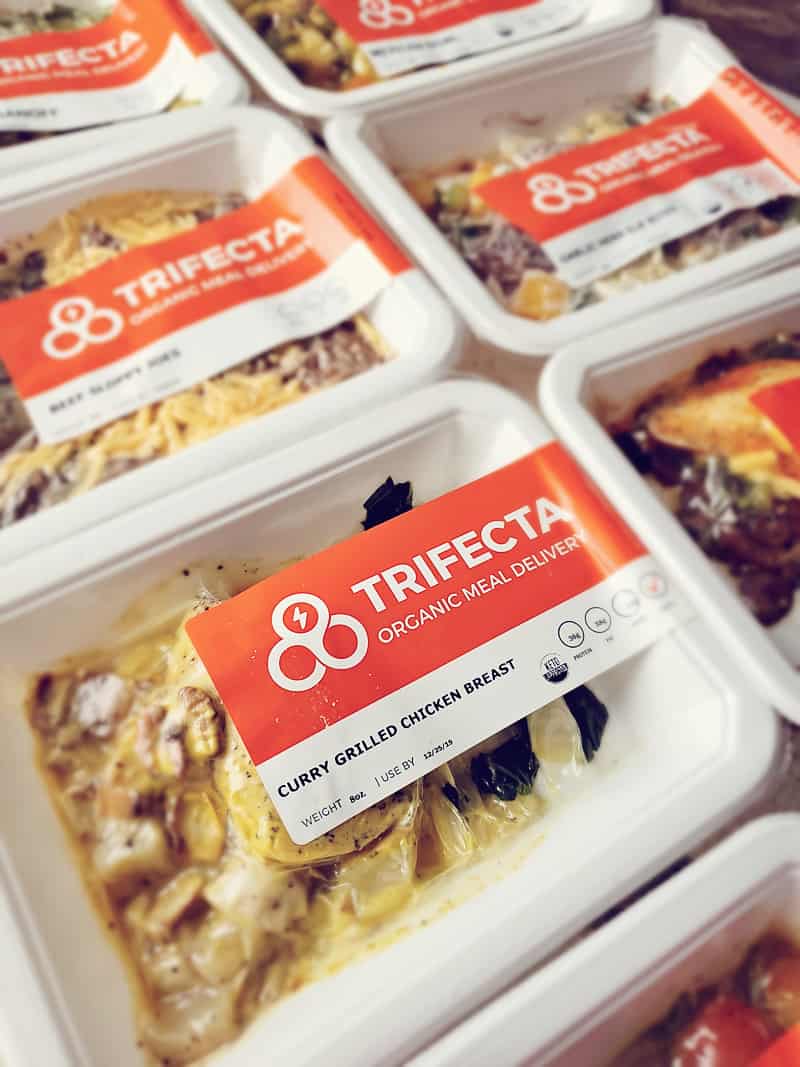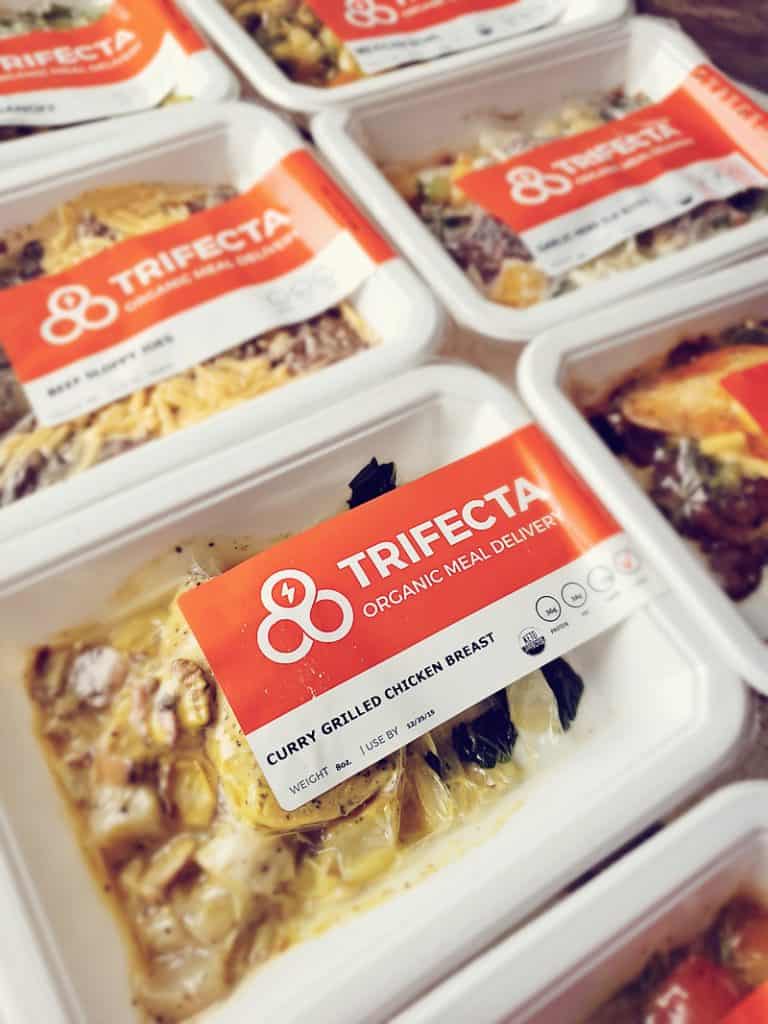 Trifecta Review
Trifecta is an organic meal delivery service that offers Keto, Paleo, Vegetarian, Vegan and Classic plans. You can choose from a combination of dinners, lunches and breakfasts delivered each week, with a minimum of 7 meals in each box. Unlike meal kits, this type of meal delivery service ships fully cooked meals right to your door.
I have been trying lots of prepared meal delivery services lately. My favorite so far has been Factor 75. Their meals are so delicious and filling and their prices are reasonable compared to similar services. I found Trifecta in my Facebook feed with a Black Friday promotion and I thought I would give them a try and share my Trifecta Review with you guys.
I ordered my first Trifecta box and it arrived quickly on my doorstep. Everything was packaged up nicely with ice packs keeping the food nice and cold. My meals were a complete surprise when opening the box.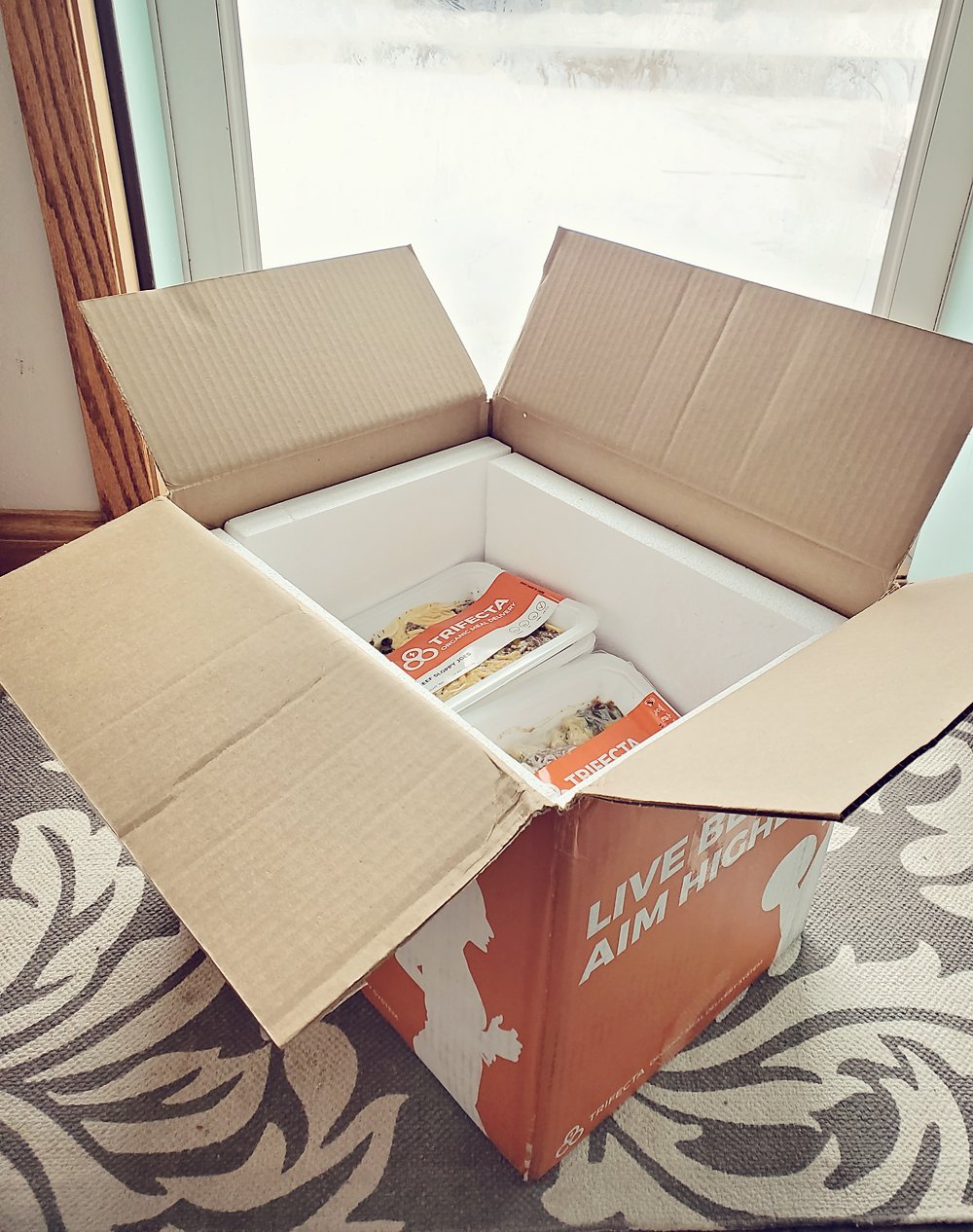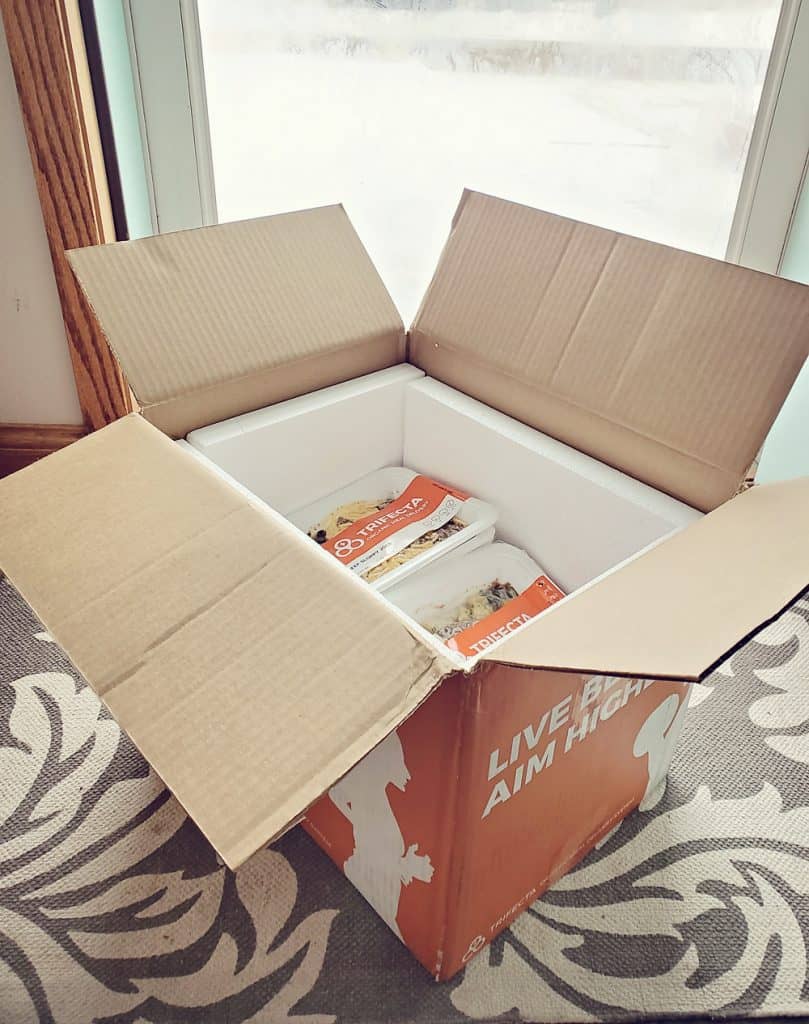 Trifecta Limited Choices
This is the first downfall to this company. I am just not a huge fan of the meal delivery services that don't allow you to pick your meals each week. You can eliminate a few ingredients like fish, nuts, etc. but at the end of the day you are completely at their mercy.
You have no idea what you are going to be receiving each week in your $100+ box. I much prefer companies like Freshly and Factor 75, who allow you to pick out each meal.
When I reviewed the meals shipped to me, I wasn't entirely disappointed. Meals like Garlic Herb Elk Bites, Mexican Bowl and Curry Chicken Breast sounded promising. Other meals like Beef Strogonoff and Sloppy Joes, while not my usual favorites, sounded like classics that you couldn't go wrong with. I was wrong about that, but more on that in a bit…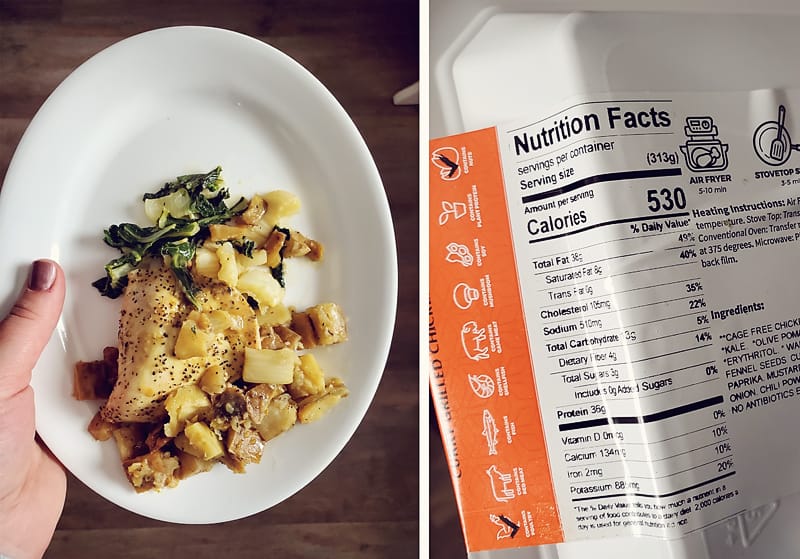 Trifecta Meal Taste
Alright, let's talk about what is ultimately the most important factor, for me at least, when choosing a meal delivery service. Taste!
The first meal I tried was the Chicken Curry with sweet potatoes and bokchoy. When I plated the meal it seemed a little small, but I enjoyed the flavors and texture of chicken. Overall this meal was a good one.
Next up was the Sloppy Joes. I was craving some comfort food and I enjoy Sloppy Joes every now and again in the winter, so this seemed like a great option. I heated it up and again, the meal seemed unsubstantial again, but I was excited to try the flavors.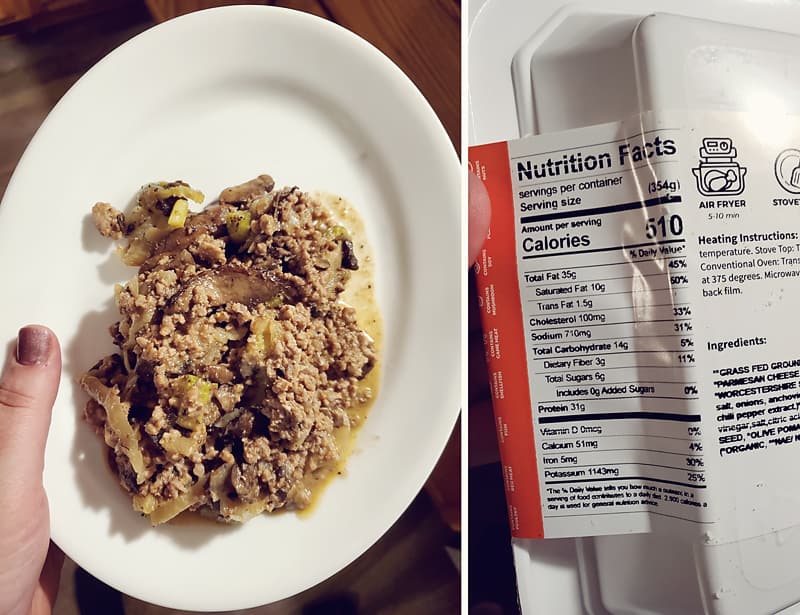 Trifecta Salty Meals
WOW, all I was hit with on this meal was SALT! I could taste a hint of celery and beef behind the overwhelming salt flavor, but I couldn't even finish the meal. I don't know if they accidentally dumped a bucket of salt in this batch when they were making it, or if it was intentional, but it was horrible. I couldn't take more than a few bites.
I went back to the refrigerator and grabbed the Mexican Bowl. That seemed like the next best option to satisfy my craving for some comfort food. I heated up, the again small meal, and gave it a try.
The Mexican Bowl wasn't as offensive as the salty Sloppy Joes, but it wasn't anything to write home about either. It lacked any real "Mexican" flavors and tasted more like ground beef and vegetables.
The rest of the meals continued in this fashion. They rest were edible, unlike the sloppy joes, but it was clear I would certainly never be ordering from Trifecta again.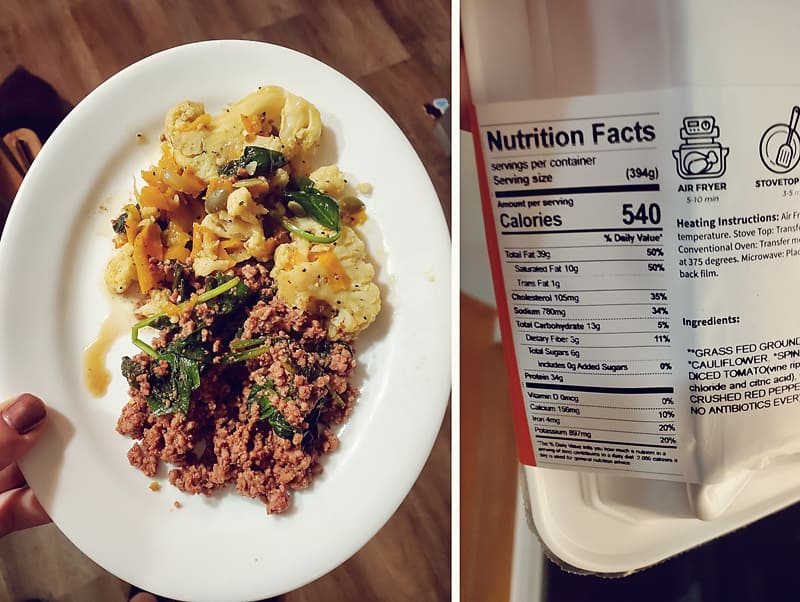 Trifecta Review – Portion and Nutrition
As I've mentioned, the meal sizes were on the small side. I haven't had this complaint with any other meal delivery service and it just seemed to strike me more because the meal sizes felt unproportionate to the amount of calories. The Curry Chicken for example was a small chicken breast with a very light coating of sauce and maybe 1/3 cup of sweet potatoes. I'm not sure how that adds up to 500+ calories? The portion size is fine for a lunch, but not really worth the calories for the subpar flavors.
Trifecta seems to focus their nutritional efforts on low carb meals. Most of the meals I had were all under 15g carbs, which is great for those wanting to follow Keto or low carb diet, if you aren't picky about taste.
Other meal services like Fresh N Lean offer low calorie meals, but still managed to have heartier meals and better flavor. They were full of lots of vegetables and good stuff to satisfy a typical meal.
Most of the meals with Trifecta were around 500-600 calories. The portion sizes were smaller than the meals with Fresh N Lean, whose meals were usually closer to 400 calories. If I want a 500-600 calorie meal, I will choose Factor 75 all day long. Their meals are actually delicious and way more filling.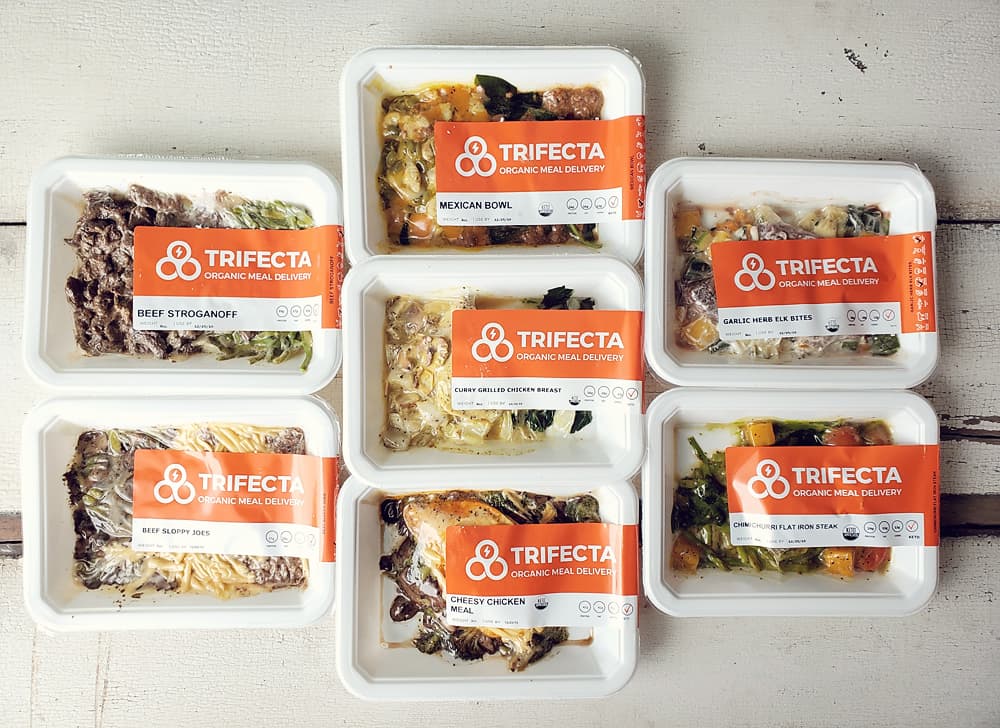 How much does Trifecta Meal Delivery Service Cost
I ordered my box on a Black Friday promotion, so I paid just under $70 for 7 meals. This still isn't cheap, but I wanted to try the company to share with all of you.
A normal delivery from Trifecta will run you $108.43 for 7 meals. This comes to $15.49 per meal. OUCH! That is the highest cost of any of the meal delivery services I have tried. It definitely isn't worth the price in my opinion for the small portions with flavor that isn't great.
You can get more affordable options that taste much better from other brands. For comparison sake, Freshly is $10.68 per meal, Factor 75 and Fresh N Lean are both $12.83 per meal.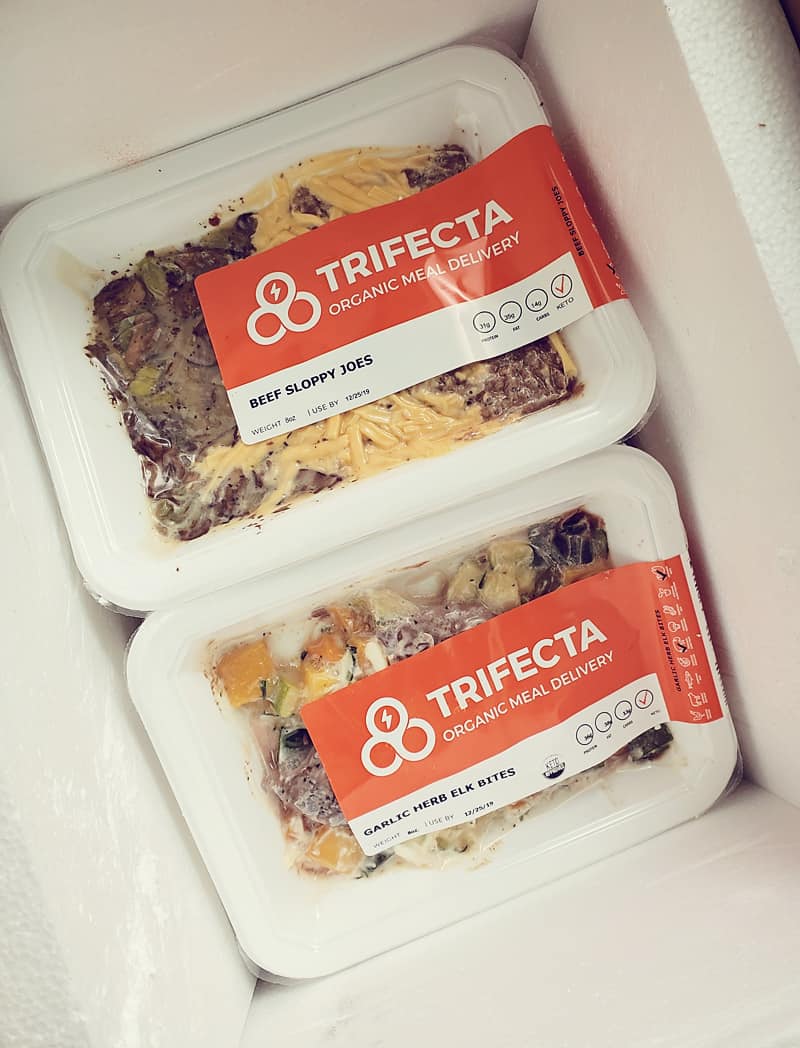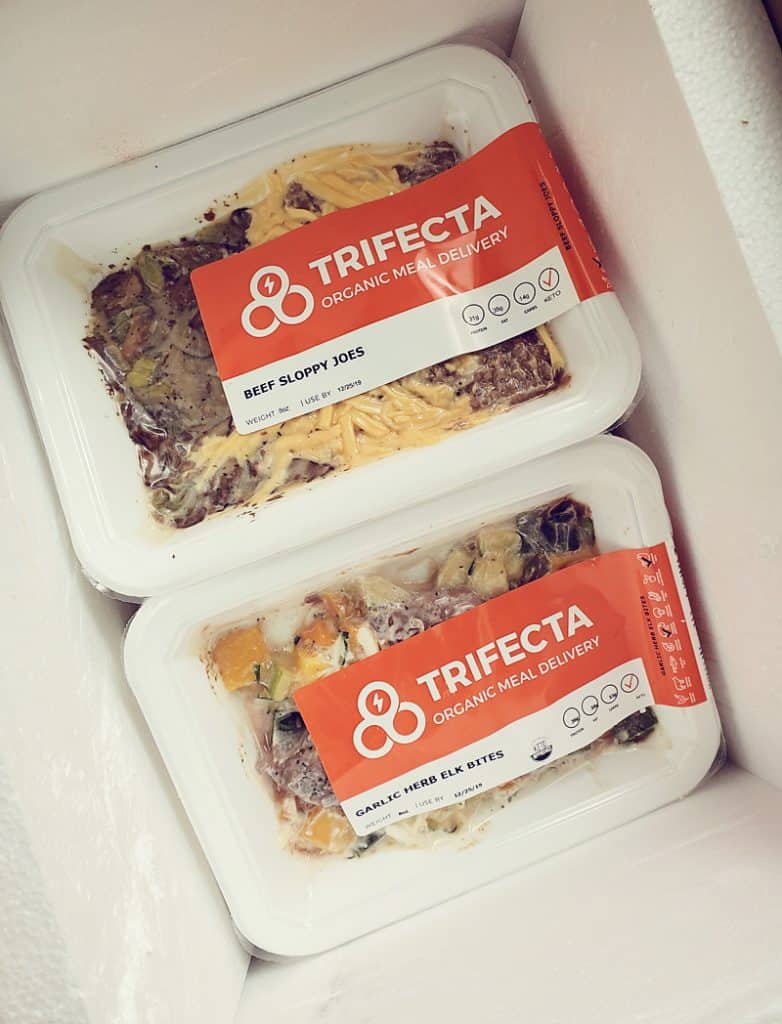 Trifecta Review – Customer Service
I emailed Trifecta asking them a question about their service and they never responded, but instead they collected my email address and started spamming me with promotional emails. Not impressed.
Weeks later, I emailed again with no response. I decided to try and get a hold of someone through their active Instagram account at this point. I sent them a message asking for the appropriate contact so I may be able to get a response. Still crickets…
Phone calls didn't go much better.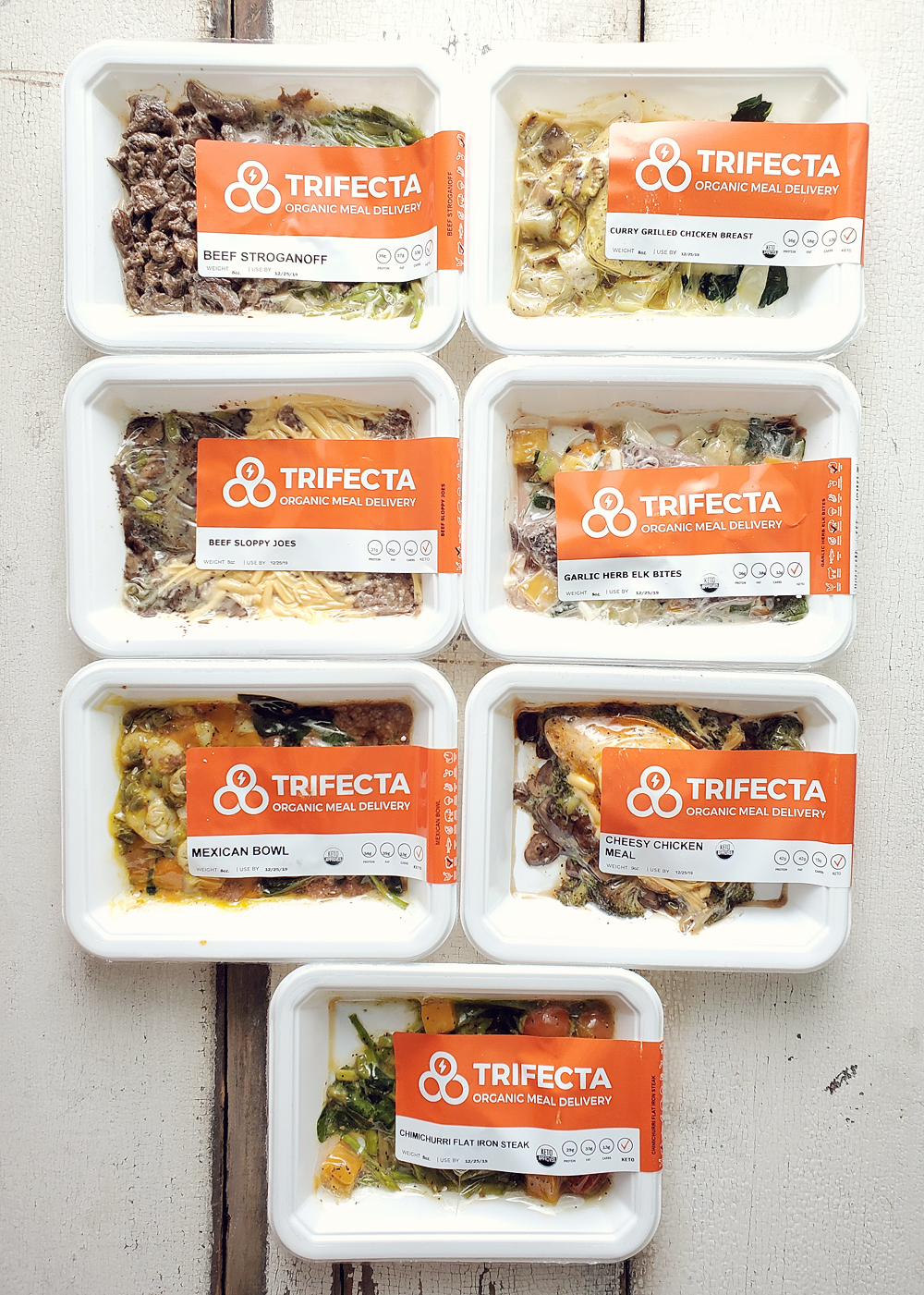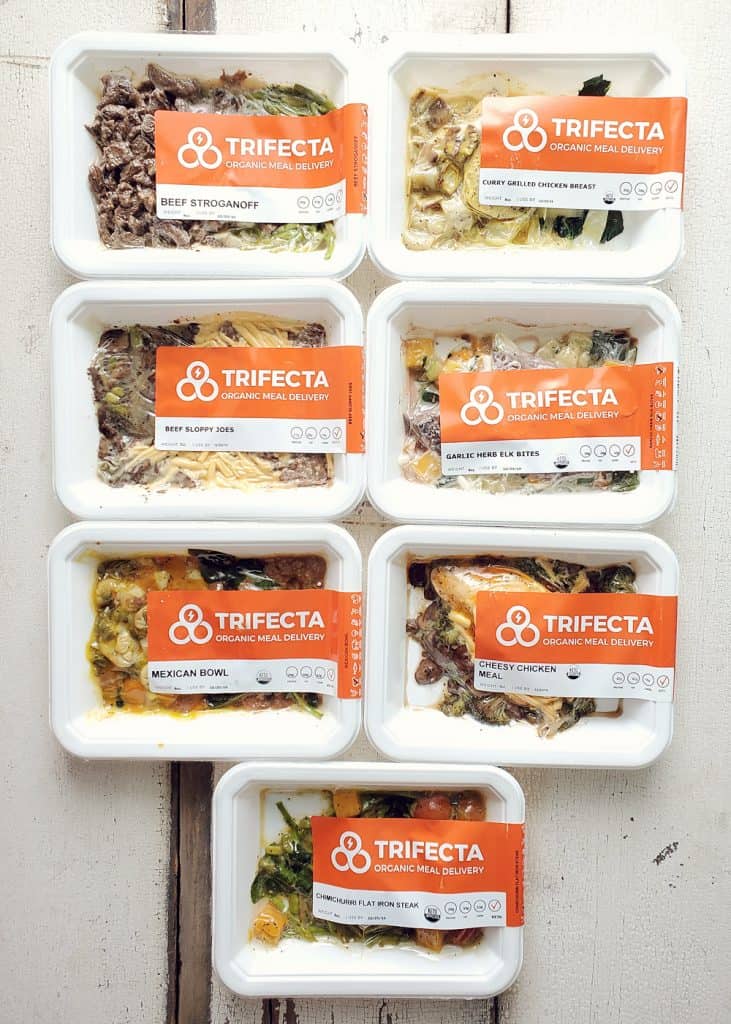 How to Cancel Trifecta Subscription
Here is the real kicker. After I ordered my first box, I immediately went in and set the following weeks all to "skip". I do this with any company I order from, because I don't want to be sent another box before I know if the meals were any good to start with.
Well, surprise surprise, I got an email that they shipped me another box a few weeks later. My heart literally sank when I saw the email that I had been charged $108 for a box arriving soon. This would be the biggest waste of a hundred dollars I might ever spend. I already had a box scheduled from Factor 75, so the Trifecta food wouldn't be eaten by me. I could freeze the meals, but that seemed like a waste of freezer space seeing I know I would never reach for them. Instead I gave the box to a friend.
Lots of other companies will send emails or texts letting you know that you have a few days left to skip your next delivery. Trifecta doesn't do any of that. They only notify you after the box has shipped and they have charged your account.
I apparently hadn't skipped out far enough and forgot about the schedule. I had gone in after my first disappointing delivery and tried to cancel, but it wouldn't let me cancel the subscription on their website. I meant to call them but forgot about it. I HATE companies that do this.
They allow you to edit your subscription in every way possible online, but make you call them to cancel. It's obnoxious and upsetting, but I was most upset with myself for wasting more money on another box. Ugh, lesson learned.
I tried call them during their business hours to see if there was any way I could have the shipment cancelled and get a partial refund. No dice. Not only did all my calls during their business hours go to voicemail, they weren't able to refund anything. I understand this policy, but when someone finally called me back I was at least able to finally cancel my subscription.
In conclusion, I don't recommend this company. In my experience you will have a hard time getting someone on the phone to actually cancel it after you try the unappealing meals. There are so many companies out there that do a much better job in my opinion.
My Favorite Meal Delivery Services
I highly recommend the companies below for meals delivered to your door. I signed up for their services months ago and recently enrolled in an affiliate program. If you order through these links, I will receive a small commission. I still pay for boxes from these companies with my own money though. That's how much I love them!