Homemade Sloppy Joes are a hearty barbeque sandwich recipe that is a classic family favorite! This comfort food is a quick and easy 20 minute weeknight recipe that is great any time of the year.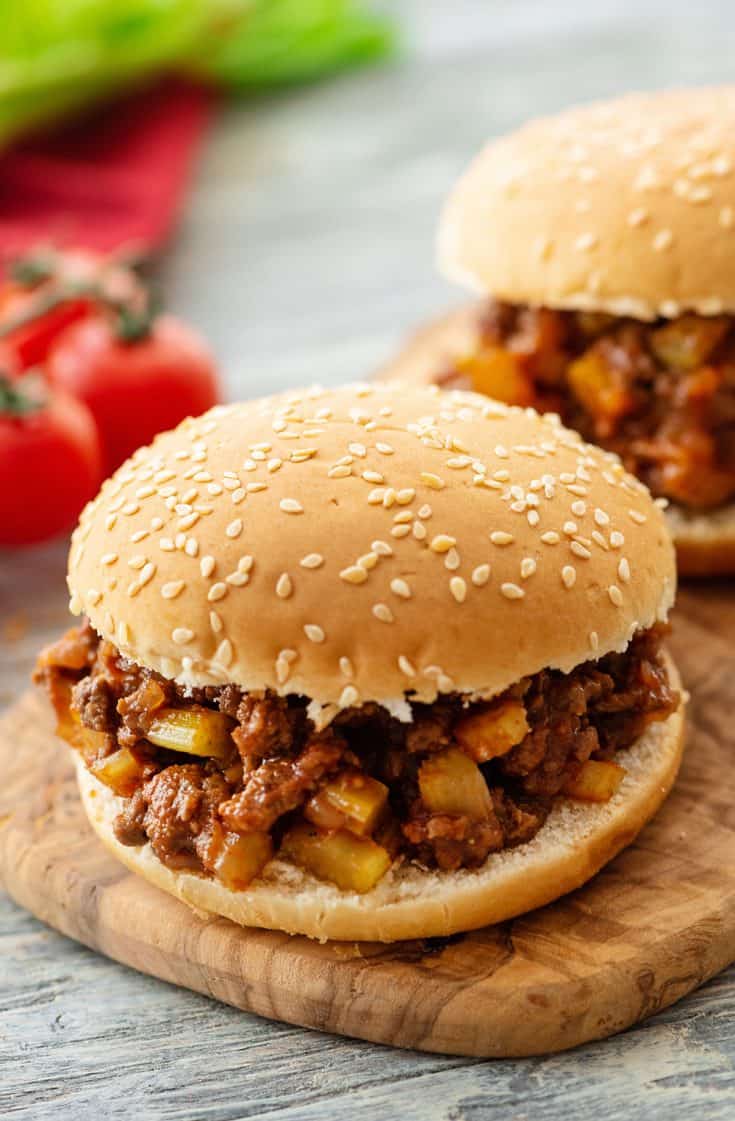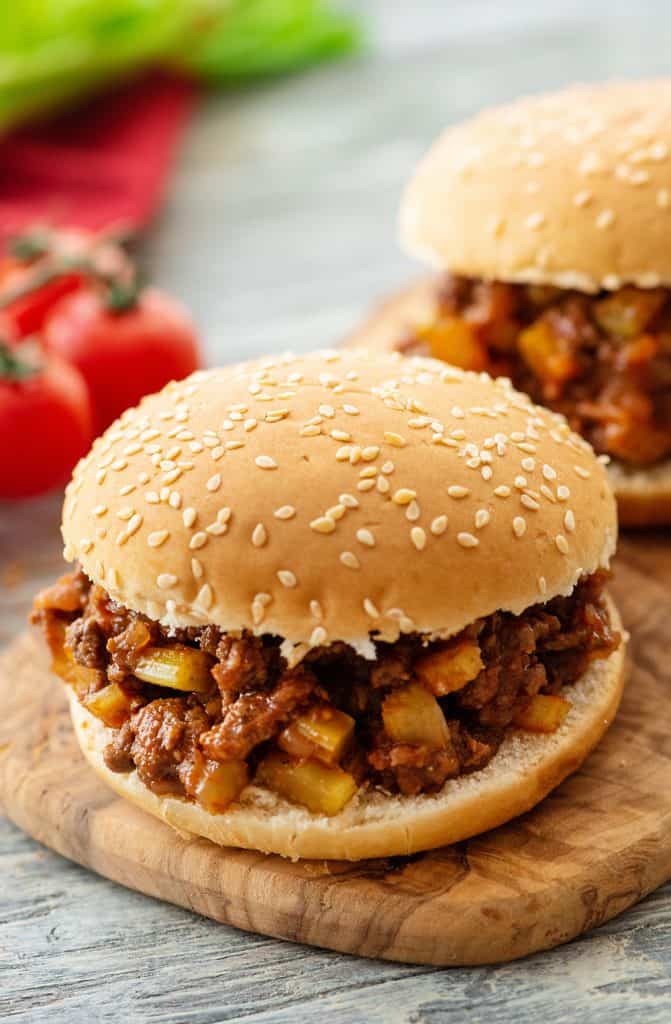 Making homemade sloppy joes
Homemade sloppy joes take very little time to make and I recommend doing your own sloppy joe sauce rather than buying it premade in a can or using a powdered mix. This recipe is from my Mom, who has been making them for our family for as long as I can remember. The country boys go nuts for them and are always more than happy when they come in to BBQs simmering on the stove!
With the weather cooling, a warm sandwich on a brisk fall afternoon sounds like heaven to me as well. These Pulled Pork and Bleu Cheese Slaw Sandwiches are a personal favorites of mine!
A sloppy joe is an all American sandwich that was invented about almost 100 years ago. In essence, it is essentially a tomato sauce stewed meat sandwich.
Why is it called a "sloppy joe"?
Besides the obvious, that a guy named Joe used to slop a helping of stewed meat between two pieces of bread, invented it, which may actually be the case; the sloppy joe might have derived from the "loose meat" barbecue sandwiches that were popular in the midwest.
In reality, some variation of a sloppy joe exists all over the world and are known by many other names. It is just the all American version of the barbecue sandwich that gets credited to a chef named Joe back in the 1930s.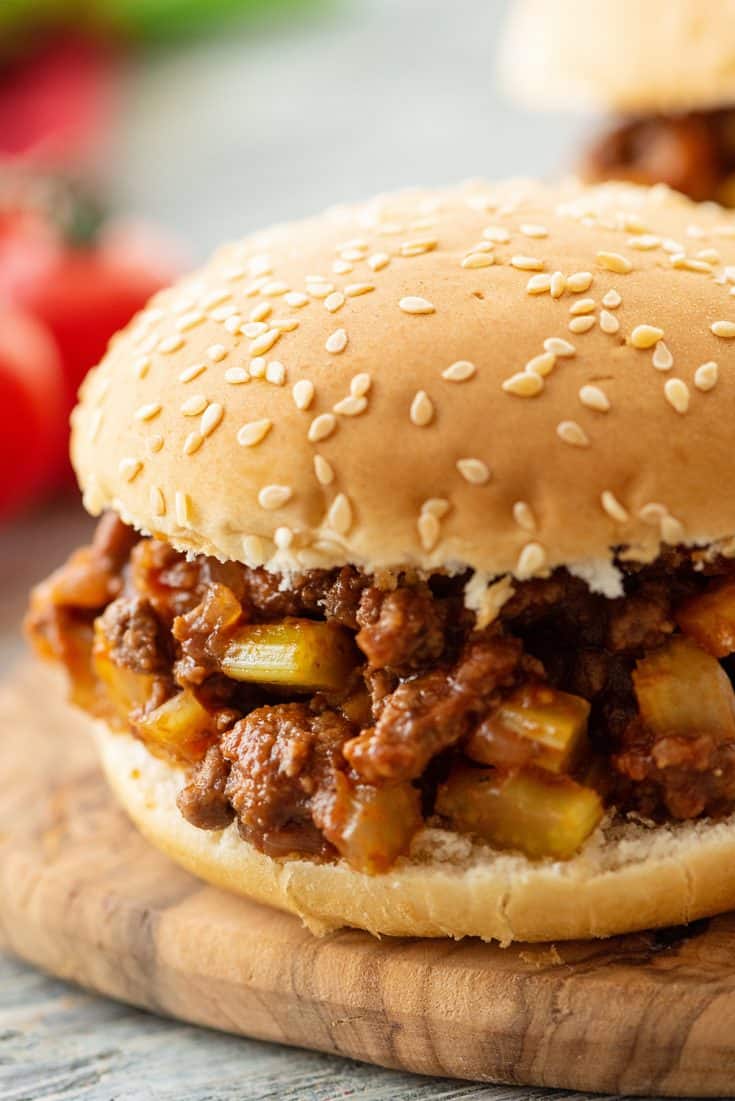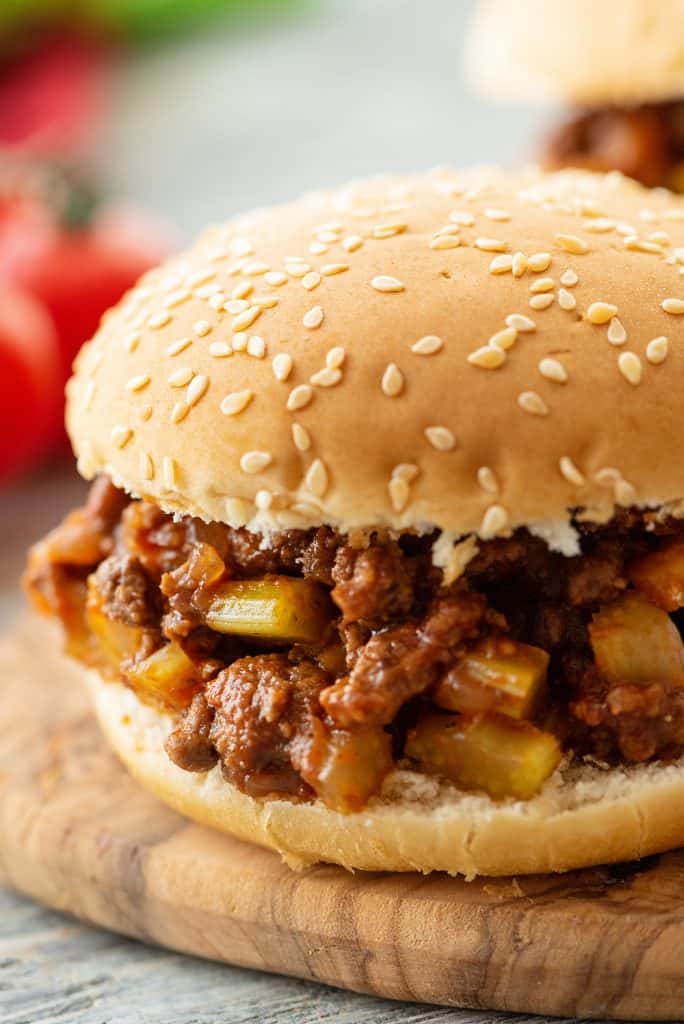 What kind of meat is used in a sloppy joe?
Historically speaking, a sloppy joe is made with either ground beef or ground pork or a combination of the two in equal measure. However, when you get right down to it, the sloppy joe sauce actually works well with any type of meat.
You could even finely chop or use ground chicken or turkey breast, or use ground lamb, instead. I was just in a butcher shop that offers camel, elk venison, llama and antelope ground meat, and any of those would work just as well too.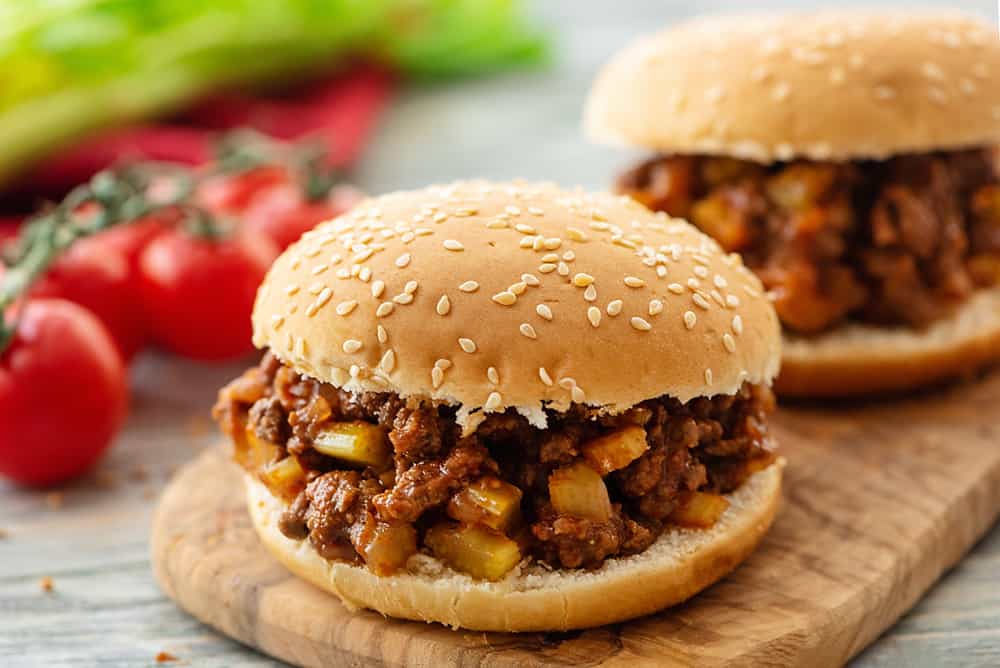 The key to a great sloppy joe is in the sloppy joe sauce
Easy homemade sloppy joes come together with a great sauce. Doing your own Sloppy joe sauce is simple. You are just combining a few ingredients and no additional cook time is actually necessary. The sauce cooks sufficiently when you add it to the browned hamburger meat.
The main ingredients are tomato ketchup or tomato sauce and worcestershire sauce, and a few other seasonings. Feel free to expand on the basics with things like a dash or three of tabasco sauce or another hot sauce.
You can also add a sprinkle of cinnamon – just don't add too much since it can be a bit overpowering and take over the flavor the same way too many drops of hot sauce might. Less than a quarter teaspoon is fine. Literally just a pinch.
The idea is not to make it taste like cinnamon but to let the cinnamon help accentuate the other flavors. For example, worcestershire sauce has anchovies in it but you don't necessarily taste anchovies, yet they are what help blend all the other ingredients in it. I hope I didn't spoil worcestershire sauce for people that hate anchovies.
Another trick – put a few chunks of dark chocolate in the sauce, the darker the better, let it melt and stir it in. No one will be able to place what it is, but everyone will ask why your homemade sloppy joes are so amazing.
Feel free to call it your secret ingredient. I am not going to tell.
Also, a tablespoon of mustard if it is "wet" mustard or a teaspoon of dry powdered mustard can help wake up the tomato part of the sauce.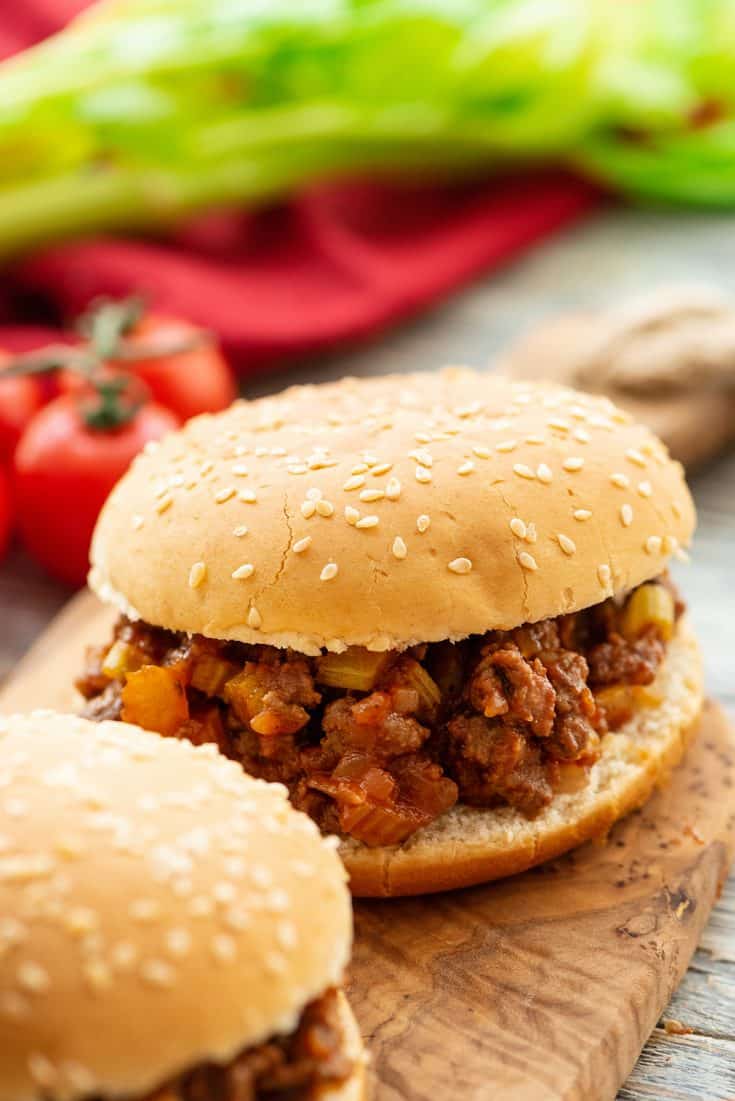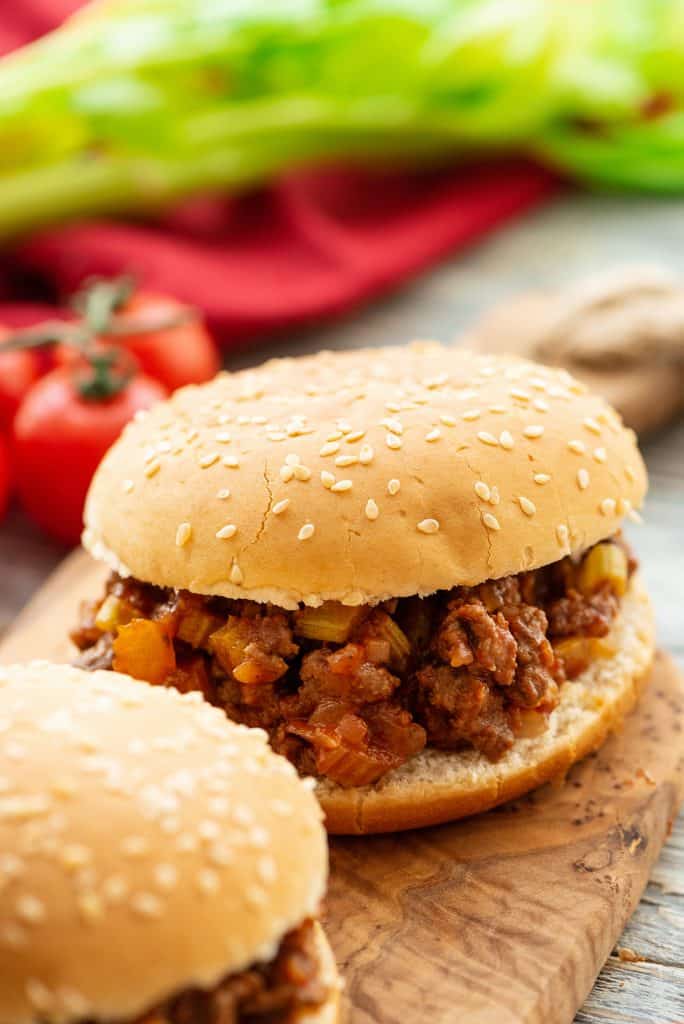 What else can I do to dress up a sloppy joe?
Some people just like the barbecue meat sauce slathered on their sloppy joes, and this is typically how they are served. But there is no reason you can't add some pickles or even some coleslaw like my broccoli coleslaw recipe to the top. Also, you can melt cheese over the top too. I would recommend a sharp cheddar or a smoked gouda personally. Also, crumbling some blue cheese or even some feta to the top is good as well..
Onions and green peppers can be diced and added to the meat sauce too. Let them cook in to the sauce toward the end so you still get just a bit of crunch from the vegetables.
What can I serve with easy homemade sloppy joes?
A homemade sloppy joe goes well with a wide variety of side dishes. You can serve them with a salad, or with potato chips, fries, or any combination that works best based on what you have available. I also have a few suggestions that might work for you: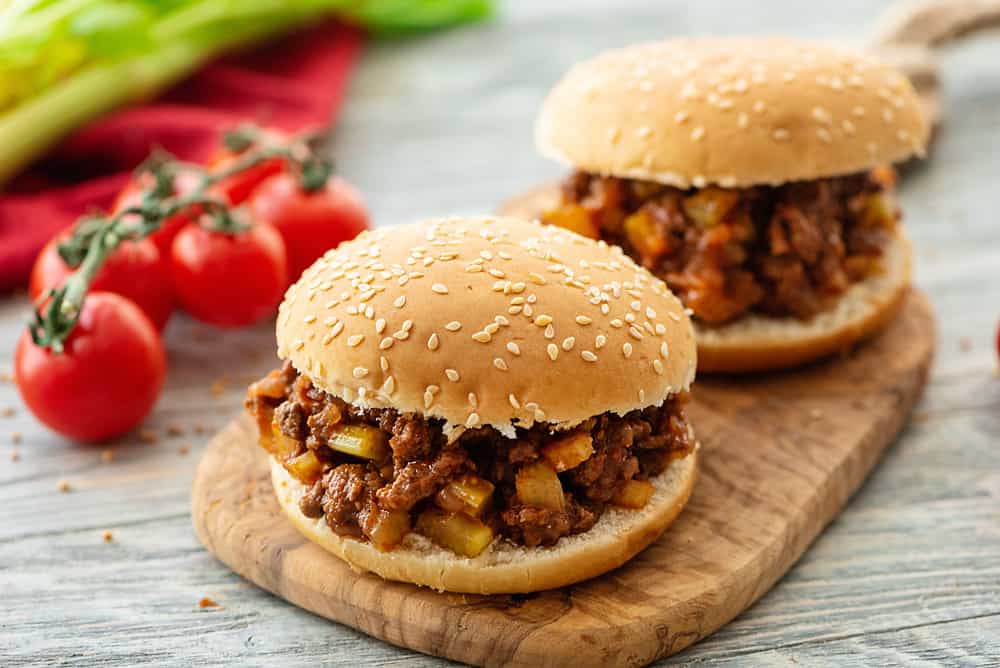 How do I save the leftovers?
The great thing about sloppy joes is that the barbecue meat in the sauce stores really easily in the fridge as well as the freezer.
If you have leftovers, then just remove the bread, if any, and store in a sealable container. It will keep in the fridge for 3 to 5 days no problem. In the freezer, you can store it for about 30 days. I recommend storing in serving size containers because it is so easy to reheat on the stove top or in the microwave.
The sloppy joe sauce tastes even better when it has had a chance to sit a while! Freezing it even condenses the flavors more by evaporating some of the water out too.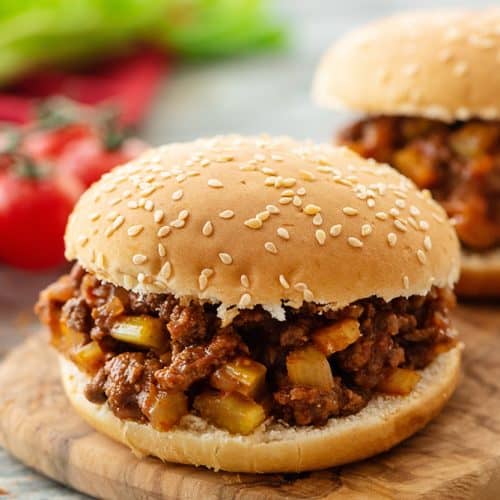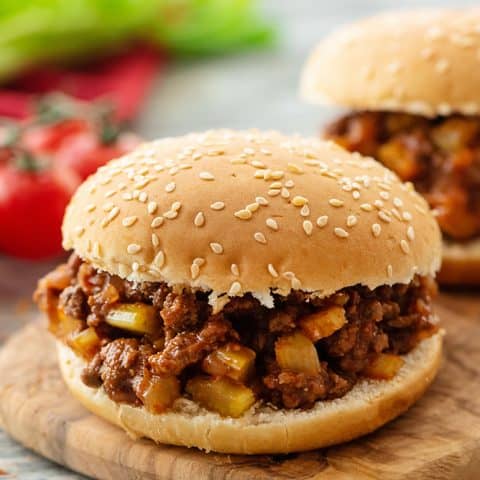 Homemade Sloppy Joes
Homemade Sloppy Joes are a hearty barbeque sandwich recipe that is a classic family favorite! This comfort food is a quick and easy 20 minute weeknight recipe that is great any time of the year.
Ingredients
1 lb. ground beef
1 medium onion chopped
4 to 5 stalks celery, finely chopped
1/4 tsp pepper
1/2 tsp salt
1/4 c. brown sugar
1/4 c. apple cider vinegar
1 c. ketchup
2 tsp. yellow mustard
6 hamburger buns
Instructions
In a large deep skillet over medium high heat, brown the hamburger as you chop it up. Add the onion, celery, salt and pepper and cook for 5-6 minutes or until hamburger is no longer pink. Drain off any excess liquid.
Stir in the brown sugar, vinegar, ketchup and mustard and simmer for at least 10 minutes.
Serve on hamburger buns.
Notes
Instead of simmering, add everything to the crock pot and cook on low until you will be serving the Sloppy Joes.
Recommended Products
As an Amazon Associate and member of other affiliate programs, I earn from qualifying purchases.
Nutrition Information:
Yield:

6
Serving Size:

1
Amount Per Serving:
Calories:

421
Total Fat:

15g
Saturated Fat:

5g
Trans Fat:

1g
Unsaturated Fat:

7g
Cholesterol:

67mg
Sodium:

927mg
Carbohydrates:

45g
Fiber:

2g
Sugar:

21g
Protein:

26g
Provided nutrition data is only an estimate. If you are tracking these nutrients for medical purposes, please consult an outside, trusted source.