Pressure Cooker Buffalo Chicken Quinoa is a healthy casserole style recipe made in the Instant Pot in less than 20 minutes with broccoli and corn. It's perfect for an easy weeknight dinner or meal prep lunches!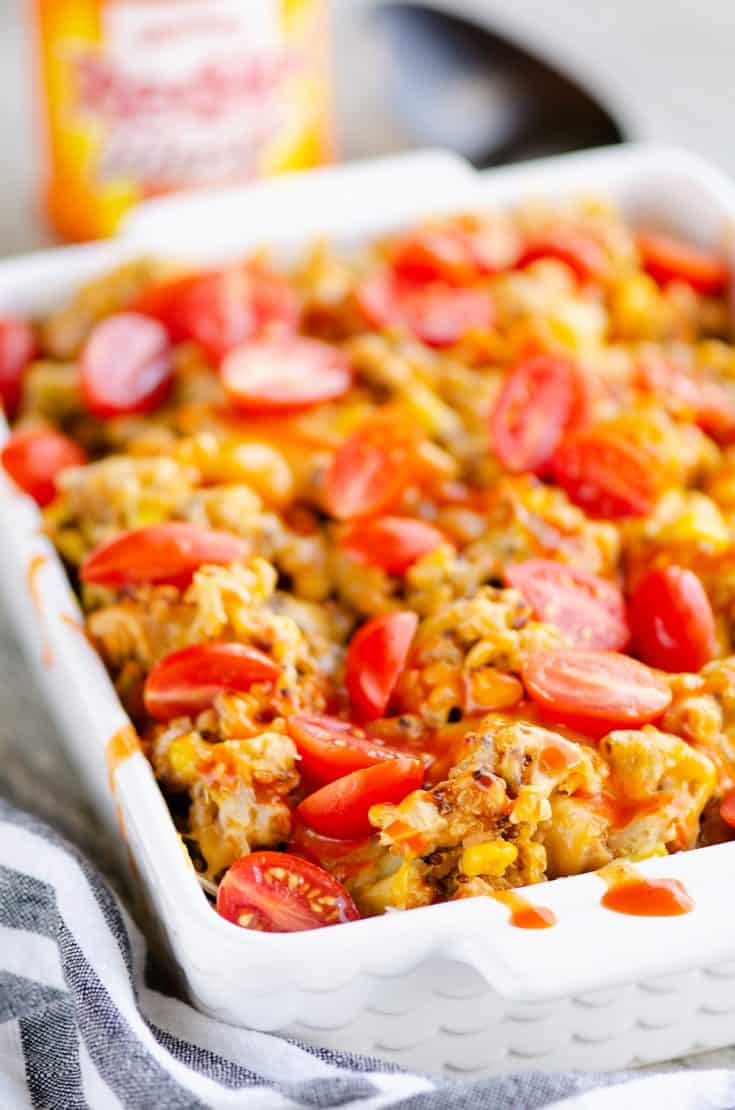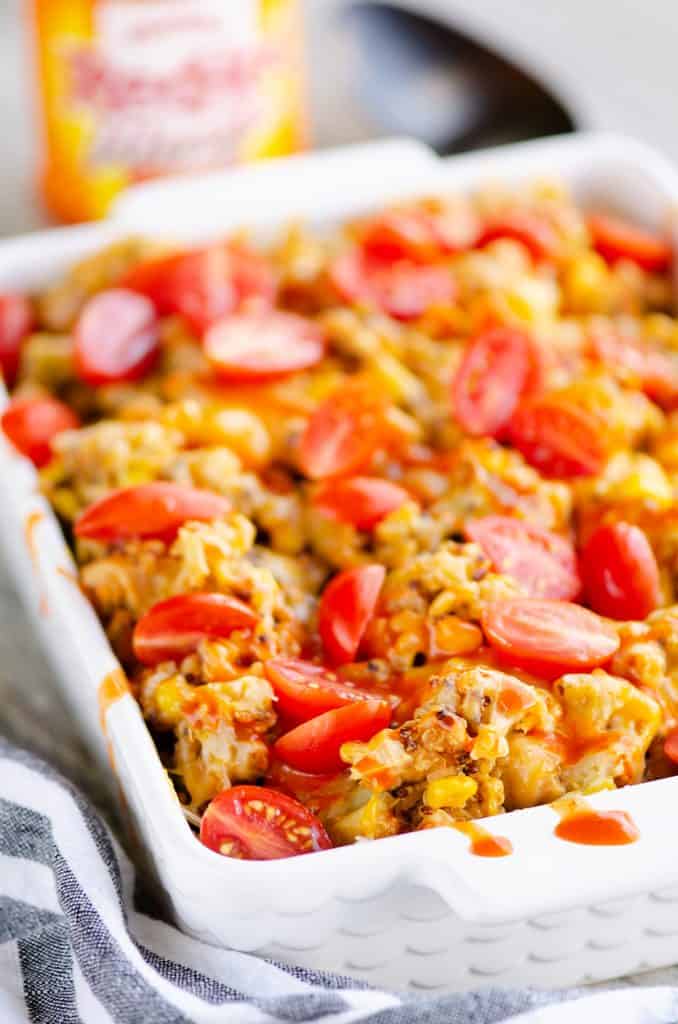 Pressure Cooker Buffalo Chicken Quinoa
This Pressure Cooker Buffalo Chicken Quinoa was inspired by one of my favorite meals I have been ordering on repeat from Freshly. Their Hot Chicken Bowl is a blend of quinoa, buffalo sauce, chicken, corn, broccoli and bell peppers. Sometimes when I microwave it, I add a little cheese on top to balance out the spicy sauce. It is a delicious meal under 500 calories which is awesome!
Now that my kids have been eating up all my meals from Freshly, I decided it was time to make this meal myself for some easy meal prep. I was looking for something quick and simple seeing I was used to only having to microwave it for 3 minutes. The Instant Pot was the perfect solution!
If you like your vegetables super crisp after being cooked and not at all mushy, I do recommend not adding them to your pressure cooker and instead steaming them in the microwave. Just mix them in with the cooked chicken and quinoa when it is done. If you are looking for the easiest possible meal with results that still taste good, then follow my instructions below and toss everything together right away.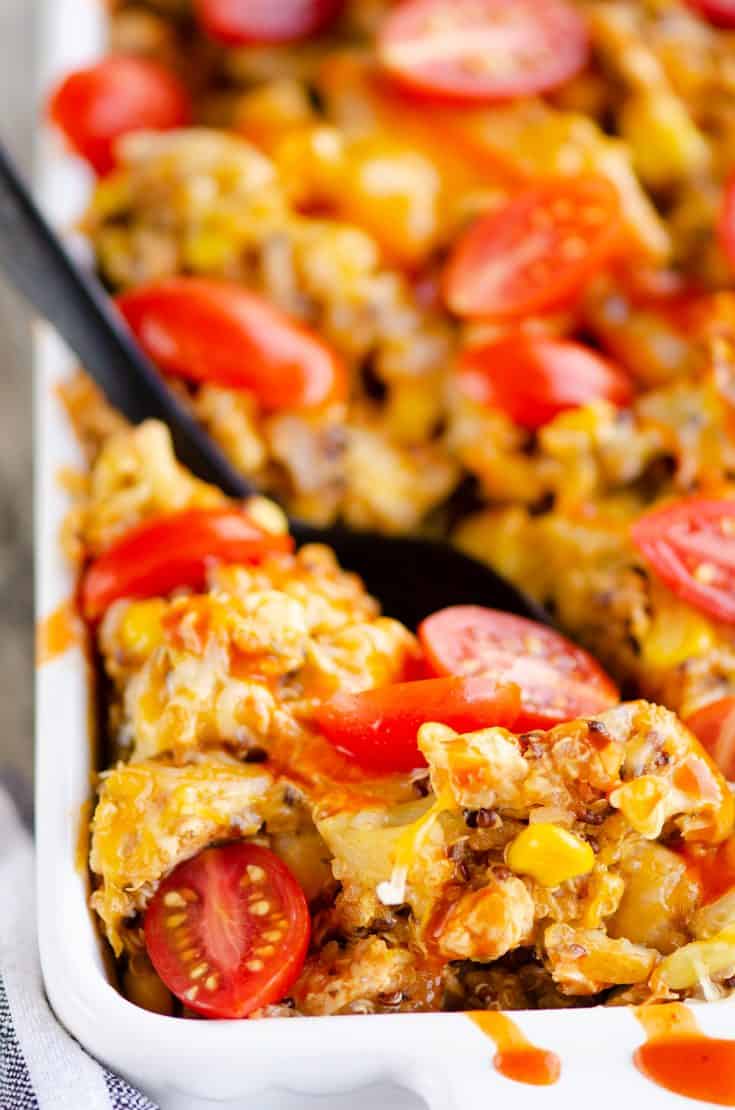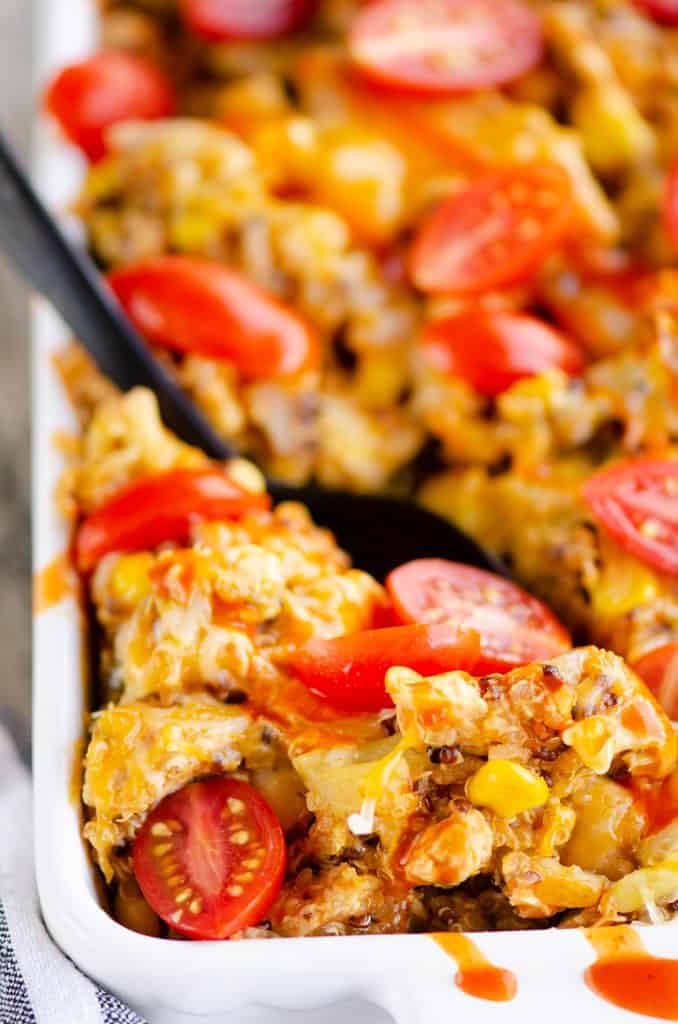 Making pressure cooker Buffalo chicken quinoa
Use the pressure cooker for Buffalo chicken quinoa to create an easy to make dish full of flavor, healthy protein, and low in saturated fats. Buffalo chicken quinoa has a bit of savory spiciness from the buffalo sauce and quinoa is a wonderful grain healthier than any other.
This dish is similar to my baked Buffalo chicken recipe; however, using the pressure cooker rather than the oven provides certain benefits. It helps speed the cooking process but not at the expense of losing any moisture in the chicken. Your pressure cooker also helps develop and imbue the dish with flavor as if you have been simmering it for hours.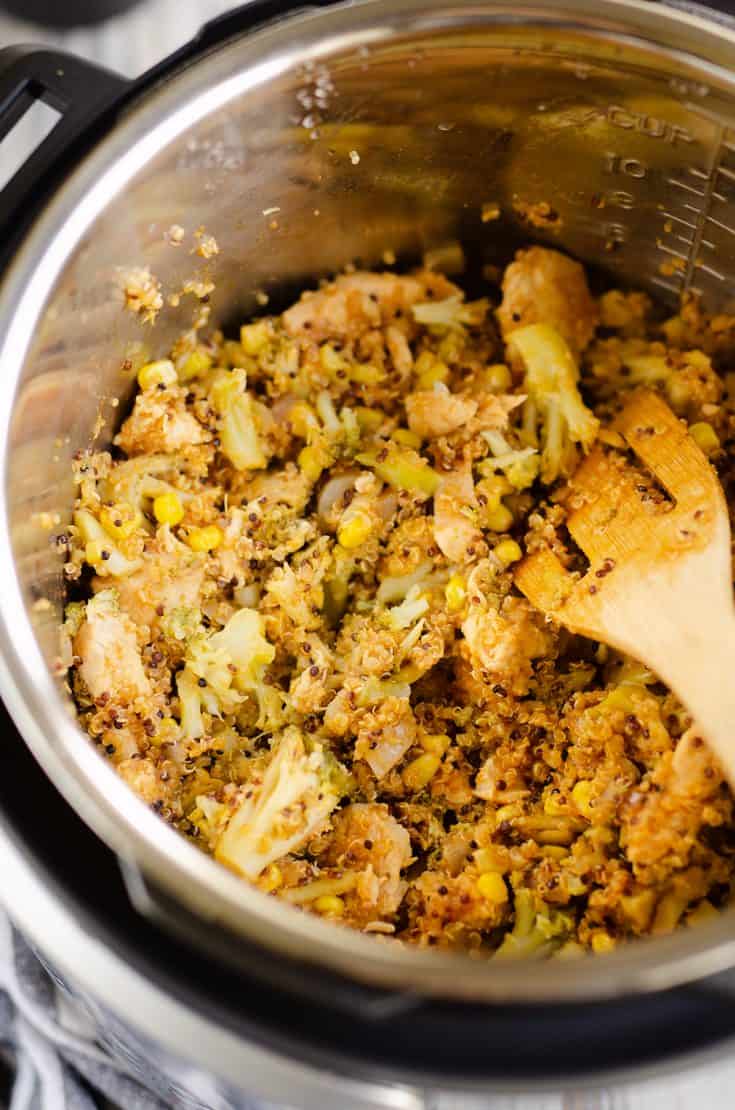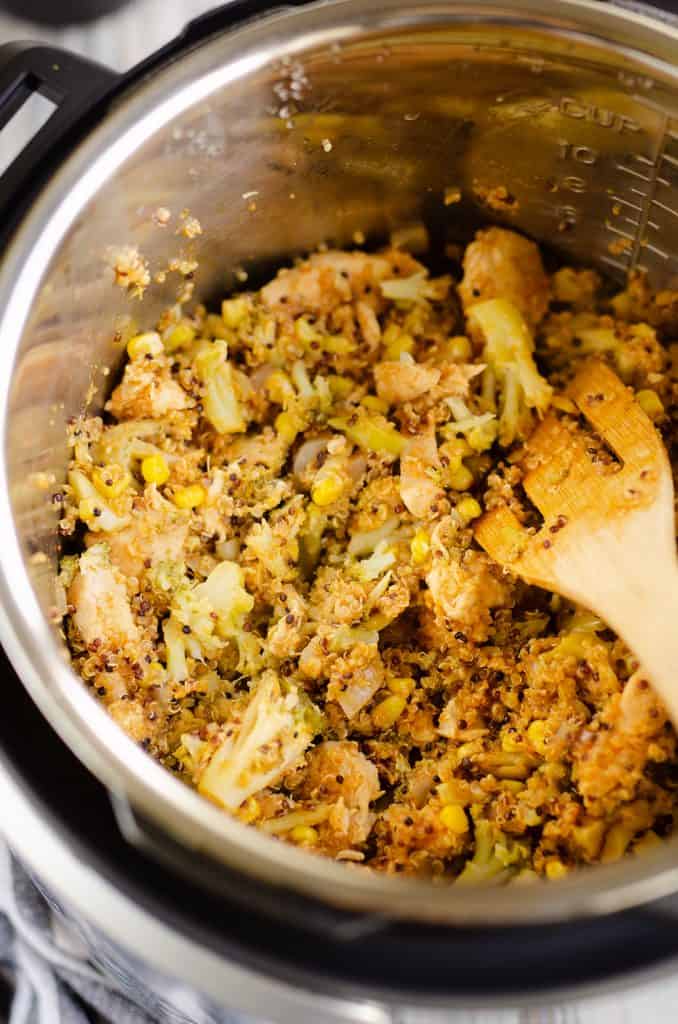 What is the buffalo sauce in buffalo chicken quinoa?
First a bison has to be stuffed in a blender for three minutes on liquify… ok, just kidding. Not everyone has time to ride out and capture a wild bison these days. Actually, the "Buffalo" in Buffalo sauce comes from a place, Buffalo New York, where the spicy wings dipped in this tangy and spicy sauce first became popular.
Buffalo sauce balances the heat of cayenne pepper and the sour of white vinegar with the smooth creaminess of melted butter. Today, premixed versions come in a variety of heat levels, some are sweeter, some tangier, some have a smokiness to them.
You can literally find a Buffalo style hot sauce for every palate. The sauce aisle has tons of options. Many people love one called "Franks" but it is far from the only choice on the shelves.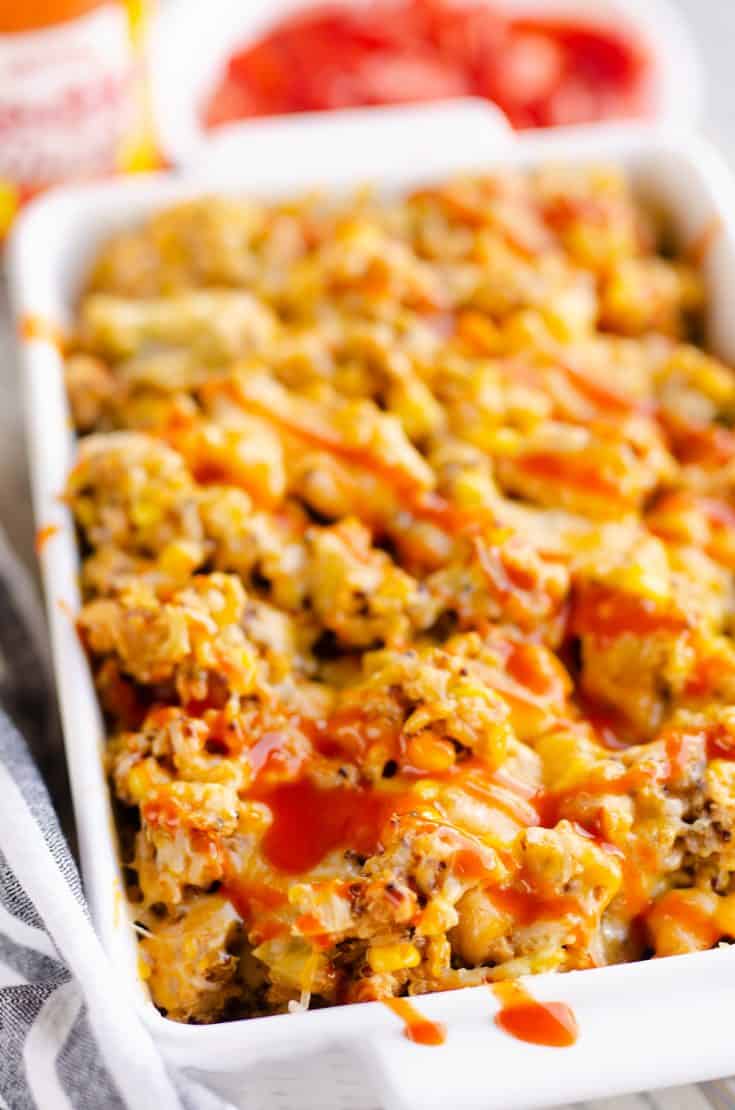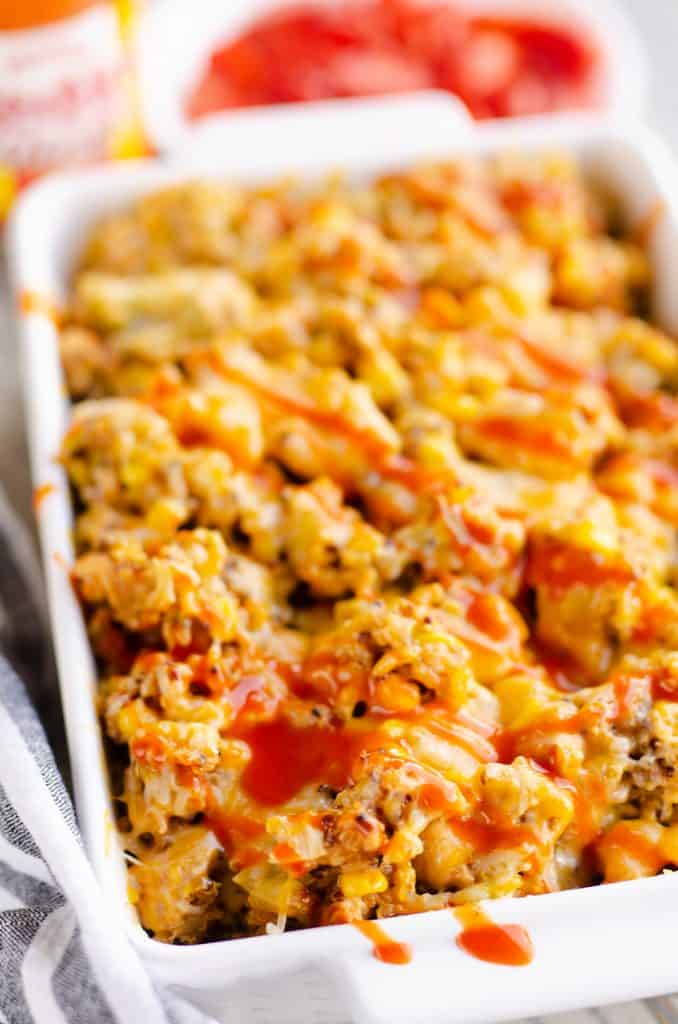 Why use quinoa in this Buffalo Chicken Instant Pot Recipe?
Quinoa is actually not a grass derived grain like rice or wheat. It is a seed from a plant that is closely related to spinach. Just like spinach, but even better, the seeds of quinoa contain all 9 essential aminos.
Quinoa also is high in B vitamins, contains zero gluten, contains magnesium,magnesium, iron, potassium, calcium, phosphorus, vitamin E and various other beneficial antioxidants. No surprise why it quinoa gets called a "super food".
The benefits do not end there. Quinoa cooks quickly and easily and you can cook it ahead of time and store for use and enjoy it in cold salads like my pomegranate quinoa salad or just by itself like my fluffy quinoa recipe.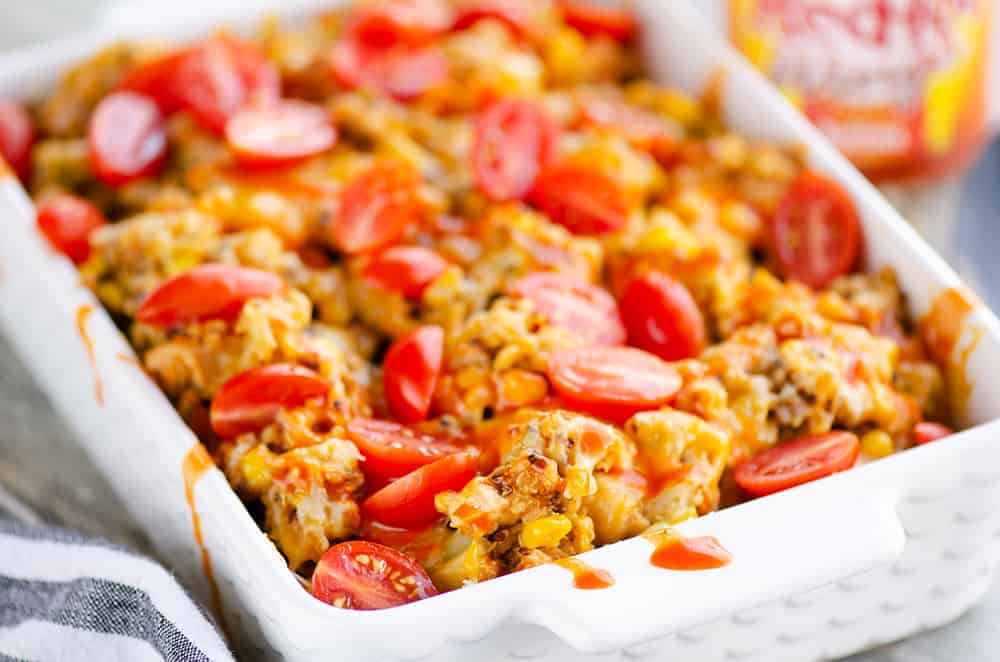 The benefits of pressure cooker chicken
Pressure cooker chicken recipes like my Buffalo chicken quinoa dish take advantage of the pressure cooker features perfectly.
First, the pressure cooker prepares the meal quickly. It creates a very tender and moist chicken breast. Next, instead of being a plain old piece of white meat chicken, the flavors of all the other ingredients add tons of flavor to the meat. Fried and baked and grilled all have their place, but pressure cooked chicken compares equally for juiciness and flavor.
You do have to make sure not to overcook the chicken, but as long as you follow the recipe, you will end up with a moist and succulent piece of breast every time. The moisture and flavor of broccoli, corn, and tomatoes all help as well keeping everything moist..
By starting with the pressure set to "saute" for that 2 -3 minutes in the beginning, you help lock in the juiciness as well. From there, adding the other ingredients and cooking on high for six minutes cooks the chicken thoroughly without drying it out.
The amount of flavor the other ingredients bring to the chicken in that short time actually makes it taste like chicken that has been stewing for hours, only without making the chicken stringy in the process.
This is why folks fall in love with their instant pots! A complete meal in under 10 minutes? How can you beat that?
No surprise, I do feature many other instant pot quick meals, and after you try the instant pot Buffalo chicken with quinoa I recommend checking out a few of my other instant pot recipes. I know some people are reluctant to use pressure cookers, but only experience will help overcome those issues.
When you get used to using an instant pot / pressure cooker, then you will wonder why it took so long to use one in the first place!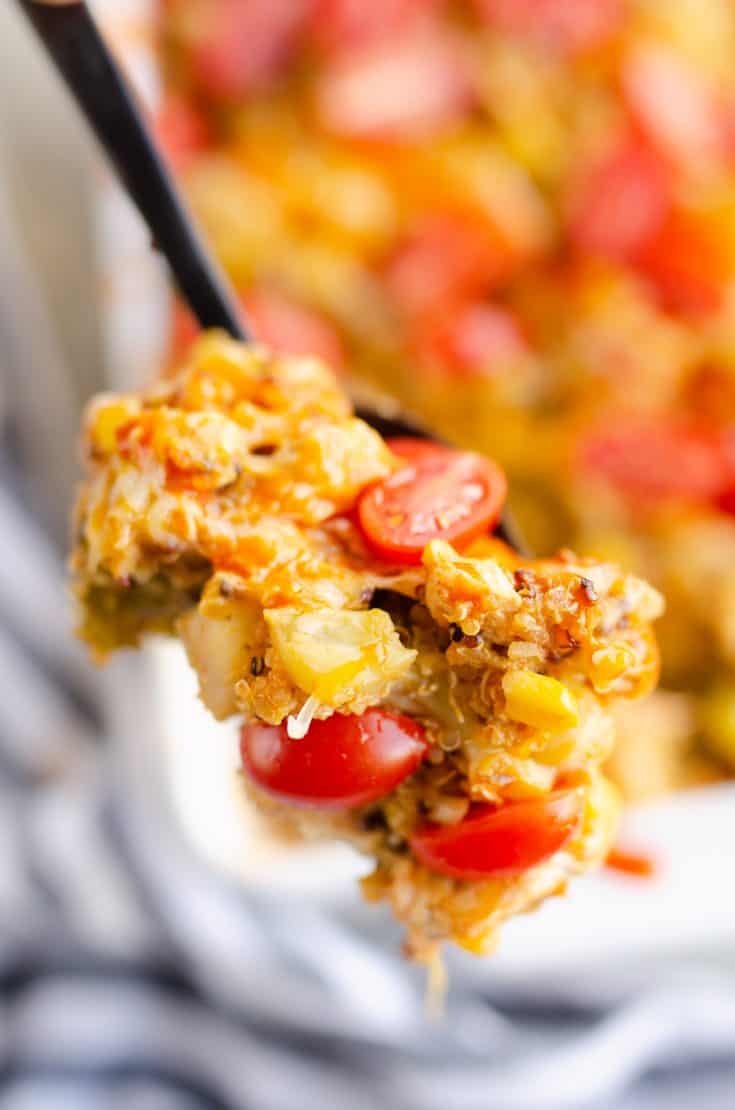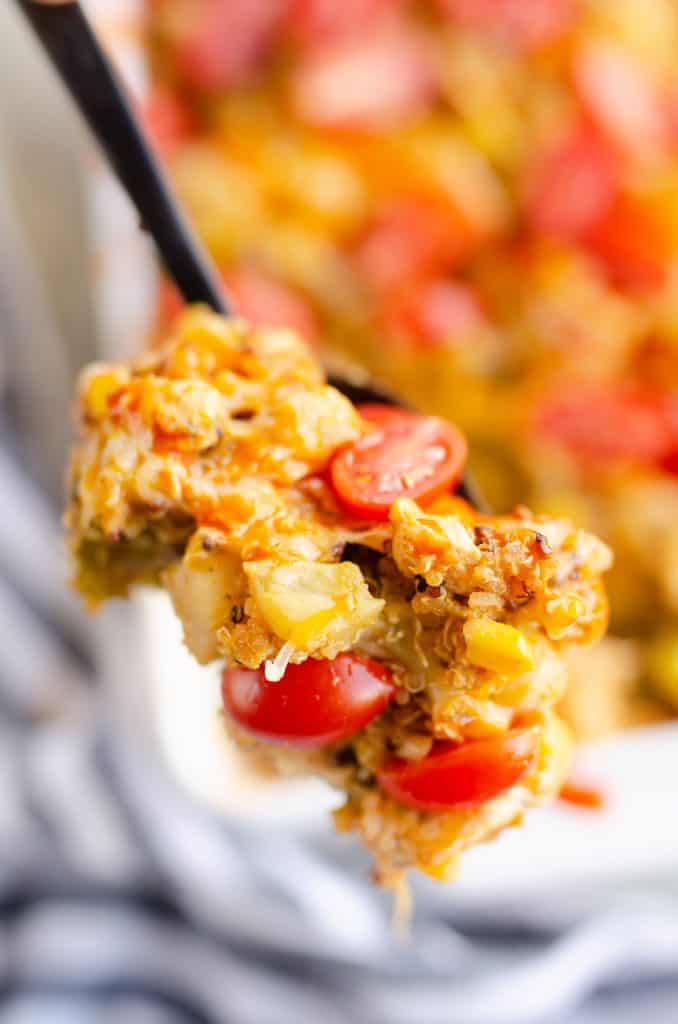 Instant pot Buffalo Chicken with Quinoa has it all
Buffalo chicken with quinoa has it all. It is a meal that includes a protein, vegetables, and grain (even if it is considered a " pseudo-grain") so it makes for a perfectly balanced and absolutely nutritious meal that is also low in saturated fats.
You can of course make it even more diet conscious by reducing the amount of cheese, but the cheese certainly makes it taste delicious and helps balance out the spicy buffalo sauce.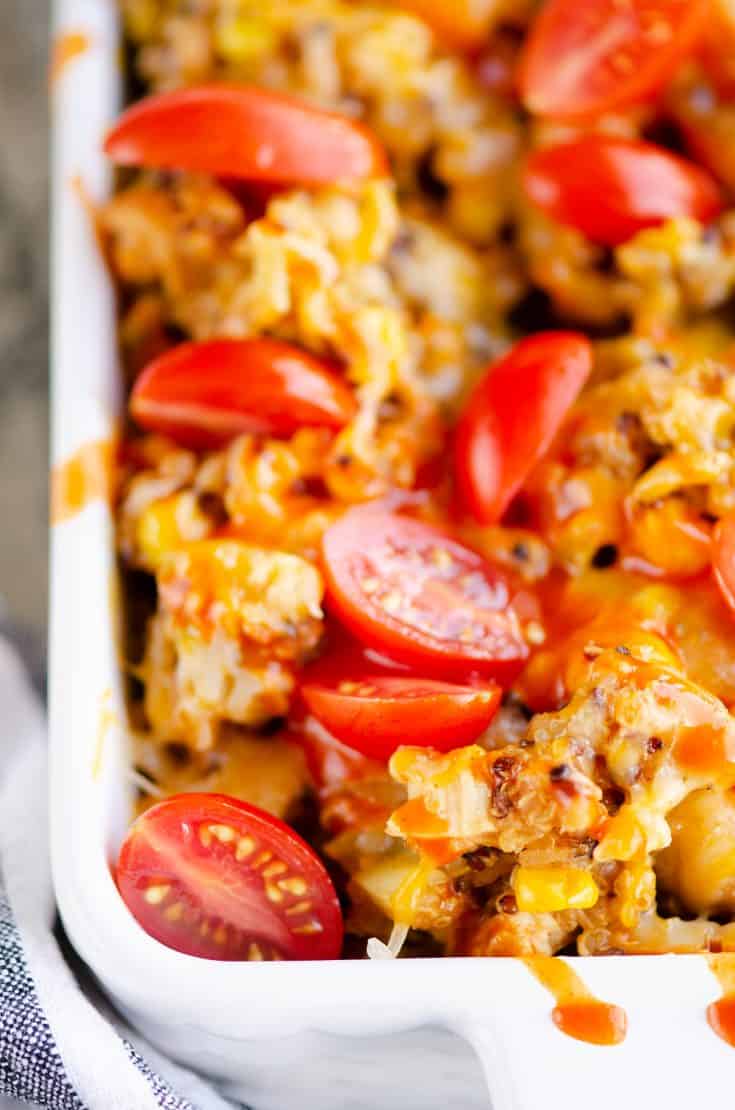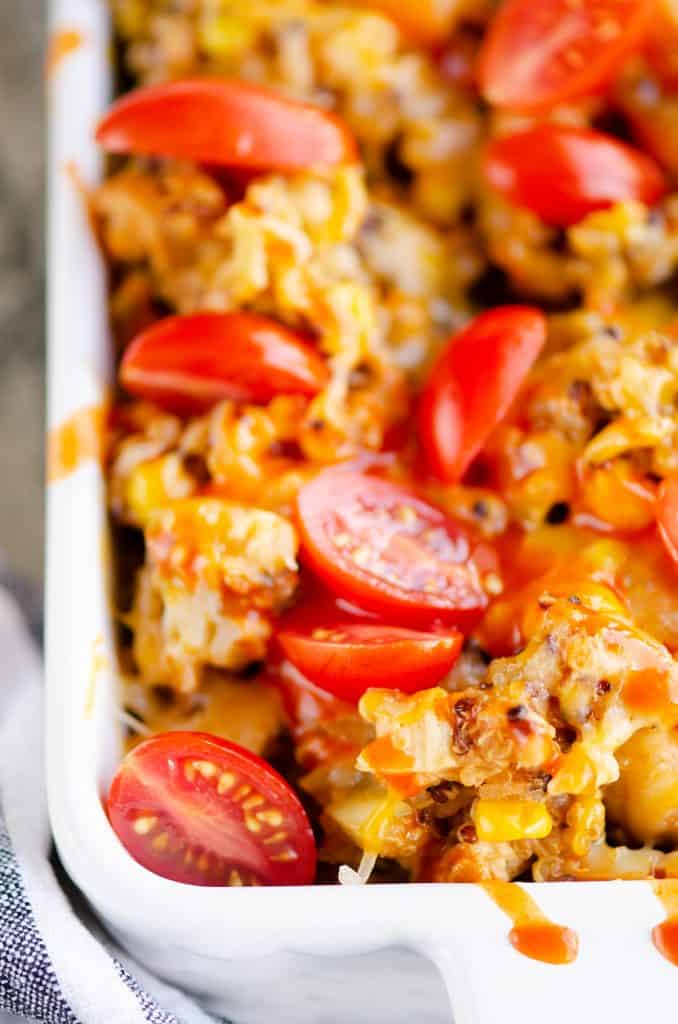 What else can I serve with the Buffalo chicken with quinoa?
You don't need much else because this recipe does have everything going for it, but if you want to add some salad or even an appetizer to the meal then I do have a few suggestions you might enjoy.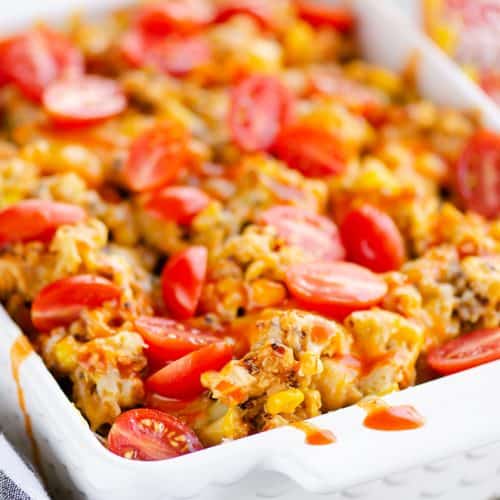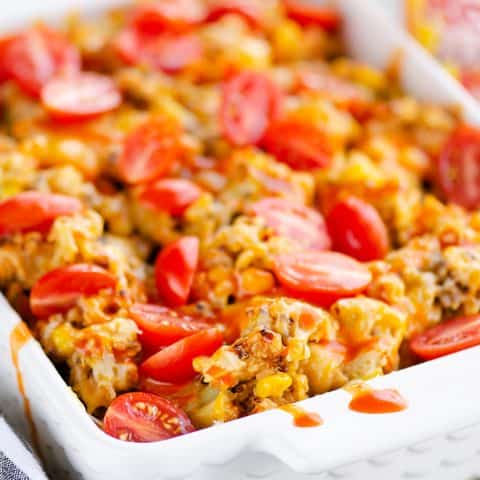 Pressure Cooker Buffalo Chicken Quinoa
Additional Time:
7 minutes
Pressure Cooker Buffalo Chicken Quinoa is a healthy casserole style recipe made in the Instant Pot in less than 20 minutes with broccoli and corn. It's perfect for an easy weeknight dinner or meal prep lunches!
Ingredients
1 small onion, diced
1 Tbsp. olive oil
1 lb. boneless chicken breasts, cut into 1/2 inch strips
2/3 cup quinoa
2/3 cup water
10 ounces frozen broccoli
1 cup frozen corn
1 cup Mexican blend cheese
1 cup cherry tomatoes, halved
Instructions
Turn electric pressure cooker to saute. Saute chicken and onion on high for 2-3 minutes.
Add the quinoa, buffalo sauce, water, frozen broccoli and frozen corn. Stir until well combined place lid on pressure cooker.
Turn the valve to seal and cook on high pressure for 6 minutes.
When the time is up, carefully turn the know to steam to do a quick release of pressure. Remove the lid and stir.
Top the quinoa mixture with cheese and place the lid back on for one minute or until it is melted. Top with tomatoes and extra buffalo sauce if preferred. Serve immediately.
Notes
If you don't like soft vegetables, don't add them to the pressure cooker. Instead steam them in the microwave while the chicken and quinoa cooks and stir them in at the end.
Recommended Products
As an Amazon Associate and member of other affiliate programs, I earn from qualifying purchases.
Nutrition Information:
Yield:

4
Serving Size:

1
Amount Per Serving:
Calories:

448
Total Fat:

17g
Saturated Fat:

6g
Trans Fat:

0g
Unsaturated Fat:

7g
Cholesterol:

102mg
Sodium:

588mg
Carbohydrates:

35g
Fiber:

6g
Sugar:

8g
Protein:

38g
Provided nutrition data is only an estimate. If you are tracking these nutrients for medical purposes, please consult an outside, trusted source.