Peanut Butter Cup S'mores In The Oven are an easy 10 minute dessert recipe on a sheet pan. You can enjoy the classic kid-friendly campfire treat with a salty peanut butter twist any time of the year!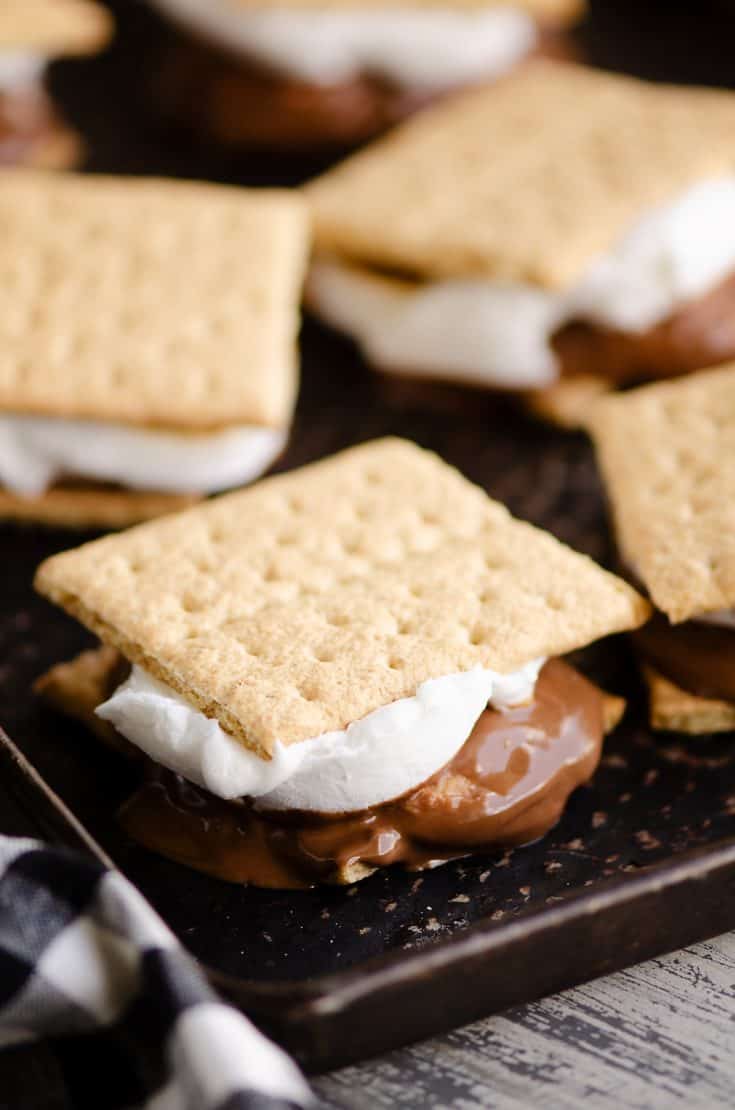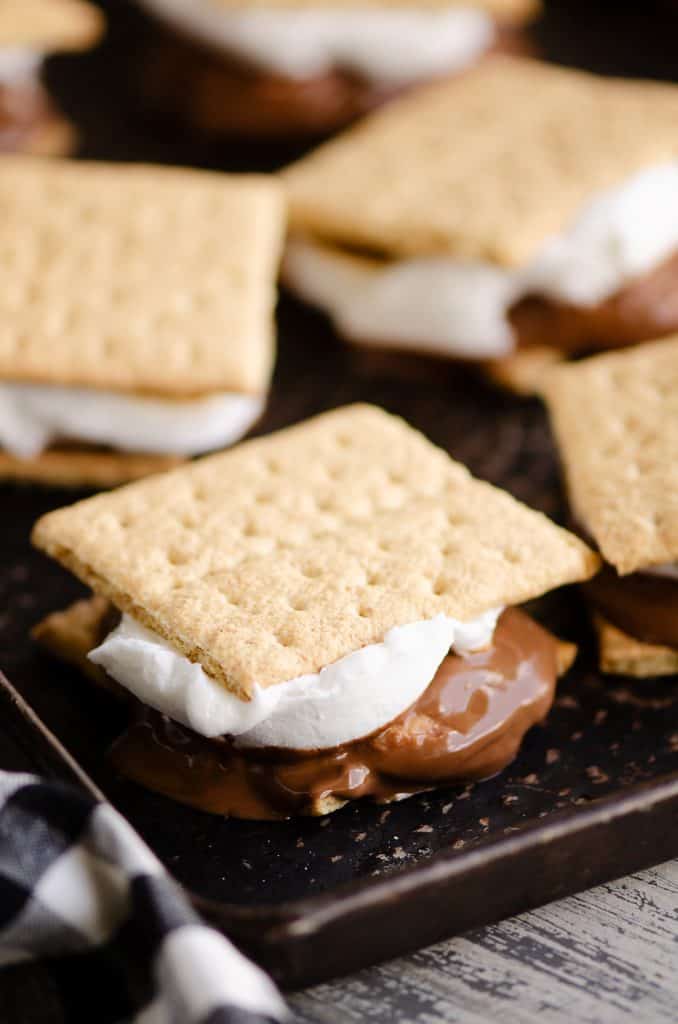 Peanut Butter Cup S'mores In The Oven
Peanut butter cup s'mores put a classic spin on a classic campfire dessert treat. Much like my S'mores Nachos and S'mores Thumbprint Cookies, you don't have to pack up the car and set up a campsite and swat at a bunch of mosquitoes that are buzzing in your ear.
You just need to pop your peanut butter s'mores in the oven and bake until properly melted and ready to eat! They are even better than the classic campfire treat with a peanut butter twist. The salty peanut butter balances out the typical sweetness from smores for a dessert straight from the oven in less than 10 minutes that kids and adults will love!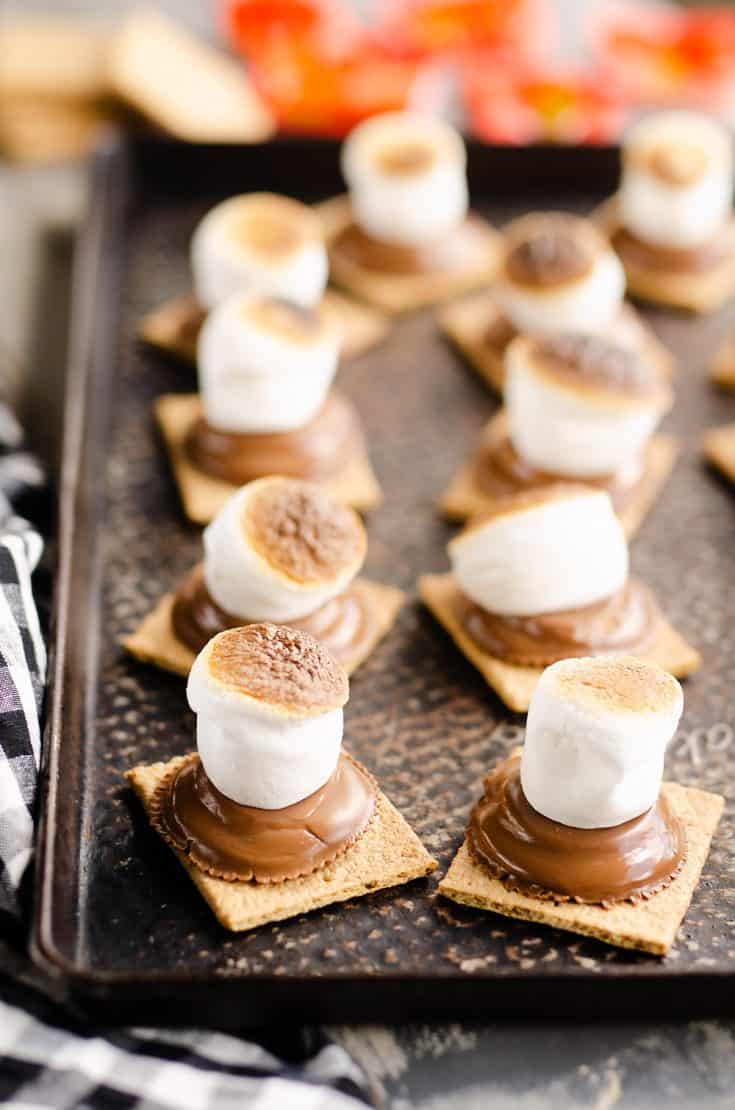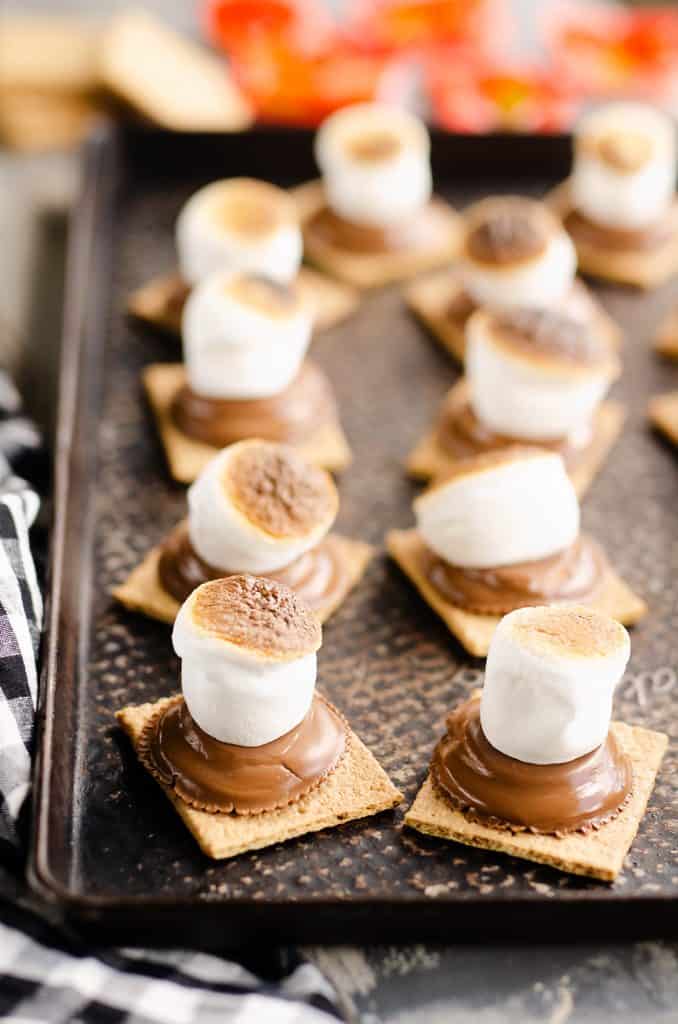 What's up with that "S" in "S'mores"?
When something is so good that people literally can't wait for some more, then it is quite natural to contract and mash the two words into one to speed things up. "I want s'more!"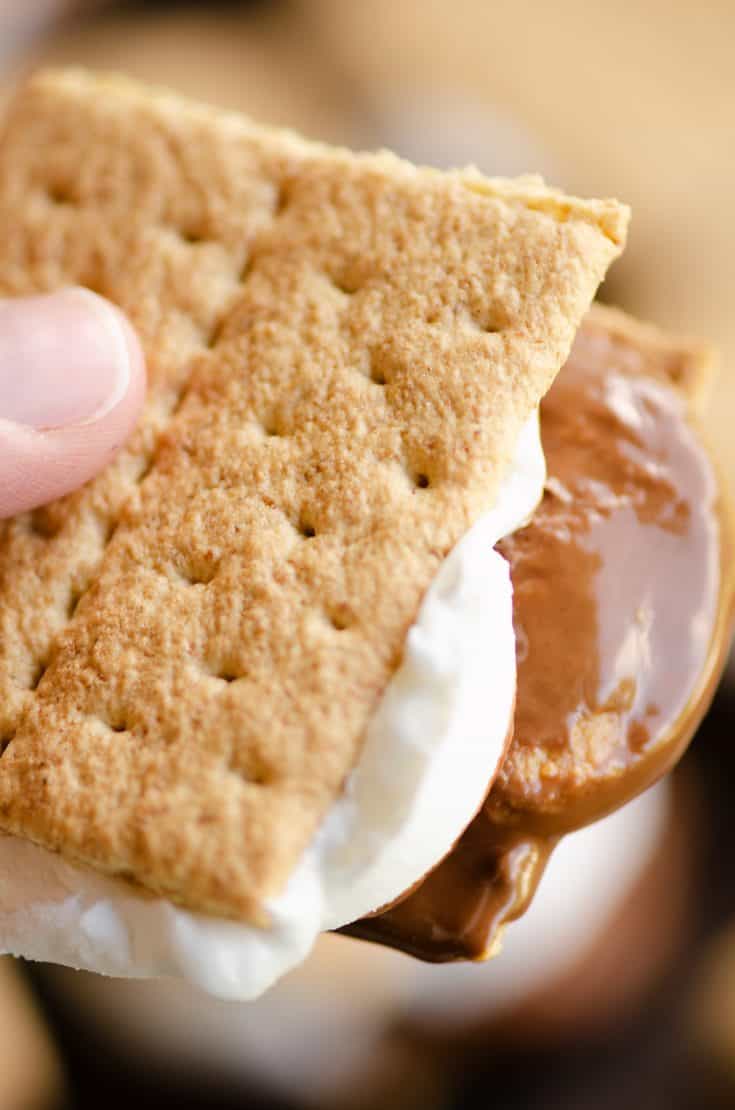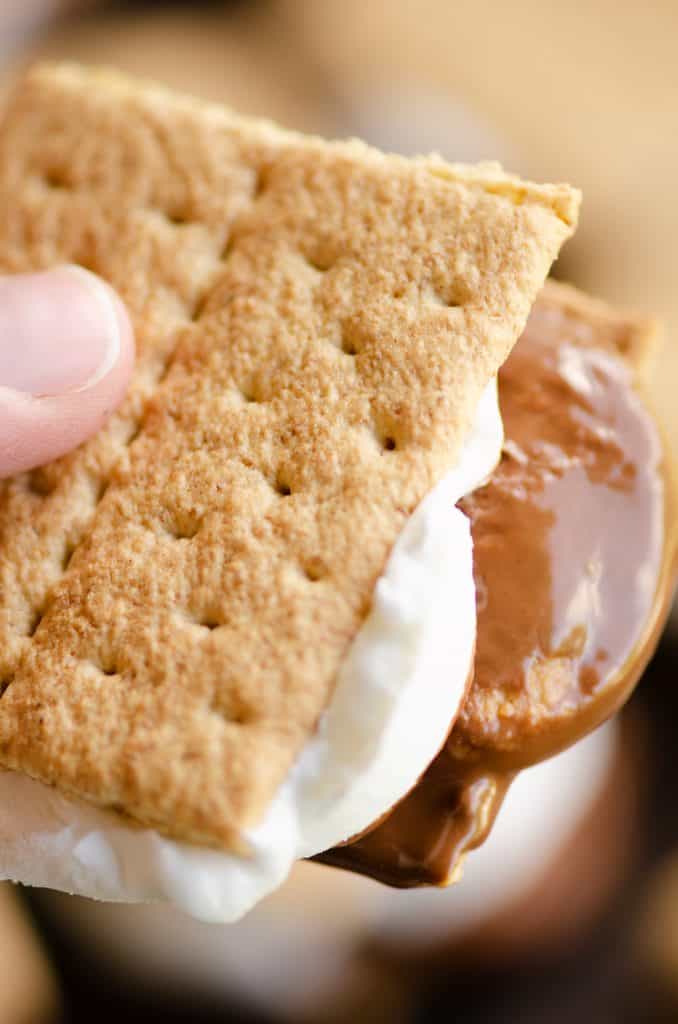 What is a traditional s'more?
The original s'mores recipe calls for Graham Crackers, gooey slightly melted chocolate bars, and marshmallows kissed by fire and smoke. This peanut butter s'mores recipe calls for peanut butter cups instead of chocolate bars.
Because why not! Peanut butter and chocolate are a marriage made in Heaven and adding a melted marshmallow to those is like bringing the cutest baby into the picture too.
You don't need a roaring fire by a campsite either, although that works and can be fun as well, (so long as the mosquito repellent is working.) For this recipe, all you need is your oven set to broil.
You will still have to watch out and make sure that your marshmallow gets just the right caramel color and goes right to the edge of burning, without catching on fire. So it still captures some of that camping experience even if you are in the comfort of home.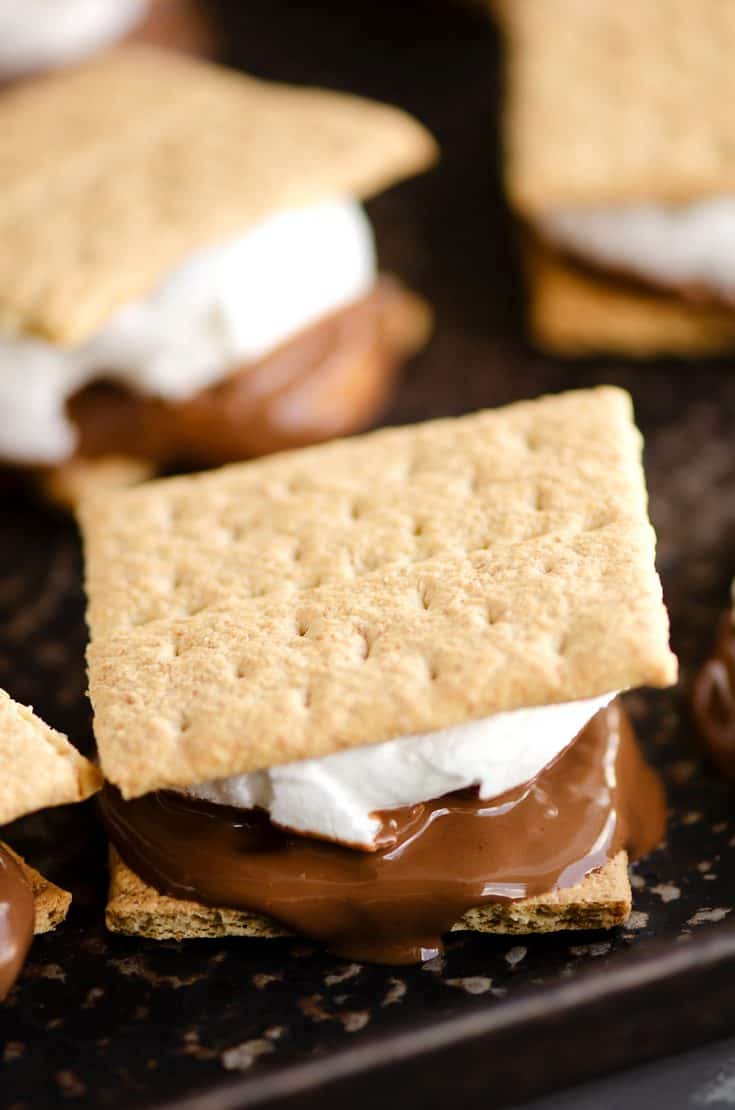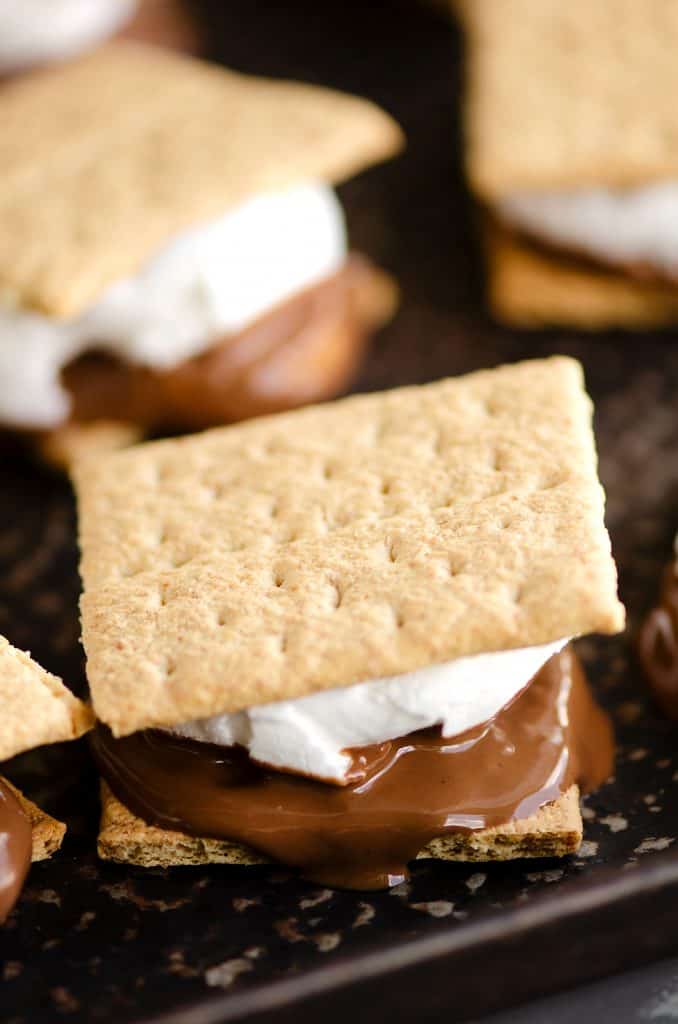 What is the ideal size of marshmallow for a s'more?
The little tiny marshmallows typically used for making fudge is not really the ideal size. The little guys seem to have a mind of their own and they will roll around and generally be a nuisance to keep on top of your cracker.
I am not saying that you cannot use them. I am just saying that they require more effort. That can prove frustrating when all you want to do is make a quick and delicious dessert treat you can eat in minutes.
Try to get the biggest marshmallows you can find. I have even seen super giant ones that are sold as "s'more marshmallows".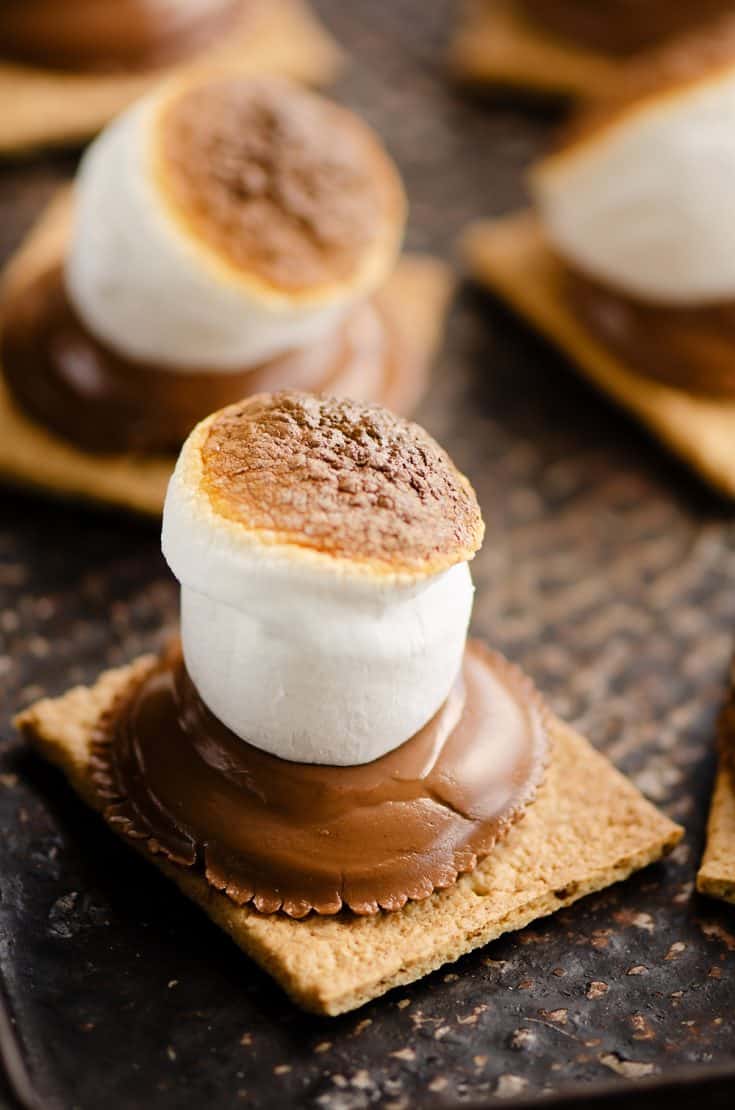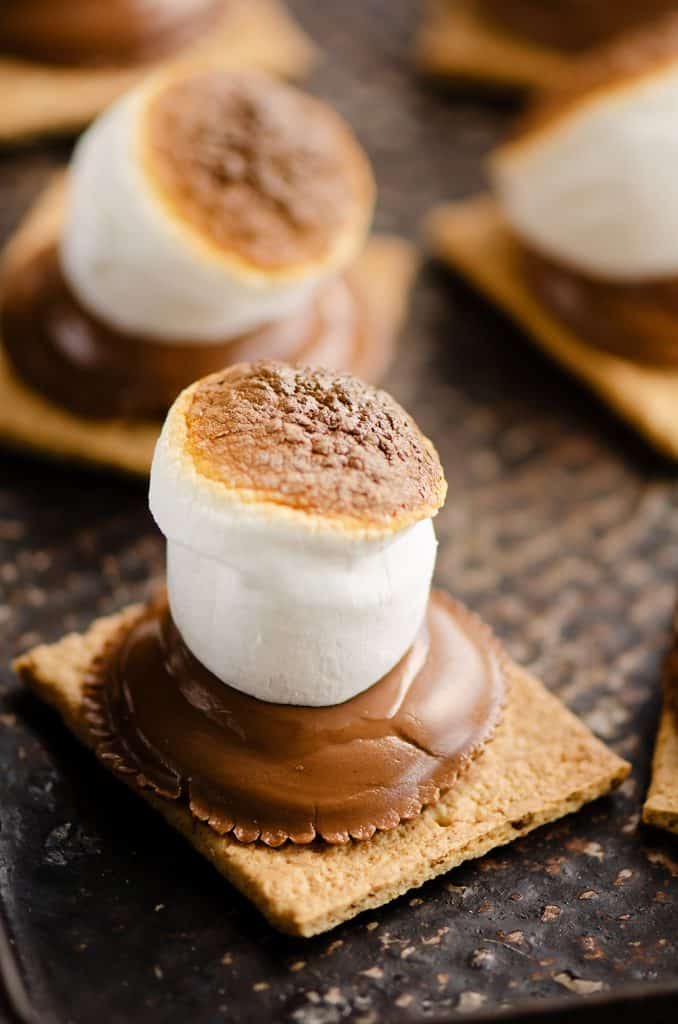 How do you make pan sheet oven s'mores?
Forget having to find a perfect stick to cook your marshmallow on. With easy oven baked s'mores you just need a good oven set to "broil". A gas or an electric broiler does the trick.
The broiler offers that high searing heat that mimics the flames in the fire.
Chocolate and peanut butter both have low melting points so those are ready fast. Make sure not to place them in the topmost rack too close to the heat. Both will burn and burnt chocolate has an unpleasant bitterness.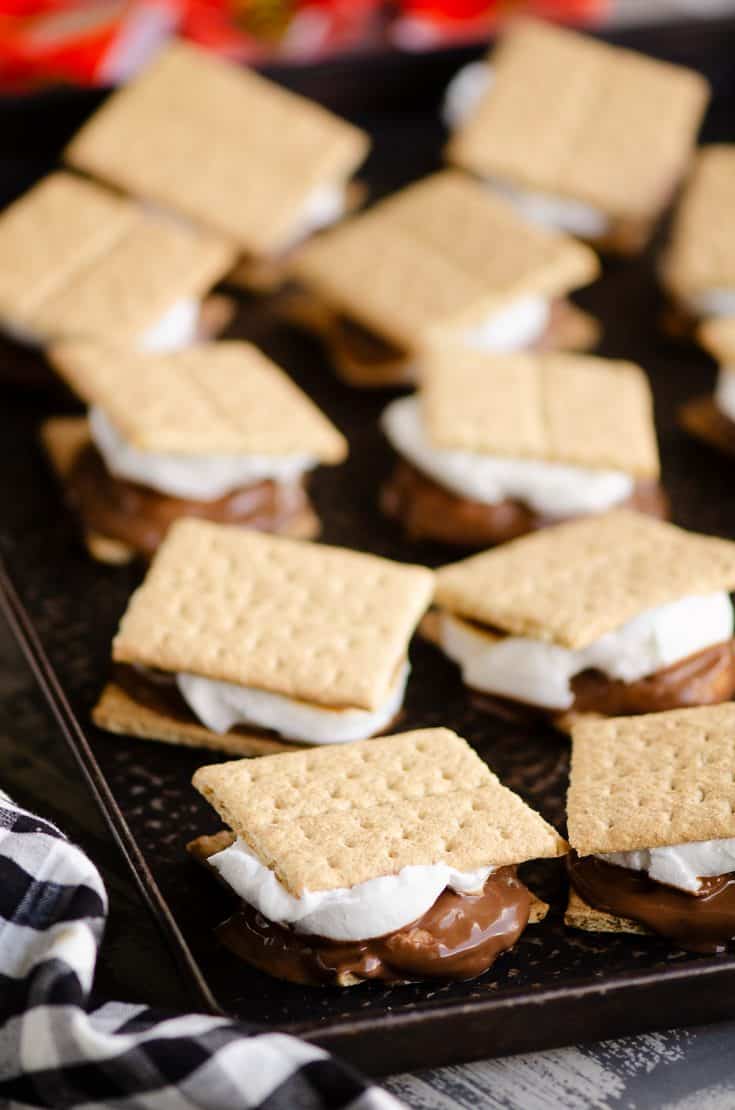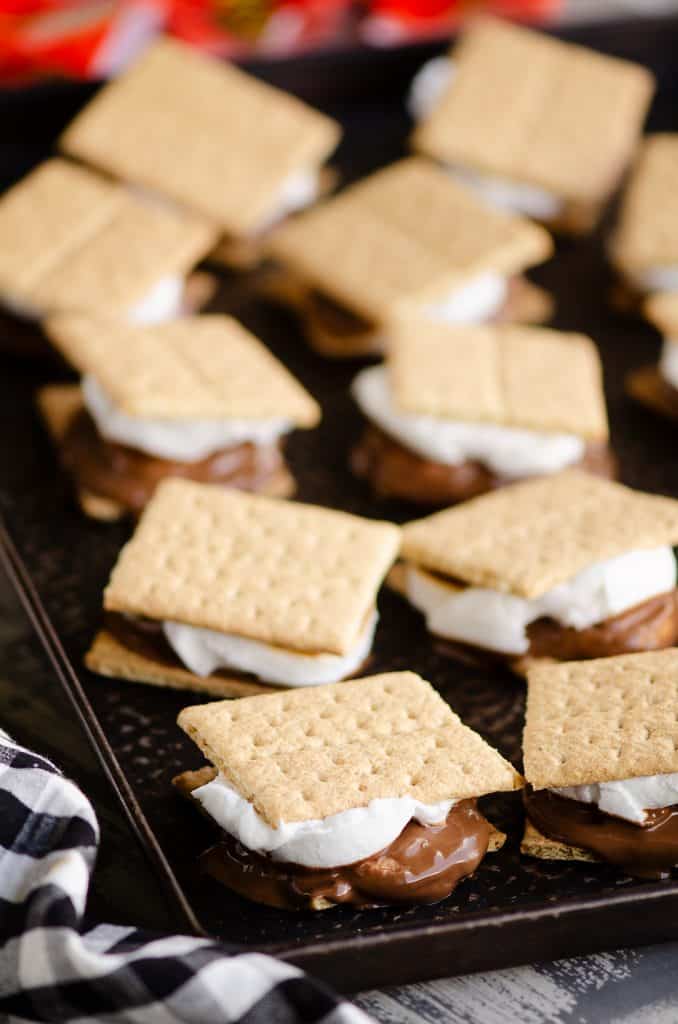 I like to use two shallow baking pan sheets. On one sheet, I assemble the peanut butter cups on the crackers, and on the other I put the crackers with the marshmallow on top. Put the marshallow covered cracker sheet closer to the heat on the rack above the peanut butter covered cracker sheet.
You want the marshmallow on top because you need those to brown to a nice golden color. It forms essentially a crust around a melted interior. So when you mash them altogether in a sweet and delicious cracker sandwich, you get perfect layers of chocolate, peanut butter, and marshmallow.
As soon as you see the marshmallows hit the desired color, then pull everything out and assemble by mashing them together. Don't smoosh everything down too enthusiastically, or else you get everything running out the sides and all over your hands.
It is going to be hard to fight that temptation. Just warning you in advance.
You know you got it right when everyone wants s'more.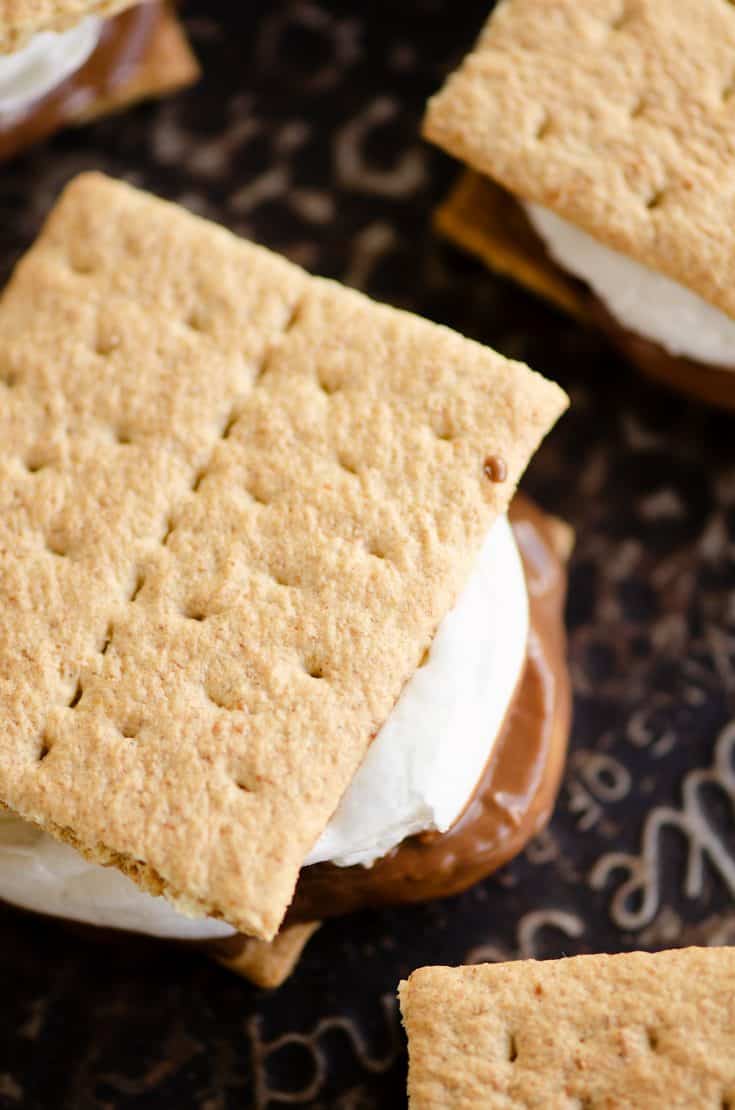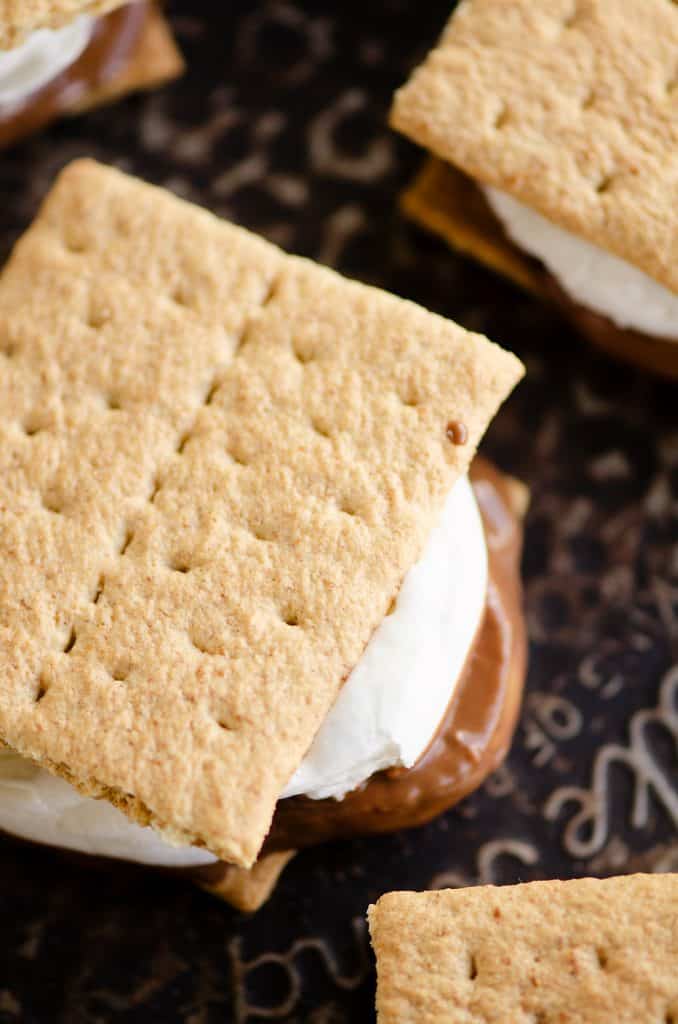 What other variations work for delicious oven broiled s'mores?
Peanut butter s'mores are like a window into the immense possibility of what you can do with s'mores. It is like a brand new world of delicious. Sure enough, it will get your creativity going with a fire similar to that roaring camp fire you probably first tried a s'more from.
Here are s'more tips and tricks you can try for expanding on the idea of s'mores. Be prepared to blow some minds in the process.
Don't have peanut butter cups? What about some Nutella or similar hazelnut chocolate spread and some almond butter?
Don't have marshmallows? Then using a marshmallow spread that is typically sold next to the peanut butter and jelly in the grocery store works too
There are no limits to what kind of chocolate bar works. Your garden variety chocolate bar works fine, but try a chocolate bar with fruit or with nuts or even with both!
If you are allergic to peanuts then use almond butter or cashew butter. You can also use coconut spreads.
Instead of a chocolate peanut butter cup, try a chocolate covered caramel bar. This comes out like a warm Milky Way s'more cracker, amazing!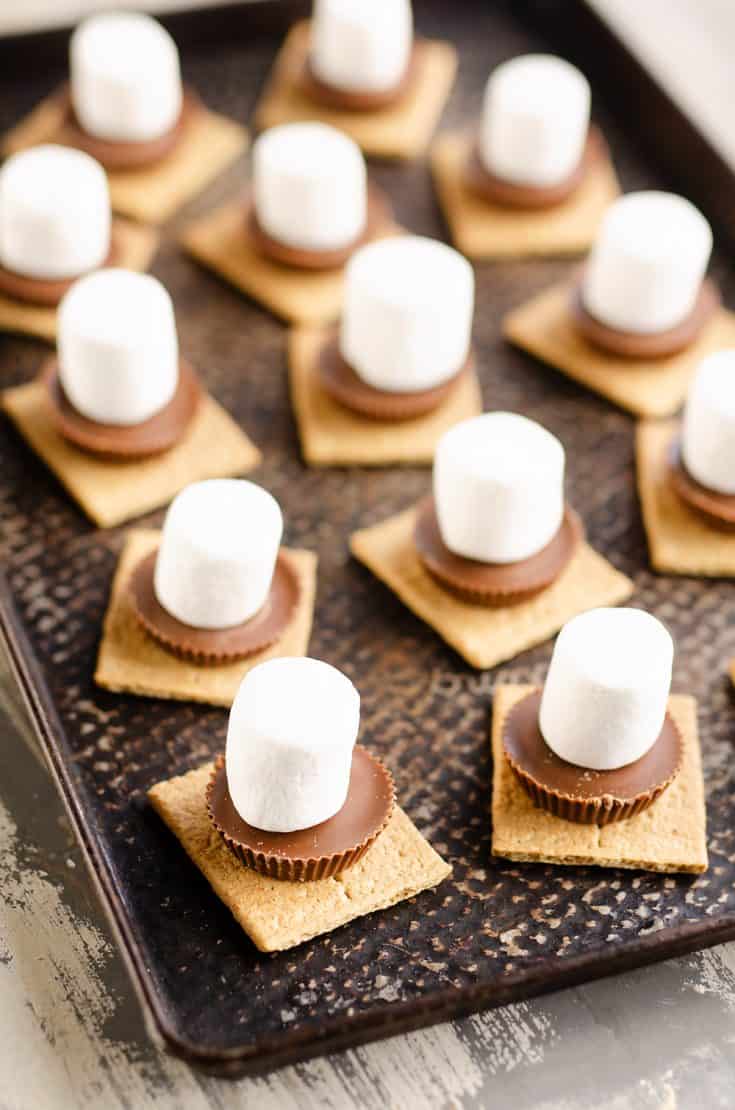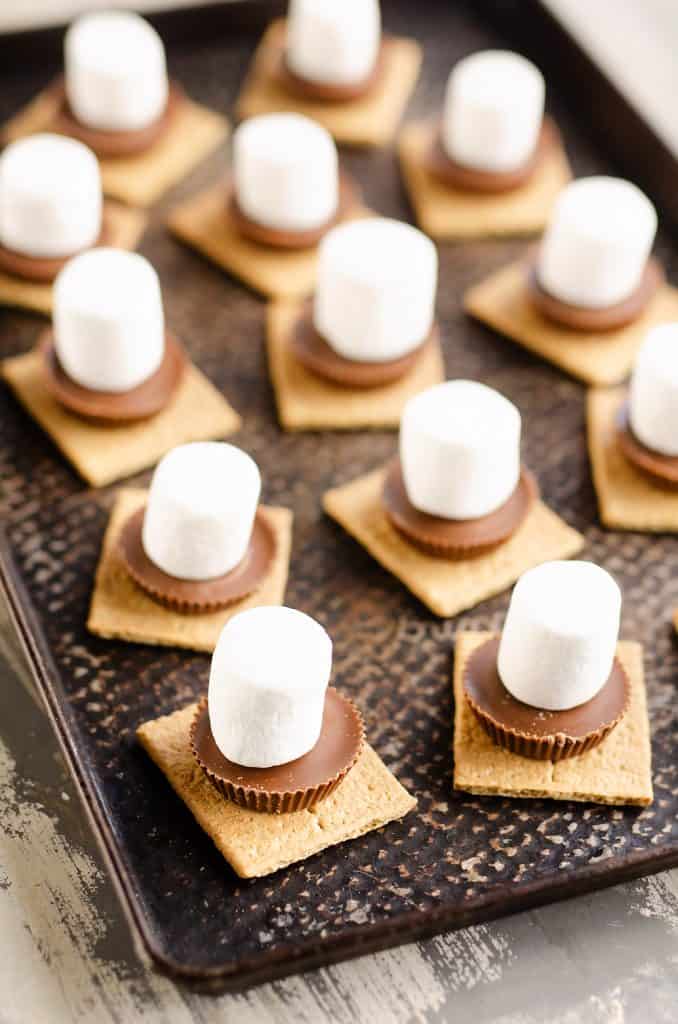 More delicious and easy to make dessert ideas
Oven baked s'mores are so easy, but they are far from the only game in town when it comes to quick, convenient, and easy to make desserts. So if that sweet tooth is demanding satisfaction, you can also consider these other easy to make desserts.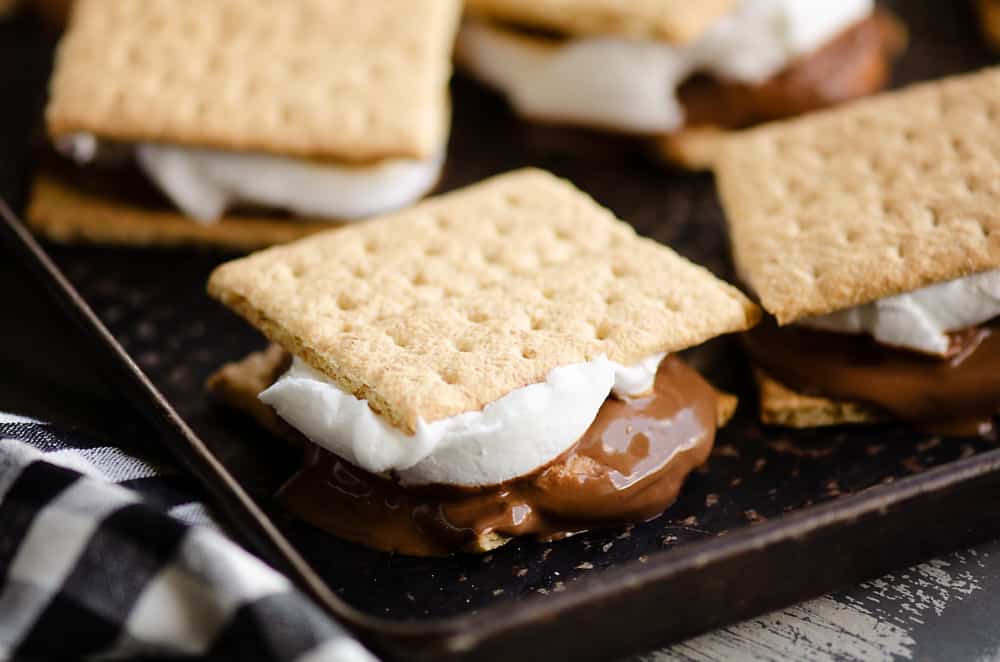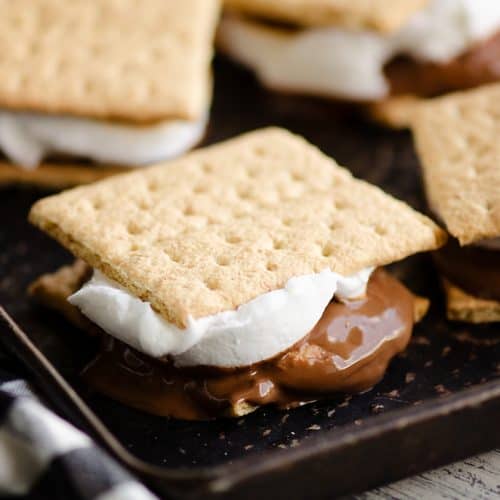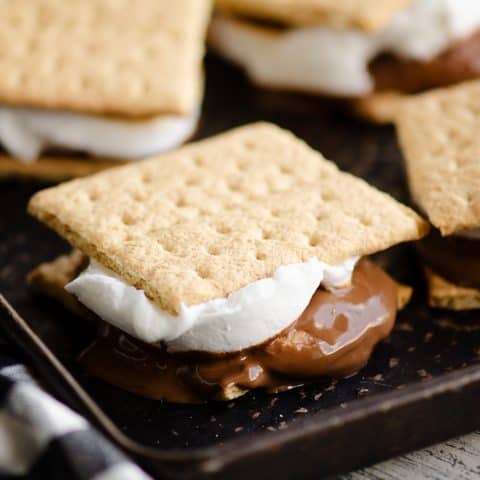 Peanut Butter Cup S'mores In The Oven
Peanut Butter Cup S'mores In The Oven are an easy 10 minute dessert recipe on a sheet pan. You can enjoy the classic kid-friendly campfire treat with a salty peanut butter twist any time of the year!
Ingredients
10.5 oz bag snack size peanut butter cups (14)
14 graham crackers
14 large marshmallows
Instructions
Divide each graham cracker into two squares. Arrange half of the squares on a lined baking sheet.
Top each square on the baking sheet with one unwrapped peanut butter cup and one marshmallow.
Broil on high for 1-2 minutes, being very careful not to burn the marshmallows.
Top each s'more with another square graham cracker and squish the toasted marshmallow down. Serve immediately.