S'mores Thumbprint Cookies are a unique twist on the classic dessert. Delicious thumbprint cookies are rolled in graham crackers and topped with toasted marshmallows and a drizzle of chocolate for a special treat.
I am so excited to be working with some friends to bring you an entire week of S'mores recipes! I am a huge chocolate lover and subsequently I absolutely LOVE S'mores! I do not, however, enjoy the process of sitting around a smokey campfire trying to get my marshmallow the perfect toasted brown and melted throughout, then adding it to a chunk of chocolate and graham cracker, hoping it will melt the chocolate, but being disappointed almost every single time!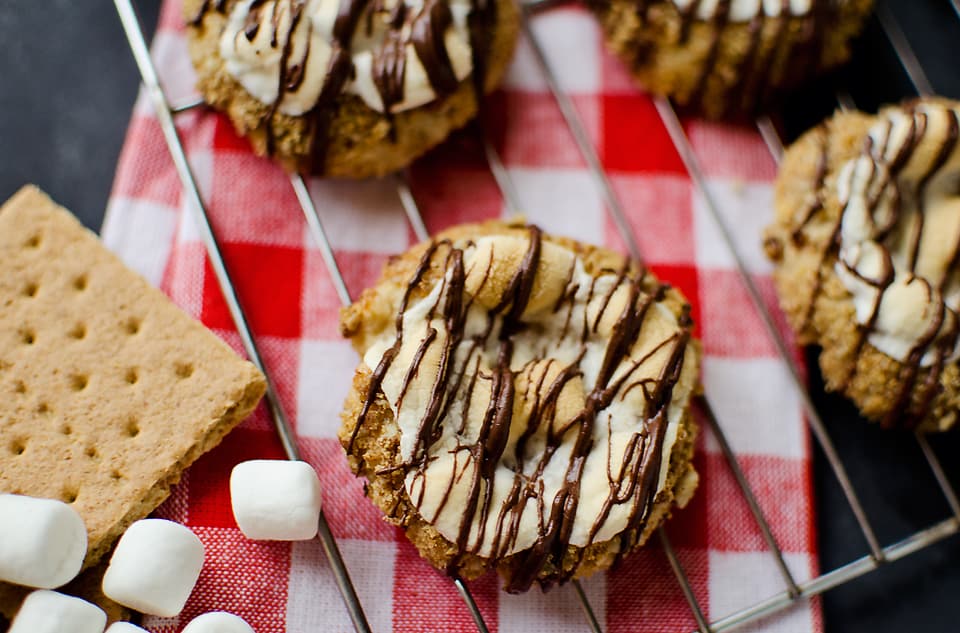 I know there are shortcuts, to getting the chocolate melted, such as sitting it on a rock next to the fire, but this is all just so much hassle when you could be whipping up some of these fabulous s'mores recipes in the comfort of your air conditioned kitchen! 😉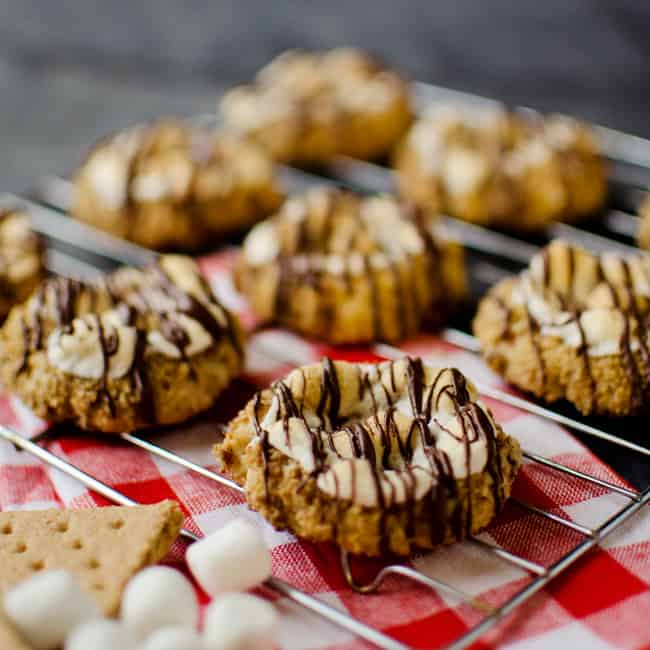 Let me introduce you to one of my all-time favorite cookies, the thumbprint. You may have seen them before filled with icing or perhaps some jam, but we are taking it to another level with these bad boys. Rolled in finely ground graham crackers and pecans and topped with toasted marshmallows and a chocolate drizzle, these babies will blow your traditional s'mores out of the water!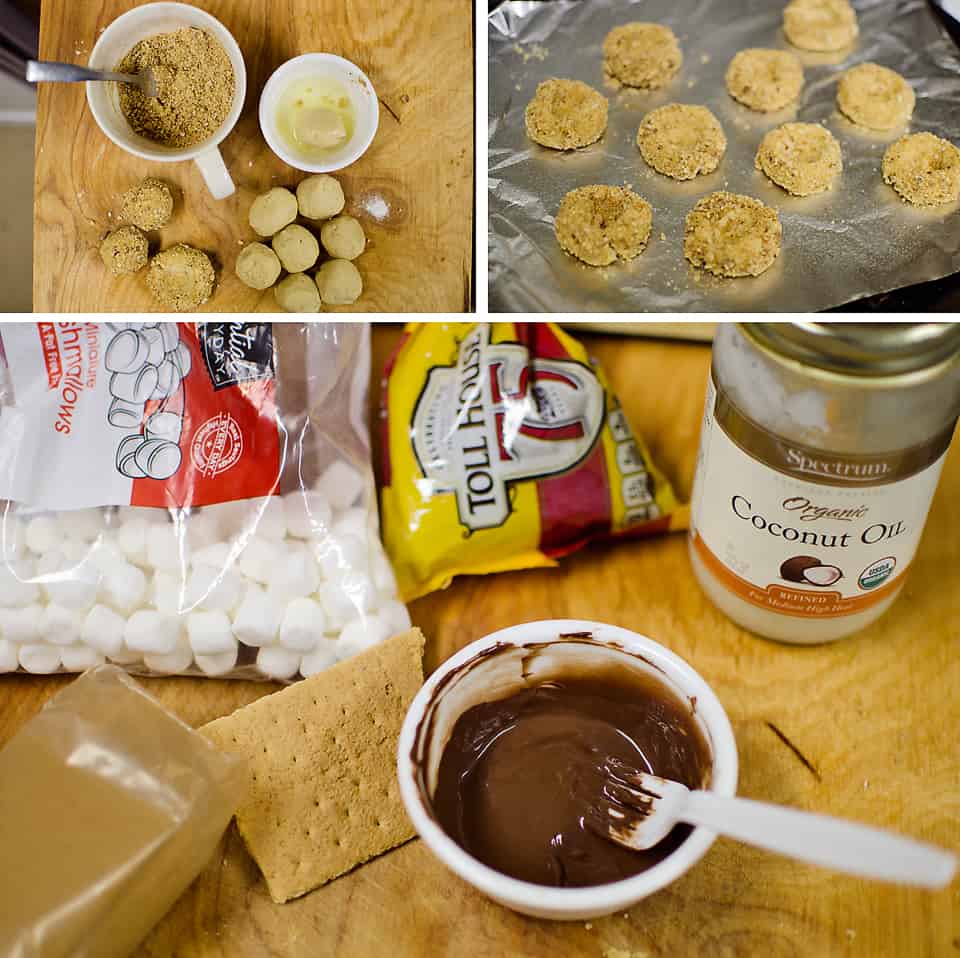 This recipe makes a rather small batch of cookies, only a dozen. I love that for just my husband and I, but, if you know that a dozen cookies will be wiped out in no time in your household, go ahead and double or triple the recipe right away. We do it all the time when family is in town!
Do you love the fantastic s'mores combination of chocolate, marshmallows and graham crackers as much as me? If so, be sure to check out some of the other great s'mores recipes below and keep checking back all week for more!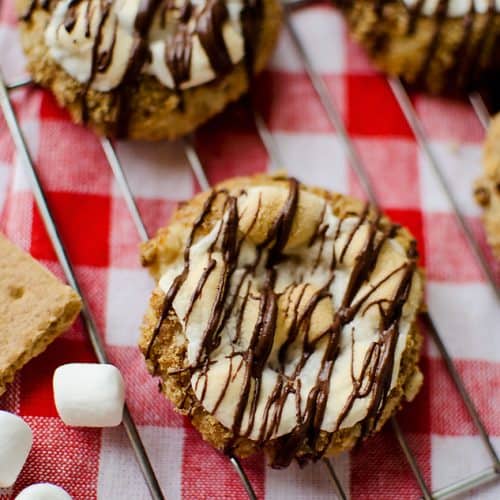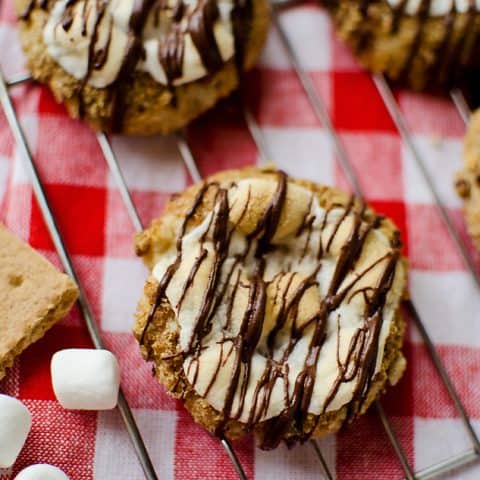 S'mores Thumbprint Cookies
Thumbprint Cookies rolled in graham crackers and pecans and topped with toasted marshmallows and chocolate for the perfect little bites of s'mores any time of the year!
Ingredients
1/2 c. shortening, part butter or margarine
1/4 c. brown sugar
1 c. flour
1/4 tsp. salt
1/2 tsp. vanilla
1 egg separated
1/3 c. graham crackers
1/4 c. pecans finely ground
3/4 c. mini marshmallows
1/3 c. chocolate
1 tsp. oil
Instructions
Preheat your oven to 350°. In a medium bow, mix the shortening , sugar, egg yolk and vanilla. Blend flour and salt into the mixture.
In a separate small bowl, combine the finely crushed graham crackers and pecans. Add your egg white to another separate bowl and beat slightly.
Roll your dough into 1.5" balls, being sure not to overwork the dough. Dip the balls into egg whites, then roll into graham cracker and pecan mixture.
Place the rolled balls on a greased cookie sheet. With your thumb, gently press in the center of each cookie approximately 3/4 of the way, being sure not to allow the edges to crack.
Bake at 350° for 6 minutes. Remove from the oven, and while acting quickly, press down in the center of each thumbprint again to redefine the imprint. Place 6 mini marshmallows in the center of each cookie. Immediately return to the oven and bake an additional 8-10 minutes until the marshmallows are browned and the cookies are done.
In a small microwavable bowl, melt the chocolate and oil in 15 second increments, stirring each time. Be sure not to over cook the chocolate or it will seize. Once all of the chocolate is melted, use it to drizzle over the cookies after they are removed from the oven.
Cool the cookies before serving and store in an airtight container.
Nutrition Information:
Yield:

1
Serving Size:

1 grams
Amount Per Serving:
Unsaturated Fat:

0g