Peanut Butter Buckeye Brownie Hearts are the perfect sweet for your special Valentine. They combine two of the best desserts into one amazing treat with brownies and peanut butter buckeyes!

Peanut Butter Buckeye Brownie Hearts
Are you looking for the perfect sweet treat for your special Valentine? Well, if they are a peanut butter and chocolate lover, I have got just the thing with these Peanut Butter Buckeye Brownie Hearts! It takes two of the best desserts, brownies and buckeyes, and combines them into one stunning treat.
Let the kids join in on the fun too adding sprinkles and even coating some of them with chocolate. They will feel extra pride when passing out these beautiful chocolate hearts to their friends, knowing they helped!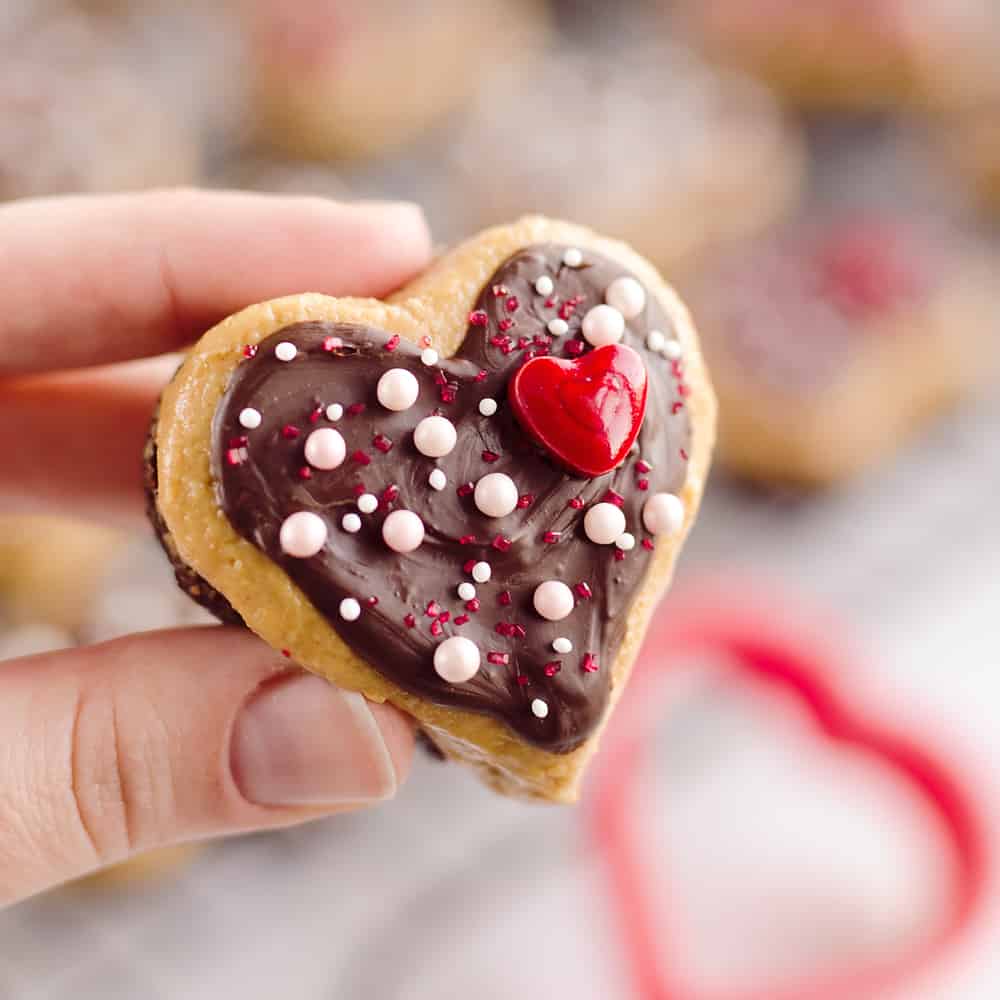 Impressive Valentine Heart Dessert
This impressive dessert starts with an easy store-bought fudge brownie mix and is topped with a buckeye mixture made with peanut butter, powdered sugar, graham crackers and butter. After you spread the buckeye mixture over the cooled brownies you use whatever small heart cookie cutter you have on hand to cut out the hearts.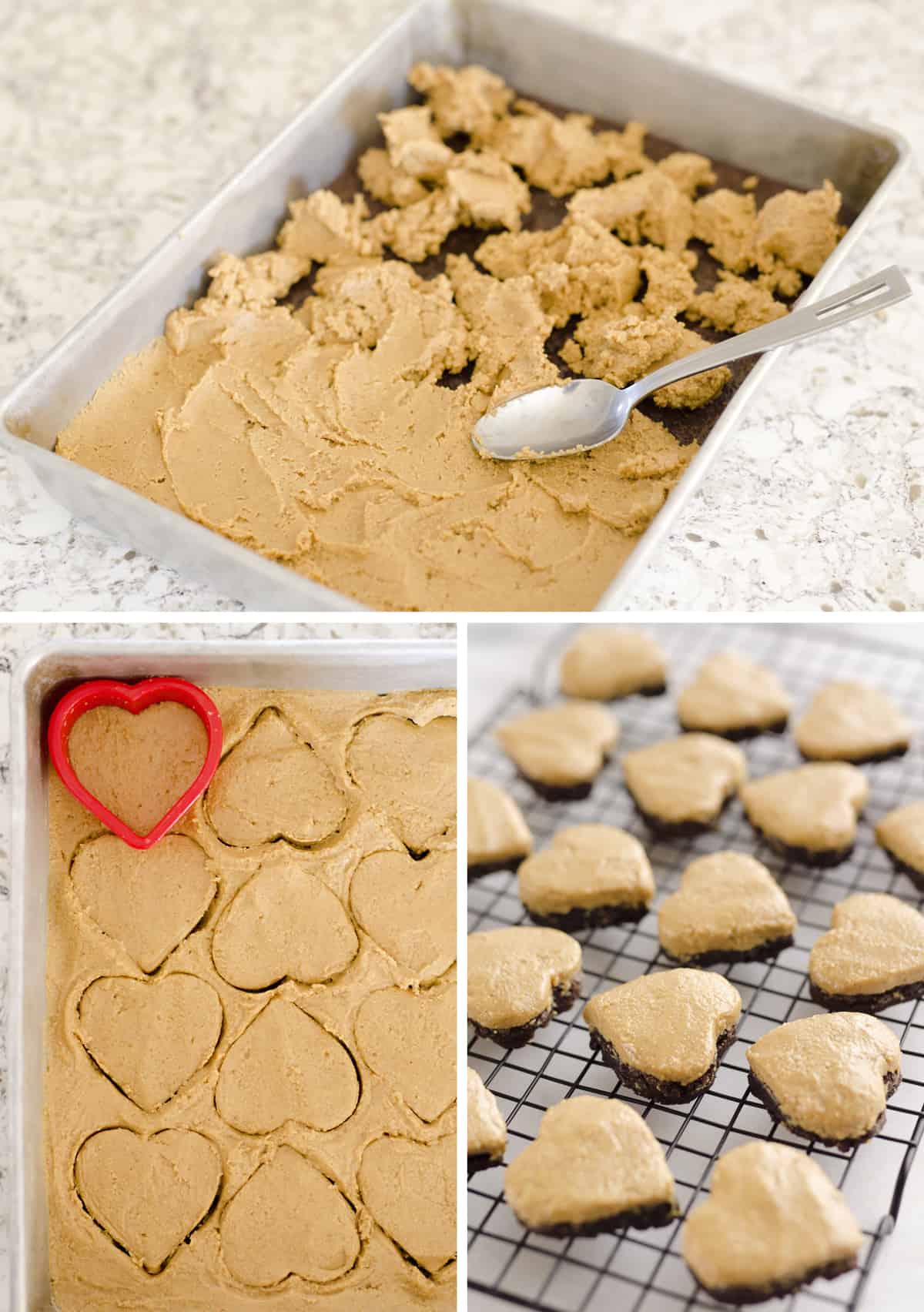 It works best to use a deeper sandwich cutter so there is enough room to get through both layers. You can also use it later to look like an amazing Pinterest mom on Valentine's Day, by jazzing up your kids sandwich in their lunch box!
After all my hearts were cut out, I piled my scraps in a bowl and snacked on them as I worked on decorating. #NoShame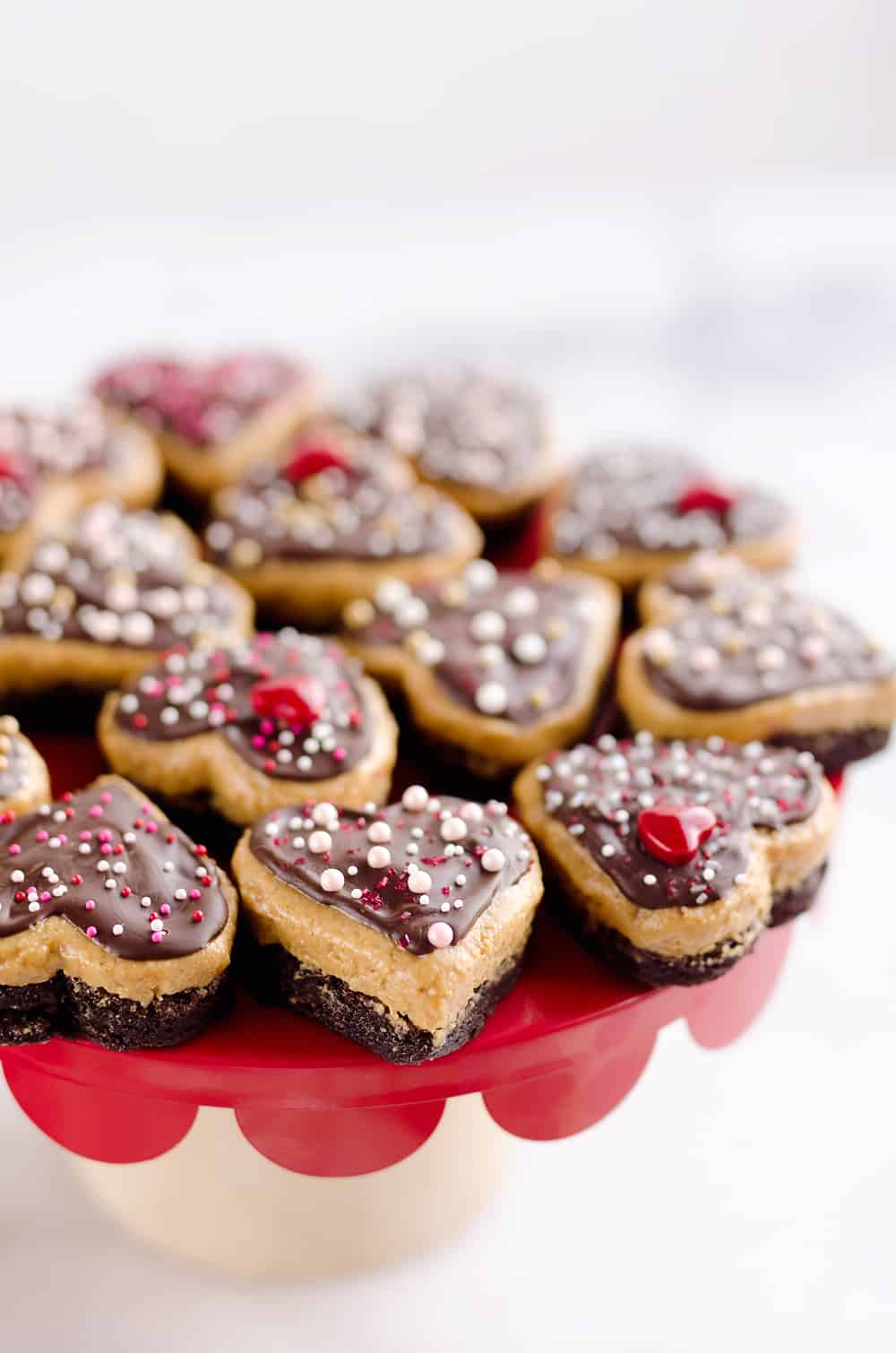 Decorated Heart Brownies
Next up, we need to make these little bite-sized hearts beautiful. Melt some dark chocolate chips with a little bit of coconut oil or shortening and using an offset spatula spread the chocolate over the top of the hearts. If you are a huge chocolate lover or want to store these for a few days before serving, you can coat the entire heart in chocolate.
If you will be serving them right away, I prefer just a nice chocolate heart on top so people can see that they are peanut butter brownies.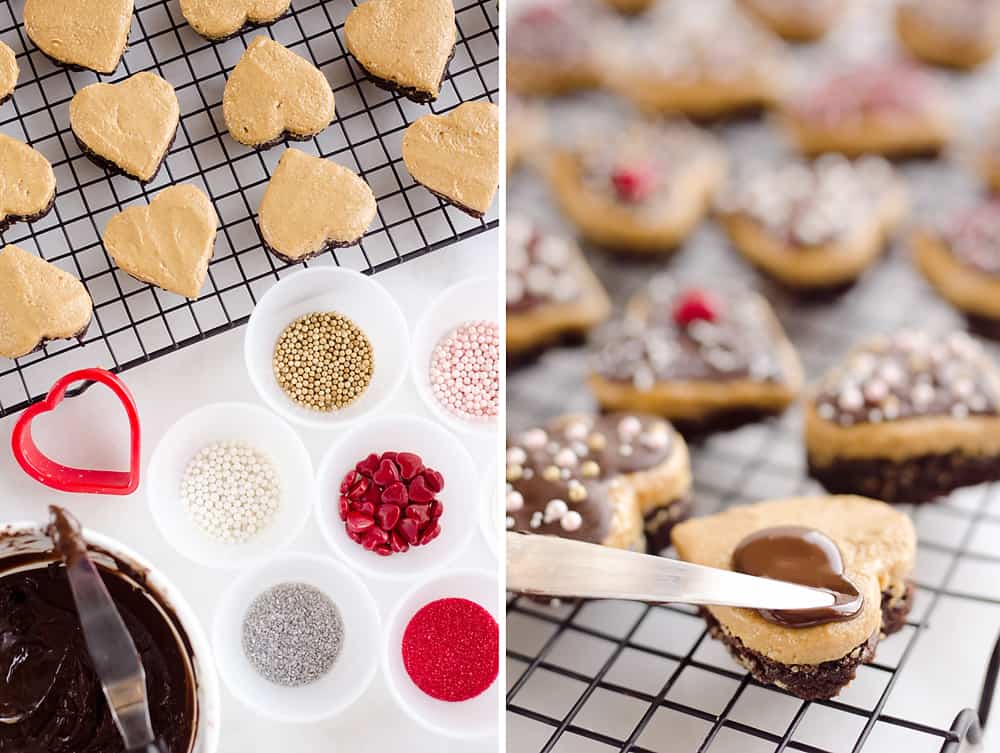 After each heart is coated with chocolate, embellish with sprinkles and store refrigerated! Be sure to add the sprinkles after you add chocolate to each one, or the chocolate may harden too quickly and the sprinkles and nonpareils won't stick.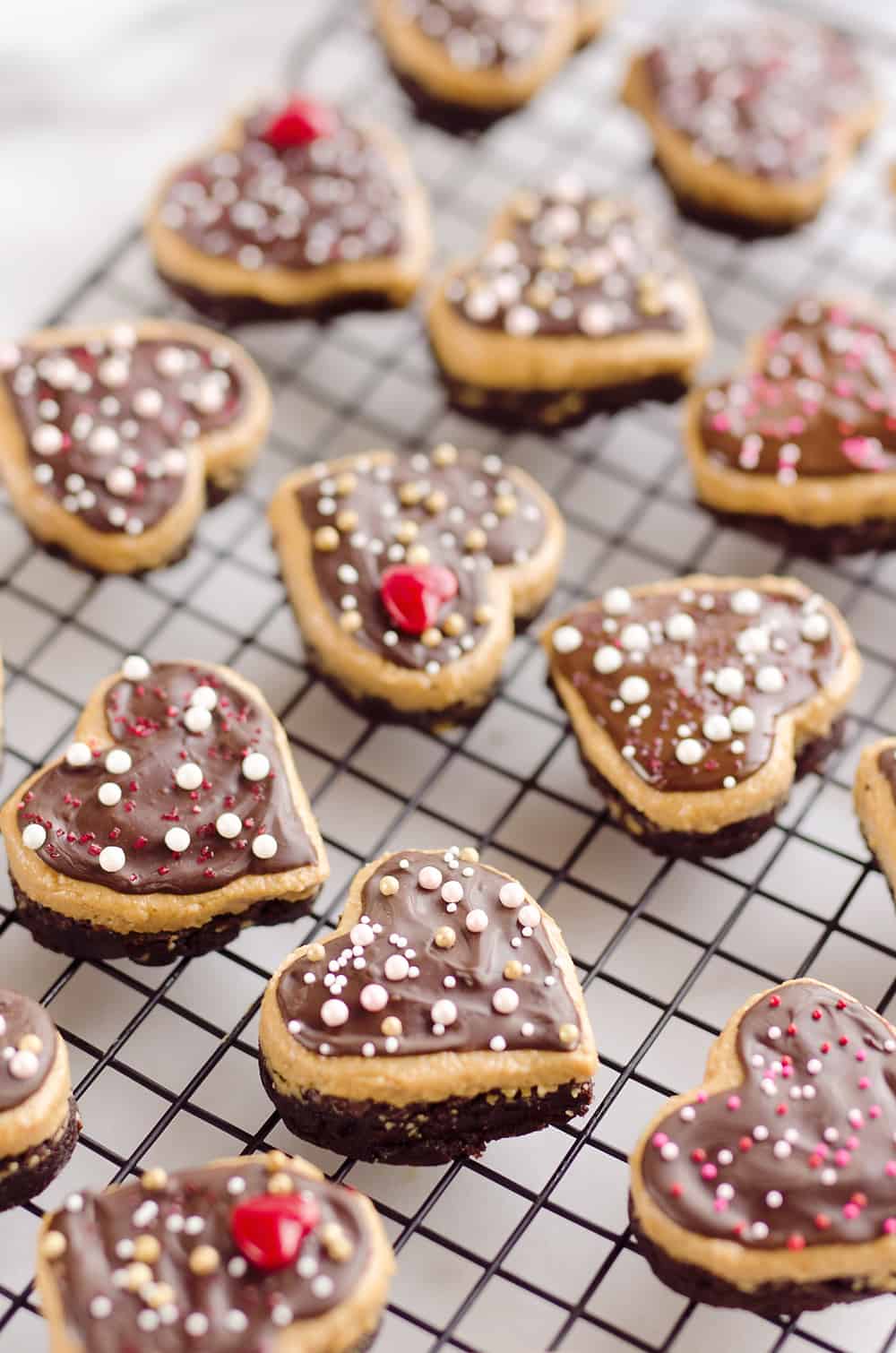 Grown Up Valentine Dessert
I brought a tray of these to work and they disappeared in record time! If you make these Peanut Butter Buckeye Brownie Hearts for your Valentine you are sure to get lots of compliments. They truly are an amazingly delicious dessert that are a serious crowd-pleaser.
Kids will obviously love how they taste, but let's be real. Usually when we go through this amount of work to make an impressive dessert to share, it is somewhat done to impress the grown ups. 😉
If you are looking for more awesome Valentine recipes, be sure to check out these Heart Shaped Recipes!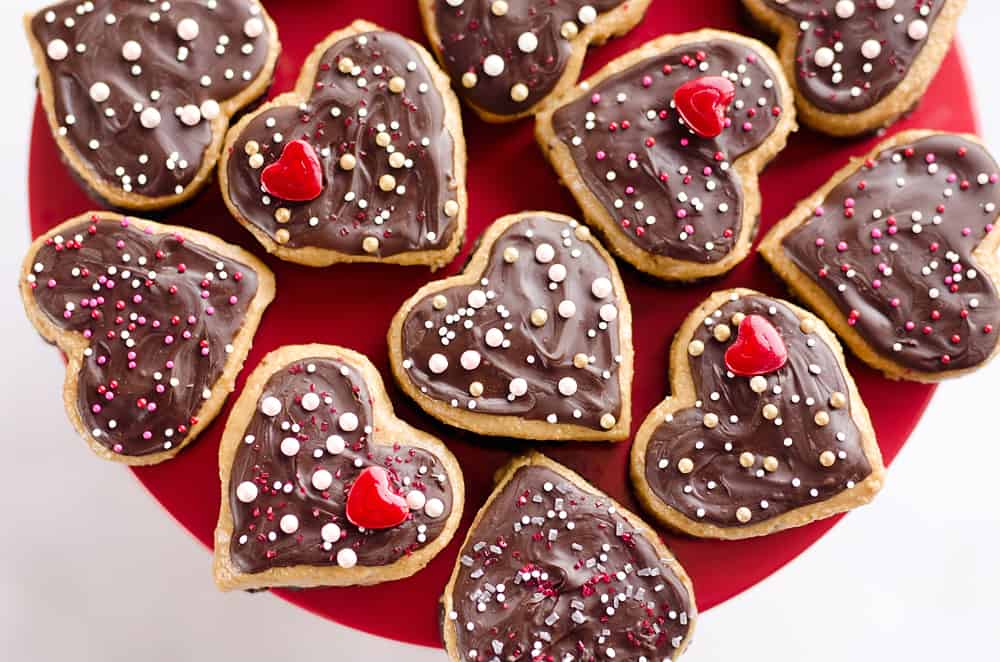 The best part of all, unlike some of those fancy store bought cutout sugar cookies that look amazing but taste horrible, this beautiful Valentine's dessert looks great and tastes AMAZING!
If you want to package them up individually to pass out as a special Valentine's Day treat, grab some cellophane bags and top each one with one of these cute Valentine Treat Bag Toppers. They are totally free and easy to print out!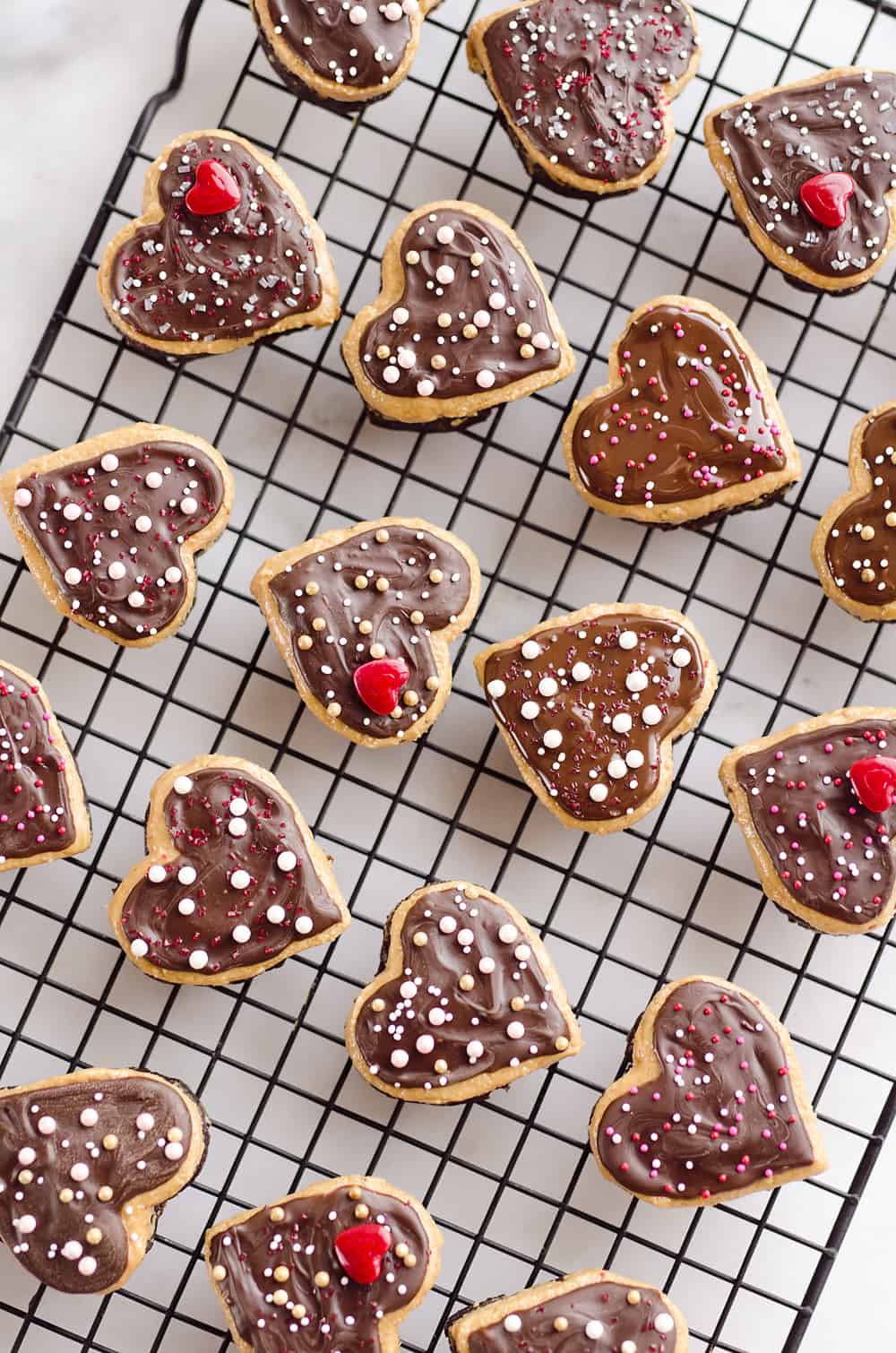 Special Valentine Treat
Do you have any special Valentine tradition with your loved ones or children? I don't typically do much exciting other than go out to eat with my husband. As a child though, I remember my mom would always have a special gift for us girls. Sometimes it was a treat but usually it was something fun like a book or stickers.
Not all cutout cookies are bad though. If you are wanting a more classroom friendly dessert option for this Valentine's Day, without peanut butter, checkout this sour cream cutout cookie recipe.
It's my grandmother's recipe and any time I share them, which is honestly seldom because we keep most of them for ourselves, people go crazy for them. The combination of a soft cake like cookie with a rich buttercream frosting is absolutely divine!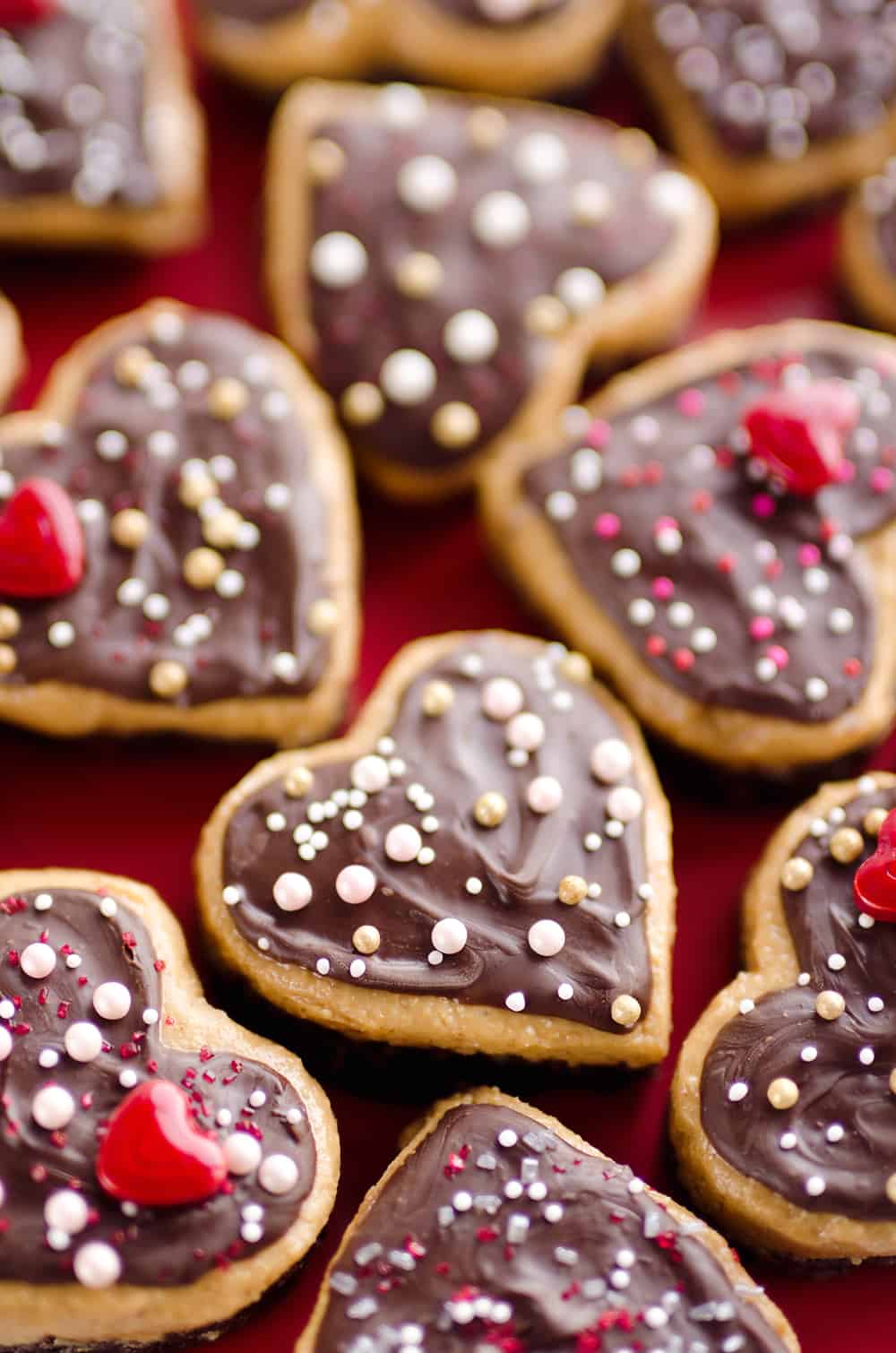 More amazing Chocolate Recipes for Valentine's Day!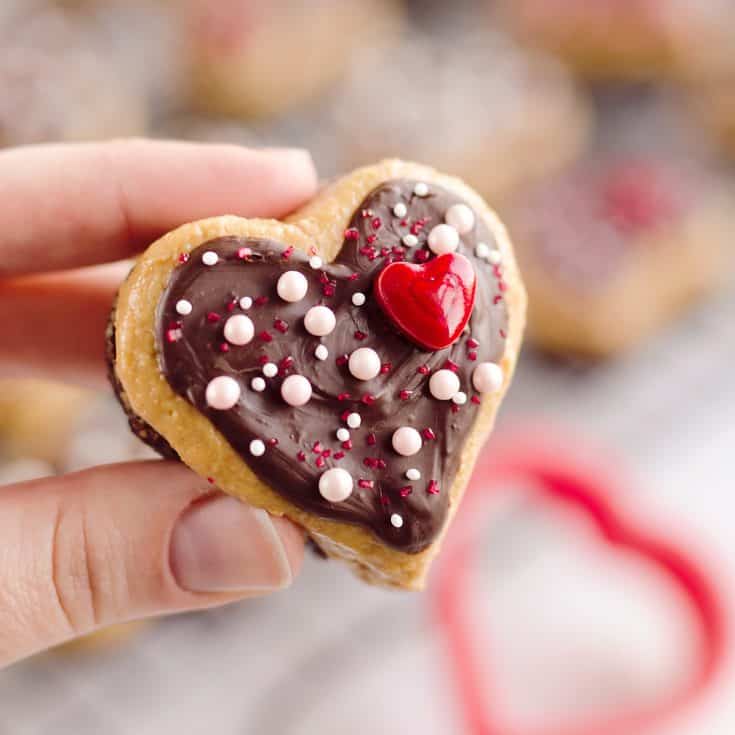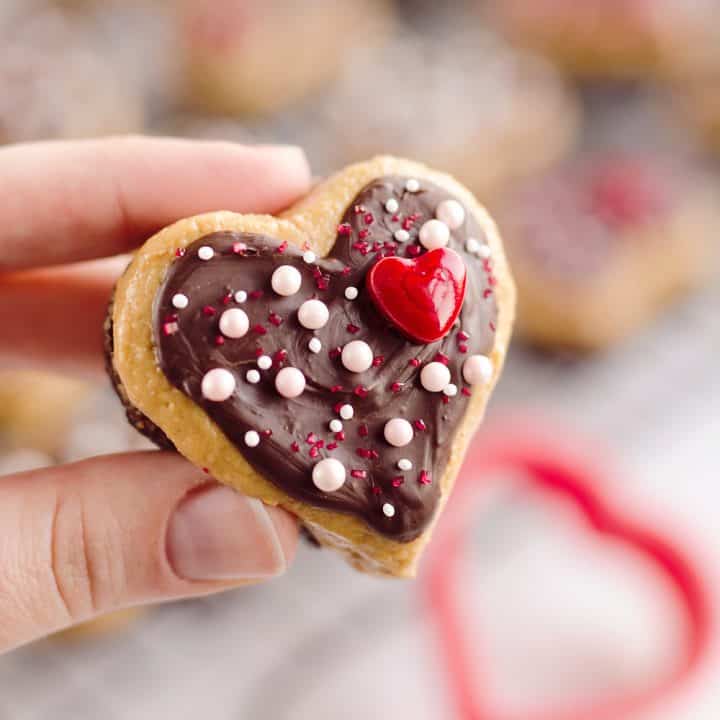 Peanut Butter Buckeye Brownie Hearts
Peanut Butter Buckeye Brownie Hearts are the perfect sweet for your special Valentine. They combine two of the best desserts into one amazing treat with brownies and peanut butter buckeyes!
Ingredients
1 box fudge brownie mix, 9x13 size prepared according to package directions
⅔ c. peanut butter
⅔ c. powdered sugar
¼ c. butter, melted
⅔ c. graham cracker crumbs
¼ tsp. salt
¾ c. dark chocolate chips, melted
1 tsp. coconut oil or shortening
Assorted sprinkles & nonpareils
Instructions
Prepare your brownie mixture and bake in a 9x13 pan according to package directions. Allow to cool to room temperature.
In a food processor, add the peanut butter, powdered sugar, butter and graham crackers. Pulse until the mixture is smooth and well combined. (If you don't have a food processor, crush your graham crackers into fine crumbs and combine with the other ingredients in a bowl with a beater. The mixture won't be quite as smooth, but will still taste great!)
Dollop the mixture over the brownies and carefully spread it out evenly.
Using a heart cookie cutter, cut out as many hearts as possible.
In a microwave safe bowl, heat the chocolate chips and oil in 20 seconds increments, stirring vigorously until smooth.
Spread the top of each heart brownie with 1 teaspoon melted chocolate and top with sprinkles. Store refrigerated.
Recommended Products
As an Amazon Associate and member of other affiliate programs, I earn from qualifying purchases.