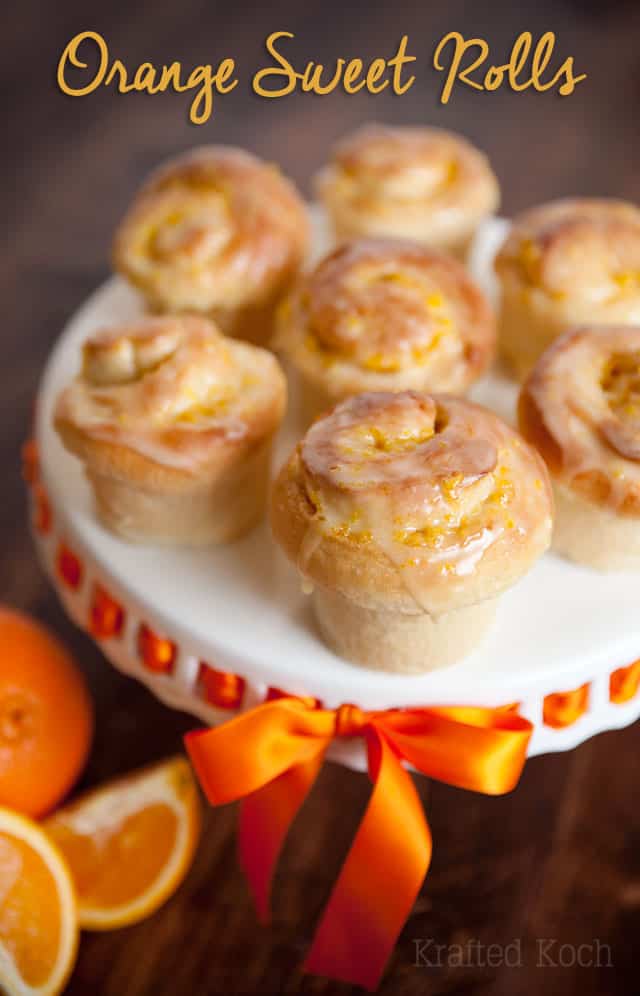 Orange Sweet Rolls are made with a moist potato dough and are rolled up with lots of fragrant orange zest and sugar for a perfectly scrumptious sweet roll! This post is a little picture heavy to say the least, but a recipe this epic deserves a well-documented tutorial.
Making yeast rolls can be intimidating at first, but if you follow the directions step-by-step, you really can't screw them up! My grandma Walters always made this recipe for her Bed and Breakfast guests and everyone would rave about them. About twice a year, she would send us home with a plate of exactly 6 rolls…precisely the number of members in my family. She was never over-generous with the rolls, but we were still eager to get them any chance we could, even if it meant we only got one!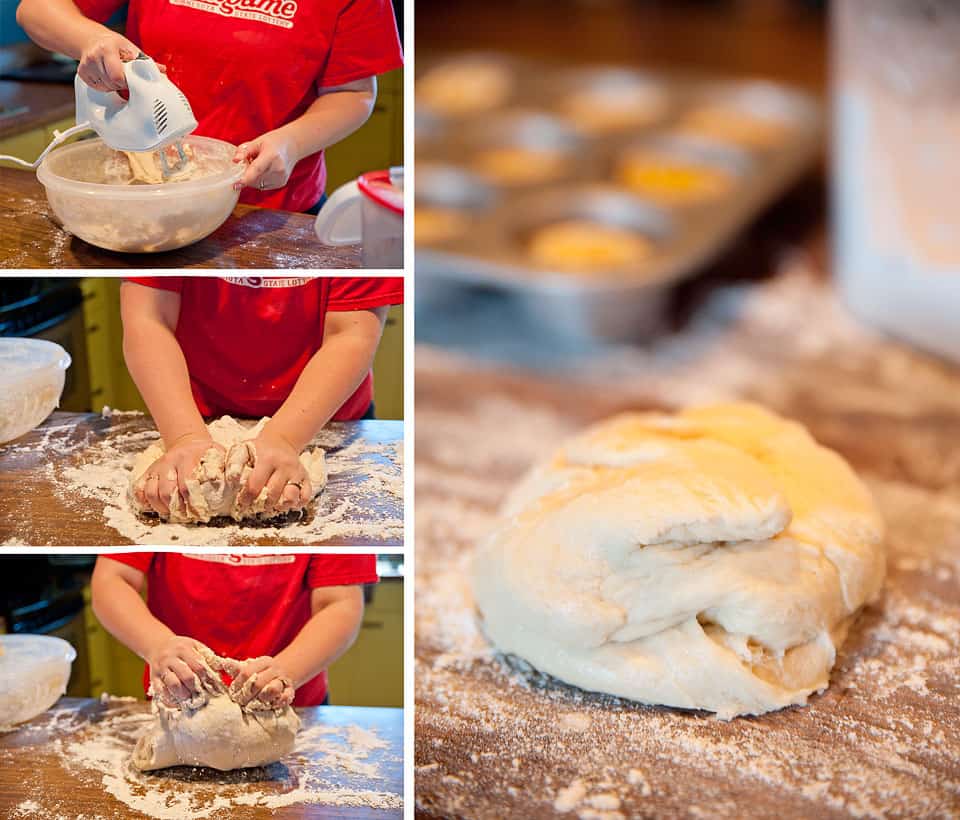 This recipe is a great way to use up any leftover mashed potatoes. If you don't have some leftovers on hand, you will want to boil and mash some up the night before, so they have a chance to chill properly. The potatoes are a unique element to the dough recipe that keep it light and moist.
I cheat and use a hand mixer or my KitchenAid stand mixer
to mix the dough. I don't have enough arm strength or endurance to incorporate that much flour with a wooden spoon! If you use your stand mixer with the dough attachment, you can also use that for the bulk of the kneading.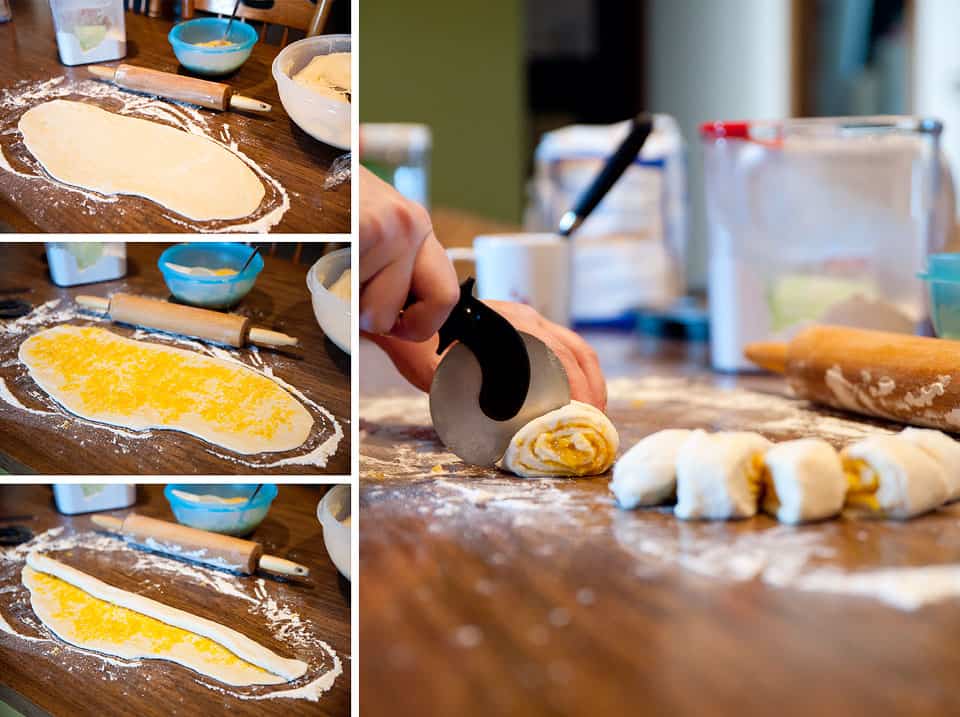 I always make a double batch of Orange Sweet Rolls, because I decided a long time ago, that if I was going to go through the work and mess of making them, I better make it worth while. We typically start the process early on a Saturday morning and by time the dough has risen, been formed into rolls, risen again, baked, glazed and cooled, it is usually evening time before we complete the cleanup. This is somewhat of an undertaking, but I promise you, it is worth all of the effort!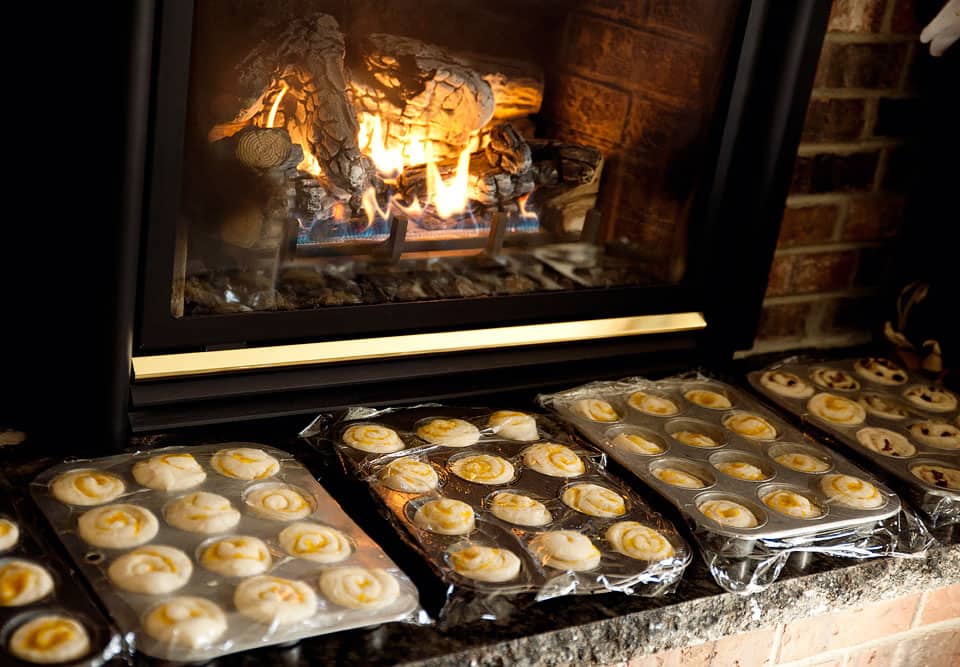 When I used to manage a restaurant, I was able to raise all my dough in the proofer which made life easier. A proofer is a big box that you can put your trays of dough in to speed up the raising process at low temps. I no longer have that luxury and have never had much of any patience, so I now use our gas fireplace to speed the raising process along. 🙂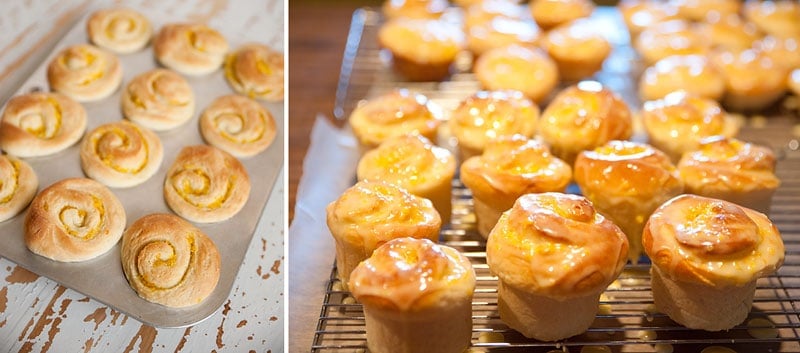 After the rolls are baked, they are topped with a glaze made from fresh orange juice, a bit of orange zest and some powdered sugar. This is the final step in completing these amazing sweet rolls. They are best served warm, so be sure to enjoy one fresh out of the oven.
As for the rest of the rolls, store them in an airtight container and freeze them up to 6 months. You can take out as many as you would like to thaw for a brunch or holiday weekend, so you always have a special treat on hand. After they thaw, pop one in the microwave for 10-15 seconds for a perfectly soft and flavorful sweet roll.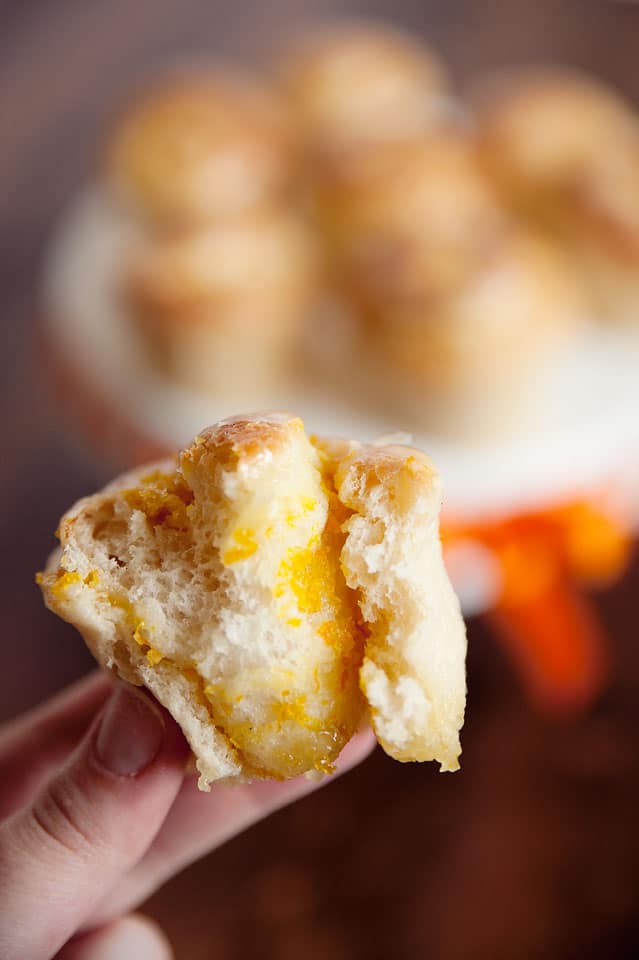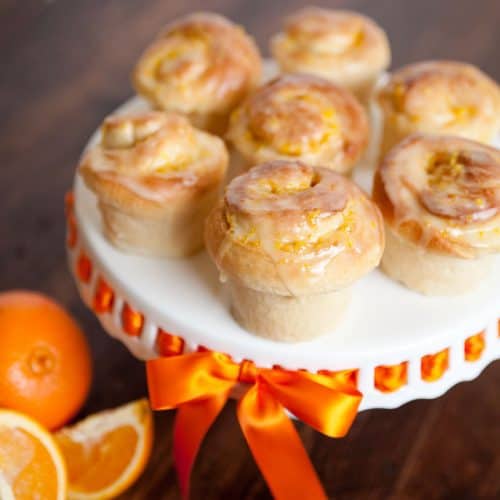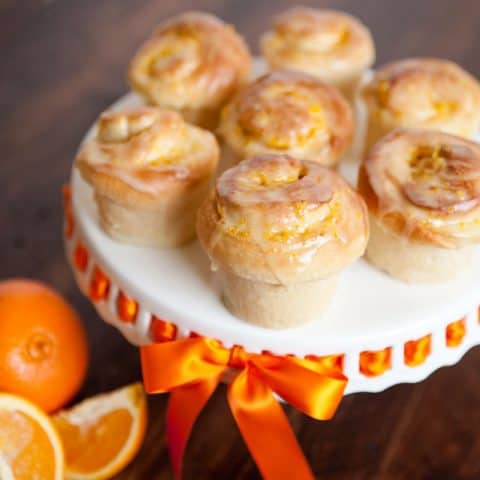 Orange Sweet Rolls
Total Time:
6 hours
25 minutes
Ingredients
Potato Sweet-roll Dough
2 pkgs. yeast
1/2 c. warm milk, not scalding!
2 c. potato cooking water, can substitute plain water
1 c. mashed potatoes
1 c. sugar
1 Tbsp. salt
3/4 c. butter
2 eggs
8 to 9 c. all-purpose flour
Filling
1/2 c. butter, melted
Zest of 3 oranges
1 1/2 c. sugar
Orange Glaze
Juice of 3 oranges
Zest of 1 orange
1 lb. confectioners sugar
Instructions
Stir the yeast into warm milk and let stand a few minutes. After the yeast has bloomed (begun to expand and/or bubble), add the potato water, mashed potatoes, sugar, salt, butter and eggs. Beat ingredients well.
Add 2 cups of flour and beat until smooth. Add enough of the remaining flour until dough is manageable, then turn onto lightly floured surface. Be sure not to add too much flour, or your dough will be dry.
Knead for a couple of minutes and let rest for 10 minutes.
Resume kneading for an additional 10 minutes, until dough is smooth and elastic. Sprinkle a little more flour on the dough as necessary, to make the kneading manageable.
Place in large greased bowl, cover, and let sit in warm area and rise until double in bulk.
Punch the risen dough and divide into 3 parts. Roll each part into a rectangle, a quarter inch thick.
Meanwhile, combine the zest of 3 oranges and 1.5 c. sugar. Brush the top of the rectangle with butter and sprinkle with a third of the orange zest mixture. Roll up the dough lengthwise and pinch the edges of the dough, so it is sealed into a long, spiraled log. (see photos above.)
Using a pizza cutter, slice off 1.5 inch pieces from the log. Sometimes there will be thicker sections of dough, which you will want to cut a bit shorter pieces from and thinner areas that you will cut into longer pieces. The most important factor, is to keep all of the rolls roughly the same bulk so they bake evenly.
Place the rolls, cut side up, in greased muffin tins (preferably NOT dark non-stick tins). Cover and let rise until doubled in bulk.
Bake the rolls at 350° for 15 to 20 minutes, until the tops are golden brown. Allow the rolls to cool for 5 minutes and remove each one individually, using two forks. Set on cooling racks and allow to cool for an additional 15 minutes. It is important, not to let the rolls sit in the tins too long, or the orange glaze may stick, making them difficult to remove.
After the rolls are mostly cooled, top each one with a Tablespoon of glaze. Serve immediately, or freeze in an airtight container.
Recommended Products
As an Amazon Associate and member of other affiliate programs, I earn from qualifying purchases.
Nutrition Information:
Yield:

30
Serving Size:

30 rolls
Amount Per Serving:
Calories:

1330
Total Fat:

11g
Saturated Fat:

6g
Trans Fat:

0g
Unsaturated Fat:

4g
Cholesterol:

33mg
Sodium:

337mg
Carbohydrates:

270g
Fiber:

9g
Sugar:

36g
Protein:

32g
Provided nutrition data is only an estimate. If you are tracking these nutrients for medical purposes, please consult an outside, trusted source.
More sweet breakfast options you will love!