These bite-sized Mini Pomegranate Chocolate Tarts are the perfect dessert recipe for your next party or special occasion. Buttery chocolate cookie crusts are filled with an easy ganache and topped with salty pistachios and juicy pomegranates for the perfect bite of sweet and salty!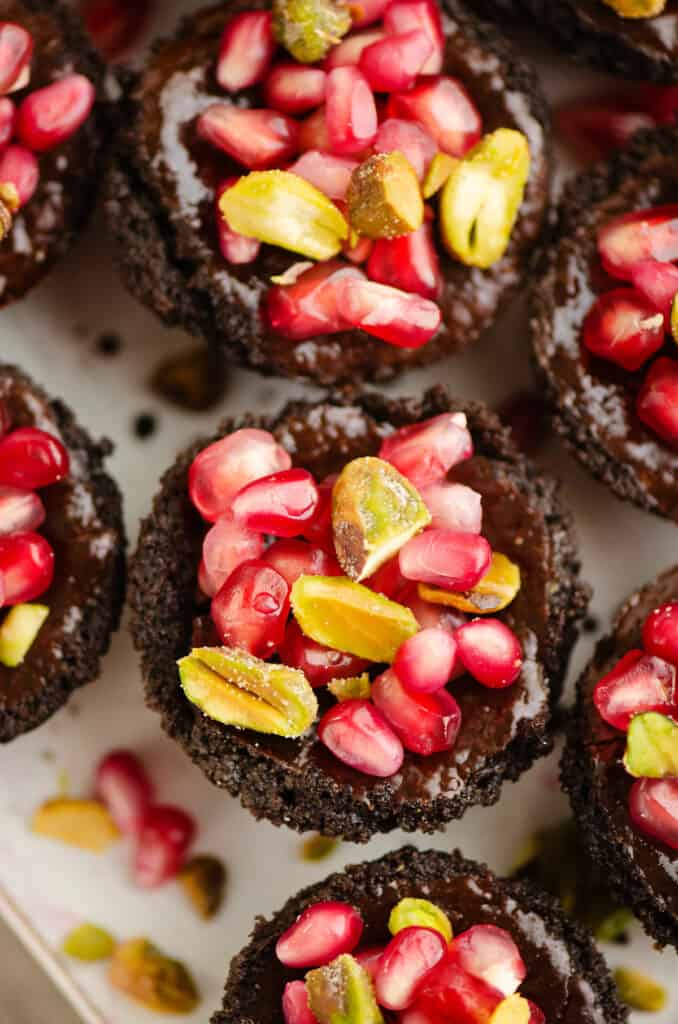 Pomegranate Chocolate Mini Desserts
Whether you are are hosting a party and want the perfect finger food to pass around or you want to make something extra special for your Valentine, these Mini Chocolate Tarts are the perfect dessert!
We took this simple recipe for a Chocolate Strawberry Tart and transformed it into these mini chocolate tarts using a mini muffin tin.
You get more of the Oreo cookie crust in each bite along with the perfect crunchy topping of pomegranate seeds and salted pistachios. It is one of the best bites of dessert you will try!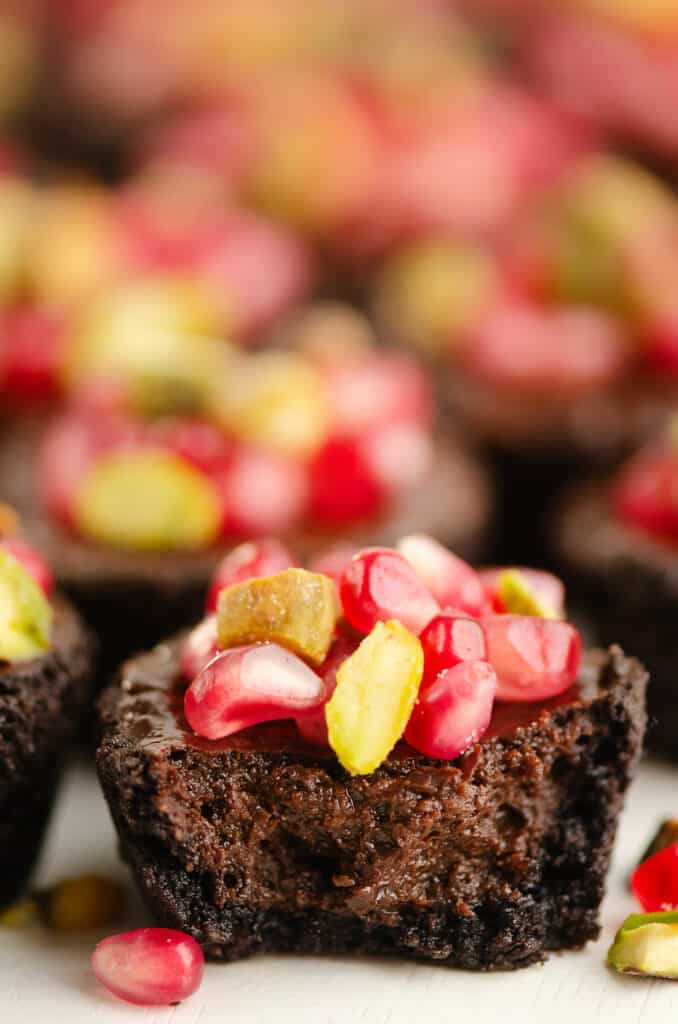 Oreo Cookie Crust for Tarts
While these mini chocolate tarts look very fancy, that doesn't mean we are using any complicated or fancy ingredients. An Oreo cookie crust is a great thing and we don't mess with good things around here. It's an incredibly easy way to make a chocolate crust for tarts that tastes amazing.
The combination of chocolate cookies, cream filling and lots of butter makes for the perfect flavor and texture.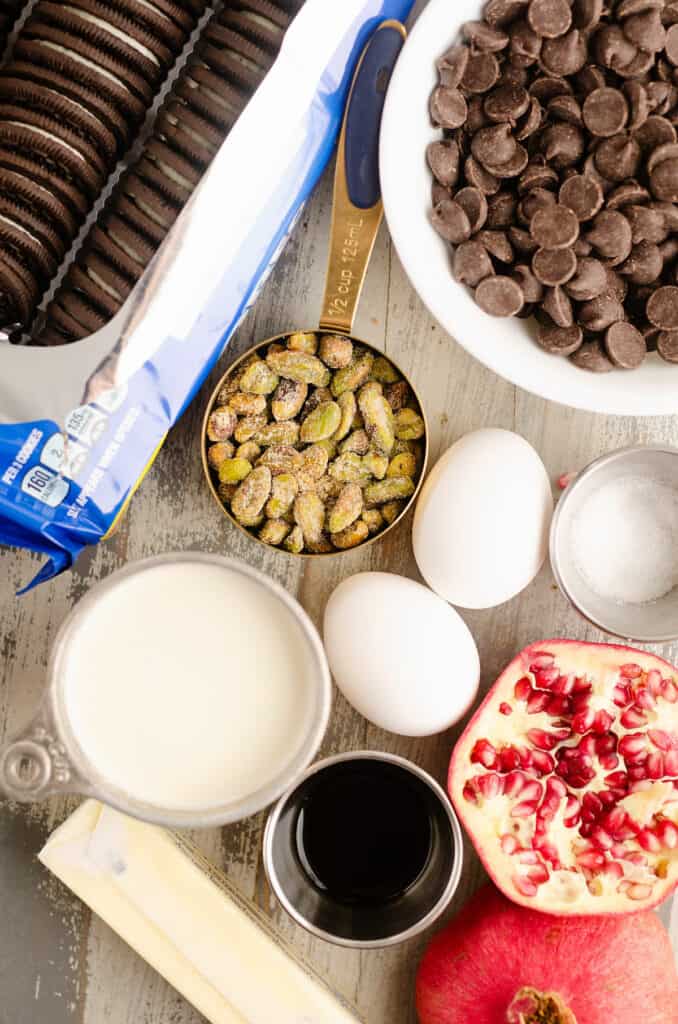 Can I use Double Stuff Oreos?
For this chocolate cookie crust you really want to stick with the traditional Oreos and don't use the double stuff varieties. Those will throw off the balance of textures with too much cream and not enough cookie.
Can I use different cookies for the crust?
You really want to stick to sandwich cookie for this recipe, again to keep the balance of texture. You can most certainly use an off-brand Oreo chocolate sandwich cookie though. It will do the trick just the same!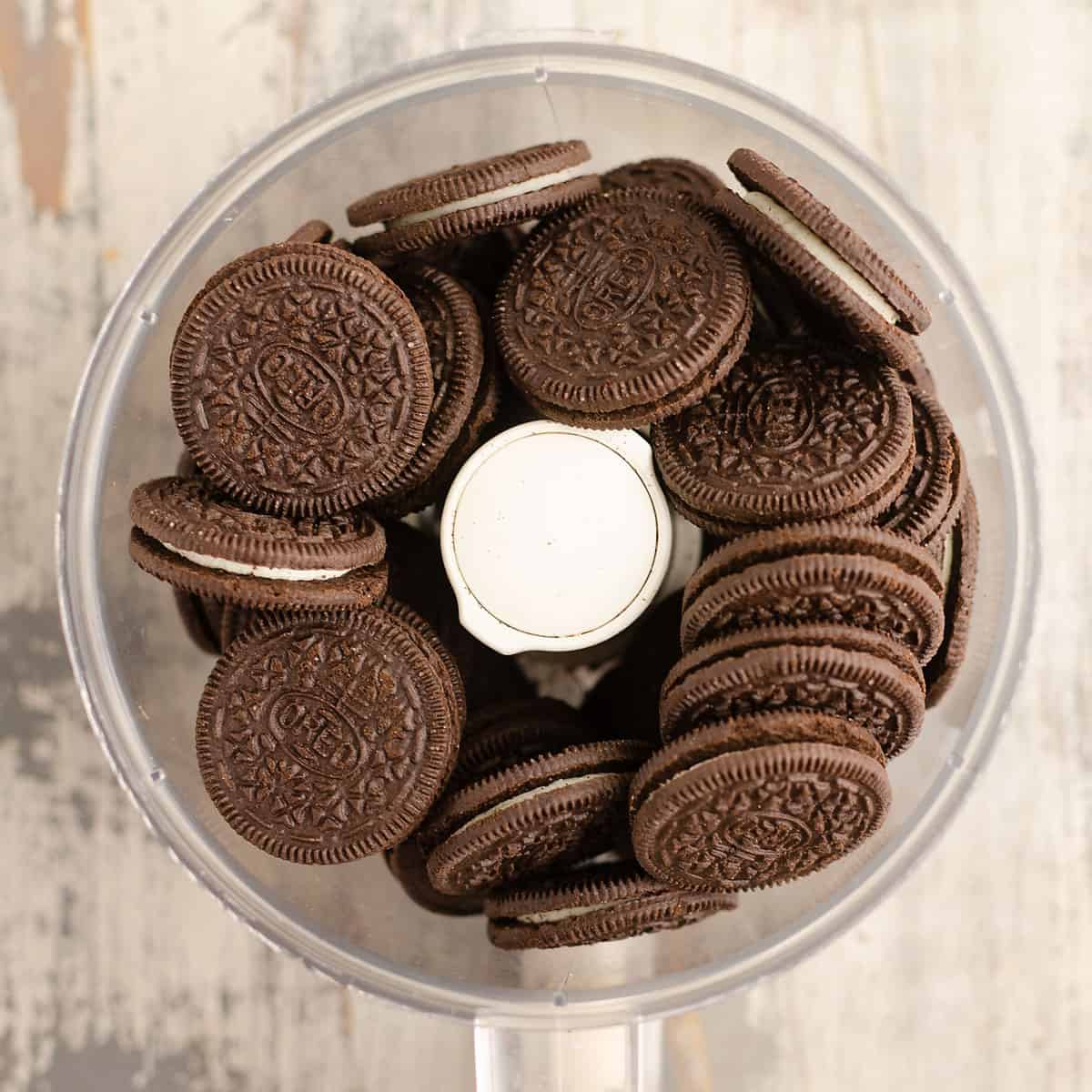 How to make chocolate pie crust
This chocolate pie crust made from Oreos is the best base for these mini chocolate tarts. It is buttery and holds it shape incredibly well after baking for the perfect finger food passed dessert.
Start by adding a 14.3 oz. package of Oreos to your food processor. Pulse until they are broken down and turn on high until they are a small crumb.
Cookies don't fit in food processor
If you have a smaller food processor, you will need to process the cookies in two batches. Add all the crushed cookie crumbs back to the food processor and add the butter.
Add a 1/2 cup butter that is melted to the food processor and pulse until the mixture is wet and crumbly.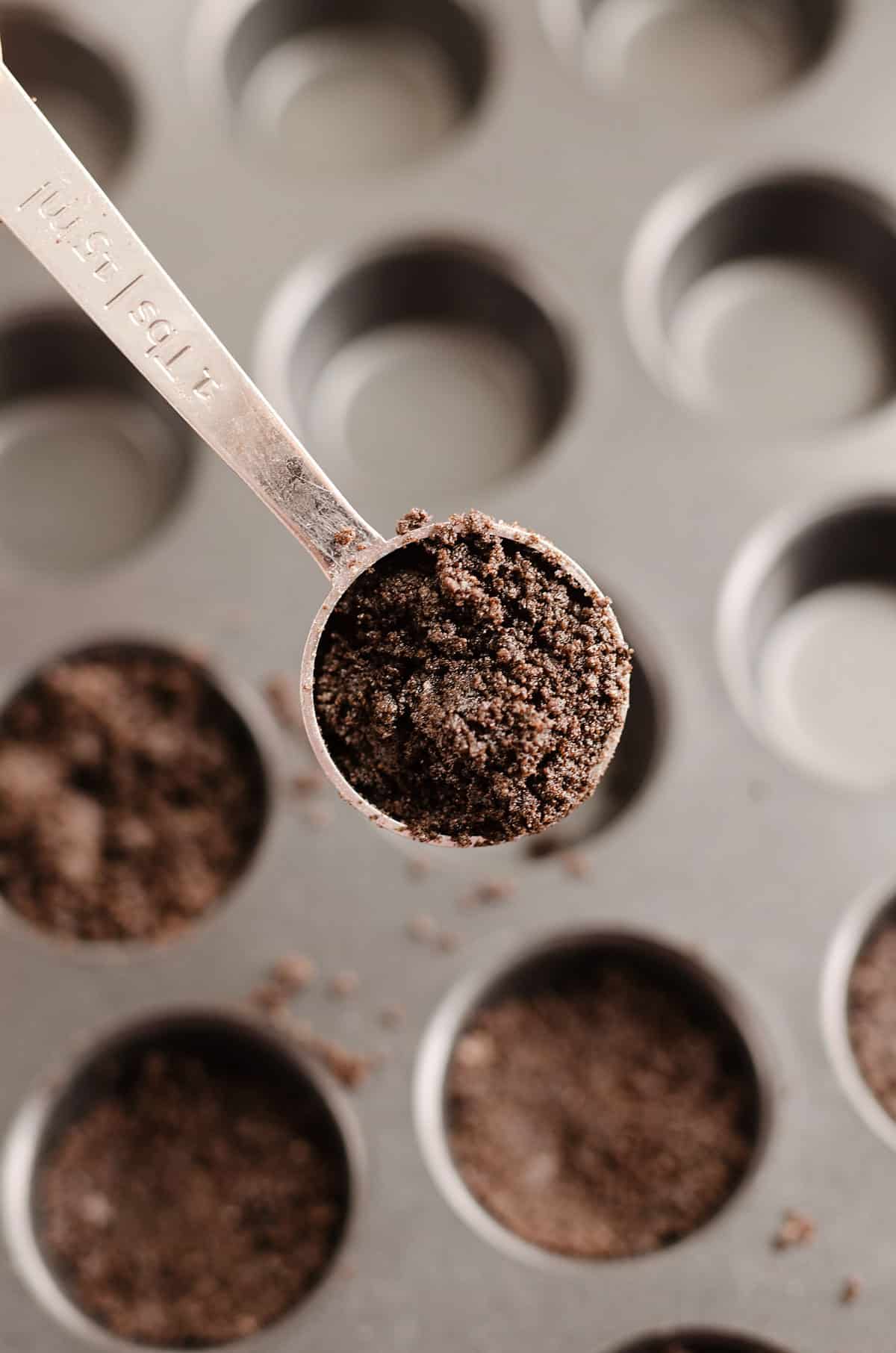 Making mini tart crusts in muffin tin
Spray your mini muffin tin, preferably a non-stick pan, with cooking spray. Scoop one loose tablespoon of cookie crumb mixture into each tin. Press down firmly around the edges of each tin and the bottom.
This will be the most time consuming step of the process, but you want to make sure to press the cookie crust into the tins really well so it holds it shape well after baking.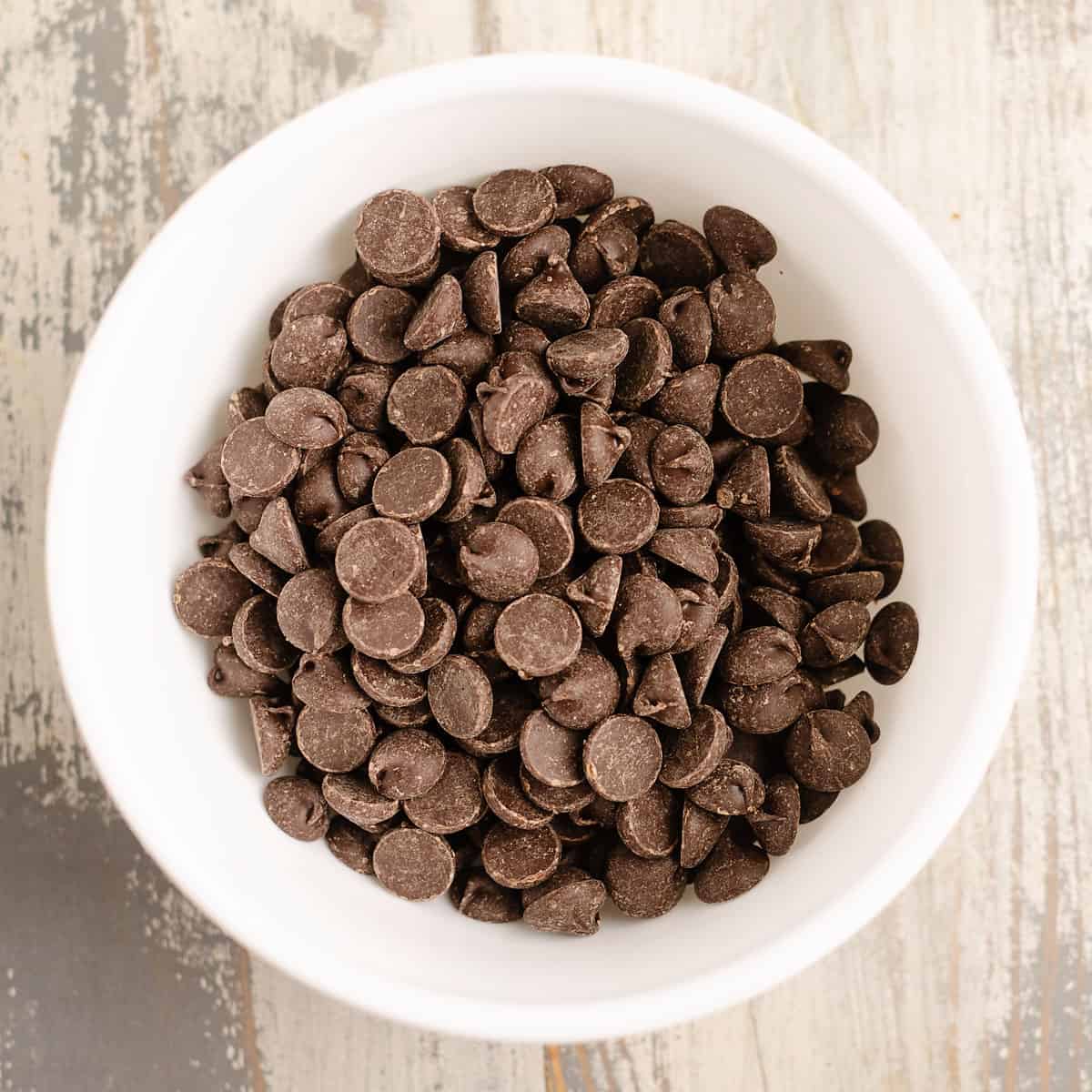 Chocolate Ganache Filling
Next we move on to the absolute best part of any recipe, chocolate ganache! My goodness, it really is an each recipe to make, but so absolutely divine in flavor and texture!
Again, we are keeping things simple around here so there will be no double boilers or any other complicated contraptions. Simply heat your 1 1/4 cup heavy whipping cream in the microwave for 2 minutes and add to 16 ounces chocolate chips.
Whisk really well until the mixture is smooth and shiny. You make think that the chocolate and cream are mixed, but if it's at all grainy you need to keep whisking until it reaches that shiny smooth stage.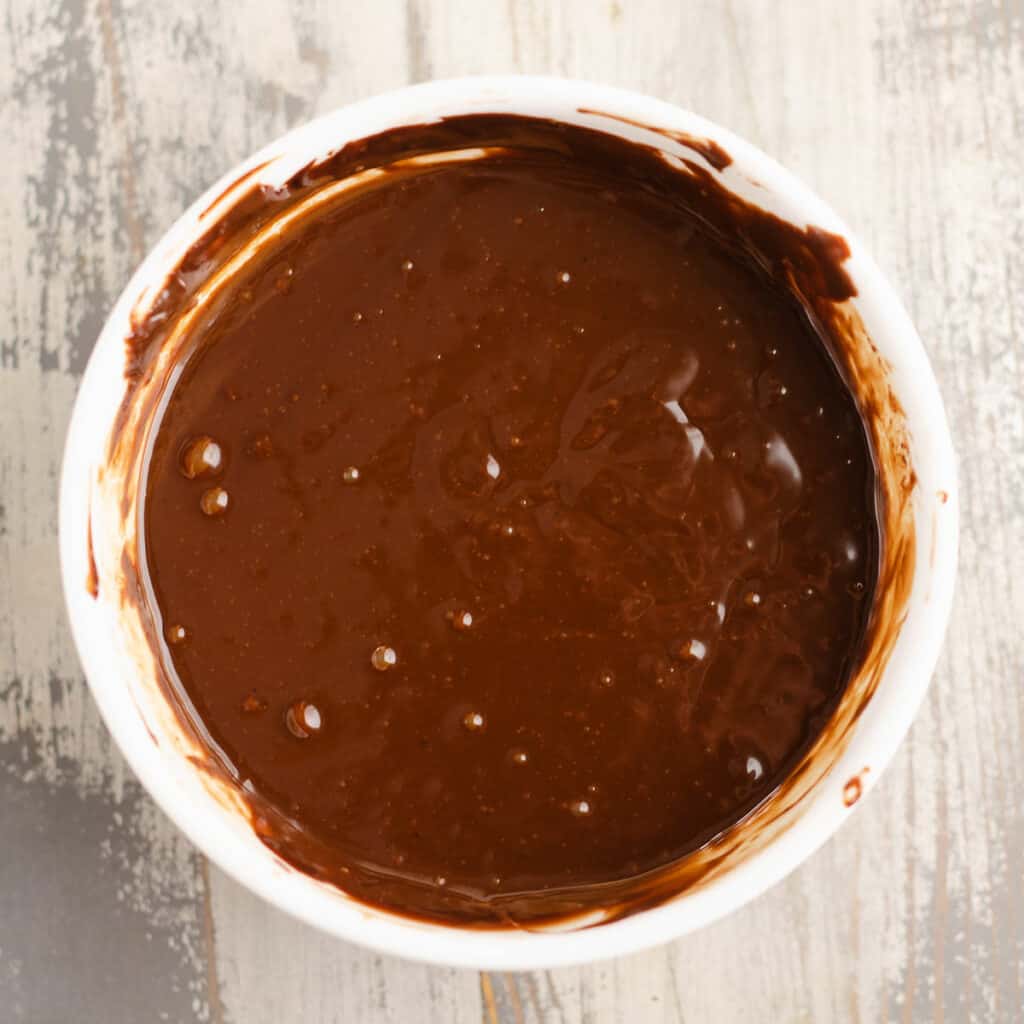 Chocolate tart with ganache
Mix in a couple teaspoons of vanilla extract and a teaspoon of sea salt. If you were just making plain ganache, this is where you would end. Dip some fresh strawberries in it and you would have a heavenly dessert.
We are using it as a tart filling, so we need to add two eggs to the mixture so it sets nicely in the mini chocolate tarts. Whisk in the beaten eggs until the mixture is smooth.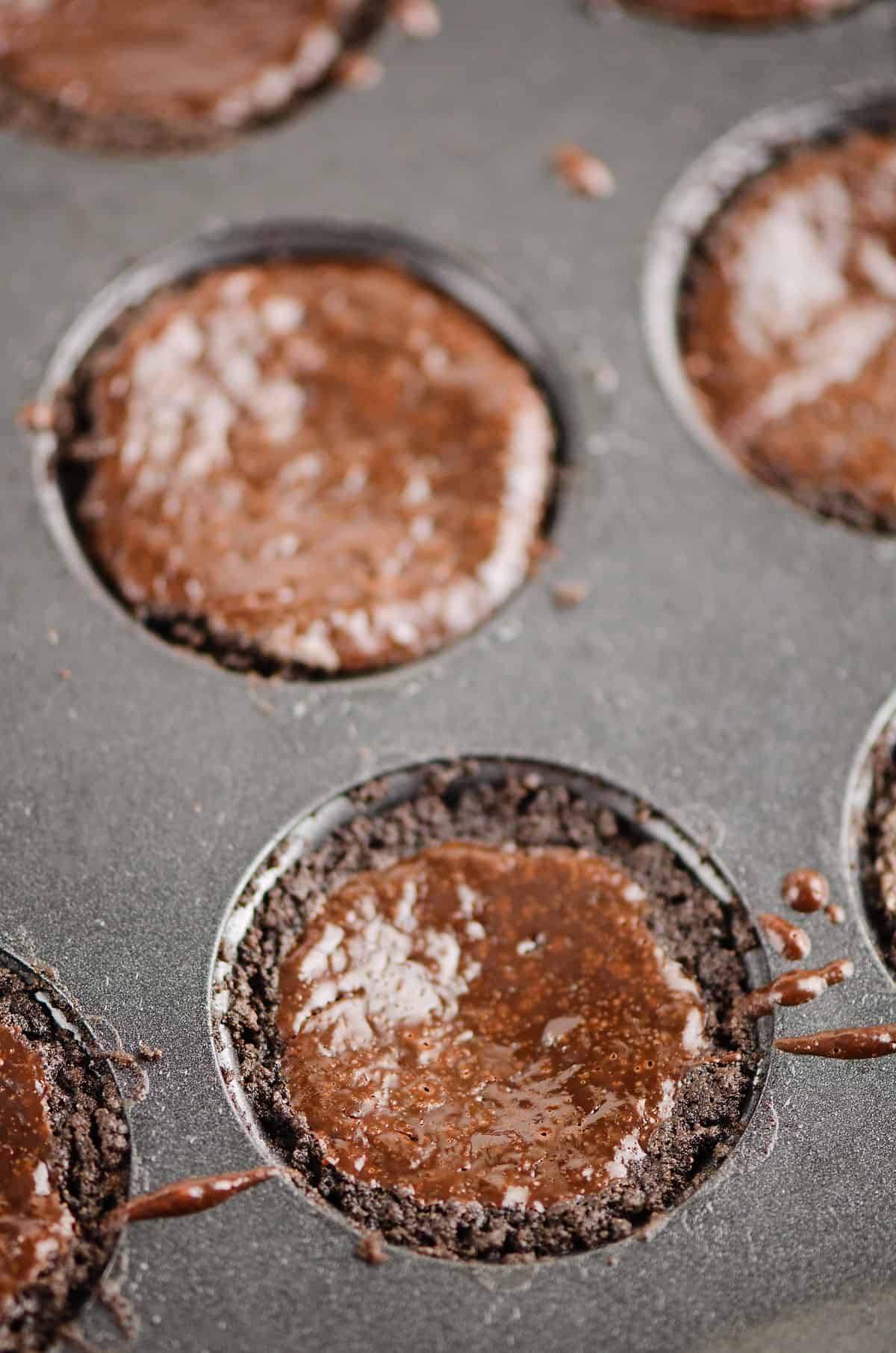 Assembling mini chocolate tarts
Now that your cookie crusts and ganache are ready, it's time to assemble them. Grab a cookie scoop and fill each mini tart to the top with ganache.
You don't want to overfill them so they don't come out clean, but you don't need to leave any room at the top as they don't have any leavening agents.
If you have any extra cookie crust and filling, toss it in a mini pie plate and make a special dessert for you to enjoy before the party!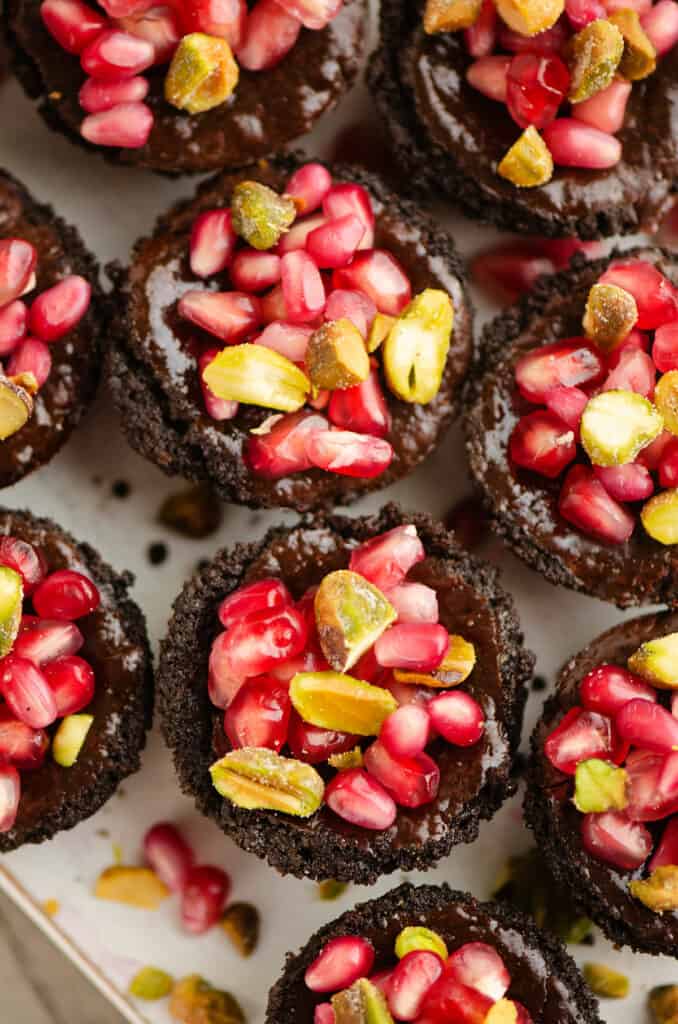 Toppings for chocolate tart
We are pairing tart pomegranate seeds with salty pistachios for the perfect topping or these rich chocolate tarts. The balance of rich chocolate ganache paired with the crunch and tartness from pomegranates is wonderful.
These tarts are modeled after this popular Pomegranate Dessert, but the addition of pistachios is fantastic for some added flavor and crunch. It also makes a cool red and green dessert that would be great for Christmas!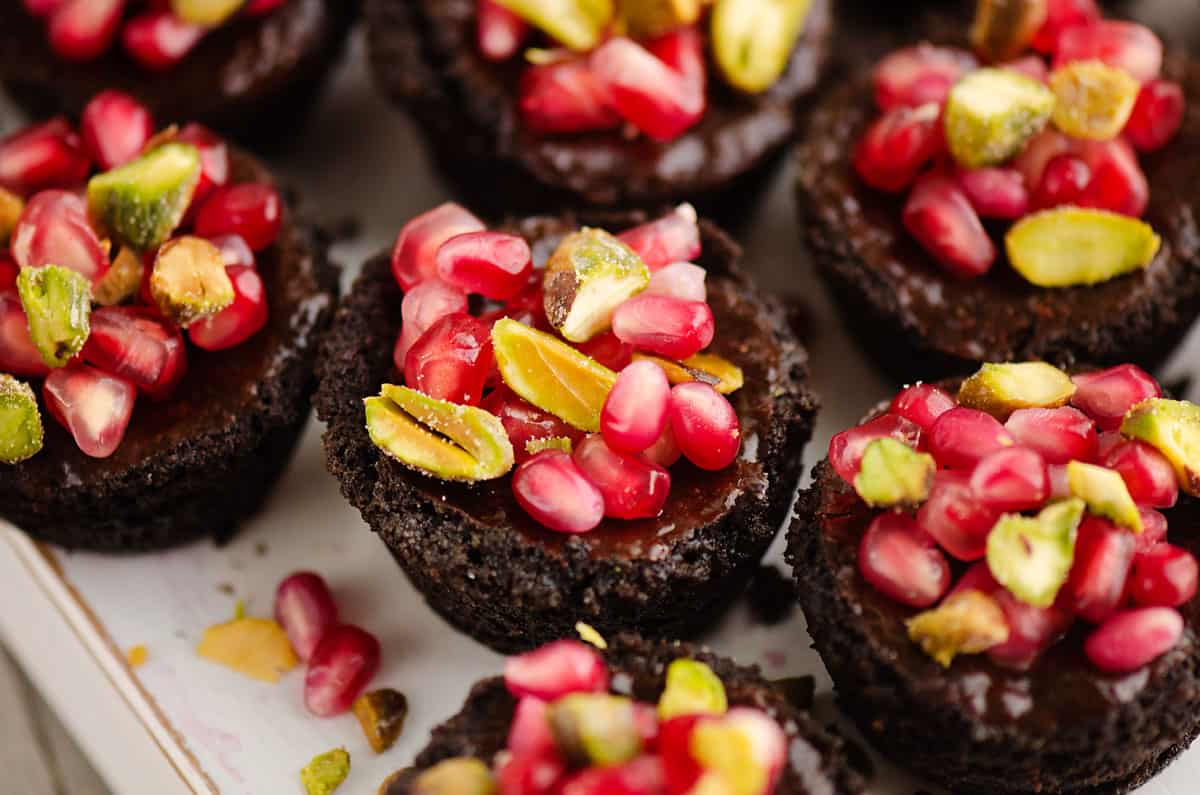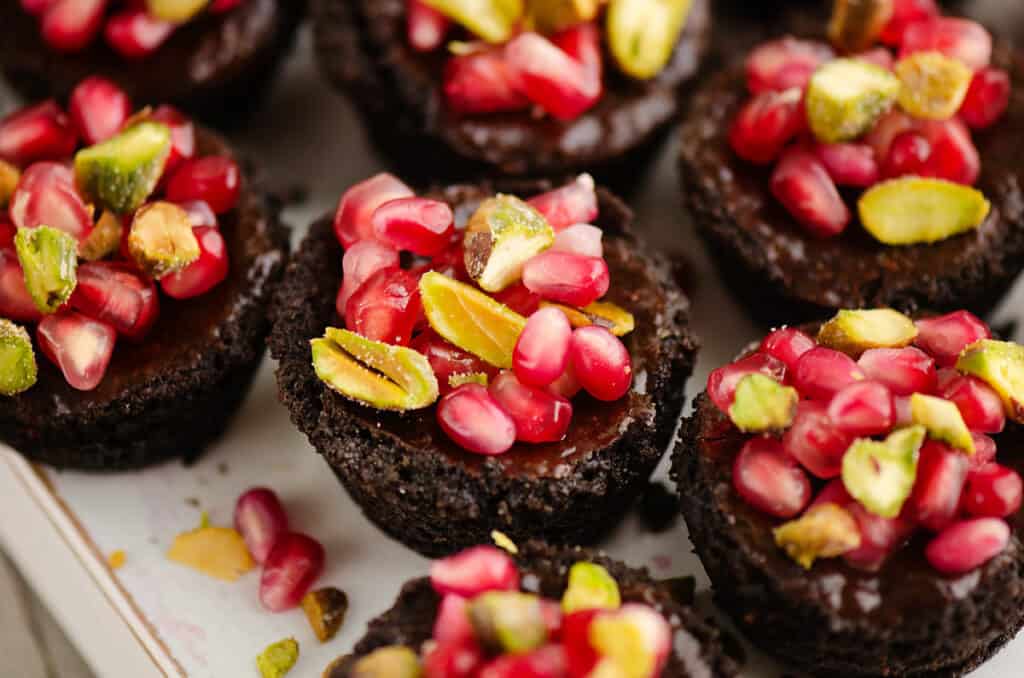 Storing Pomegranate Chocolate Mini Desserts
If you are making these to pass at a party, then you are likely going to want to make them in advance. The good news is these store wonderfully!
If you make them the same day, allow them to cool to room temperature. You can then store them in a sealed container at room temperature until you are ready to serve.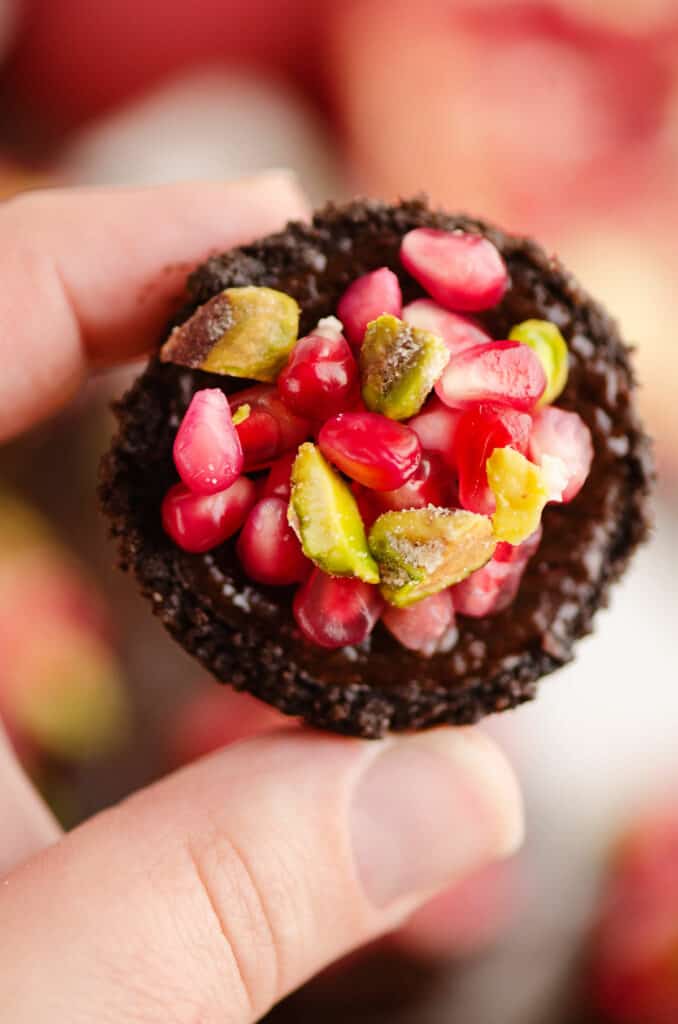 Prepping the day before
If you make them the day before, allow them to cool to room temperature and then store them in an airtight container in the refrigerator.
Remove them from the refrigerator a couple hours before serving so they are room temperature. They have the best texture with the silky ganache at room temp.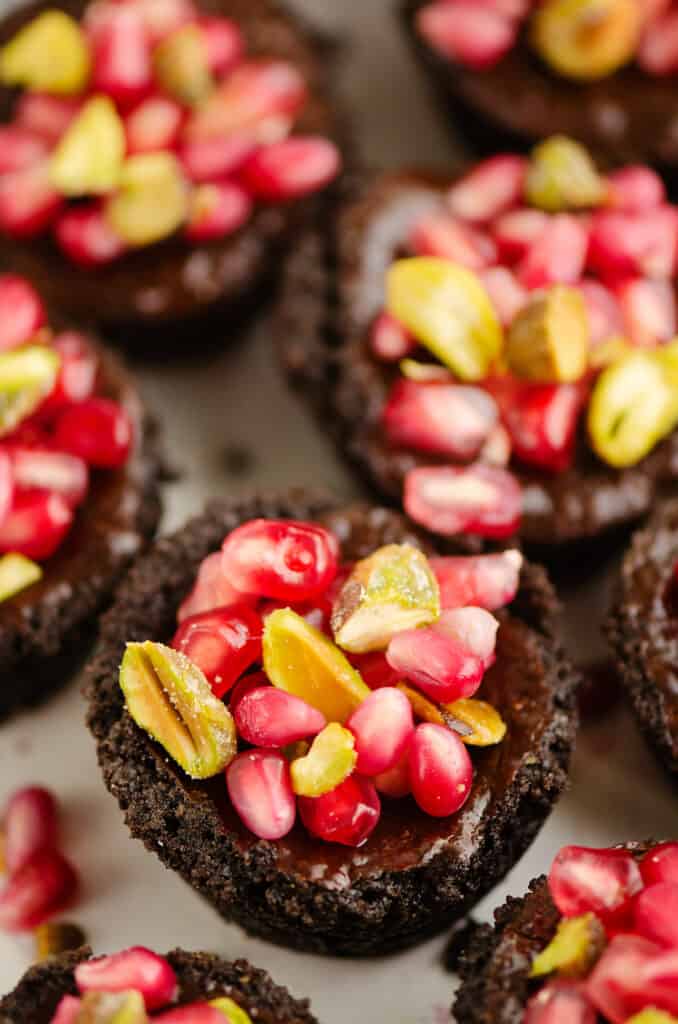 Serving mini chocolate tarts
I recommend waiting to top them with the pistachios and pomegranates until an hour or two before the party. You don't want the pomegranates sitting on the tarts for a long period. They will still taste great, but they may not look as beautiful.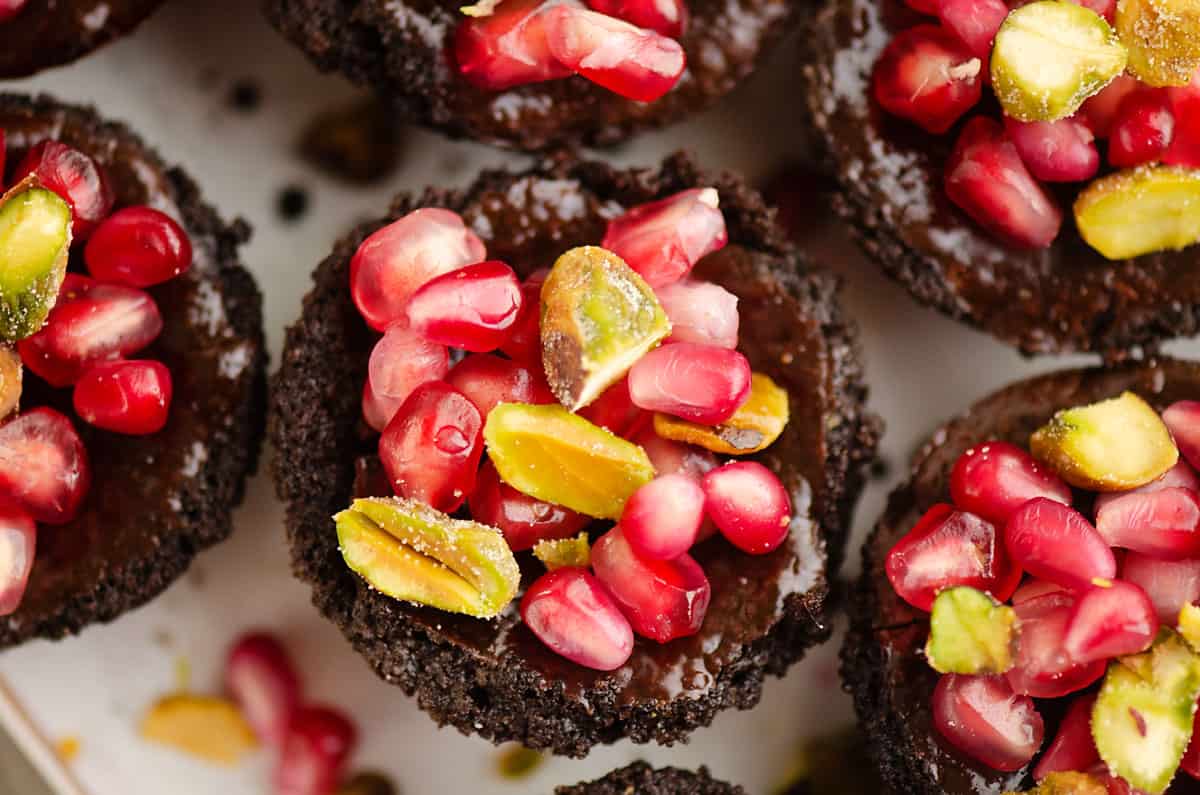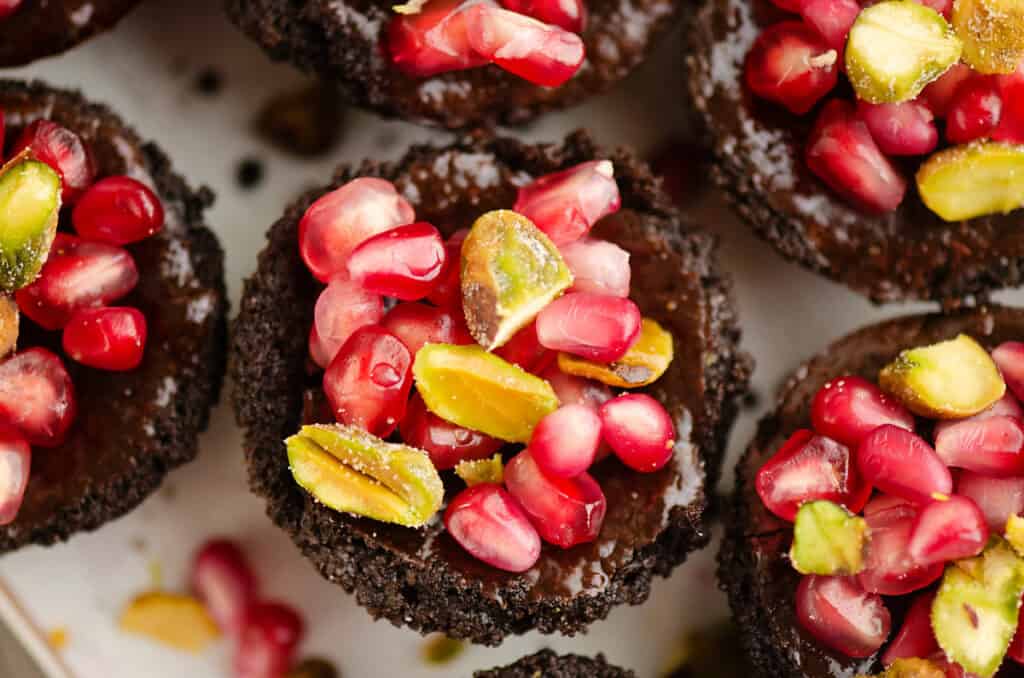 More Delicious Mini Dessert Recipes
If you are looking for more sweet dessert recipes to serve at your party, here are some of our favorite mini desserts!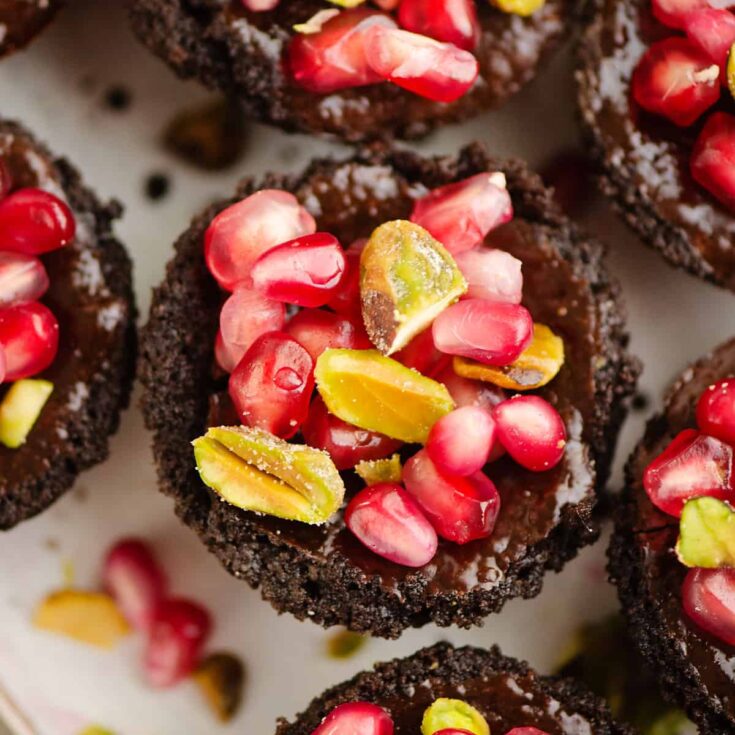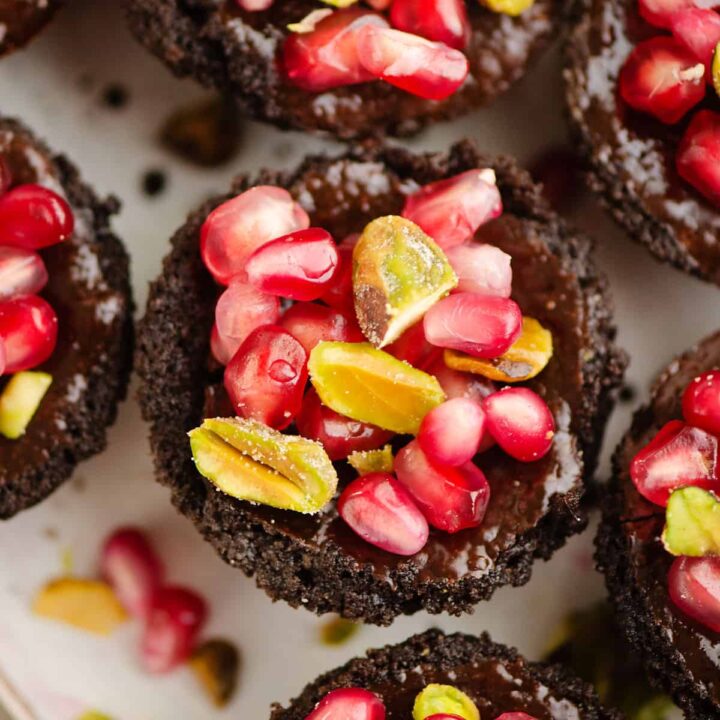 Mini Pomegranate Chocolate Tarts
These bite-sized Mini Pomegranate Chocolate Tarts are the perfect dessert recipe for your next party or special occasion. Buttery chocolate cookie crusts are filled with an easy ganache and topped with salty pistachios and juicy pomegranates for the perfect bite of sweet and salty!
Ingredients
Cookie Crust
14.3 oz. package Oreos (NOT double stuffed)
1/2 c. butter, melted
Chocolate Ganache Filling
16 oz. dark chocolate
1 1/4 c. heavy whipping cream
2 tsp. vanilla extract
1 tsp. sea salt
2 eggs, lightly beaten
Toppings
1/2 cup pistachios chopped
1 cup pomegranate seeds, arils
Instructions
Preheat oven to 350°.
Cookie Crust
Add the Oreos to your food processor and pulse until it is a small crumb. Add the melted butter and pulse just until it is combined. It will be wet and form clumps. Press 1 Tablespoon of the mixture into 48 mini muffin tins. Be sure to press it firmly up the sides of each tin.
Ganache Filling
In a medium bowl, microwave the cream for 2 minutes. Add the 16 oz. chocolate to the hot cream and stir until the chocolate is all melted, shiny and smooth. Add the vanilla, sea salt and beaten eggs to the mixture and whisk until smooth.
Using a cookie scoop, fill each tin with the chocolate mixture.
Bake at 350° for 20-25 minute or until the ganache is set.
Serving Mini Tarts
When the tarts are done baking allow them to cool for 15 minutes.
Top with pomegranate seeds and chopped pistachios before serving.
Store any leftovers in an airtight container for up to 2 days.
Recommended Products
As an Amazon Associate and member of other affiliate programs, I earn from qualifying purchases.
Nutrition Information:
Yield:

48
Serving Size:

1
Amount Per Serving:
Calories:

143
Total Fat:

10g
Saturated Fat:

5g
Trans Fat:

0g
Unsaturated Fat:

4g
Cholesterol:

21mg
Sodium:

109mg
Carbohydrates:

13g
Fiber:

1g
Sugar:

9g
Protein:

2g
Provided nutrition data is only an estimate. If you are tracking these nutrients for medical purposes, please consult an outside, trusted source.