Mini Blueberry & Meyer Lemon Cream Pies are an individual dessert recipe with fresh blueberries and lemon in a flaky pie crust for a sweet treat perfect for your next holiday or party!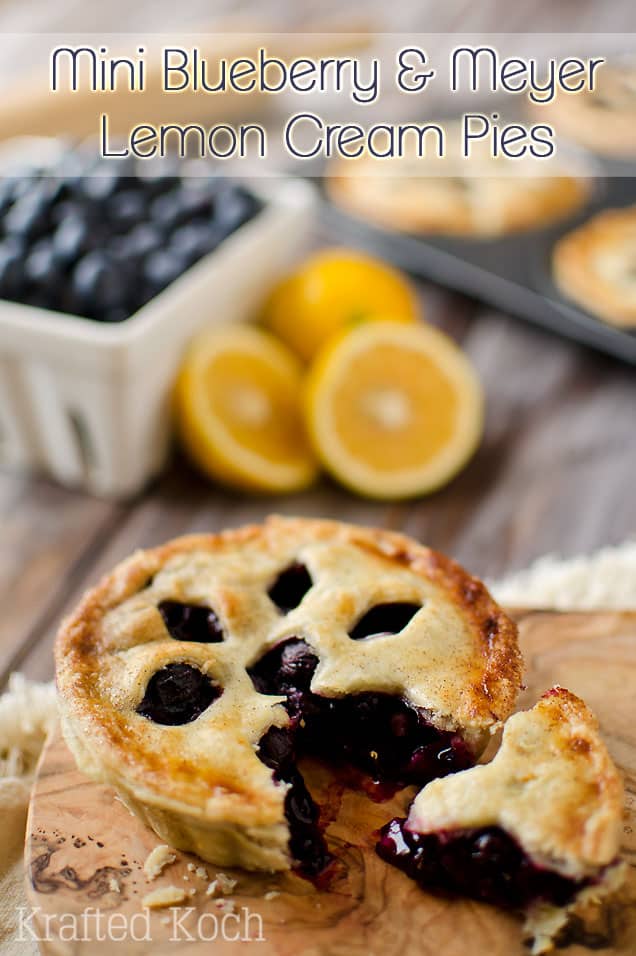 Mini Blueberry & Meyer Lemon Cream Pies
With freshly ripe blueberries, meyer lemon cream and a flaky pie crust, these Mini Blueberry & Meyer Lemon Cream Pies will be gobbled up in no time!
Growing up, my mother wasn't a big blueberry pie fan, so we rarely enjoyed it. When we did, it was usually at a pot luck function or the 4-H canteen and it was filled with sticky sweet, canned blueberry filling. Because of this, I thought I didn't like blueberry pie. After starting to cook and bake on my own, I tried making a fresh blueberry pie, and I fell in love. I prefer to let the blueberries shine and not add too much sugar so it isn't overly sweet. This particular recipe adds a fresh layer of meyer lemon cream on the bottom for a sweet surprise.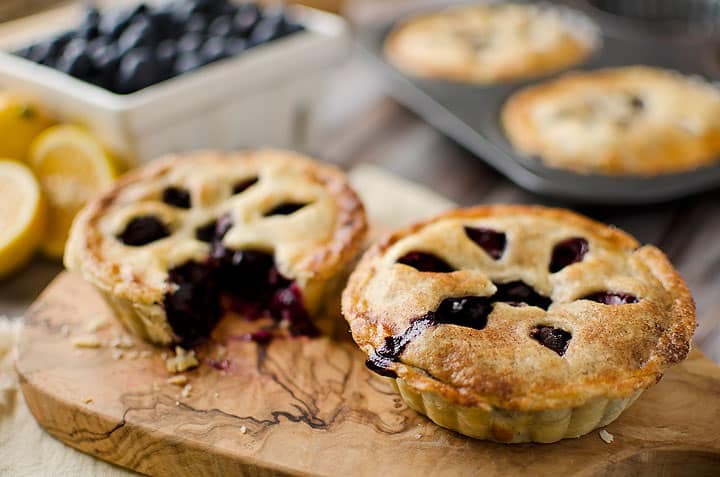 Meyer lemons are a cross between a lemon and an orange. If you aren't able to find Meyer lemons, feel free to substitute either lemons or oranges.
My boss was raving to me about how great the blueberries were this season and that they were on sale at the local grocery store. As I was heading out of work for the day, it struck me that I should put them to good use in these pies. I scrounged up this mini pie set I had recently purchased and they turned out so adorable and delicious!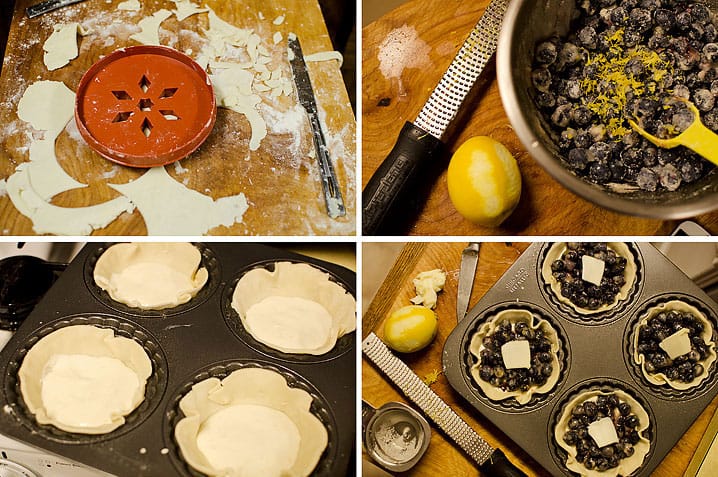 How to Make Mini Blueberry Pies
Although pies can seem somewhat daunting, I assure you they are relatively simple. While they do require a few more steps than some desserts, the extra effort is well worth it in my opinion! You can save on time by using a pre-made pie crust, but if you want the best, be sure and use this Flaky Pie Crust Recipe!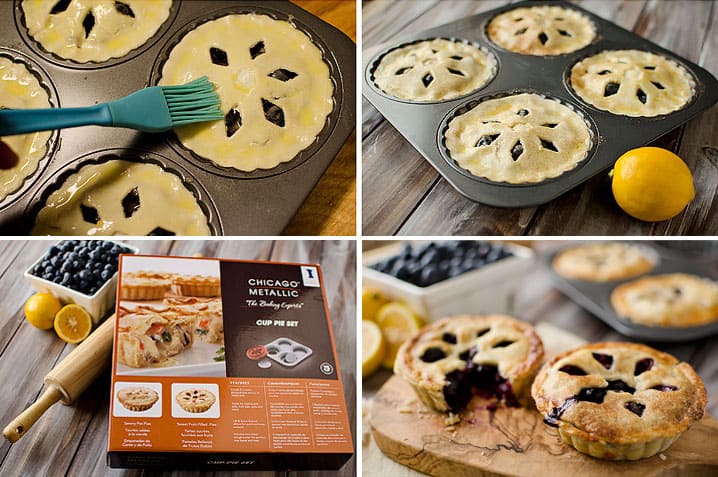 To get started, cut out your pieces of pie crust and press them in the molds. Fill each one with a layer of lemon cream filling, topped with the fresh blueberry mixture and a pat of butter. Top the blueberries with your second piece of pie crust and press the edges so they are sealed firmly. Brush with egg wash and sprinkle with cinnamon and sugar and you are ready to pop them in the oven!
Mini Pie Recipe
I got this great mini pie set
from TJ Maxx on clearance. I love a good clearance and I couldn't pass up the chance to make adorable mini pies. It comes with a cutter that cuts out the base and top of your pie crust in the perfect shape, so you don't have to mess around with patching and cutting dough after it is in the pie tin. That has been known to be a problem for me in the past, so I appreciate any extra help! 🙂
If you don't have a cute little mini pie set, you can use small pie tins or just make the recipe in one large pie crust and extend the baking time.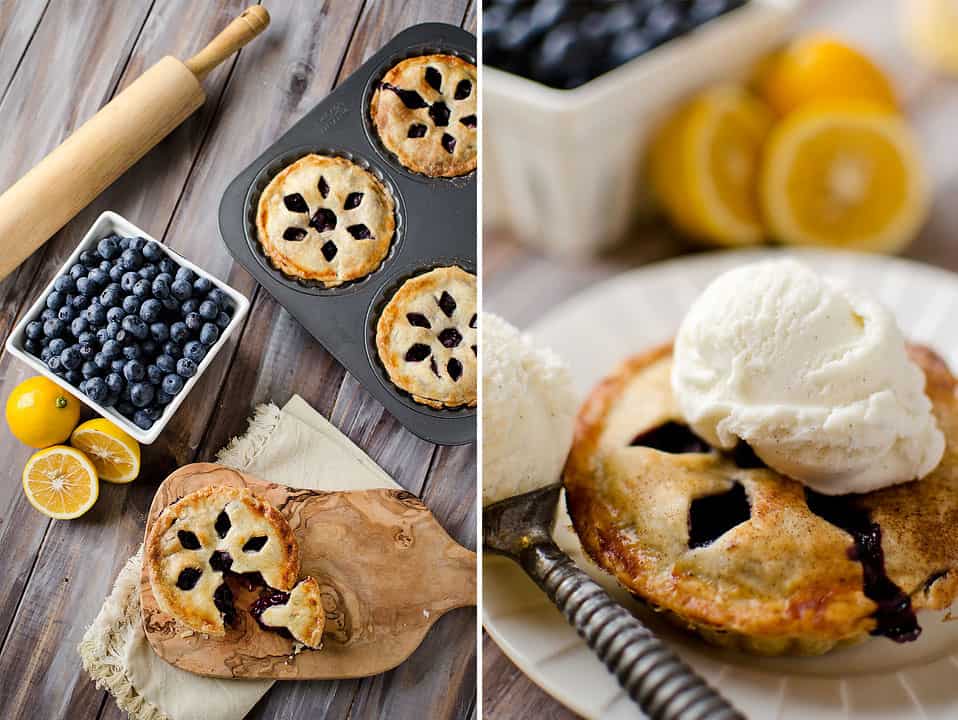 Because these pies aren't loaded with sugar and overly sweet, they pair wonderfully with a cold scoop of ice cream when they are warm right out of the oven. If you prefer your desserts sweeter, feel free to add some more sugar to the blueberry mixture.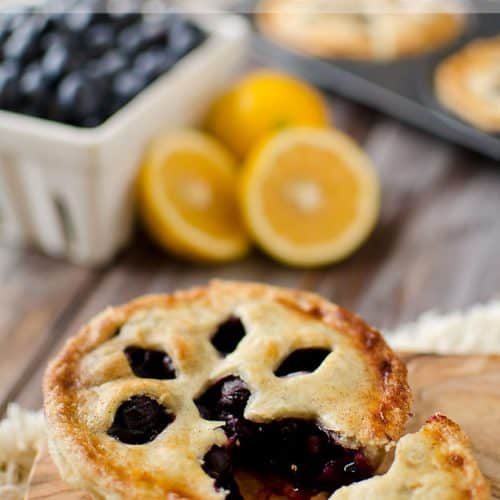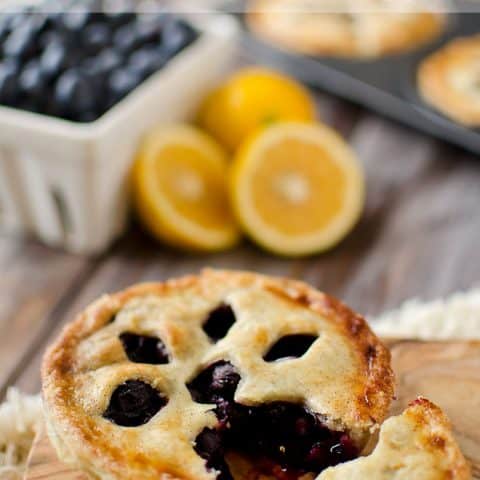 Mini Blueberry & Meyer Lemon Cream Pies
Total Time:
1 hour
30 minutes
Fresh blueberries and a Meyer lemon cream fill flaky pie crusts, sprinkled with cinnamon and sugar for the ultimate summer treat.
Ingredients
2 double pie crust recipes, 4 crusts total - or 2 if you make a standard size pie
8 oz. cream cheese whipped
1 egg beaten - divided
1 Tbsp water
3 Tbsp flour divided
zest of 2 Meyer lemons -, can substitute lemons or small oranges - divided
juice of 2 Meyer lemons -, can substitute lemons or small oranges
4 c. blueberries
2/3 c. sugar
3 Tbsp butter
cinnamon sugar - garnish
Instructions
Preheat your oven to 350° and spray your pans with non-stick spray.
Prepare your pie crust according to the recipes and cut out tops and bottoms to fit 8 mini pie crust tins or one standard size plate. Press one piece into the bottom of each pan.
In a small bowl, beat the cream cheese, half the egg, 1 Tbsp flour and half the lemon zest. Dollop a couple of Tablespoons of cream mixture on each crust.
In a large bowl, toss the blueberries, 2 Tbsp. flour, sugar, lemon juice and half the lemon zest. Divide the blueberry mixture among the pies, topping the cream mixture. Top each pie with a pat of butter before covering with the top pie crust.
Press the edges of the crust so it is firmly sealed.
To the remaining egg, add 1 Tbsp water and mix well. With a pastry brush, brush the tops of the pie crusts with the egg wash and sprinkle with the cinnamon and sugar mixture.
Cover the pies with tinfoil and bake for 30 minutes at 350°. Remove the tinfoil and bake for an additional 10-15 minutes, or until the crust is golden brown. If you made the recipe in one large pie as opposed to the mini pies, you will need to extend the baking time a little.
Serve warm, preferably with a scoop of ice cream.
Recommended Products
As an Amazon Associate and member of other affiliate programs, I earn from qualifying purchases.
Nutrition Information:
Yield:

8
Serving Size:

8 Servings
Amount Per Serving:
Calories:

689
Total Fat:

28g
Saturated Fat:

13g
Trans Fat:

0g
Unsaturated Fat:

13g
Cholesterol:

63mg
Sodium:

459mg
Carbohydrates:

108g
Fiber:

10g
Sugar:

59g
Protein:

9g
Provided nutrition data is only an estimate. If you are tracking these nutrients for medical purposes, please consult an outside, trusted source.
This recipe may be shared on the following sites;
Country Cook
Don't Forget the Perfect Pie Crust Recipe!