Chocolate Covered Strawberry Ganache Tart is a rich and decadent dessert recipe, perfect for special occasions. Strawberries dipped in dark chocolate top a tart made with a buttery Oreo crust and a silky ganache.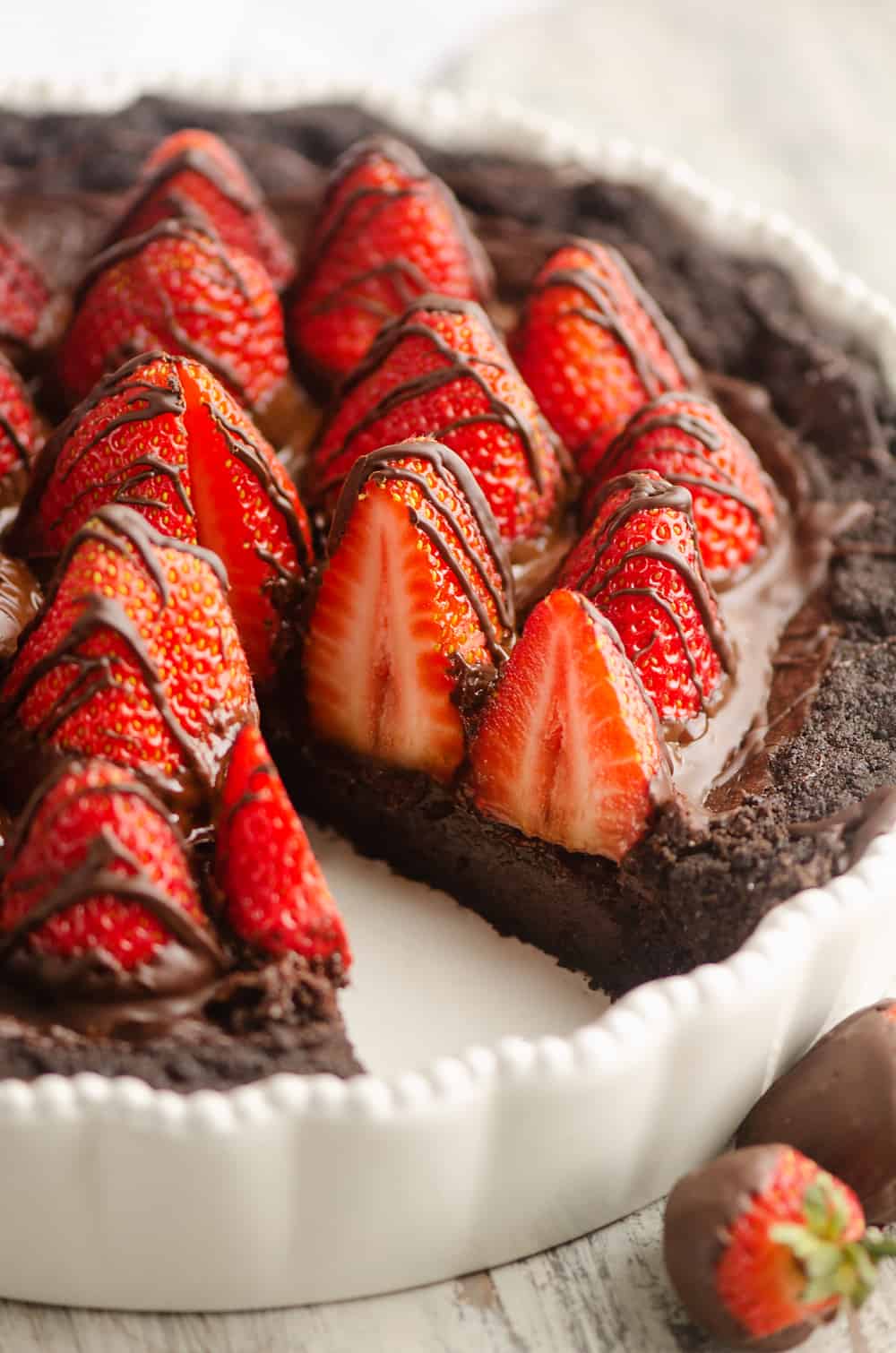 Dark Chocolate Ganache Tart
This Dark Chocolate Ganache Tart with strawberries dipped in chocolate is an impressive dessert perfect for Valentine's Day or any special occasion. Much like my Pomegranate Chocolate Dessert, this dessert is perfect for the chocolate lover in your life. It decadent tart is perfect for anyone who appreciates a rich sweet.
This chocolate tart certainly isn't for the faint of heart. A small slice of this dessert will go a long ways. This is great for serving a large crowd. It also stores well refrigerated, so you can enjoy it for days to come. If you are looking for something lighter for the holiday, I recommend checking out my easy 4 ingredient Mini Dessert Cups, made with individual chocolate shells and a whipped strawberry cream.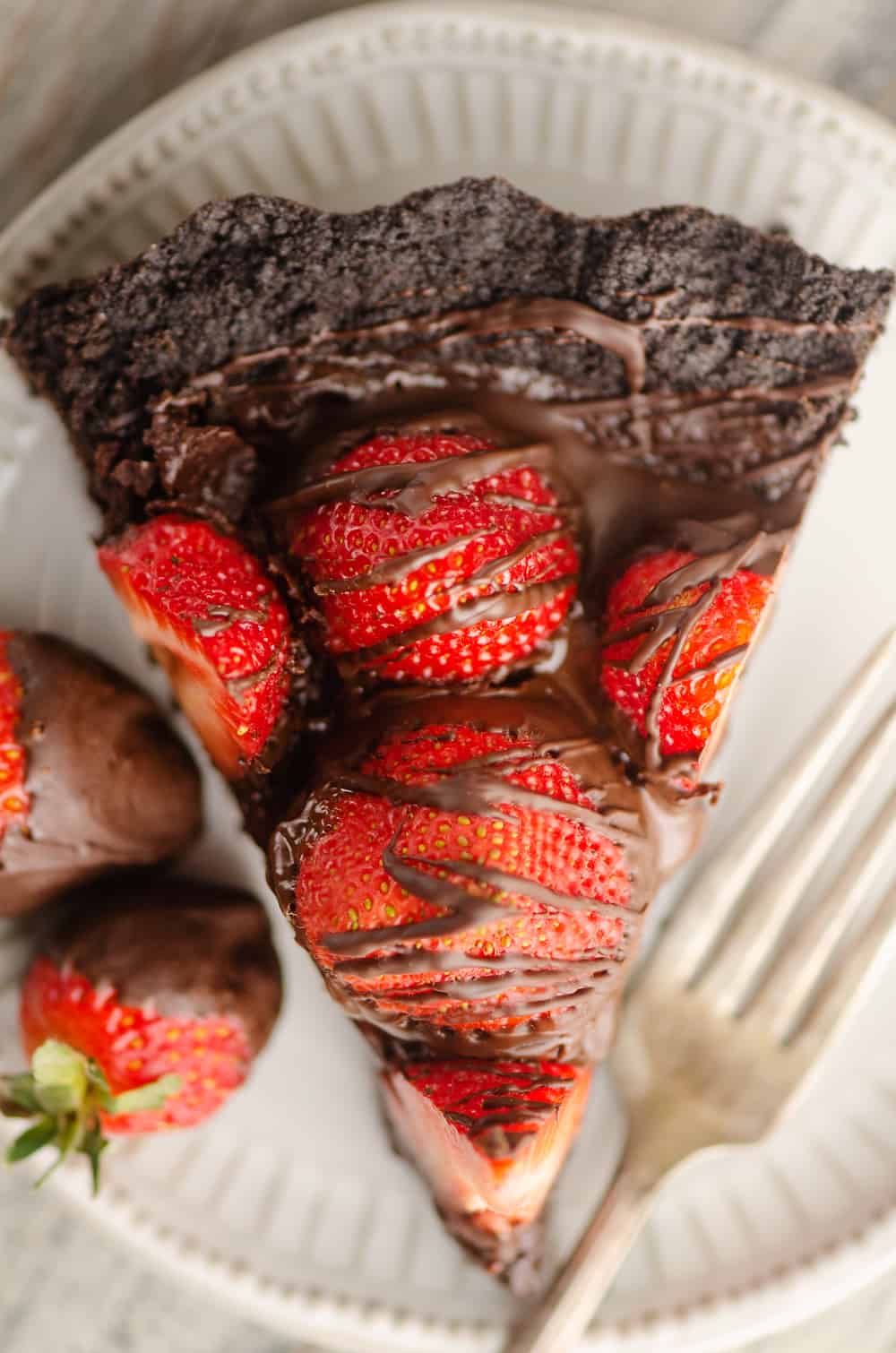 Chocolate Covered Strawberries
Chocolate covered strawberries are a hallmark Valentine's treat. While dipping your own isn't all that difficult, it can certainly get messy. With this tart, you don't have to worry about making the dip look fancy, because they are turned upside down and tower over the ganache filled tart.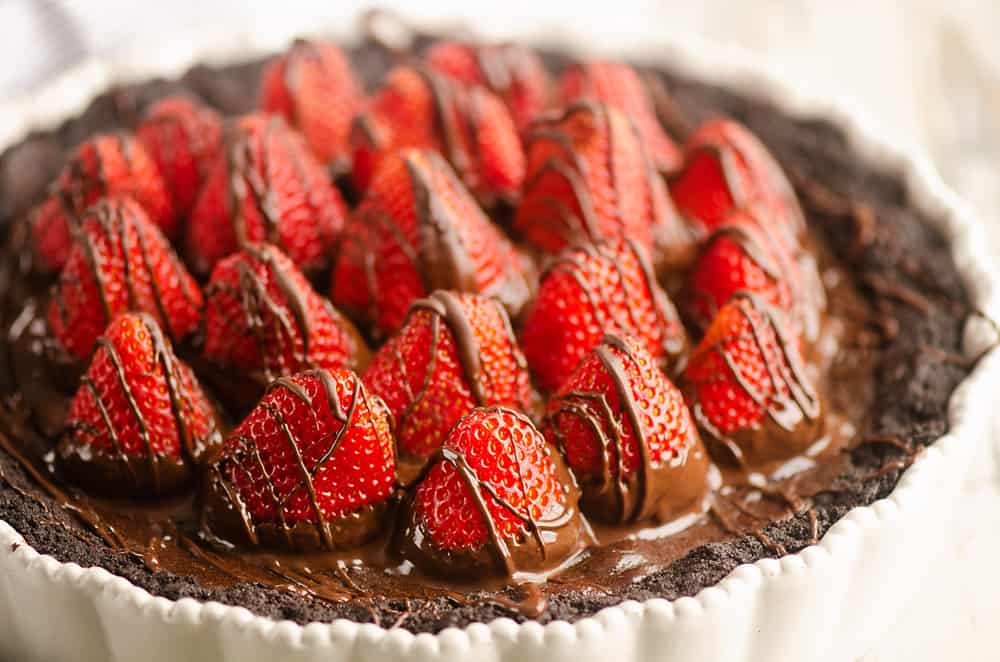 This dessert is surprisingly easy to make for how impressive it looks. The crust is two simple, but delicious ingredients, Oreos and butter. Be sure to get the regular Oreos and not the double stuffed. You don't want too much of the cream center in the crust.
And not speaking from experience or anything, but the crust will come out just fine if you sneak a few Oreos from the pack before you add them to the food processor. 😉
Don't let the simplicity fool you though! Unlike some easy desserts, this chocolate ganache tart isn't lacking in flavor! The ganache is velvety rich with a hint of vanilla and dash of sea salt to accentuate all the flavors. The strawberries bring a brightness to the dessert that balances everything out.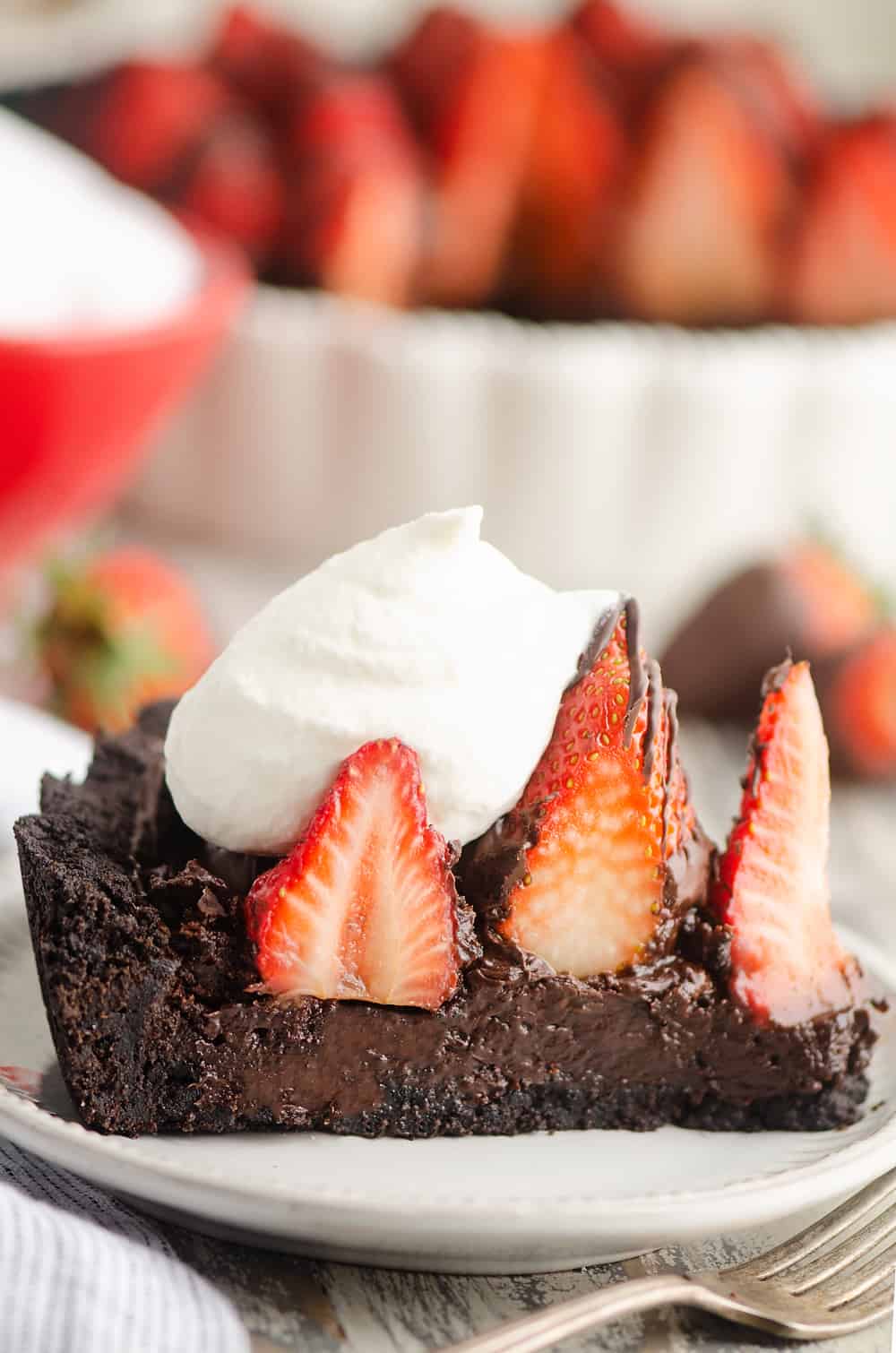 How to Melt Chocolate in Microwave
When it comes to melting chocolate, I take the lazy approach. Sure you could get out a double boiler, but that seems like unnecessary work when the microwave is much quicker and easier.
Just be sure to microwave in short increments, like 20-30 seconds, so you don't over cook the chocolate. If you do that, you will end up with a grainy, hard mess that you can't come back from.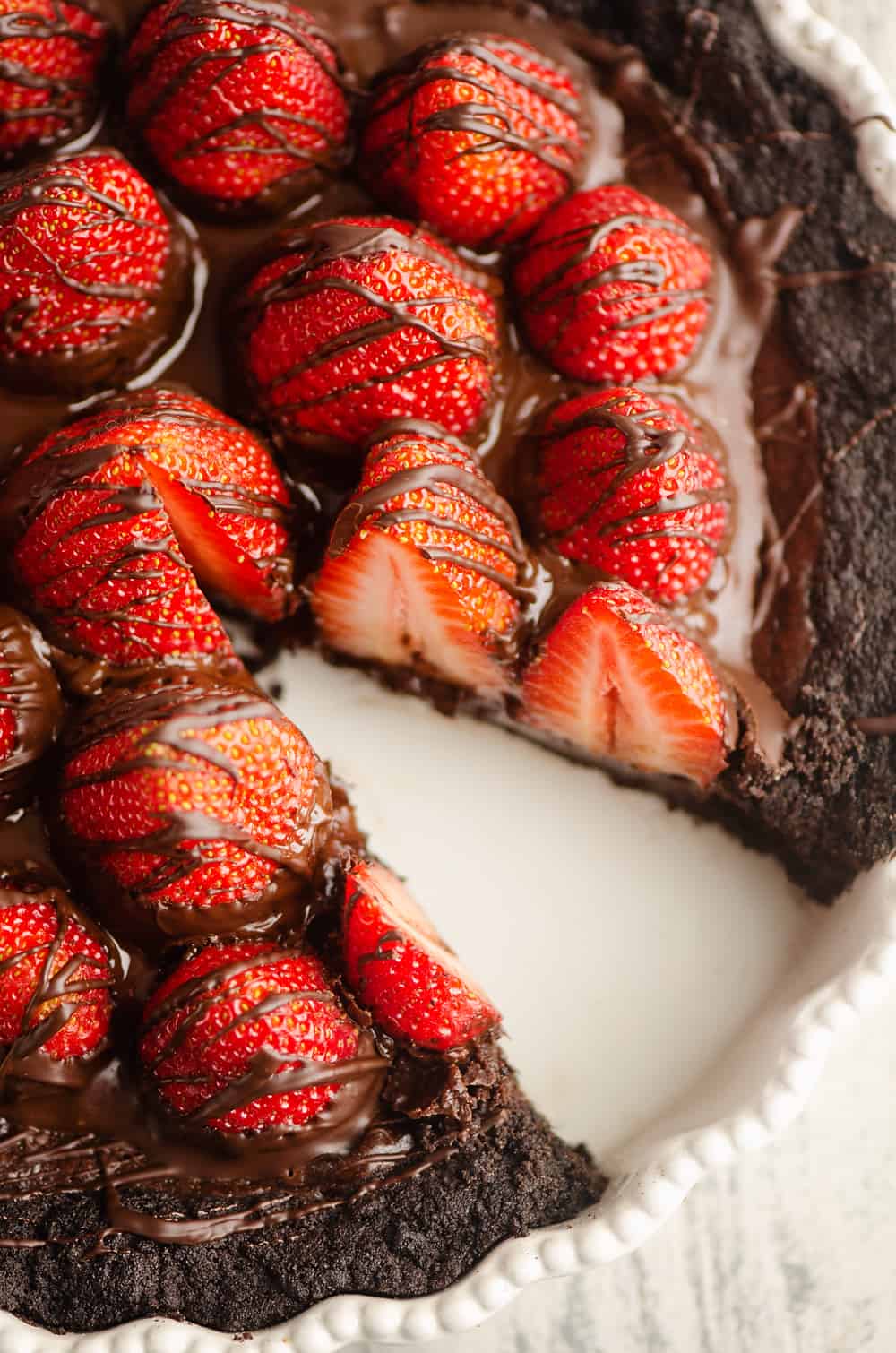 Strawberries Dipped in Chocolate
The only step that will take a little time is dipping the strawberries in chocolate. You will need to slice the stems off a quart of strawberries, which not only makes them edible, but provides a flat surface.
After your ganache pie has baked and cooled for a bit, dip the prepared strawberries in the melted chocolate and arrange them around the top of the dessert. Let the impressive dessert cool until all the chocolate is firm and cooled. This may take an hour or two. You can speed things up by putting it in the refrigerator.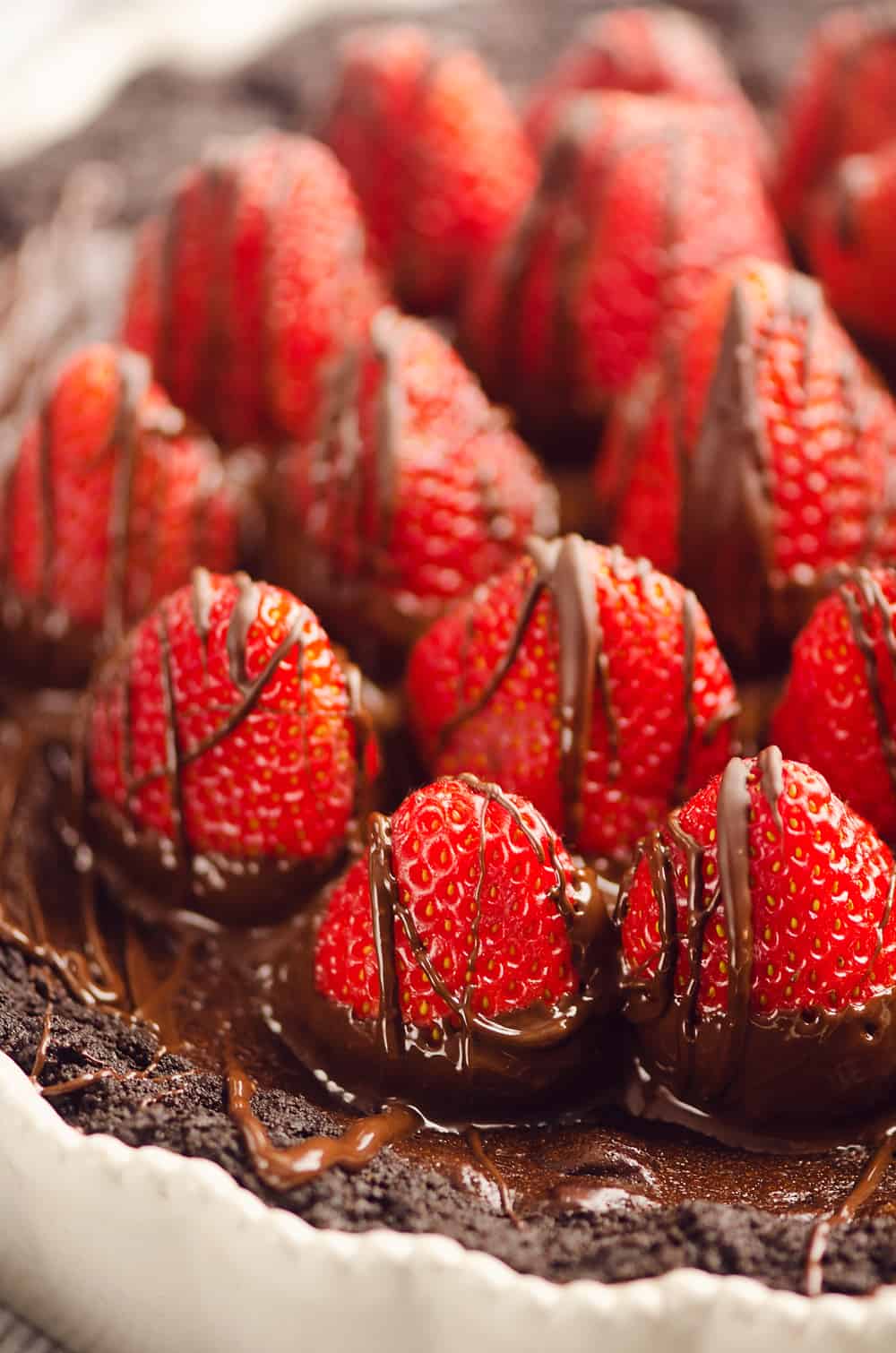 Tart Pan Dessert
When it comes to making chocolate tarts, you have two options for pans. The first option is a Tart Pan with Removable Bottom. The advantage to this type of dessert pan, is that it makes serving the tart much easier. You don't have to scoop out each piece like a pie. Instead, you can remove the tart from the pan entirely, and easily slice pieces for guests.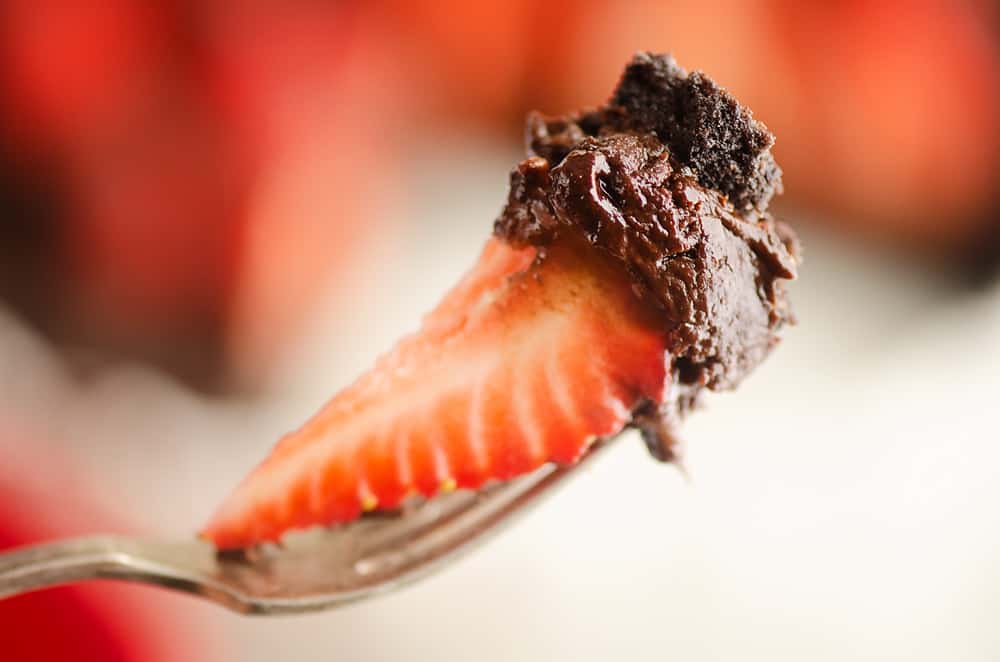 The second type of pan, is a solid tart pan. Much like a pie plate, this dish doesn't come apart in any way. It is harder to serve from a solid pan, but there is one major advantage in portability.
If you plan on traveling with your ganache tart at all and need to transport it, a solid pan is the best bet. It will keep it contained much better than a pan with a removable bottom.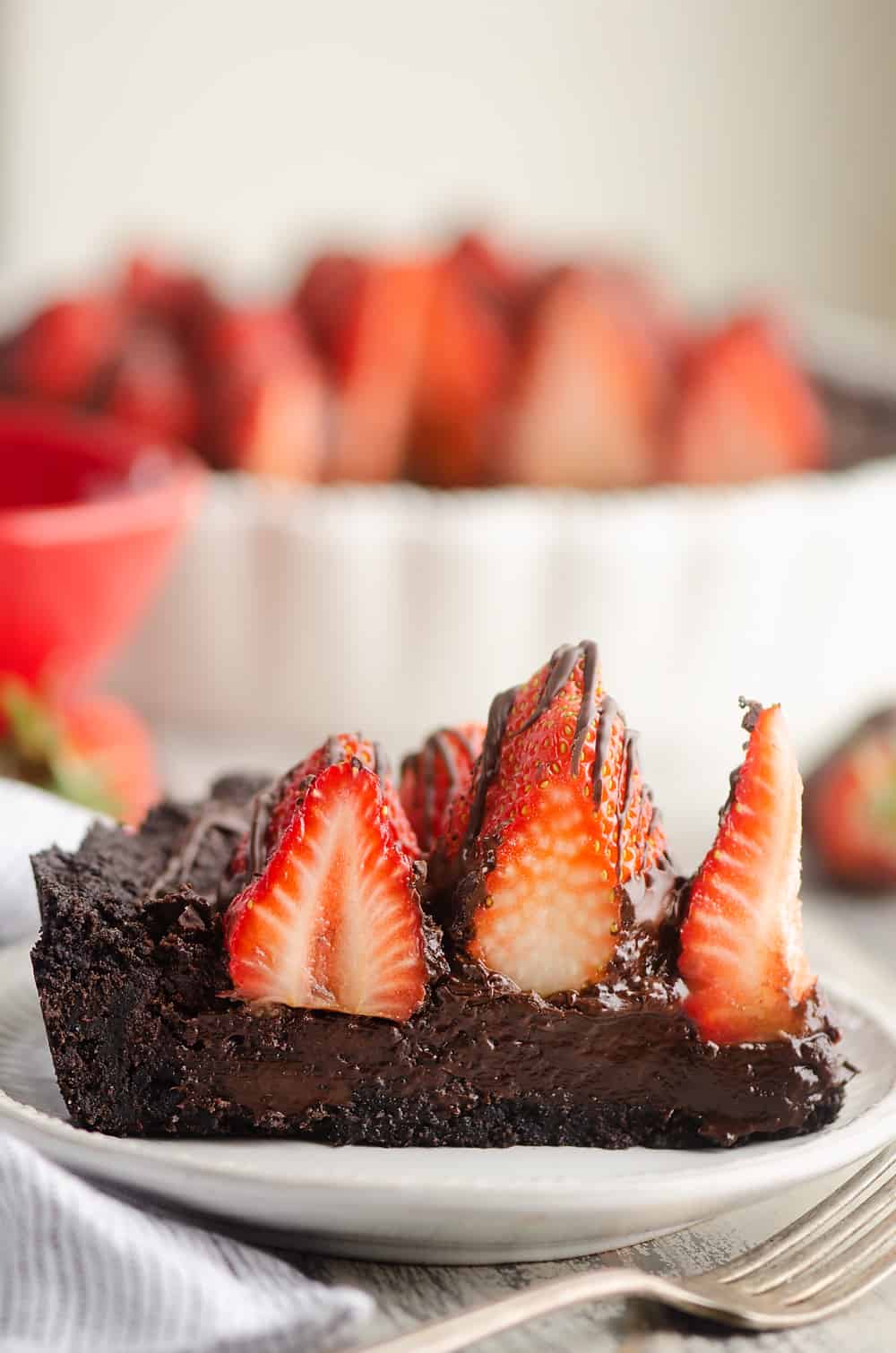 Chocolate Ganache Pie
This Chocolate Ganache Tart is great all on it's own, but a fantastic finishing touch is some homemade whipped cream. I always used to think it was a waste of time to make your own, but boy oh boy was I wrong!
The smooth richness that comes from cream and sugar that is whipped into a spectacular fluffy cream is like no other. I promise you it is worth the extra few minutes it takes to make it from scratch. Not to mention, you already bought a pint of cream, so don't let it go to waste!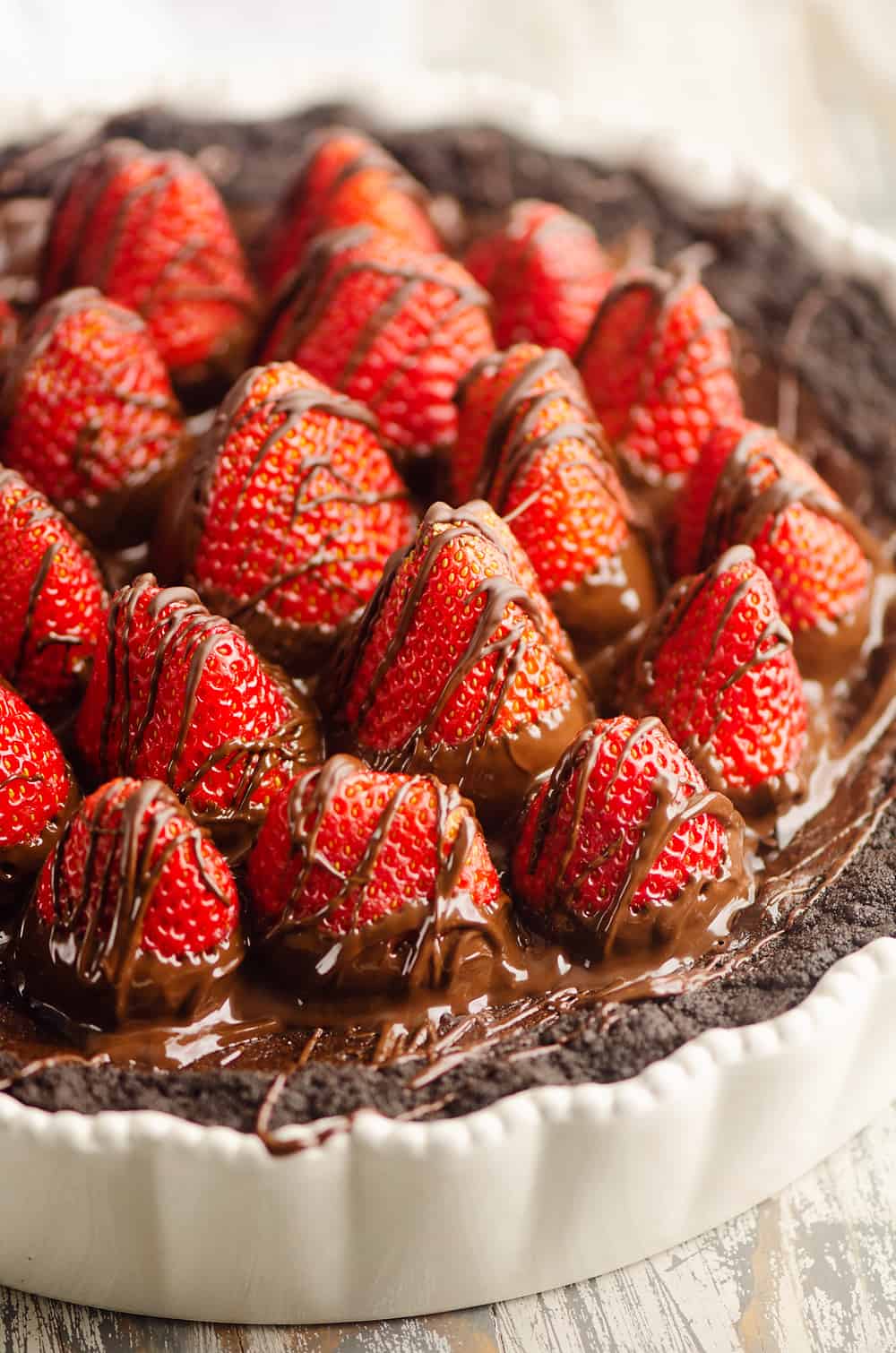 More rich and decadent chocolate desserts that will impress!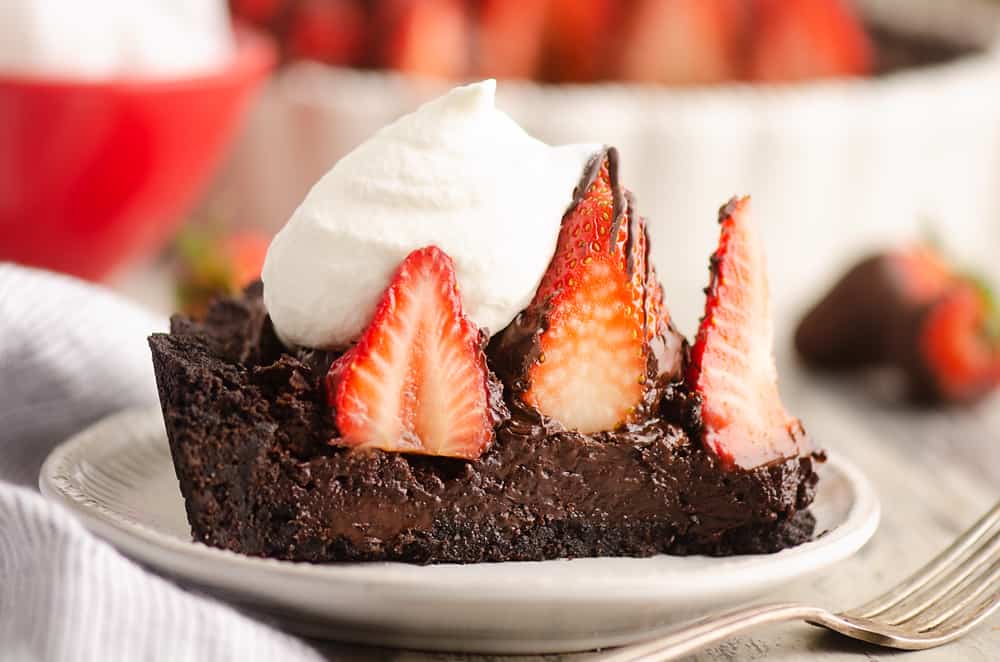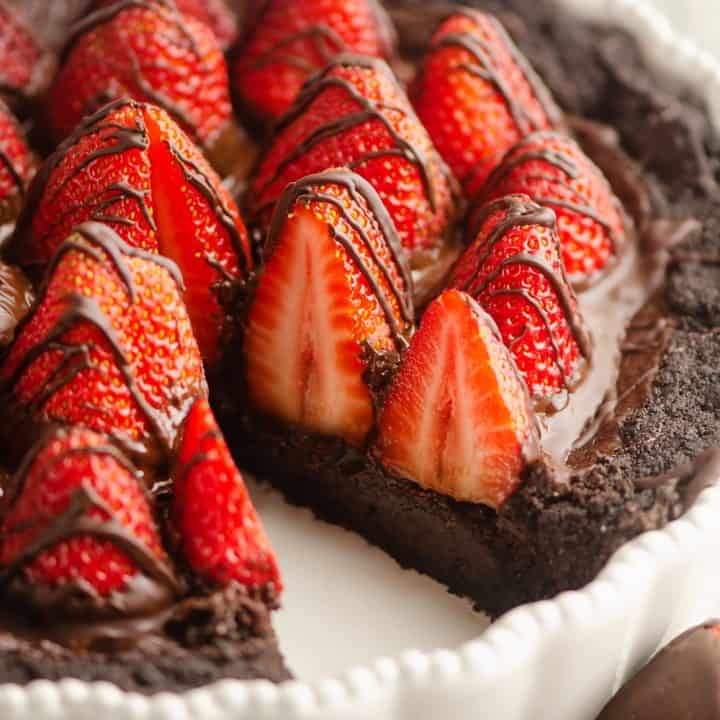 Chocolate Covered Strawberry Ganache Tart
Total Time:
1 hour
55 minutes
Chocolate Covered Strawberry Ganache Tart is a rich and decadent dessert recipe, perfect for special occasions. Strawberries dipped in dark chocolate top a tart made with a buttery Oreo crust and a silky ganache.
Ingredients
Crust
14.3 oz. pkg Oreos (or gluten-free alternative)
1/2 c. butter, melted
Ganache
12 oz. quality dark chocolate
3/4 c. heavy whipping cream
2 tsp. vanilla
1/2 tsp. sea salt
2 eggs lightly beaten
Chocolate Covered Strawberries
6 oz. quality dark chocolate
1 quart fresh strawberries, washed and dried
Whipped Cream
2 Tbsp. sugar
1 c. heavy whipping cream
Instructions
Preheat your oven to 350°.
Add the Oreos and melted butter to your food processor. Pulse until it is smooth and just comes together. Press the mixture into a round 10 inch tart pan (one with a removable bottom is best)
In a medium bowl, microwave the cream for 2 minutes. Add the 12 oz. chocolate to the hot cream and stir until the chocolate is all melted and smooth. Add the vanilla, sea salt and beaten eggs to the mixture and whisk until smooth.
Pour the chocolate mixture into the crust.
Bake at 350° for 35 minute or until the edges of the ganache are set. (The center will still be a little jiggly.)
When the tart is done baking allow it to cool for 15 minutes.
In a small bowl, melt 6 oz. chocolate by microwaving in 30 second intervals and stirring vigorously after each 30 seconds.
Slice the top off of each strawberry to create a flat surface. When the chocolate is smooth and melted, dip the sliced half of the strawberry in chocolate. Arrange the dipped strawberries, cut side down, in the center of the tart.
Drizzle the entire tart with the remaining chocolate. Allow to cool to room temperature.
Add the cream and sugar to a medium bowl. Using an electric beater, whisk just until the cream reaches stiff peaks. Store any unused whipped cream in an airtight container for up to 1 day.
Slice the tart into small pieces and top with a dollop of whipped cream.
Notes
Serve the tart at room temperature or refrigerate until ready to serve at a later time.
Recommended Products
As an Amazon Associate and member of other affiliate programs, I earn from qualifying purchases.
Nutrition Information:
Yield:

12
Serving Size:

1
Amount Per Serving:
Calories:

616
Total Fat:

41g
Saturated Fat:

23g
Trans Fat:

1g
Unsaturated Fat:

15g
Cholesterol:

94mg
Sodium:

321mg
Carbohydrates:

58g
Fiber:

5g
Sugar:

40g
Protein:

6g
Provided nutrition data is only an estimate. If you are tracking these nutrients for medical purposes, please consult an outside, trusted source.