Lemon Salmon Orzo Skillet is an easy one pot recipe, perfect for a healthy 30 minute weeknight dinner! Orzo pasta, asparagus and cherry tomatoes compliment fresh salmon for a delicious low-calorie meal.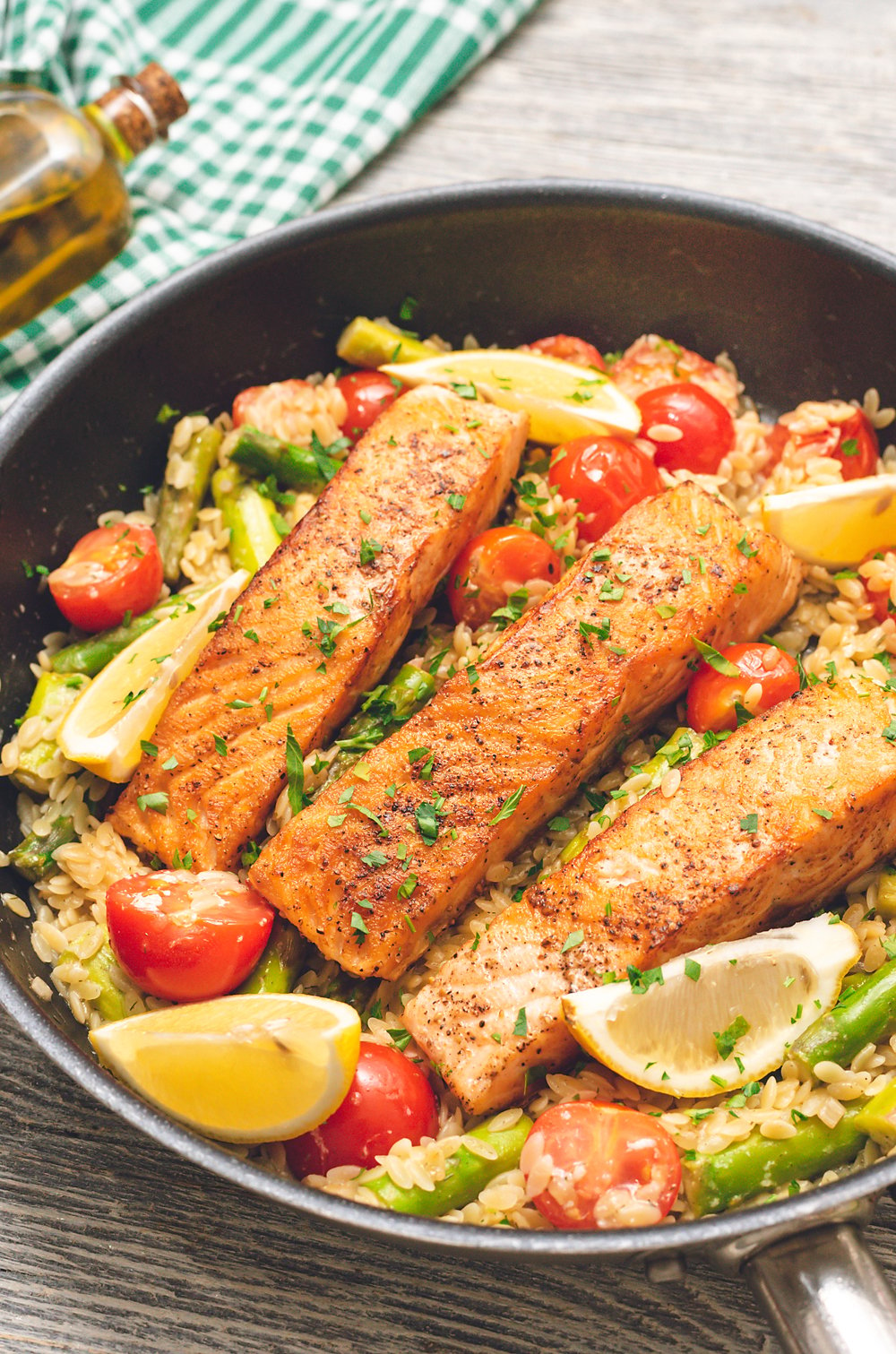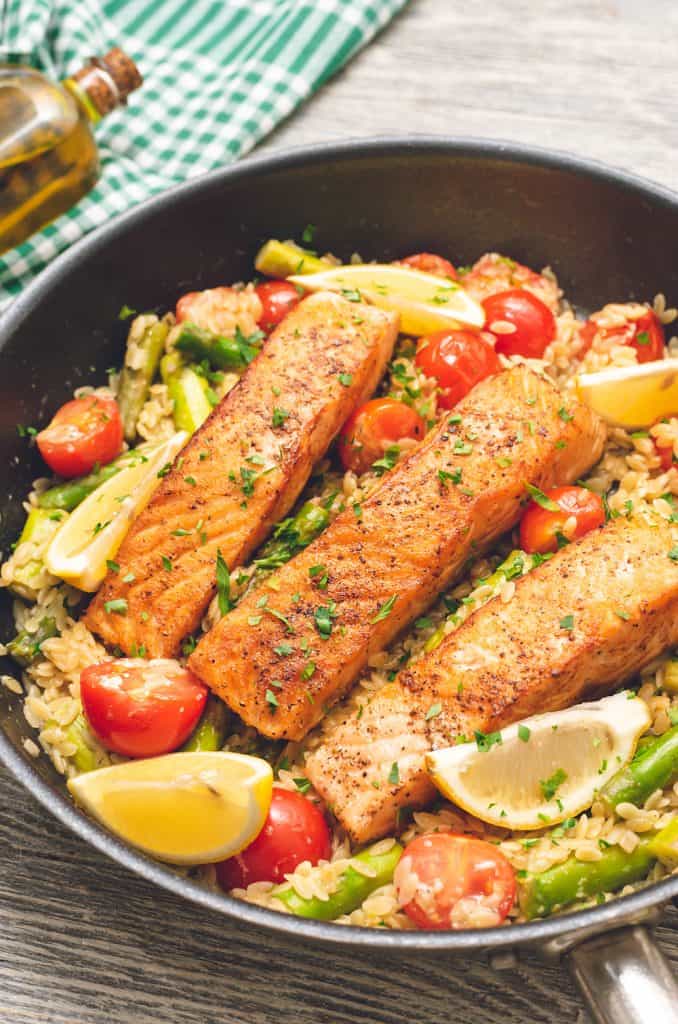 Salmon Skillet Recipe
This savory Lemon Salmon Orzo Skillet is a delicious all in one dish that's easy to make. It has a tang of bright lemon and fresh asparagus that balances out the rich taste of salmon. It's seriously flavorful, and healthy too with less than 450 calories and over 30 grams of protein! This is one dish that definitely needs to go on your summer meal rotation along with Cuban Chicken and Rhubarb Pie.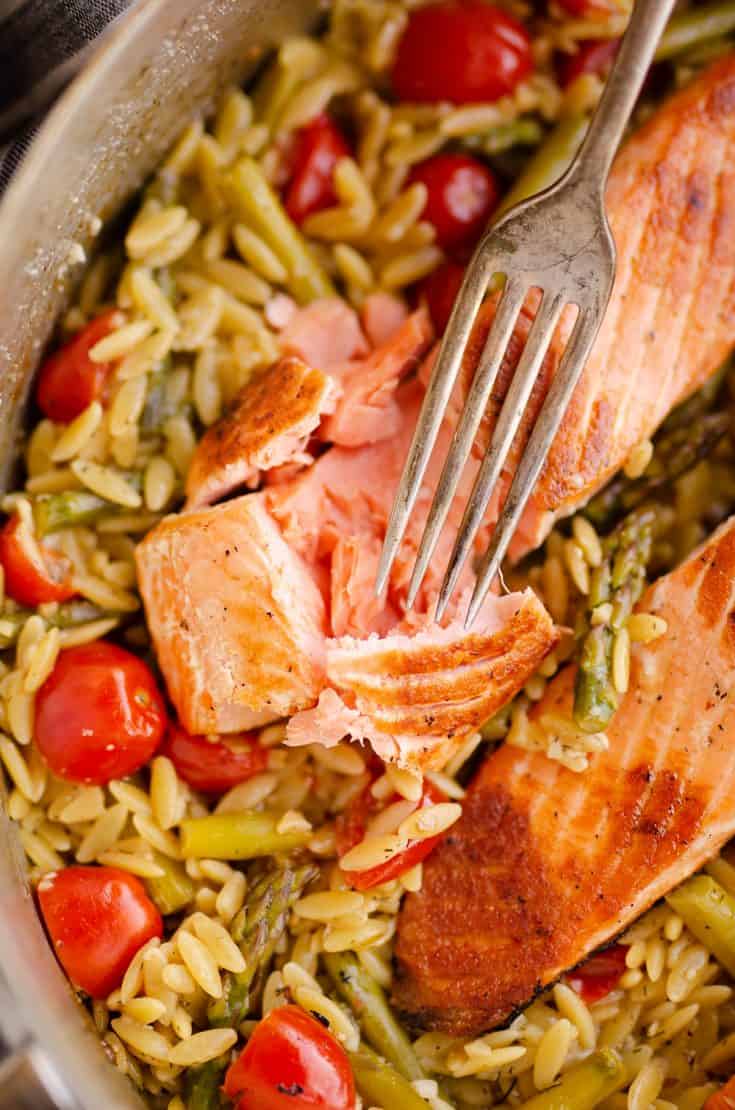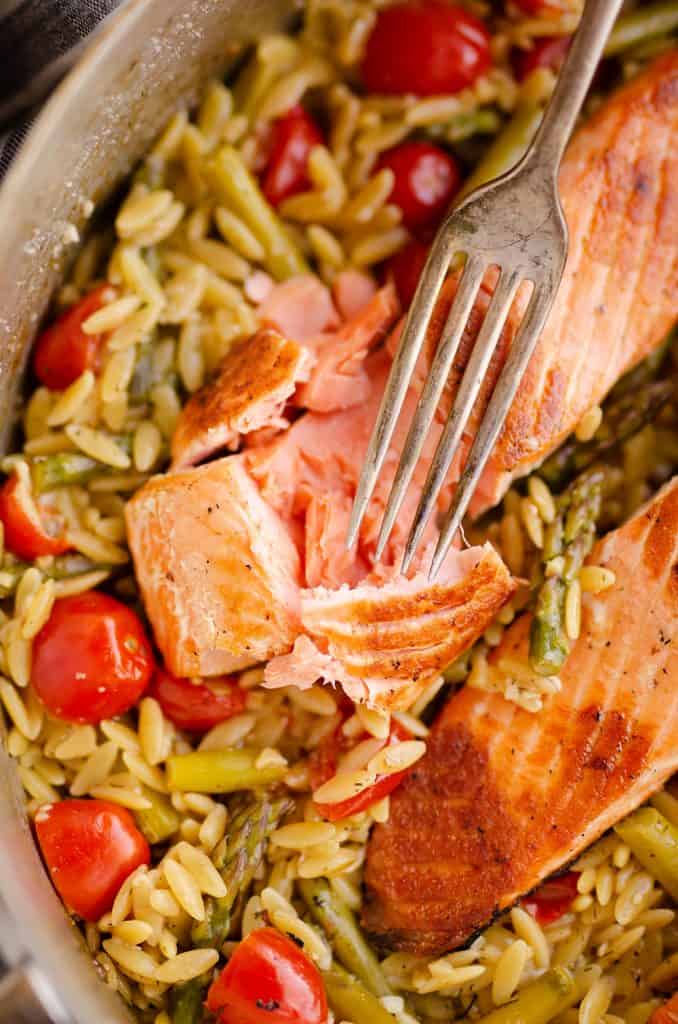 Salmon with Orzo
This salmon skillet dish has classic flavors you already love with salmon, like asparagus and lemon, but this recipe has a twist. Salmon goes so well with orzo pasta! It's the kind of surprise that's just obvious when you think about it. And as soon as you realize it, you'll want to do it again and again! For another fun take on seafood with orzo, check out my Pressure Cooker Lemon Butter Shrimp and Orzo Dinner.
Salmon cooked in a skillet is always fantastic, and my lemon salmon recipe brings the flavor to a new level. Of all the healthy salmon recipes I've tried over the years, this one is my favorite!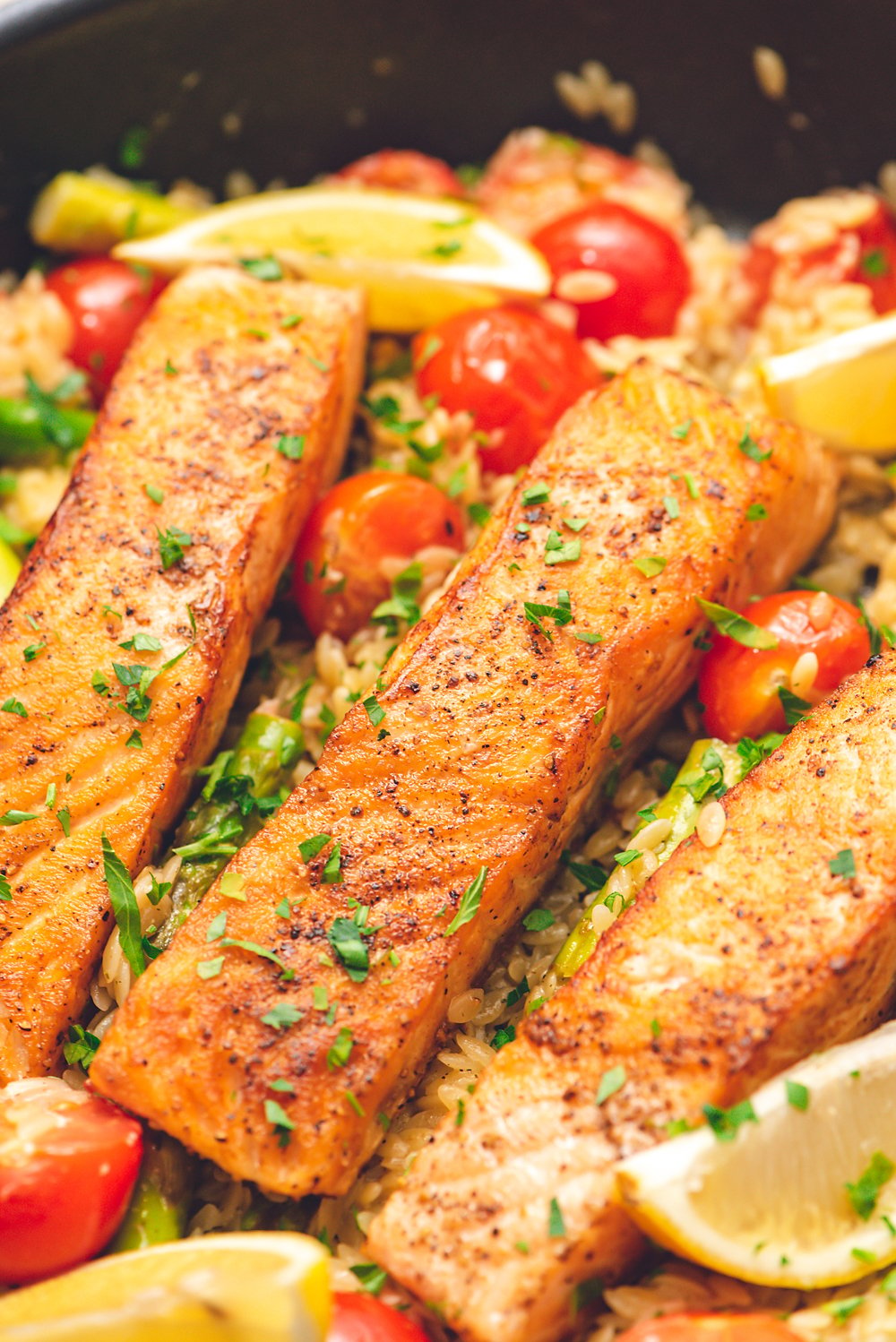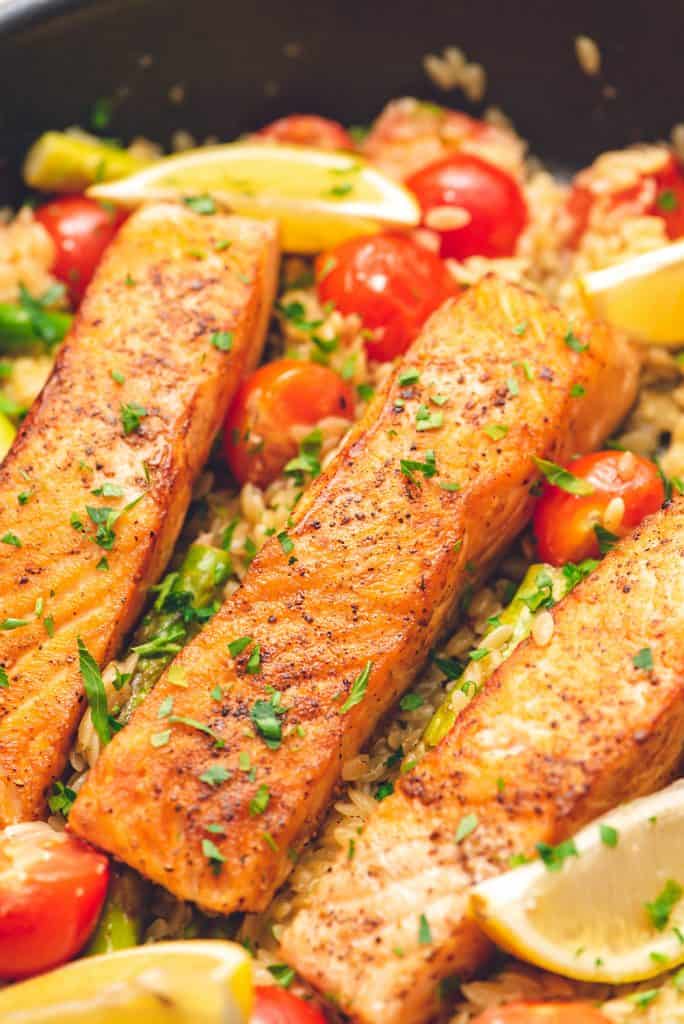 What Should I Make With Salmon?
This skillet salmon has everything you need in one dish! If you are making plain fillets of salmon, there are a few sides that pair well with it. It's a rich food, so you'll want something to balance that strong flavor. Try something citrusy or carb based to act as a foil for your salmon. Here are a few classic ideas you can use next time you make salmon.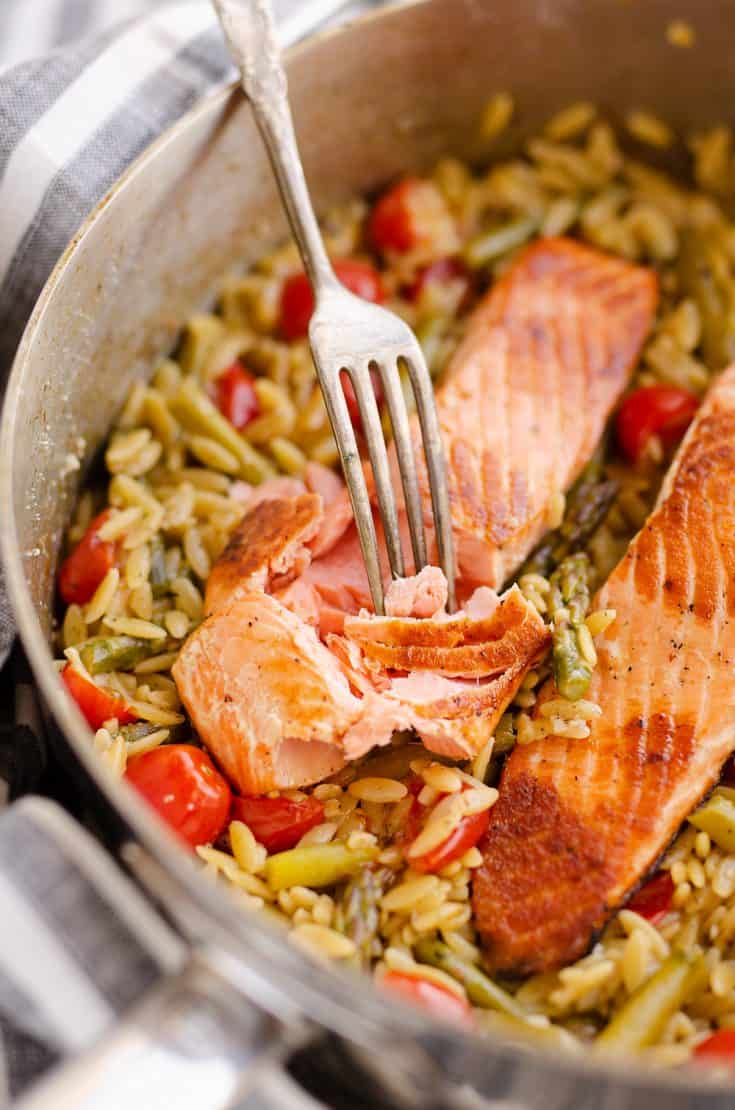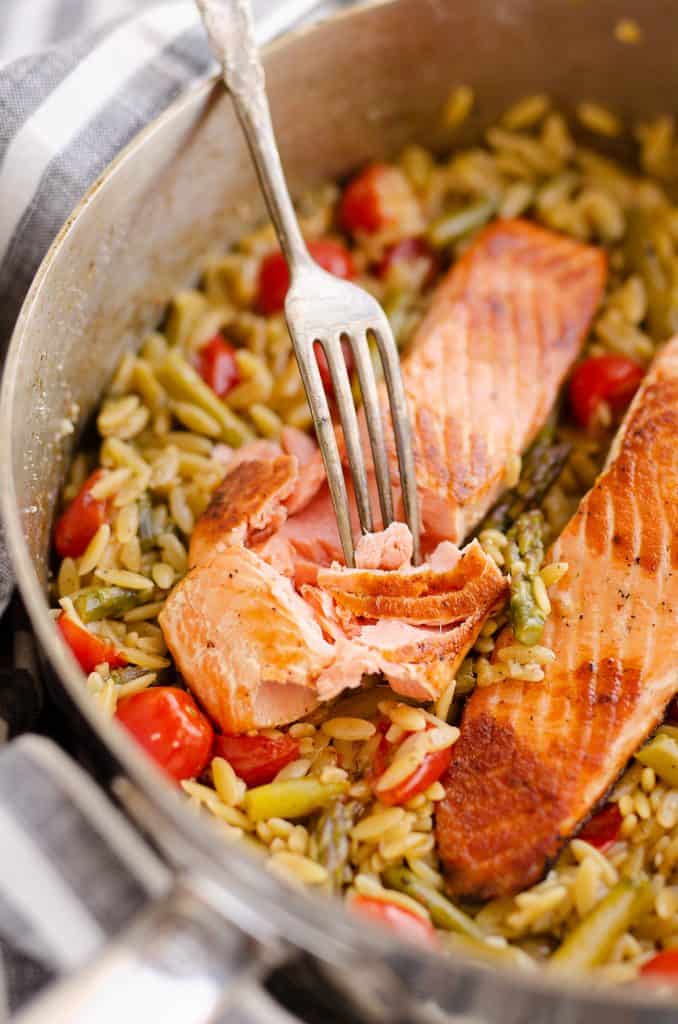 What Do You Drink With Salmon?
Salmon is a wonderful meal to match with a drink, because there are so many possibilities! Wine is always a good choice. If you like wine, you'll probably like a white wine with salmon, like a Pinot Gris or a Chardonnay. A nice White Wine Sangria is also a great choice!
However, if you like red wine, you're in luck! Even though most fish is overpowered by red wine, salmon has a strong enough flavor to compete with red wine. Pinot Noir is a good place to start.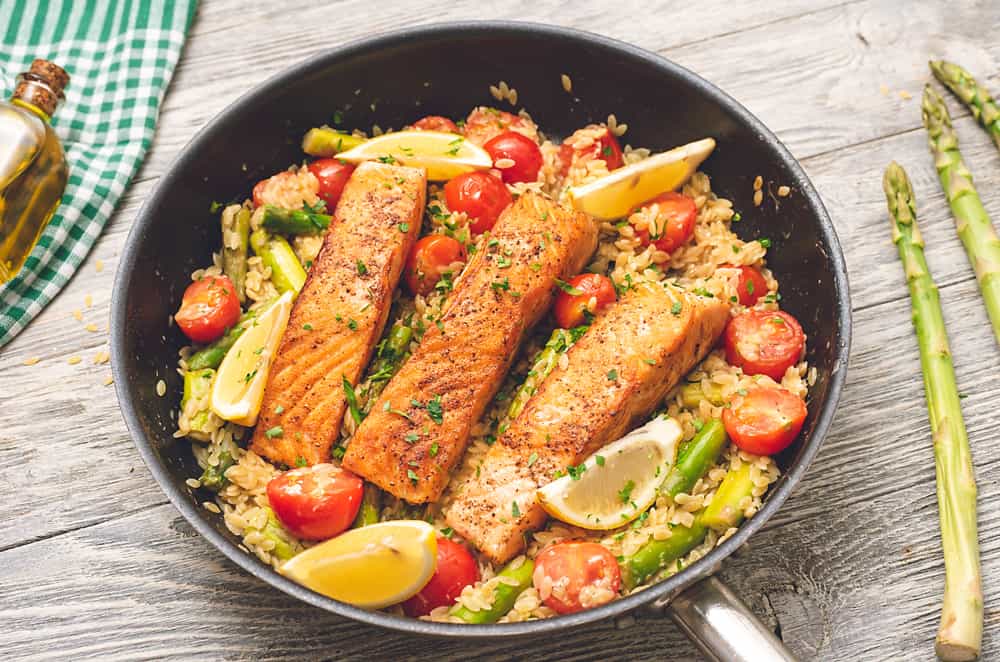 How Do You Not Overcook Salmon?
Many kinds of fish are so delicate that they're easy to overcook. Salmon is a great fish for skillet cooking, because it's heartier and meatier than most other varieties of fish. It's more likely to hold together and not overcook.
It's still good to be careful when you're working with salmon, so I've put together a few tips to help you out.
Use salmon pieces that are approximately the same size

Leave the skin on, it will act as a barrier between the fish and the skillet

Start cooking skin side down

Let it cook most of the way while it's skin side down (still using that protective layer!)

Take it off the heat before it's completely done, and let the residual heat finish the job

Know what cooked salmon looks like

Watch closely for doneness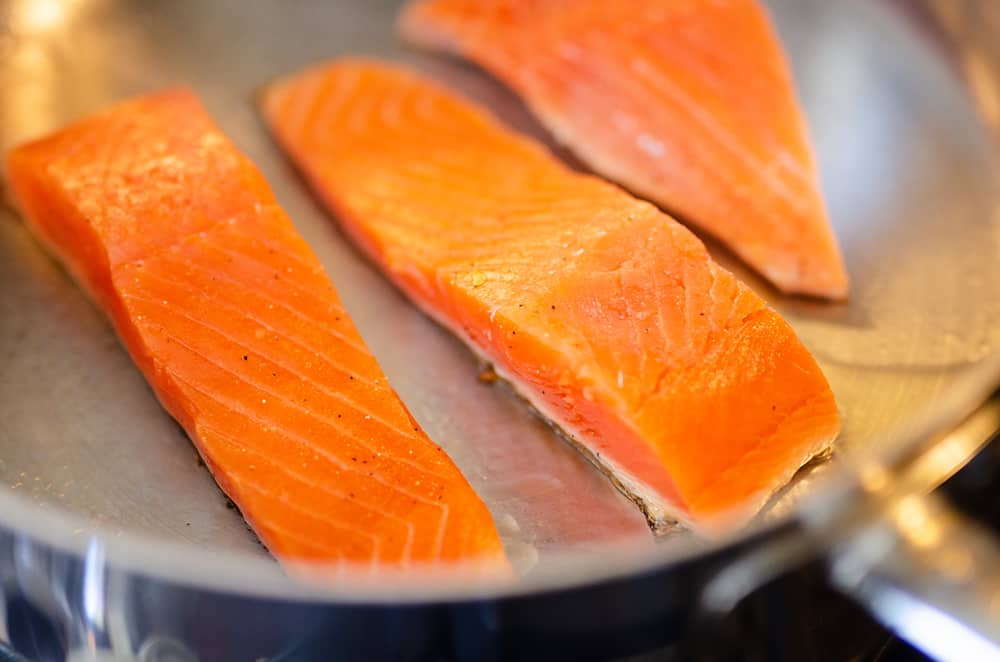 What Does Cooked Salmon Look Like?
It's fine to say, "watch for when it looks done", but what if you've never cooked salmon before? It's important to know exactly what you're looking for! There are a few telltale signs of doneness in salmon, and they're pretty easy to spot once you get the hang of it.
The salmon will change color: orangish red and translucent to opaque and pink

The skin will be crispy and brown

The skin will pull away easily from the flesh if you pull gently on it

The flesh will begin to flake with a fork

Most importantly, a meat thermometer inserted into the thickest part of the fish should read 145 degrees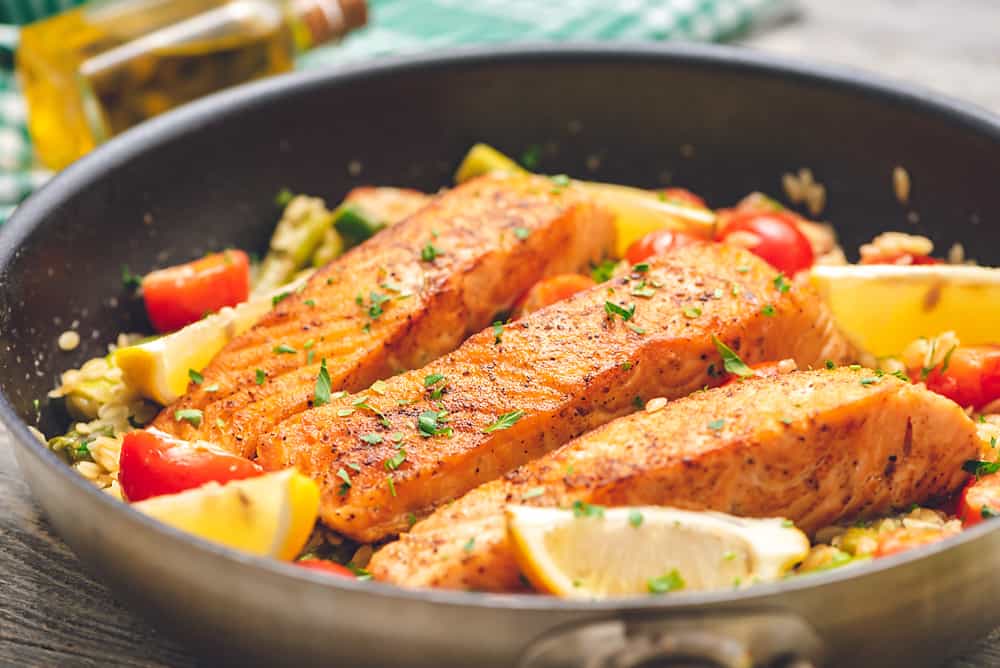 Do You Eat the Skin On Salmon?
If you've ever wondered whether or not you can eat the skin of salmon, take it easy! You definitely can. Some people even think it's the best part! When salmon skin is cooked, it gets crispy and flaky. It has much the same flavor as the meat of the salmon, but is a little stronger. There are a few things to consider before indulging in this tasty treat, though.
One consideration is where the salmon came from–if it's from a polluted area, contaminants will build up in the skin. Try to choose salmon from a reliable, safe source. Additionally, if you are taking a blood thinner or anticoagulant, it might be a good idea to check in with your healthcare provider before eating too much salmon or salmon skin. Salmon is high in omega 3 fatty acids, which can sometimes interfere with blood thinners.
Most people, though, should be perfectly safe eating salmon skin.It can be a crisp and flavorful addition to the dish!
If you're not a fan of the skin, feel free to peel it off before serving. After cooking, it should be easy to remove. But remember to leave it on during the cooking process to protect the fish from overcooking!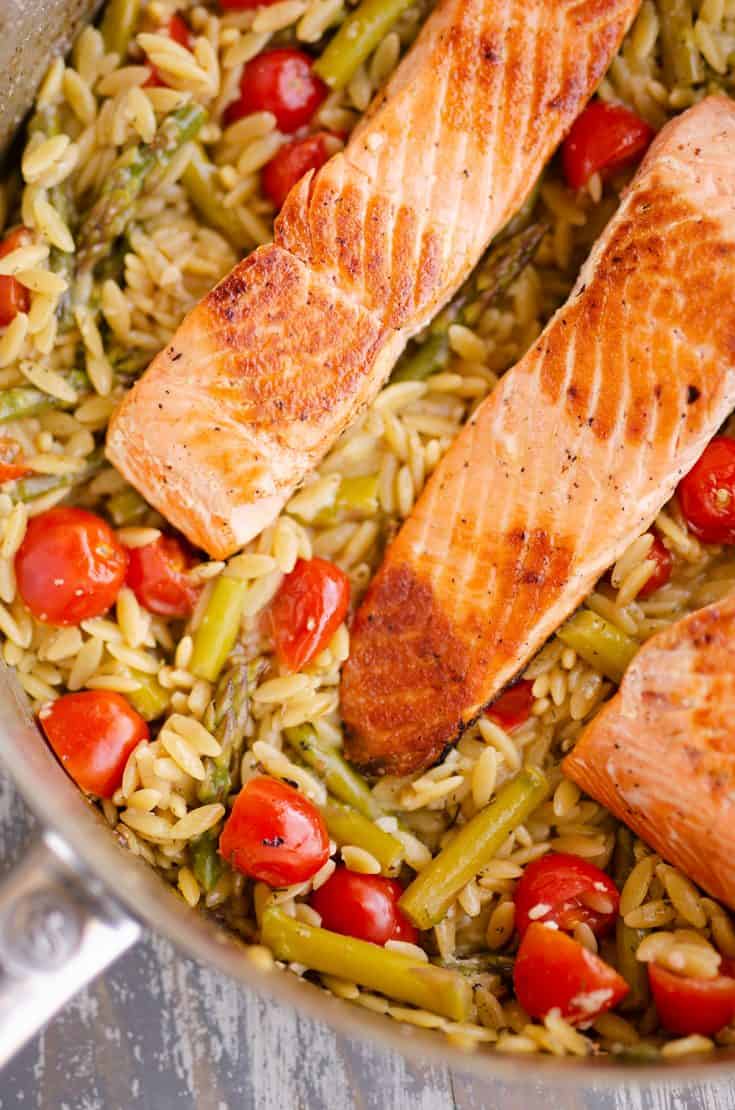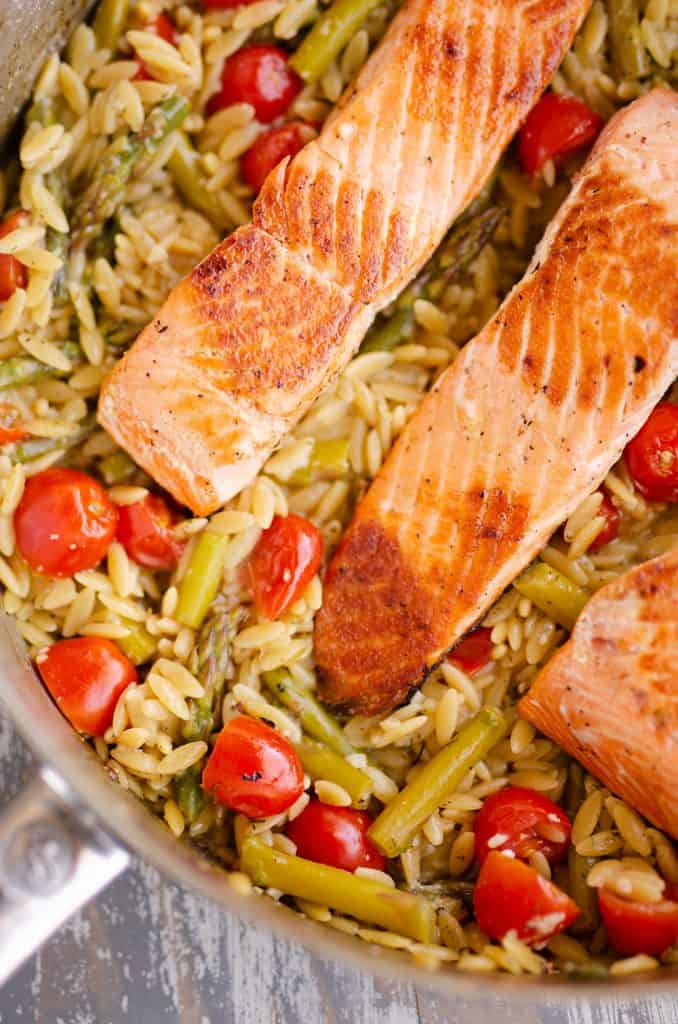 How Do You Pan Sear Salmon?
Pan-searing is a great way to lock in flavors! Here's the basic rundown on how to pan sear salmon.
Season both sides of the fish with salt and pepper

Add olive oil to a skillet on medium high heat

Arrange the salmon skin side down in the skillet

Cook for 5-7 minutes, until the sides of the fillet are opaque

Using a fish spatula, turn the fillets over

Cook an additional 3 minutes

Watch closely for doneness, remove fillets from pan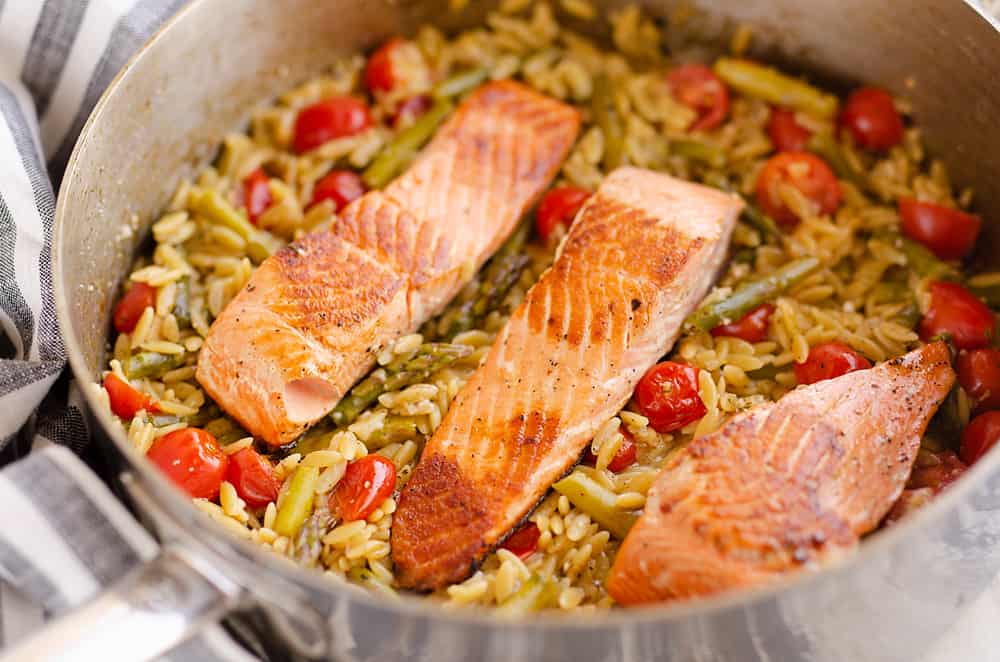 More healthy fish recipes!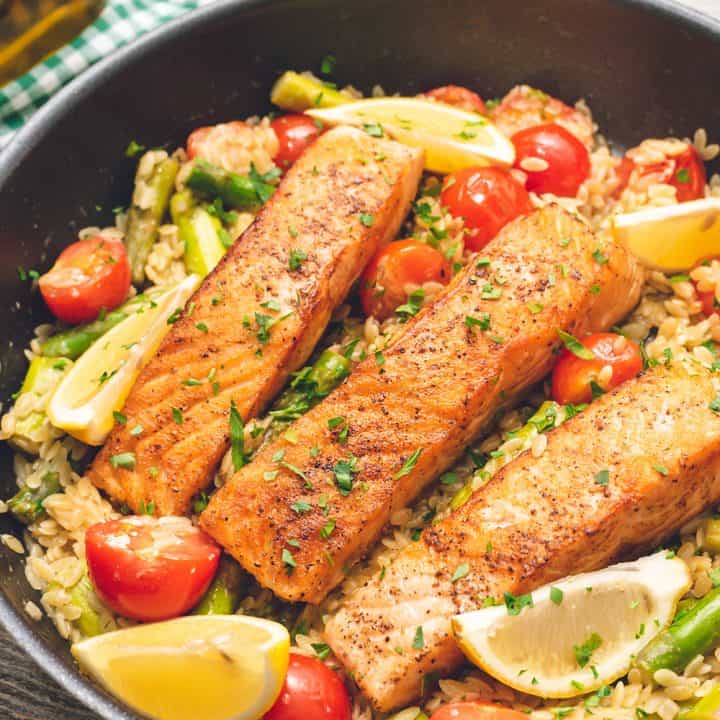 Lemon Salmon Orzo Skillet
Lemon Salmon Orzo Skillet is an easy one pot recipe, perfect for a healthy 30 minute weeknight dinner! Orzo pasta, lemon and cherry tomatoes compliment fresh salmon for a delicious meal.
Ingredients
1 lb. salmon fillet
1 Tbsp. olive oil
1 tsp. diced garlic
1/4 c. white wine
1 c. chopped asparagus
1 1/2 c. chicken stock
1/2 tsp. dried dill
1/4 tsp. salt
3/4 c. dry orzo pasta
1/2 lemon, juiced
1 c. cherry tomatoes, halved
2 Tbsp. grated Parmesan
Instructions
Arrange the salmon skin-side down. Gently feel the surface of the meat until you find the ends of the pin-bones. Slice the fillet of salmon into 3 or 4 pieces. With kitchen tweezers, pluck each pin-bone from the fillet. Continue until all pin-bones are removed. Season both sides of the fish with salt and pepper.
Add the olive oil to a large skillet over medium-high heat. Arrange the salmon, skin side down, in the pan. Cook for 5-7 minutes or until the sides of the fillets are opaque. Using a fish spatula, turn the fillets over. Cook for an additional 3 minutes or until the fish reaches your desired doneness. Remove the fillets from the pan and set aside.
Add the chopped garlic to the pan and cook for 1 minute. Add the white wine and using your spatula, scrape any browned bits from the bottom of the pan. Add the chicken stock, dill, salt and orzo and bring to a boil. Cover and cook for 5 minutes.
Add the asparagus to the skillet and give it a quick stir. Reduce the heat to medium-low, cover and cook for an additional 5-6 minutes or until orzo pasta is tender.
Add the lemon juice, tomatoes and Parmesan to the cooked pasta and stir. Cover and cook for 2 more minutes. Return the salmon fillets to the pan.
Slice the remaining half of lemon into wedges and serve the salmon and orzo with lemon wedges on the side.
Nutrition Information:
Yield:

4
Serving Size:

4 Servings
Amount Per Serving:
Calories:

423
Saturated Fat:

3g
Cholesterol:

72mg
Sodium:

420mg
Carbohydrates:

35g
Fiber:

3g
Sugar:

5g
Protein:

34g