Baked Tortilla Crusted Tilapia is a light and healthy dinner idea with a crunchy tortilla crust full of spicy southwestern flavors that is ready in less than 30 minutes!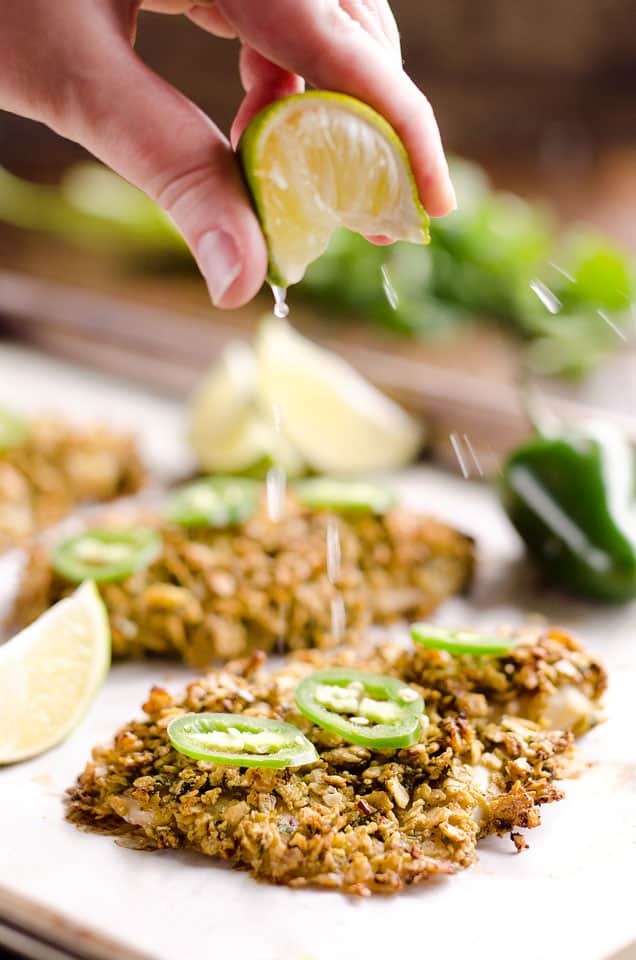 Baked Tortilla Crusted Tilapia
Tilapia is a great protein for those who aren't normally big fish eaters, myself included. This mild white fish is very palatable if the flavor of fish normally turns you off. I typically don't eat much fish, but I try and get it in when I can because of how healthy it is.
The crunchy tortilla crust with lots of southwest flavors make this Baked Tortilla Crusted Tilapia one that I particularly loved, despite not normally being a big fish eater. Paired with my Light Chipotle Tartar Sauce made with Greek yogurt and a side of roasted vegetables, it was a delicious and well-balance meal.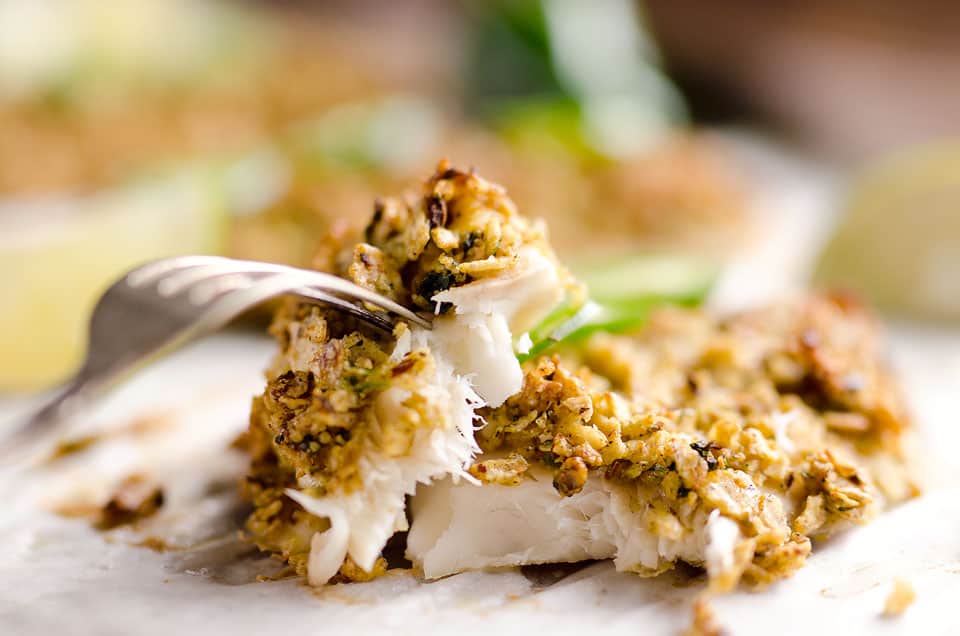 If you look closely at the photo above, you will notice that this fish fillet only gets one side coated with the mixture of whole grain tortilla chips, jalapeños, cilantro, garlic and chili powder. These thin fillets would be overpowered by two full sides being coated, not to mention it also cuts way back on the carbs and calories. I promise you won't miss the extra breading and will be happily satisfied with this easy weeknight dinner idea!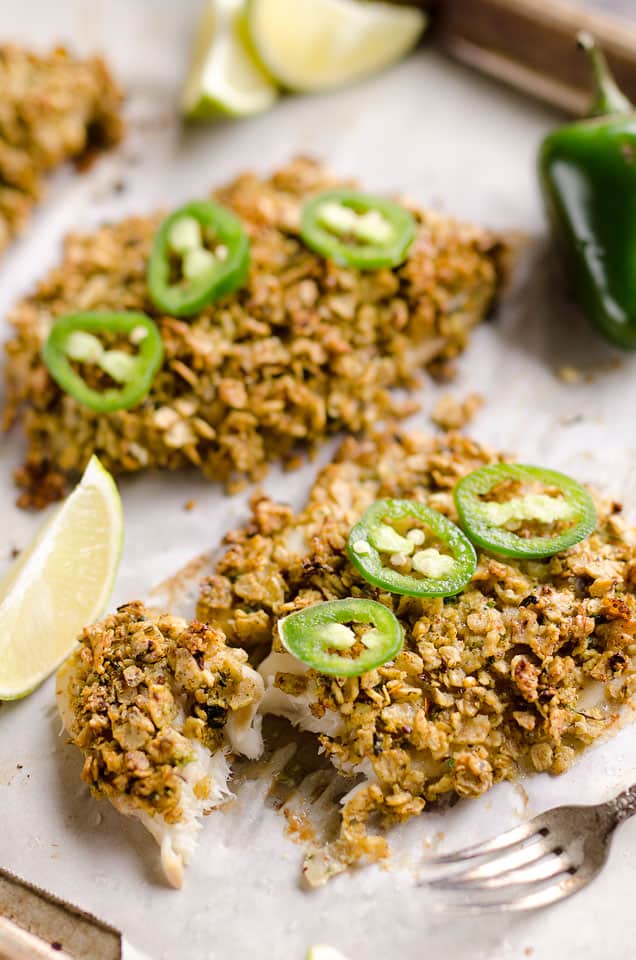 To make the breading, you just add everything to your food processor and pulse it until it reaches your desired consistency. Don't be alarmed by the slightly wet feel of the mixture from the fresh cilantro and jalapeños. Once the fish is breaded and bakes, it will draw out any excess moisture and leave you with a perfectly crunchy tortilla crust, coating the flaky white fish. It is a bit of a messy process, but super simple!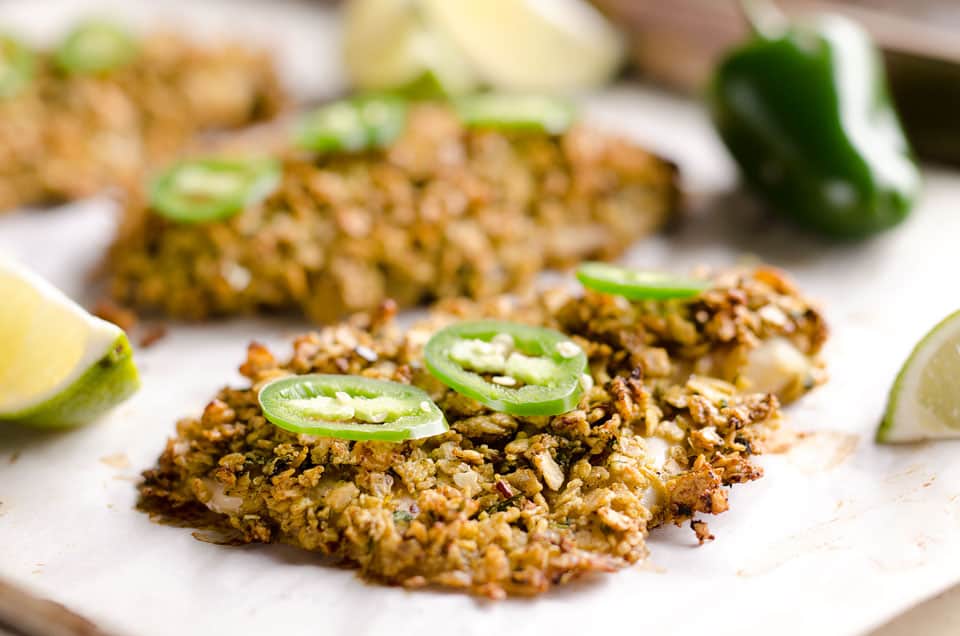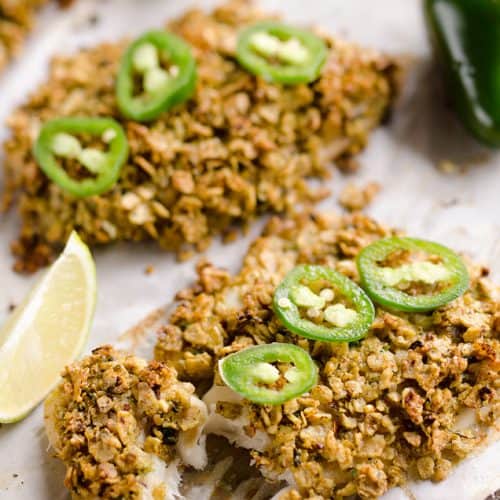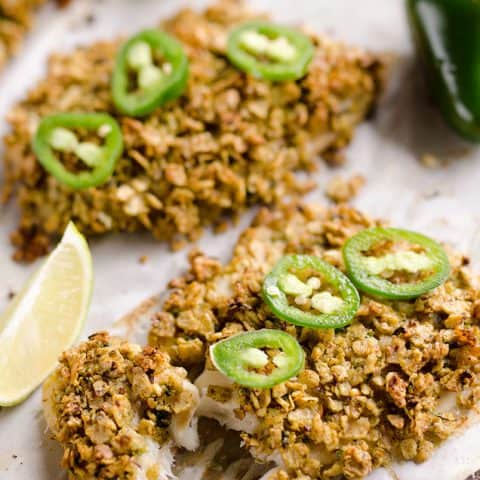 Baked Tortilla Crusted Tilapia
Baked Tortilla Crusted Tilapia is a light and healthy dinner idea with a crunchy tortilla and jalapeño crust full of spicy southwestern flavors.
Ingredients
4 Tilapia fillets thawed
1 egg, beaten
2 c. whole grain tortilla chips
1/2 jalapeño, seeded
1/4 c. cilantro
1 tsp. garlic powder
1/2 tsp. chili powder
1 tsp. red pepper flakes, omit if you do not prefer much spice
lime wedges for garnish
Instructions
Preheat your oven to 400°.
Add the chips, jalapeño , cilantro, garlic powder, chili powder and red pepper flakes to a food processor. Pulse the mixture until the tortillas reach a consistency of a small 1/8" flake.
Add the tortilla mixture to a medium bowl. In a separate bowl add the egg and whisk until light and frothy.
After patting the fillets dry with a paper towel, coat them in the egg wiping off any excess with your fingers. Then press the fillets into the tortilla mixture so one side is well coated. Place the fillets coated side up on a lined baking sheet. Use any remaining tortilla mixture to press onto the top of the coated fillets.
Bake at 400° 15 minutes or until the fish is cooked through. Serve immediately with Light Chipotle Tartar Sauce and/or lime wedges.
Nutrition Information:
Yield:

4
Serving Size:

1 grams
Amount Per Serving:
Unsaturated Fat:

0g
Light Chipotle Tartar Sauce

More delicious dinner ideas!