Learn how to make these easy Hot Cocoa Bombs with marshmallows for a fun winter treat. If you are making these as a special homemade gift, be sure to use our free printable instruction labels!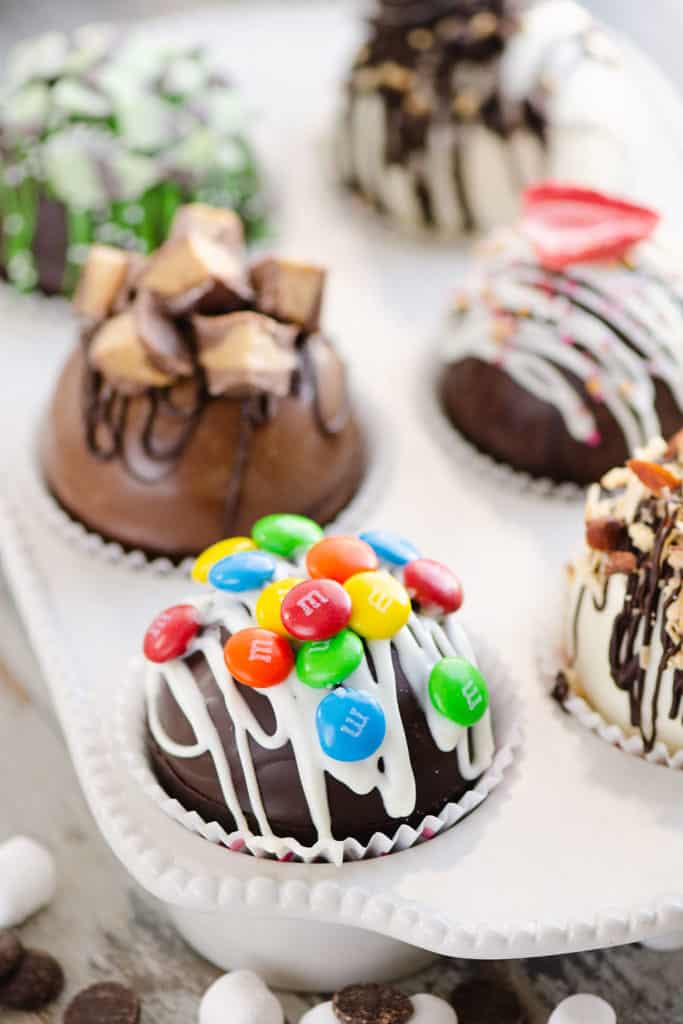 Hot Chocolate Bombs
This new trend is one of the few great things to come out of 2020. It takes classic hot chocolate with marshmallows and packages it up in a decadent chocolate sphere.
Add the hot cocoa bomb to mug and slowly pour warmed milk over it. The hot milk will melt away the outside shell and reveal the fluffy marshmallows that float to the top.
Give the hot chocolate bomb a quick stir to melt the chocolate and hot cocoa powder into the milk and enjoy!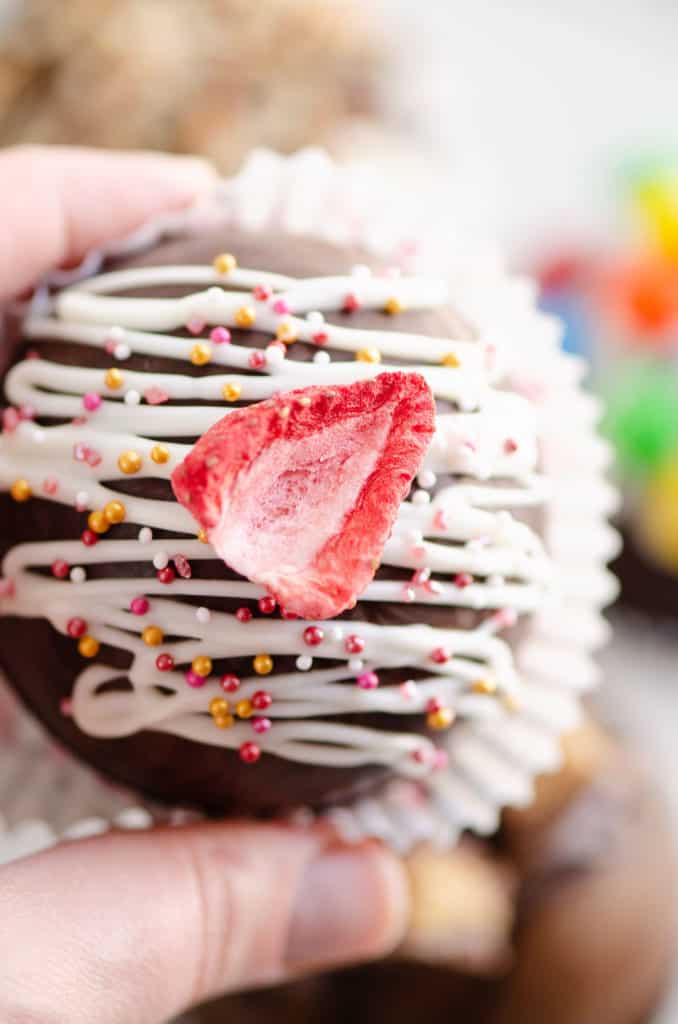 Easy DIY Food Gift Idea
Hot cocoa bombs are popping up everywhere with their recent popularity. You can buy a holiday pack at Costco or support someone local selling them on your local Marketplace.
I for one enjoy making DIY food gifts. From packs of Caramel Corn or Microwave Peanut Brittle for Christmas to Love Monster Energy Bites for Valentine's Day. A homemade gift like Hot Cocoa Bombs show your loved ones that you put time and thought into their gift. It also doesn't hurt that it saves you money!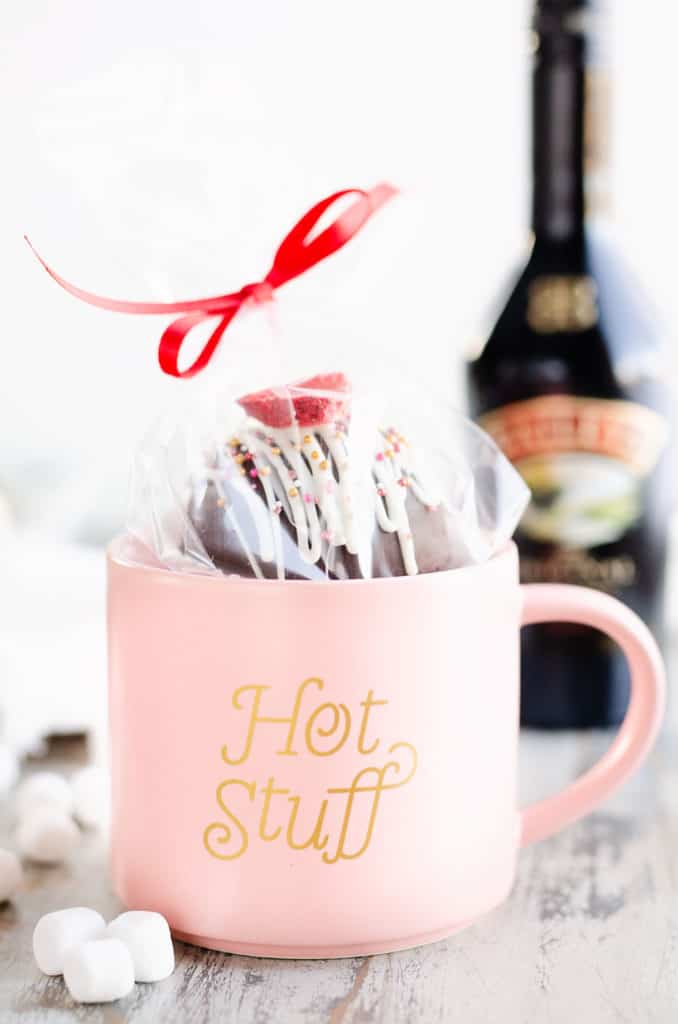 How to Make Hot Cocoa Bombs
So let's get to the nitty gritty and talk about HOW to make hot chocolate bombs. We will walk you through how to make them from start to finish.
First things first, you will need a few supplies. Most of the items you will need will be found in your kitchen, but there are a couple of specialty items you need.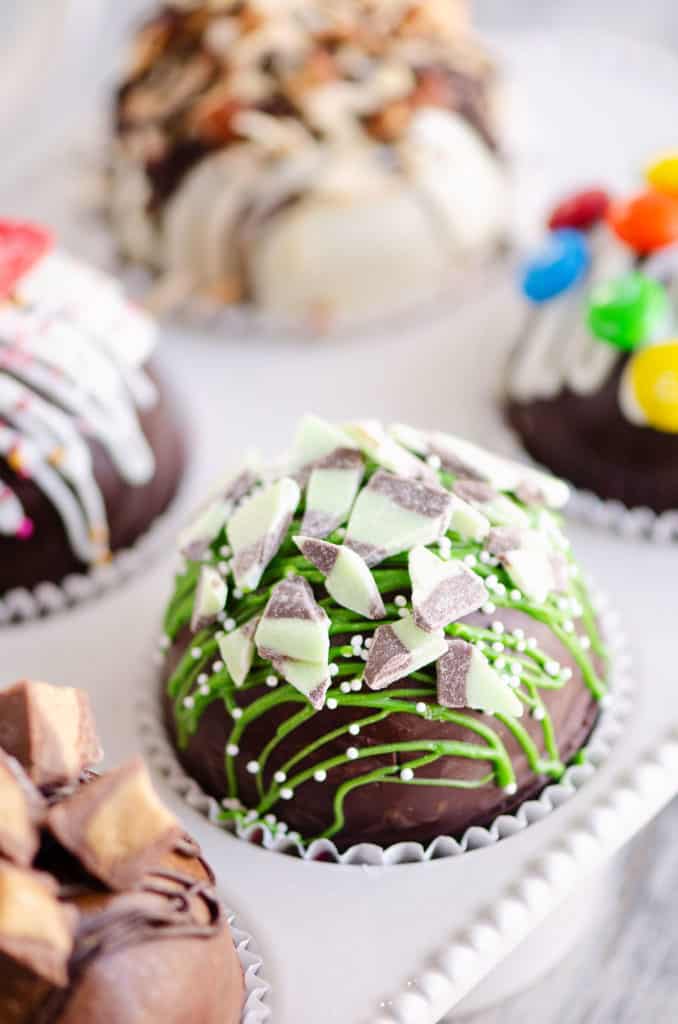 Hot Cocoa Bomb Supplies
The amount of each supply you will need will depend on how many hot chocolate bombs you make. The nice part about this recipe is that you can make one or set up an assembly line to make a whole bunch as gifts.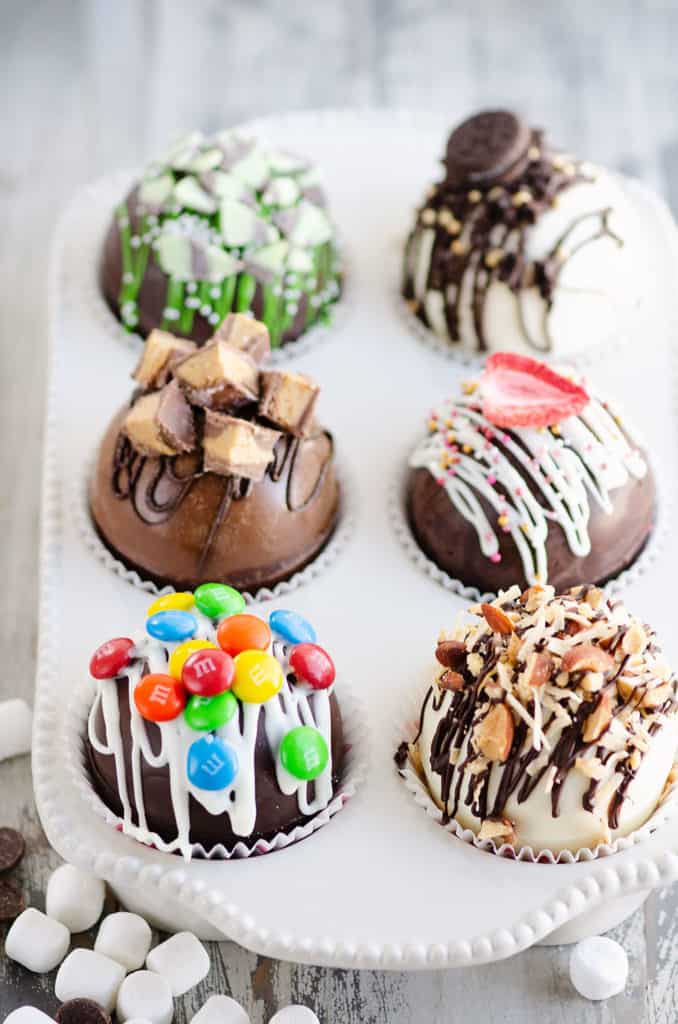 What kind of chocolate should I use
This recipe is very versatile in that you can use white chocolate, dark chocolate, chocolate bark or candy melts. I prefer the texture and flavor of dark chocolate, but chocolate bark and white chocolate is a little easier to handle. It doesn't melt as quickly upon touch.
If you use dark or milk chocolate, it is best to temper the chocolate before using it in the molds. This helps it stabilize so it doesn't melt as easily to the touch.
You can skip this step and just be sure to freeze the molds until the chocolate is solid and work quickly assembling them. If you notice that your fingers are melting the chocolate, stick the chocolate back in the freezer. I also would stick my fingers in ice before handling to cool them down a bit.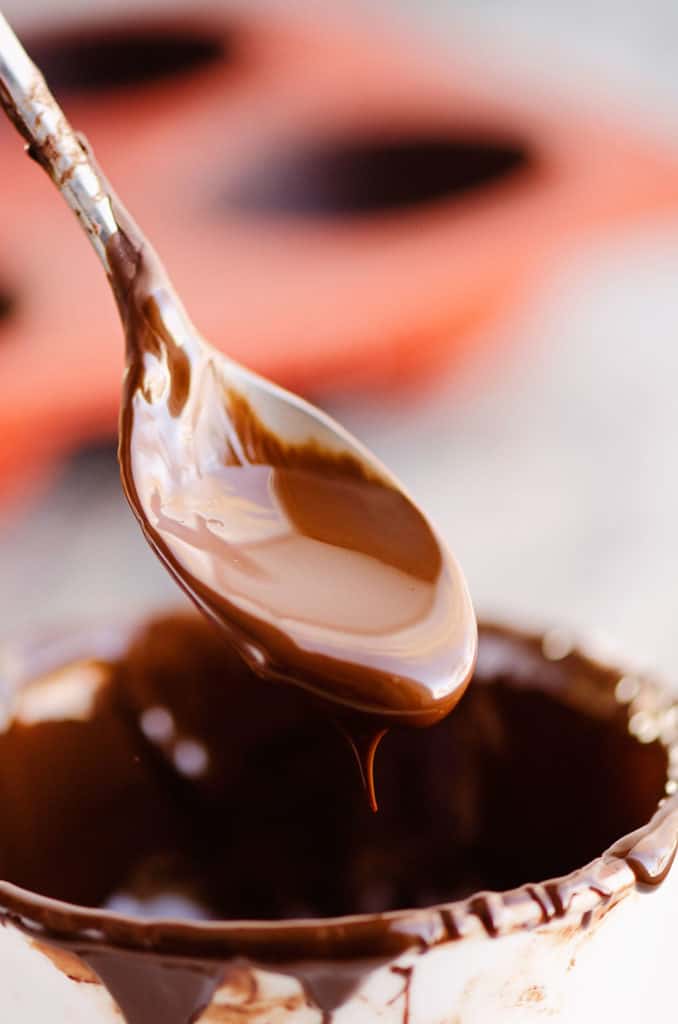 What mold can I use for Hot Cocoa Bombs
The most important item you need for Hot Cocoa bombs is a silicone mold. Spheres aren't the only shape, it's just the most common and the easiest to use.
You can make hot cocoa bombs for any holiday from a variety of shapes. Just be sure to select a shape that is symmetrical.
Whichever shape you select, be sure you select a food grade silicone mold. Hard plastic molds or metal muffin tins won't work because the chocolate will break when you try to remove it.
Another thing to keep in mind when selecting a mold is that it shouldn't have a very intricate design. I tried using this heart mold from Target, but it was too detailed. I had to add too thick of a layer of chocolate to get it out in one solid piece.
I looked high and low for the most affordable silicone sphere mold that is also the right size for a mug. This Half Sphere Silicone Mold is what I ordered for $9 and it did the job great.
Sadly I wasn't able to find any suitable molds in stores. So order your mold online now so you have it in time for the next holiday gift!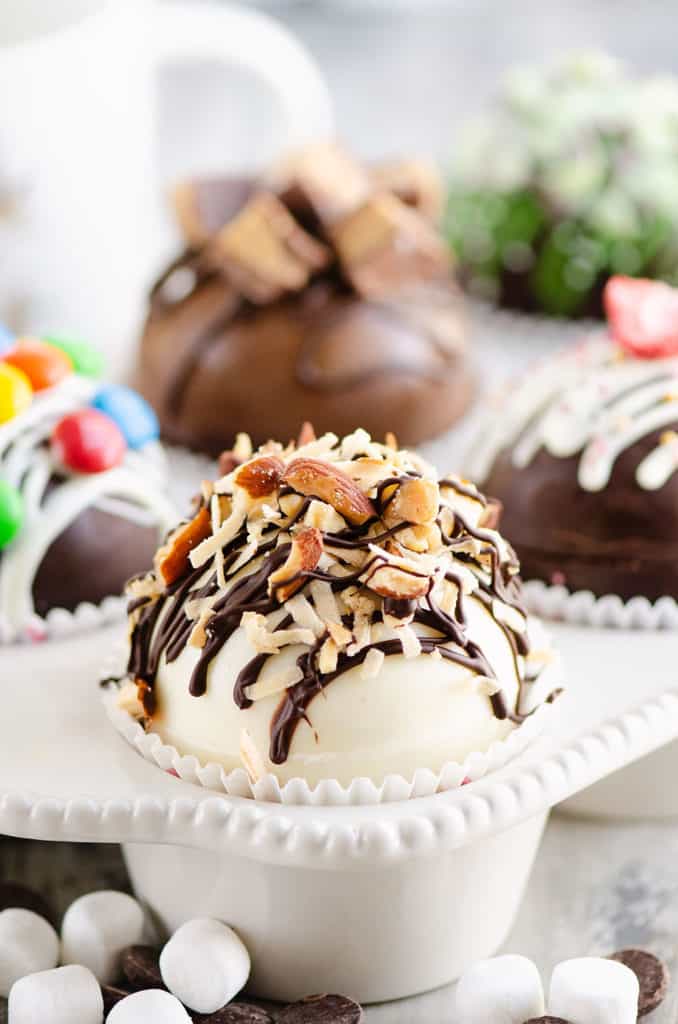 How many hot cocoa bombs does this recipe make
The beauty of this recipe is that once you have all the supplies out, you can make quite a few in a short amount of time. One bag of chocolate chips will yield about 6 whole spheres for Hot Cocoa Bombs.
The chocolate spheres harden quickly when put in the freezer, so you can make six cocoa bombs in about 20 minutes.
How to assemble Hot Cocoa Bombs
If you aren't a DIY "Pinterest Mom", don't fret. While these Hot Cocoa Bombs look impressive, they are actually quite easy to make. You can even enlist your kids to help make this fun food gift.
After you clean and dry your silicone mold, pour 2-3 Tablespoons of melted chocolate into each mold. Using the back of a spoon or a pastry brush, spread a thin layer over the entire mold. I preferred the spoon when spreading the chocolate in the molds.
When each mold is filled, add it to the freezer and it will harder in about 5 minutes. Add a second layer of chocolate to the top edges of the mold and refrigerate again.
It's important that you bulk up the top edge of the mold. This is how you get a nice sphere that will fit together nice and flush. If the edge is thin, it will break and crack and you won't end up with a nice sphere.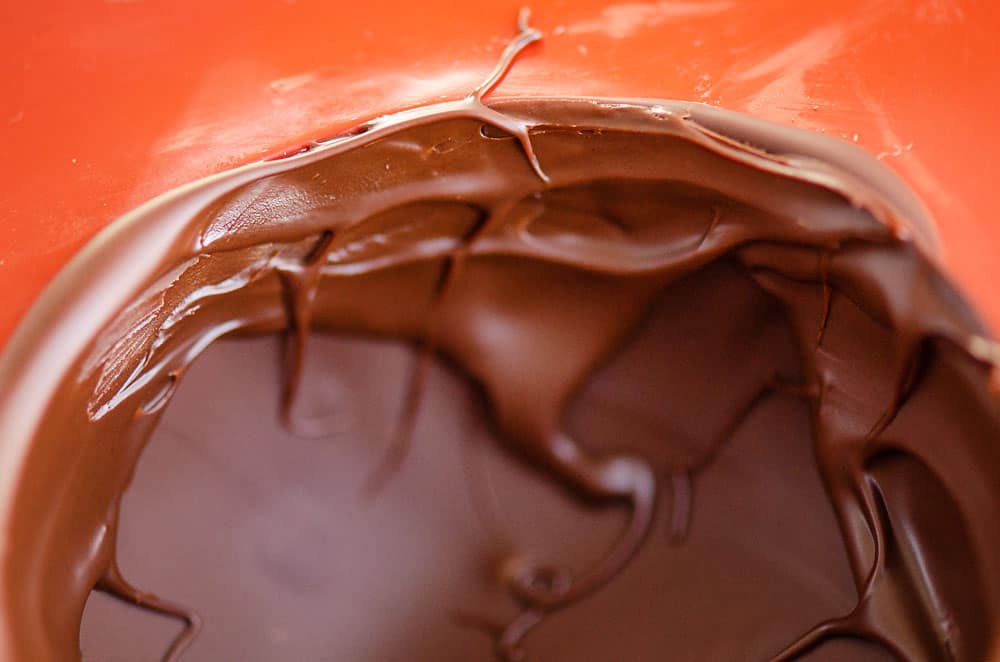 You don't need a second layer of chocolate over the whole mold though. I found (after making dozens and dozens of these!) that just adding a second layer to the very top edge was most effective and efficient.
While it's important to have a thick enough shell that will hold up, you also don't want to make it too thick or it won't melt properly in the hot milk. 1/8 of an inch thickness is just right in my experience.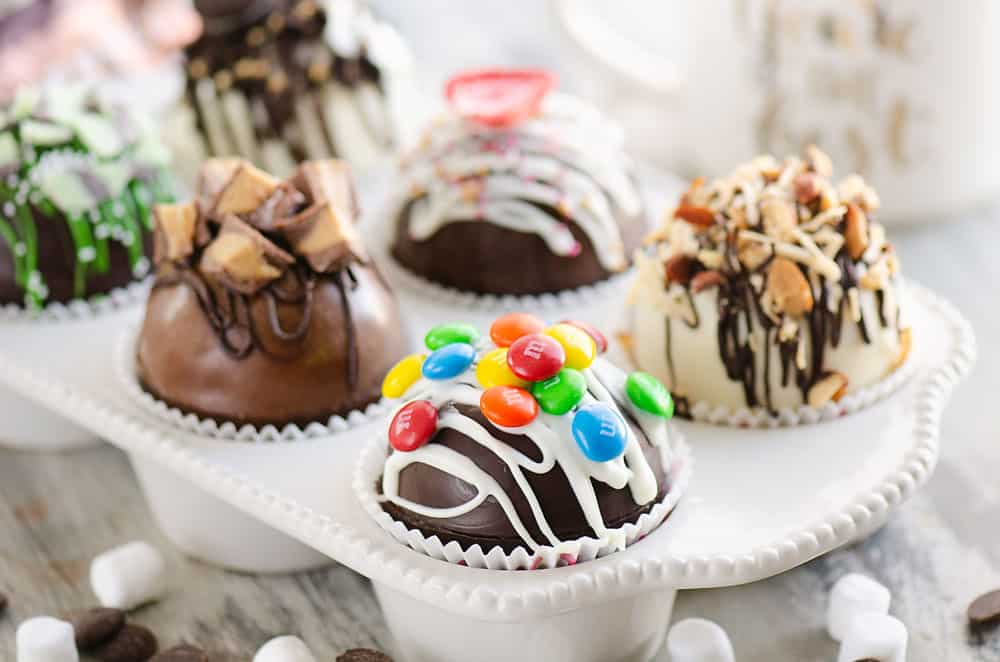 Hot Chocolate with Marshmallows
After you have all your hardened chocolate half spheres released from your mold, its time to fill them with hot chocolate mix and marshmallows.
You can buy some quality hot chocolate mix or make your own from scratch. I actually like to buy bulk mix to make things easy, but if you need a homemade recipe, here is a good one.
Homemade Hot Chocolate Recipe
This quick and simple recipe for homemade hot chocolate is enough to fill about two dozen hot cocoa bombs.
1 cup superfine sugar (caster)
1/2 cup unsweetened cocoa powder
2 Tablespoons powdered milk
If you are making hot chocolate from scratch, adding some small chunks of chocolate to the mix adds a rich touch. Because hot cocoa bombs already have a bunch of chocolate in the shell, that isn't necessary here.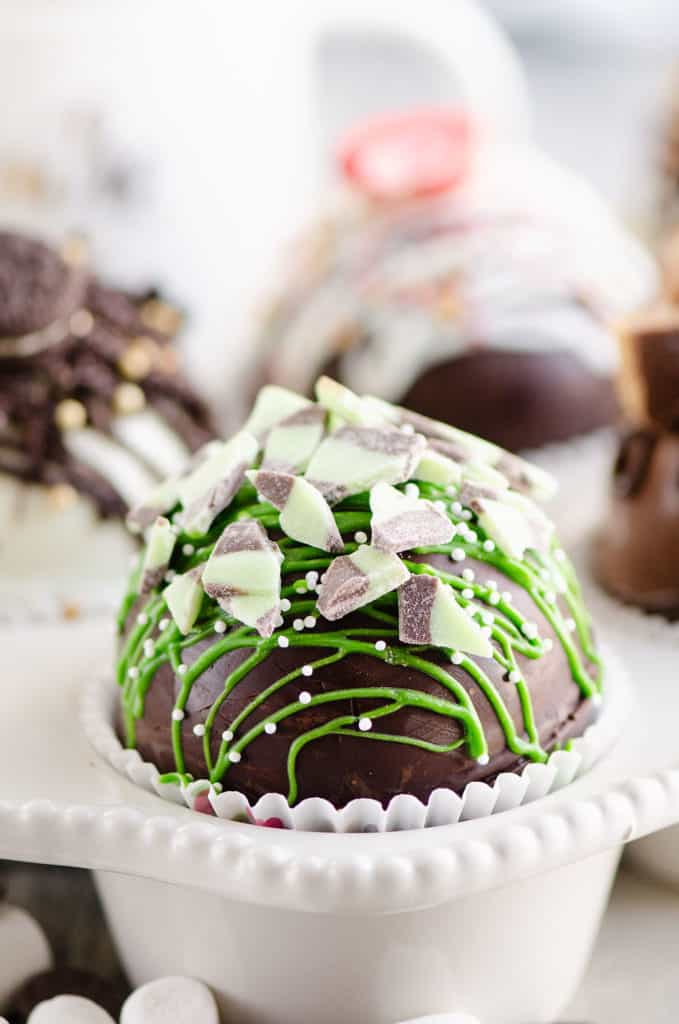 How to fill Hot Chocolate Bombs
Warm a plate by microwaving it for 1 minute. Place the raw edge of an unfilled shell on the warm plate and gently rub on the plate for a few seconds. This will not only smooth out any rough edges, but also help it adhere to the other side of the shell.
Working quickly, fill the shell with 2 Tablespoons of hot chocolate mix and 1/4 cup of mini marshmallows. Don't skimp on the marshmallows as they are everyone's favorite part!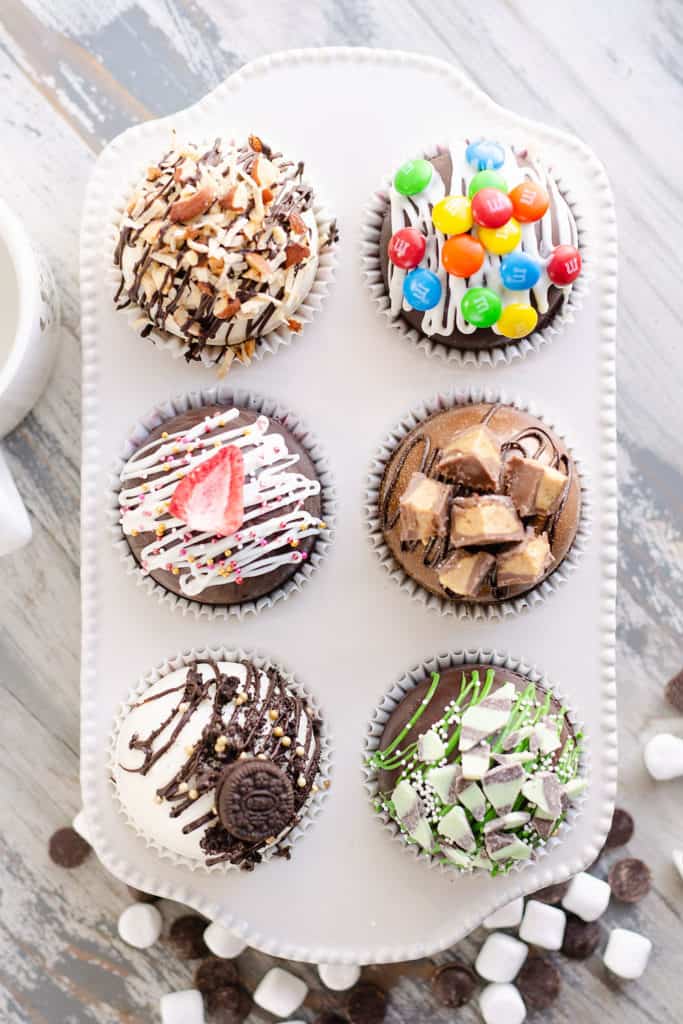 You can even add specialty marshmallows like these heart marshmallows for Valentine's Day or Lucky Charm marshmallows for St. Patrick's Day.
Place the edges of a second shell on the warm plate for a few seconds and gently push it together with the filled shell to seal it. Using your finger, wipe any excess chocolate from the seal. Place the sealed shell in the refrigerator for a few minutes to harden.
Decorating hot cocoa bombs
You can keep it simple and enjoy them just the way they are at this point. Or you can take one extra step to really make them look impressive.
Melt some chocolate and add it to a heavy duty freezer resealable bag or piping bag. Snip a tiny edge of a corner and drizzle melted chocolate over the top of the hot cocoa bomb.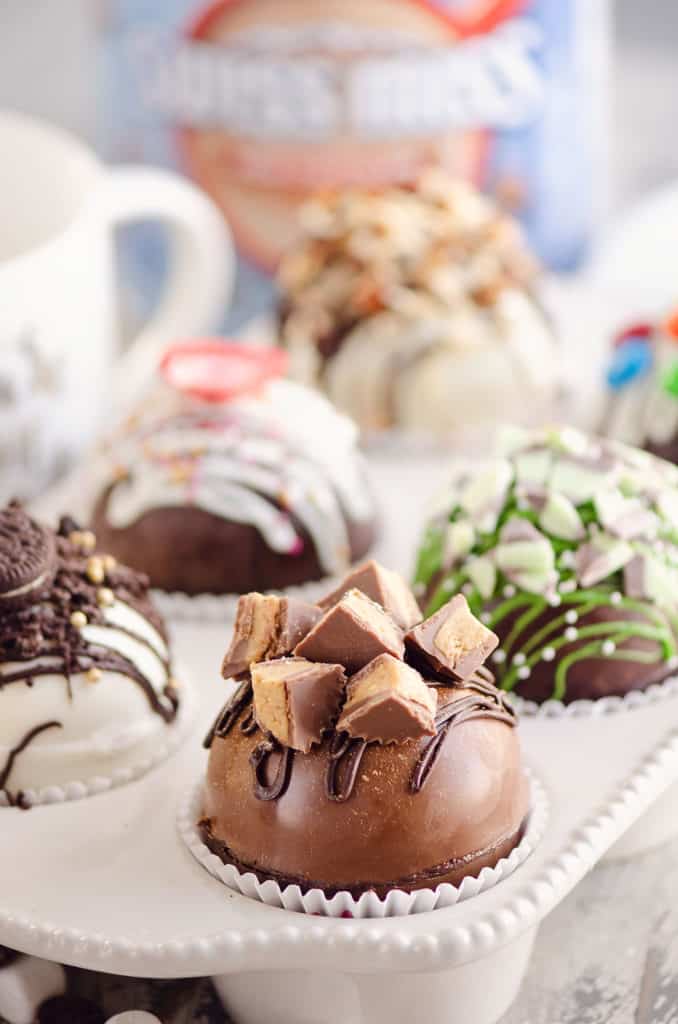 Unique flavors of hot cocoa bombs
While the chocolate drizzle is still soft, quickly add some sprinkles or garnishes to add flavor to your bombs. Here are some fun flavor combinations to try!
Peanut Butter Cup – Make the shell from a melted mix of peanut butter chips chocolate chips. Top it with sliced mini peanut butter cups.
Chocolate Covered Strawberry – Add a tablespoon of finely crushed freeze dried strawberries to the hot cocoa mix and top with a free dried strawberry.
Mint Chocolate Chip – Melt some mint chips to make the shell. Top it with a drizzle of dark chocolate and garnish with some more mint chips.
Candy Cane – Add some finely crushed candy canes to the inside with the hot cocoa mix and top it with a drizzle of chocolate and more crushed candy canes.
Cookies & Cream – Top a white chocolate bomb with crushed Oreos
Almond Joy – Top a dark chocolate shell with toasted cocoanut and crushed almonds. Drizzle generously with more melted chocolate to hold all the garnishes in place.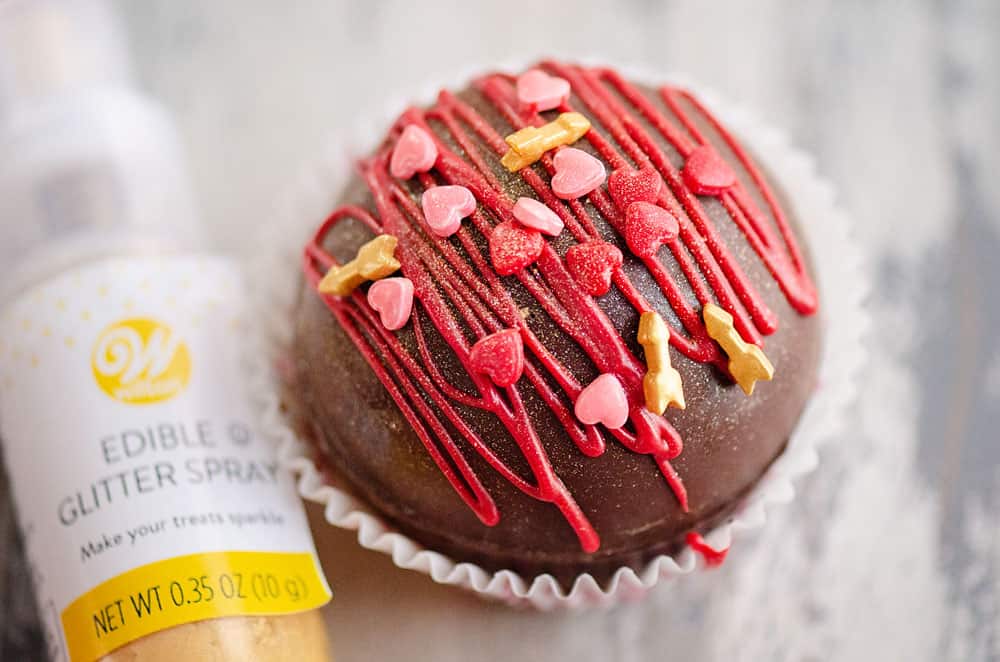 More easy garnishes for Hot Cocoa Bombs
Chocolate shavings
M&Ms
Sprinkles
You can really customize them with smaller chocolate molds and candy melts. I used a small dinosaur candy mold I got at Walmart to customize the hot cocoa bombs for a special Valentine for my son's friends.
You can find lots of sprinkles and icing decorations at Walmart, JoAnn Fabrics, Michaels, etc.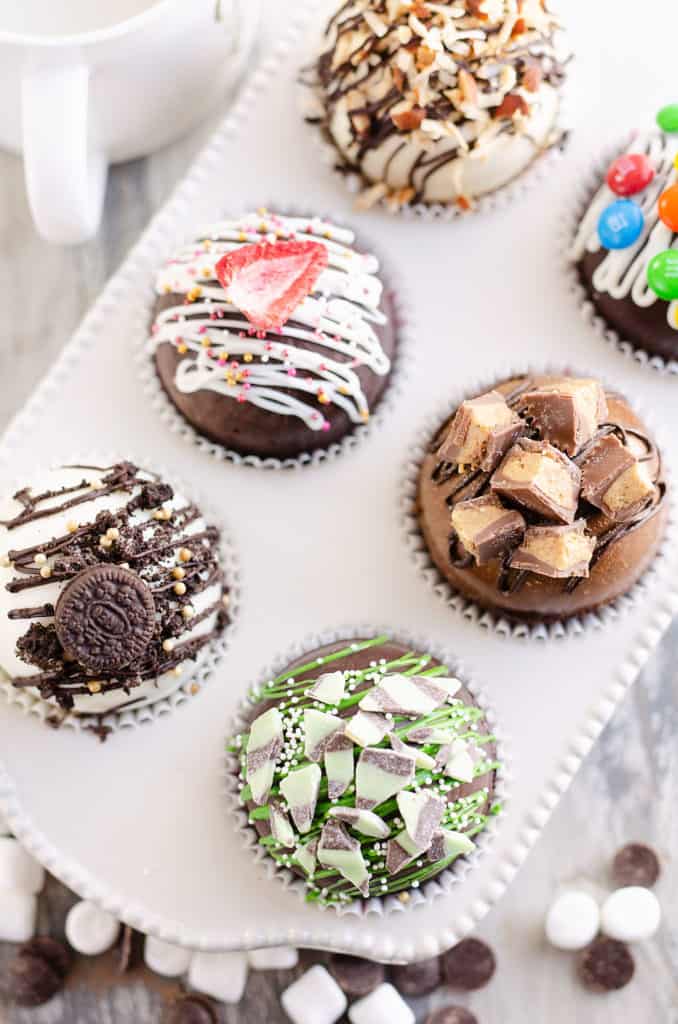 Packaging Hot Cocoa Bombs for Gifts
The easiest and most affordable way to package this food gift is with cellophane treat bags. Another great options is a holiday treat box for a more formal packaging.
Place the cellophane wrapped hot cocoa bomb in a mug tied with a bow for a special packaged treat. You can even tie a little bottle of liqueur to the hot cocoa bomb for a boozy treat for that special adult in your life!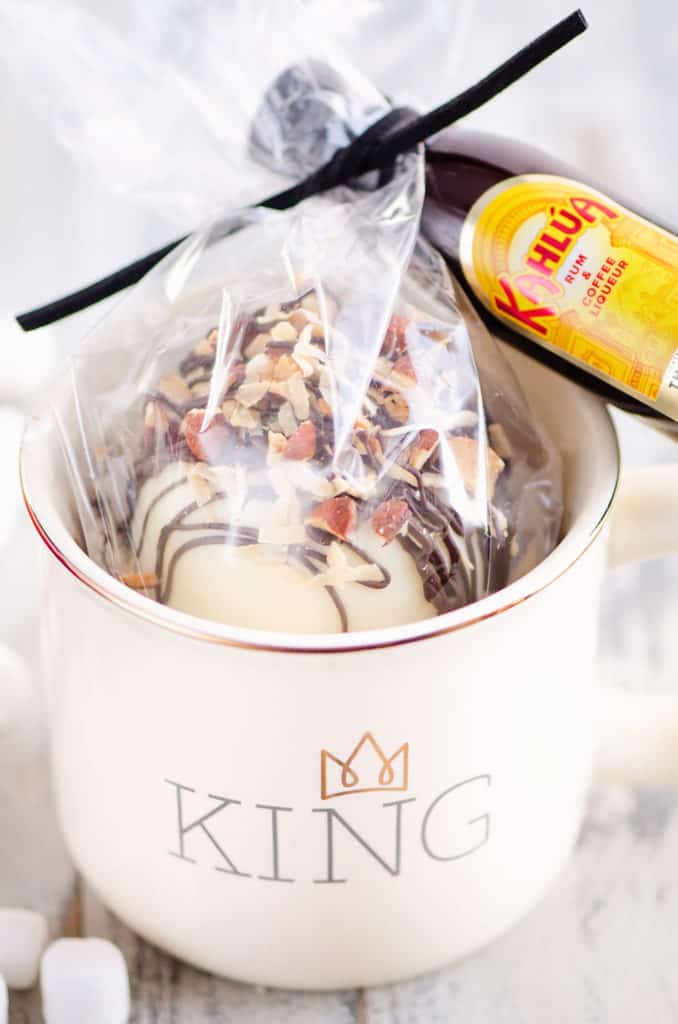 Hot Cocoa Bomb Instruction Labels
If you are packaging up these hot cocoa bombs for gifts, check out our Free Printable Hot Cocoa Bomb Labels. There is a standard label good for any occasion as well as a pretty Valentine label perfect for your sweetheart.
It's always nice to include some instructions with a gift. My sister in law mentioned that she got one as a gift from someone but had to go to the internet to figure out exactly how to use it.
Print out the free labels and include them with your hot chocolate bomb gifts so your loved ones know exactly what to do!
How to use Hot Chocolate Bombs
Whether you buy your hot chocolate bombs from Costco or make them yourselves, the best part is enjoying them!
Not only do they taste delicious but it is a fun and exciting reveal that kids and adults enjoy.
There are two options to use your cocoa bombs. The first is to add your bomb to a mug and slowly pour a cup of hot milk over it so it gradually melts away and releases the marshmallows and cocoa powder.
The next option, which requires less dishes is to heat your milk in your mug for 90 seconds. Carefully add the bomb into the hot milk and stir until all the chocolate is melted.
Either way you serve your hot chocolate bomb, you will enjoy the warm mug of chocolate goodness!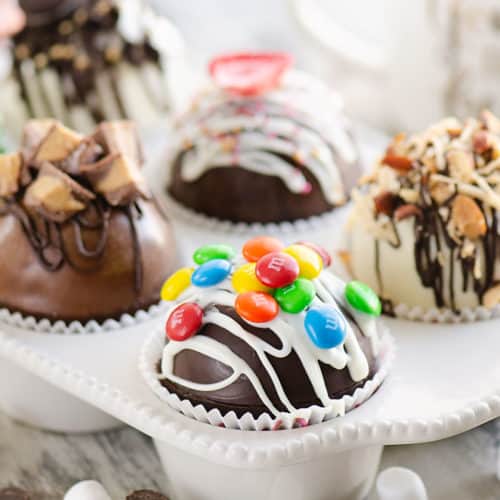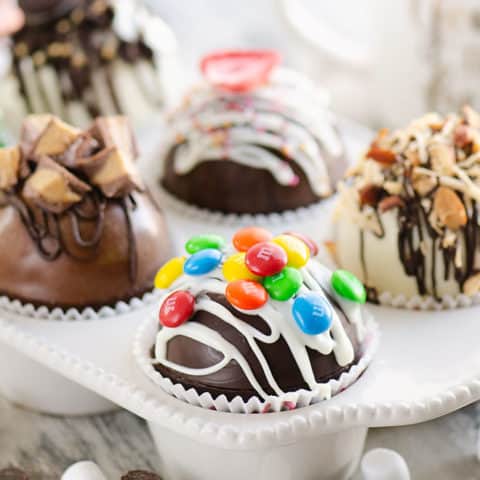 How To Make Hot Cocoa Bombs
Learn how to make these easy Hot Cocoa Bombs with marshmallows for a fun winter treat or special homemade gift.
Ingredients
Hot Chocolate Powder
½ cup superfine sugar (see notes)
¼ cup unsweetened cocoa powder
1 tablespoons powdered milk (optional)
Hot Chocolate Bombs
16 ounces chocolate or chocolate bark*
1 cup hot chocolate powder**
1 ½ cups mini marshmallows
Sprinkles, for garnish
Serving
1 cup milk of your choice
Instructions
Combine the hot chocolate mix ingredients in a small bowl. Store in an
airtight container until ready to use.
Melt the chocolate according to the package directions.
Add 2-3 tablespoons of melted chocolate to each mold cavity. Using a spoon or pastry brush, spread the chocolate evenly over the entire cavity.
Place the chocolate filled molds in the freezer until it has hardened
completely, about 5 minutes.
Add a layer of chocolate to the top edge of each mold to reinforce the edges. Freeze for an additional 3 minutes.
Carefully remove the hardened chocolate shells from the mold.
Microwave a dinner plate for 1 minute to warm it. Place the rim of
an unfilled shell on the warm plate for a few seconds, or until the edge starts to
soften.
Fill that shell with 2 tablespoons of hot chocolate powder and 1/4 cup mini marshmallows.
Melt the edges of another half sphere and place it on top of the filled shell.
Gently push the two shells together to seal. Place the sealed bomb
back in the fridge to set for five minutes.
(Optional) Drizzle additional melted chocolate over the bomb and decorate with sprinkles or garnishes.
To serve, add 1 cup of milk to a microwave safe mug and microwave for 90 seconds. Carefully add one chocolate bomb to the mug. Stir until the chocolate has all melted and the marshmallows float to the top. Enjoy!


Notes
FREE PRINTABLE HOT COCOA BOMB LABELS
Superfine sugar is often called cocktail or caster sugar. It melts quicker than granulated sugar. If you don't have any, you can substitute powdered sugar.
*Chocolate bark (also called candy melts or candy coating) is easier to use and doesn't melt when touching it. Chocolate tastes better, but should ideally be tempered so it is stabilized.
**You can use your favorite store brand hot chocolate mix instead of homemade.
I recommend wearing gloves while assembling the bombs to prevent fingerprints on the outside.
If your molds are thin and are flattening on the bottom, stack 2 molds together and just use the top one.
Recommended Products
As an Amazon Associate and member of other affiliate programs, I earn from qualifying purchases.
Nutrition Information:
Yield:

6
Serving Size:

1 bomb
Amount Per Serving:
Calories:

556
Total Fat:

23g
Saturated Fat:

14g
Trans Fat:

0g
Unsaturated Fat:

7g
Cholesterol:

18mg
Sodium:

108mg
Carbohydrates:

80g
Fiber:

4g
Sugar:

68g
Protein:

7g
Provided nutrition data is only an estimate. If you are tracking these nutrients for medical purposes, please consult an outside, trusted source.