The complete guide to Frozen Chicken Strips cooked in the Air Fryer. From our favorite store-bought chicken strips to how long to cook them!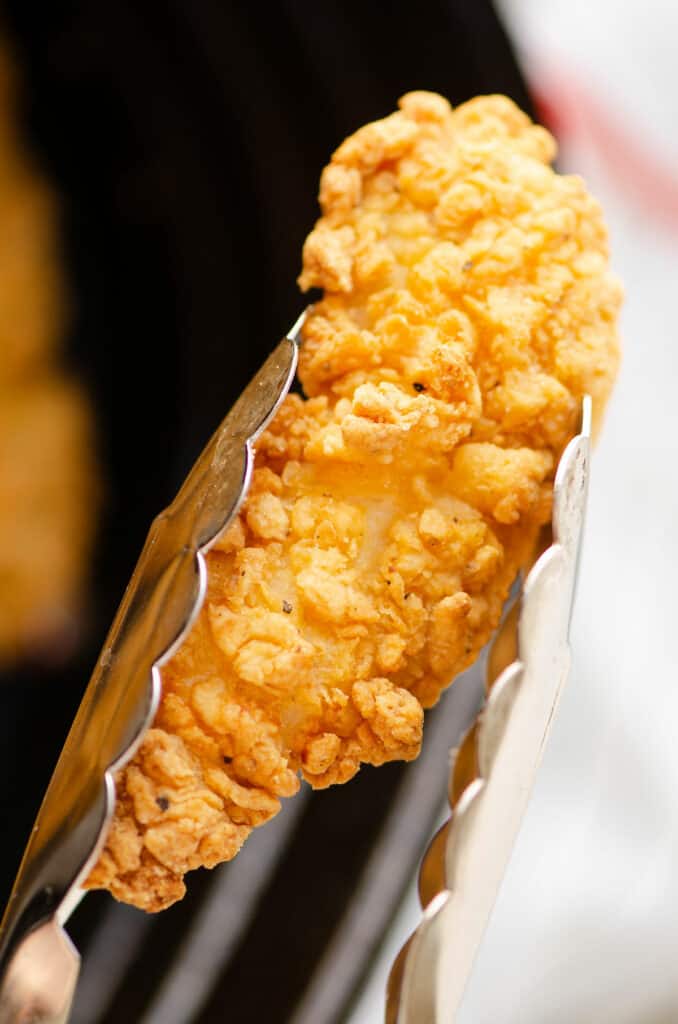 Air Fryer Chicken Strips
We love some homemade Air Fryer Chicken Strips, but sometimes you just need to pop a convenient frozen food in your Air Fryer and have lunch on the table!
Frozen Chicken Strips in the Air Fryer are crispier and cook in a fraction of the time it takes in the oven. You will never preheat another oven to make frozen chicken strips again!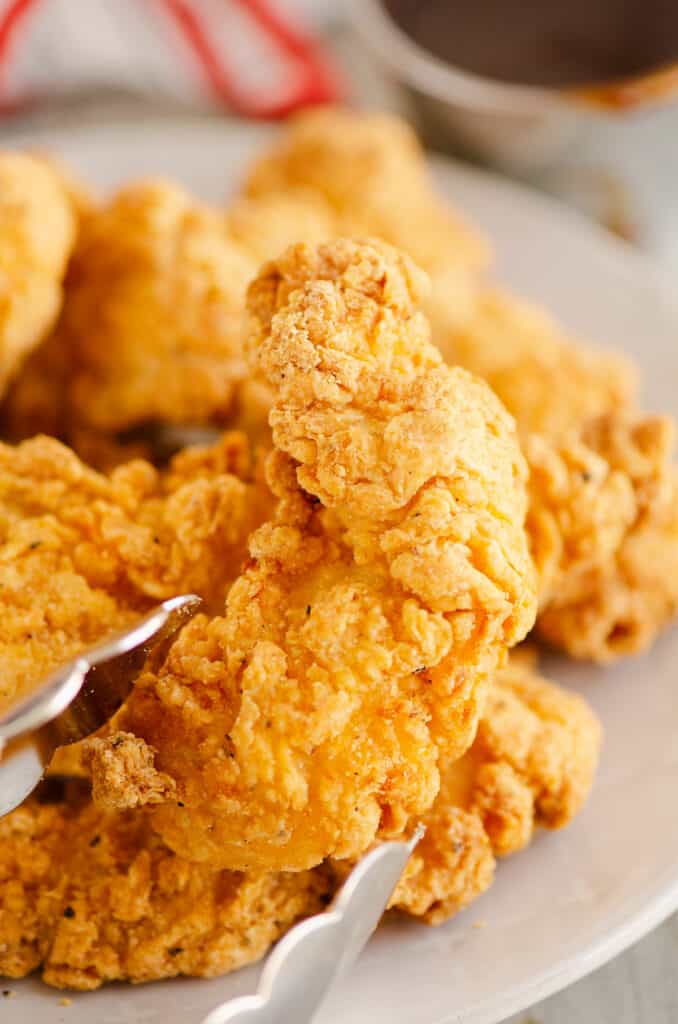 The Best Frozen Chicken Strips
Before we get to cooking the chicken strips, let's dig in to which frozen chicken strips are the best. Everyone has their own preferences when it comes to their frozen chicken strips, but here are ours.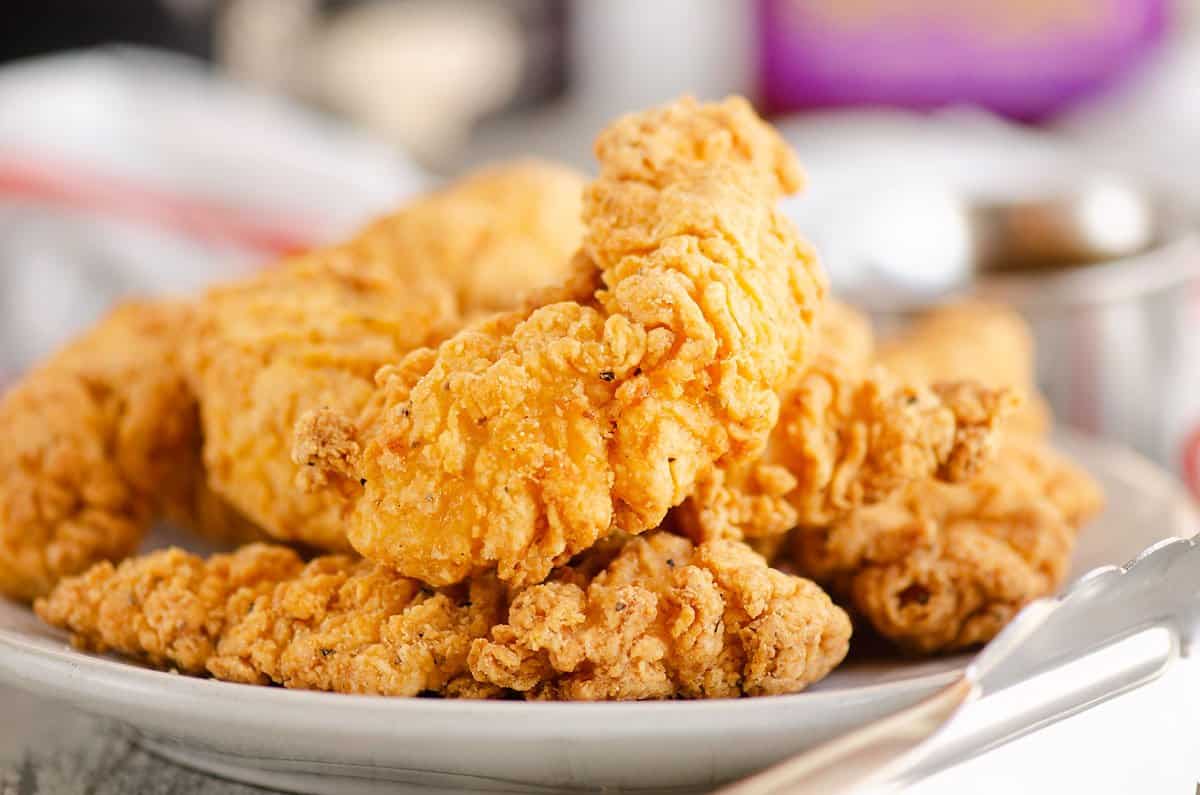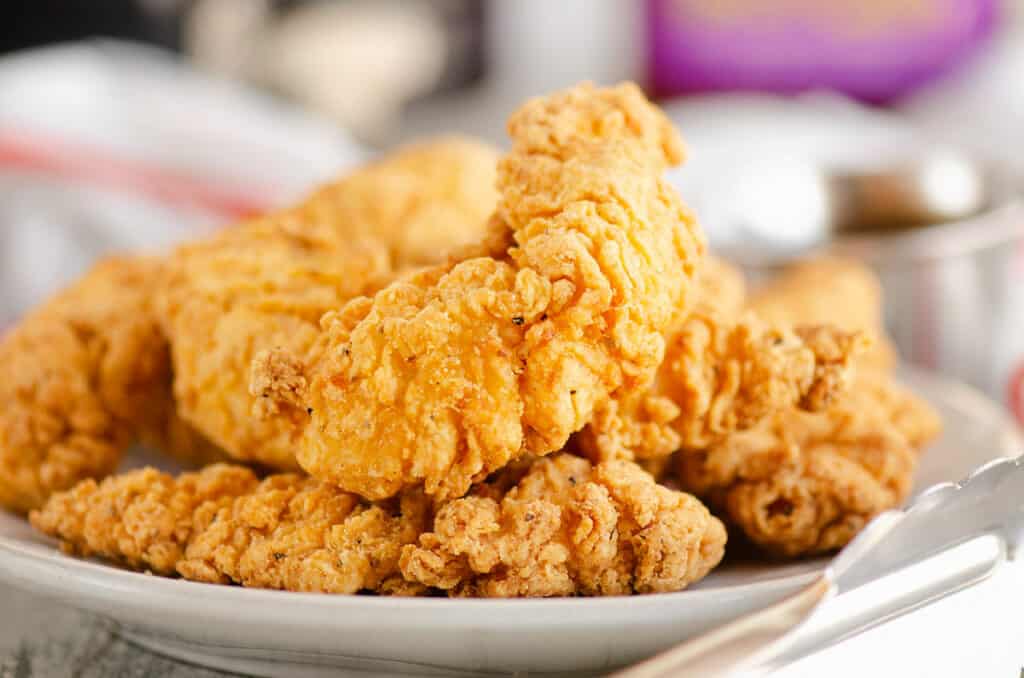 Raw Vs. Pre-Cooked
First and foremost, we love a pre-cooked chicken strip. I don't want to deal with cooking raw breaded frozen chicken and making sure it reaches 165F. And honestly, I've tried them in the Air Fryer and they don't work as well because the breading gets overcooked before the meat is cooked through.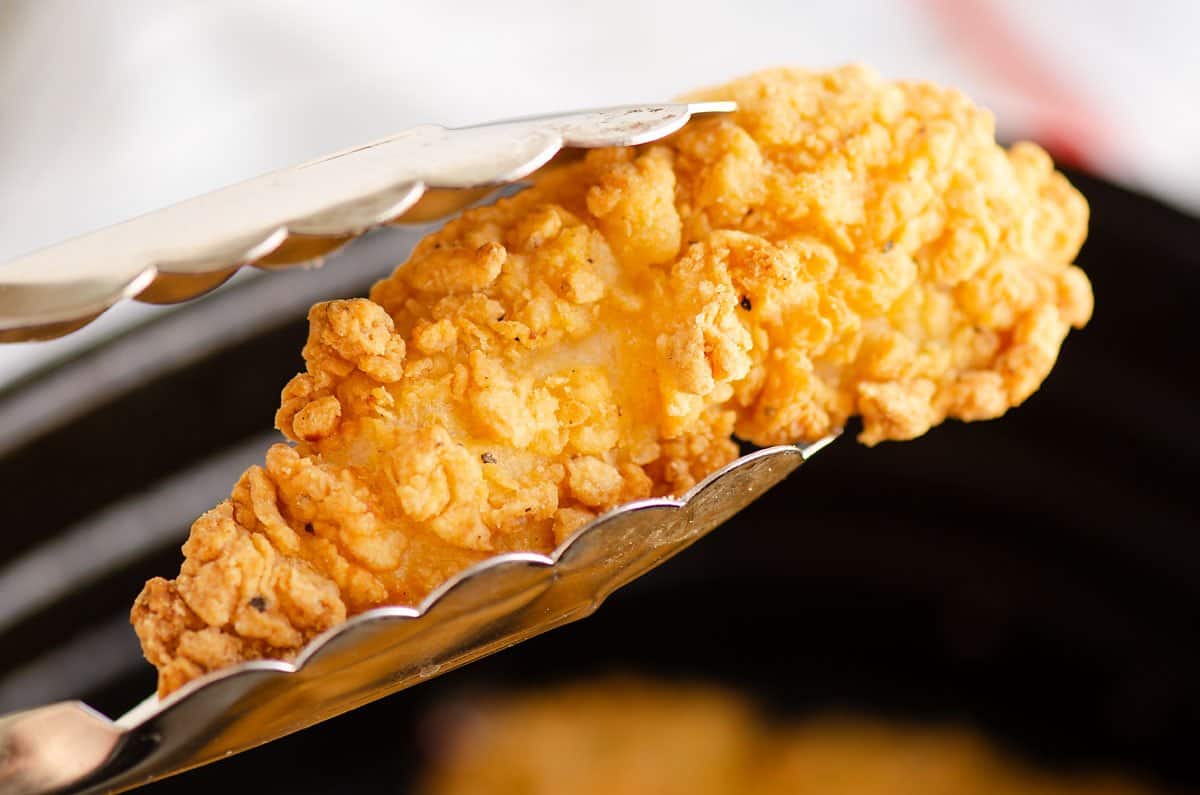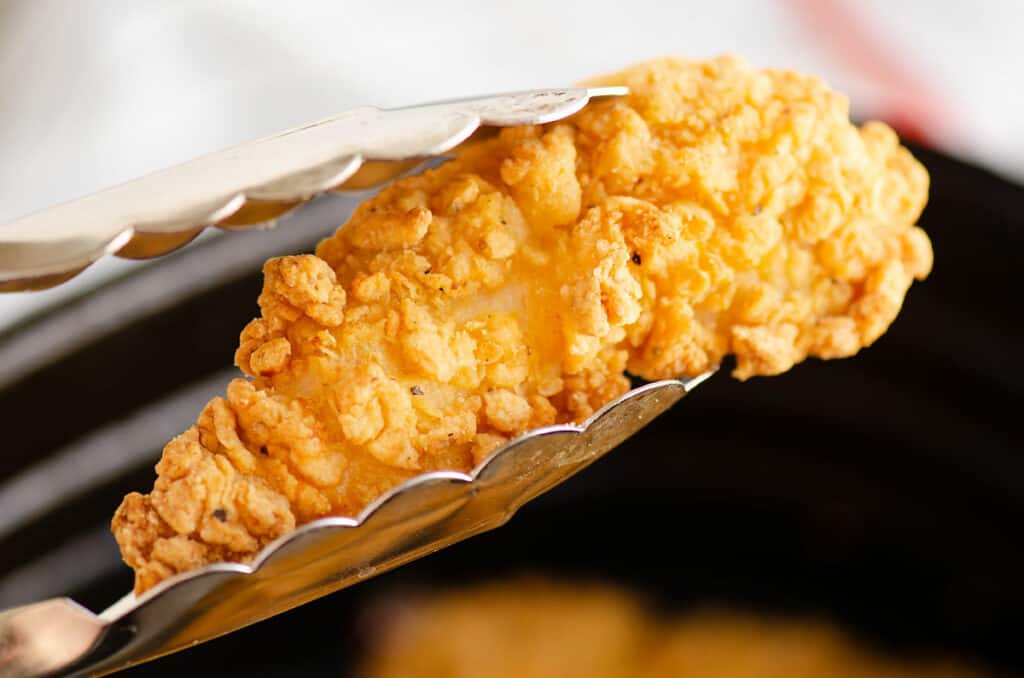 Chicken Strip Brands
Now let's get down to the nitty gritty, which brand to buy! It's actually pretty hard to go wrong with chicken strips, but there are a couple brands we love and some not so much.
We are talking about Air Fried Frozen Chicken Strips here so let's first address one of the newer products on the market. These Tyson Air Fried Chicken Strips sounded awesome when I saw them in the freezer aisle. I grabbed a bag and made some for lunch the very next day.
Boy oh boy were they a disappointment. The breading was crunchy, but something was definitely missing in the flavor. Probably the oil from par cooking the chicken strips in oil like most brands do. It's not worth the lower fat in my opinion. Just serve the good chicken strips with some healthy veggies like Roasted Carrots on the side for a balanced meal.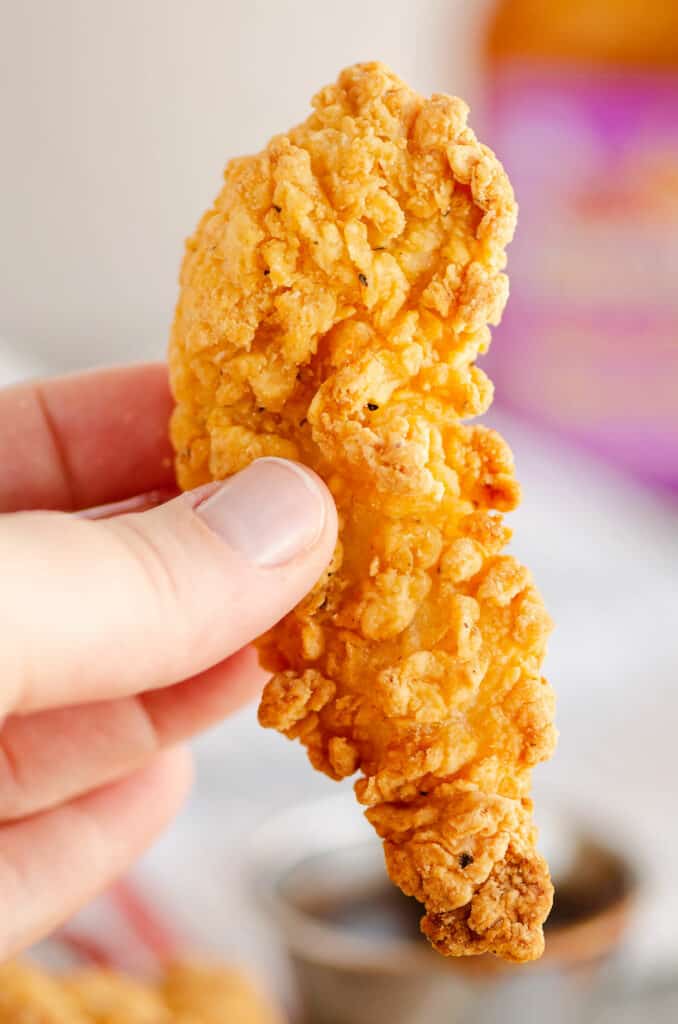 Favorite Chicken Strips
Tyson Southern Breast Tenderloins are quite good on the other hand. When I am looking for a chicken strip, I always go for whole tenderloin strips that are filled with juicy tender chicken breasts. I hate the chicken strips that are foamy pressed bits of chicken pieces.
My all-time favorite chicken strips are actually from Schwan's. These Fully Cooked Chicken Breast Strips are super crispy on the outside and tender and juicy on the inside. The chicken just pulls apart and you can see the quality. Absolutely love them and they are the only frozen chicken strips we buy in this house. (This isn't sponsored, I really just like them!)
You can make a quick and complete meal when you pair the chicken strips with some air fryer roasted vegetables for a wholesome dinner. It's all about balance!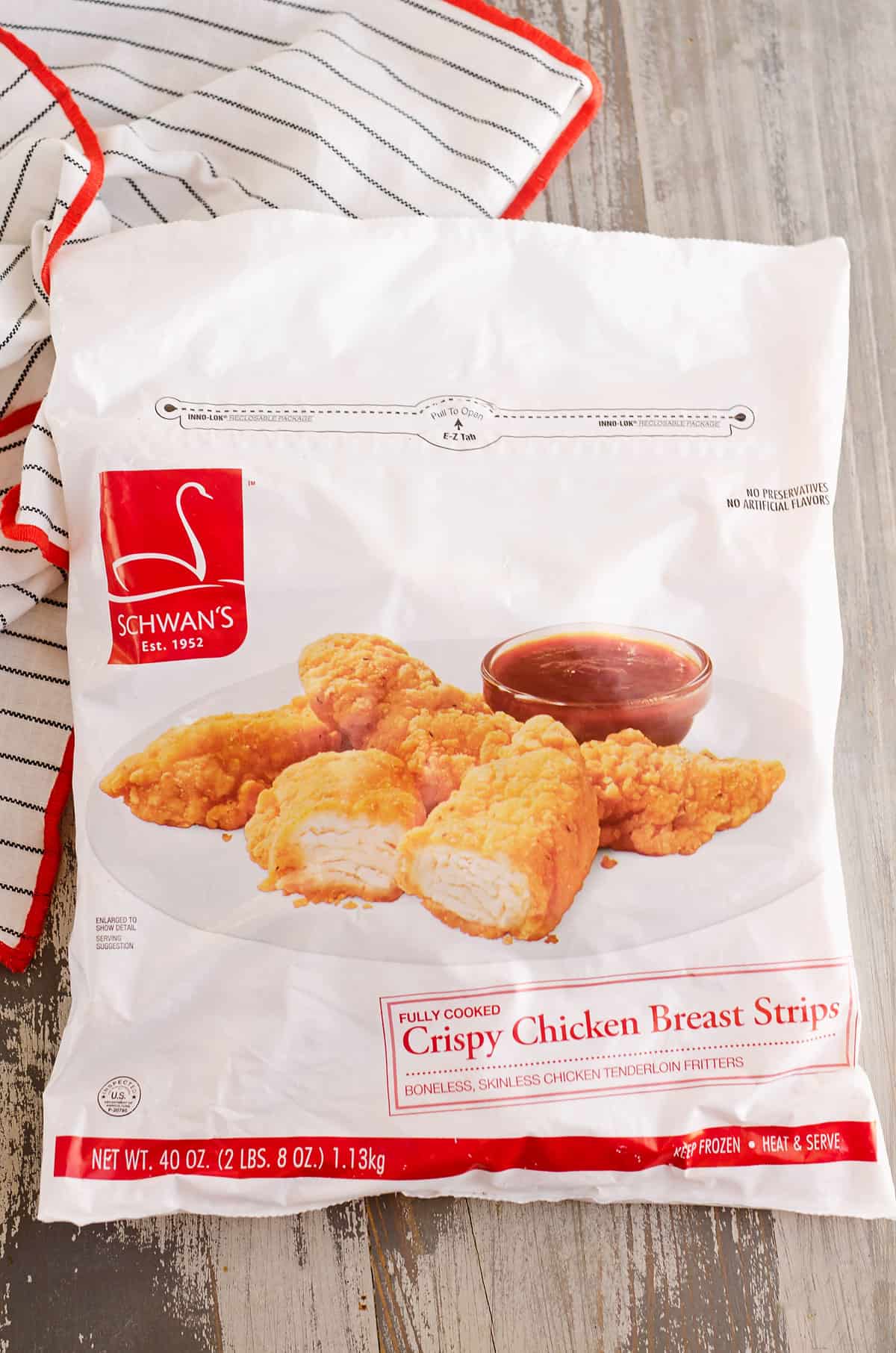 How long to cook frozen chicken strips in the Air Fryer
You should cook chicken strips at the highest temperature your Air Fryer offers. In the case of my Phillips XXL Air Fryer, it goes up to 400°F.
For typical frozen chicken strips, you should cook them for 8-10 minutes. Depending on your brand, if you have thin and small chicken strips they will only take 6-8 minutes.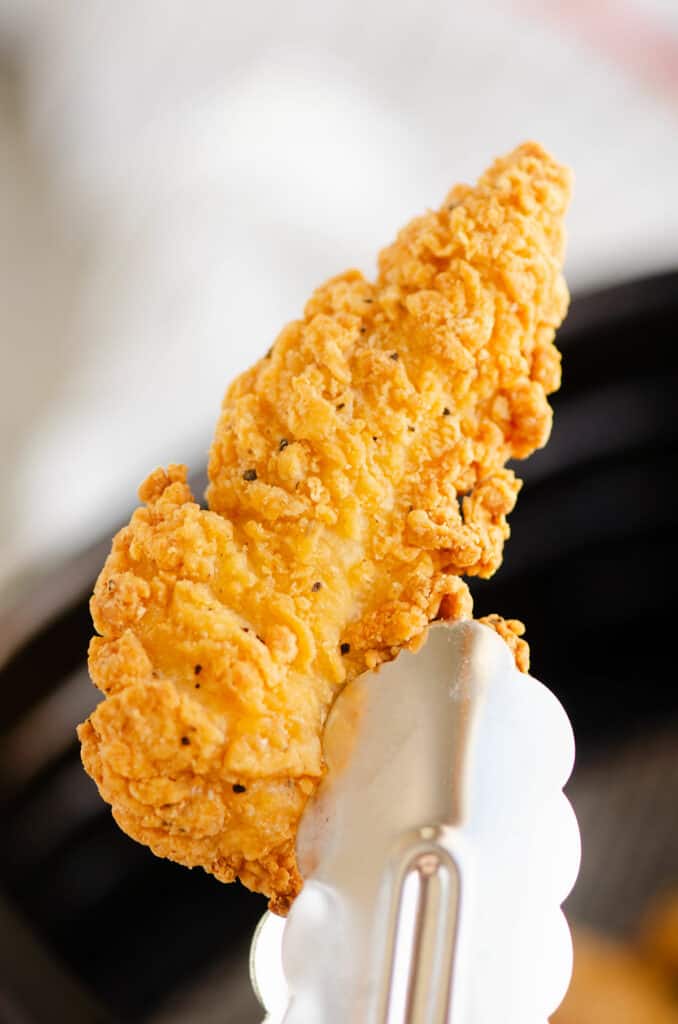 Do you need to turn the food?
Here's the thing. With my Air Fryer, I never have to turn any meat. I have heard from some other people that their food doesn't get very crispy on the bottom if they don't turn it half way through. This is going to depend on your Air Fryer and how good it is at circulating air.
This is another reason I love my Phillips XXL Air Fryer so much! It does an amazing job of circulating air all around the food in the metal mesh basket so you never end up with a soggy side.
Should I preheat my Air Fryer
I think preheating the Air Fryer is entirely wasteful of both energy and time. The frozen pre-cooked chicken strips will come out supremely crispy in under 10 minutes, so there is no need to waste time pre-heating the Air Fryer.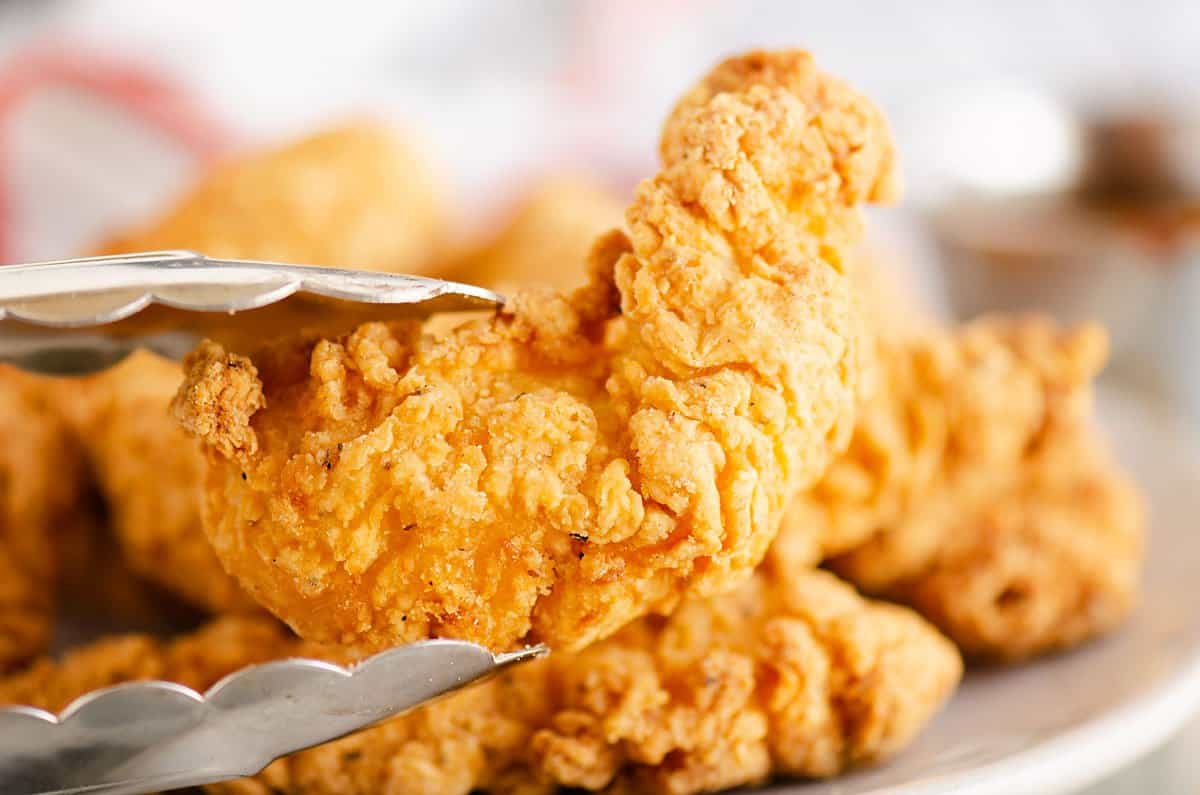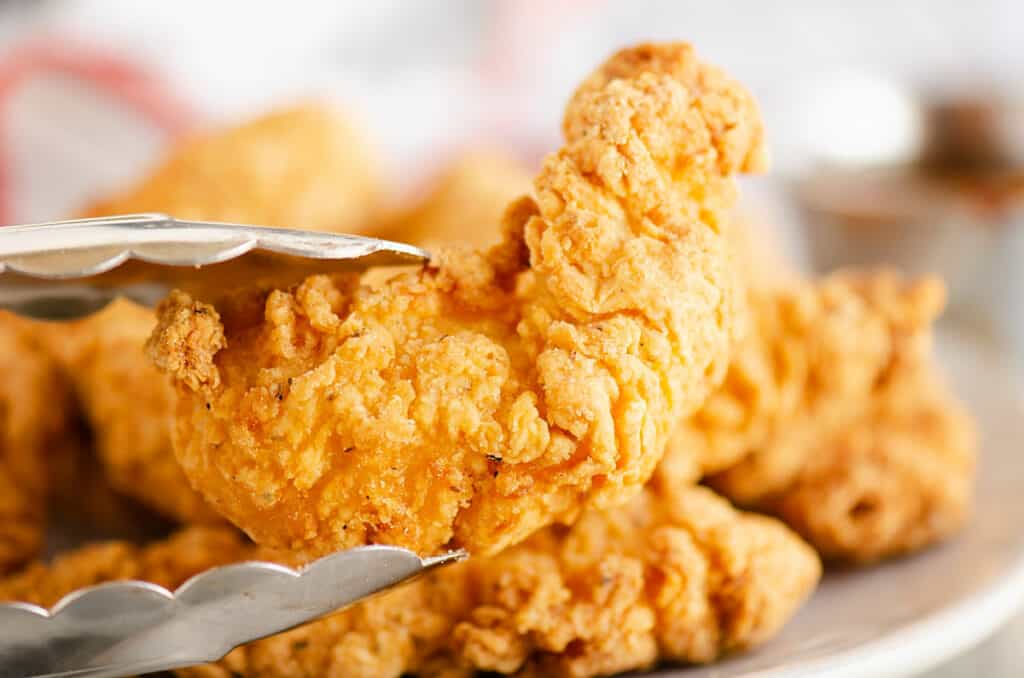 What to serve with chicken strips
Let's make a fair assumption that you are feeding chicken strips to a family with young children. Here are some of our favorite kid friendly side dishes to serve with frozen chicken strips for a complete meal.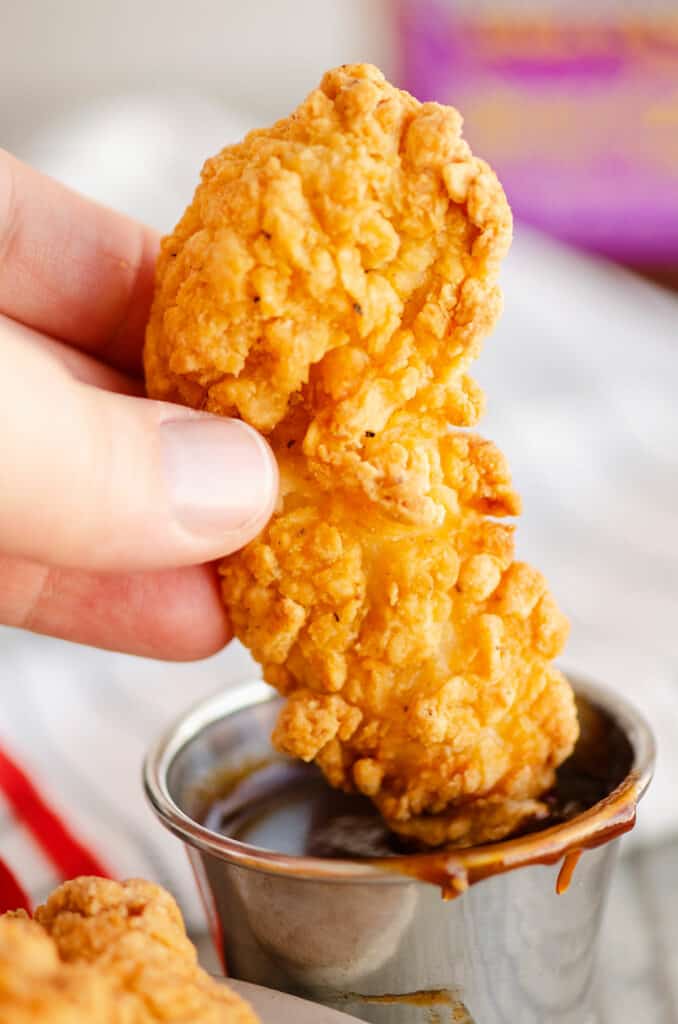 Last but certainly not least, we can't forget dipping sauces when it comes to chicken strips. From the clas
Dipping Sauce Recipes
If you want to take a few extra minutes to make a delicious dipping sauce from scratch while your frozen chicken strips are cooking in the Air Fryer, be sure to check out some of our favorites.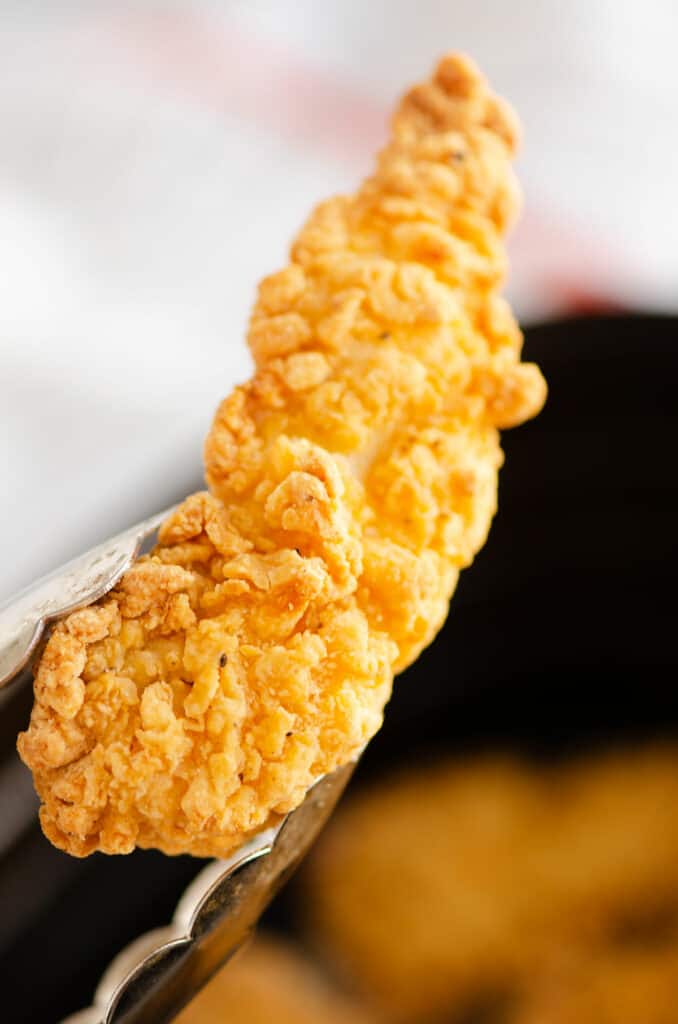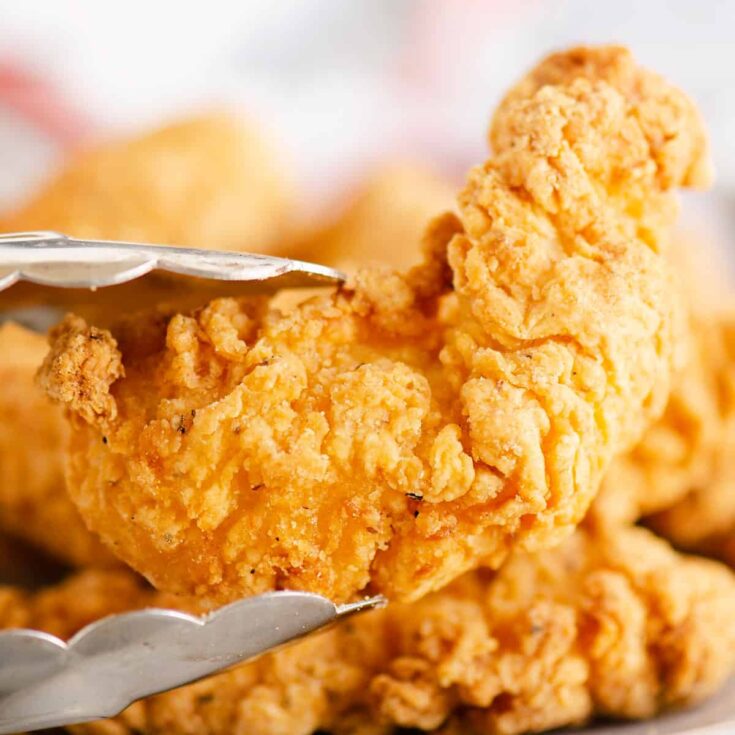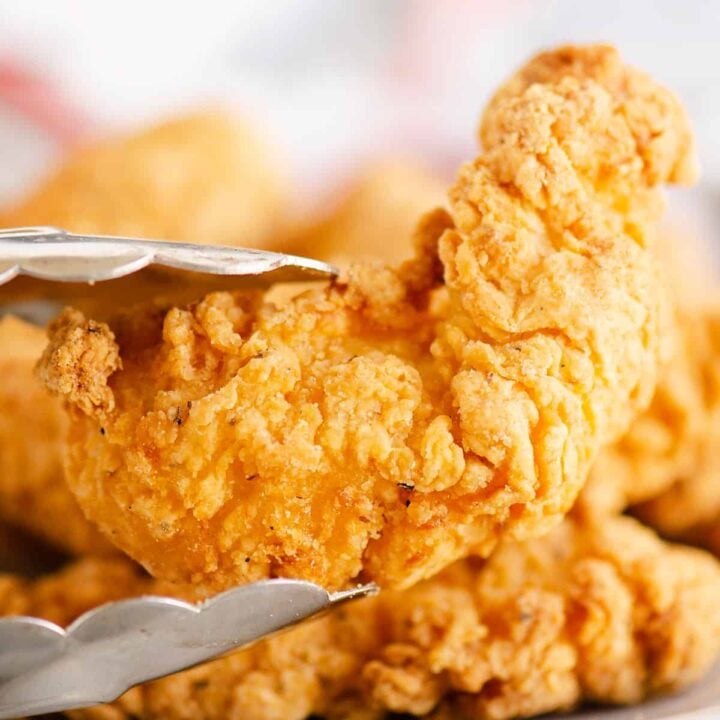 Frozen Chicken Strips in Air Fryer
The complete guide to Frozen Chicken Strips cooked in the Air Fryer. From our favorite store-bought chicken strips to how long to cook them!
Ingredients
2-10 Frozen Chicken Strips
Instructions
Place the frozen chicken strips in the Air Fryer basket.
Cook at the highest temperature for 8-10 minutes, until they are crispy.
Notes
If you are cooking a large quantity of chicken strips, you may need to add a few minutes to the cooking time and toss the chicken in the Air Fryer basket half way through the cooking time.
Recommended Products
As an Amazon Associate and member of other affiliate programs, I earn from qualifying purchases.