These cupcake toppers have been a regular staple around our families' parties. Whether I am making them for a baby shower, birthday, or any other event, they are a quick and easy go-to project that adds some flare to simple cupcakes.
Happy Birthday Cupcake Toppers
Supplies needed (makes 1 dozen):
2.5″ scalloped or circle punch
1 sheet of 2″ printable stickers (I use these for lots of different projects, including these Cookie in a Jar labels) – OR- 1 sheet of white card stock
Printer
12 Toothpicks
1 sheet of 8.5″x11″ colored card stock
To get started, download either the Red, yellow & blue Happy Birthday cupcake topper design -OR- Pink, yellow & teal Happy Birthday cupcake topper design.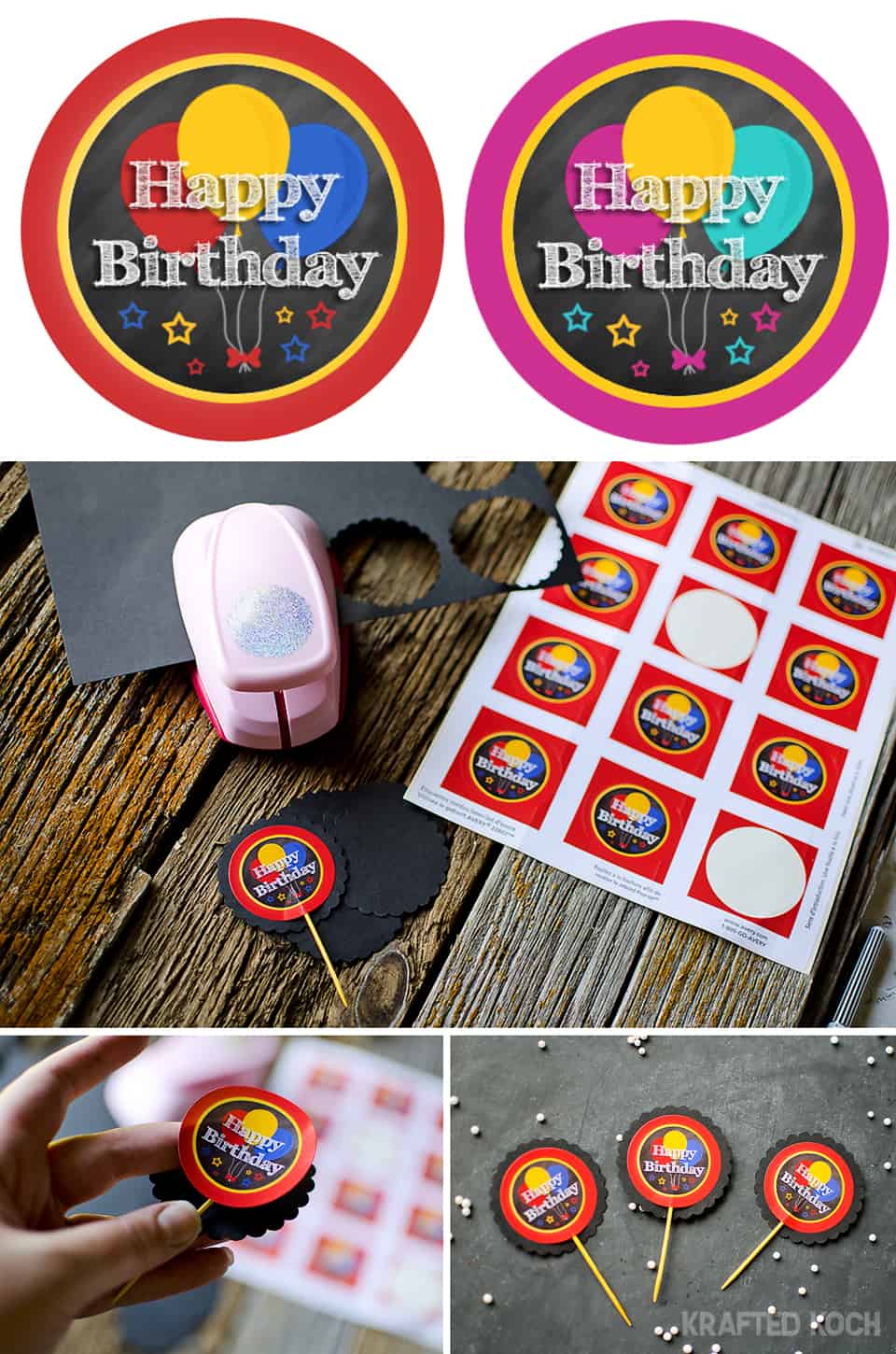 Print the design onto your Avery labels or onto a plain sheet of white card stock. If you choose to print onto card stock, simply trace a circle around each design with a cookie cutter or small juice glass and cut out into circles.
Punch out 12 circles from the colored card stock. Place a third of a toothpick on each scalloped circle and carefully center the labels over the toothpick. Press down evenly to adhere the labels to the card stock and toothpick. If you are using plain white card stock instead of stickers, simply glue the printed circles onto the scalloped circle and toothpick with a glue stick or glue dots.
With the toppers attached to the card stock, stick each one in a cupcake and you are ready for your birthday celebration!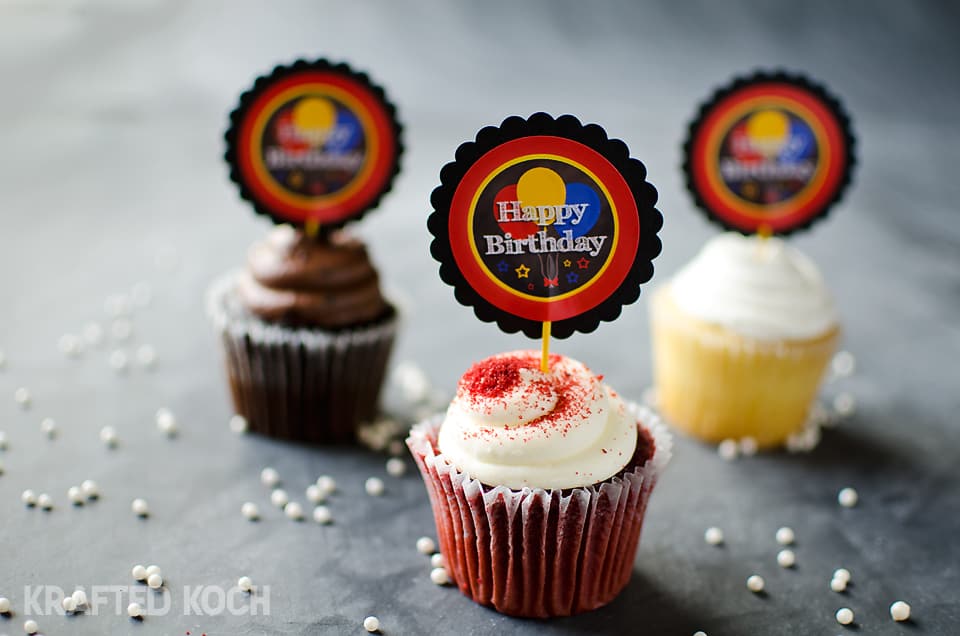 Round out your birthday celebration with these additional FREE Chalkboard Birthday Party Designs!
Happy Birthday Bunting Banners
Chalkboard Happy Birthday Bunting Banner – Free Printable (Red, Blue & Yellow)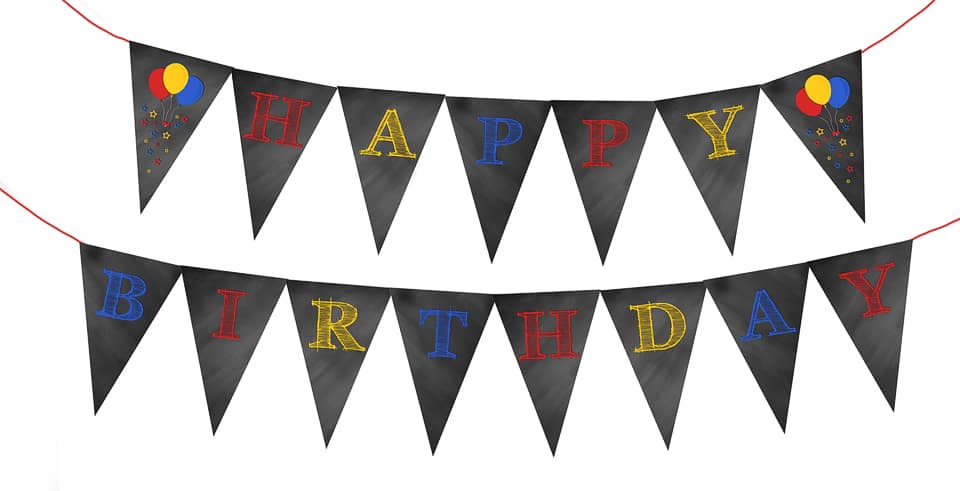 Chalkboard Happy Birthday Bunting Banner – Free Printable (Pink, Teal & Yellow)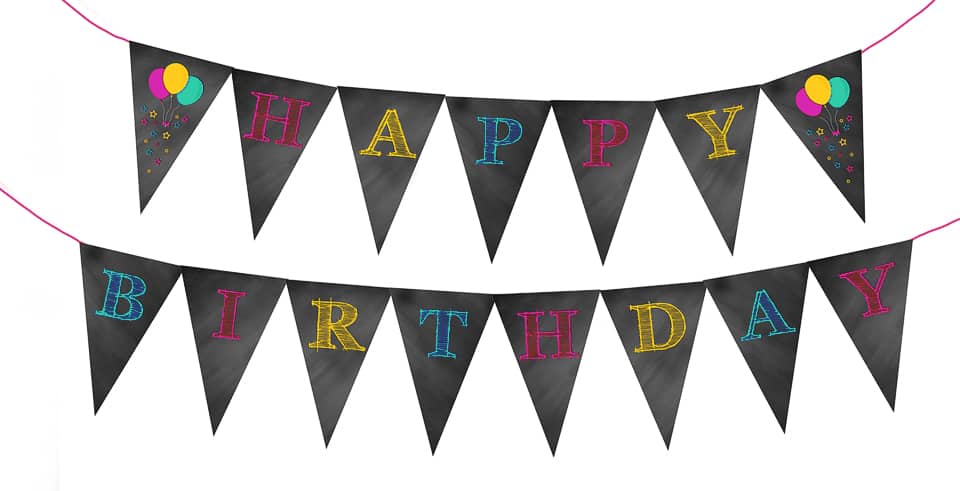 Happy Birthday Water Bottle Labels
water bottle wrapper – red, blue & yellow stars www.kraftedkoch.com

water bottle wrapper – pink, teal & yellow stars www.kraftedkoch.com