These Air Fryer Parmesan French Fries seasoned are crispy and delicious homemade fries served with a side of sweet chili ketchup for the perfect side dish recipe.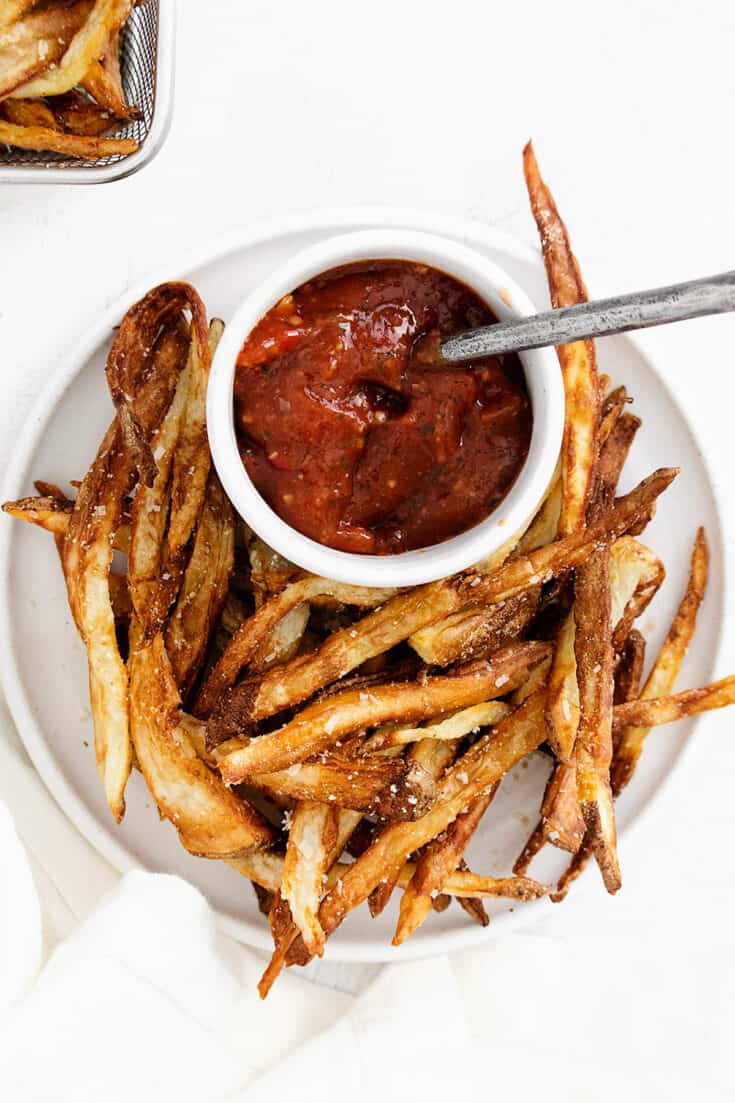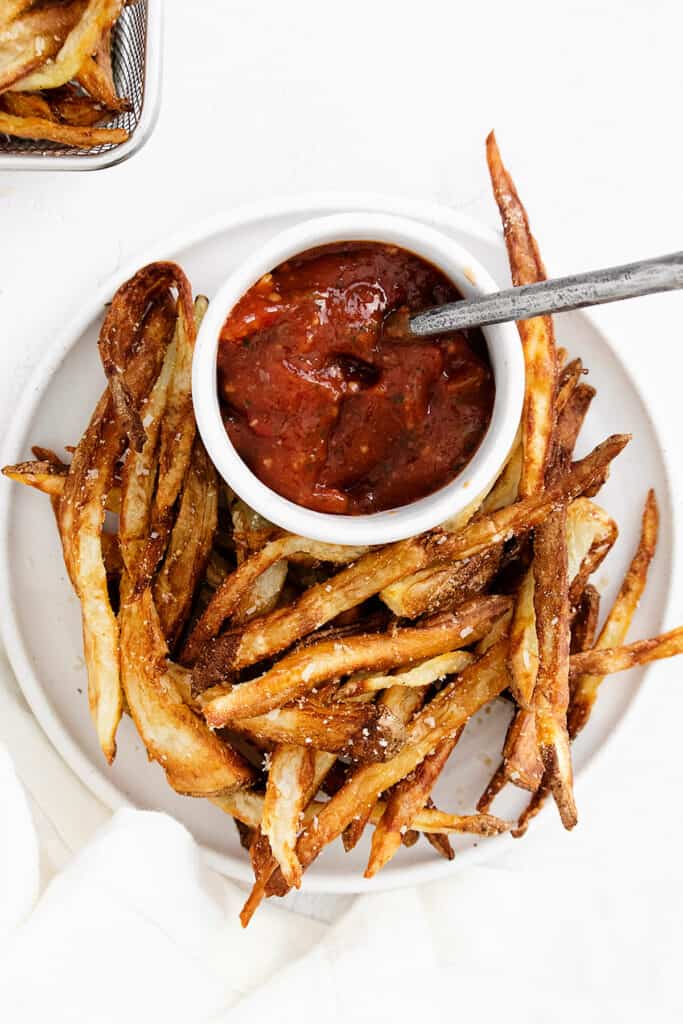 Homemade French Fries in the Air Fryer
Air fryer parmesan fries provide a chance to enjoy nice crispy French fries, but without all the hot oil popping everywhere. An air fryer serves a very convenient way to enjoy a low fat version of French fries. This is a great recipe for for the whole family!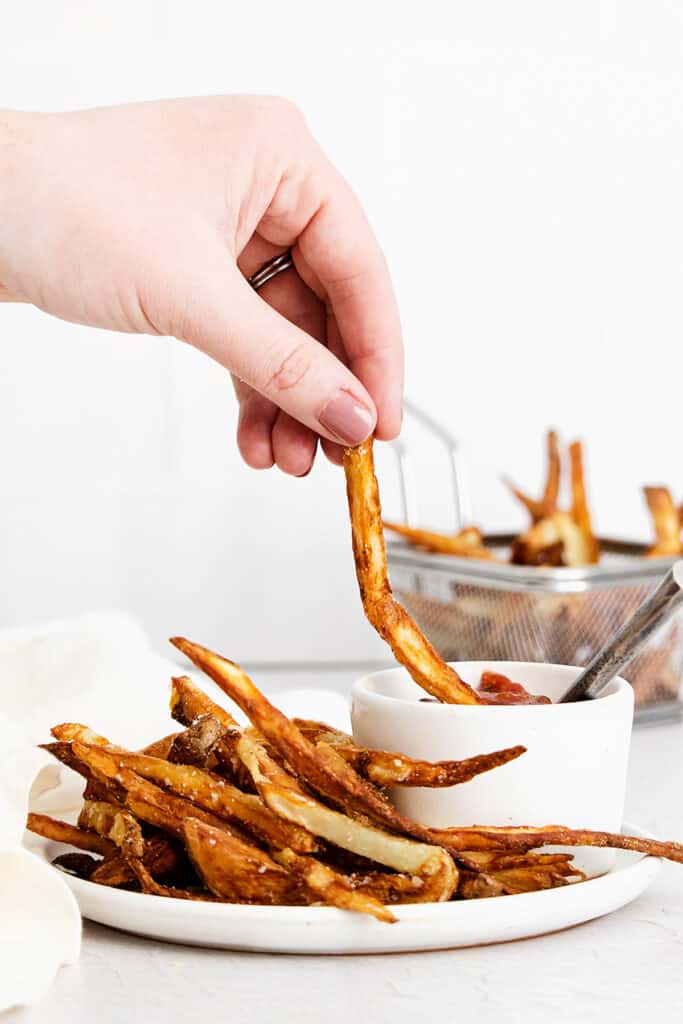 Easy Air Fryer Parmesan Fries
Making French fries in an air fryer is easy, but do it in small enough batches to make sure the fries can crisp up. Those who have tried and failed to achieve crispy fries usually try cooking too many fries at once. That always results in the dreaded soggy fry.
Remember, the air fryer works with plenty of super hot air convection so the fries need breathing room. Potatoes are mostly water and that water will easily evaporate and allow a nice crunchy fry to cook – as long as there is room.
If you start seeing a lot of water droplets forming and the air fryer is steaming up, then cut back the amount of fries cooking at one time.
It is also important to pat the fries dry as much as possible after soaking them in the ice water bath.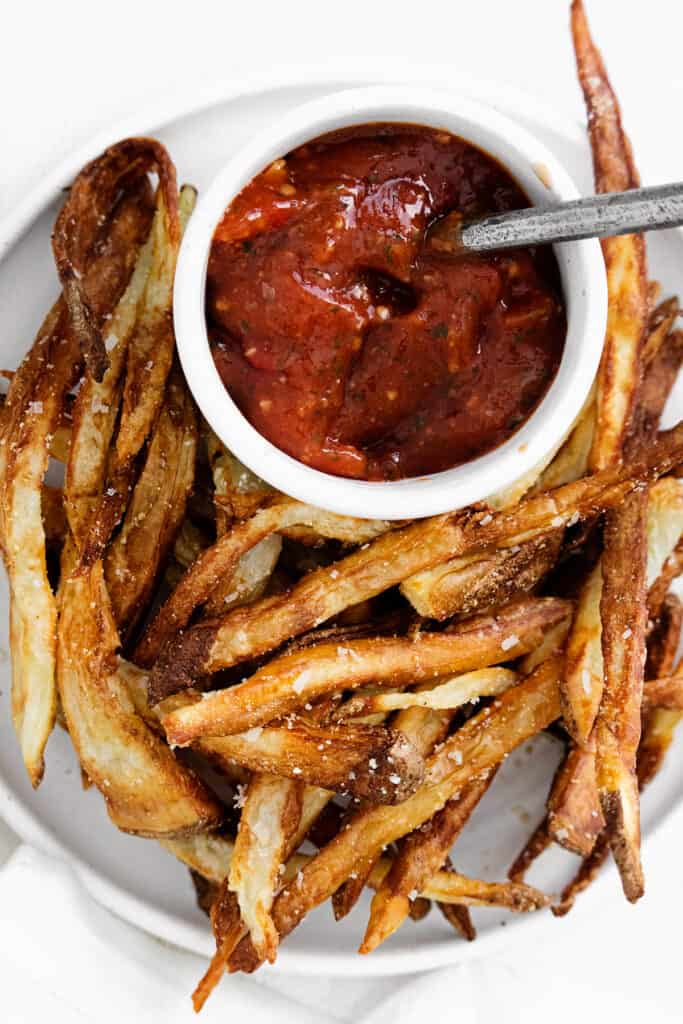 Why Soak The French Fries In Ice Water?
Soaking the freshly cut fries in ice water helps to remove a bit of the starch from the outside of the fry. This will help the fry crisp up more evenly when you get them into the air fryer. Again, just make sure to dry them off before adding them to the air fryer.
Garlic And Parmesan Seasoning For Air Fryer French Fries
I recommend using fresh grated Parmigiano-Reggiano cheese if possible. There is so much more of that tangy parmesan flavor with fresh grated real Parmigiano-Reggiano. But, if that is not convenient, then by all means go with the jar of grated parmesan.
With the garlic, make sure you use garlic powder, and not garlic salt. Of course, you can also mince up some fresh garlic cloves. Stir that in as well if you really love some garlic zing.
Yes, there is a difference between cheese labeled as "Parmigiana-Reggiano" and regular "Parmesan". The first is the actual cheese made in Italy and controlled by specific standards of quality. The other is an imitation of those style Italian cheeses.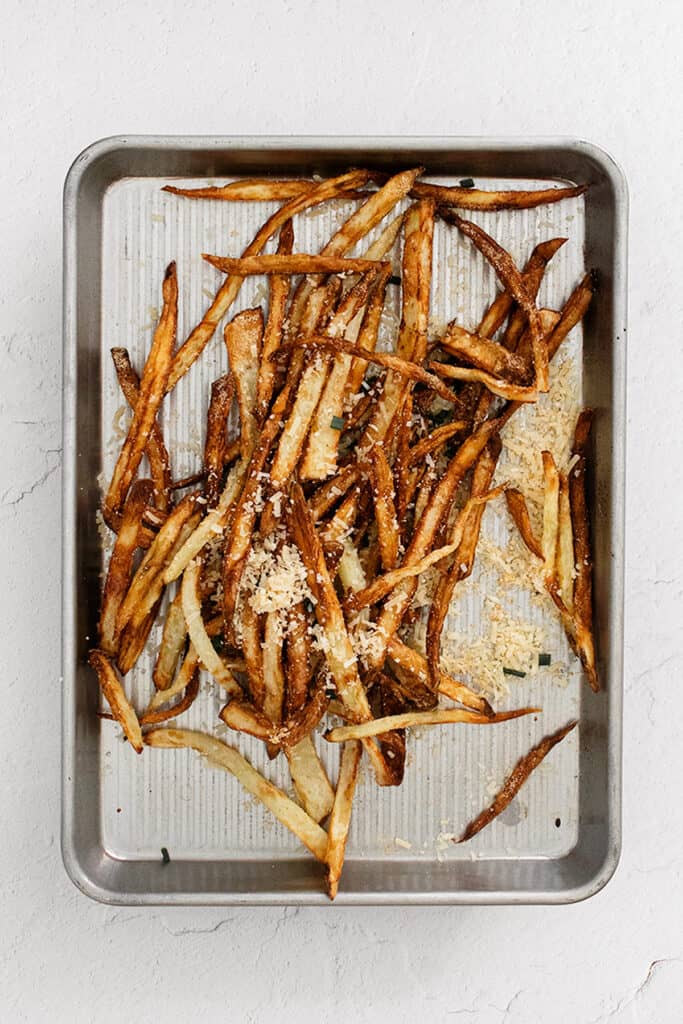 Sweet Chili Ketchup for French Fries
The spicy and savory parmesan and garlic seasoning needs just the right amount of heat in a sweet ketchup to compliment everything perfectly. The spice in sweet chili sauce isn't really all that spicy, even with chili in the name. So, if you need or want a bit more heat, then you can add a bit of sriracha or Tabasco too. Heat is all a matter or personal preference.
The basil leaves chopped and mixed in add a nice freshness as well. Something about basil and garlic just gets me every time. Those two ingredients are like the heart and soul of Italian cuisine respectively. Air fryer parmesan fries taste amazing on their own, but with the spicy ketchup? Pretty much out of this world.
The Best Potatoes For French Fries
Russets, also known as "Idaho" potatoes, hands down make the best choice for French fries. The high starch and lower moisture content of the russets make the difference. Because of those features of the russet, a crispy exterior and softly textured inside are possible.
Yes, you could use other potatoes, or you can make Air Fryer sweet potato fries if you like. But, if you want a classic French fry, then the venerable and humble russet works best.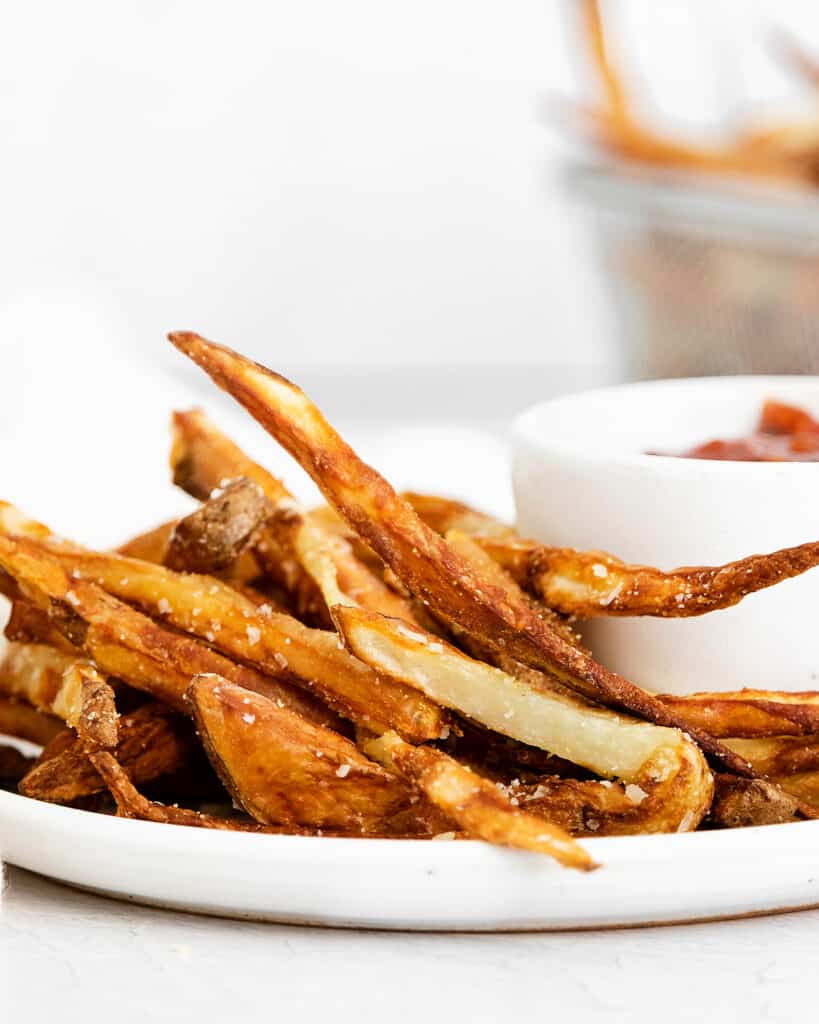 More Ways To Enjoy Potatoes
"Po-Tay-Toes, boil em, mash em, stick em in a stew" Sam the Hobbit declared. What can't you do with a potato? Such a versatile veggie, and tons of ways to enjoy them! You can use them for side courses or main courses too…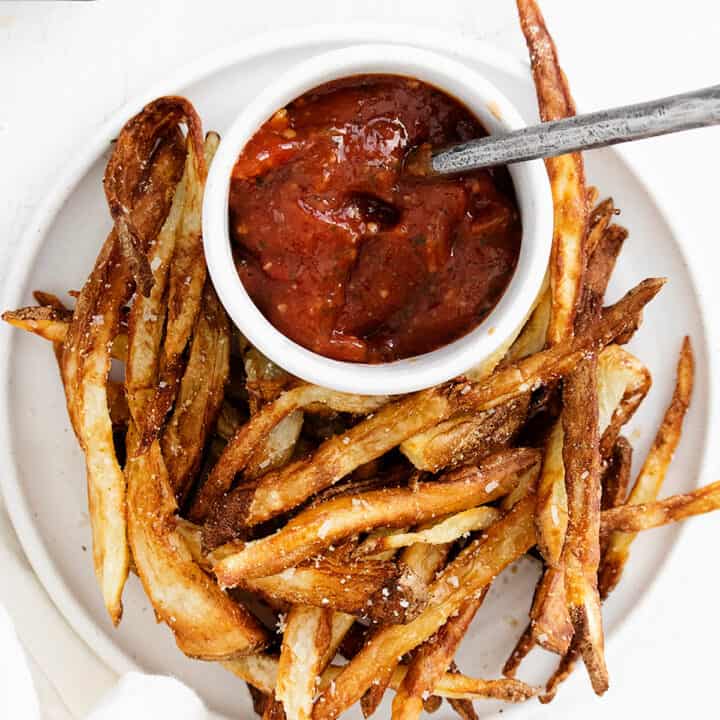 Air Fryer Parmesan Fries With Garlic And Sweet Chili Ketchup
These Air Fryer Parmesan French Fries seasoned are crispy and delicious homemade fries served with a side of sweet chili ketchup for the perfect side dish recipe.
Ingredients
French Fries
2 medium russet potatoes
1 teaspoon of olive oil or olive oil spray (see notes)
½ teaspoon salt
¼ cup Parmesan cheese
1 teaspoon garlic powder
Sweet Chili Ketchup
½ cup ketchup
4-5 large basil leaves (about ¼ cup)
2 tablespoons sweet chili sauce
1 garlic clove, minced
Instructions
For the French Fries
Fill a large bowl with ice water.
Slice the potatoes into ¼" matchsticks. Place the cut fries in the ice water while you slice the rest of the potatoes.
Allow the fries to rest in the ice water for 15 minutes. Meanwhile, preheat your Air Fryer to 365F for at least 5 minutes.
Remove the fries and pat them dry with a paper towel.
Toss the fries with the olive oil and salt. Place them in the air fryer and cook at 365F for 7 minutes.
Stir the fries, making sure none of them have stuck to the bottom. Turn the heat up to 400F and cook the fries for an additional 7-10 minutes, or until they are your desired doneness.
Remove the fries from the Air Fryer and toss them with the parmesan cheese and garlic powder.
If you'd like to keep the fries warm, place them on a sheet pan and put them in a 225F oven for up to 1 hour.
For the Sweet Chili Ketchup
Add the ketchup, basil, sweet chili sauce, and garlic to the bowl of a food processor. Pulse until smooth. Transfer to an airtight container and store in the fridge until ready to use
Notes
I highly recommend using russet potatoes in this recipe. I peel the sides of the potato, but not the tops to give them a "rustic" look.
Recommended Products
As an Amazon Associate and member of other affiliate programs, I earn from qualifying purchases.
Nutrition Information:
Yield:

4
Serving Size:

1
Amount Per Serving:
Calories:

439
Total Fat:

19g
Saturated Fat:

5g
Trans Fat:

0g
Unsaturated Fat:

11g
Cholesterol:

31mg
Sodium:

1257mg
Carbohydrates:

53g
Fiber:

4g
Sugar:

14g
Protein:

15g
Provided nutrition data is only an estimate. If you are tracking these nutrients for medical purposes, please consult an outside, trusted source.