Scalloped Potatoes and Ham is a classic comfort food recipe made with leftover ham that you will find on any country table. It's a complete casserole with ham, potatoes and a creamy sauce tying it all together.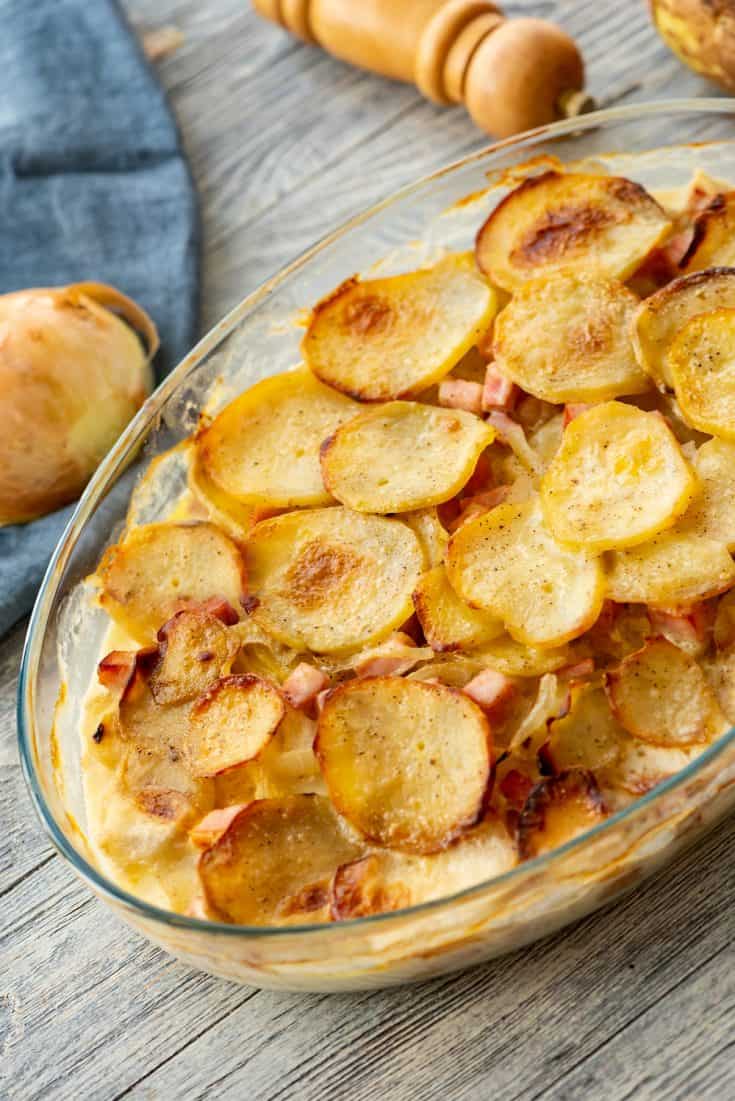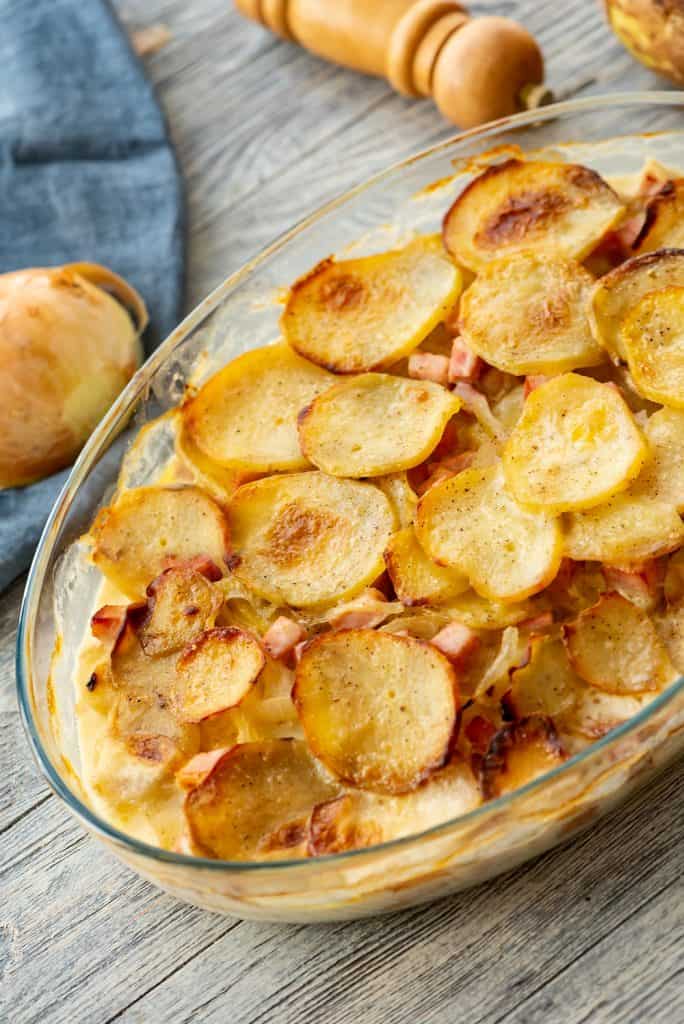 Scalloped Potatoes and Ham
Scalloped potatoes and ham has been around for centuries. This is probably the best explanation for why no one seems to agree on what the "scalloped" refers to. Because names get lost in the shuffle of years and the regions and nationalities where they might have originated.
In any event, everyone agrees that scalloped potatoes are potatoes cooked in cream. It is similar to potatoes au gratin, but that just means that the dish is covered in melted cheese, like my vegetables au gratin recipe.
So what does the "scalloped" mean in scalloped potatoes and ham?
There are a few theories and none of them necessarily offer much insight. Some suggest that the way the slices of potato get layered in suggest the shell of a scallop. Another proposes that the original scalloped potatoes were actually cooked in scallop shells.
Since the dish has been popular in French Provincial cuisine for centuries there is of course a French term "callopes" that refers to layers of thinly sliced meat.
Some swear that a dish is scalloped if it is topped with breadcrumbs. Then there is a theory that the type of "scalloped" casserole baking dish it gets cooked in is the reason.
I think it is safe to say that if you ever have to answer the question in a game of Trivial Pursuit then you have a good place to start. Otherwise, all you need to know is this scalloped potatoes with ham recipe is fun to make and works great for brunch.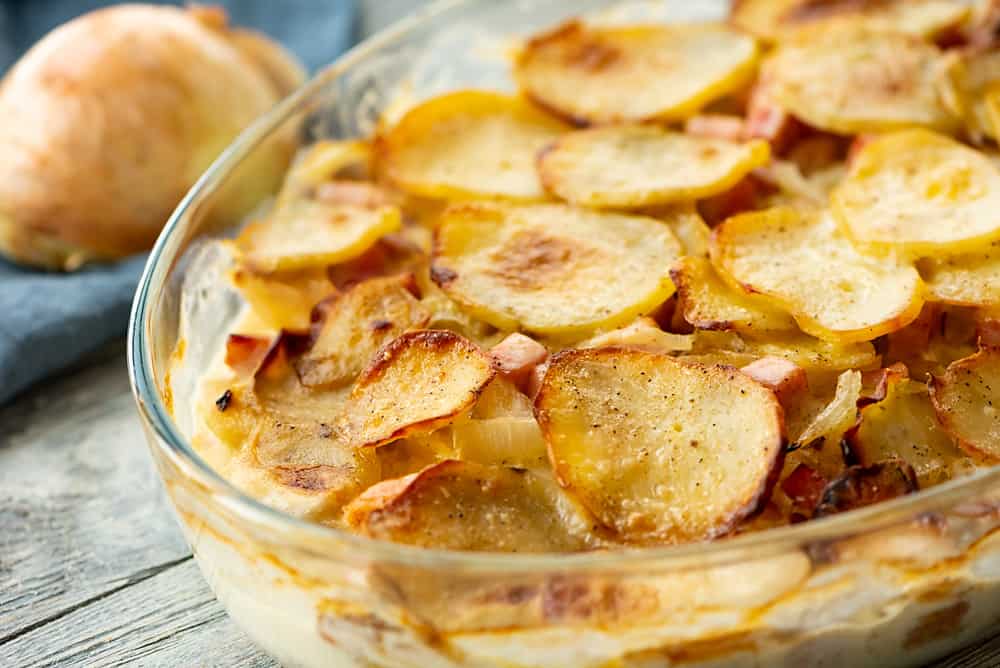 How do you assemble scalloped potatoes with ham?
Start with a layer of potatoes, then add the ham, and keep going until you finish with a layer of potatoes. As you start with the layers of potatoes, start from the inside and work your way out, going in an overlapping spiral as you work your way out to the outer edge.
This way you avoid ending up with too many potatoes in the center which will result in the middle of the casserole not baking as evenly.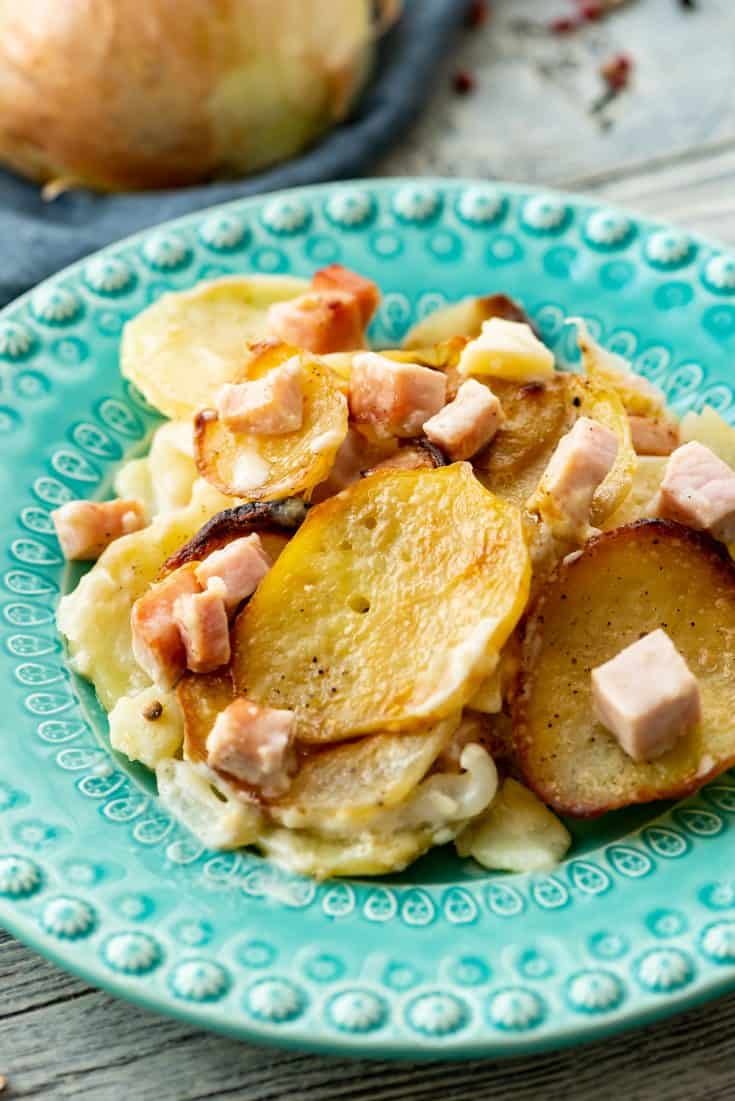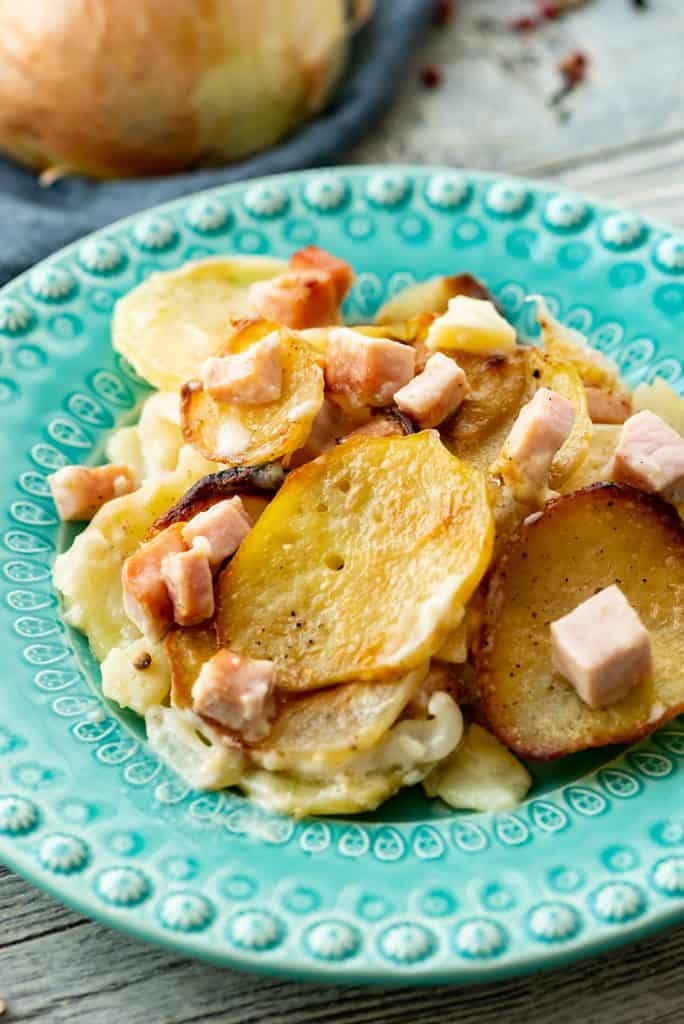 Can I prep the potatoes ahead of time for scalloped potatoes?
You can definitely slice and get your potatoes ready ahead of time. If you need to get your prep time out of the way, or just for convenience, you can slice the potatoes and store them in water with a tablespoon of lemon juice or white vinegar.
If they are covered like this then they won't turn brown or grey before you cook them. You can store them about two days like that.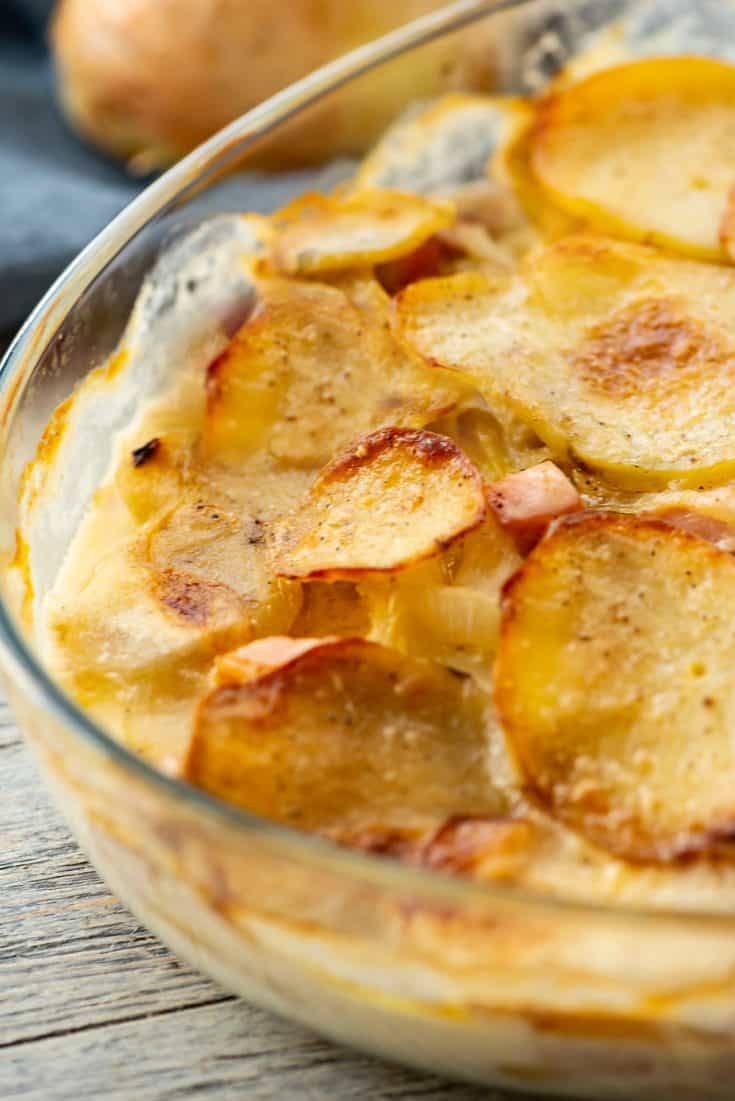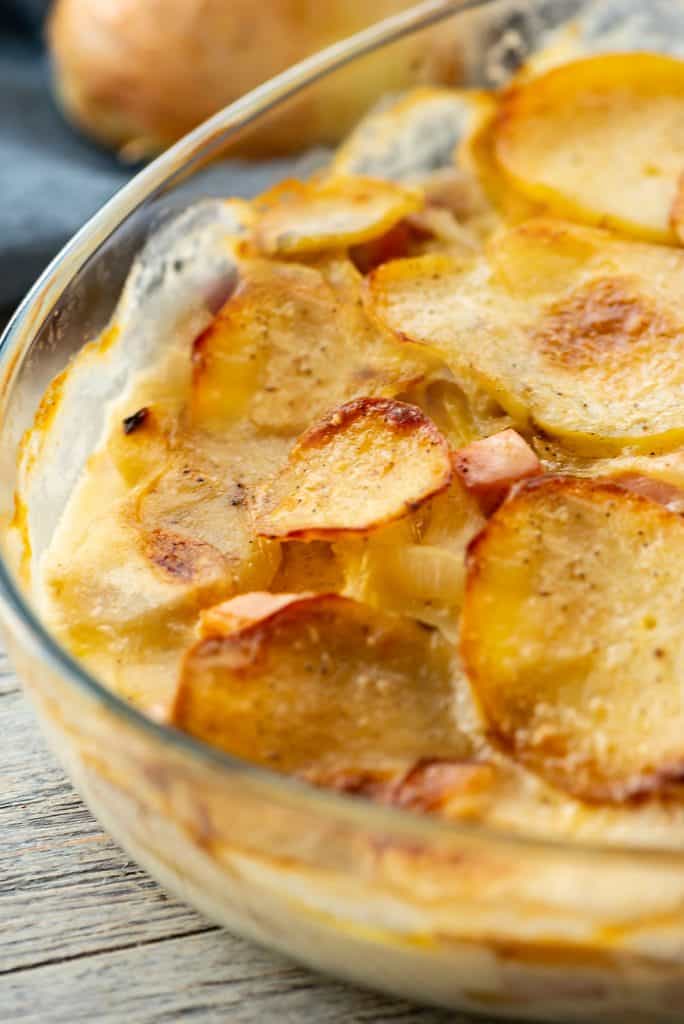 How long can I store the scalloped potatoes before I cook it?
If you want, you can freeze the layers of ham and potatoes for a few weeks if necessary. Just make sure that the dish they are in is tightly covered.
Also, wait to add the liquid mixture until you are ready to cook the dish. You don't want to freeze the cream in the dish that long. That part of the recipe takes only a minute to throw together so it really is more convenient to make it when you are ready to bake the layers of ham and potatoes.
How do I reheat the dish to enjoy the leftover scalloped potatoes?
The great thing about casseroles is how much better they taste as leftovers, and how easy it is to reheat them. In this case, you can use an oven, or a microwave, or put them in a pan on the stove. I guess you could even steam them if you wanted.
I recommend the stove and here's why. Not as quick as the microwave, but it doesn't make the potatoes have a paste like texture either. The oven is great but it takes the longest. So I suggest in a pan on the stove.
Steam would just make them a bit soggy anyway.
You only need a few minutes on the stove top. Heat the pan to about a medium heat of 250 degrees f because you don't need to re-cook it, you just need to heat it up.
In the microwave it will be about 30 seconds to a minute depending how cold it is and how powerful your microwave is.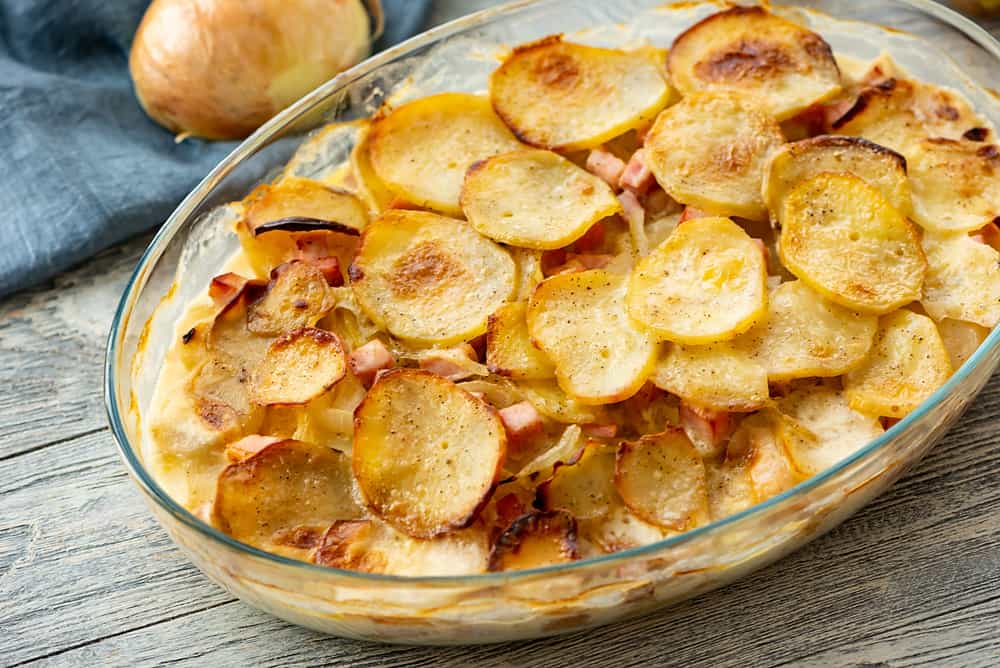 What time is best to serve scalloped potatoes and ham?
This is a unique meal that truly works well for any time of day without feeling like you are eating breakfast for dinner or vice versa.
Serve it for breakfast to get a good mix of carbs and protein to start the day. Make if for brunch or lunch and it is usually the first dish people reach for. At dinner time, it feels like you decided to dine out at a fancy French place.
Then what do I serve with scalloped potatoes?
Now the choice depends on what time you plan to serve it.
More Comfort Food Casserole Recipes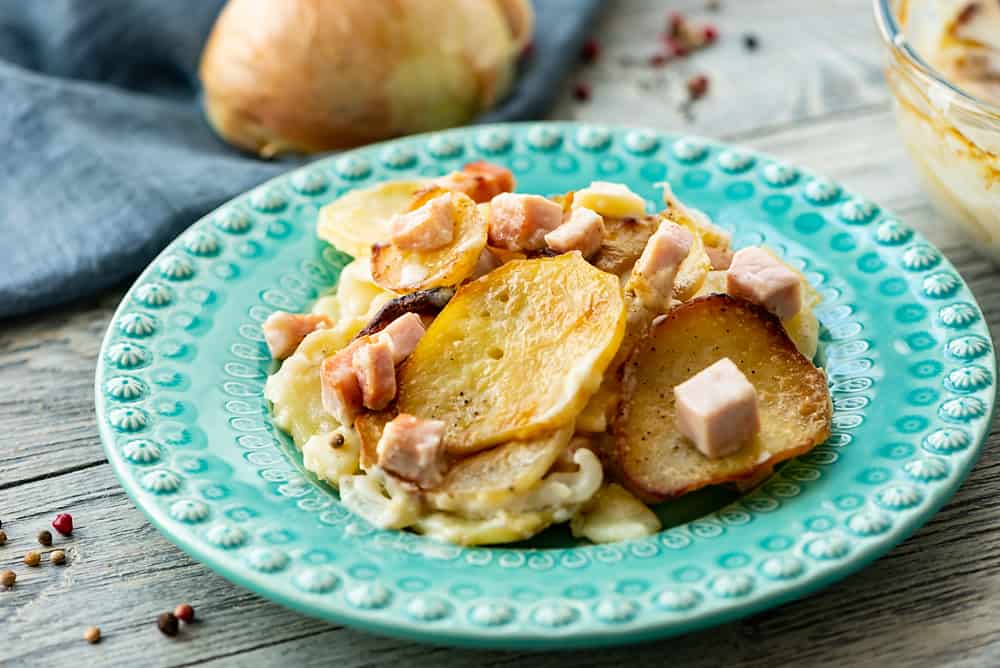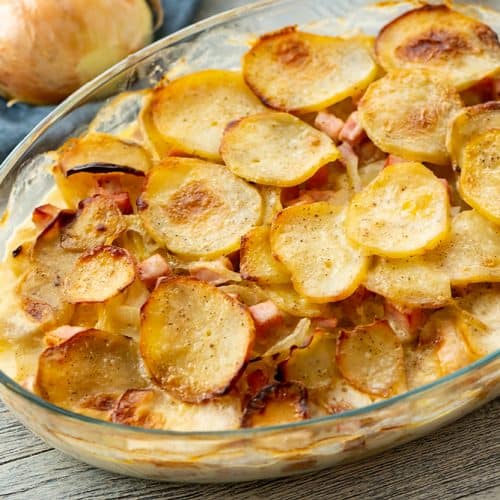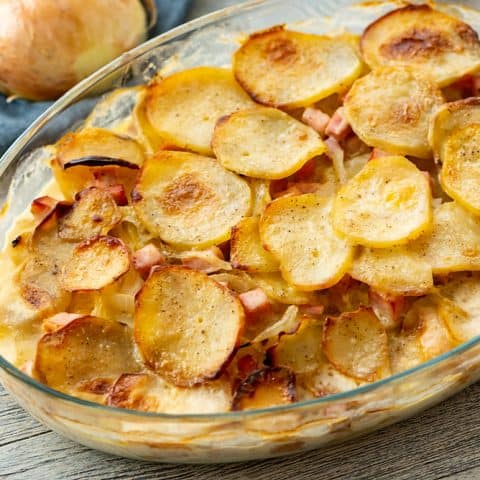 Scalloped Potatoes and Ham
Total Time:
1 hour
10 minutes
Scalloped Potatoes and Ham is a classic comfort food recipe made with leftover ham that you will find on any country table. It's a complete casserole with ham, potatoes and a creamy sauce tying it all together.
Ingredients
5 large baking potatoes, peeled
2 c. chopped ham
1 large onion, thinly sliced
2 Tbsp. butter (melted)
2 Tbsp. flour
1/2 tsp. salt
1/4 tsp. pepper
1/2 c water
2 c. heavy cream
Instructions
Preheat oven to 350°.
Slice potatoes into a casserole or 9x13 pan, while layering with ham and onion; end with potatoes on the top.
In a small bowl, whisk together the butter, flour, salt and pepper and water. Pour over the potatoes and cover.
Bake 30 minutes at 350°.
Pour cream over partially baked casserole, and bake an additional 30 minutes or until potatoes are tender.

Nutrition Information:
Yield:

6
Serving Size:

1
Amount Per Serving:
Calories:

628
Total Fat:

37g
Saturated Fat:

22g
Trans Fat:

1g
Unsaturated Fat:

12g
Cholesterol:

126mg
Sodium:

783mg
Carbohydrates:

61g
Fiber:

6g
Sugar:

6g
Protein:

17g
Provided nutrition data is only an estimate. If you are tracking these nutrients for medical purposes, please consult an outside, trusted source.