This easy Air Fryer Ham with garlic herb butter is a quick and simple holiday ham dinner recipe for your family or a small gathering in just one hour!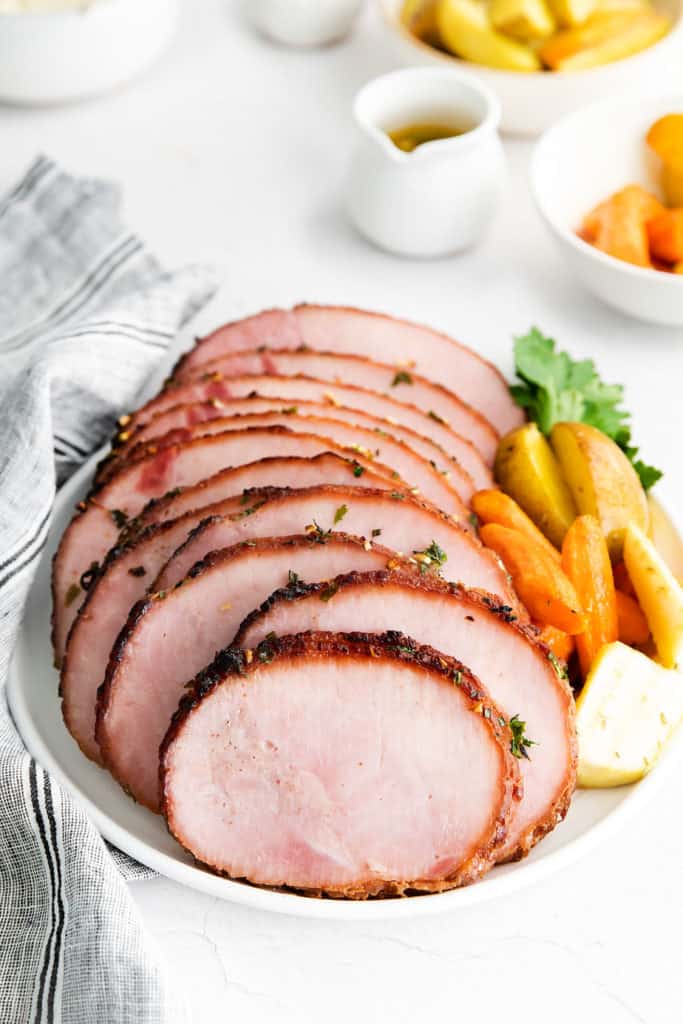 Air Fryer Ham Recipe
Air fryer ham with a delicious garlic and herb butter sauce is the perfect way to enjoy traditional ham with a little spin on flavors. Use your convenient Air Fryer to make things incredibly simple.
Whip together a garlic herbed butter in a minute with some fresh herbs and diced garlic. These few simple ingredients add tremendous flavor to your roasted ham.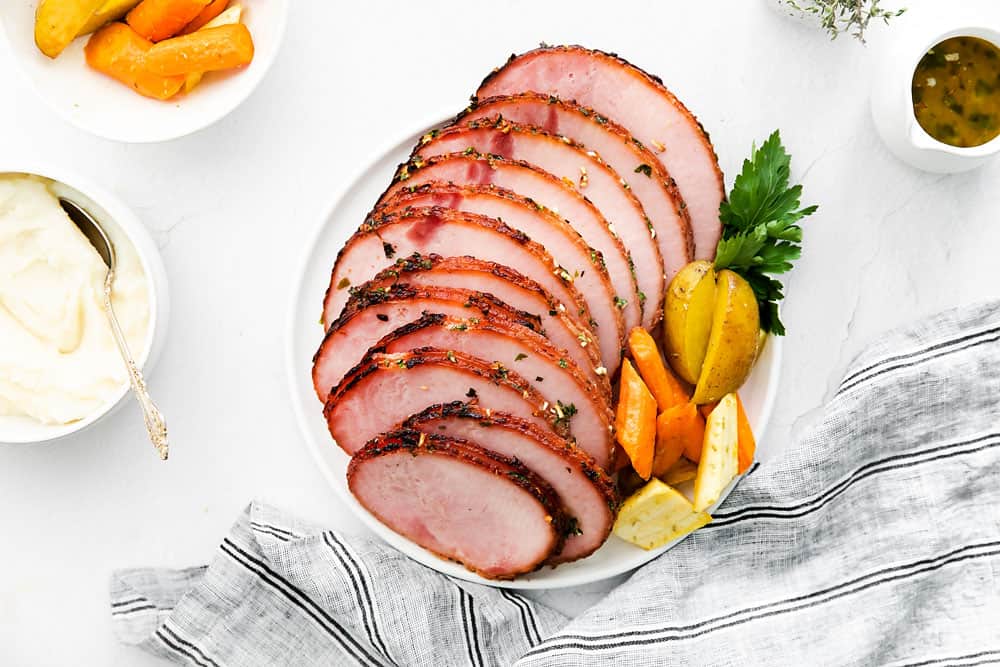 Small Ham Recipe
Whether you are cooking for two or a small family holiday dinner, this Air Fryer Ham is the perfect solution! While the ham is resting, pop some Air Fryer Carrot Fries or Air Fryer Roasted Potatoes in your countertop cooker. You can make a small holiday meal without ever turning on your oven!
Sometimes making a whole Roasted Ham with Pineapple in your oven just doesn't make the most sense. Especially in 2021 with everything going on! That's why I love this recipe for a simple small ham in your Air Fryer.
How To Cook Ham In An Air Fryer
Well, in truth, most hams we find in stores are actually already cured and cooked. You can find uncooked cured hams, but typically those are sold as a specialty item and you will find them at the butcher counter rather than on the aisle in a typical grocery store.
So, with that in mind, you really aren't cooking the ham so much as heating it to a great serving temperature. The trick with cooking hams in an air fryer is to get just enough crisp on the outside, but keep it moist still in the interior.
Overcooking a ham and making it dry is an issue with any cooking method of course. However, air fryers make heating hams very easy and actually less prone to drying out.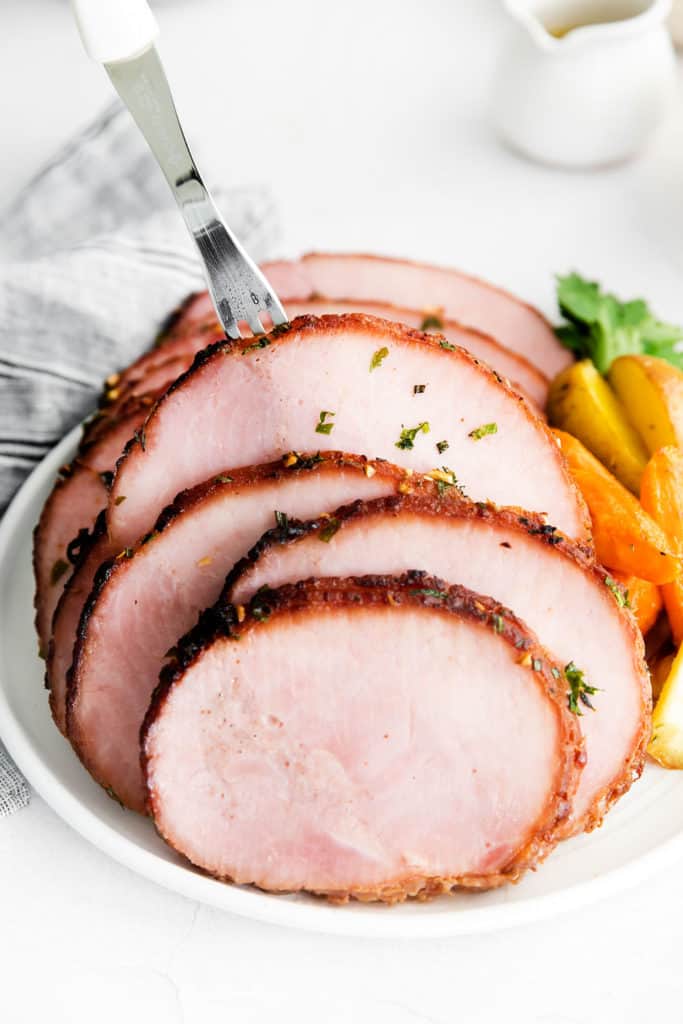 Tips For Cooking Ham In An Air Fryer
Using an air fryer to cook ham is not only possible, but quick and convenient too. You just have to do a small amount of prep to set up the air fryer. First, line the inside of the air fryer with foil. The foil should form sort of a basket inside the air fryer.
Next, you place the ham in the foil. Make sure to use a pre-cooked ham for this recipe. If it is pre-sliced with a spiral cut, then that is fine, but optional.
Next, you place a foil "cap" over the ham. Let the hot air heat your ham, then add the garlic herb butter. It should melt quickly over the warmed ham.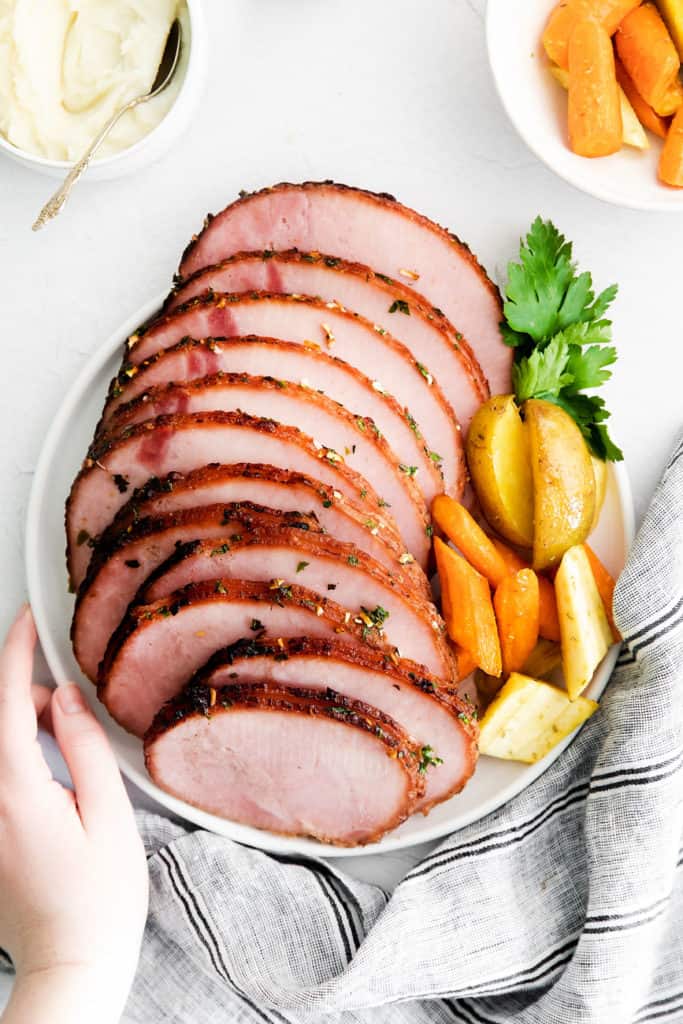 Will Using Foil In My Air Fryer Be Bad For It?
Ok, if you have never foiled an air fryer, then you might be wondering if it is detrimental to your air fryer. Don't worry, the air fryer will be fine. Make an air fryer ham to see for yourself!
The only thing you really need to avoid in air fryers is wet batters. For example a wet, freshly coated tempura batter is best avoided. (You can work around that by freezing wet batters enough to make them solid before adding to the air fryer)
So, don't worry about all the ham juices and melted herb butter affecting the fryer. That is what the foil prevents. And the convenience of air fryer ham is a huge plus.
For that reason, I do recommend using a thicker foil if possible. The thinnest foils rip way too easily.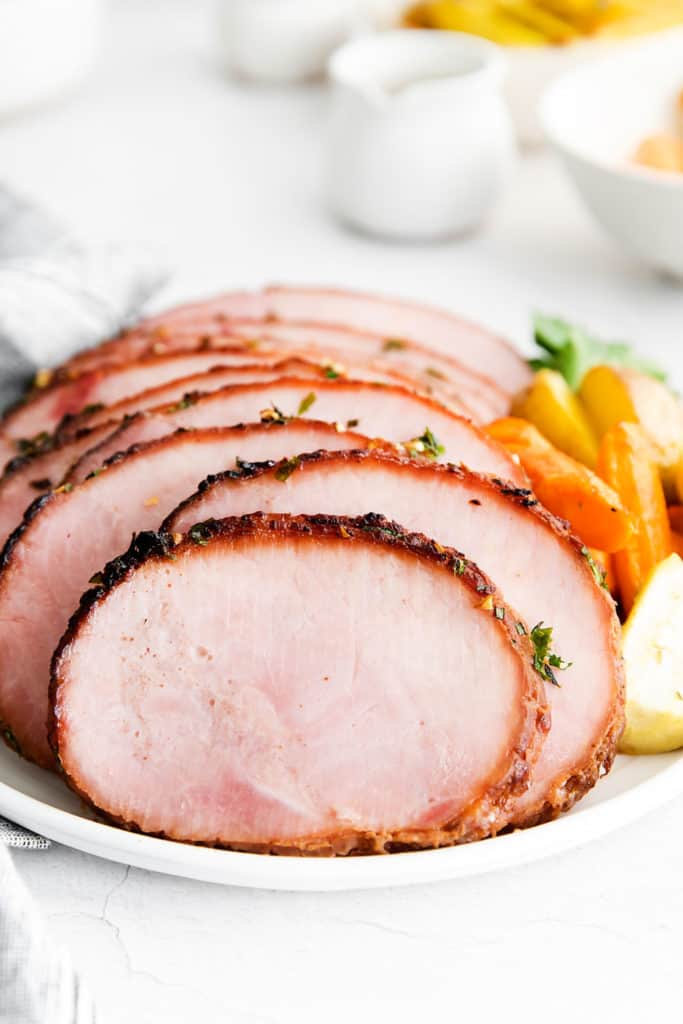 How Long Does It Take To Cook Hams In An Air Fryer?
With heating hams in an oven, you typically look at between 10 and 15 minutes per pound. This is a good rule of thumb for making air fryer ham as well.
Of course, the only limitation is the size of the air fryer itself. So, when choosing a ham that is something to keep in mind.
What to serve with Air Fryer Ham
If you want to make a hearty dinner or are looking to cook a holiday meal for just a few people, here are a few great side dishes that pair perfectly with Air Fryer Ham!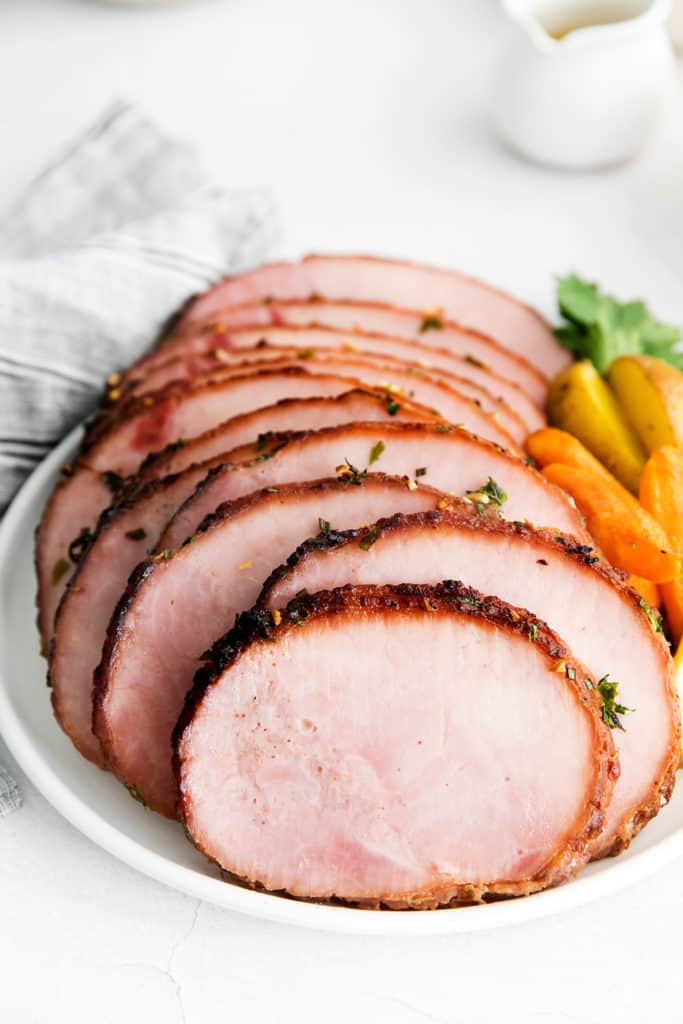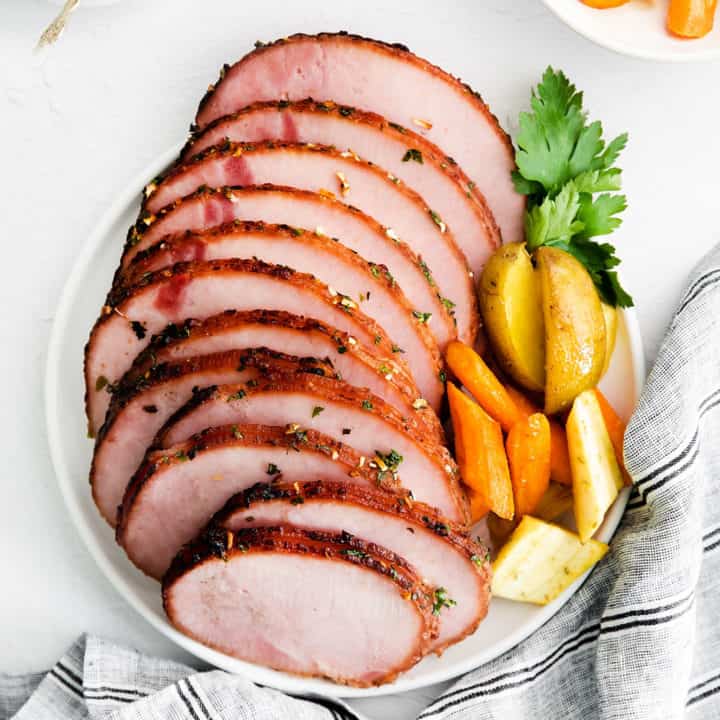 Air Fryer Ham With Garlic And Herb Butter
Total Time:
1 hour
5 minutes
This easy Air Fryer Ham with garlic herb butter is a fantastic way to enjoy a quick and simple holiday or dinner ham with your family or a small gathering.
Ingredients
1 small boneless, fully cooked ham (3-4 pounds)
1/2 cup butter, softened
3 cloves garlic, minced
1 tablespoon fresh sage, minced
1 teaspoon fresh rosemary, minced
1 teaspoon fresh thyme, minced
Instructions
Line your air fryer basket with foil, creating a well to hold the juices and add the ham on top of the foil.
In a small bowl, combine the softened butter, garlic, sage, rosemary, and thyme. Spread half of the mixture over the ham, reserving the second half for later.
Cover the ham with foil and cook at 300°F for 40 minutes.
Remove the top layer of foil and carefully rub the butter over the ham (it will probably melt as it hits the hot ham-- that's okay!)
Cook the ham at 375°F for an additional 10-20 minutes, until it reaches an internal temperature of 135°F.
Serve warm, with your favorite sides.
Store any leftover ham in an airtight container the fridge for up to seven days.
Notes
You can also try using other herbs as well if you like, for example, freshly chopped parsley or oregano.
Make sure you're using a fully cooked, boneless ham— they require about 15 minutes of cooking per pound. If you have a larger ham, make sure to adjust your cooking time accordingly.
Recommended Products
As an Amazon Associate and member of other affiliate programs, I earn from qualifying purchases.
Nutrition Information:
Yield:

6
Serving Size:

1
Amount Per Serving:
Calories:

169
Total Fat:

16g
Saturated Fat:

10g
Trans Fat:

1g
Unsaturated Fat:

5g
Cholesterol:

55mg
Sodium:

340mg
Carbohydrates:

1g
Fiber:

0g
Sugar:

0g
Protein:

5g
Provided nutrition data is only an estimate. If you are tracking these nutrients for medical purposes, please consult an outside, trusted source.