Watermelon Wine Slushies are light and easy cocktail for the summer that will cool you off and add a little alcohol to your chilled beverage without any added sugar for a healthy and balanced 2 ingredient recipe!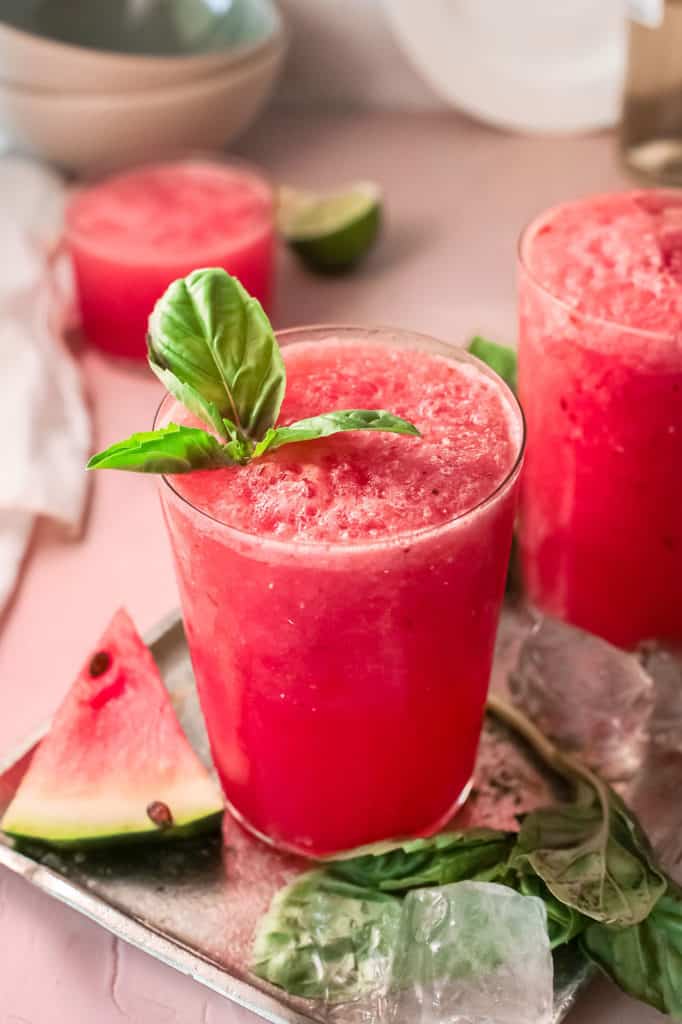 This watermelon wine slushie is incredibly refreshing! Made in the blender in just a couple of minutes is the perfect drink to serve at BBQs and Summer get togethers.
If you are looking for a healthy cocktail, it doesn't get much better than this. With just 3 simple ingredients, white wine, watermelon and ice, there is no added sugar which keeps it light and refreshing!
If you enjoy balance when it comes to cocktails, there is no better way to sweeten up your drinks than with whole fruit. This Strawberry Malibu Kombucha Cocktail is another great no-sugar added frozen cocktail.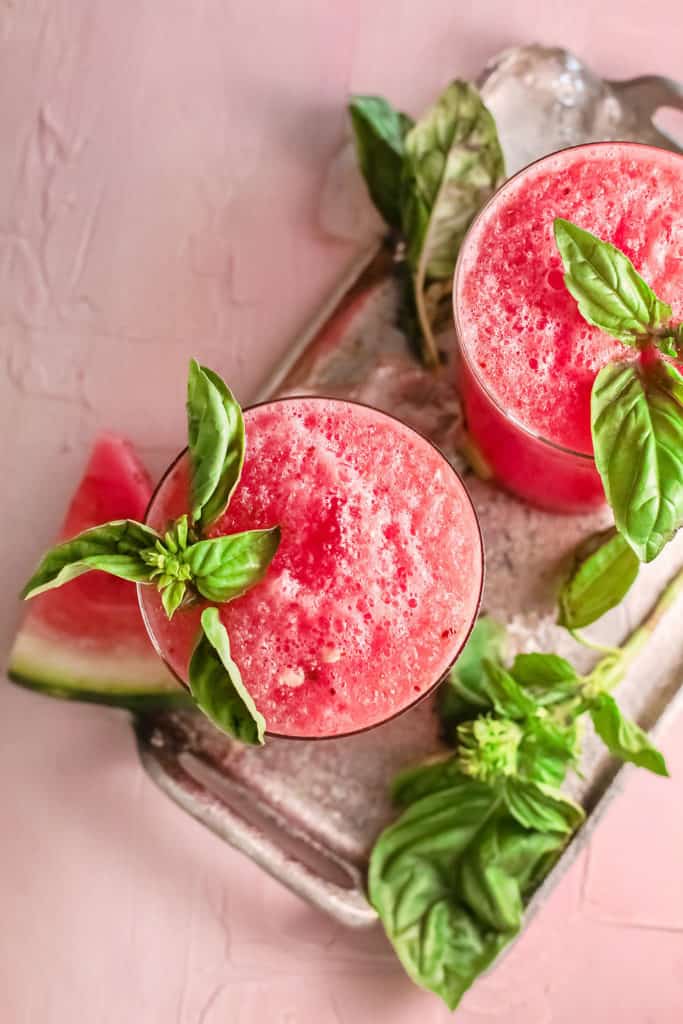 The Best Watermelon Wine Slushie
How can you resist it? A watermelon wine slushie just has ring to it, doesn't it? What is not to like? This is an adult cocktail that reminds you how great a slushie on a warm summer day was when you were a kid. But then confirms how great it is to be able to step it up a level and turn it into a nice frosty reward for being an adult.
Don't expect an overly sweet slushie either. Your mouth is not about to turn weirdly red either. Watching out for putting them down too fast in a row should be avoided, because a watermelon wine slushie goes down just so easily. But, other than that, we are talking about a beverage that puts a smile on your face…
The sort of smile someone wears on a warm and pleasantly relaxed, some might say lazy, summer's day.
And making watermelon wine slushies defines "easy" when it comes to a mixed drink. Some watermelon, a bit of ice, and a dry or semi sweet style wine in a blender, and you are off to the races.
What Sort Of Wine Is Best For Watermelon Slushies?
For my tastes, a good crisp Pinot Grigio works nicely for the wine side of a wine watermelon slushie. Pinot Grigio doesn't tend toward being overly sweet. While the pinot grigio doesn't actually sparkle with bubbles, the light and dry quality with a bit of fruit almost feels bubbly.
I think it balances the sweetness of the watermelon. Truth be told, any white table wine works. Don't feel like you have to spend a lot for the bottle either. Since you are mixing the wine with the watermelon, use a decent but cheap bottle.
Other varieties of white that would work include Sauvignon Blanc, Riesling or even Chardonnay. Although, I would stick with Pinot Grigio personally.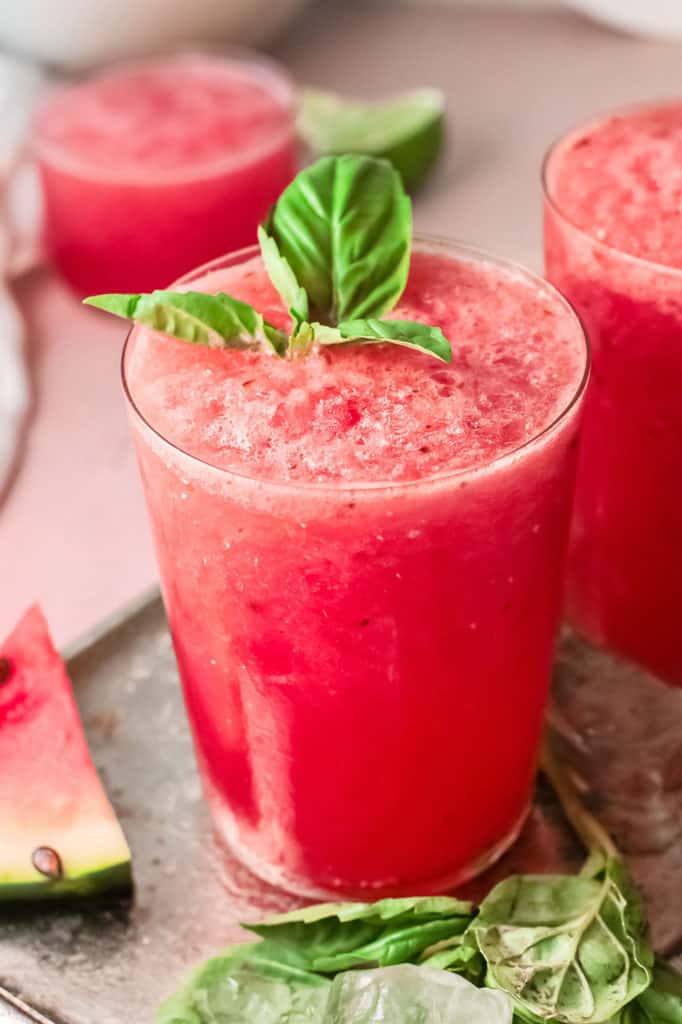 In case you aren't a wine connoisseur and are trying to navigate the wine aisles at your liquor store, just know that pinot gris and pinot grigio are actually from the same grape. The former is just the French way to call it, whereas the latter is the Italian.
If you do want to add a bit of sparkle, then no one will complain if you use a sparkling wine like a brut or prosecco either, but only add enough to the blender so the watermelon and ice break down and then pour the remainder in after the cocktail is smooth and just pulse once or twice to blend it in and not loose all the bubbles.
Also, you might see watermelon flavored white wines on the shelf. Why use something with so called "natural flavorings" when you can use perfectly ripe fresh fruit? I say stick to the Pinot Grigio!
How To Pick A Perfect Watermelon
Want some great tips for picking a perfectly ripe watermelon? Some of these might actually sound counterintuitive, or run completely opposite to the way you have always done it. But, just give these a try and see and taste the difference.
The thump technique is well known, but a lot of people don't actually know what they are doing it for. When you give the watermelon a firm drumming, you want to listen for the deep drumming sound, and you want to feel the firmness of the rind.

If the rind is rotting, but you can't see it, then the thump won't have that drum like resonance, nor with the rind feel firm.
Test the weight against a similar sized one. The heavier, the better. That means there is more water in the watermelon. In this case, it also means more sweetness too.
Look at the coloring. If the exterior is shiny, then that means it is still ripening. Look for ones with dark green and light yellow stripes, and lots of those dry looking veiny lines running through it. Those form where sugars are trying to seep out. The sweeter the melon, the more of those you see.
What Blender Should I Use For Slushies?
Any blender will do, but if you want that silky smooth texture of frozen cocktails you get from your favorite bar, a high powered blender will make the difference.
I had a Ninja blender for many years and it served its purpose well. One Black Friday I finally took the leap and got a "renewed" aka refurbished Vitamix and it was a game changer.
We use our Vitamix for our morning Strawberry Protein Smoothies, Butternut Squash Soup and so much more. It really does produce a much smoother texture than the entry level blenders can.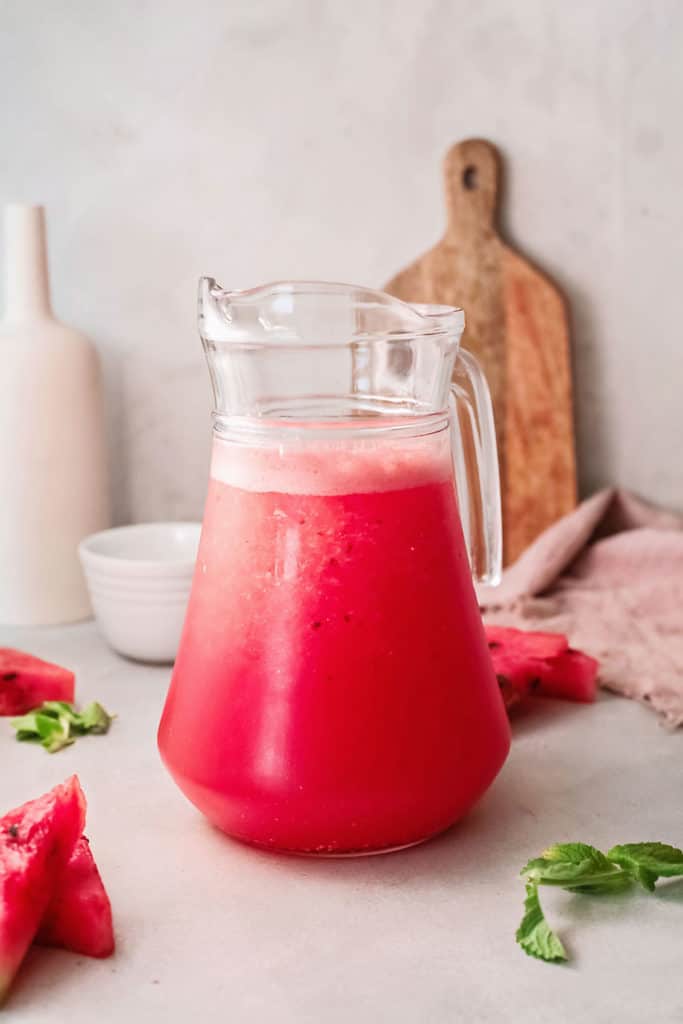 How to Make Wine Slushies
It really doesn't get much easier than this Watermelon Wine Slushie, when it comes to summer frozen cocktails. They can sound intimidating, but all they require is 5 minutes and a good blender.
Add the following ingredients to your blender and blend until smooth.
750ml bottle white wine
7 cups cubed seedless watermelon
2 cups ice
The Perfect Garnishes For Wine Slushies
If you are making a watermelon wine slushie, and you want to add that special touch, then of course a garnish to dress it up is the way to go. I have a few suggestions to try, but feel free to get creative. You may have some of those little parasols left over from that tiki torch party you did a year or two ago still handy. Go wild.
I personally recommend a wedge of lime, sprig of basil or mint. Any one or all of them together in any combination work wonderfully. Each accents the watermelon flavors perfectly. Offsets the sweetness just enough too, bonus!
(The best garnishes always add something to the taste and aren't just there for looks!)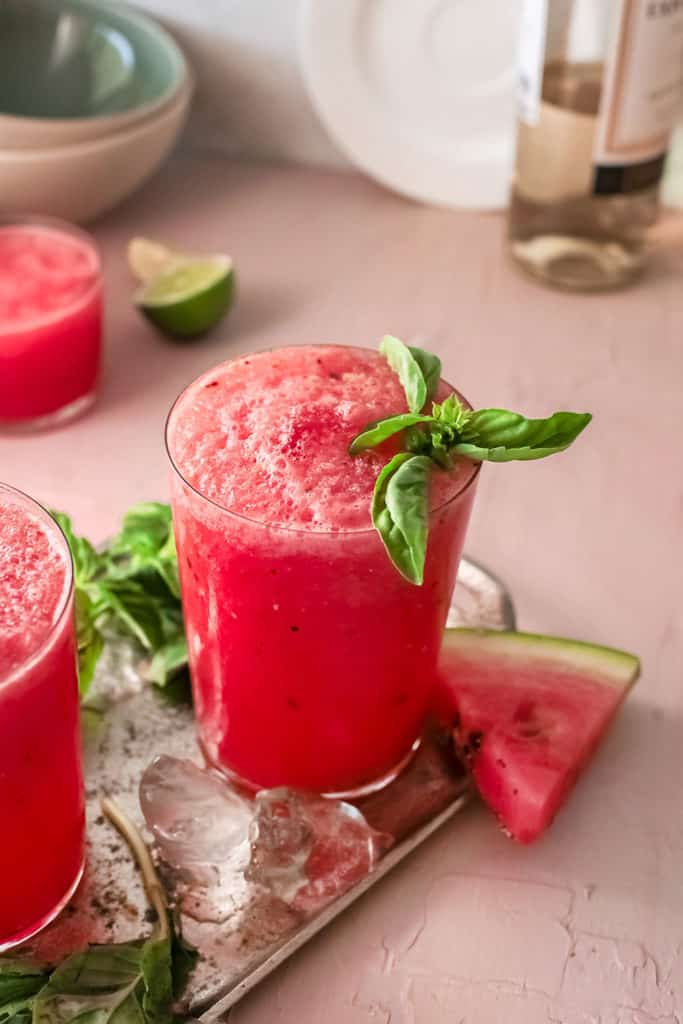 Can I freeze leftover slushies?
So I doubt that you will have any leftovers if you have a couple ladies over that you are sharing with, but in the off chance that you do, you can save these to enjoy at a later time.
The easiest upfront solution is to place them in a freezer friendly storage container and freeze. When you want to enjoy the cocktail again, let it thaw for about 30 minutes on the counter, just enough to soften it enough to blend. Add it to the blender with a little splash of wine or water and blend until smooth.
The other option is to pour the leftover wine slushies in an ice cube tray. This will allow you to pop the frozen cubes in the blender with a splash of wine or water and blend them straight away.
Either way, never let a good cocktail go to waste!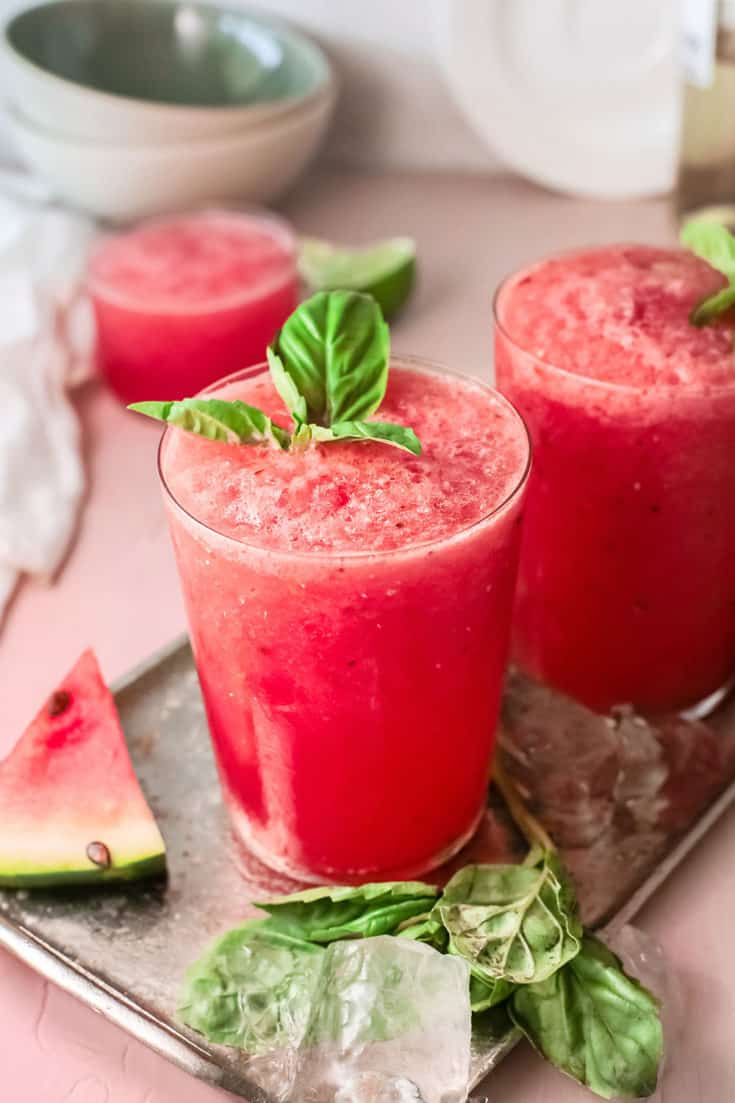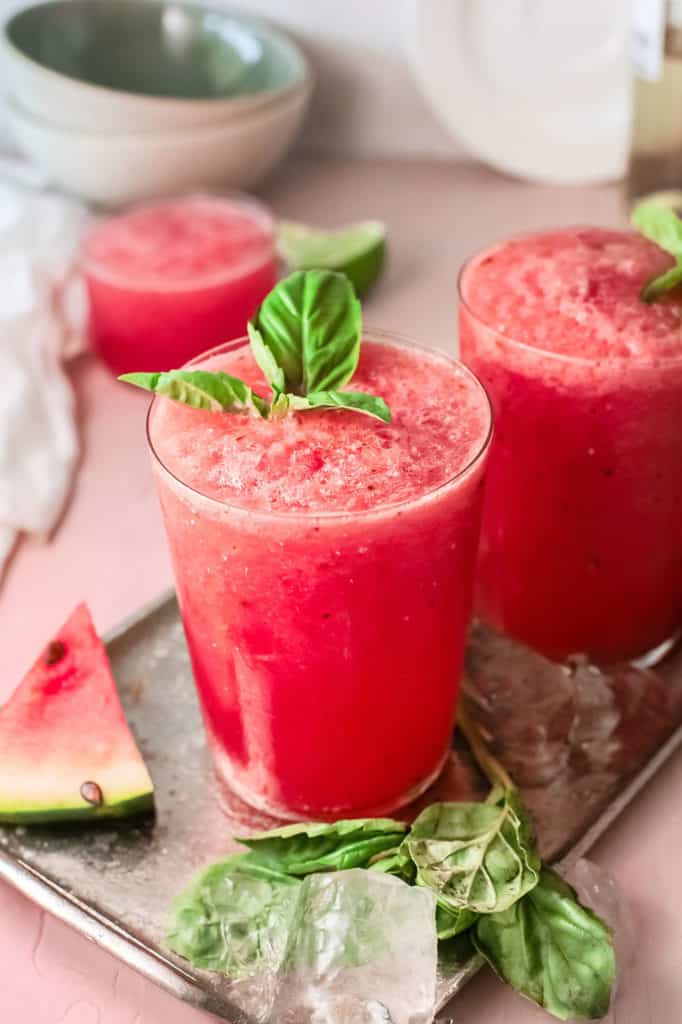 More Light & Refreshing Frozen Cocktails
If you need a few more suggestions for adult frozen beverages that aren't loaded with sugar, here are a few more cocktails for you to check out.
Strawberry Malibu Kambucha – Get all the healthy probiotic goodness of Kombucha in your next drink
Frozen Mojito – If you are splurging for fresh mint to garnish these Watermelon Wine Slushies, why not use it to whip up a batch of these blended Mojitos?
Frozen Pineapple Mimosas – This is another light and refreshing cocktail with a hint of tropical flavors and no sugar added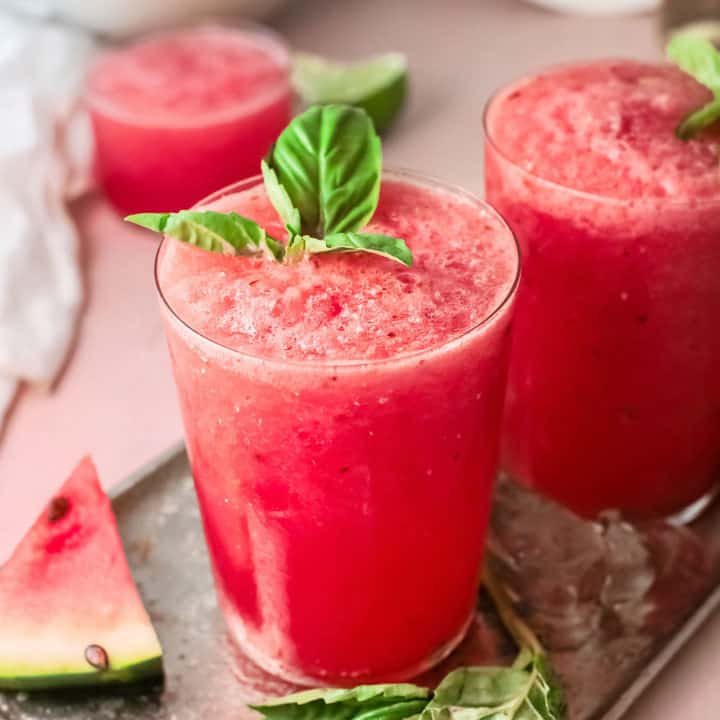 Watermelon Wine Slushies
Watermelon Wine Slushies are light and easy cocktail for the summer that will cool you off and add a little alcohol to your chilled beverage without any added sugar for a healthy balance!
Ingredients
Wine Slushies
750 ml bottle white wine (I prefer Pinot Grigio)
7 cups cubed seedless watermelon
2 cups Ice
Optional Garnishes
Mint sprigs
Basil leaves
Lime Wedges
Instructions
Add all the wine slushie ingredients to a high powered blender
Blend until everything is smooth
Pour into glasses or a pitcher and serve immediately garnished with your choice of mint sprigs, basil leaves or lime wedges.
Notes
I love Pinot Grigio with this recipe because it's a more acidic white wine which balances the sweetness of the watermelon.
If your watermelon is not super sweet, or if you like sweeter drinks you can also add up to 3 Tablespoons honey or agave syrup. Add it slowly and taste as you go so you don't make the drink too sweet.
You can also use frozen watermelon and skip the ice. However I like the texture and flavor better with the fresh watermelon + ice combo and it is much quicker.
Recommended Products
As an Amazon Associate and member of other affiliate programs, I earn from qualifying purchases.
Nutrition Information:
Yield:

6
Serving Size:

1 cup
Amount Per Serving:
Calories:

160
Total Fat:

0g
Saturated Fat:

0g
Trans Fat:

0g
Unsaturated Fat:

0g
Cholesterol:

0mg
Sodium:

9mg
Carbohydrates:

18g
Fiber:

1g
Sugar:

13g
Protein:

1g
Provided nutrition data is only an estimate. If you are tracking these nutrients for medical purposes, please consult an outside, trusted source.