Frozen Strawberry Malibu Kombucha Cocktail is an easy 3 ingredient recipe perfect for a refreshing drink on a hot summer day. It's a healthy mix of kombucha, frozen strawberries and coconut Caribbean rum for a simple and delicious alcoholic beverage!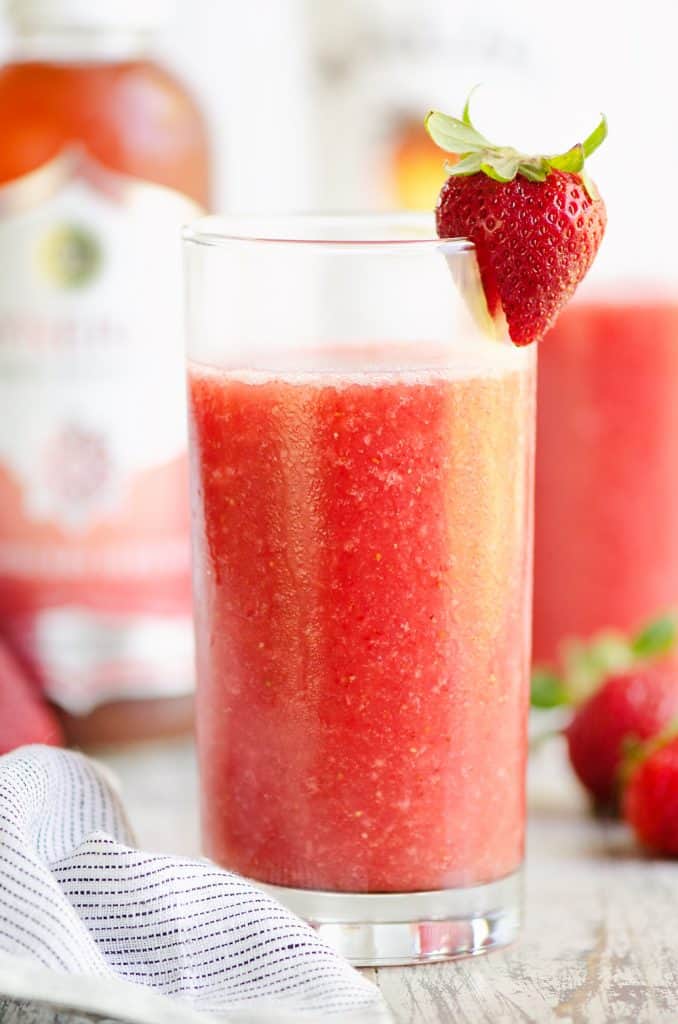 Frozen Strawberry Kombucha Drink
This Frozen Strawberry Malibu Kombucha Cocktail combines three amazing ingredients into one slushy cooler that is absolute perfection on a hot summer day!
Grab your blender and add some frozen strawberries and coconut Caribbean rum and blend until it is the perfectly smooth consistency of a Strawberry Daiquiri.
Add the strawberry Kombucha and pulse just until combined. Serve in a glass topped with a fresh strawberry for the perfect frozen cocktail.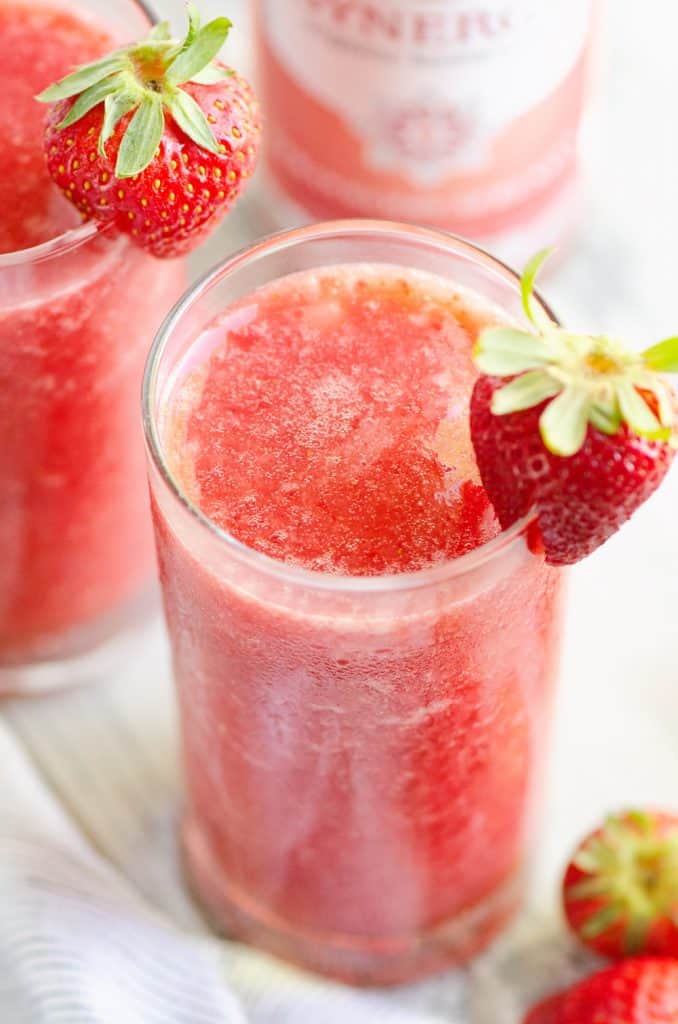 Can I use fresh strawberries?
Strawberries are in season right now and are SO affordable. I just picked up a quart of strawberries at Aldi for $1.19. They are actually far more affordable than frozen strawberries at the moment. Get them while you can for such a great price to make great recipes like these Fresh Strawberry Pie Bars and Strawberry Rhubarb Custard Dessert!
You can mix this in the blender with fresh strawberries from your refrigerator, but you won't get the nice frozen chill that you would from freezing them.
I keep lots of strawberries in the refrigerator all year long for my kids and if they happen to be going through a streak of not eating them, I cut off the stem and add them to a bag in the freezer right before they spoil.
This frozen strawberry cocktail is the perfect way to use them up!
If you don't have any frozen strawberries on hand, just de-stem your strawberries and lay them on a cookie sheet. Pop them in the freezer for an hour and you will have frozen strawberries perfecting for blending up in this Malibu cocktail!
What is Kombucha?
I have been drinking kombucha for years now. A coworker introduced it to me and told me about all the amazing health benefits. It has been a great beverage to help me kick soda. It tastes great and is carbonated.
The flavor is a bit on the vinegary side, so it is often an aquired taste for most people, but I adore the tart vinegary flavor.
Kombucha is a fermented tea. It has all sorts of natural probiotics and is great for gut health. Every brand makes their flavored teas a little differently, but I have found GT's Synergy raw Kombucha to be the best.
GT's doesn't include any sugar or process it in a way to loose those probiotics. They simply mix their fermented tea with a variety of blended fruits, ginger, etc. (And no, this isn't sponsored in any way, I just love their product so much!)
Their Strawberry Serenity flavor is my absolute favorite and works great in this cocktail. It already has a nice natural strawberry flavor.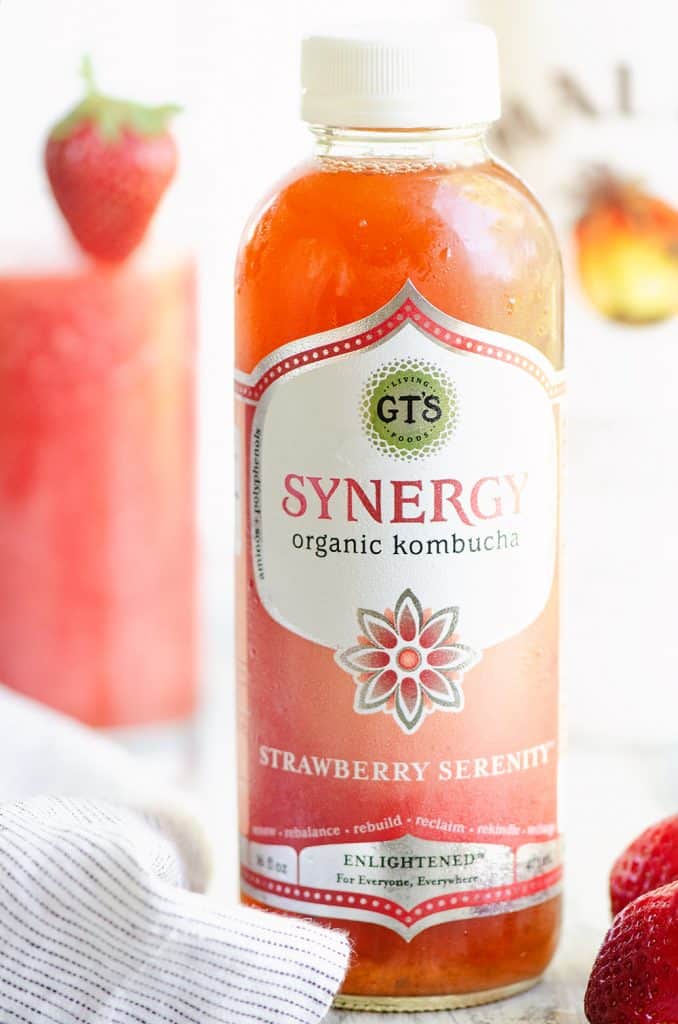 What can I substitute for Strawberry Kombucha?
Kombucha adds a nice flavor to this frozen strawberry cocktail, but I understand it isn't a staple in everyone's house. While you can get it at Target, Trader Joes, or most larger grocery stores, not every store will carry this flavor.
Depending on what flavors of kombucha you like and what is available at your grocery store, you could experiment with different flavors like Ginger, Guava, Mango, etc.
If Kombucha just isn't your thing, coconut water is another healthy alternative with probiotics. Coconut milk would also be great and a creamy richness to the drink recipe.
Malibu Cocktail
Malibu was one of our go-to drinks when we were partying as young kids. It mixes so easily with Diet Coke, orange juice or just about anything else we could get our hands on.
I haven't enjoyed a Malibu cocktail in YEARS, but when I ran across this bottle, I was inspired by the fresh coconut flavor to make something delicious for summer!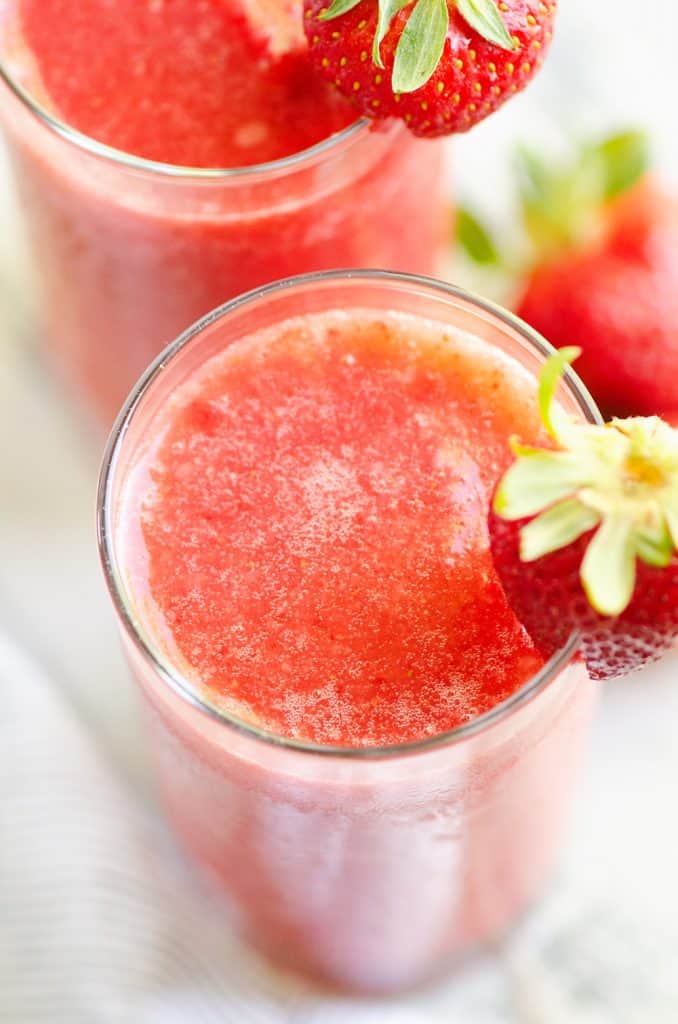 What can I substitute for Malibu Rum?
Malibu is a unique liquor in that it is a sweetened coconut flavored Caribbean rum with only 20% ABV. If you really can't get your hands on a bottle of Malibu you can substitute a small amount of rum wiht some simple syrup and coconut extract.
Straight coconut rum isn't a good substitution because it is much stronger and not sweetened at all. It would work in a small amount with the addition of some simple syrup though.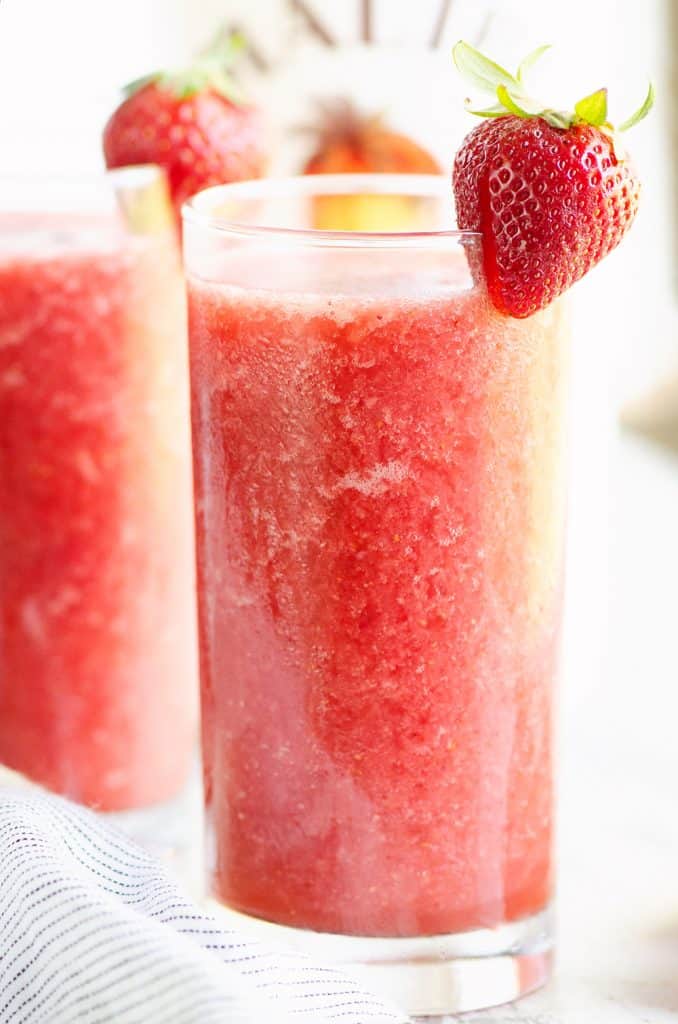 How long can you keep Malibu Rum?
The experts say that Malibu is good for one year opened and two years if it is kept sealed. This is the recommendation for optimal flavor.
My experience is quite different. I am not a big drinker AT ALL, so i have a few random bottles of alcohol in my pantry for an occasional cocktail when I host friends or family. It usually gets pushed to the back and forgotten for years after that.
I came across this big bottle of Malibu Caribbean rum when I was moving and thought, ehhh, let's see if it is still good! This bottle had to be at least 10 years old…lol. I know, I know, but I just don't like wasting things.
I drank a small taste and it still tasted good! I'm not about to throw away something that still tastes good and hasn't actually spoiled!
So if you are like me and not a big drinker, maybe by the smaller bottle and not the value size, but just know it will keep in your pantry for a LONG time!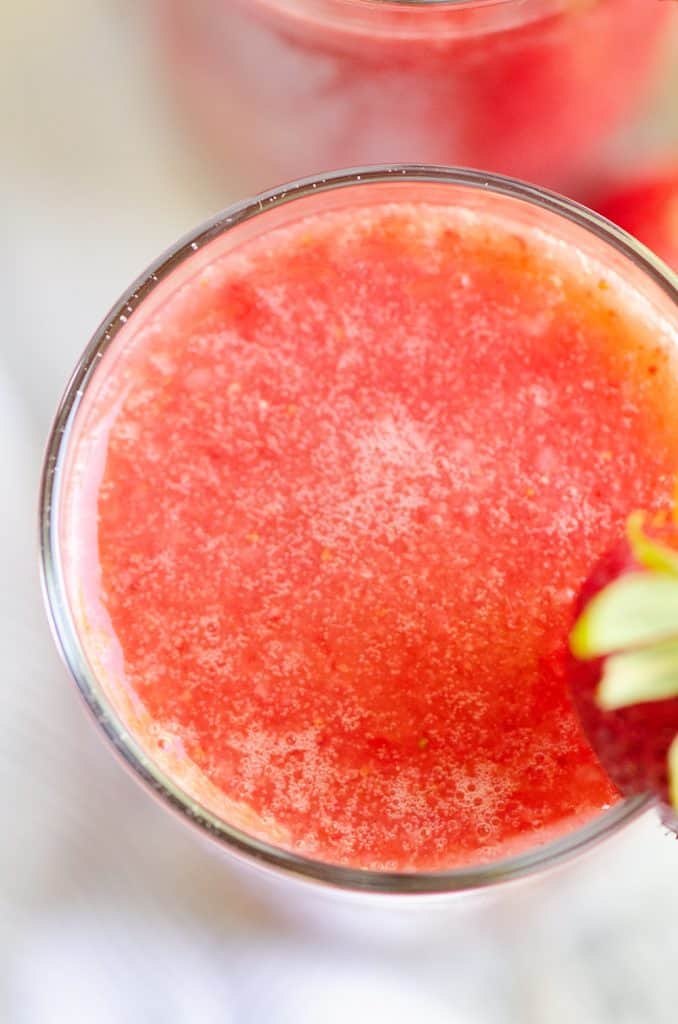 Can I make this frozen strawberry cocktail virgin?
Frozen cocktails like this Pineapple Cooler are some of the easiest drinks to make virgin with no alcohol.
Whether you aren't a big drinker, have a guest who doesn't drink or want to share some with your kids, this recipe can be made virgin with all the same gut health benefits from the Kombucha.
Substitute the rum for some coconut milk for the same great coconut flavor and none of the alcohol! Blend it up and then add in the kombucha for some great balance.
This drink will be creamier, but equally delicious! If you prefer it a little sweeter, just add a little simple syrup or tiny bit of honey to the mixer.
If you are serving this to children, be sure to check the alcohol content of the Kombucha you purchase, as some can have a detectable amount of alcohol in it that isn't safe for children!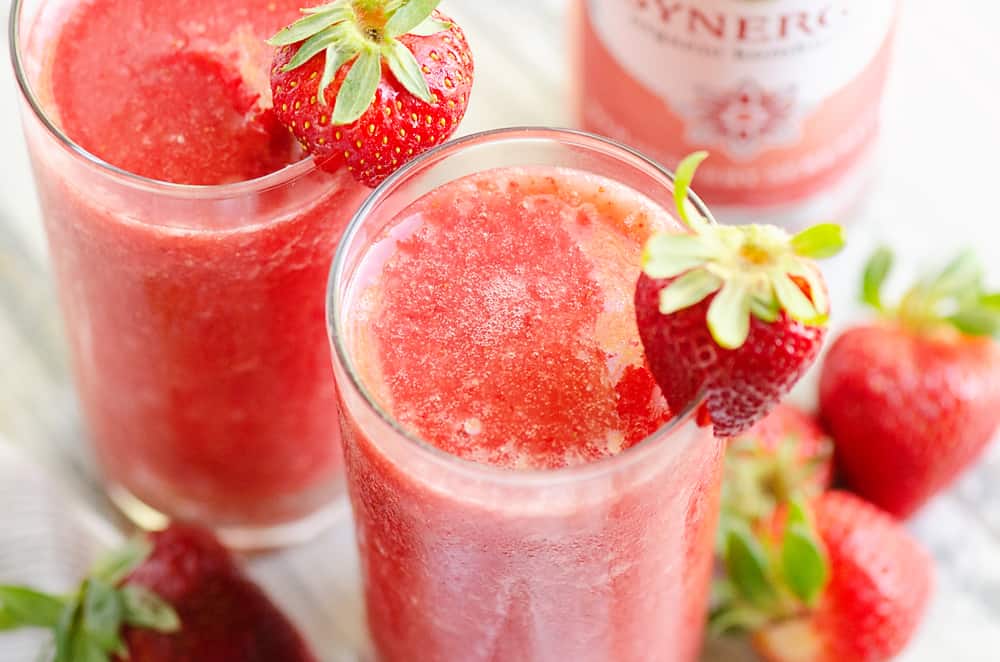 How do I keep leftovers frozen for later?
Most cocktails like Sangria can simply be stored in the refrigerator for a day or two if you made too much.
Frozen cocktails are another story. The best way to preserve the smooth blended texture of this frozen strawberry cocktail is to pour the leftovers into an ice cube tray.
When you are ready for another cocktail on a hot summer day, just throw the cubes in your blender and blend them until they are smooth. This method works great for any leftover frozen cocktails!
More delicious summer cocktail recipes!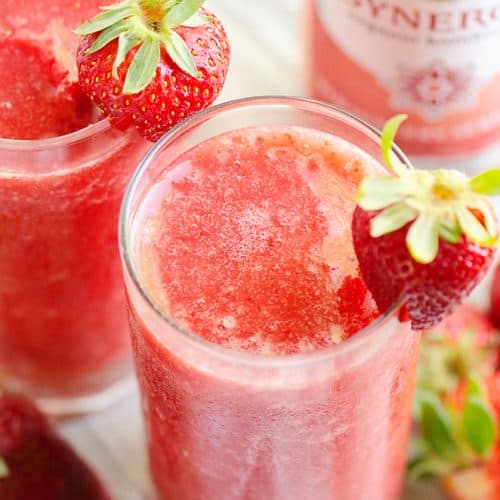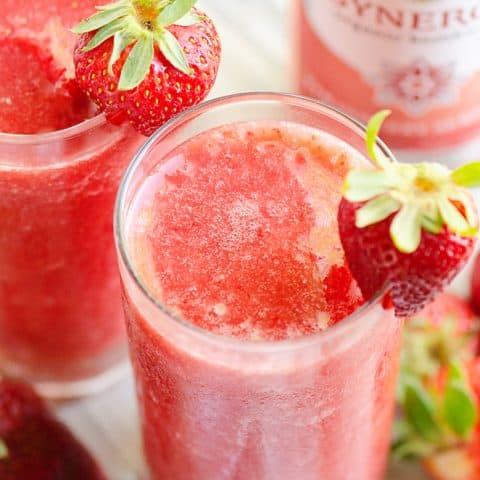 Frozen Strawberry Malibu Kombucha Cocktail
Frozen Strawberry Malibu Kombucha Cocktail is an easy 3 ingredient recipe perfect for a refreshing drink on a hot summer day. It's a healthy mix of kombucha, frozen strawberries and coconut Caribbean rum for a simple and delicious alcoholic beverage with no added sugar!
Ingredients
8 oz. frozen strawberries
1/2 c. Malibu rum
Instructions
Add frozen strawberries to the blender along with the Malibu rum. Blend until smooth.
Add the Kombucha and pulse until combined.
Serve in chilled glasses immediately!
Notes
If you only have fresh strawberries, de-stem them and place them on a cookie sheet. Place in the freezer for one hour before using for the frozen cocktail.
Recommended Products
As an Amazon Associate and member of other affiliate programs, I earn from qualifying purchases.
Nutrition Information:
Yield:

2
Serving Size:

1
Amount Per Serving:
Calories:

193
Total Fat:

1g
Saturated Fat:

0g
Trans Fat:

0g
Unsaturated Fat:

0g
Cholesterol:

0mg
Sodium:

10mg
Carbohydrates:

32g
Fiber:

6g
Sugar:

22g
Protein:

3g
Provided nutrition data is only an estimate. If you are tracking these nutrients for medical purposes, please consult an outside, trusted source.