Roasted Pineapple Meatloaf Sheet Pan Dinner is an easy and healthy recipe with 7 simple ingredients. Mini turkey or pork meatloaves with a Hoisin glaze are baked with chunks of sweet caramelized pineapple for a complete meal you will love!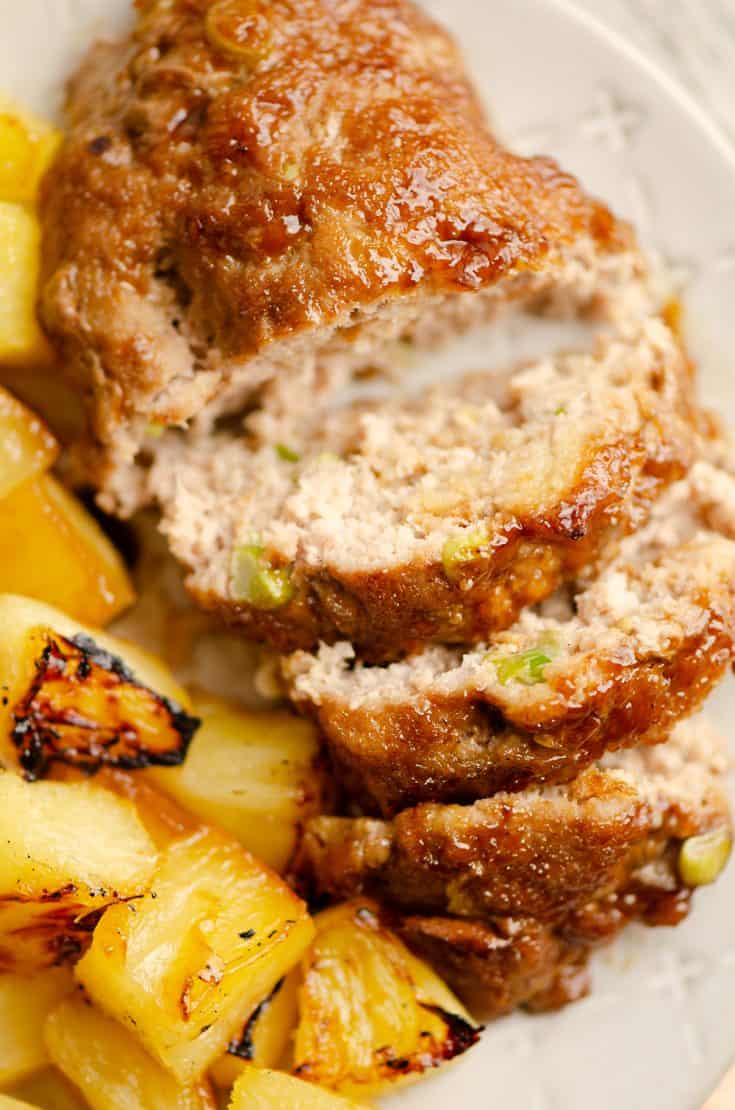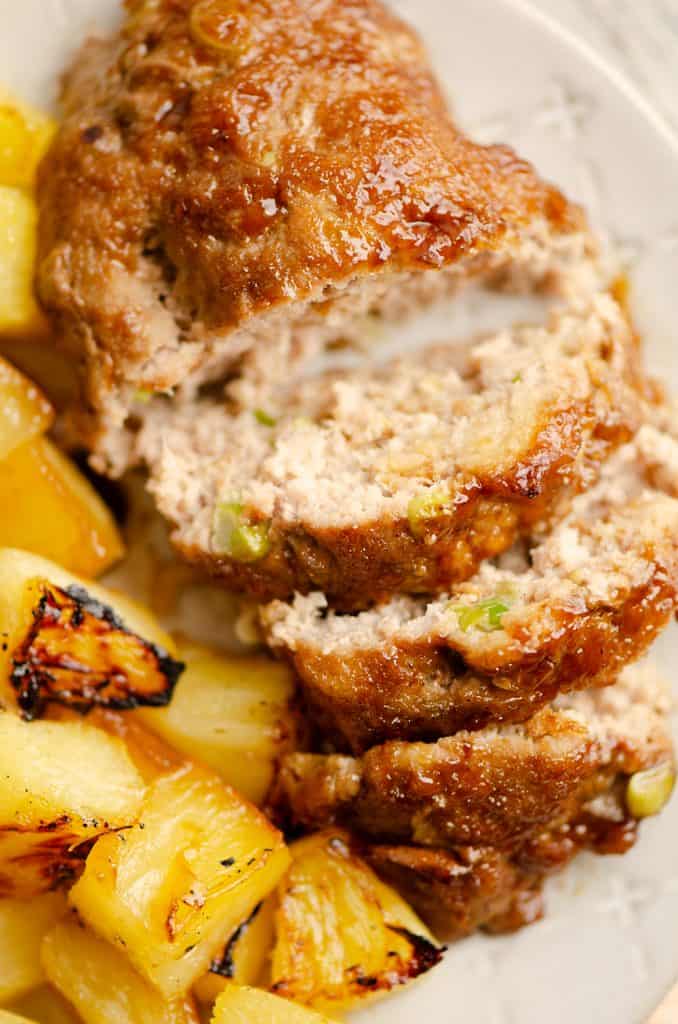 Easy Sheet Pan Dinner
Roasted pineapple meatloaf, yes, you heard that right. Imagine taking your basic meatloaf and adding a twist that takes it to the next level, much like these Mini Chipotle Meatloaves!
The lightly sweet pineapple Hoisin glaze replaces the ketchup and Worcestershire style glaze. The flavor is a revelation. It puts an Asian inspired spin on classic meatloaf and adds a new universe of flavor. Best of all, it's all baked on one easy sheet pan!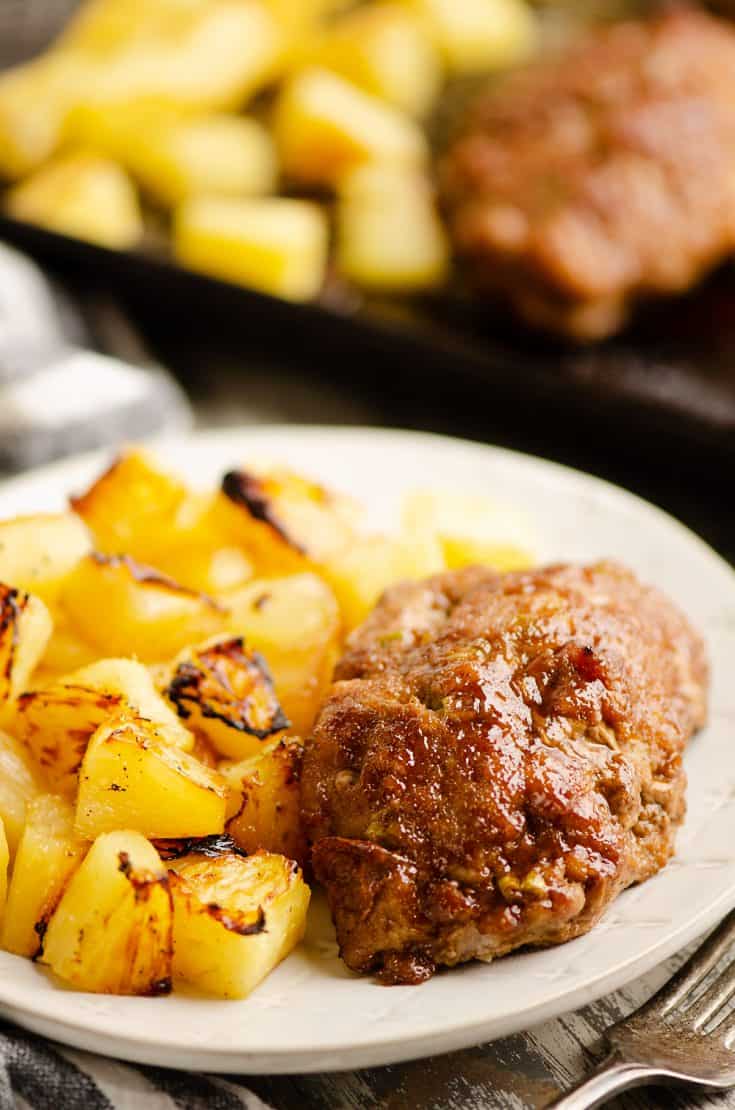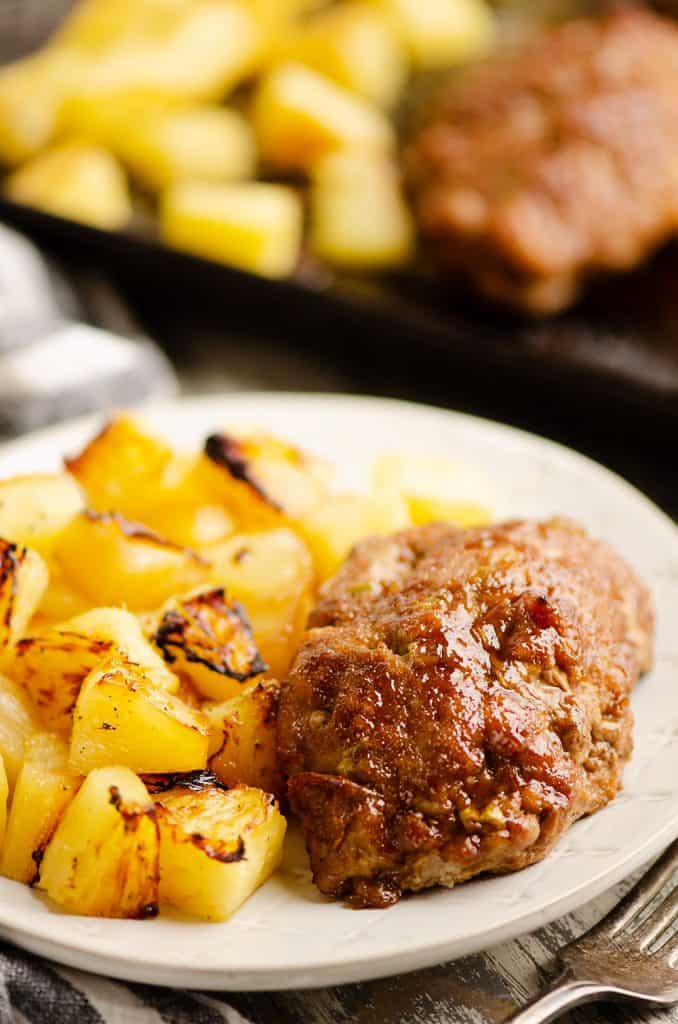 Delicious Roasted Pineapple Meatloaf
Roasted pineapple adds a touch of acidity, an edge of caramelized sweetness, and a bit of umami from the burnt edges. This is the flavor sensation that sold a gazillion Hawaiian Pizzas. I particularly love it in this Roasted Pineapple & Chipotle Honey Ham and Roasted Jalapeño, Pineapple & Chicken Tenders!
Even better, Hoisin sauce and pineapple juice go together like sunrise and sunset. Each is great on its own merits. But together? That is what makes the world go round!
You can do this meatloaf with ground pork or turkey. You can even do it with ground pork mixed with ground turkey. Truth be told, I think if you put this glaze on an old shoe then it would still taste delicious.
What Exactly Is Hoisin Sauce?
If you are not familiar with Hoisin sauce then it is time to check it out. Hoisin sauce is an oriental sweet brown sauce made mostly with soy beans. People either cook with it as a glaze or browning liquid, or they use it for a dipping sauce.
The seasonings vary, but five spice seasoning, fennel, chili, vinegar, and pepper are mixed with a soy bean paste. It is sweet, yet complex, and goes great with all kinds of meat and vegetables.
Hoisin sauce is typically the dipping sauce when you have Peking Duck at a Chinese restaurant It is very sweet and savory, so that is why it goes well with the sweet and sour aspect of pineapple in this recipe.
If you want to really take this sheet pan dinner to the next level, you can make your own homemade Hoisin sauce.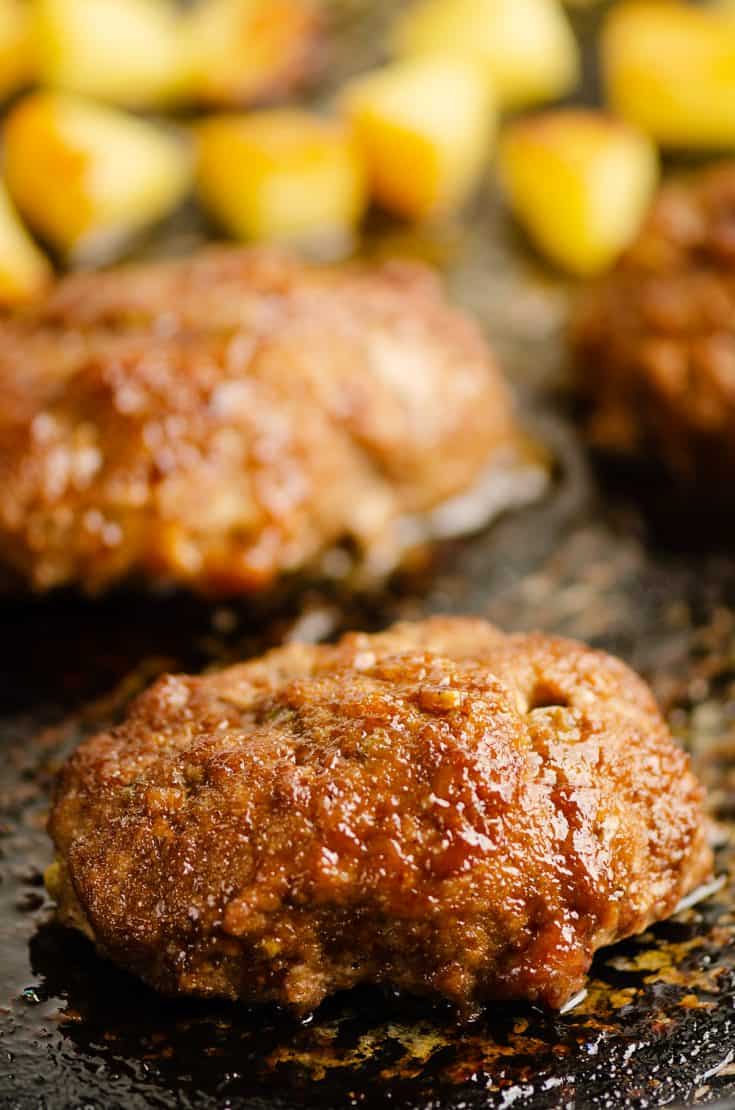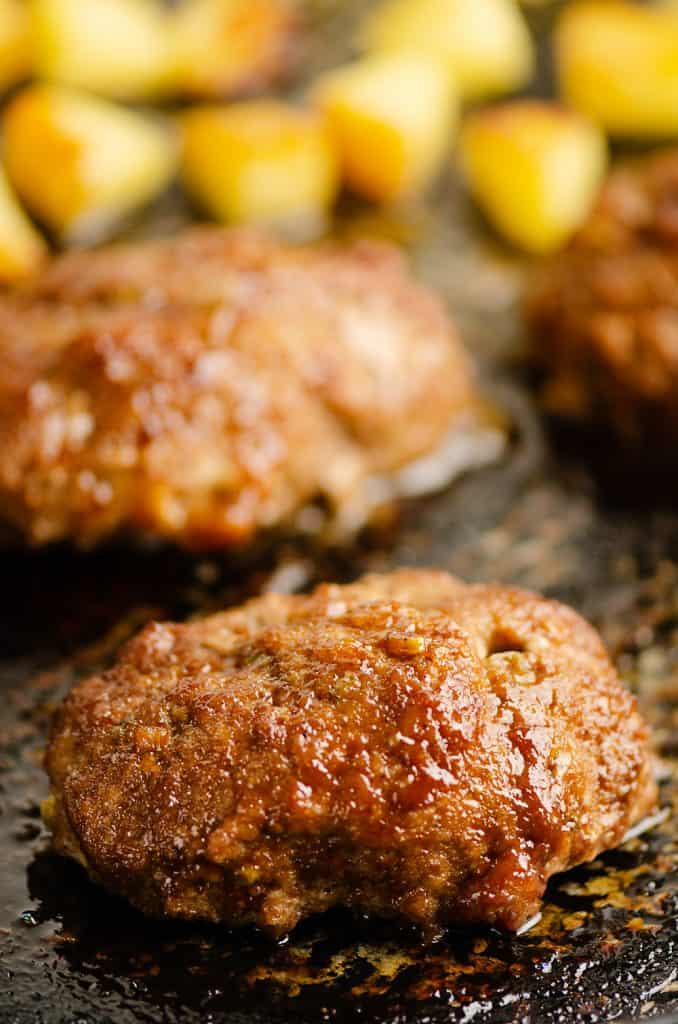 The Virtue Of Individual Pineapple Meatloaf Portions
Most people cook meatloaf as a big loaf in a baking pan. In this case, I recommend the small portion sized method for a very good reason.
The flavor of the glaze is so delicious, so the individual portion sizes provides a few benefits.
The smaller portion sizes cook much more quickly than the big pan of meatloaf. When you smell this cooking then you will really grasp how important that becomes.
With more surface area to spread the glaze on, that means more glaze per bite. In fact, you can't take a bite without getting a bit of glaze in the mouthful. You can't do that with regular style meatloaf.
You can cook the pineapple chunks and the individual meatloaf portions together so the juices from each blend and flavor each other. The smell of this wonderful chemistry in your kitchen brings you back to wondering how soon it will be done.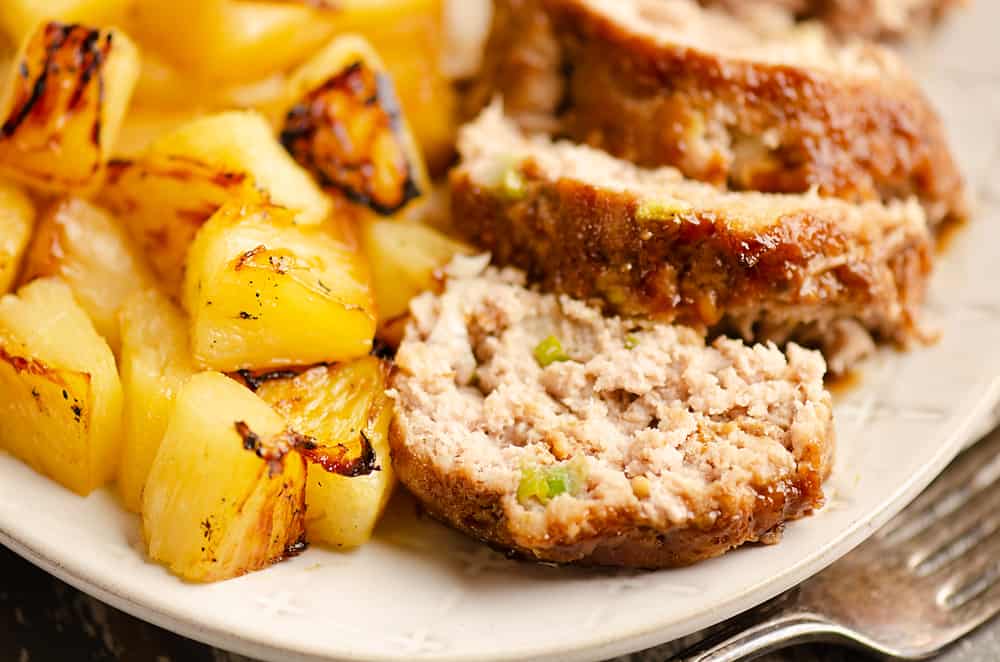 Storing Meatloaf For Later
Not much chance there will be leftovers with this recipe, but in the event there is… storing in the fridge or freezer is not a problem. Indeed, it might even taste better as leftovers! It also makes for a great meal prep recipe!
If you store it in the fridge, then make sure it is in a tightly sealed container. Ideal if there is a bit of headroom in the container. The top of the meatloaf gets pretty sticky.
Freezing works too. You can wrap them in wax paper then store them in an airtight container or zipped locking bag. Easy to take out and put in the microwave to heat and eat.
You may just want to add a little more Hoisin glaze when you reheat them, in case they dry out a little bit.
Variations On Your Meatloaf
I recommend starting with ground turkey or ground pork. Those work wonderfully and both seem like they were invented to put Hoisin sauce on. However, feel free to break the mold. Lamb, beef, and even ground chicken or shrimp will also work wonderfully.
Get creative and try blends like beef, lamb, and pork. Or do a shrimp and chicken mix. If you are going outside the box to make a pineapple meatloaf, then you might go all the way outside and see what you can come up with.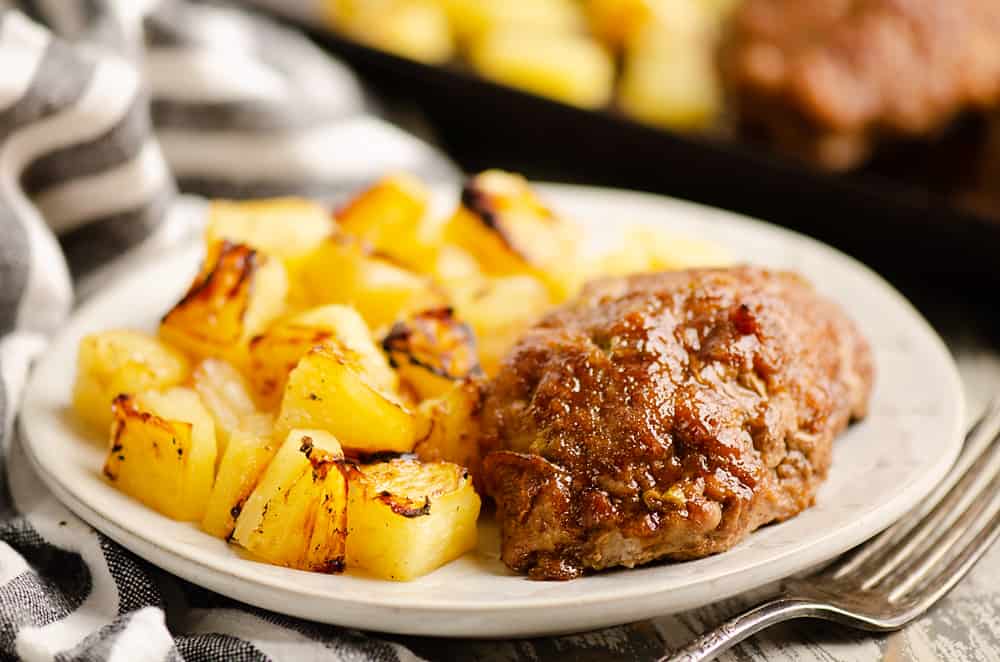 Sides That I Recommend For Roasted Pineapple Meatloaf
With the roasted pineapple, you kind of already have a warm salad built into this dish, but you can certainly try a few sides to go along with it as well.
If you are up for it, then check out a couple of these suggestions: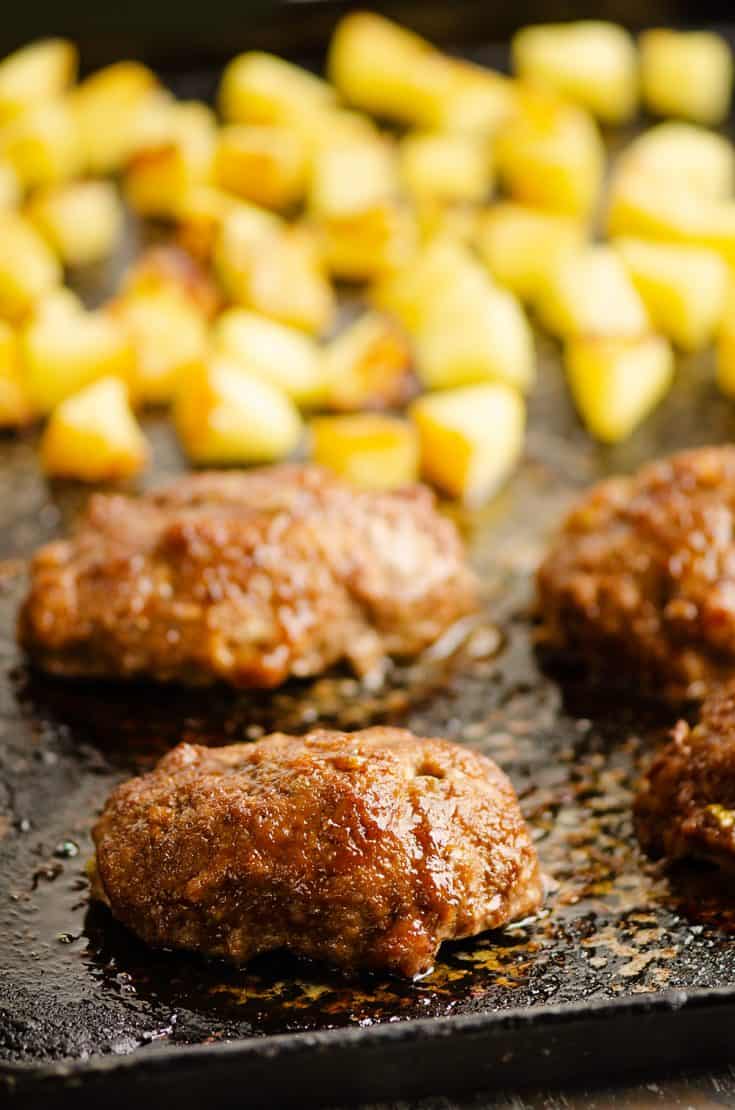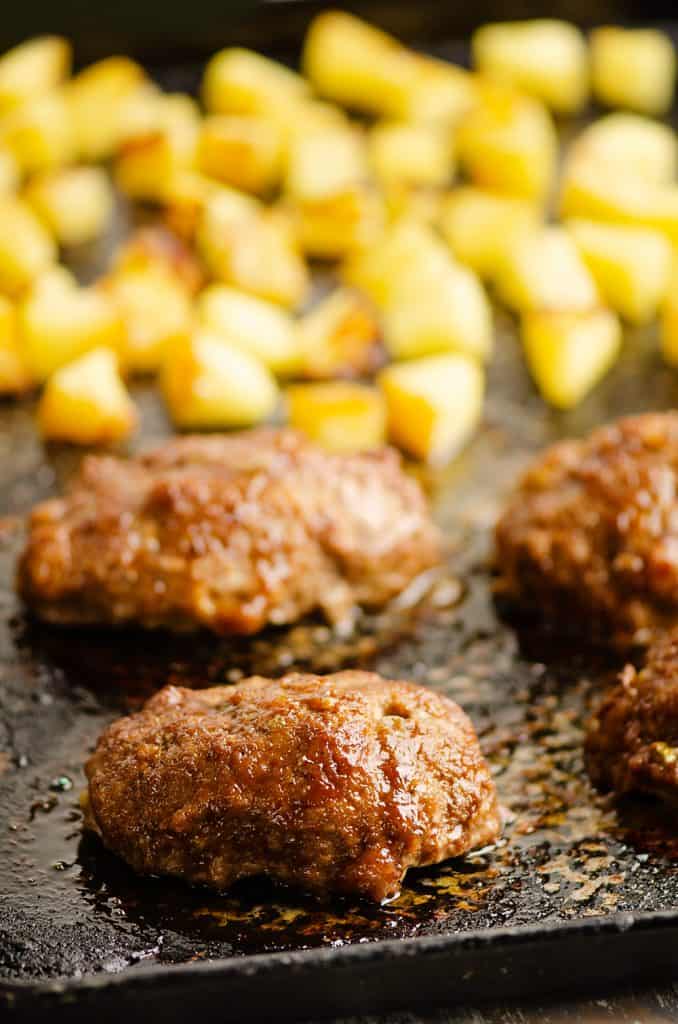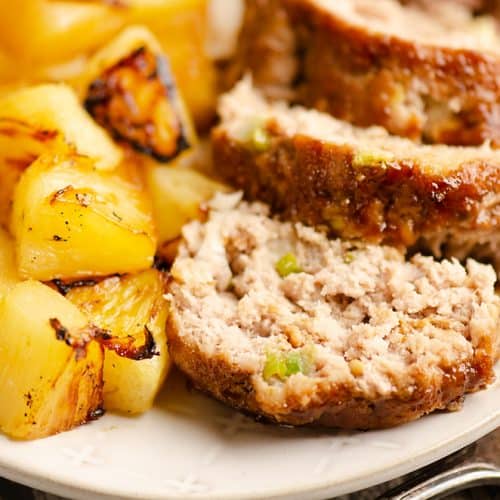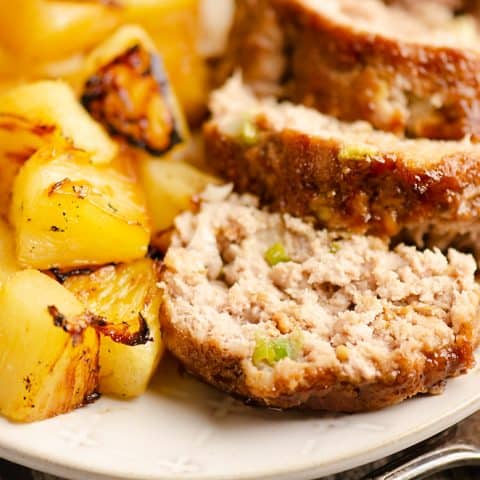 Roasted Pineapple Meatloaf Sheet Pan Dinner
Roasted Pineapple Meatloaf Sheet Pan Dinner is an easy and healthy recipe with 7 simple ingredients. Mini turkey or pork meatloaves with a Hoisin glaze are baked with chunks of sweet caramelized pineapple for a complete meal you will love!
Ingredients
Meatloaf
1 lb. ground turkey or pork
20 oz. can pineapple chunks
1 slice of bread
1/4 c. pineapple juice, reserved from pineapple chunks
4 scallions
2 tsp. soy sauce
1/4 tsp. crushed red pepper flakes
Glaze
1 Tbsp. pineapple juice, reserved from pineapple chunks
3 Tbsp. hoisin sauce
Instructions
Preheat oven to 425°.
Thinly slice the scallions, separating whites from greens. Mince the whites.
To a medium bowl, add the slice of bread and 1/4 cup pineapple juice from the canned pineapple. Once the juice has mostly absorbed, break the bread up with your hands until pasty.
Add the ground meat, scallion whites, soy sauce and crushed red pepper flakes. Combine the mixture well with your hands and form it into 4 small loaves. Arrange the loaves on one side of a baking sheet (preferably lined).
In a small bowl, mix 1 Tbsp. reserved pineapple juice and Hoisin sauce. Brush half of the mixture over the top of the meatloaves. Set the remaining half aside. D
rain the remaining juice off of the pineapple chunks and arrange the pineapple on the other half of the baking sheet.
Bake at 425° for 20 minutes. Glaze the meatloaves with the remaining half of the Hoisin mix and return to the oven for 4-5 minutes, or until the glaze is tacky and the internal temperature of the meatloaves is 160°.
Serve meatloaves with the roasted pineapple.
Recommended Products
As an Amazon Associate and member of other affiliate programs, I earn from qualifying purchases.
Nutrition Information:
Yield:

4
Serving Size:

1
Amount Per Serving:
Calories:

563
Total Fat:

24g
Saturated Fat:

6g
Trans Fat:

0g
Unsaturated Fat:

14g
Cholesterol:

139mg
Sodium:

484mg
Carbohydrates:

54g
Fiber:

3g
Sugar:

44g
Protein:

37g
Provided nutrition data is only an estimate. If you are tracking these nutrients for medical purposes, please consult an outside, trusted source.